12 Cute Bunny-Themed CNY Snacks To Stock Up On For The Year Of The Rabbit
Hop your way into the new year with these too-cute-to-eat bunny treats.
2023 is the Year of the Rabbit, which means there are lots of Chinese New Year snacks and merch revolving around the adorable bunny. And what better way to usher in some good rabbit luck than with some cutesy goodies? Here are 12 bunny-themed treats to spruce up your home.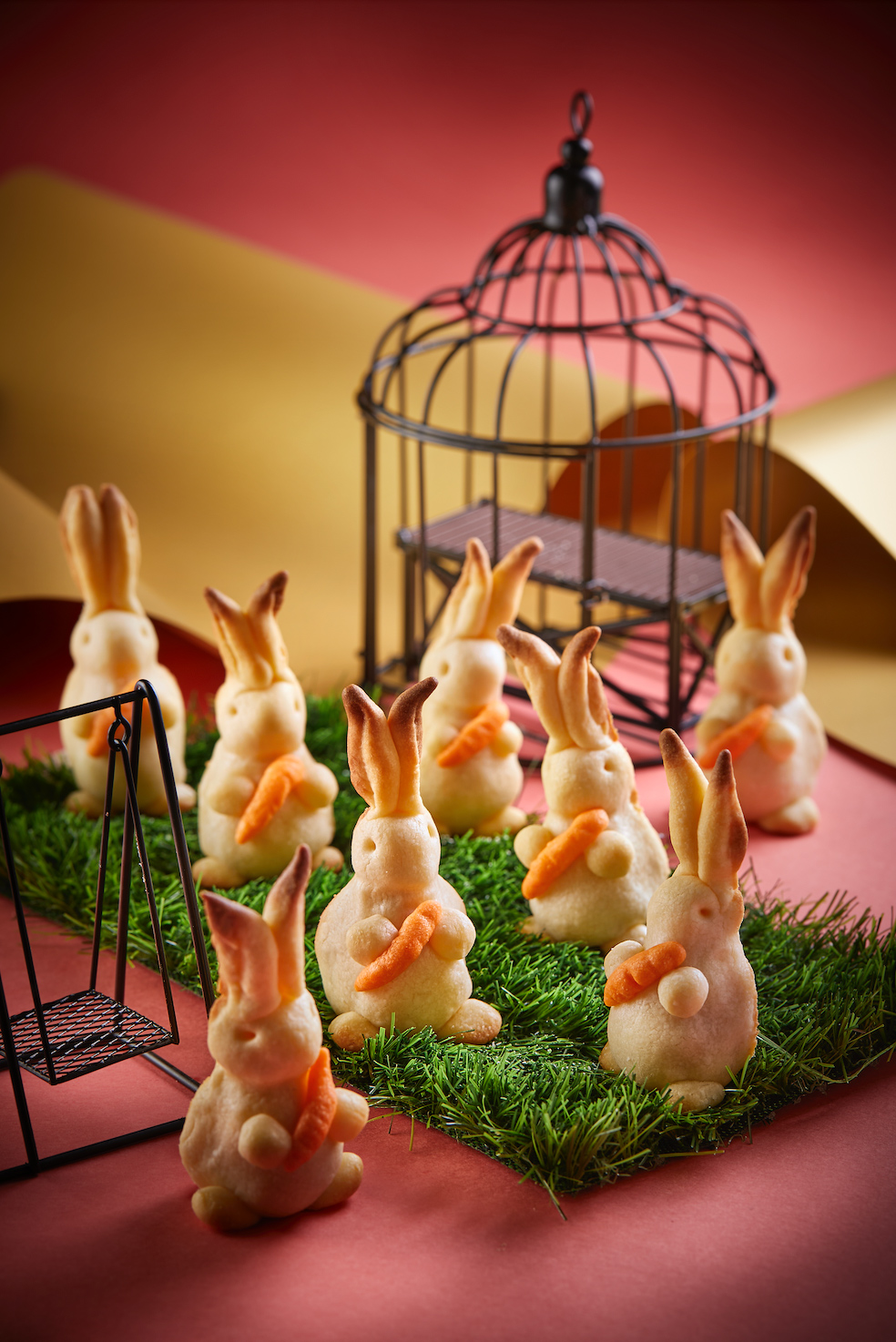 Baked Rabbit-Shaped Pineapple Yuzu Pastry, $88.88 for eight pieces
Pineapple tarts get a rabbit makeover this year at Peony Jade. The Michelin Bib Gourmand-approved restaurant – which recently opened a new outlet at Amara hotel in Tanjong Pagar – rolled out a set of eight huat bunny pastries stuffed with a Sarawak pineapple jam with Japanese Kochi yuzu. Each detailed critter is also hugging a little carrot, making it too cute to eat. The set is available for both dine-in and takeaway/ delivery.

For takeaway/ delivery, order at Takashimaya B2 from now till 21 January 2023, or call 6276-9138 or 8886-8913 to order. For dine-in, the bunny pastries are available at 2F Amara Singapore, 165 Tg Pagar Rd, S088539. For more info, go to Peony Jade's website, Facebook or Instagram.
Soup Restaurant Bounty Twins Bunnies Tower, $38.80
There's nothing more huat than a basketful of peach-shaped longevity buns, and this year Soup Restaurant's two-tier bun tower includes a pair of handcrafted bun-nies. So apt. There is an ongoing self pick-up promotion for this, where you can get the whole tower free with purchase of a five-pax or eight-pax CNY Set Menu. Limited redemptions while stocks last.
Order by Jan 17 for self-collection/ delivery on CNY eve. See website for list of outlets.
Lady M x My Melody Lunar New Year Gift Set, $120.01
This swish gift set features a detailed 3D scene with Sanrio's My Melody character and has seven drawers with surprises inside. Six drawers are filled with flavoured bonbons, while the last drawer reveals a set of Lady M ang pows.
The six bonbon flavours include: Golden Tangerine Pearls (tangerine jelly bites), Prosperous Plum Blossoms (plum jelly bites), Red Raspberry Jellies (raspberry jam fruit jellies coated in sugar), Lucky Lychee Pearls (lychee jelly bites with a pink lychee-infused chocolate coating), Sweet Cookie Puffs (puffed cereal and cocoa drops with a dark chocolate covering) and Harmonious Matcha Crunch (crunchy and sweet cereal balls with a matcha-infused chocolate coating). Limited quantities available.
Available while stocks last for in-store purchase or delivery via their website till sold out. See website for list of outlets.
Origin + Bloom Longevity Bunny Bank, $98
Marina Bay Sands' European café Origin + Bloom offers you a place to store your prosperity… literally. After all the feasting and ang pow-trading, huat is a better way to keep your spoils than in this Longevity Bunny Bank? But first, this joyful bunny offers you a tummy filled with chocolate gold coins. A good gift for both kids and the young-at-heart.

Available till Feb 5. Order online at least three days in advance. Walk-in purchase at Marina Bay Sands Tower 3 Lobby, Hotel, 10 Bayfront Ave, S018956. For more info, go to their website or call 6688-8588.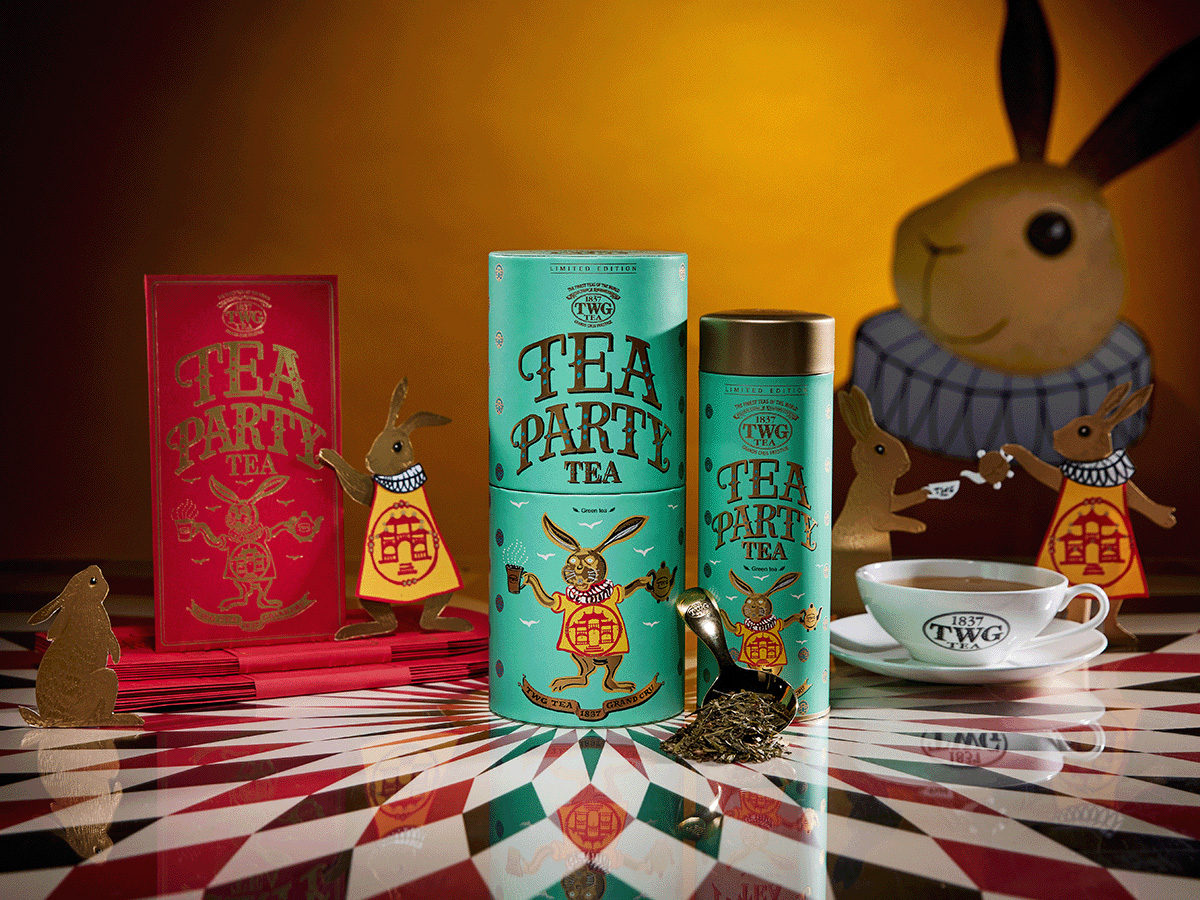 TWG Tea Tea Party Tea, $49
This beautifully packaged tin of loose tea leaves has a whimsical gold zodiac rabbit adorning the elegant teal containers. The limited-edition tea blend consists of green tea leaves infused with notes of vanilla and berries. If you're looking for an atas beverage to go with your Chinese New Year snacks, this might be it.  
Available till Feb 5. See website for list of outlets.
BreadTalk Prosperity Bunny Cake, $6.90
BreadTalk's CNY offerings have made the rounds on TikTok this year with its unique items like a gigantic mala bun with actual hotpot ingredients. Oh, and Insta-worthy bunny desserts, like the Prosperity Bunny Cake, a fluffy vanilla chiffon cake filled with strawberry mousse and coated with vanilla cake crumbs. Other rabbit treats include a Mangococo Chiffon Cake ($48.80) adorned with a mousse bunny and cheese carrot cookie and a Lucky Bunny Bun ($2.30) with a strawberry milk cream centre. There's also a New Year Harvest ($2.30) carrot-shaped bun for those who like carbs but not the veggie. How cute is that!
Available at all Breadtalk outlets till Feb 5. For a list of locations, go to their website.
Janice Wong Rabbit Chocolate Sculpture, $50
This artistic faceless bunny chocolate sculpture hides a surprise within its chocolate shell. It is loaded with crispy chocolate-coated nuts that are great for sharing with your friends and family.

Order at least one day in advance, available for self-collection or delivery while stocks last. See website for list of outlets for self-collection.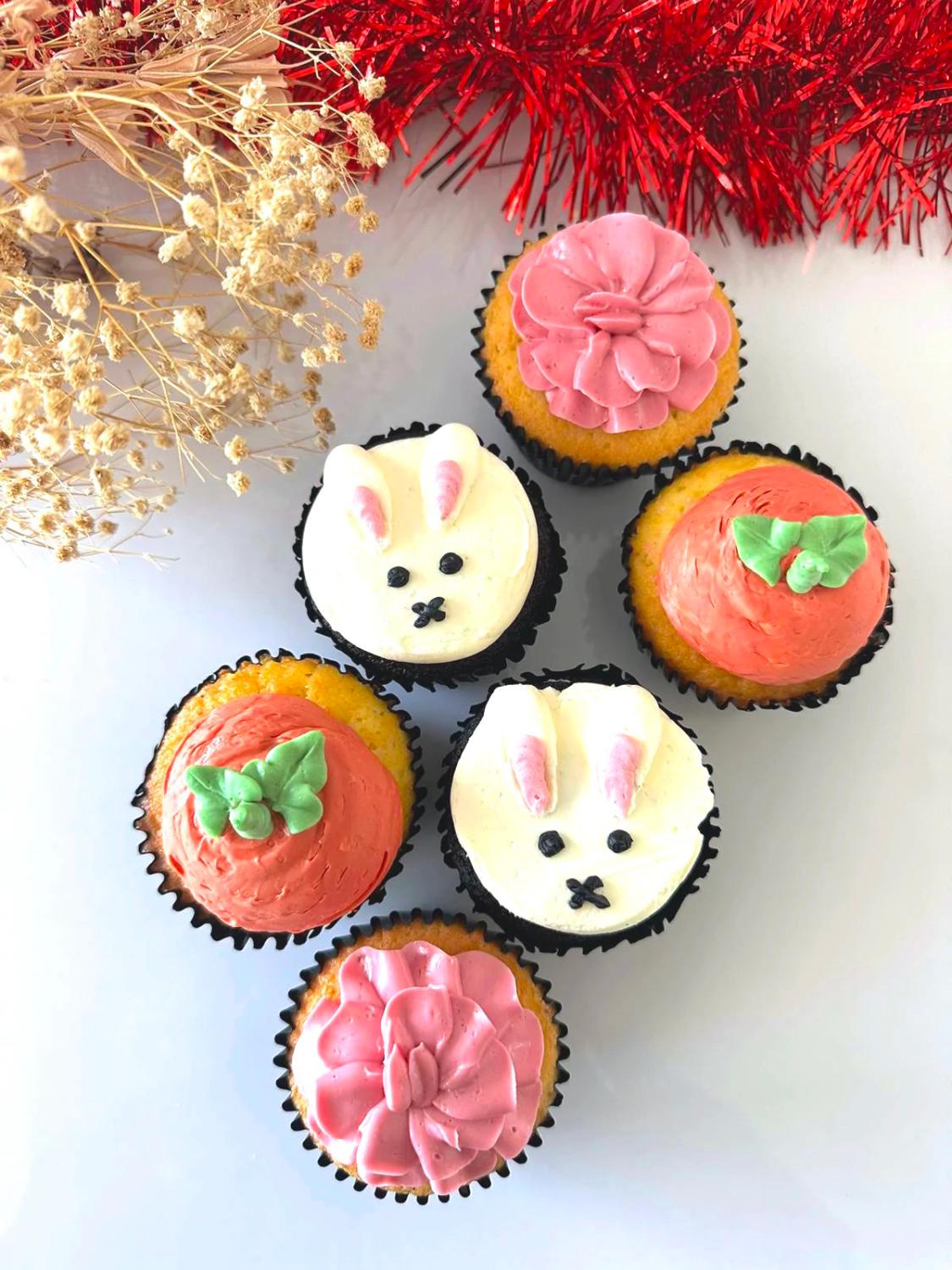 The Ugly Cake Shop Year of the Rabbit CNY Cupcakes, $28 for six
The Ugly Cake Shop's halal-certified CNY cupcake bundle is anything but ugly. Inside, you'll find six cupcakes with a bunny, mandarin orange or floral design. The bunny cupcakes are chocolate-flavoured, stuffed with Nutella buttercream and topped with vanilla buttercream while the orange butter cupcakes are piped with vanilla buttercream. Meanwhile, the floral cupcakes are lemon-flavoured with vanilla buttercream.
Available while stocks last at #01-06 GB Point, 535 Kallang Bahru, S339351. Tel: 8228-8300. For more info, go to their website, Facebook or Instagram.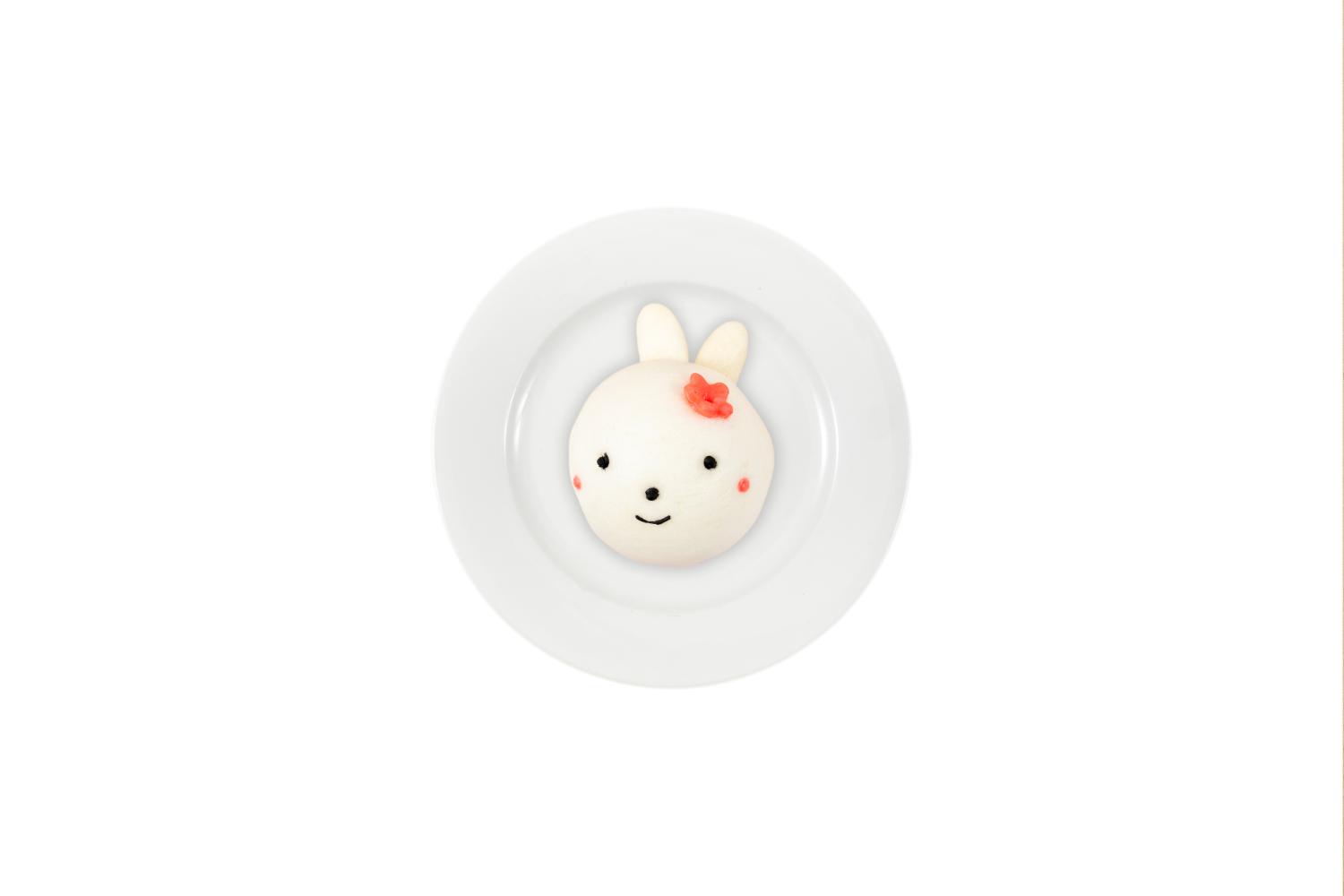 IKEA CNY Rabbit Bun with Red Bean Filling, $2.80
We can't bear to eat this endearing cartoonish rabbit bun adorned with an orange flower. It is filled with red bean paste and will make a nice post for a foodie's Instagram feed. Order this at IKEA's Swedish Food Market.
Available till Jan 23 at IKEA's Swedish restaurants. For a list of outlets, go to their website.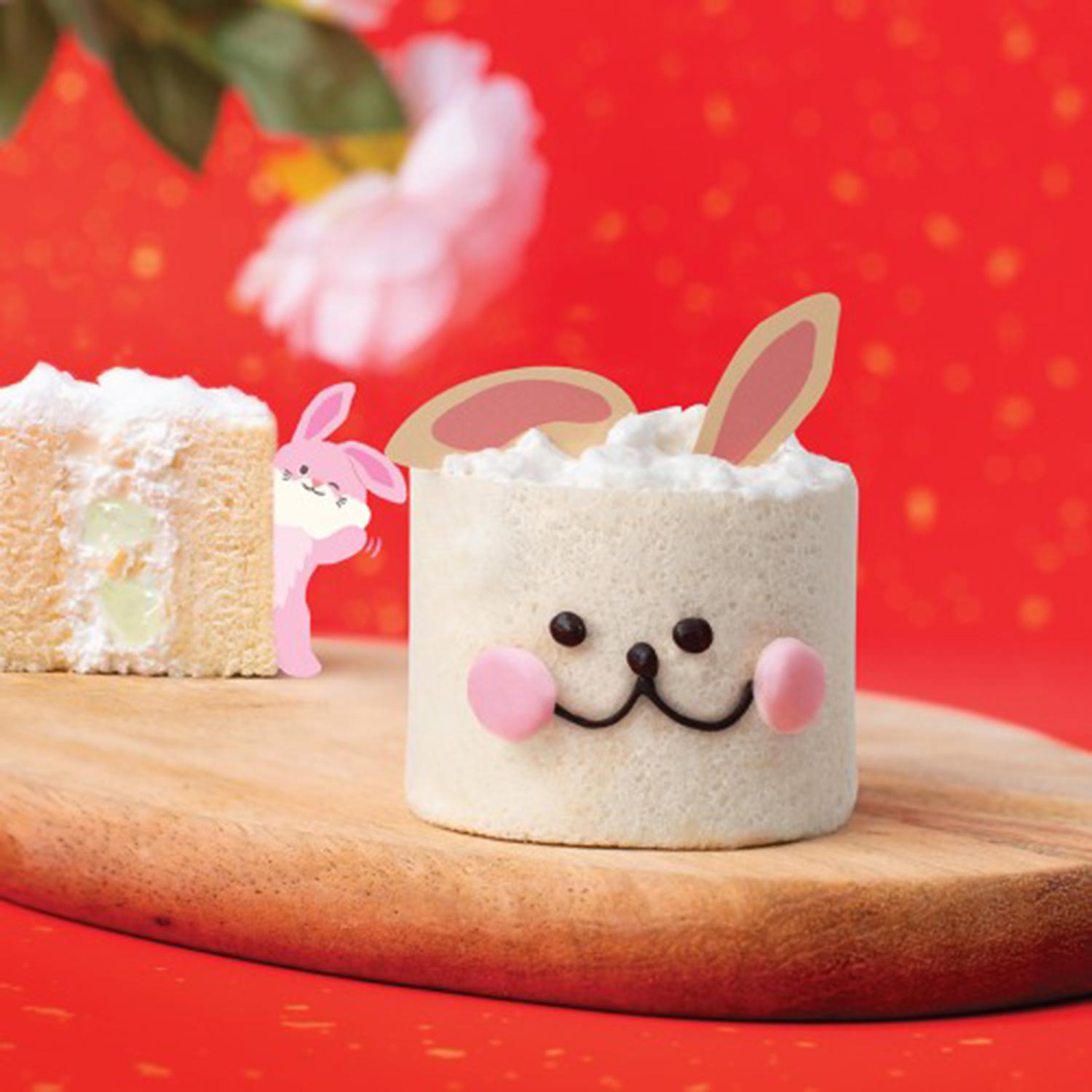 Polar Mini Bunny Roll, $4.60
Old-school confectionery chain Polar Puffs & Cakes gives its signature Swiss roll a CNY twist by transforming it into a cute little bunny. The vanilla sponge cake is stuffed with lychee jam and aloe vera bits.
Available for takeaway and delivery while stocks last, visit Polar's website for list of outlets.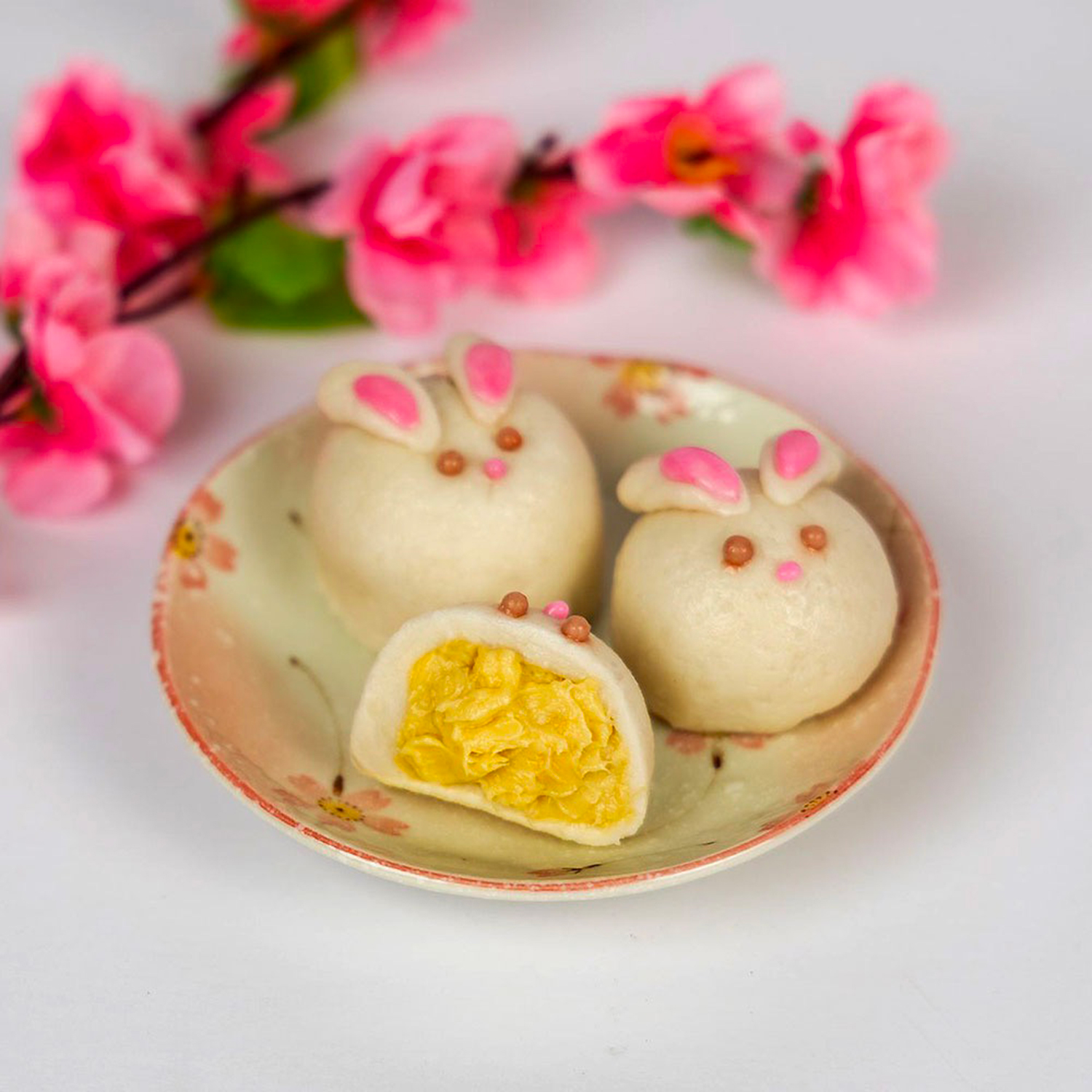 Home's Favourite Snow Skin Mao Shan Wang Rabbit, $42.80 for eight pieces
These adorable snow skin bunnies are filled with Mao Shan Wang pulp and reminds us more of mooncakes than a CNY snack. But you can still stock up on this if you are expecting durian-loving guests.
Available while stocks last at #04-09 Jurong Food Hub, 15 Jalan Tepong, S619336. Tel: 6272-2028. For pop-up locations, see website.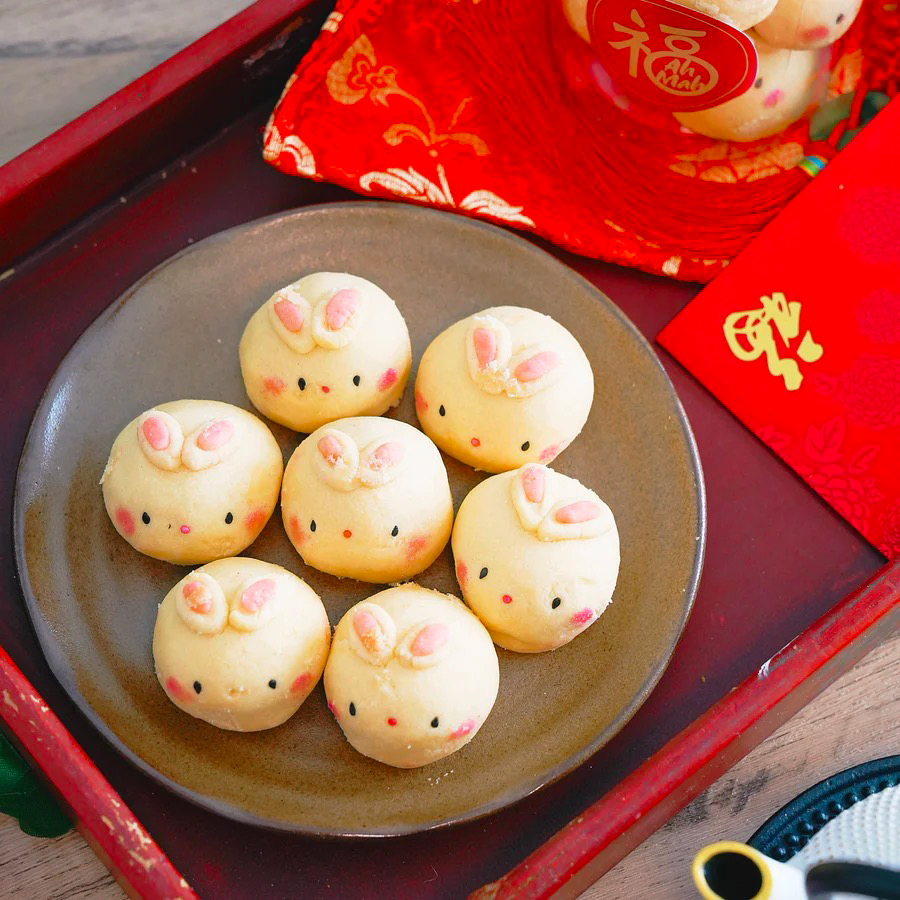 Ah Mah Homemade Cake Tu Tu Pineapple Tarts, $15.80
Happy new year Tu you! Castella cake brand Ah Mah Homemade Cake's auspicious Tu Tu pineapple tarts come in a handy bottle. You can either get a bottle by itself, or add another CNY goodie like Coffee Butter Cookies, Pandan Butter Cookies or Traditional Pineapple Tarts for a two-bottle bundle priced at $26.90.
Available while stocks last. Tel: 9733-9157. See website for list of outlets.