$20 Designer-Copycat Chairs? Comedian Elliot Tan's 3-Room Bedok Flat Looks Like Mini "Taobao Showroom"
Despite spending $1.2K to replace some damaged goods (not these chairs!), he says his $5K Taobao haul was worth the overall savings.
Comedian Elliot Tan, 31, and his wife (he declines to share her name) are the ultimate bargain hunters. Bargain hunting, as 8days.sg finds out, takes effort and appetite for risk. Painstaking research? Check. Price comparison? Yes. Gamble on poor quality or damaged parcels? Oh yes. But as Elliot affirms to us later, it's worth it for him to save some 40 per cent on certain furnishings.
They had set themselves a seemingly unrealistic home budget of $320,000, which included the cost of the home, renovation and furnishings. And they managed to stick to this budget, starting with the 3-room HDB resale flat in Bedok which they bought for $295,000 last April. How they managed to save money on the reno and furnishing is an inspiring tale.
First, and perhaps most significantly, there was the $50,000 in grants they received from HDB's Housing Proximity Grant and Non-Citizen Spouse Scheme (Elliot's wife is Vietnamese) which left them with more cash to spend on the $48,000 reno.
Renovations for the 40-year-old 775 sq ft flat, in its original condition with a squatting toilet, were extensive and took around six months to complete. The couple knew exactly what they wanted, as Elliot's wife, who has a background in graphic design, designed the space and even did the 3D drawing herself.
They then engaged an interior designer to execute their vision. "My brief to the ID is 'My wife has 3D pics' and I just passed him the finalised design," says Elliot, whom you might remember from YouTube channel TreePotatoes and meWATCH series The Breakup List.
"The original plan was to find a contractor, but project management would be an issue 'cos the contractors we spoke to were all very Chinese-educated. My Mandarin is not the best, and my wife is Vietnamese, so we were afraid we couldn't translate our ideas to them properly," adds Elliot, who is also a creative director of an interactive marketing digital agency.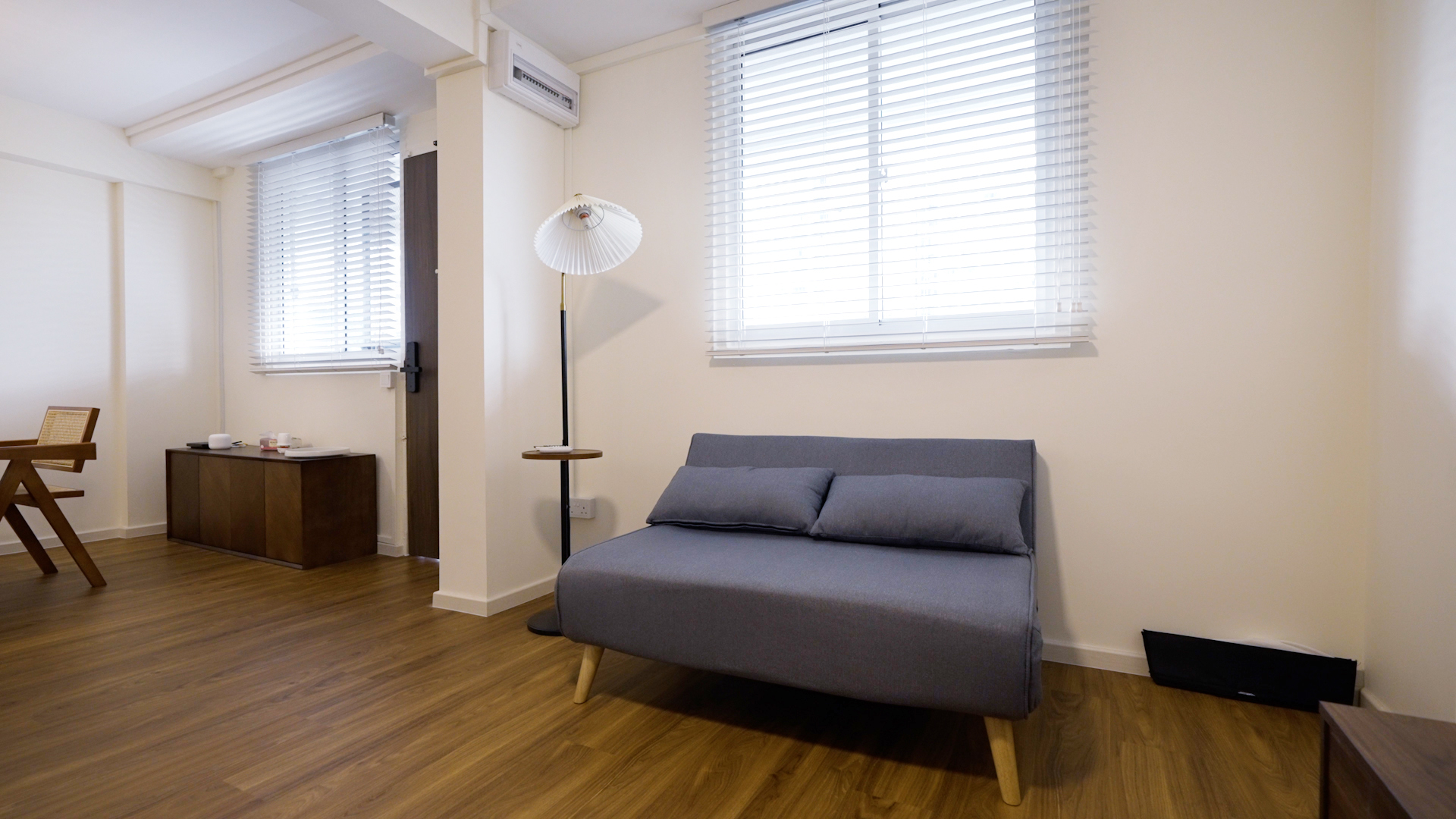 Taking a gamble with Taobao
Still, their poor command of Chinese did not stop them from sourcing for furniture and fittings from Taobao. The Taobao noobs knew they were in for an "ordeal" but for the sake of their bank accounts, they were willing to "take a gamble".
"We're cheap," laughs Elliot, "it took me the longest time to shop for stuff, around one-and-a-half months. I had to use Google Translate [to read reviews and chat with merchants] and bugged my friends to help me scrutinise everything."
They compared prices for Every. Single. Item. "If we saw items we liked, we would try to find the local equivalent so we could see them in the showroom, and vice versa. One of the hacks is to use Google Lens on your mobile phone to take a picture of the item you want, and then you get all the relevant search terms on the Internet. With that, go and see if there is an equivalent on Taobao," shares Elliot.
"All our lights are from Taobao and I think they look very classy. Our dining lamp only cost $100, I think a shop in Balestier was selling it for $450. The mark-up is so insane that I decided to take a risk," he says.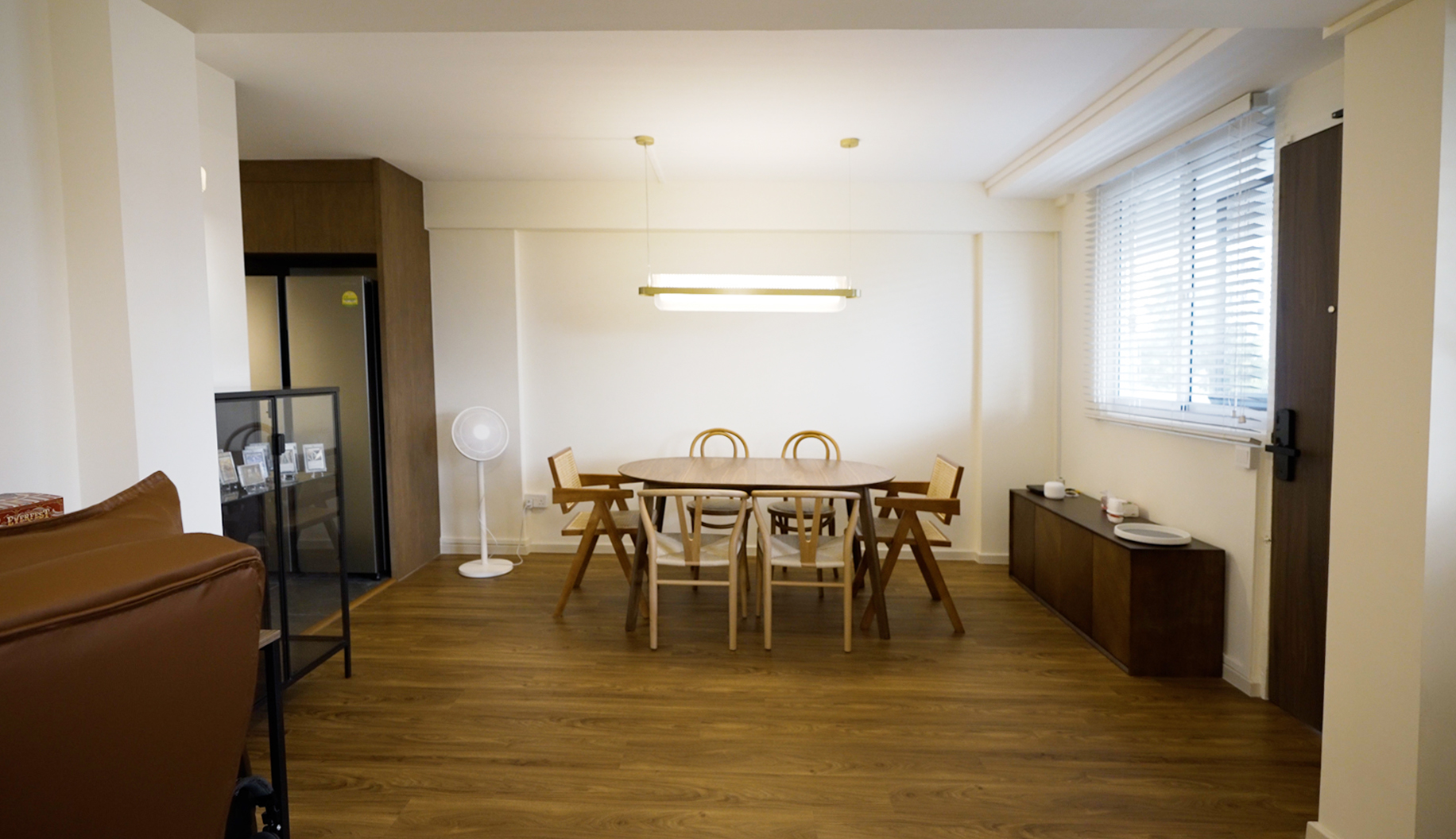 "It's like a Taobao showroom"
Elliot admits that his home looks a bit like a "Taobao showroom". From dining chairs to the bathroom vanity, around 60 per cent of the furnishings is from the e-commerce platform. The bigger items like the dining table, couch, and bed frame were sourced locally as they managed to find competitively priced options here. Being heavier and bulkier, it also didn't make financial sense to bring them in by freight.
He also recommends checking out online stores like FortyTwo where you can find "the exact same items as Taobao". "Sometimes they have very good discounts, so it's as cheap as buying from Taobao. I got my office chair and TV console from there," he says.
He reckons their Taobao haul came up to around $5,000, while the other items including appliances and sanitary ware that they bought locally cost $12,000. The Taobao items were shipped via a third-party freight forwarder at a cost of around $500.
"We decided to get electronics or anything that involves water pressure in Singapore, so it is easier to get them replaced when the need arises," explains Elliot.
He should know. Some of their Taobao purchases arrived damaged or incomplete and when we spoke to Elliot a month ago, he was still waiting for some of the refunds.
"Around seven items, including our ceiling fan and chairs, were broken, and the quality of some of the items was really bad, so we had to get them refunded. I think the damaged items came up to around $700 and I had to spend another $1,200 to get them replaced locally," shares Elliot. He didn't have to return the damaged goods.
He adds: "The process of filing for refunds is quite tedious 'cos you have to take photos of everything and [the merchants] ask a lot of questions, thankfully Taobao tried to help me mediate it. I filed for claims in December and some of them are still being processed. From my experience and what I read online, it takes anywhere between three to four months, so if you don't have the liquidity, then maybe it's not such a good idea to buy on Taobao."
Despite the "pain", he says he has no regrets: "I think I saved about 40 per cent buying from Taobao, or maybe even more. I would definitely do it again, but only for large-scale projects like this where it's worth the hassle."
Elliot's large-scale makeover started with the flat's layout. One bedroom was removed to expand the open-plan living space, which combines the living and dining areas, as well as Elliot's office nook. Part of the kitchen space was also carved out and added to the bedroom.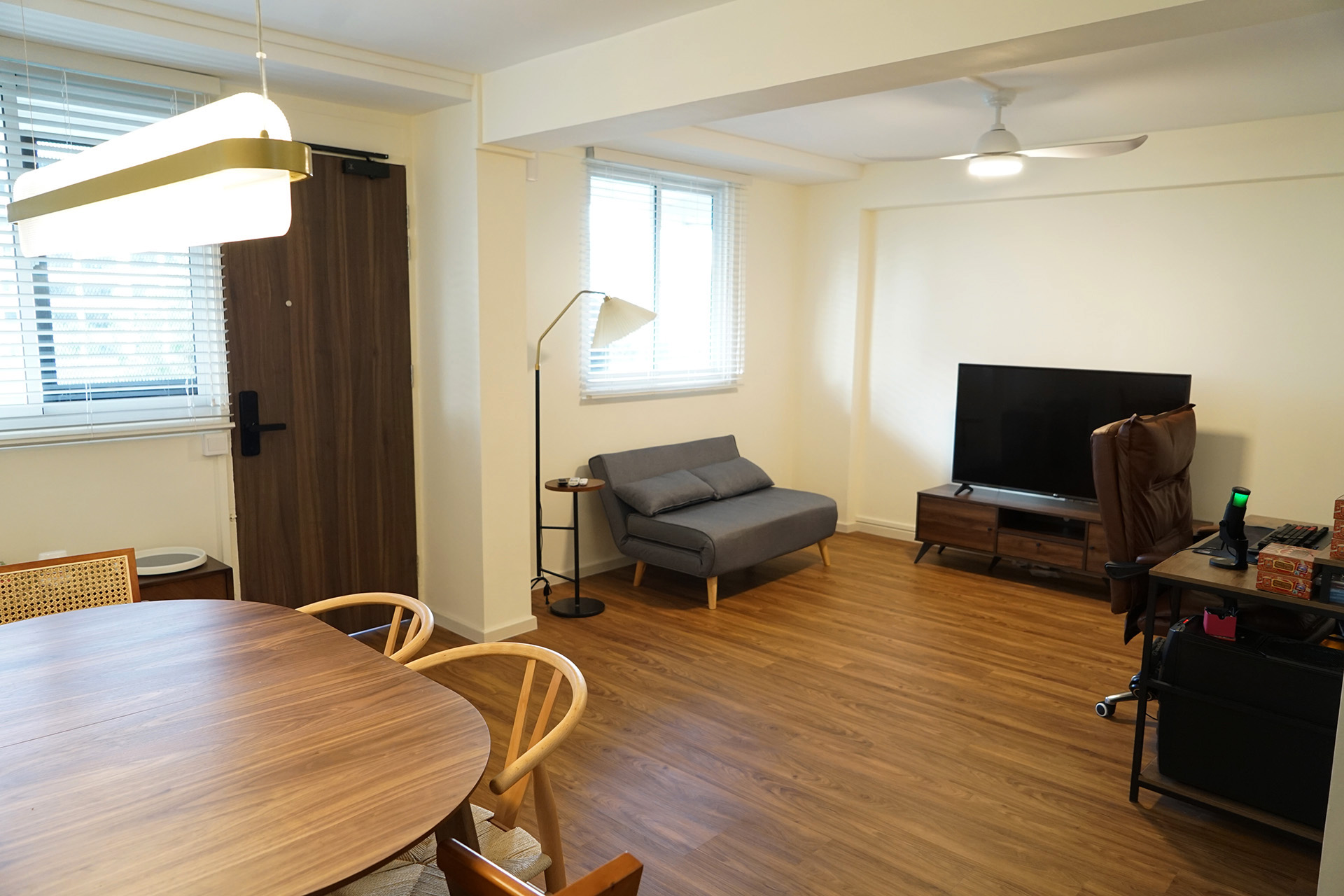 Evoking a sense of calm with wood
To fit their flat's Japanese-Scandinavian theme, the couple went for affordable yet stylish wood pieces and warm earthy tones. Even the vinyl flooring echoes the wood plank look.
"There are a lot of wood furniture pieces 'cos it makes us feels closer to nature. We also wanted a chill, resort staycation vibe," says Elliot.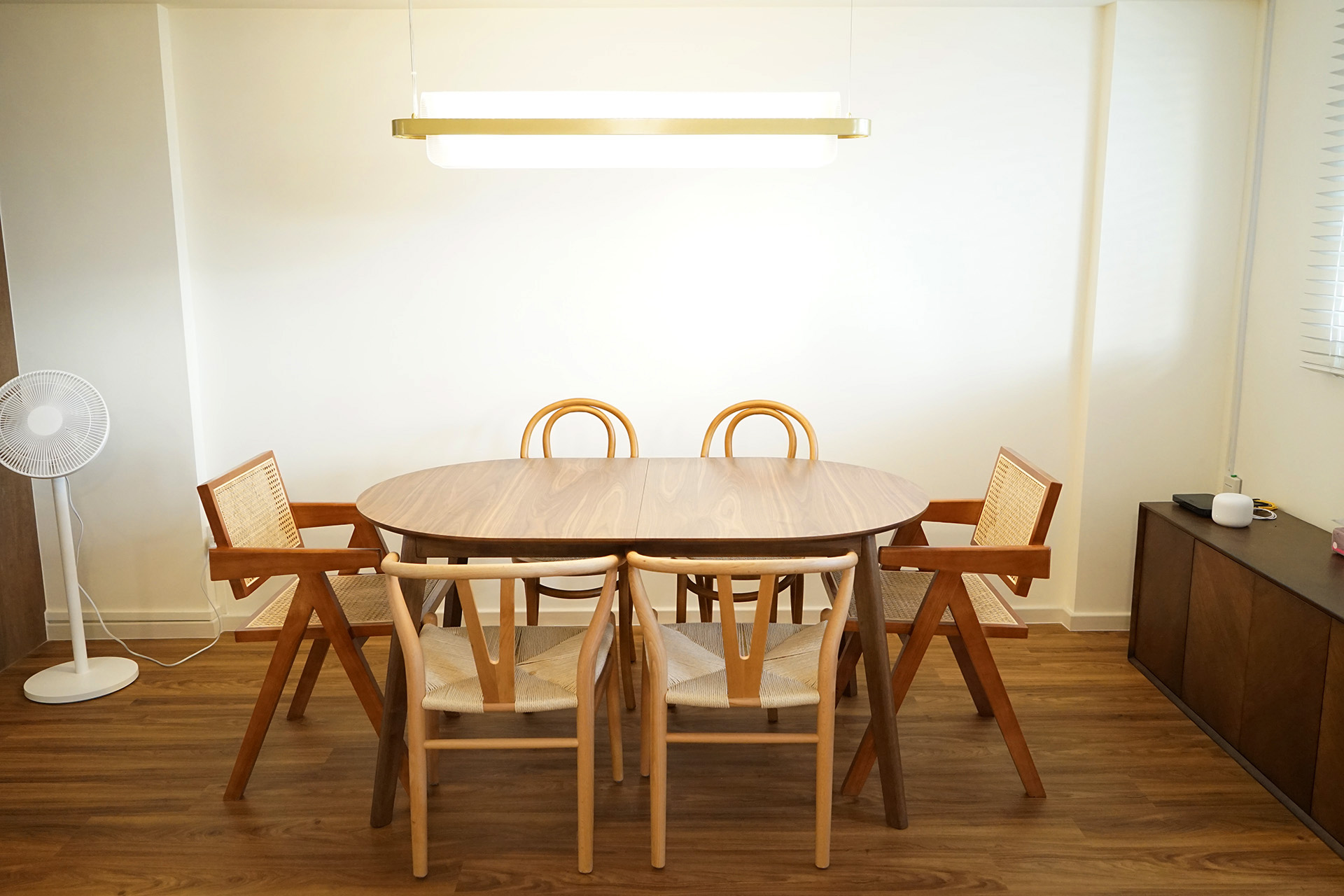 Taking centrestage is the extendable wood dining table paired with mix-matched dining chairs, replicas of designer models. The chairs were all bought on Taobao for about $20 to $30, including the trendy Pierre Jeanneret chairs (at both ends of the table).
"I think the copycat [Jeanneret] chairs were like $20 each. We're damn cheapskate. These are quite well made and have actual rattan on it. There were two other chairs [we threw away] which looked like rattan but turned out to be plastic, and the leg was broken. They looked very cheap," says Elliot.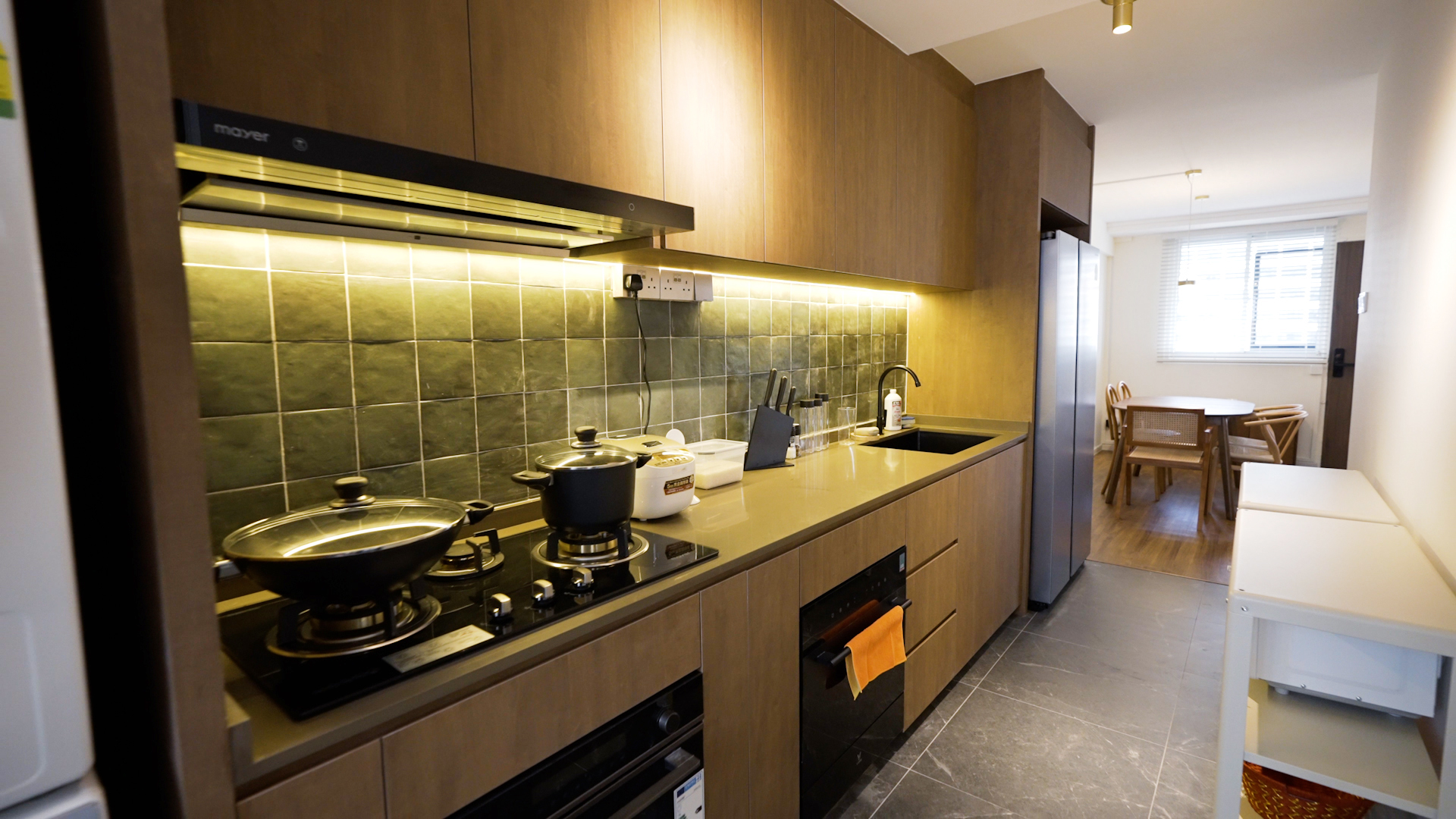 Kitchen
The kitchen is rather narrow after the couple extended their master bedroom into the space. As Elliot cooks a lot, the space had to marry form and function. He wanted a clean and spacious countertop, and plenty of storage space to prevent clutter. He even has a mobile countertop, so he can do his food prep in the living room while watching TV.
Splashes of green were incorporated to enhance the nature and tropical vibe. This is also reflected in the rustic vanity and bathroom area, which are inspired by resorts. While it's common for resale flat owners to combine the shower and toilet spaces, Elliot chose to keep them separate as he's very fascinated by it.

"I didn't know I wanted it until I had it. This is very helpful as I can still relieve myself when my wife is showering in the morning. In future if I move to a bigger place with more bathrooms, I would still want to have it split and maybe one combined one for my kids," he says.
Another thing Elliot is super fascinated with is his brass tap, his favourite item in the house.
"When I turn it on, the water flows like a waterfall. Very cheap thrill, I know. And with the stone sink, it really feels like I am in a resort. The entire vanity set, which includes the wooden cabinet, LED mirror, sink and tap cost only $350," Elliot says proudly.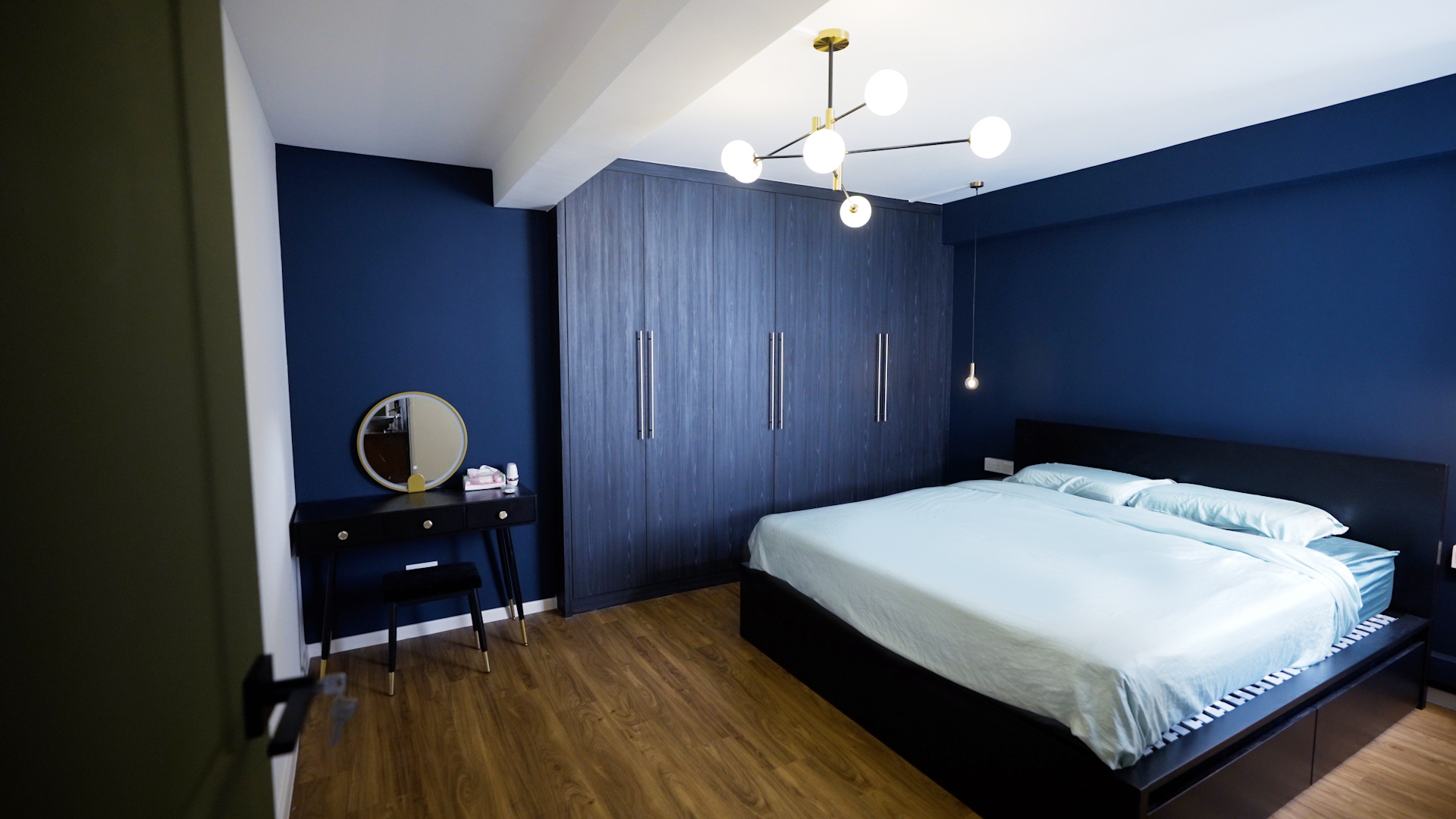 Master bedroom
Adjacent to the bathroom is the master bedroom. As they don't have an ensuite bathroom, the couple moved the master bedroom door, which was previously closer to the dining area, to the kitchen so they have easier access to the toilet.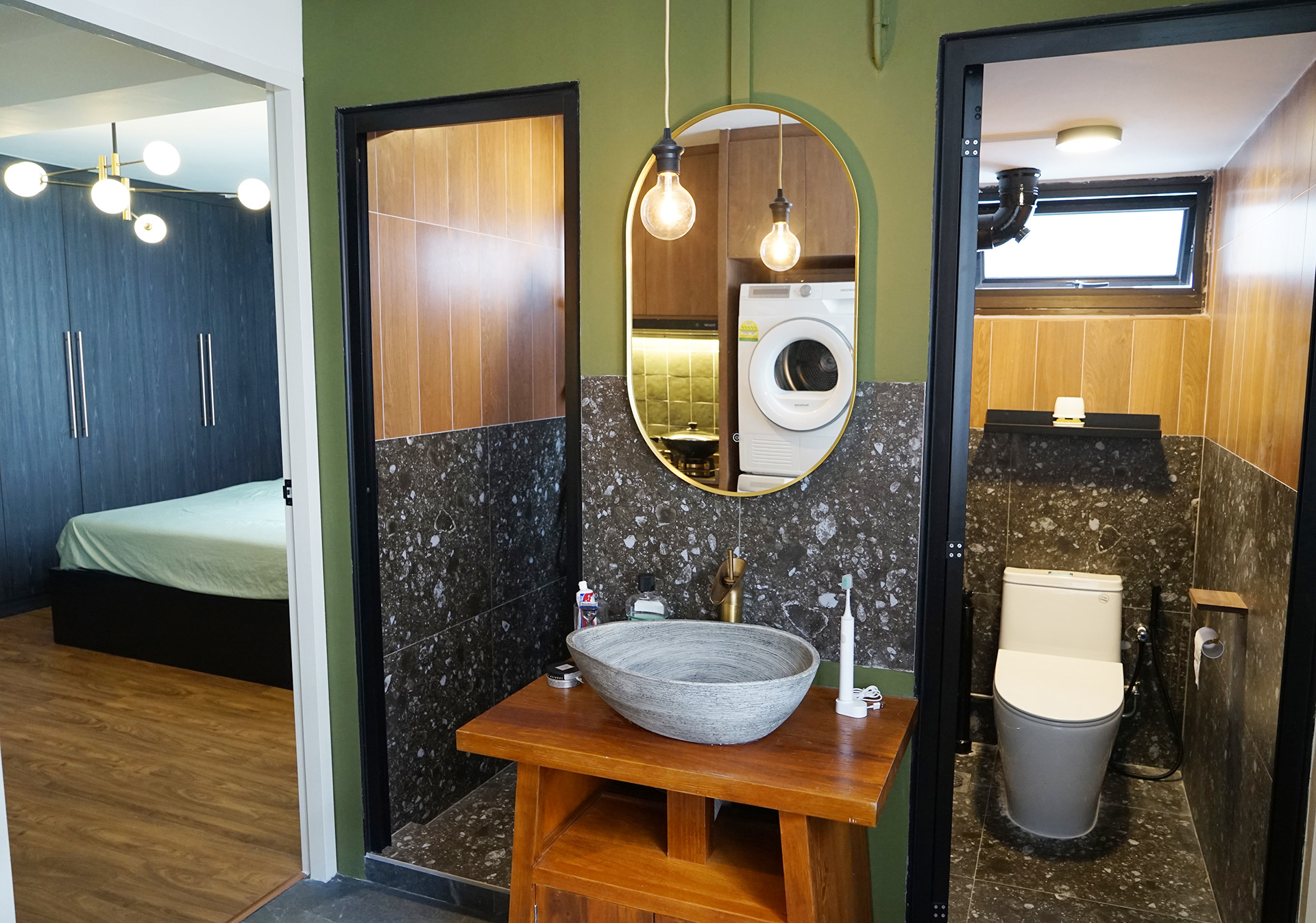 The bedroom wall is painted blue, matched with grey cabinetry, dark furniture, and gold accents for a touch of glam.
Elliot assembled the vanity and Ikea bed frame himself 'cos being the "cheapo" that he is, he didn't want to pay the Ikea guy to do it.
"I think you have to pay 15 per cent of the cost, so I just sucked it up and did it myself," he says.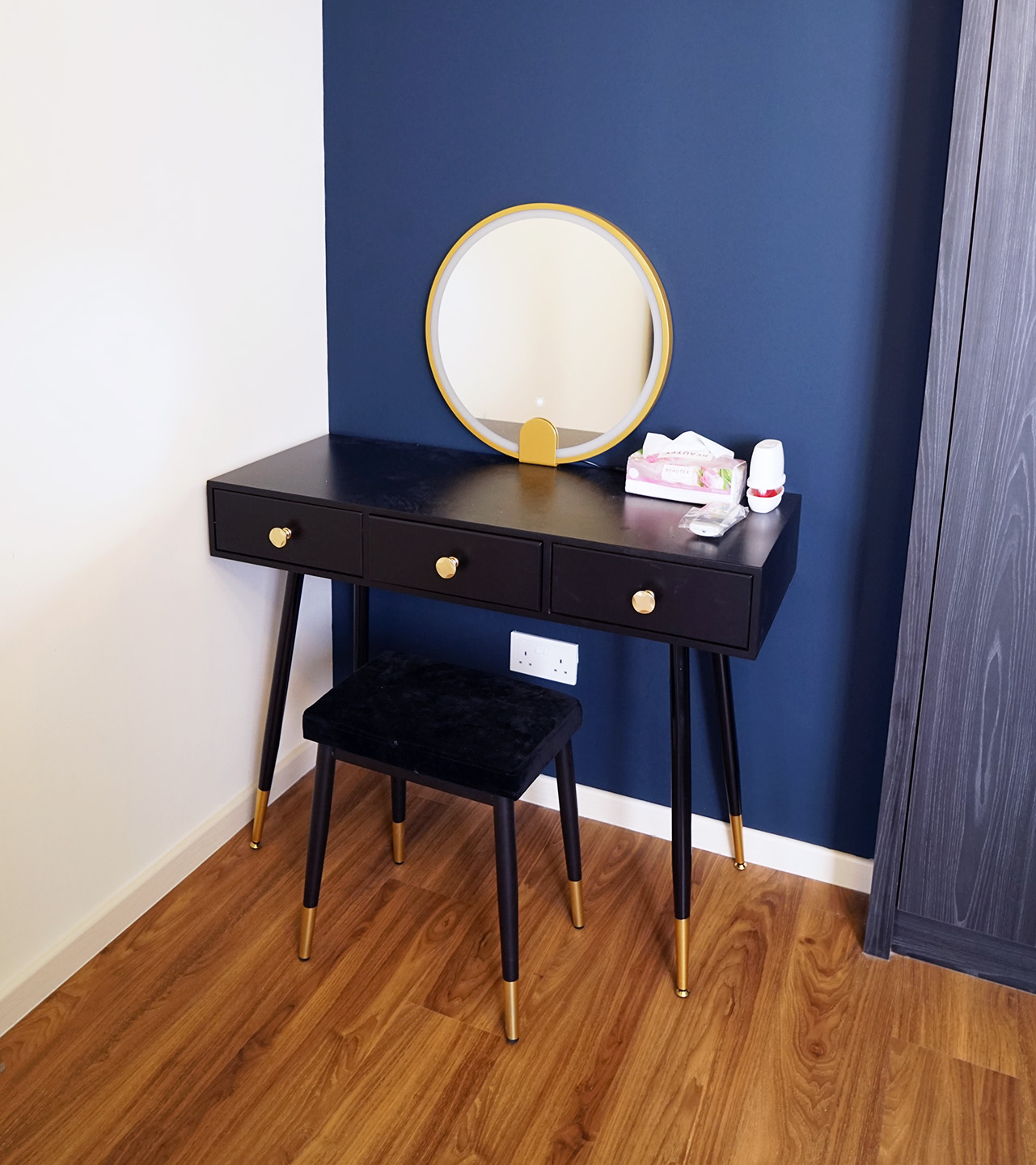 8 DAYS: It's impressive how you managed to keep to your home budget of $320,000.
ELLIOT TAN: I must give my wife credit for that. She made sure that we were thorough about reading up on the HDB grants available and getting different renovation quotes to make sure we found the right ID to work with. We went through at least 20 quotes. When you are not in a rush to get a place, I think that is due diligence. Reno prices were really high due to the shortage of manpower during the pandemic, so we said let's find the right partner to work with, have good design, and take our time to find the perfect furniture. My reno started around July last year and we moved in in February.
Right from the start you knew you wanted to furnish your home with furniture from Taobao?
Yes, especially after knowing how much other people have saved shopping on Taobao, we were instantly like, "That's us, we're cheap!" Our tiles were imported from China too. Since we were already freight forwarding stuff, my ID suggested we save a bit more by bringing in the tiles. You can buy the exact same tiles that you see in Singapore showrooms at a slightly lower cost direct from China. We didn't save a lot honestly, around five to 10 per cent tops. But I didn't have to buy locally and that excited me.
Were you worried that you had to liaise with freight forwarders as well?
I spoke to my colleagues who frequently shop on Taobao and they showed me a few reliable freight forwarders that they use and their advantages, so it gave me more confidence to bring things in myself. In fact, some of the freight forwarders were very nice. They added me on Facebook and chatted with me in English. And every time I asked them how to fill in forms, they would advise me or just do it for me at their end.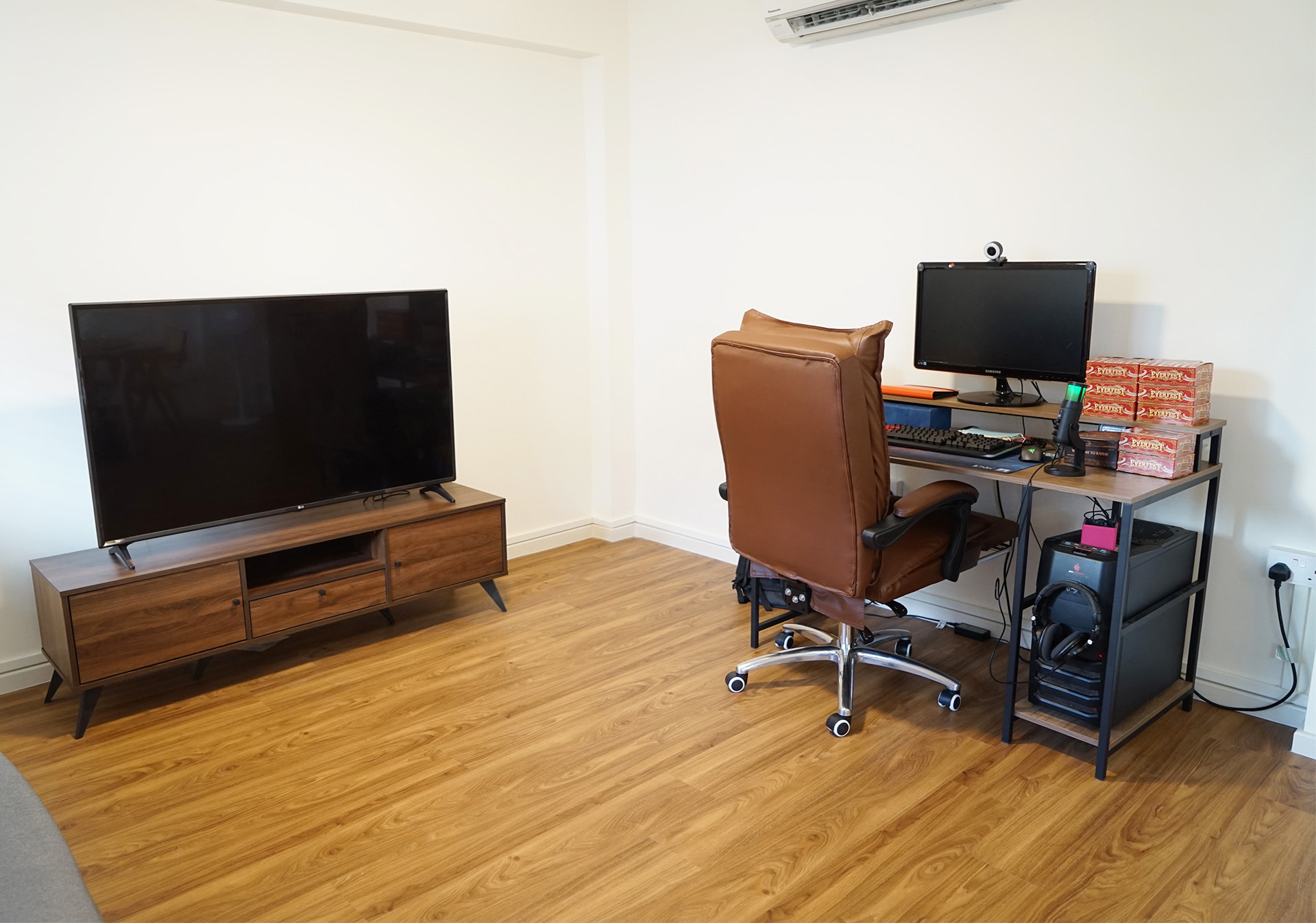 His work desk matches with wood theme

Which was your best buy?
My Taobao work desk. Prior to the pandemic, people just used regular work desks. I use a standing desk in the office, which is ergonomic and all, but when you want something to fit your needs and home and still be aesthetically-pleasing, it is so difficult to find. I spend so much time here, so I wanted my desk to be part of the house aesthetic, especially since it is in the middle of the living room. I don't want it to stick out like a sore thumb, so I picked a wooden desk that is very open so I can hide cables. I got it for $120 from Taobao.
Anything that you regretted buying?
The standing lamp in my living room. I got it from Taobao after seeing something similar in one of the Balestier showrooms. It looks aesthetically nice, but the actual functionality of it didn't meet my standards. The lamp shade cannot be adjusted, so it's stuck at this angle. It's not even plugged in. I just use it as a side table to put my coffee and remote controls.
Watch #JustSwipeLah for a tour of Elliot's home.