5 Most Memorable CNY Music Videos Of The Past 20 Years Starring Mediacorp Artistes
Click here for nostalgia.
The Chinatown street light up, pineapple tarts, ang pows and the massive squeeze at temples when the clock strikes twelve — these are just a few things Singaporeans will think of when it comes to the Lunar New Year.
Also unforgettable are the CNY songs performed by our Mediacorp stars that you would hear played on loop on TV and in shopping malls.
Listening to those songs and watching our fave stars dressed up in auspicious colours while gyrating to those festive tunes will no doubt get anyone in the CNY spirit.
So let's take a trip down memory lane and revisit some of the most memorable CNY videos of the past 20 years.
A Very Dab-y New Year
We're sure most people will remember the 'Guji Guji Yi Xia' song from 2017… and how it spawned one of that year's funniest memes.
And it's all thanks to Zoe Tay, Rebecca Lim, Tay Ping Hui, Chen Hanwei, Kym Ng, Vivian Lai, Elvin Ng, Desmond Tan, Xu Bin, Lim Peifen and Dennis Chew, dabbing their way through the music video. 

The dab, for those who forgot, is a viral dance move that can be described as one sneezing into the crook of their elbow. It gained widespread popularity in 2016.
The dazzling, or should we say dabbing performance of our stars led to wild discussion online, with many netizens taking to social media to rate our very sporting celebs on their dabbing skills.
Photo and video: Mediacorp/ YouTube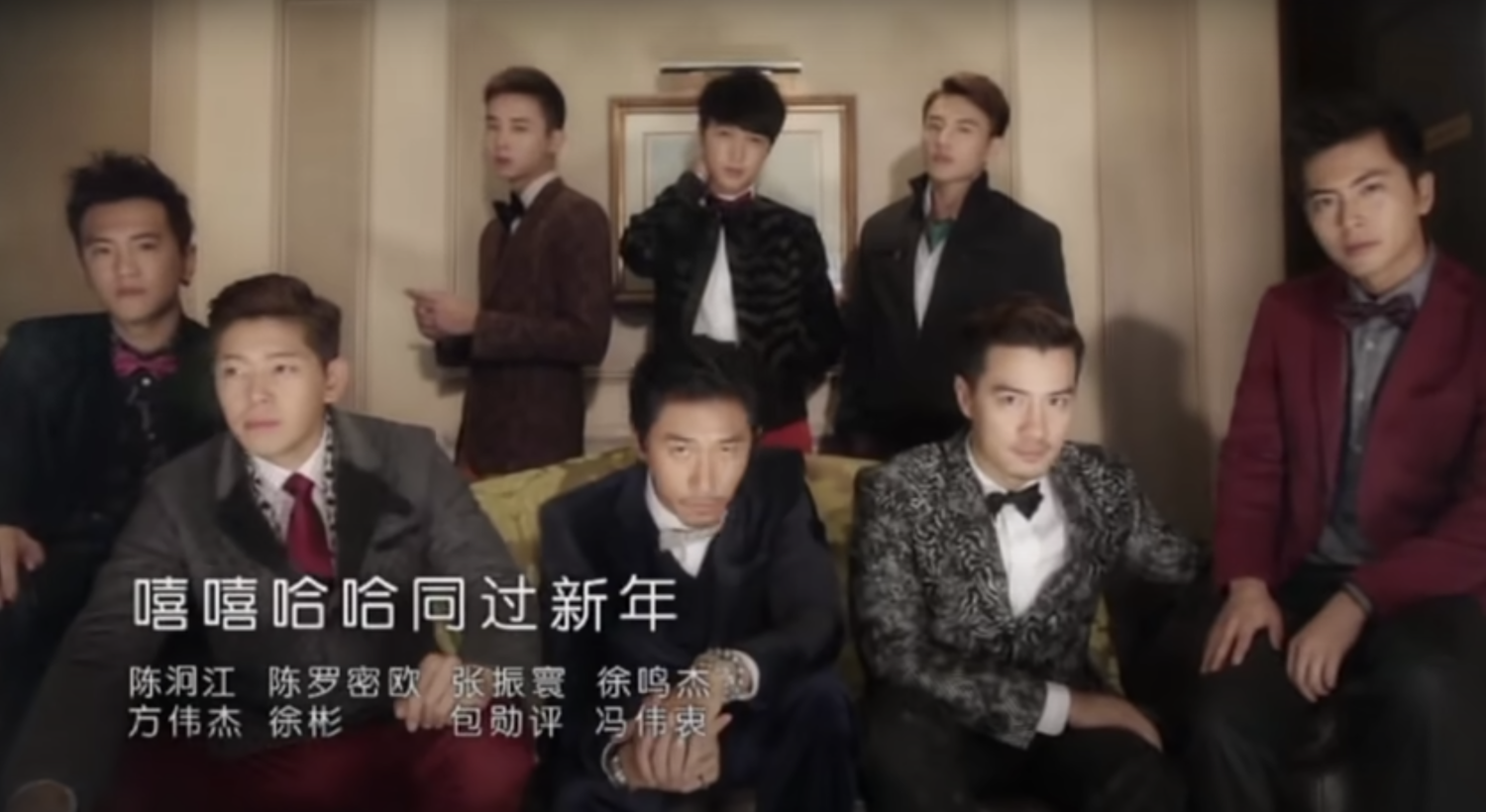 8 Duke-ing It Out
The Eight Dukes of Caldecott Hill — Romeo Tan, Desmond Tan, Jeffrey Xu, Xu Bin, Ian Fang, Zhang Zhenhuan, Shane Pow and the late Aloysius Pang — got dressed in their atas reunion dinner best for their 'Xi Xi Ha Ha Tong Guo Hao Nian' music video in 2015. 
What's different about this video is that it doesn't feature the guys dancing. Instead, they were brought together to do one thing: look good. And they sure delivered with all those flattering close-up shots.
Photo and video: Mediacorp SG Fan/ Youtube
Who Wants To Go On A Magic Carpet Ride?
This video from 2007 featured Ann Kok, Dawn Yeoh, Christopher Lee and Qi Yuwu performing 'Gong Xi Gong Xi' on mini red carpets. 
Each star had their own mic stand and red rugs that followed them everywhere.

Like Aladdin on his magic carpet, the stars were transported from the bridge at Clarke Quay, to Vivo City, to a road behind the old Caldecott Hill campus, giving new meaning to the phrase 'red carpet treatment'. 
The song starts at 2.42 in the video below.
Photo and video: SG DVD Rip/ Youtube
When Zoe Sang With Fann
In 2004, Fann Wong and Zoe Tay combined their star power for 'Chun Feng Wen Shang Wo De Lian'. They donned pink cheongsams, and were perfectly in sync as they gave one of the best singing performances we've heard in a CNY song.
What are the chances we could get a reprise of this?
Photo and video: Chyly Tear/ Youtube
So This Is What 2003 Looked Like
Nothing screams 'time flies' more than watching an old CNY music video, and realising that half of the stars in it aren't even active in local showbiz anymore.
This 2003 music video featured Fiona Xie, Jeff Wang, Yvonne Lim, Le Yao, Florence Tan and Dasmond Koh performing 'Xin Xin Cheng Ren Ying Xin Shui' with some really cool (for 2003) background graphics.
It proved to be an impossible task to find this 20-year-old video in better quality, but it was all part of the experience of watching things online all those years ago, right?
The song starts at 2.31 in the video below.
 
Photo and video: fhlew888/ Youtube
Last but not least, you can watch this year's CNY music video, "Ha Pi Tu He Chun Feng Sai Pao", featuring Desmond Tan, Romeo Tan, Chantalle Ng, He Yingying, Tasha Low and Fang Rong below.
Photo and video: Mediacorp/ Youtube