Accountant Who Now Earns "Half" Of What She Used To Finds Joy In Selling Min Jiang Kueh
"She's all smiles now even though it's hard work. As a mum, when your child smiles, you smile too," says Eva Lee's mum, who's unfazed by her daughter's choice to give up a solid career in accountancy.
These days, former accountant Eva Lee's 'office' is a tiny Toa Payoh Lor 4 coffeeshop stall, the size of an average office cubicle. There, you'll find the Malaysia-born fussing over – not Excel spreadsheets – but a piping hot griddle, from which she churns out freshly-made min jiang kueh stuffed with crushed peanuts, red bean paste and grated coconut.
The bubbly millennial, who is 29 but looks younger than her actual age, runs Eva's Pancake, a stall she opened in December 2020. She is one of the new generation of young hawkers who bravely leave their cushy office jobs to try their hand at hawking. She says of her career switch: "I traded my old, air-conditioned office for a new 'office', and mental stress for physical exhaustion (laughs)."
No part of this story or photos can be reproduced without permission from
8days.sg
.
On ditching the corporate life
But why become a hawker in the first place? Eva, who's now a Singapore PR and has an accountancy diploma from Johor, explains: "I was in my accounting job in Singapore for more than seven years. I was looking for a change of pace, as I felt very stuck [at my old job]. The working hours were okay – there wasn't too much OT, but it was very stressful towards the end of every month [when we were closing the books]. I thought that by striking out on my own, I could eventually manage my own business and earn more [by expanding into more outlets should it prove successful]," she adds.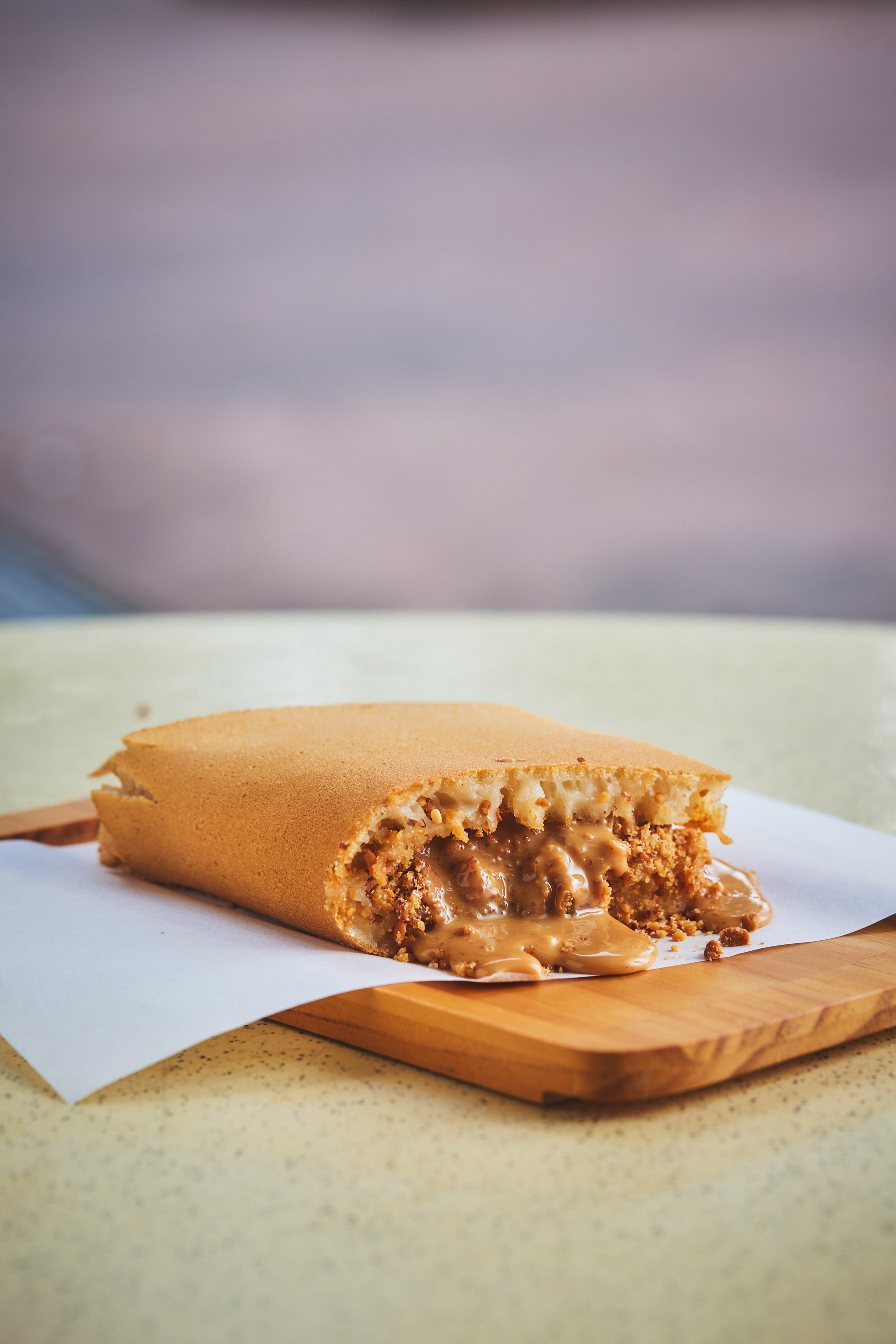 Eva now starts her mornings at 5am, before the sun rises. She makes the early morning commute from her home in Woodlands to Toa Payoh via MRT, arriving just in time to heat up her griddles and prepare the pancake batter before customers start streaming in at 6.30am. "Sometimes, my regulars will even be there before I open my stall," she says.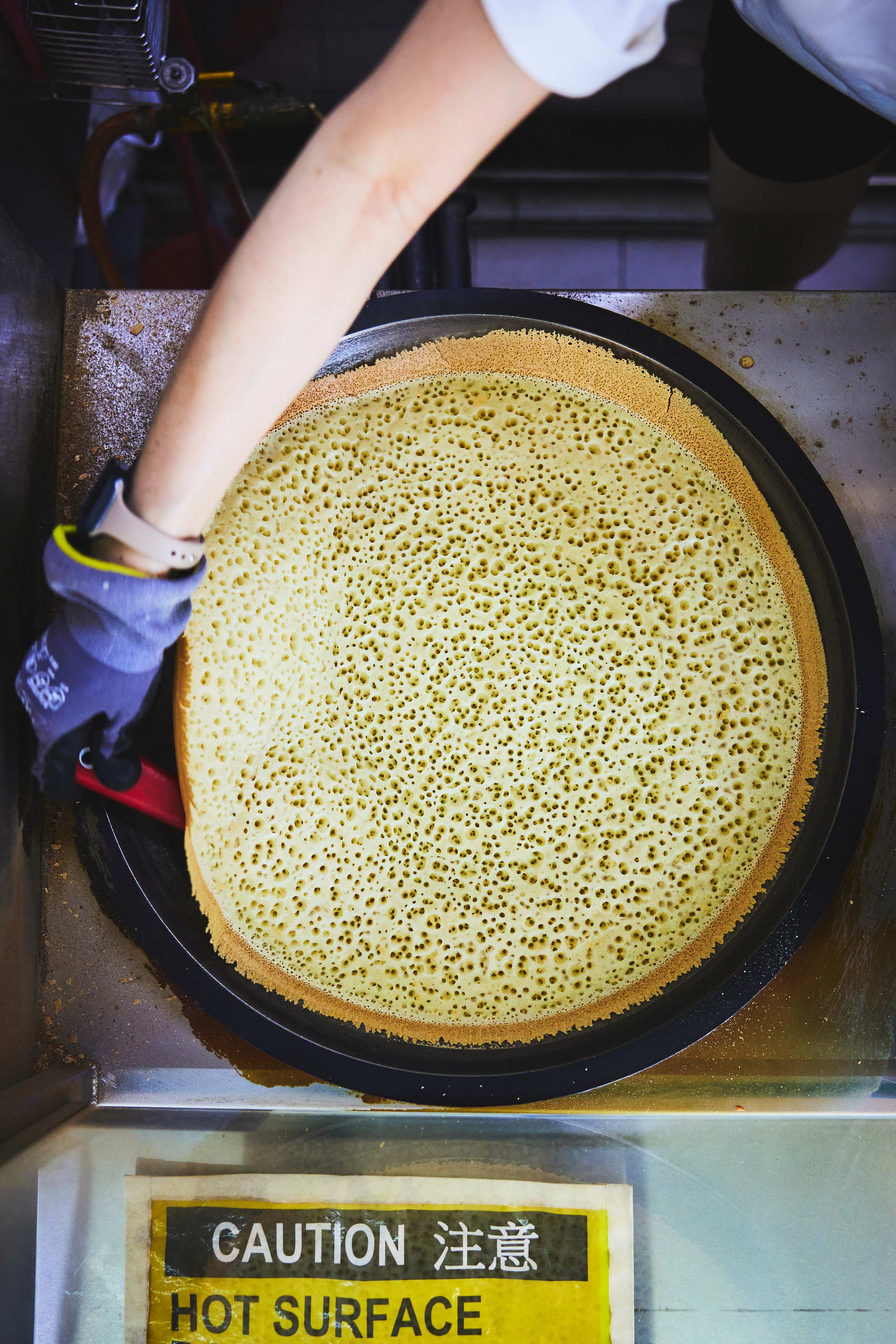 Apprenticed under Granny's Pancake
She signed up for NEA's Hawkers' Development Programme, initially wanting to pick up making chee cheong fun as it was "a dish that was relatively easy to prepare." But fate had other plans for her. "There weren't any chee cheong fun hawker mentors for that intake, so they asked me if I could do min jiang kueh instead. I decided to just try lah," she laughs.
Her eight-week apprenticeship was with min jiang kueh chain Granny's Pancake (who also tutored the hawker behind My Pancake at Dunman Food Centre, whom Eva knows). "It wasn't too hard to learn how to make the pancakes – the most difficult part was getting used to the heat," she says.
Supportive parents
After graduating from the programme, she settled into her current mini kopitiam stall which cost her a relatively modest $5,000 to set up. She usually runs the stall alone on weekdays, with help from her supportive parents on busy days. Eva's mum is a housewife, while her father works as an air-con service technician.
Her chatty mum Leong Kam Mooi (right), 61, declares proudly: "I saw how stressed she was at her old job. She's all smiles now even though it's hard work. As a mum, when your child smiles, you smile too."
She was unfazed by her daughter's choice to give up a career in accountancy. She explains, "I know it's terbalik (Malay for 'inverse') from what most parents want, but I have never pressured my children to be successful or earn lots of money. As long as they're happy and working hard, I feel like I've done my job as a mother."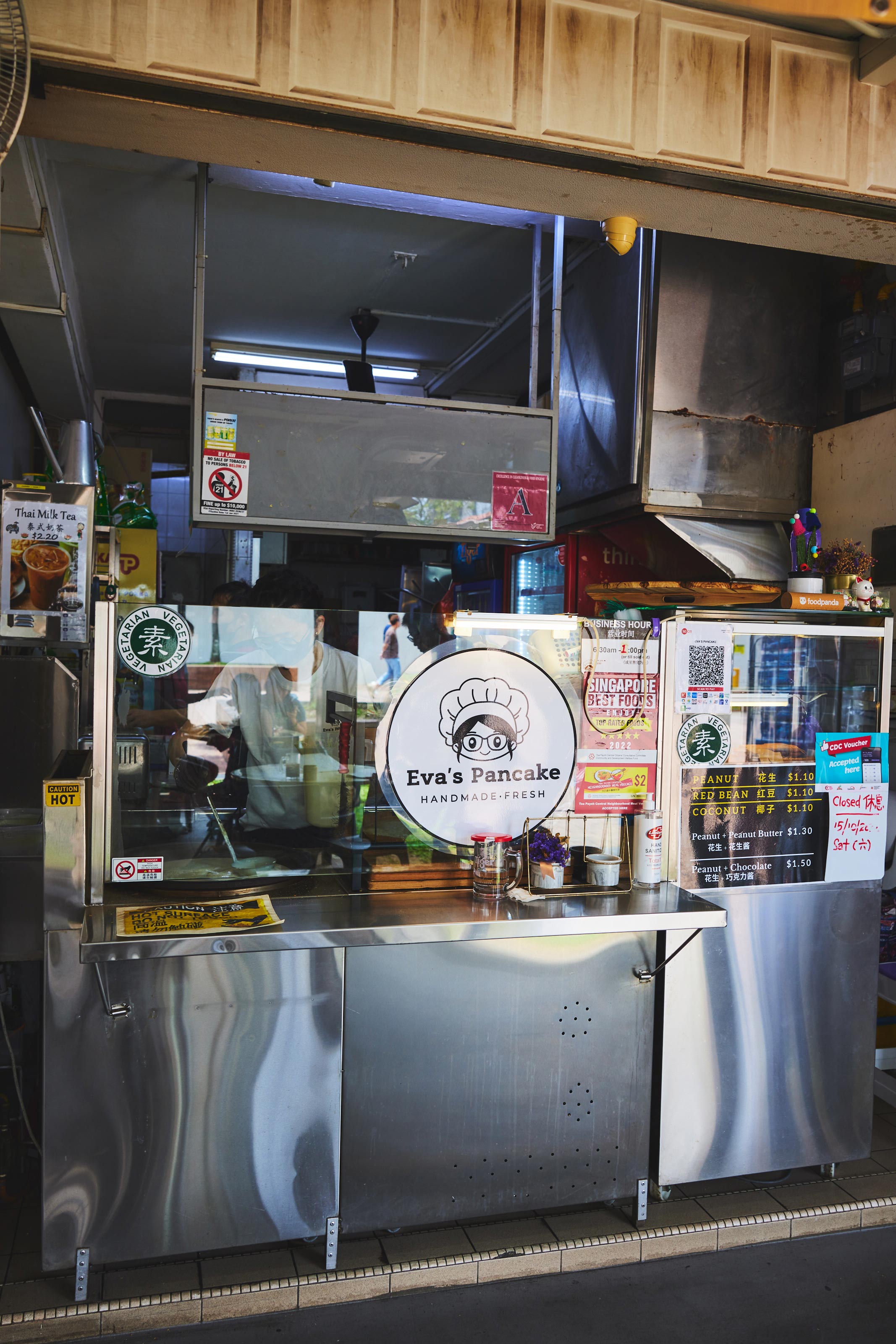 Business was initially slow
Unfortunately, business hasn't been as good as Eva had hoped. She only draws a salary of "around $1,800" monthly, roughly half of what she was earning before working at a small accountancy firm as a diploma holder. "It might be the [stall] location. Although there's a good crowd in the morning, there's almost no one by afternoon," she says.
Discouraged, Eva considered closing her stall. "Although it's very heartwarming to serve pancakes to regulars who have become friends over the past two years, I can't help but look at my friends with office jobs. On some days, it looks very enticing – there's stability, having weekends to myself and air-con," she adds with a laugh. "Even when it comes to spending time with my boyfriend, he has to come visit me at the stall to help before we go out (laughs)."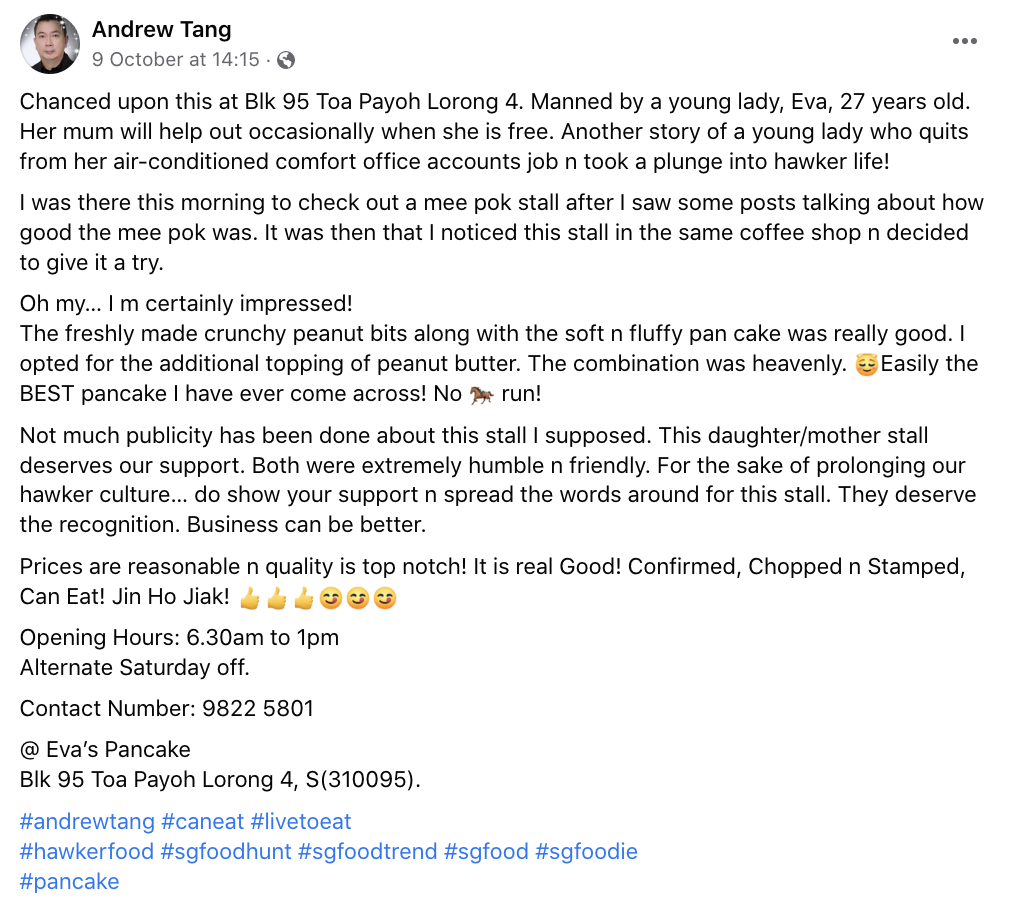 Facebook post boosted her business
But a recent post on Facebook foodie group Can Eat! Hawker Food, which trended online, led to a huge surge in business for Eva. Her mum says: "We are very thankful for the help, but we didn't expect so many new customers to come down to try our food. I had to usher them away so that they wouldn't crowd the walkway. I said, 'Just tell me your order, go to the [nearby] supermarket and enjoy the air-con for 15 minutes and come back.'" While the initial scrum thinned a week after the post, there was still a healthy stream of customers during our visit on a Friday.
The boost in business gave Eva the confidence to continue trying. She lets on that she might be moving to a "better location" as soon as she can find a stall unit. "Hopefully, a place with a bigger crowd so that we can open longer and be more efficient with our time," she says. "I'm still happy with the switch [to being a hawker] that I made. 'Cos at least I am serving my customers and making them happy with good food. I believe that if I try my best, the money will come after."
The menu
Eva offers five classic min jiang kueh flavours including Peanut ($1.10), Red Bean ($1.10), Coconut ($1.10), Peanut + Peanut Butter ($1.30) and Peanut + Chocolate ($1.50). Additional toppings are at $0.20 each.
She also sells a wafer-thin crispy peanut pancake ($1.80 for 2 pcs), available in limited quantities. "There's no way to make it when we're busy, as you must get the pan very hot. We can only make a few pieces at a time [compared to an entire pan for the regular pancake flavours]," she explains. You're welcome to try your luck during non-peak hours though.
Peanut, $1.10
Despite having no previous F&B experience, Eva whips up a nicely pillowy, cake-like min jiang kueh with delightfully crispy edges. Her sugar-peanut filling is deliberately made less sweet to cater to the older customers in the surrounding Toa Payoh estates. But it is by no means bland. A hearty slice we'd be happy to have with our morning kopi.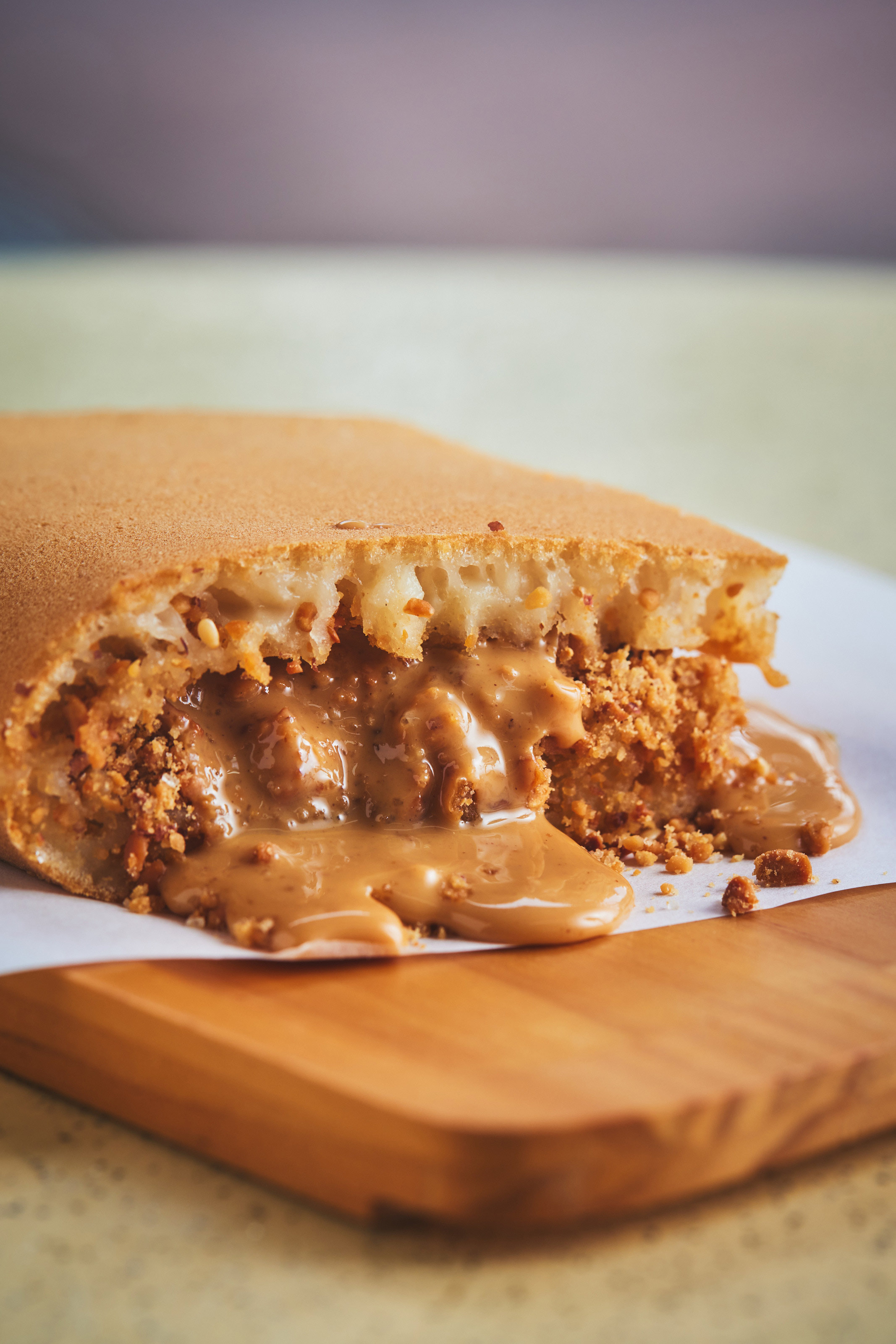 Peanut + Peanut Butter, $1.30 (8 DAYS Pick!)
The same gritty peanut filling features alongside a schmear of creamy, salty-sweet peanut butter. Fragrant, luscious and deliciously messy.
Peanut + Chocolate, $1.50
Nutella makes everything better, and min jiang kueh is no exception. Eva's most atas flavour combines the decadent hazelnut spread with the usual chopped peanuts-and-sugar combo, with a lovely melding of crunchy peanuts and rich Nutella. A must-buy if you're tapow-ing home for the kids.
Coconut, $1.10
The shredded coconut filling is pleasantly moist without being overbearingly sweet. A decent option if you'd like something other than peanut.
Red Bean, $1.10
A generous layer of smooth red bean paste folded into the same fluffy pancake. Not too bad, but the other flavours are tastier.
Crispy Pancake, $1.80 for 2pcs (8 DAYS Pick!)
A wafer-thin number that boasts serious crunch. This moon-shaped pancake looks like a folded-over love letter, and is essentially a whole, mega-sized version of the shiok crispy edges around min jiang kueh. Interesting. It is sprinkled with a fine layer of sugary chopped peanuts within and makes for a superbly moreish snack. Here's hoping Eva finds a way to add this to her regular menu.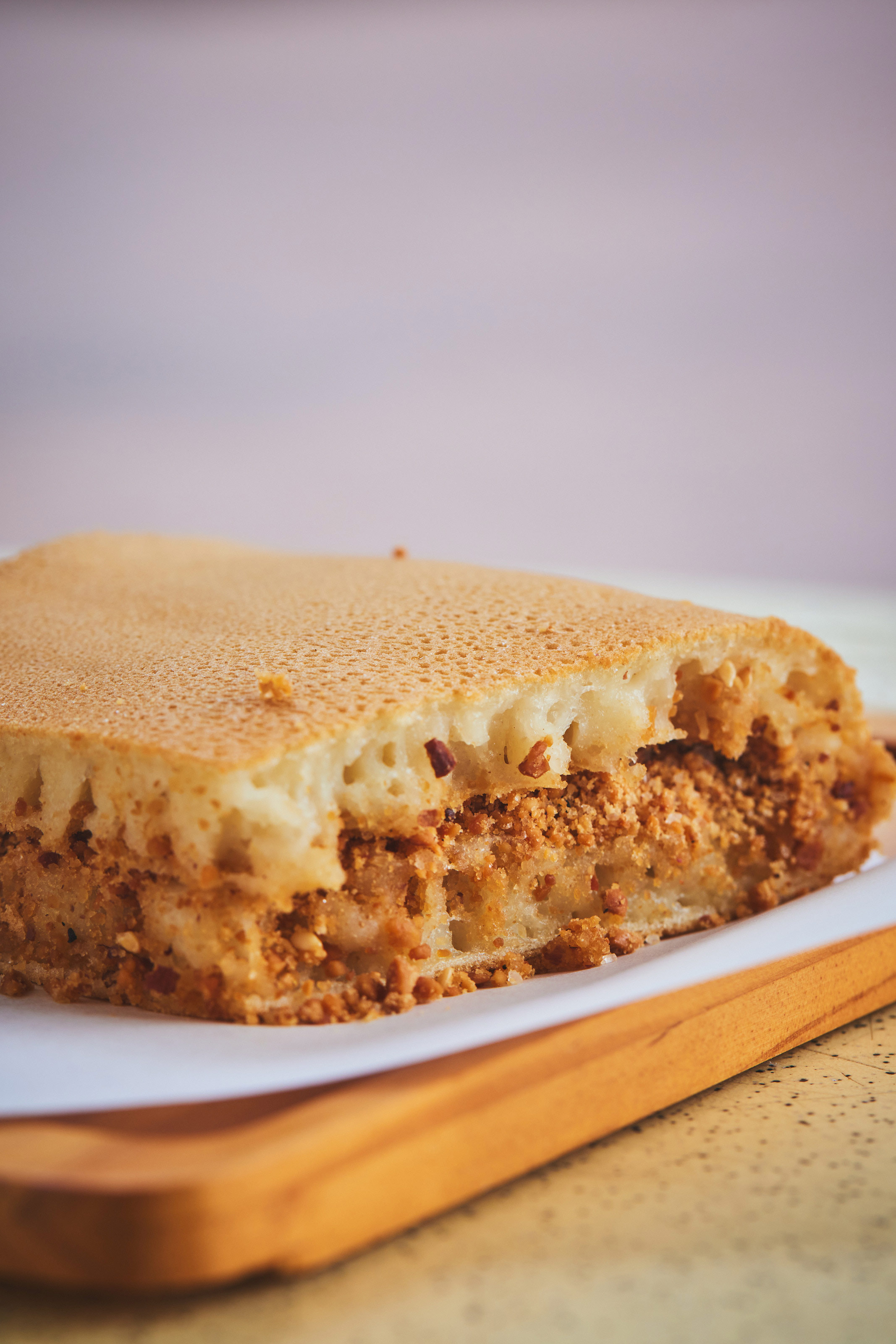 Bottom line
Eva's Pancake dishes out hearty min jiang kueh packed with classic, old-school fillings. Worth a visit if you are nearby for its yummy peanut butter-laden pancake, and the scrumptious, unusual crispy version if you're there when the young hawker has time to make it.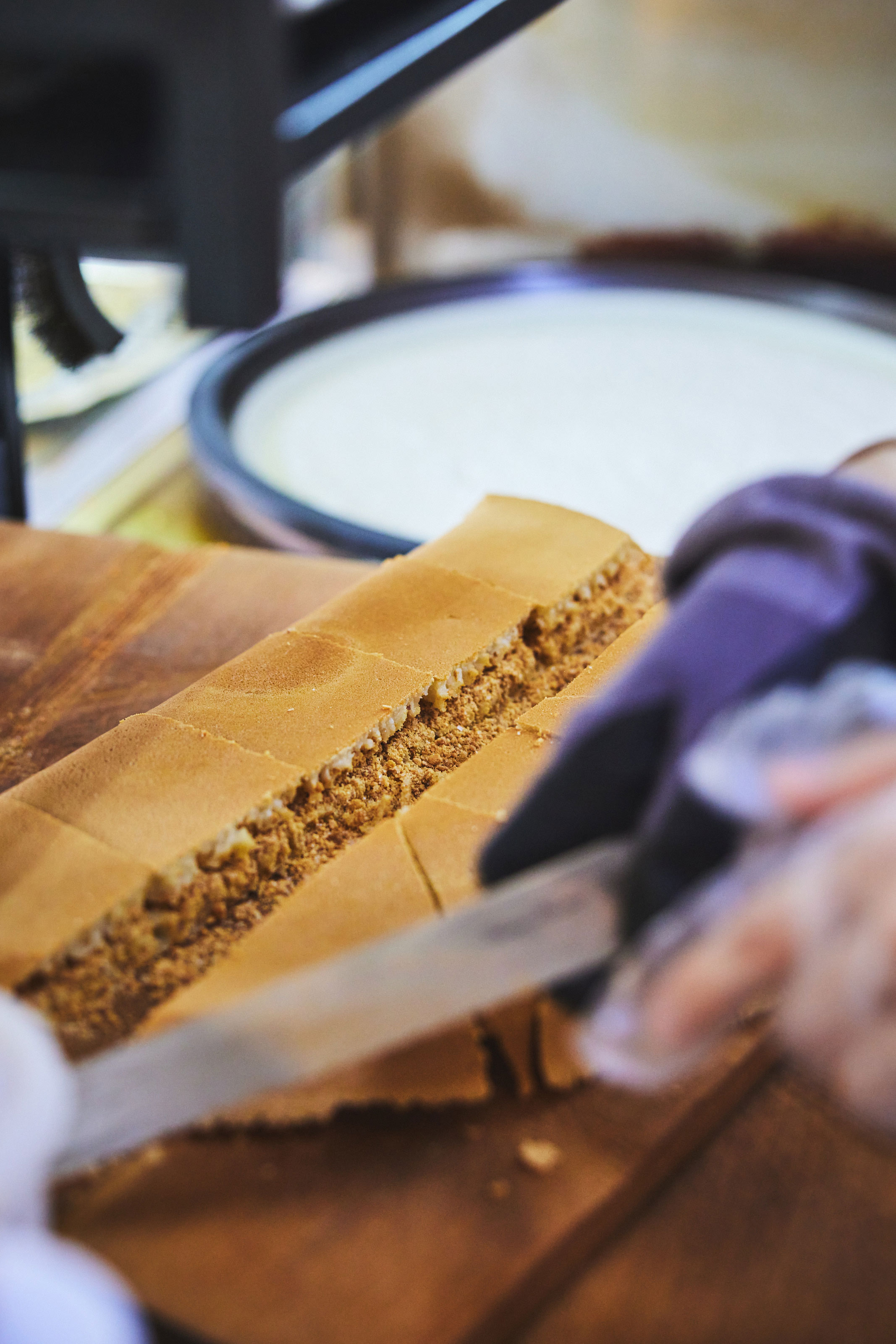 The details
Eva's Pancake is at #01-74, Blk 95 Toa Payoh Lor 4, S310095. Tel: 9822-5801. Open daily 6.30am – 1pm (closed on alternate Saturdays). More info via Facebook & Instagram. Delivery via Foodpanda.
Photos: Alvin Teo
No part of this story or photos can be reproduced without permission from 8days.sg.