Actor Andrew Lua Bought His $265K Top-floor AMK 3-Room Flat Without Even Viewing In Person
He was overseas at the time and the 15 other flats he saw were all between $320K-$380K.
Even before virtual property viewings became a thing during the circuit breaker, theatre thespian Andrew Lua, 42, was already onto it. Well, sort of.
The Fly Entertainment artiste, whom you might remember from Mediacorp dramas like Kin, and more recently Genie In A Cup, was in Barcelona in March 2019 for the premiere of Spanish thriller Boi, in which he starred alongside Adrian Pang, when he received a call from his property agent telling him about a good deal on a three-room HDB resale flat in Ang Mo Kio.
The 721 sq ft flat, which was 43 years old at the time, is on the top floor, level 10, and conveniently located with amenities nearby. The kicker was the price — just $265,000. And that's before the HDB Proximity Housing and Singles grants, which would save him a further $35,000.
"I had viewed around 15 places over the past year and they were all a bit pricey, between $320,000 to $380,000," Andrew tells 8days.sg.
"The previous owner had gotten his BTO flat, so he slashed the price of this house 'cos he needed to sell it quickly.
"I sent my mum and sister to take a look and they sent me videos and photos of the space. It was old but in decent condition. I knew I was going to renovate the place anyway, so it didn't really bother me that I didn't view it."
So unbothered that he made his offer the next day.
All photos cannot be reproduced without permission from 8days.sg.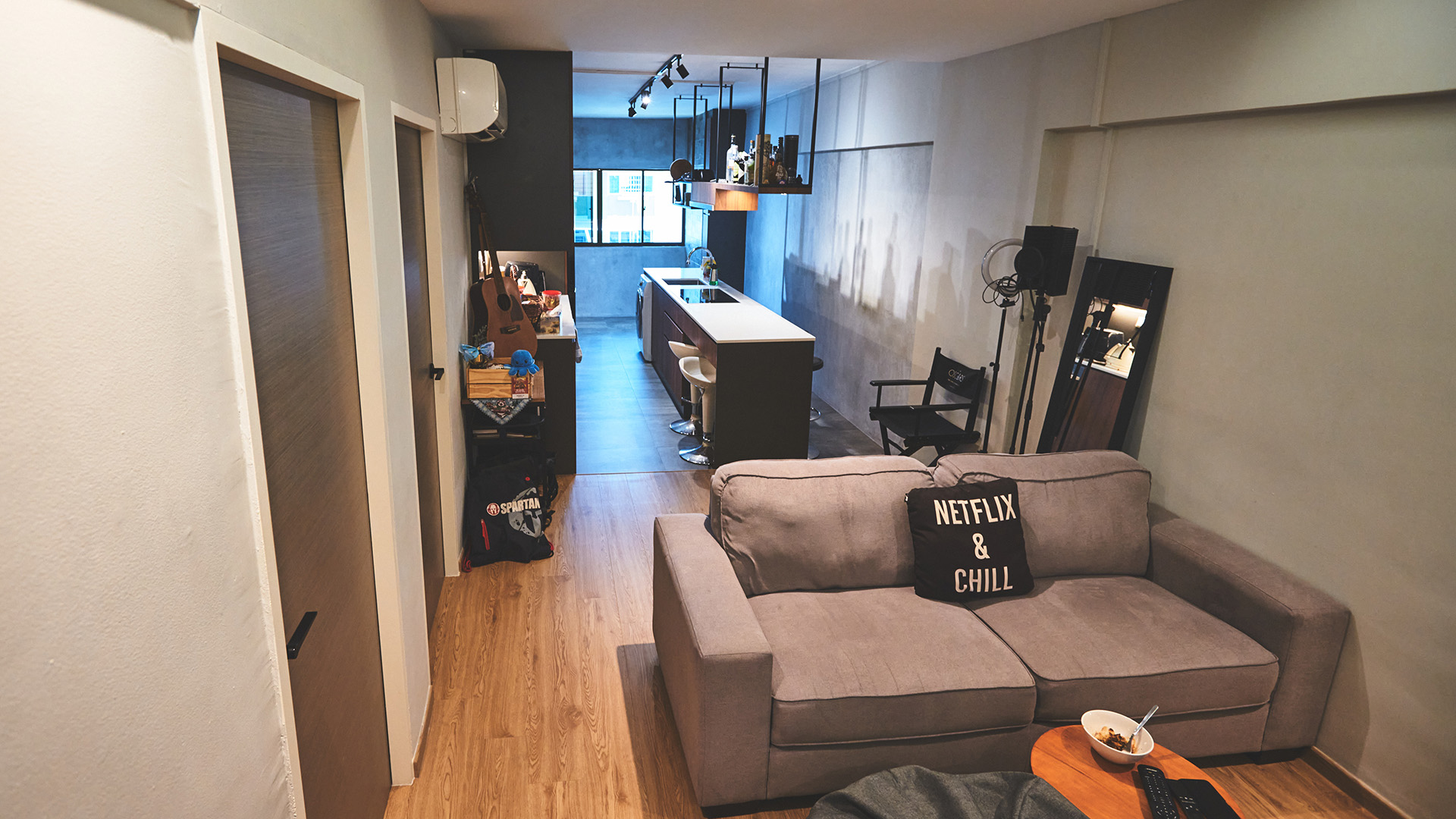 Andrew reckons he spent around $44,000 on renovation, creating a functional space with an industrial minimalist aesthetic.
To transform the space, the arch wall between the living room and kitchen was hacked to create a spacious, open concept. The storeroom, which used to be between the bedrooms, was also removed to extend the rooms and their entrances shifted to fit the new layout. As he no longer has a storeroom, a wall of kitchen cabinets was built for storage. You will find all sorts of random things like CDs, pails and even a, um, mahjong table stashed in them.
"I got my contractor to build this [big enough to fit] my mahjong table. Have you been to friends' place where the mahjong table is outside and they just put a cloth over? It's very tacky. I don't want that," he laughs.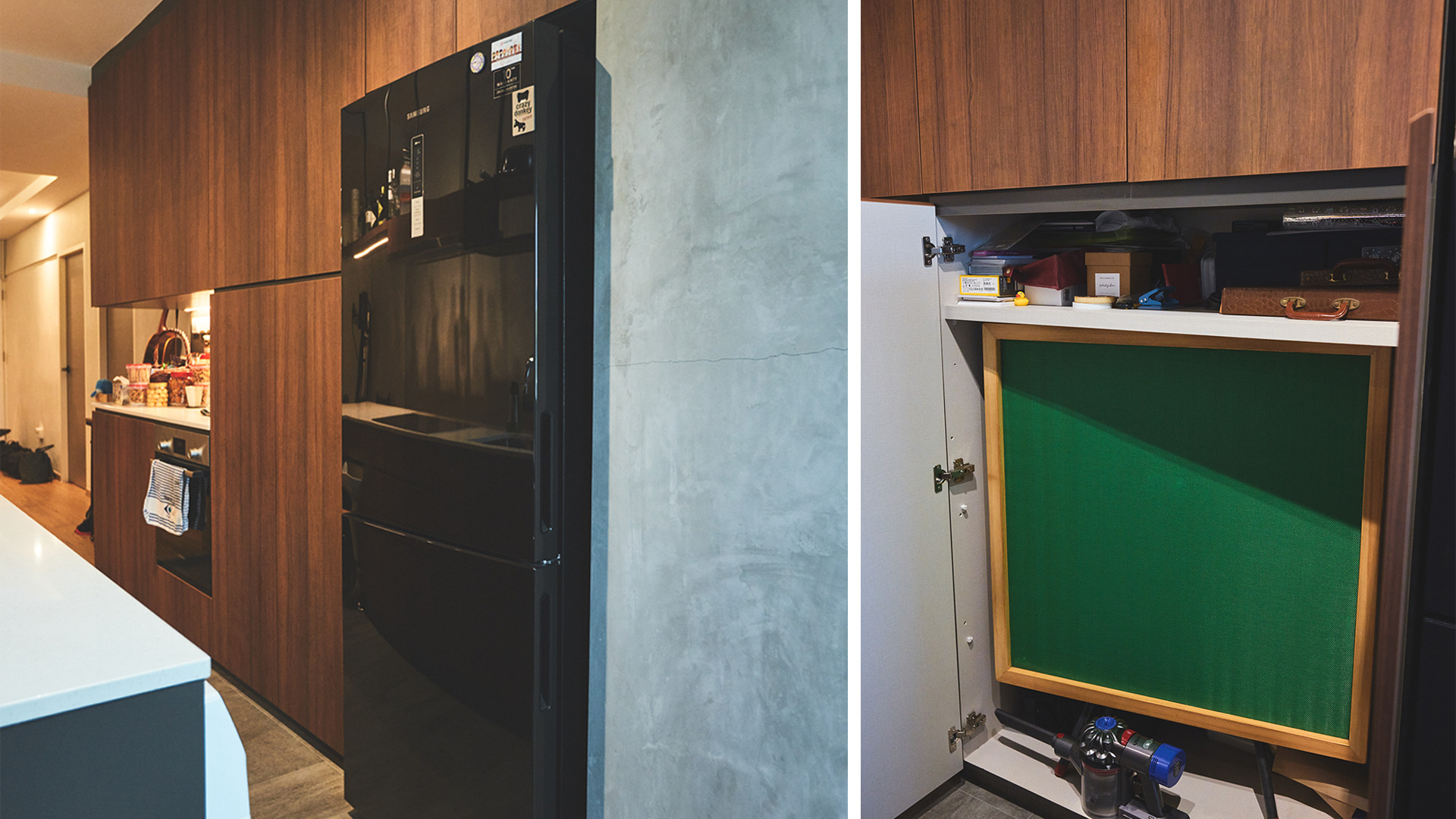 The cabinet beside the fridge was specially designed to fit his mahjong table
Industrial chic
As the actor does self-taped auditions and photoshoots at home, he wanted a few "pretty" spots, such as the "random" faux stone tile accent wall… above his rubbish chute.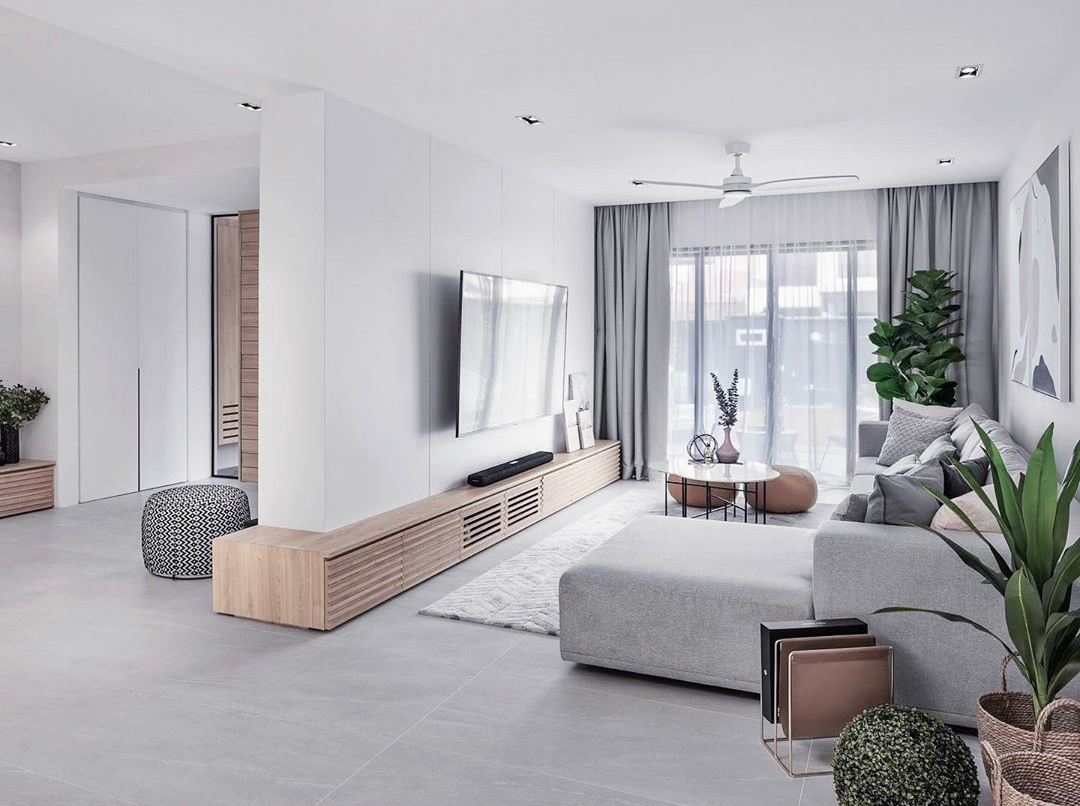 His actor friends use Studio @ Lua Casa for their auditions too
"I insisted on the concrete wall as it's very clean. Friends do come here to record their auditions too. Lim Kay Siu, who got cast in Avatar: The Last Airbender, filmed his audition here. I also have a rim light and mic stand for audio recording, which have been very useful especially in the past two years when we need to do voice overs at home. This sounds cheesy but I call this Studio @ Lua Casa," he says.
The host with the most
Another thing on Andrew's wishlist was a sleek island-cum-bar and dining area, as he loves to entertain. The multi-functional island, which houses the sink, stove, and additional storage, is the heart of the home.
"My mum was like 'Why is this in the middle?' but I like the whole feel of it. And it's very convenient when we have Korean BBQ or hotpot dinners 'cos we can cook and eat here. And when I have more guests, I move a trolley [side table] over to extend the dining area," he says.
Andrew tells us that since the circuit breaker, his bachelor pad has become a haven for friends who want to "run away" from their families or chill out. In fact, he's so good at entertaining that a friend once brought his Tinder date to his home for drinks.
"Bars close at 10.30pm, so my friend called and asked if he could come with his date for drinks. I was like 'Er, okay,' so we called two other friends and it became a house party. Then the annoying fella asked me to play the guitar and sing songs. In my heart I was like 'I have to host you, plus entertain you and your Tinder date?' But I did it anyway," he quips. In case you're wondering, that Tinder relationship didn't work out.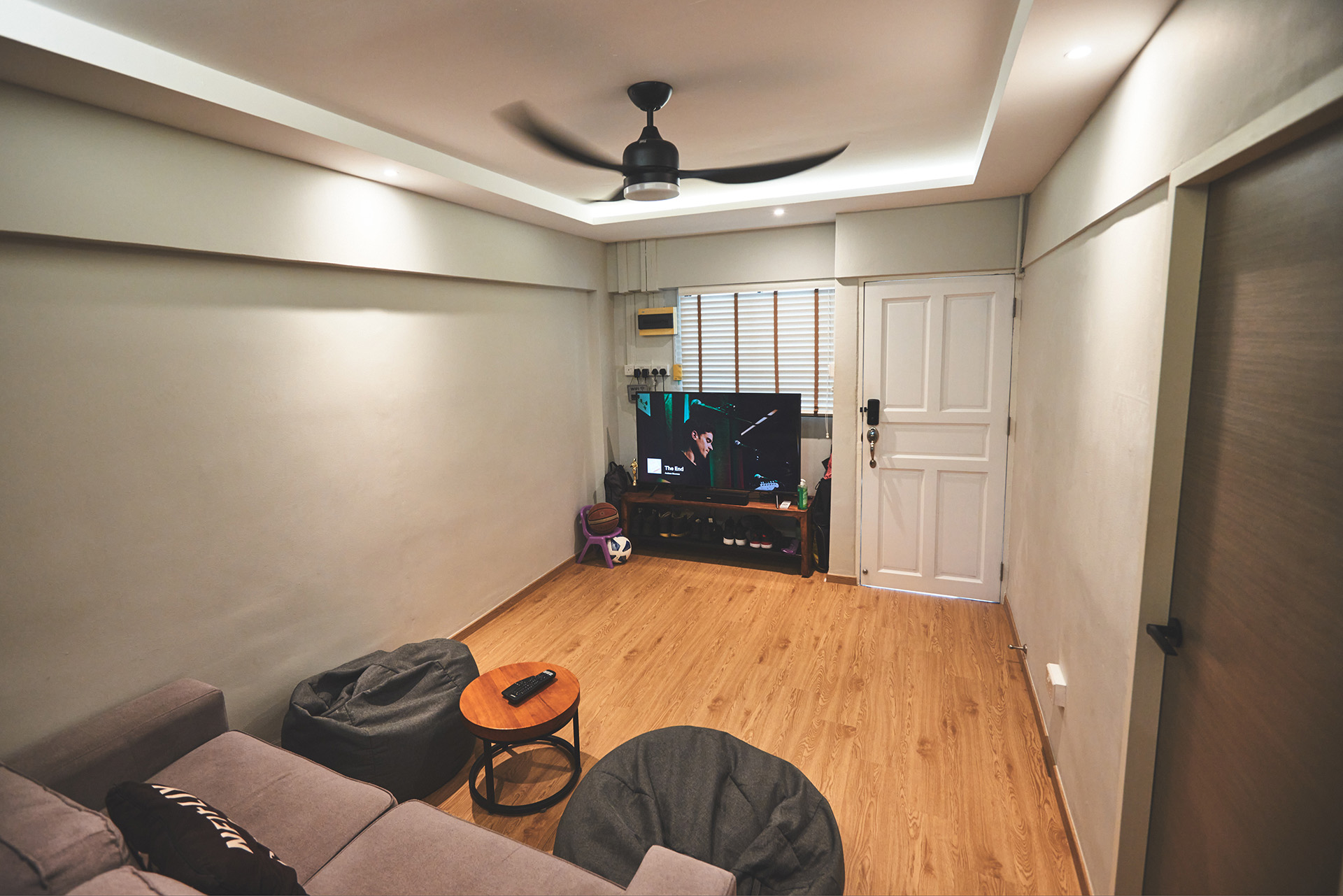 Keeping things simple and clean
The living room veers towards a more minimalist approach, with little furniture, bare walls, and recessed lighting for a clean look. Andrew deliberately kept the space simple and modular, so he can move things around when he cleans or does his recordings.
In fact, he didn't even want a sofa, just a couple of bean bags to lounge on, but he needed a place for his older relatives to sit when they visited. "They cannot get up when they sit on bean bags," he laughs.
"This was supposed to be a 'trial' sofa. I picked it 'cos it's light, comfy, and cheap, around $300. I buy a lot of things to trial 'cos I know of friends who have splurged on expensive furniture then after they move in, they find that they don't fit or match the space."
He took his time to furnish his home and even got hand-me-downs or second-hand pieces. "I bought two of my bar stools second-hand from my friend's office to trial and I only got my TV console last year 'cos I couldn't find something I liked. Previously, I used two side tables," he says.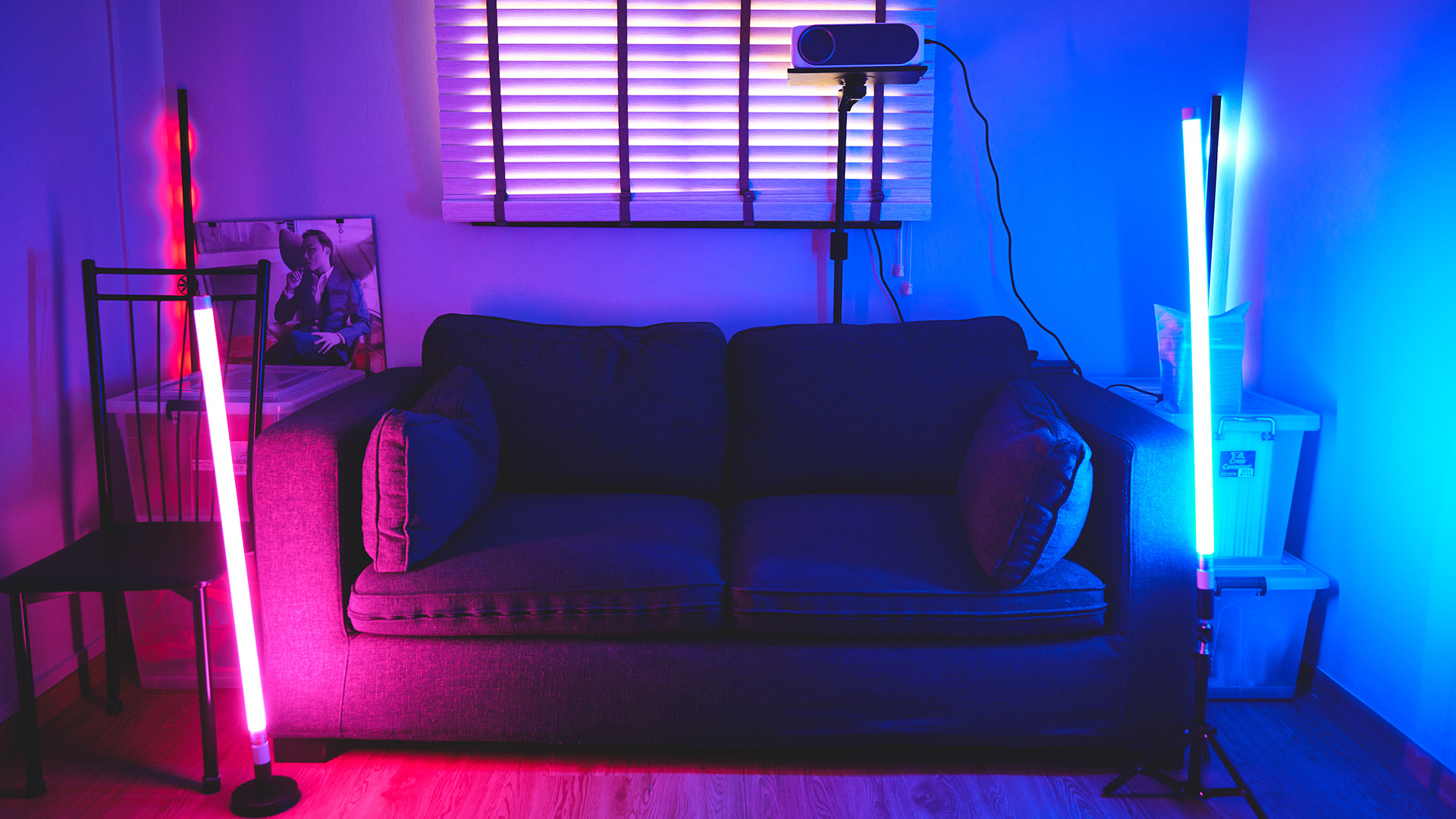 The entertainment room
The spare room, which Andrew converted into a "semi entertainment room", is modestly furnished with only a sofa bed, dresser, and desk. He had considered hacking the room to extend the living area and master bedroom but decided to keep it in case his mum wants to move in with him in future.
He left the walls bare so he can watch movies and football on the projector, and added colour-changing floor lamps, which he got from Taobao, to jazz up the space. "It's gimmicky lah," he admits, "some friends asked me 'Why is your bachelor pad like that?' But okay what. After that my friend bought me these two lights [sabres] for fun. They flicker and I use them to take photos. Last year, I took some pics with them on May the Fourth."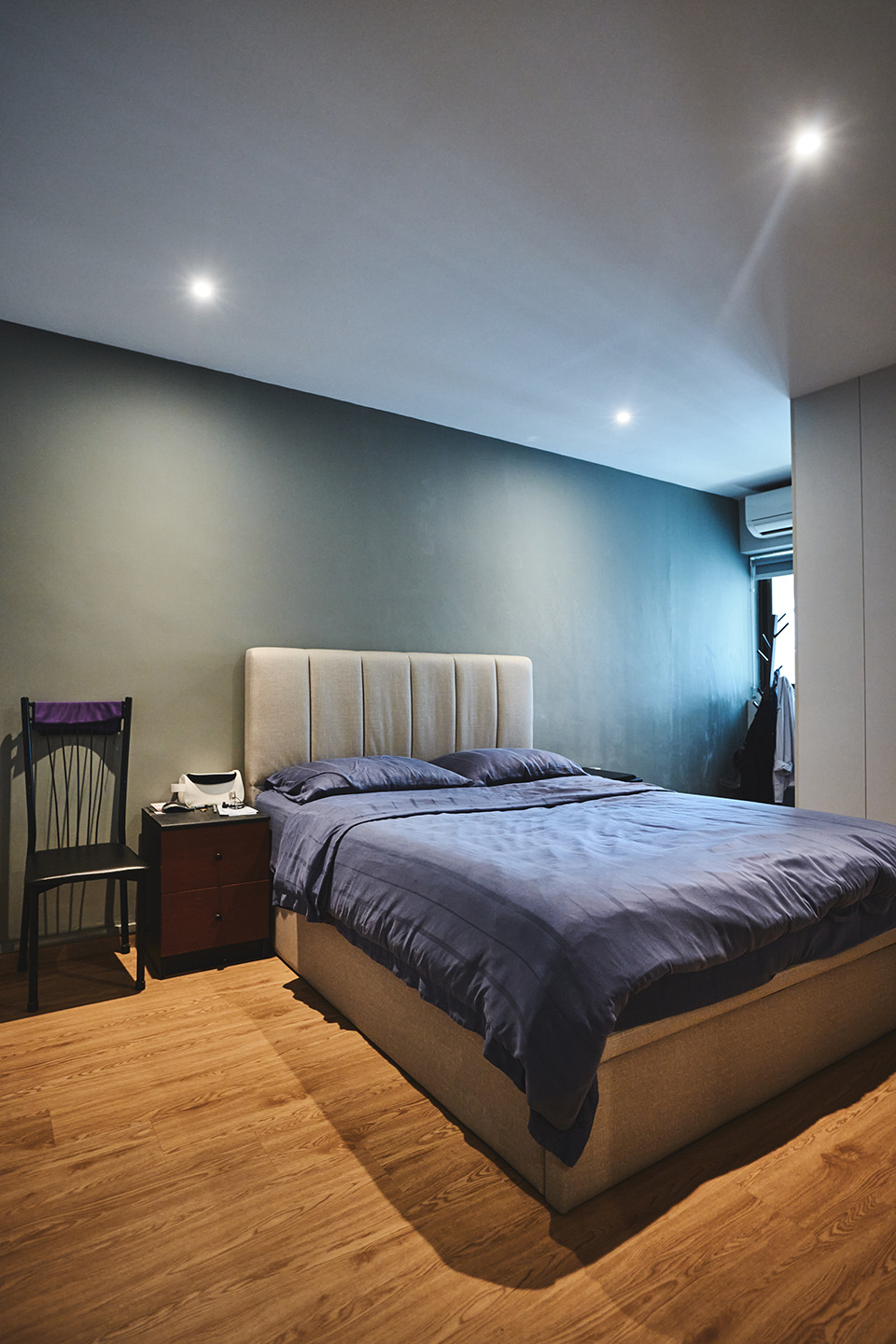 Master bedroom
The master bedroom is equally minimal with just a bed, bedside tables (aka the former TV console) and a "budgeted" walk-in wardrobe "'cos it was the 'in' thing".
"It's one of those I-shall-attempt-to-be-atas-but-not-that-atas vibe," he says sheepishly. "I contemplated having the walk-in wardrobe made of glass so I can see my clothes, but I'd have to clean the glass, so forget it lah. I do my own cleaning, so the less things I have to clean the better."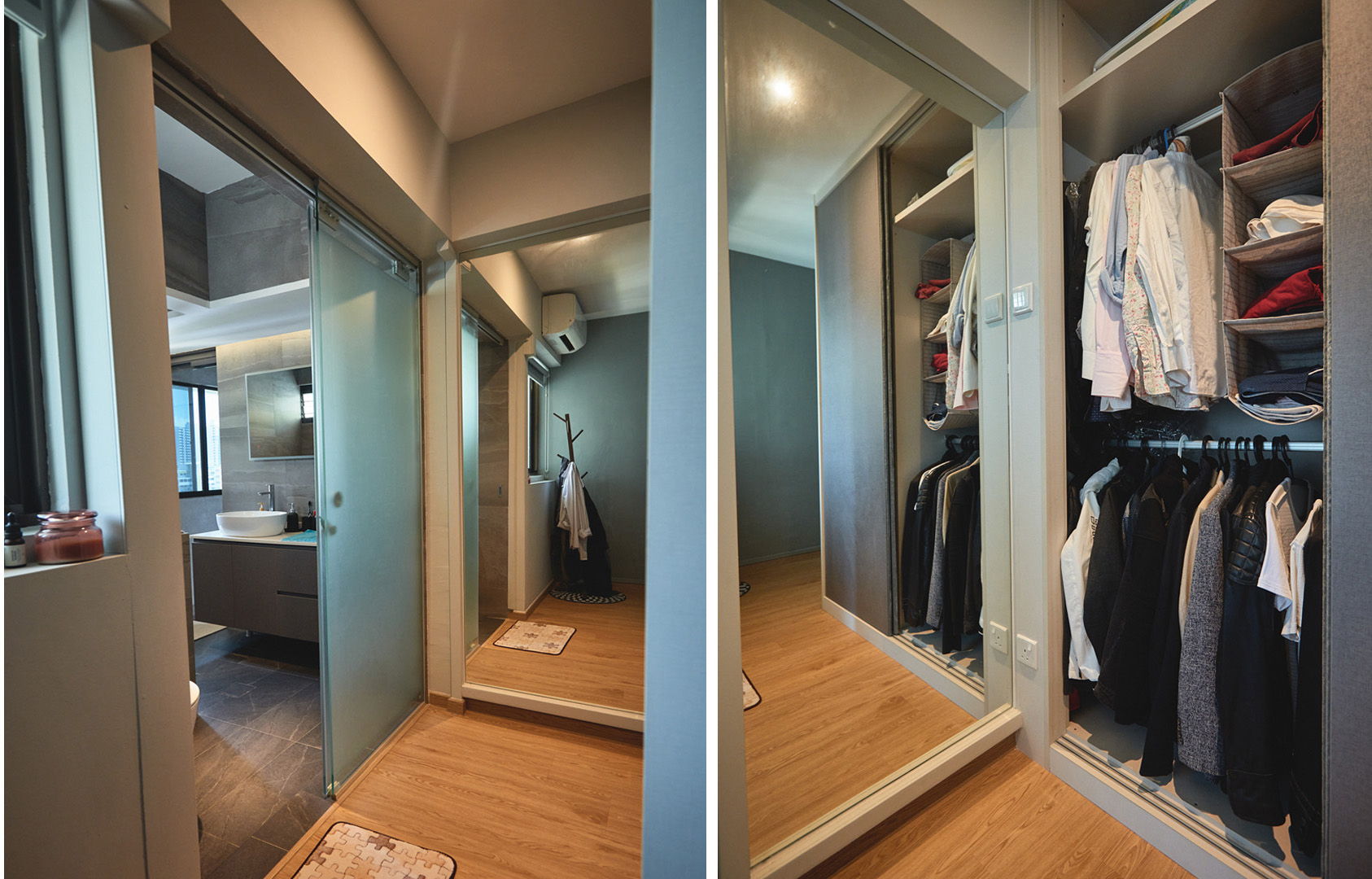 The modest walk-in wardrobe is located just before entry into the ensuite bathroom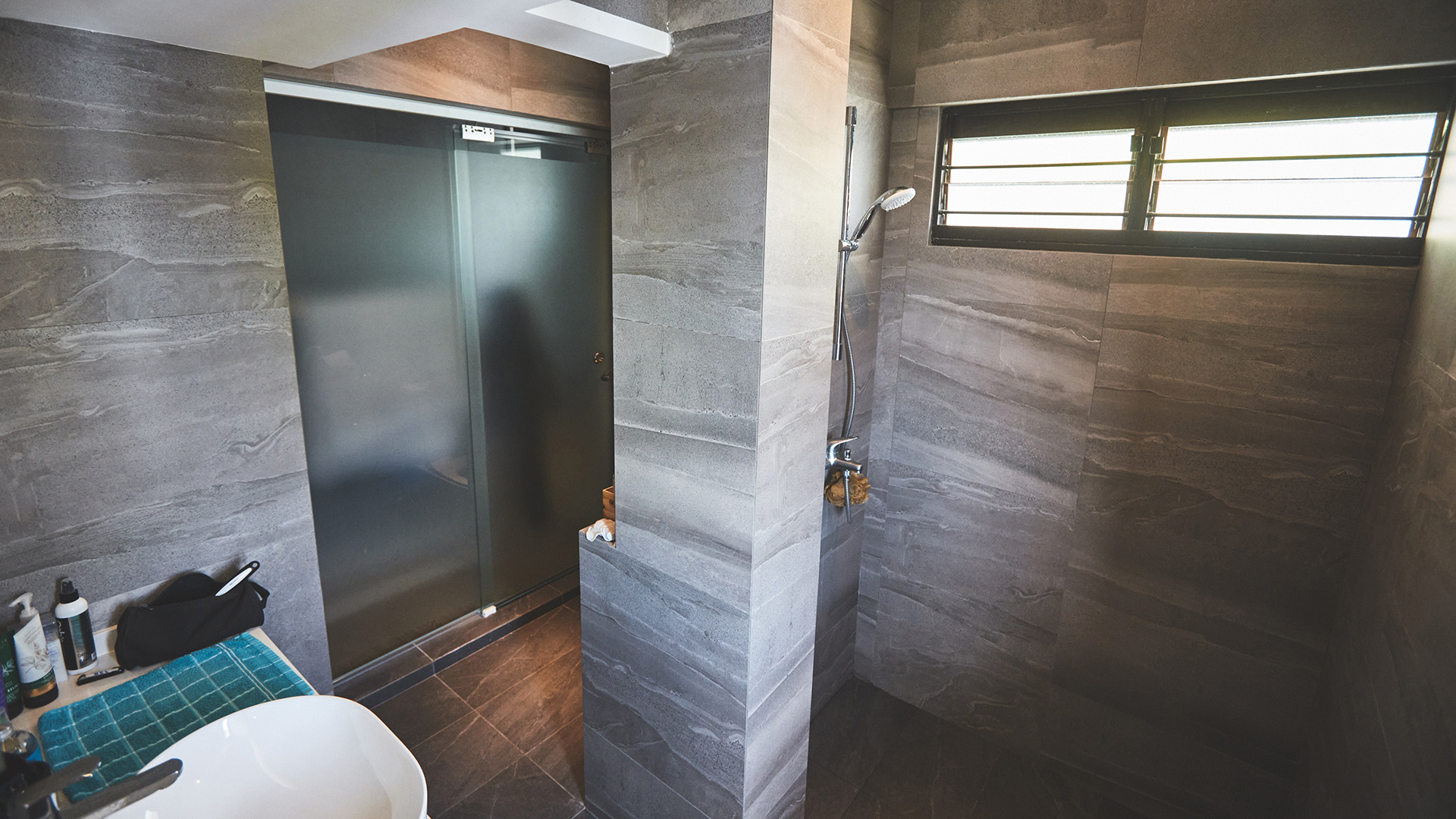 The ensuite and common bathrooms were combined to create a bigger space
The ensuite bathroom can also be accessed from the kitchen. The wall between the ensuite and common bathrooms was hacked to create a larger space, which is decked out with glossy quartz tiles and LED backlit mirror for a fancy "hotel feel".
"I wanted the bathroom to have a different look, otherwise the house will be very boring. It's like some boutique hotels where each room has a different feel and vibe, so there's variety. I can even take photos in the toilet," he says
Hotel bathroom vibes
8 DAYS: You bought the flat without viewing it in person. Weren't you afraid of things like leakage that your family might have missed out?
ANDREW LUA: My sister, who went to view the place, is very particular about this sort of things, so she looked out for them. The only issue I had was with the ceiling in the spare room. HDB's water proofing wasn't great, and as I am on the top floor, there were water patches in the ceiling. I had to call HDB to do water proofing, then I got my contractor to repaint and replaster twice within the two and a half years I have been living here. It probably happened before but I didn't know.
Andrew has had to replaster this ceiling twice due to water patches
You weren't worried that you might have bad vibes about the place?
I've been told my energy is very, very positive, so wherever I go, I am okay. I also think I am very adaptable, so it's not a big issue for me. I got to know my neighbours over the past two years and they are all very nice and friendly. Just before I started renovations, I bought ear plugs and fruits and gave them to my neighbours.
I am by the stairwell and the unit next door is empty. It turns out that the unit belongs to my college friend's grandma. They used to rent out the flat but there haven't been any rentals in the past two and a half years. I asked her if they wanted to sell it so I can convert this into a jumbo flat, but they didn't. (Laughs)
Did you encounter any challenges when buying the flat?
The toughest was probably getting a bank loan 'cos just so happened two years before I bought this place, my income wasn't great. As I purchased the flat at the beginning of the year, they had to use the previous year's income tax, so the banker helped me to push through that. I didn't even loan a lot, just the minimum about $100,000 and everything else was paid by cash.
My mortgage is very reasonable, like $400 plus a month. I am a freelancer, so I don't have a fixed monthly income or CPF, so I wanted a place that I can be comfortable in paying off. And I'm grateful that I did not overextend myself and buy a condo 'cos the following year, Covid-19 hit and I was hit very badly work-wise 'cos I do theatre work. My late father's quote "You have to balance your passion with reality" is something that has always stuck with me.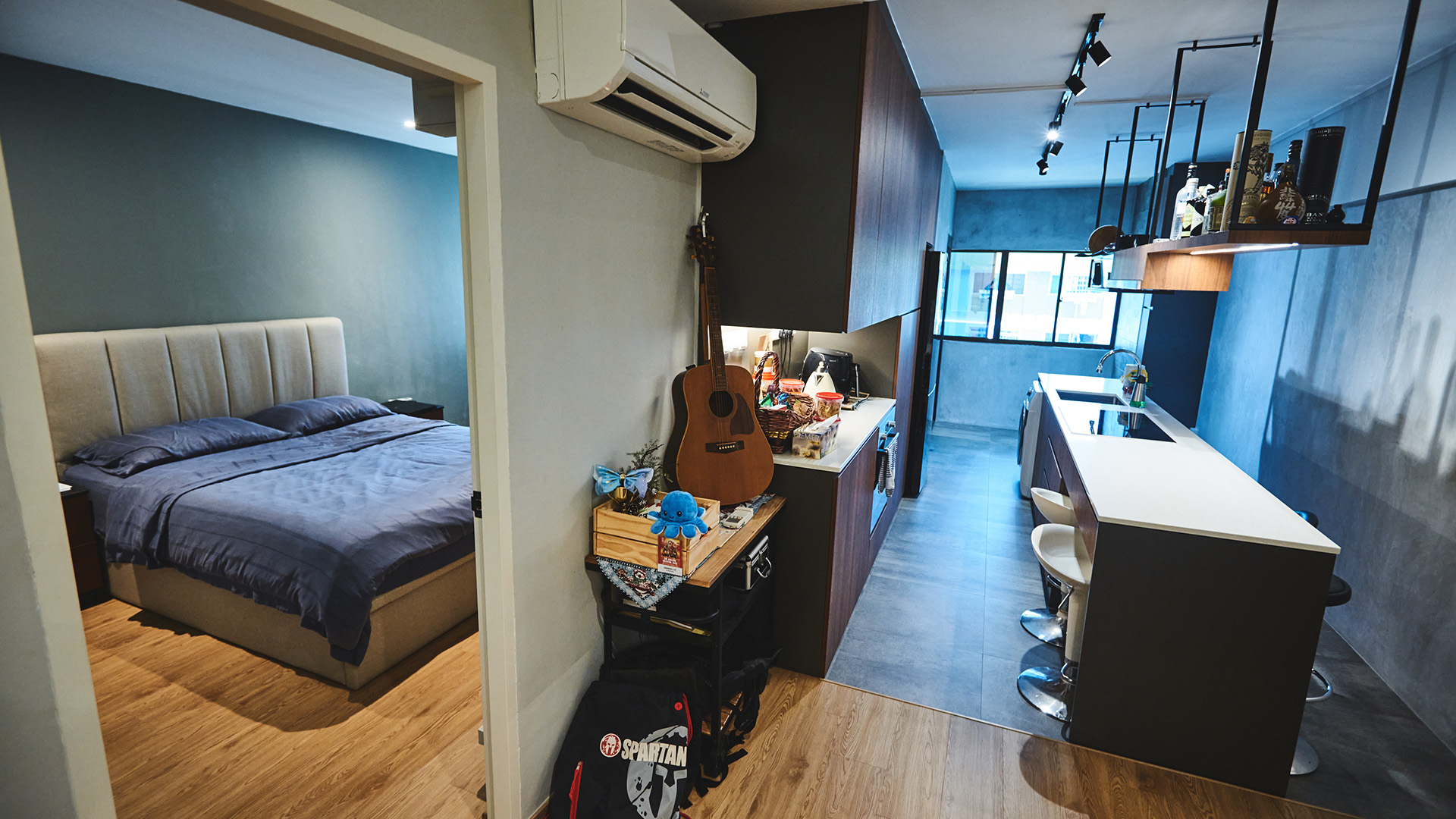 What was the most important factor for you when you designed your home?
I wanted something simple 'cos it reflects my personality. I am a very simple person. If you notice, I don't have a lot of fixtures in the house 'cos I don't like things to be stuck [in one spot]. I have friends who bought three-room flats and they do them up very nicely, but they are also very cluttered. I don't like the cluttered feel.
Yes, your home is also very clean.
That's one thing I am very proud of. Some people think this is a new place when they visit for the first time. They are very surprised that as a bachelor, I keep it so clean. For me, cleaning is therapeutic. I will blast music and just mop and dance around.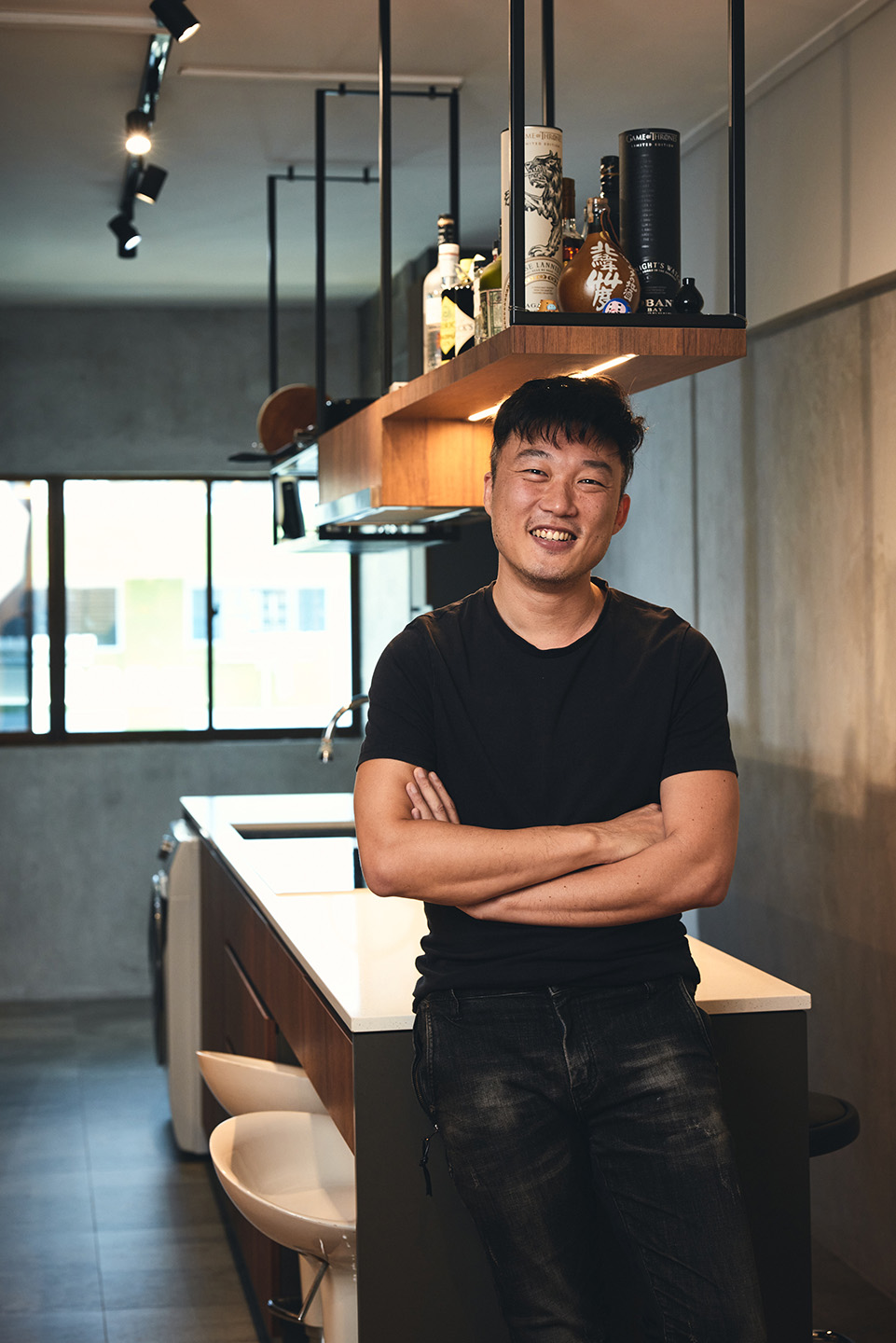 Was there anything that you wanted but changed your mind later?
I wanted this whole stainless-steel look for my kitchen, like a commercial kitchen, but I thought it would be too big a contrast from the living room, so this is a nice balance. Otherwise, it will be a bit too masculine. I also wanted to have a hidden door to my bedroom, with the entrance [beside the fridge], but that didn't pan out.
Explain to us the concept of 'trial furniture'.
(Laughs) I have friends buy all their furniture before moving in then they realise it doesn't fit and have to sell it online, so I buy stuff to trial. This also prevents me from overspending. My [black] bar stools, which cost around $30 each, are from Tabao, then I got the two white ones second-hand from my friend's office. They are functional for now but the next chair that I buy would probably have a high back so I can lean.
Watch #JustSwipeLah for a tour of Andrew's home.
All photos cannot be reproduced without permission from 8days.sg.
Photos: Alvin Teo