Actress Constance Lau Starts Biz Selling Royce'-Style Handmade Nama Chocolates From Condo
The Japanese-inspired chocs are made by Constance and her food scientist biz partner in a kitchen so cold, she has to wear a windbreaker. Flavours include genmaicha and vegan raspberry.
Chocoholics might want to check out Crazy Rich Asians actress Constance Lau's new home-based business Coco Labo. Launched last December, the biz specialises in handmade nama chocolates, a type of Japanese ganache made with melted chocolate and fresh cream, then sliced into bite-sized blocks and dusted with cocoa powder. Nama means "raw" in Japanese and refers to the treat's fresh, pure form. Popularised more recently by Japan's Royce' confectionery, the decadent delight is one of Constance's favourite snacks. She loves the velvety, melt-in-your-mouth texture of nama chocolates, so she decided to partner her friend, a food scientist, to create their own flavours.
"I've always wanted to try more interesting
flavours [for nama chocolates that are not common in Singapore]. So, one day, while we were chatting and snacking on chocolates, I asked my friend if he could make them, and that's how we decided to start our own business," the 31-year-old tells 
8days.sg
.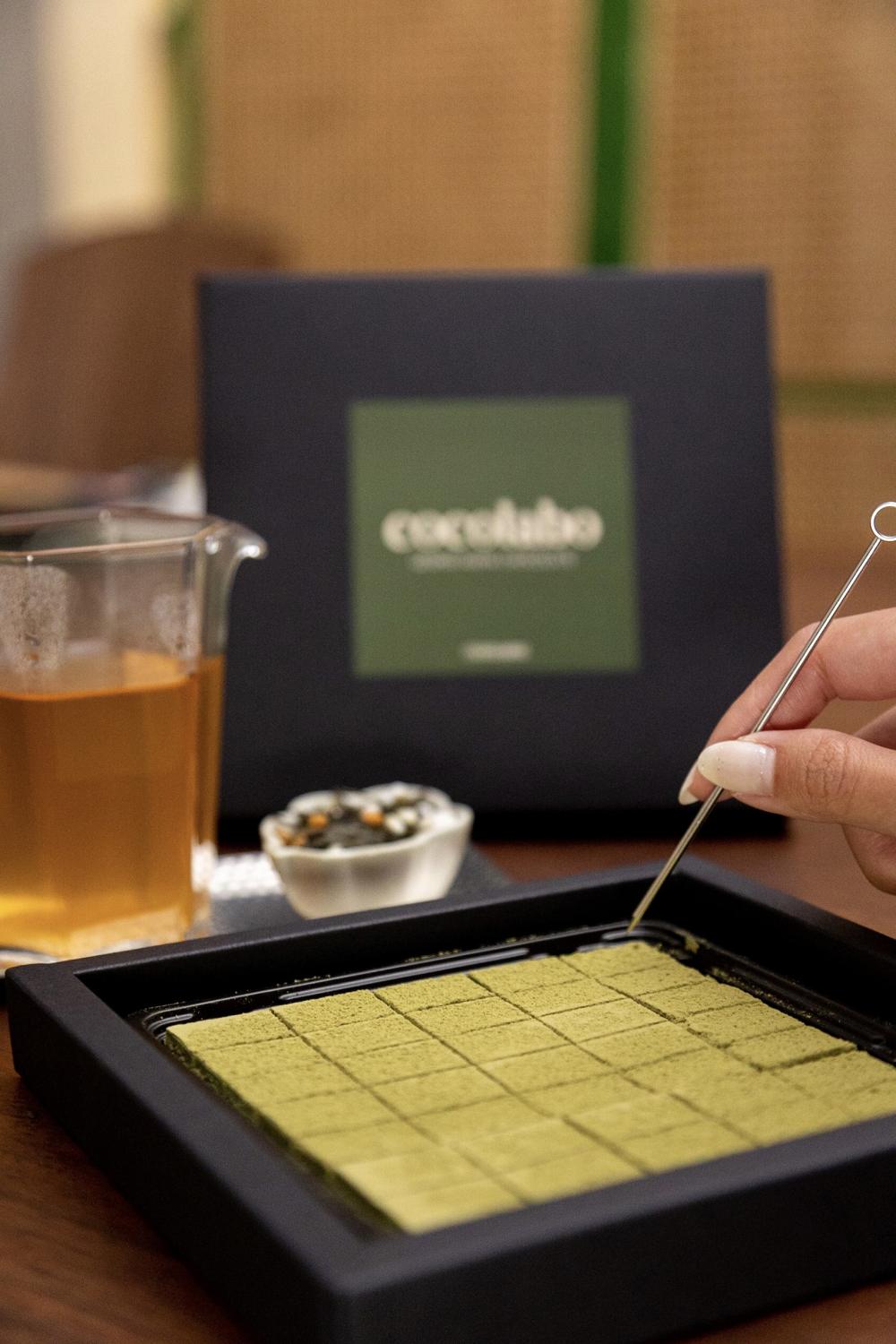 Her condo kitchen is now their "lab"
Coco Labo's confections are made using premium French chocolate, Valrhona. It took Constance and her partner around three months to R&D and perfect their nama chocolates, which they make from scratch in the kitchen of her condo, which she shares with her brother, Clarence, 33, who used to co-own beef rice bowl chain Waa Cow! (he has since sold his share of the biz). 
"My friend is a food scientist so it's all about the testing and flavour pairing. We also take a food science approach in terms of R&D, so my kitchen feels like a lab sometimes, hence the name," she quips. 
To maintain quality, the chocolates are freshly made upon order, and only around 20 boxes of each flavour are produced each week, or according to Constance, "depending on how much my fridge can store".
"Ingredients take up a lot of space. I had to get another fridge to store the chocolates 'cos I don't want to them mixing with other food [and absorbing its odours]," she says.



Blasts air-con and wears windbreaker while making chocolates 
Though Constance enjoys cooking and researching recipes with her brother, she did not expect chocolate-making to be so "tedious".
"Chocolate-making is a sensitive [process]. Because of how hot and humid Singapore is, there's some science involved to get the right mouthfeel. Not only do you have to get the ratio of ingredients right, the chocolate temperature as well as the room temperature are also very important," shares Constance.
"We set the air-con temperature at 19°C when we make the chocolates. It's so cold, I have to wear a windbreaker! I need to keep my body warm first, because when I'm cold, I cannot function," she laughs.
Even slicing the chocolate requires practice and skill. "Every flavour has a different feel and texture to it, so the amount of pressure you need to apply when cutting it precisely and placing it in the tray is tough 'cos it has to look very presentable. I cannot accept it if it is even a little bit out of line," she shares.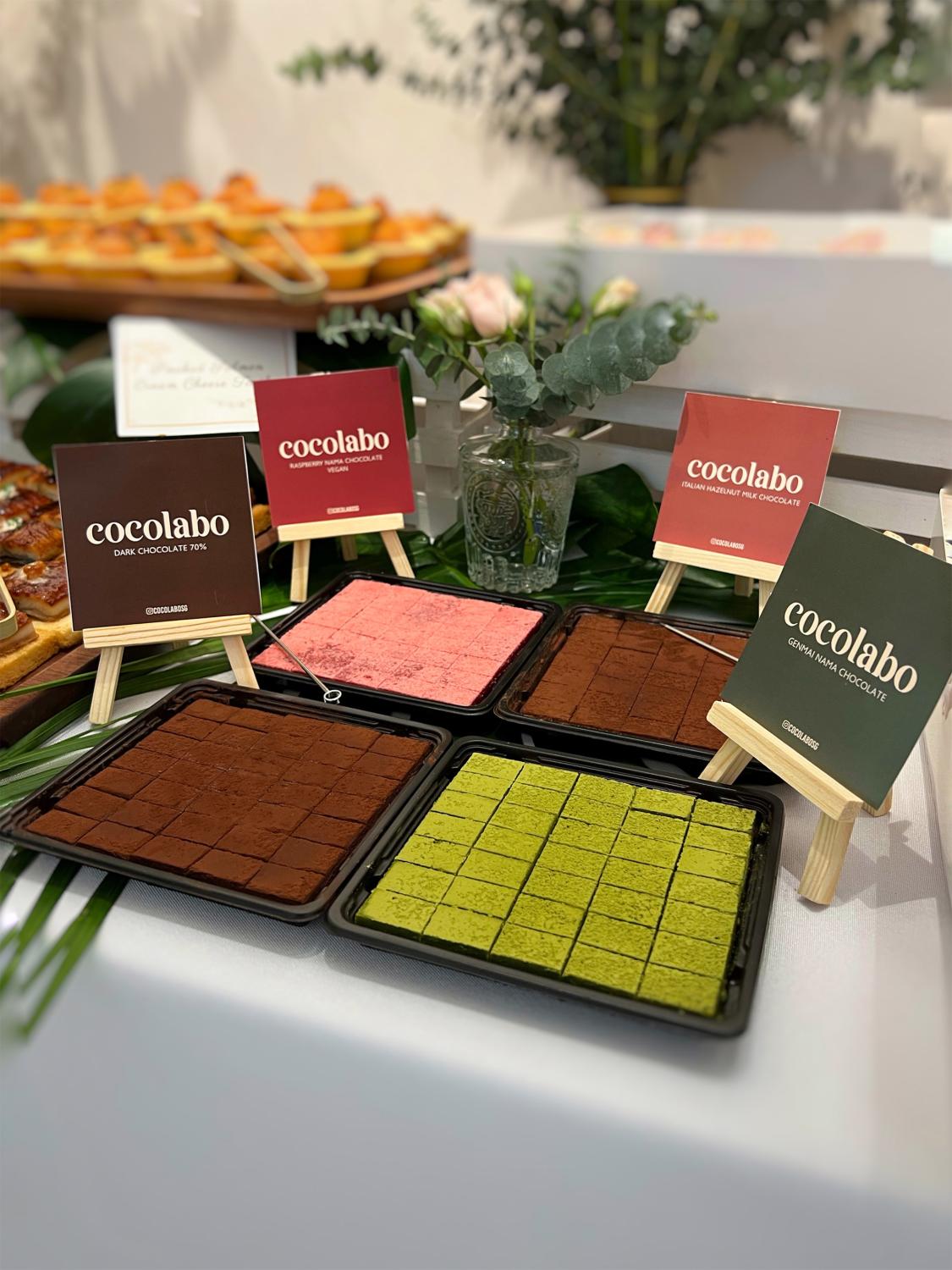 Four flavours using premium Valrhona from $19.90 a box
The chocolates come in four flavours: Italian Hazelnut Milk Chocolate, Genmaicha, Vegan Raspberry and Dark Chocolate. They are priced at $19.90 for a 125g box or $55 for three, and are only available for order via Instagram. As a rough comparison, Royce' sells theirs for $17 per 138g box.
They are currently working on developing new flavours and plan to launch "a floral or rose" one for Valentine's Day.



She sometimes delivers the chocolates personally
Besides making chocs, Constance also delivers them (well, most of them at least), so don't be surprised if you see her at your doorstep. The towkay says it gives her the opportunity to meet and thank customers for supporting their biz.
Since their launch last month, they have been consistently selling around 40 boxes of chocolates each week. "Reviews have been great so far. We sold out in December and we just did an event this week. We are very happy with sales and I hope it stays this way," she chirps.
Despite brisk sales, there are no plans to increase production as Constance is worried they will not be able to manage when she starts work on her new acting project. 
"Instead of trying to scale the business, I would like to focus on making it a consistently good product. But soon, I will start filming and will have to rely on my partner and involve my brother quite a bit to help out," says Constance. 
She adds: "But the goal would be to have my chocolates stocked in stores and gourmet marts. I'd also like to have my own store at some point."
8days.sg didn't get to sample Coco Labo's nama chocolates in time for this article, but here's what you can expect:
Italian Hazelnut Milk Chocolate, $19.90
This number, says Constance,
is made by blending roasted hazelnuts with French butter, cream and Valrhona
chocolate, and has "nutty notes with a creamy finish". It's
also Constance's favourite:
"It's not too heavy and has a lovely, chocolatey and nutty flavour. I love mocha so I like to take the hazelnut nama chocolate and make mocha with it. It's my go-to for coffee."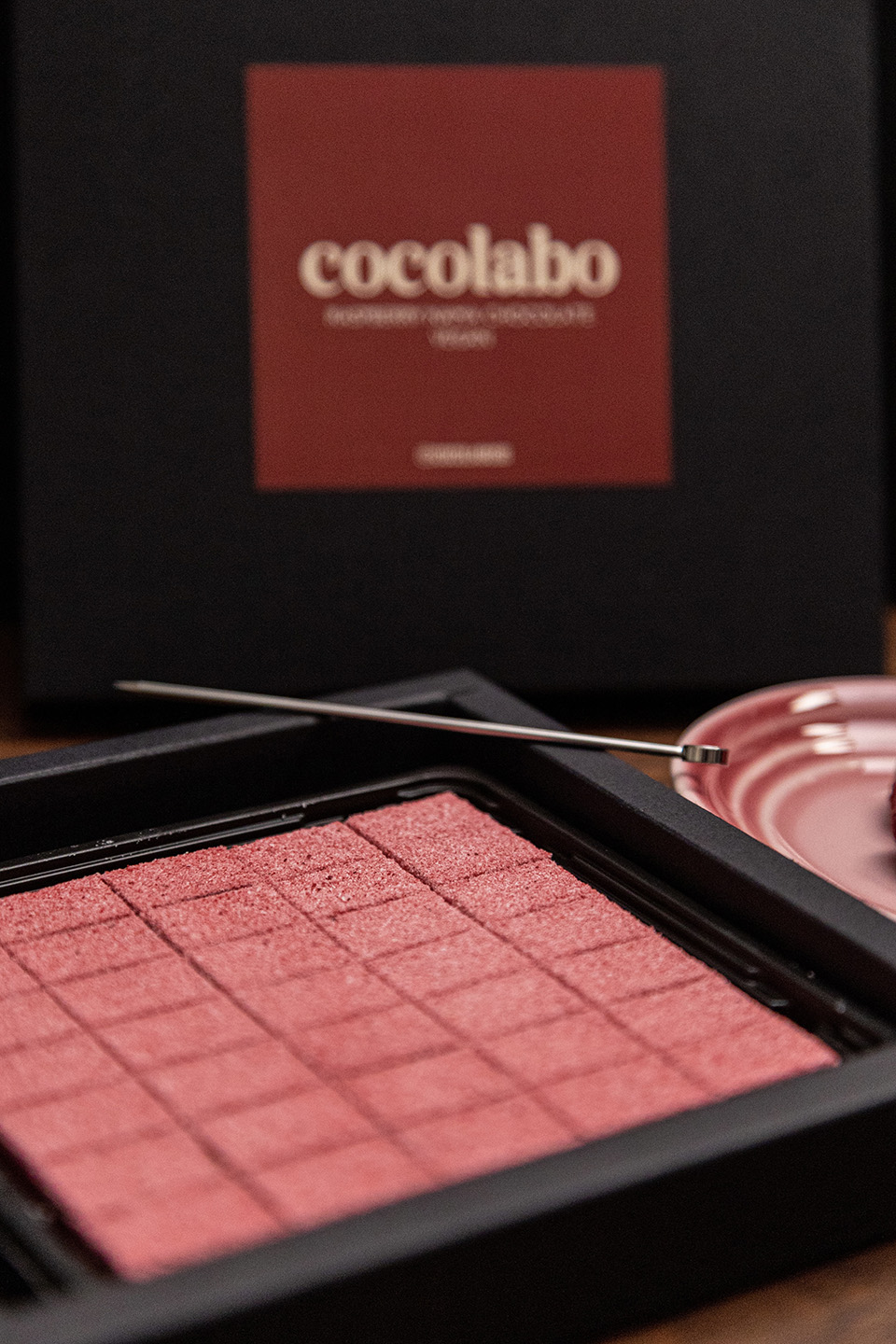 Raspberry (vegan), $19.90
Constance says this is "fruity and refreshing, like a raspberry sorbet in nama chocolate form". Their only vegan offering at the moment, the treat is made from 100% raspberry fruit puree and cocoa butter (fat extracted from cacao beans) "to give it the signature nama chocolate texture".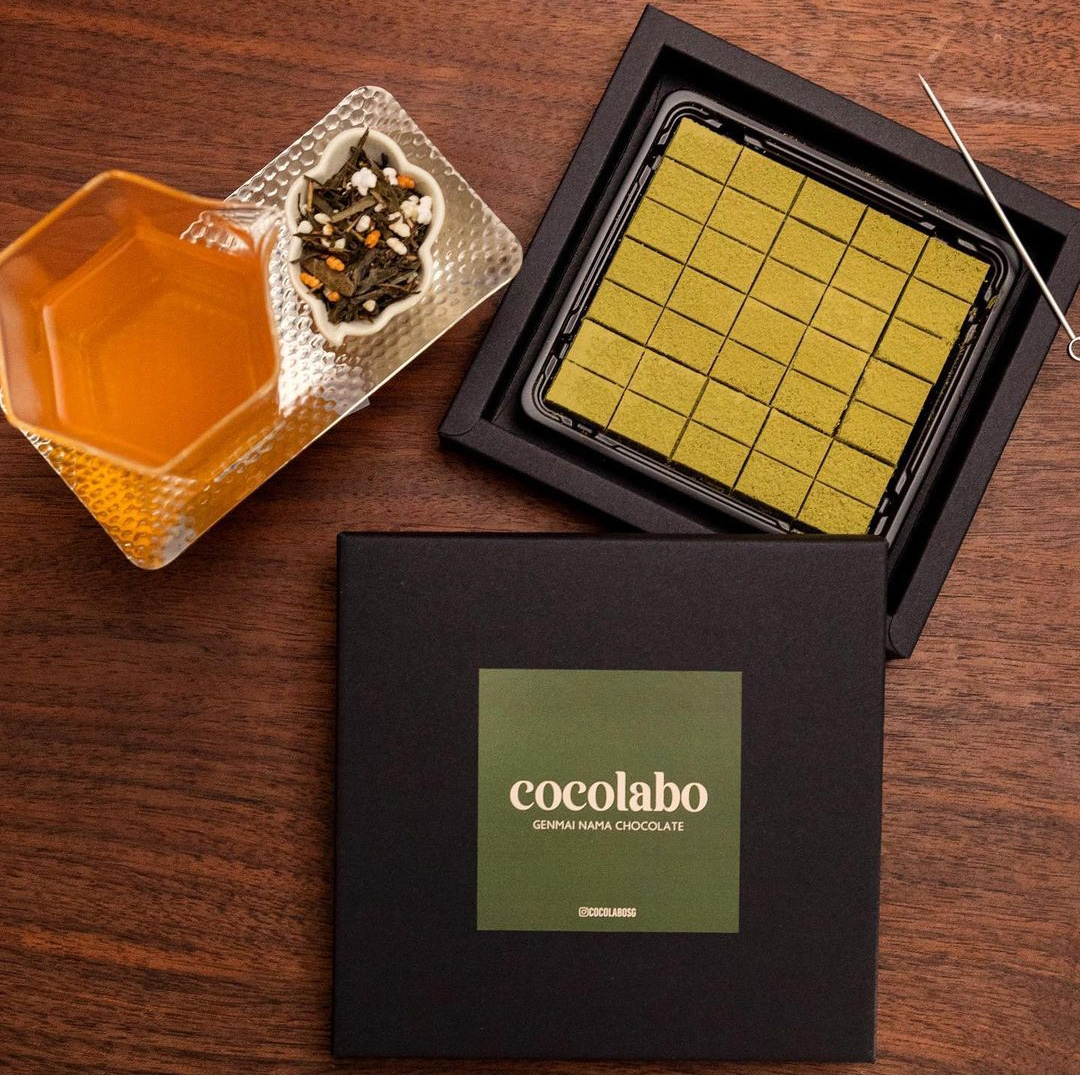 Genmaicha, $19.90
Crafted with a special blend of genmaicha (Japanese green tea and roasted brown rice), cream and milk chocolate, this "tastes like genmaicha latte in nama chocolate form".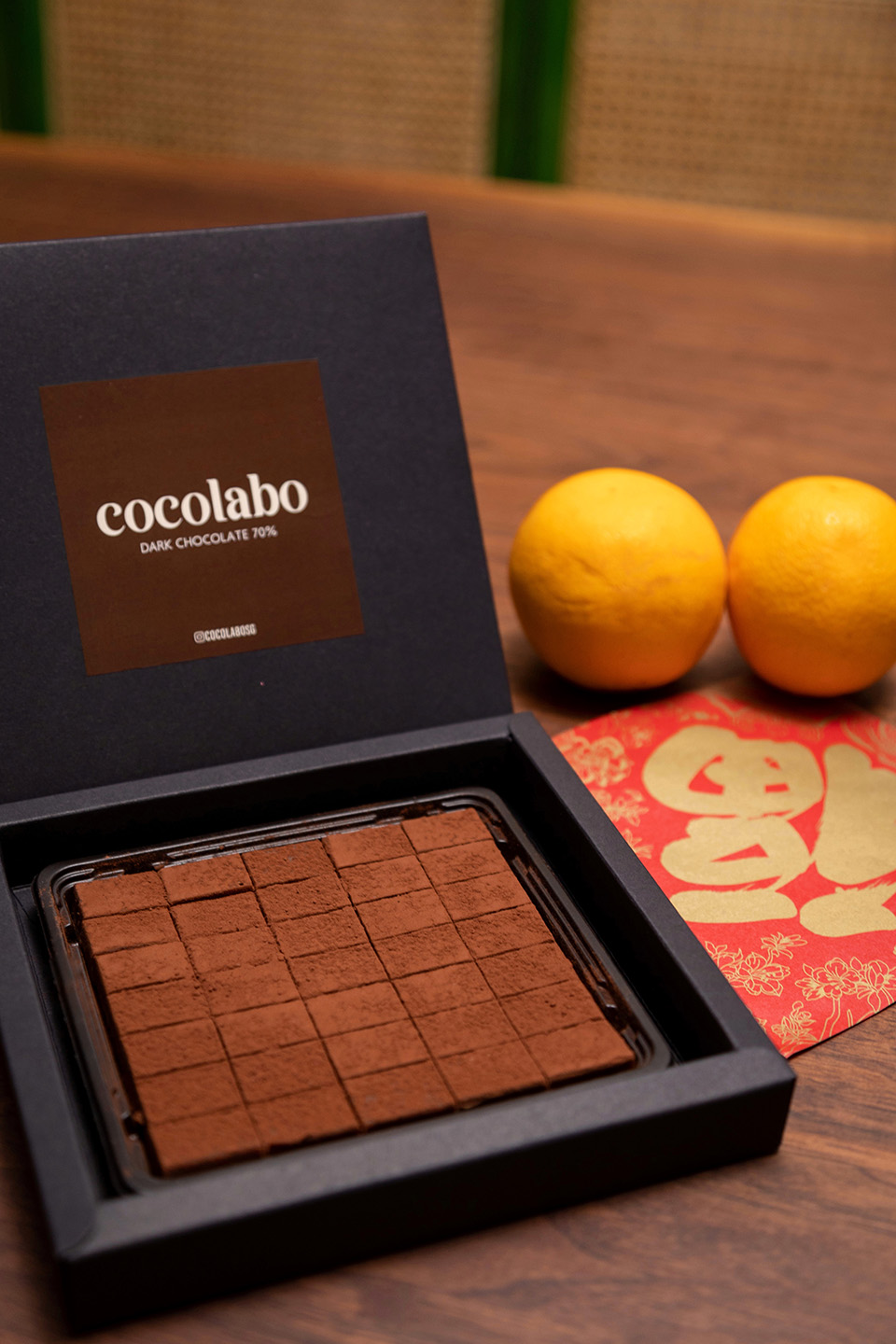 Dark Chocolate, $19.90
This bittersweet dark chocolate with 70% cocoa content is "rich and intensely flavourful".
DM here to order. More info on Instagram.
Photos: Coco Labo