After Giving Up His BTO Flat, Ria 897 DJ Danial Shahrin Rushed To Buy This $530K 5-Room Pasir Ris Unit So He Wouldn't Forfeit His Downpayment
Danial and his wife decided to cancel their BTO flat application in 2020 after construction was repeatedly delayed.
Though Ria 897 DJ Danial Shahrin, 28, and his teacher wife Athifah, 31, managed to secure their dream home, a five-room BTO flat in Tampines, in 2018, they decided to give it up in late 2020 when they found out they were expecting their son, Adam. 
Their flat, which was initially supposed to be ready in the first quarter of 2022, had been delayed three times, and the couple, who were then living with Athifah's parents in their four-room flat, really needed their own space. But their appeals to cancel their flat were rejected.
"HDB asked for proof that my wife was pregnant or for my son's birth certificate. It was only after we submitted all the documents on our third try that they approved it," Danial tells 8days.sg, adding that the entire process took around four months.
However, to get back their 15 percent BTO downpayment — around $26,000 — they had to buy a resale flat within six months. "I rarely read through my personal emails, and by the time I realised the appeal had been approved, it was one month in! HDB takes around three months to process a purchase, so that meant that we only had two months to find a house. We were in a very dire situation," he says.
Hence the frantic search for a flat. It didn't help that Athifah had just given birth and was still in her confinement period and their home options were limited by the ethnic quota. 
"Pasir Ris and Tampines are popular with Malays. There were a few units we were interested in, but we weren't eligible 'cos of the ethnic quota. It was very stressful. I was like, 'Are we ever going to find a unit?' I really wanted to get my downpayment back," says Danial.  
After viewing around 10 units, they finally bought their five-room Pasir Ris flat which was approved just two weeks before the deadline. Phew.
Just a five-minute walk away from Athifah's parents' home, the 1,324 sq ft mid-floor flat ticked all the right boxes. It is bright, spacious, and a corner unit. There was also no cash over valuation. 
Though resale prices then were starting to hike, they managed to bargain the price down from $580,000 to $530,000, which was the market price for the area at the time. "The previous owner had already found another place, so he was in a hurry to sell this flat. He also wanted a three-month extension, so I told him to give me a better price," shares Danial.
"The flat wasn't cheap but it's a stark difference compared to the prices now. A third-floor unit just sold for around $630,000."
No part of this story or photos can be reproduced without permission from 8days.sg.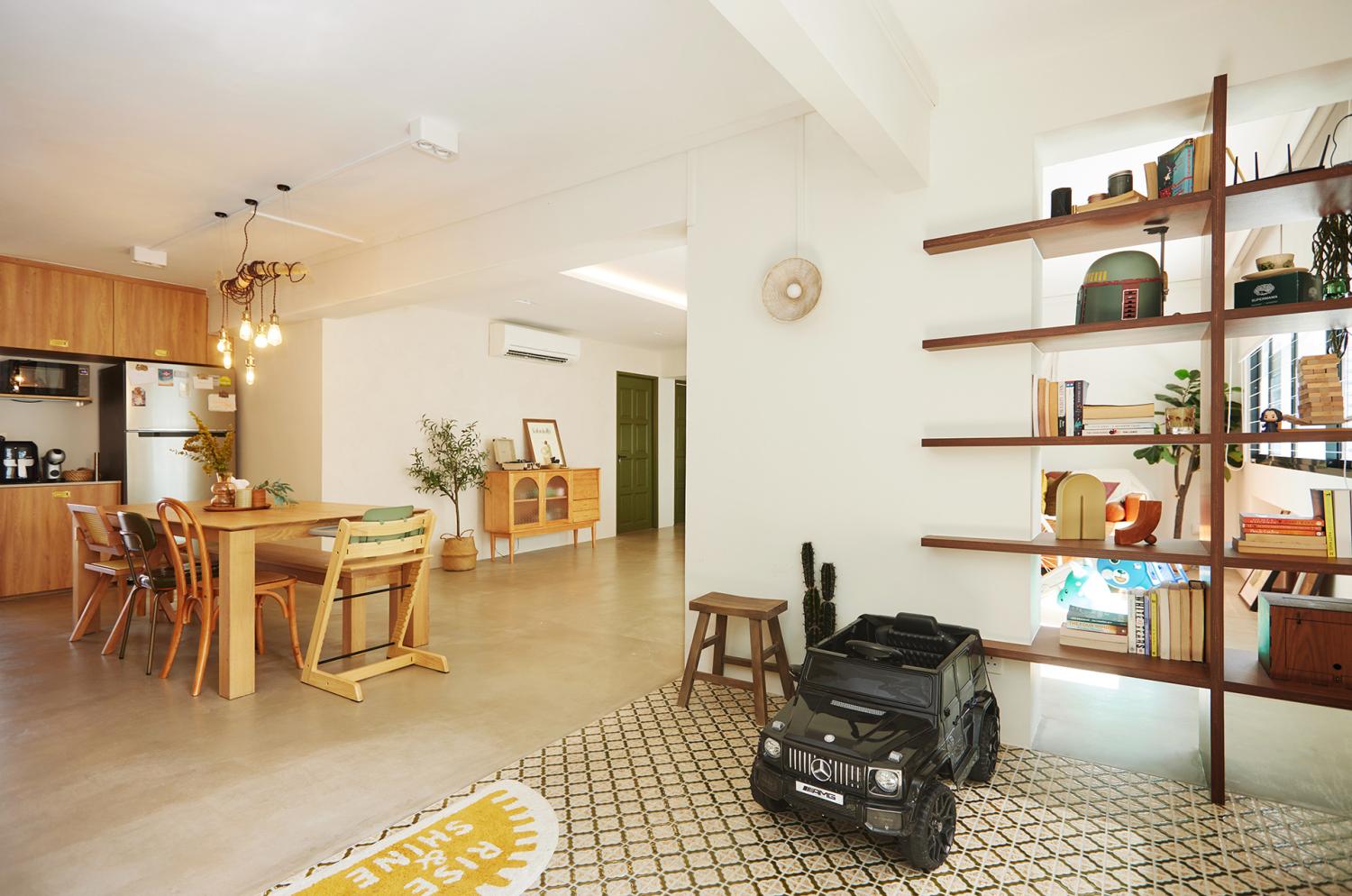 It took over two months and $65,000 (excluding furnishings) to transform the 28-year-old flat.
They wanted a mid-century modern theme while incorporating elements of the Barcelona Airbnb they stayed at during their honeymoon, things like cement screed flooring, a big kitchen, and a seamless communal space for big gatherings. It also had to have splashes of green, Danial's favourite colour.
"We had a whole deck of slides that we sent to our interior designer. We were very specific about what we wanted. We even drew the layout of how we wanted the house to be," says Athifah.
"It is very mid-century modern in terms of the colours and furniture, but there's also a touch of
wabi sabi
and Japanese style in the kitchen. It's just a mish mash of things that we like."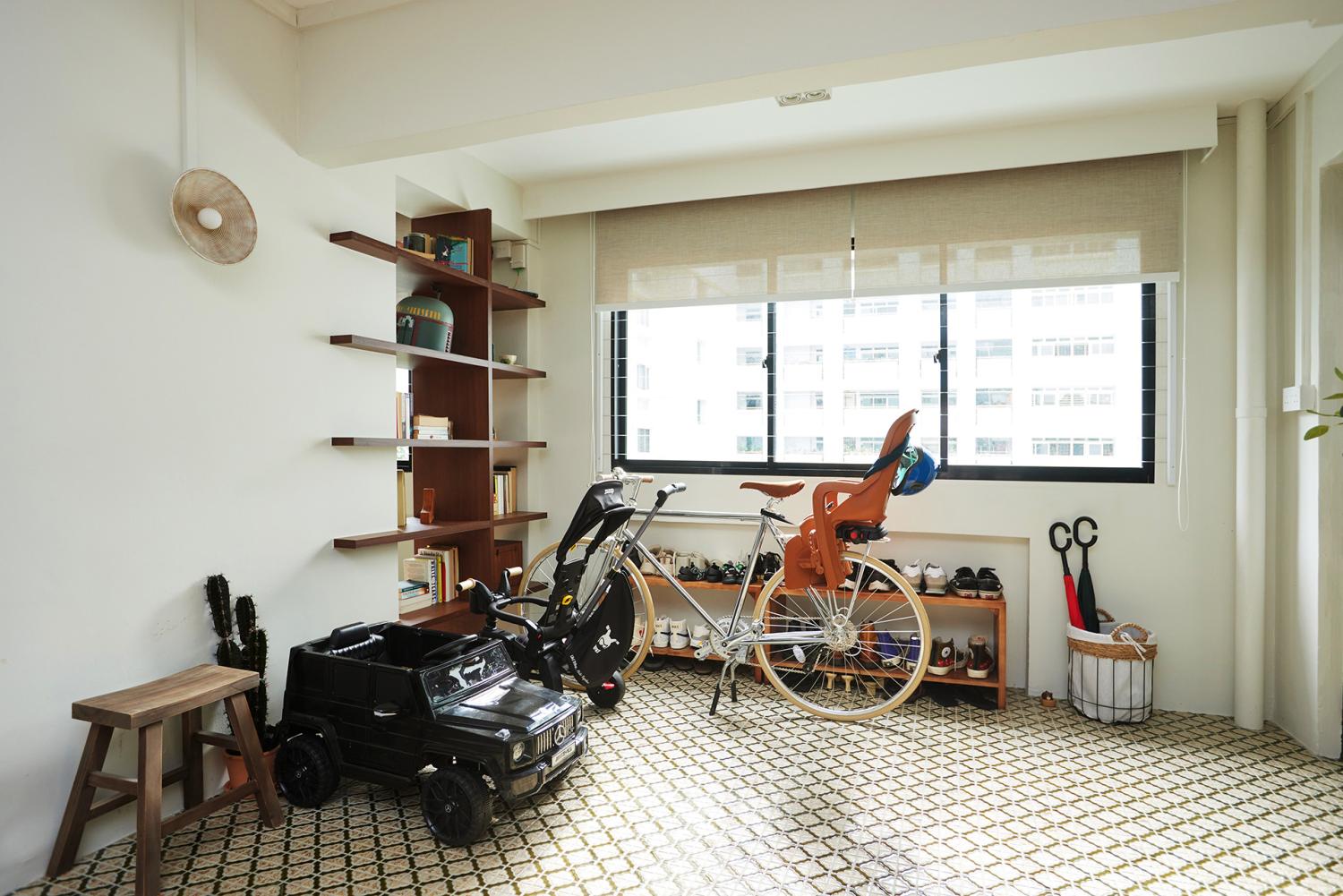 Entryway
To create a vintage aesthetic for the foyer, the space is decorated with retro touches like a charming green and beige mosaic feature floor and mid-century modern-style shelf. The wall was partially hacked to accommodate the shelf, something which caught their fancy on Pinterest. 
"Instead of a full wall, we wanted something see through so the house has a more seamless layout. It also offers some privacy when we leave the door open 'cos Athifah doesn't wear a headscarf at home," says Danial.
Living room
On the other side of the shelf is the living room, which has all the hallmarks of mid-century modern with warm wood finishes, earthy tones and pencil-leg furniture.
Decorating the space are
Athifah's framed illustrations, Star Wars and Harry Potter collectibles, and, um, fake plants. "
We like greenery but don't want the hassle that comes with taking care of plants, so fake plants it is," laughs
Athifah.
Accenting the room is a buttery tan leather couch from Hipvan and mid-century armchair, gifted by Danial's dad who's a collector of vintage furniture. The coffee tables, TV console, coffee tables and side cabinet, which they got at quite a bargain, are from Taobao.
"
We found some of the furniture that we wanted on Taobao for like 70 to 80 percent cheaper. We just uploaded pics of the furniture to Taobao and it would search for them. Then we got our ID to buy them. The $600 coffee table, which is solid wood, came with a big crack, but we kept it and used wood putty to cover it up ourselves," says
Athifah.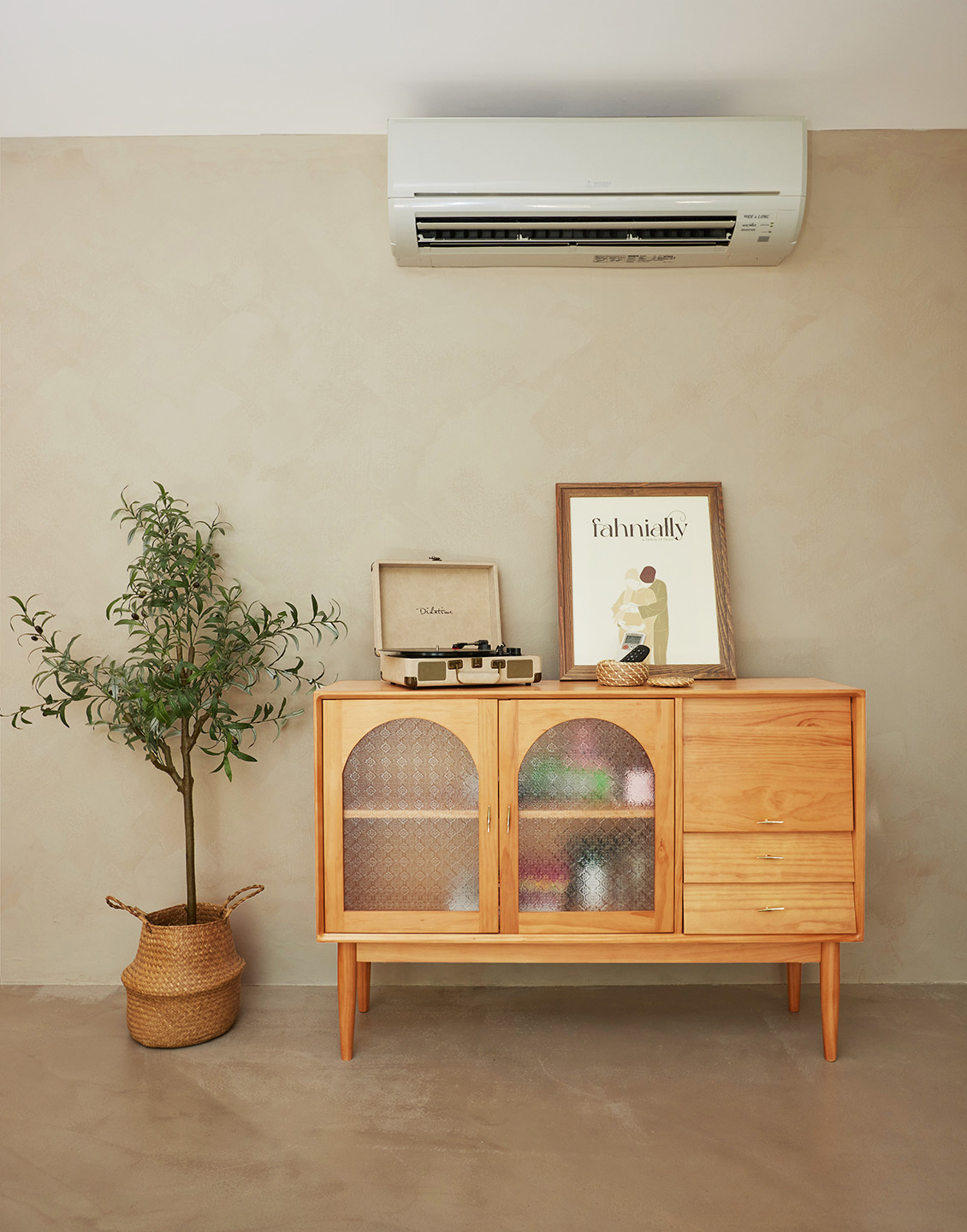 It might not be obvious, but this is supposed to be a limewash accent wall. As it would cost $1,850 to get it professionally painted, Danial decided to DIY. "The limewash paint only cost me around $300. But when I got down to painting the wall, I knew why they charge so much," he says.
"To create the [mottled] effect, you have to paint in [criss-cross] stokes, then let it dry before doing the next layer. You're supposed to apply primer first before painting, but I didn't, that's why the limewash effect is very subtle. It took me three days to paint four layers. It is supposed to look like the grey on the record player case. We bought the player to match the wall."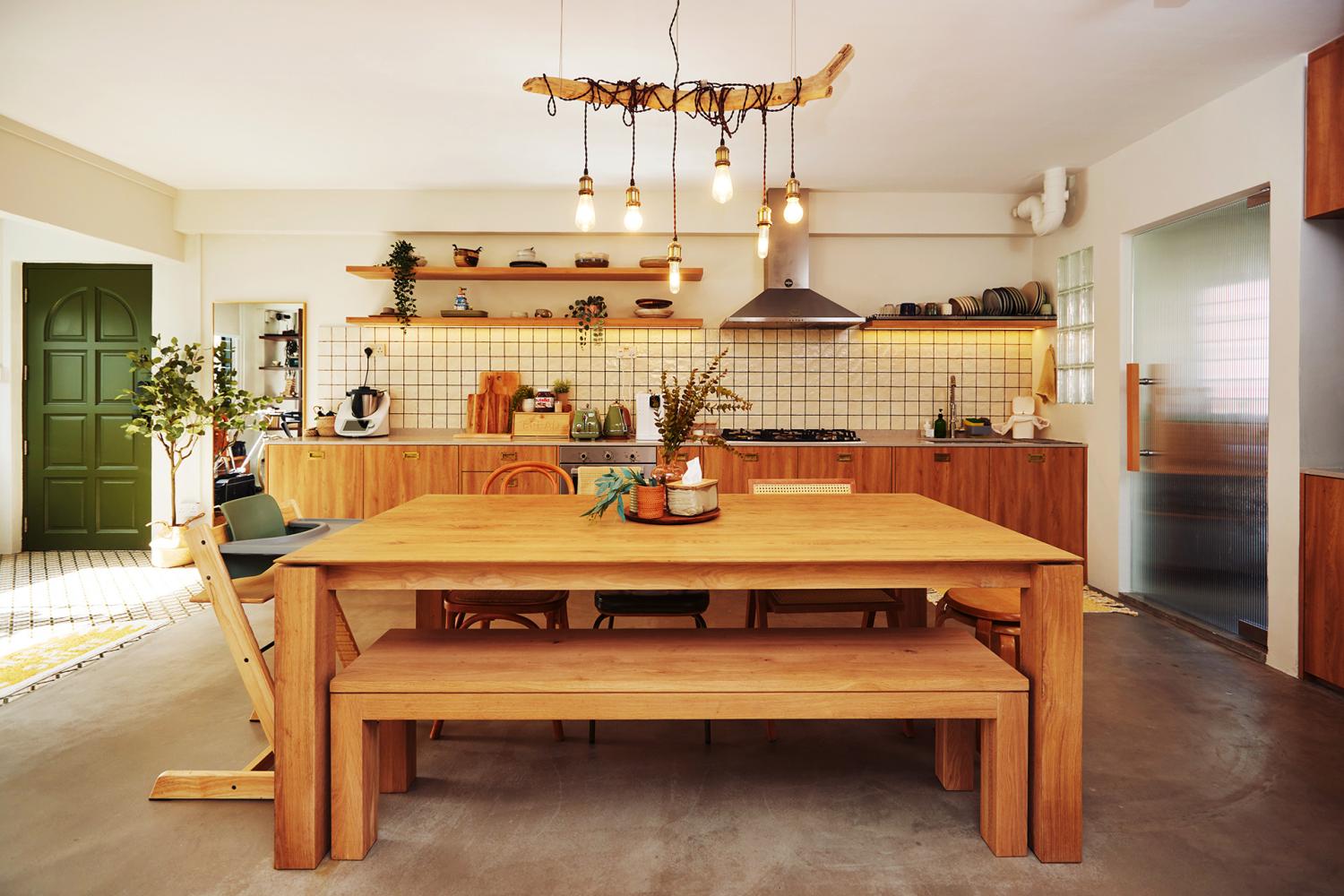 Kitchen and dining area
Across from the living room is the integrated kitchen-dining space. As Danial loves to cook and
Athifah bakes, they wanted a big, open-concept kitchen. It is also
more conducive for entertaining. Two walls were hacked to open up the kitchen. A small section
of the wall beside the sink was also hacked and replaced with glass blocks to let more light into the space.
Before: The kitchen was walled off from the rest of the living space. 
After: The sense of openness makes the area more spacious.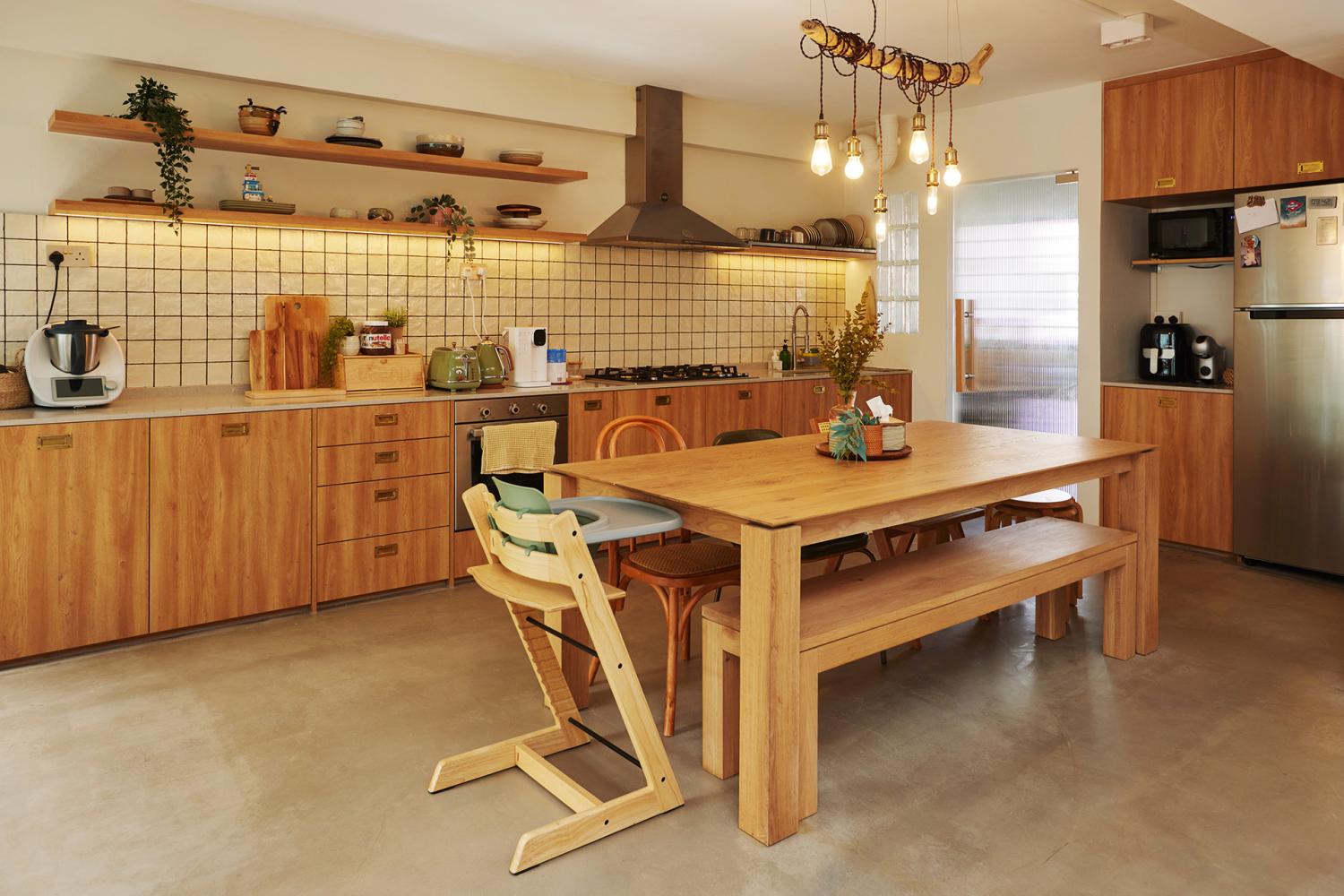 For a more visually streamlined look, they opted for cabinets on the bottom and floating shelves on top which allows them to display their collection of stone kitchenware. Warm wood tones marry seamlessly with off-white tile backsplash and a grey quartz countertop. 
Danial, who admits to being a stickler for details, handpicked this textured laminate for the cabinets 'cos it mimics real wood. "We went to the factory to look at the big piece of laminate so we could choose the grain that we want. It might look nice on a small swatch but when you put everything together, it might look inorganic or too messy," he reasons. The brass handles, originally bright gold, were sandpapered down for a raw, antique look. 
The dining area is their favourite spot in the house. A large table is a must-have for the couple who loves having friends and family over. Ideally they would have liked to go bigger, but this is the largest that could fit in the lift. The 2m-long
oak dining table and matching bench, which cost around $4,000, are from Soul and Tables. The mix-matched chairs are from Taobao.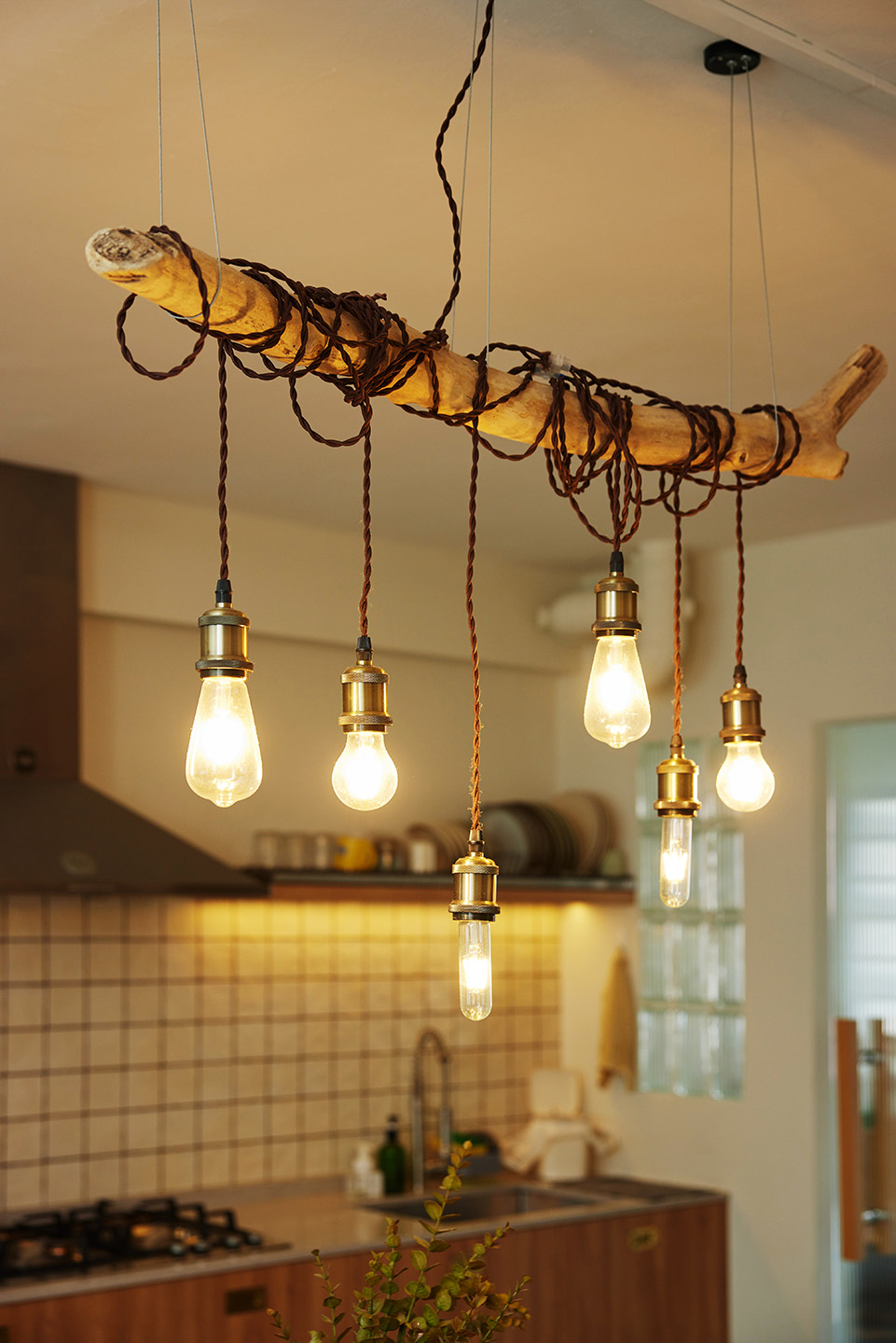 The rustic branch chandelier above the table is inspired by the light piece at their honeymoon Airbnb.  
"We bought the branch off Etsy and our ID made the chandelier for us. That piece of wood cost more than $100! I can go Pasir Ris Park and take but troublesome
lah
'cos I'd have to clean it and make sure there are no insects," laughs Danial.
Master bedroom
His-and-hers sinks peek out from the 'dry vanity area' leading to the ensuite bathroom of the master bedroom. The bathroom exudes a more resort vibe, a contrast from the solid earthy tones of the sleeping area.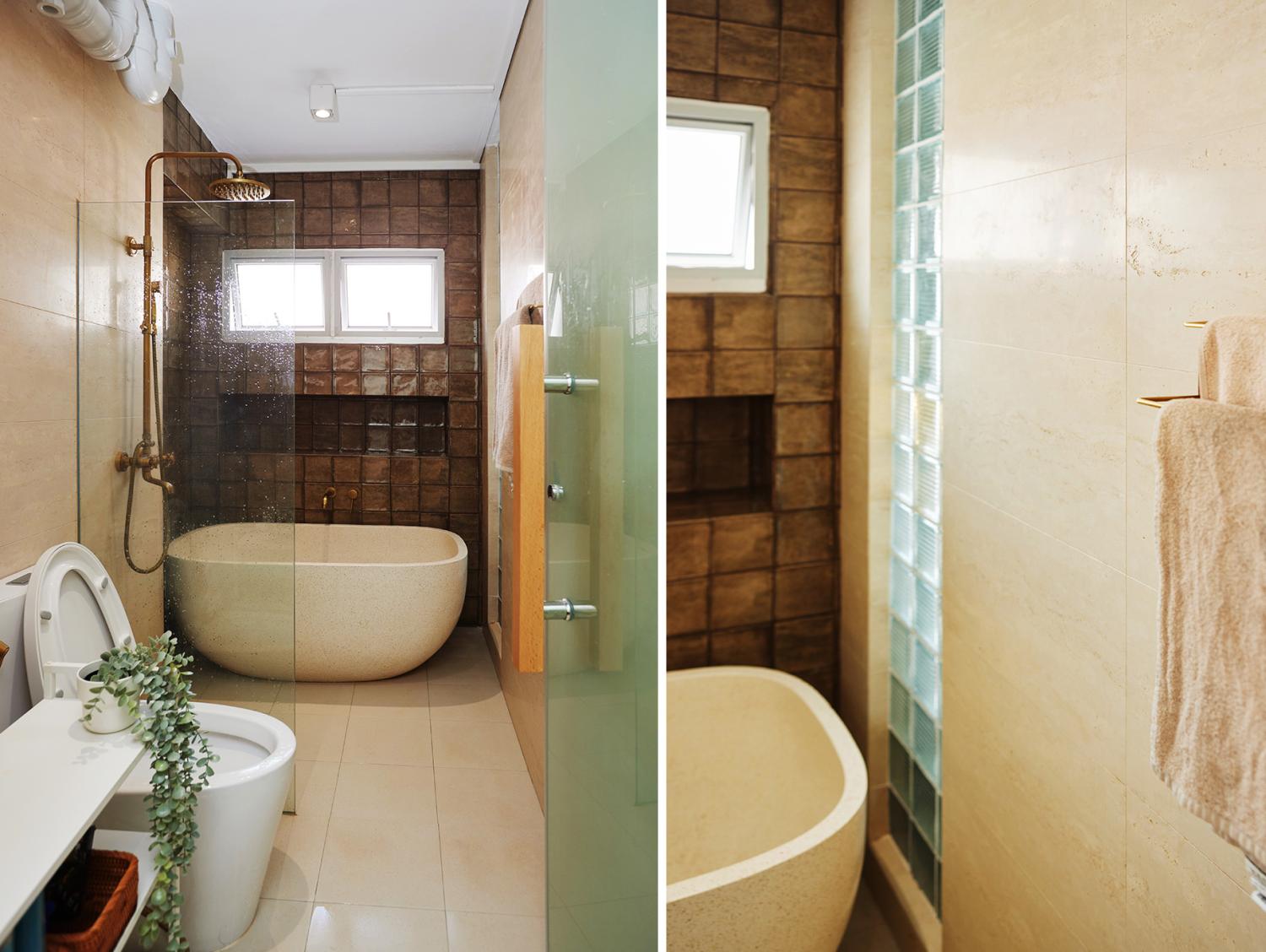 Variegated tiles and travertine tiles, characterised by the pores on the surface rough finishing, were chosen for the master bathroom to give it the "imperfect wabi sabi touch". To allow more light into the space, part of the wall was hacked and replaced with glass blocks.
As
Athifah has always wanted a bathtub, they got this terrazzo bath and matching sinks custom made in Bali. For a more spacious bathroom, the sinks were moved to the "dead space" just outside. The vanity countertop is sile stone, which happened to match their sinks perfectly.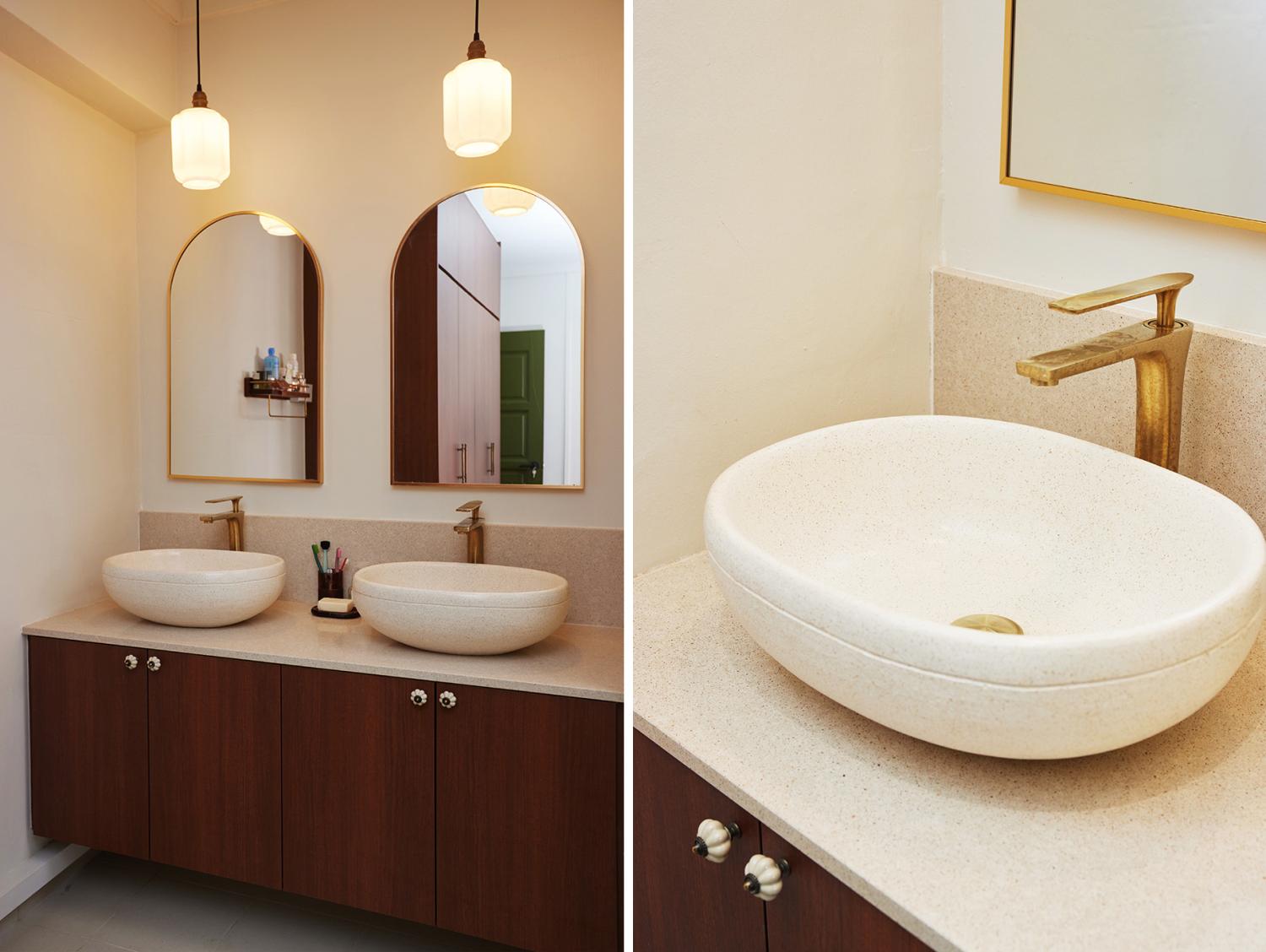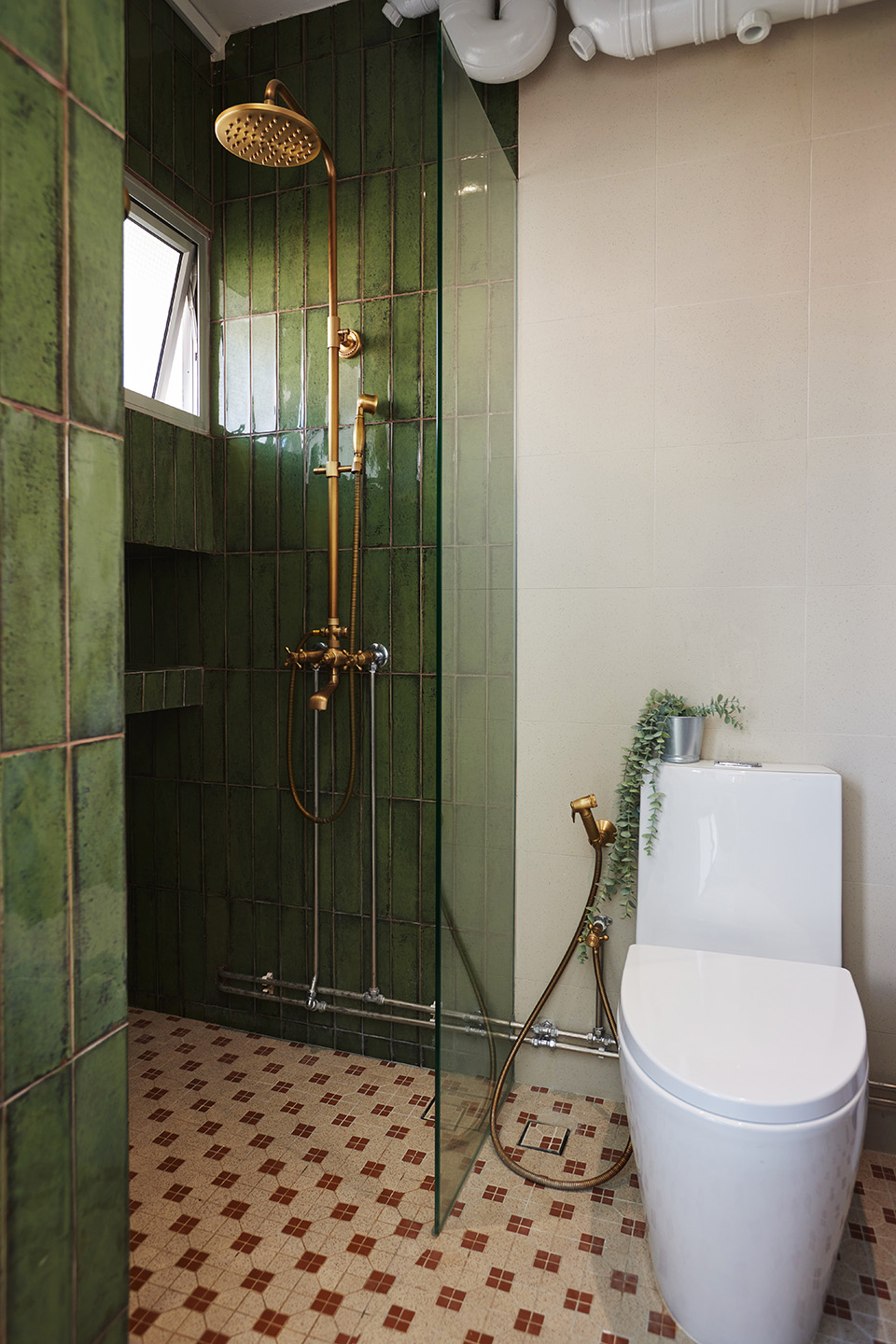 Common bathroom
The common bathroom, which is accessed from the yard area beside the kitchen, features a bolder colour palette. Striking green tiles are paired with brown mosaic tiles reminiscent of those from the '70s.
"I don't know what style this is, it's just what I like in a bathroom," says Danial. "These old school tiles were supposed to be used in the master bathroom but we felt it contrasts better with the green, so we switched. I personally prefer this bathroom 'cos of the green."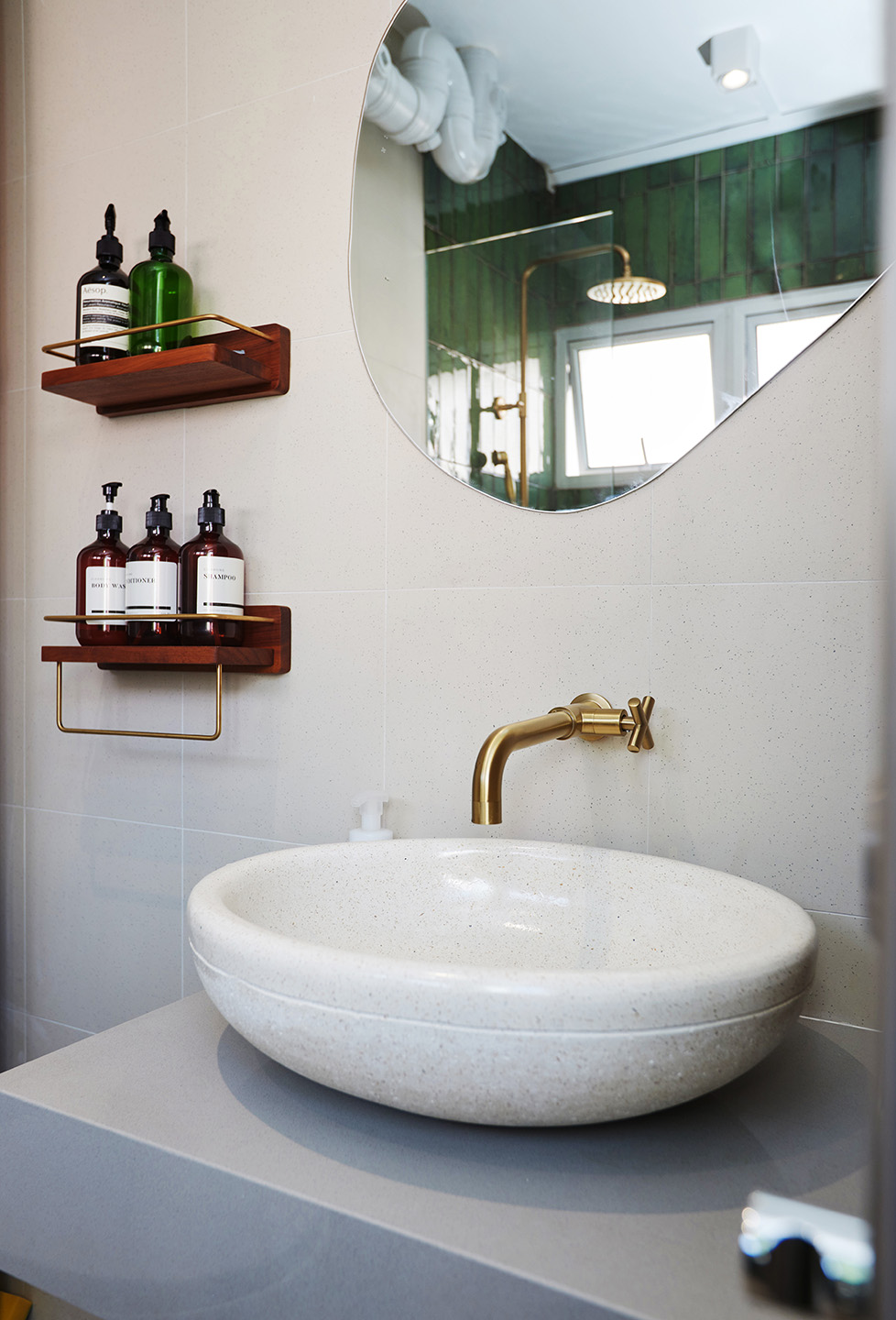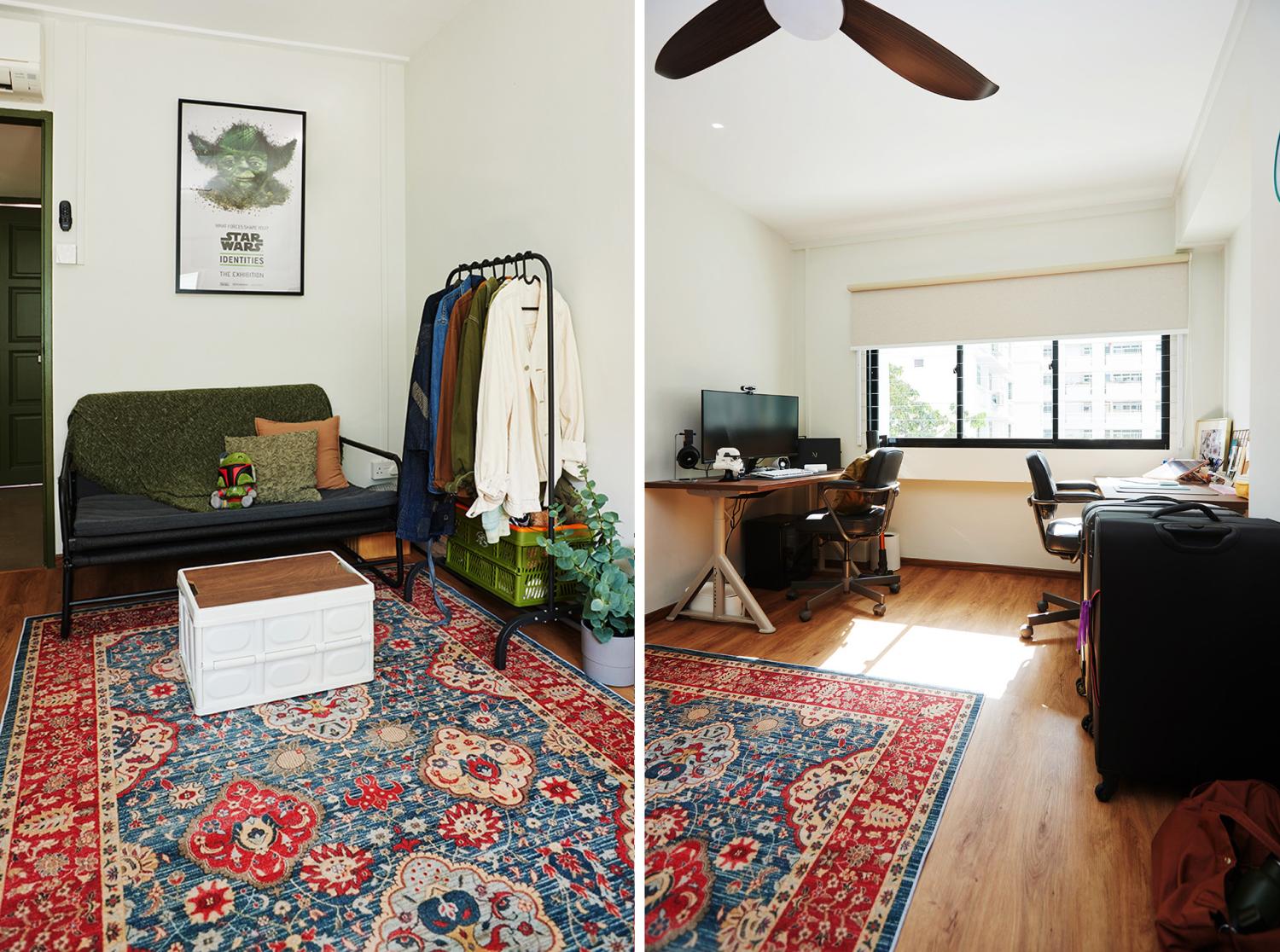 Study
Daniel was given free rein to design the study room. To create a chill, more industrial vibe, he incorporated metal elements and camping-inspired furniture. "I love camping.
I wanted a camping chair, but this is supposed to be a guest room, so I got a daybed that looks like a camping chair. This is from Ikea," shares Danial.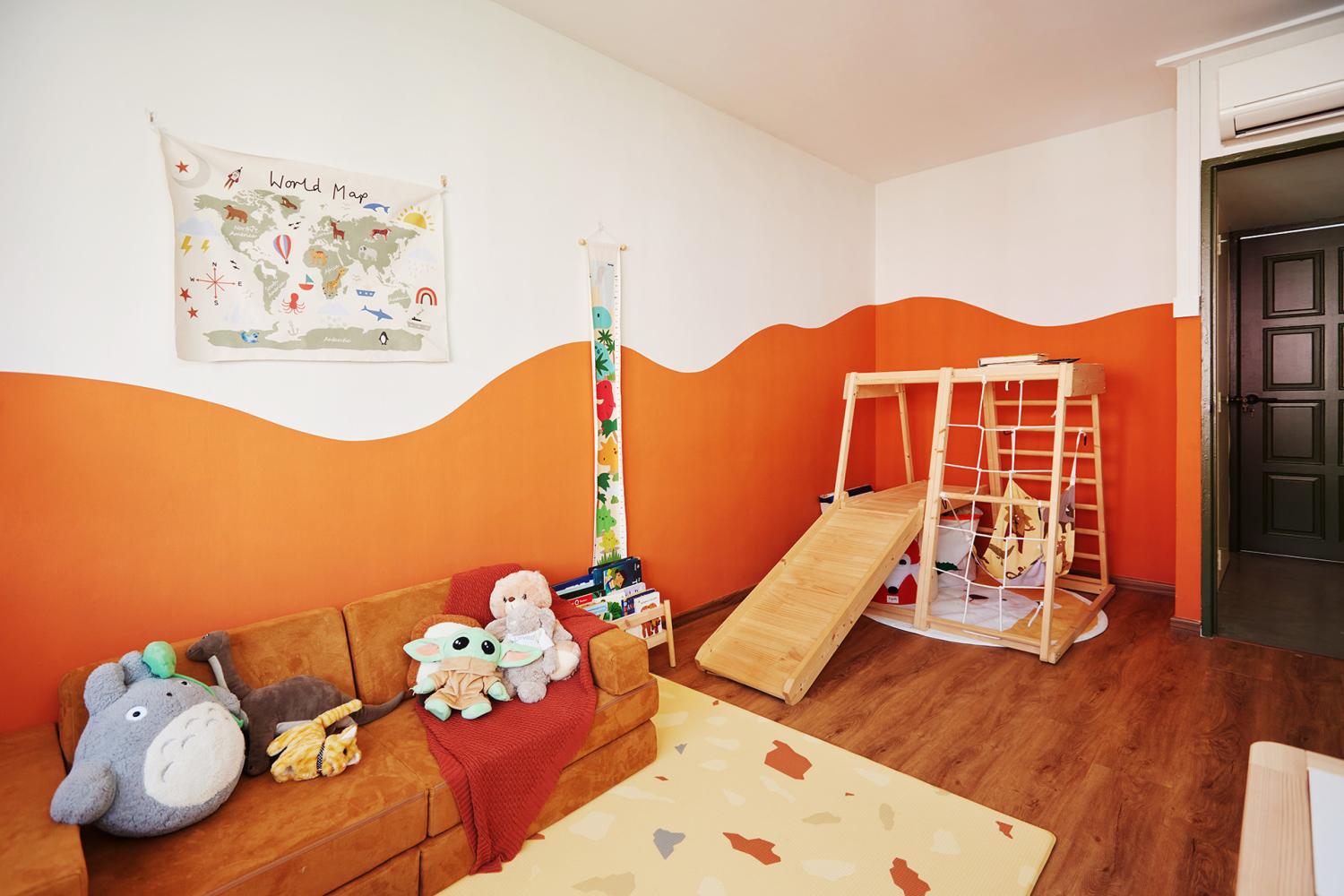 Adam's room
The toddler's playroom is a refreshing break from the neutral colour palette around the house. Athifah shares that they would have liked more terracotta furnishings around the house, but could not find anything suitable.
"So, I had to let go of my terracotta dreams and project it in this room," she says, though she admits it ended up looking more orange than terracotta. The wave design was painted by her dad and they intend to decorate the room with posters.
"We didn't want
permanent fixtures in this room so that we can change the design of the space. And when Adam is big enough, we will let him decorate it the way he wants," she adds.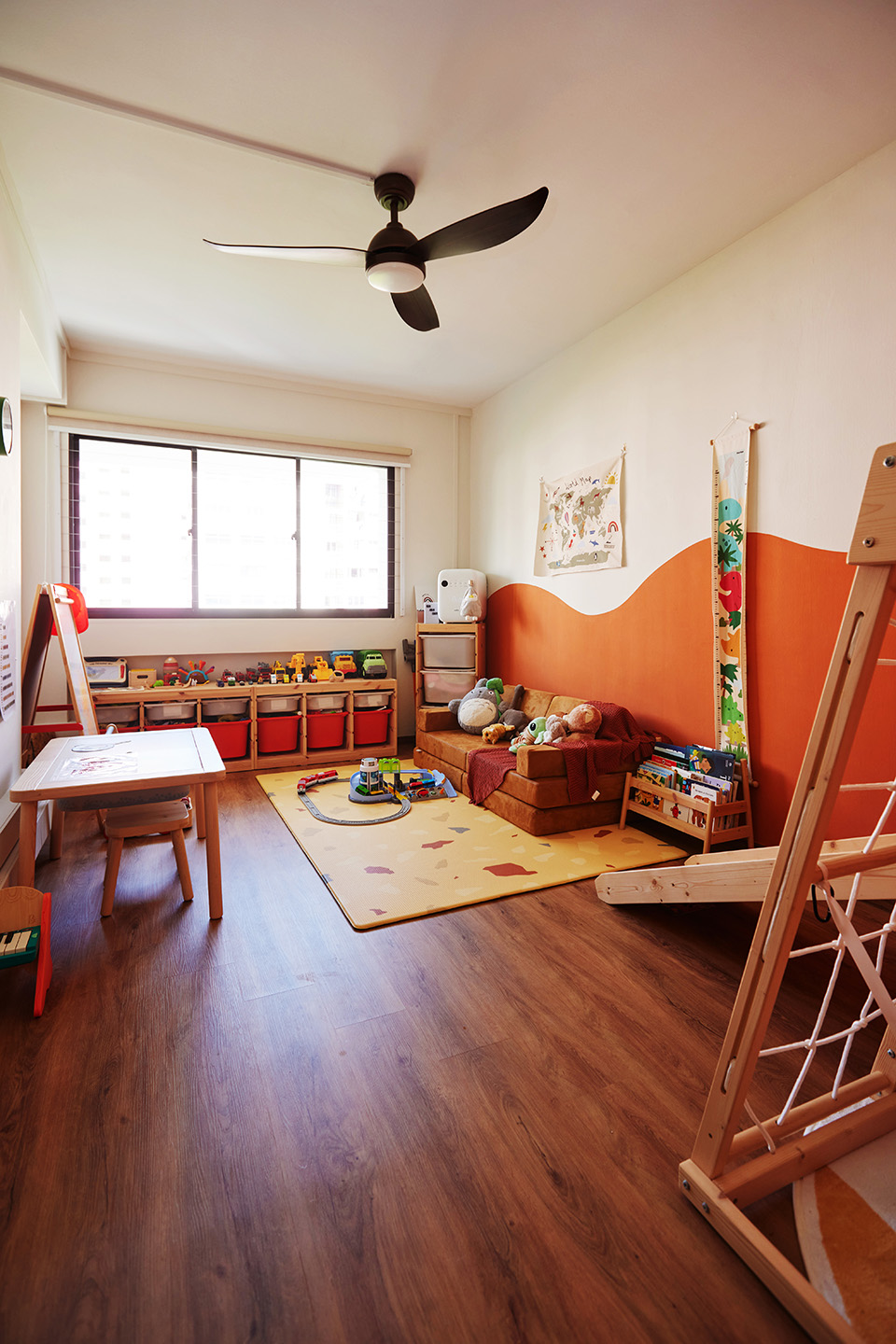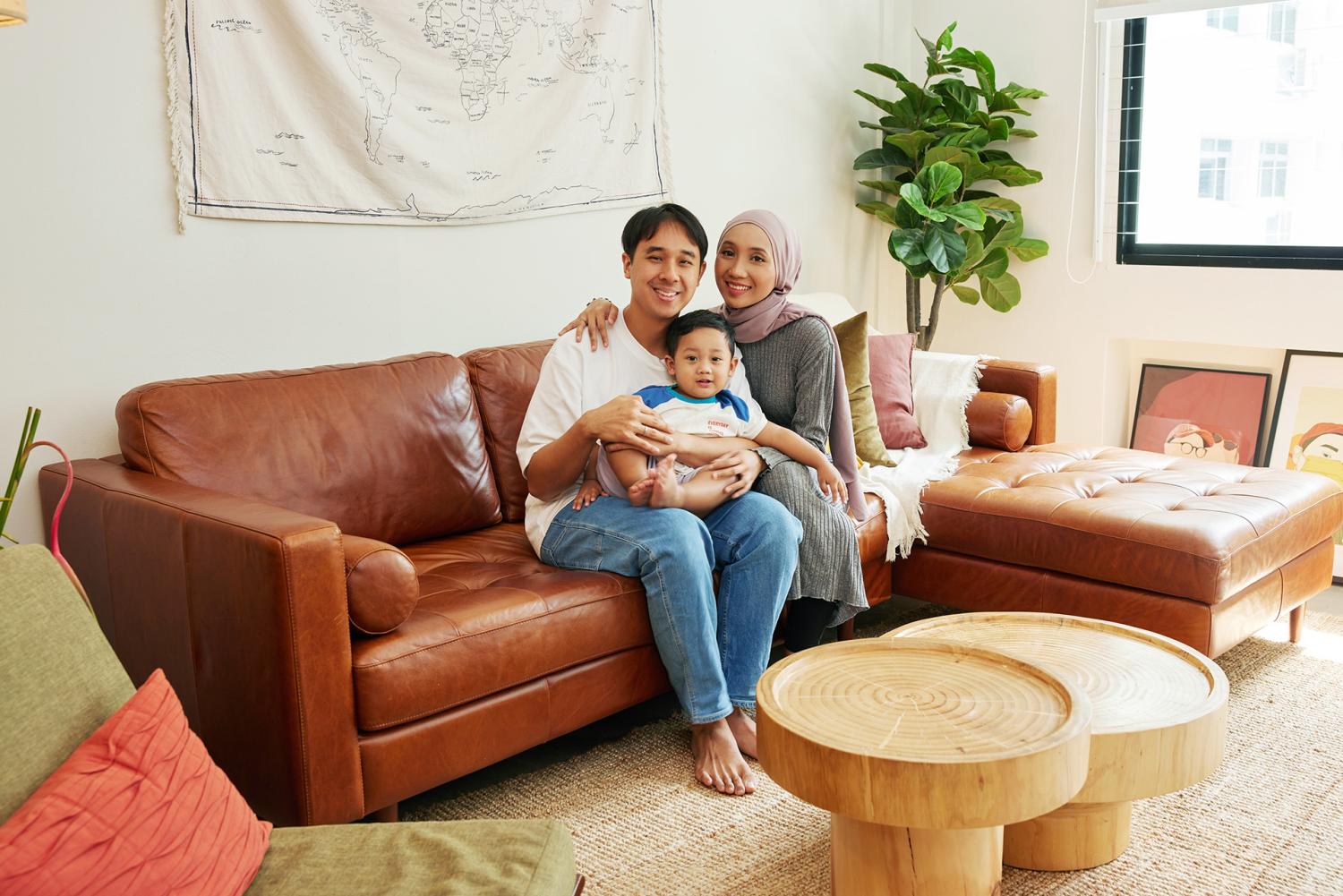 8 DAYS: Your BTO flat was your dream home. It must have been a tough decision to give it up.
ATHIFAH: It wasn't a tough decision, but it was tough on us 'cos we felt sad. We got the flat in 2018 when we were still dating. It was our first try and our queue number was 50-something, which is pretty good, so we thought the flat was fated to be ours. Turns out it was not meant to be.
DANIAL SHAHRIN: We mulled over it for three months. When we bought the baby's crib and started putting stuff together, the room was so cramped. I removed my desk to make space for the crib and had to do work on the bed. I was like, "I cannot live like this." And we could not move from her parents' to my parents' place 'cos it's also a four-room flat [but] I have four younger sisters. It's a full house.

What about renting?
Athifah: We felt it was unnecessary 'cos at the end of the day, the money goes to the landlord. We'd rather spend the money on our house. Ultimately, it was a good decision to buy this flat. Look at this boy now, he's almost two and we still wouldn't have gotten the BTO flat.

Danial: Some of my friends who got BTO flats in another block said their flat had been delayed till middle of next year, so I'm sure ours would have been delayed again too. When I pass by the block, it's only built to the sixth floor.
 
Did you feel you had to compromise when buying this house?

Athifah: I did 'cos I wanted a place which needed minimal reno. The condition was okay, but we had to hack a couple of walls to get the layout we wanted.
Danial:
She's also biased 'cos she didn't like the flat initially. She's afraid of dogs and there was this big, burly dog that was quite old and blind in the house, so she refused step into the house. So, I viewed it myself and showed her photos. I told her it's a good layout and we will be able to design it the way we want, but she was set on not going for this house. But after viewing other units, she realised that this house was quite a good deal.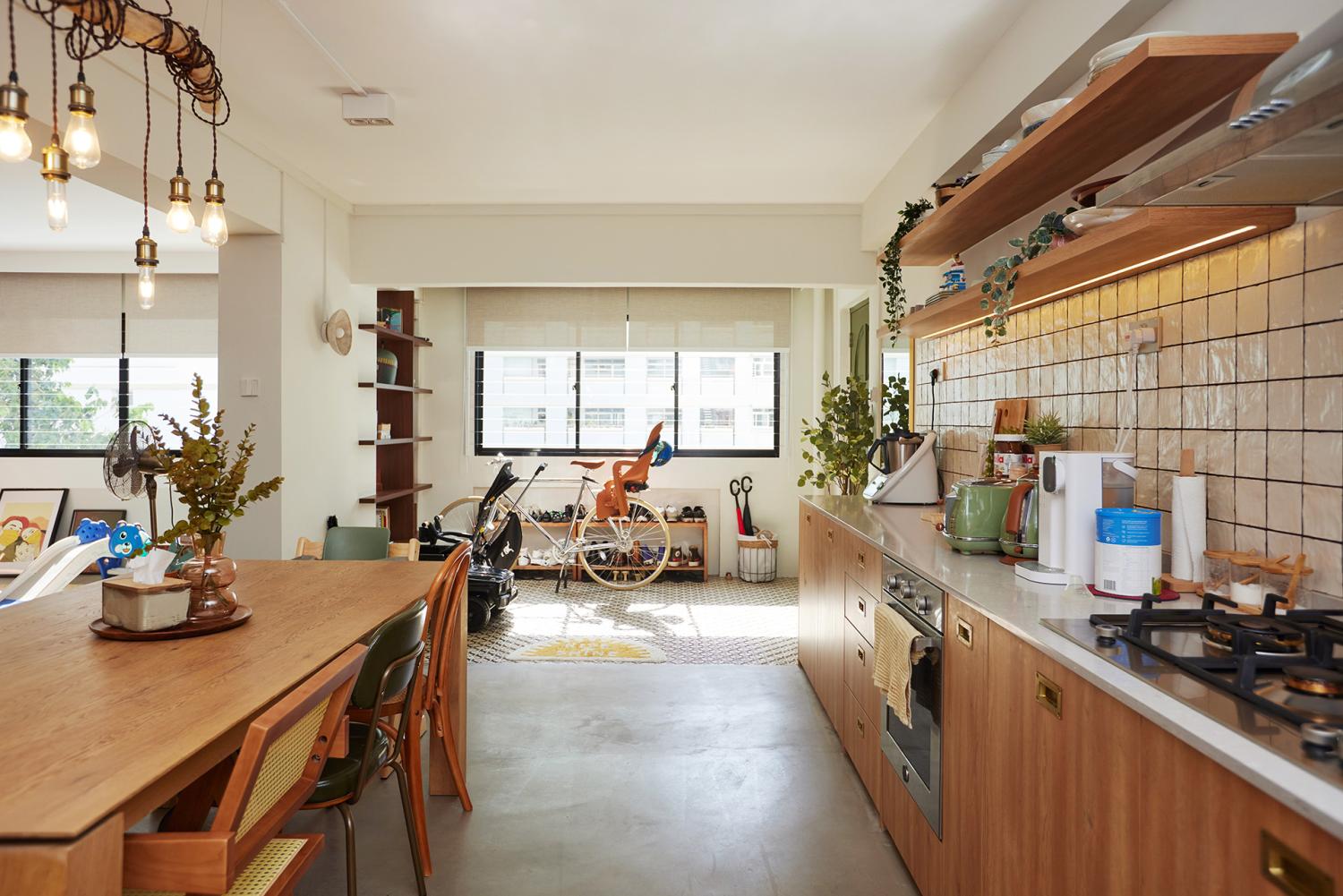 Did you encounter any challenges when renovating the flat?
Danial: No, our reno was only extended by about three weeks 'cos at one point, the contractors were down with Covid one after the other. We managed to move in in December 2021. We were quite lucky. Some of the parts like our pantry drawer were like the last pieces in Singapore. After that, people had to pre-order and wait months for it to be shipped to Singapore.
 
Did you have any disagreements over how the house should look? 
Danial: A lot of the design aspects were things that she wanted so I had to give in quite a bit. I really wanted to stick within the budget.
Athifah: He's the practical one whereas I go for the aesthetics. He didn't want the his-and-hers sinks 'cos they take up space, but I think it's nice. And also the bathtub.
Danial:
Since we got
bathtub
, she's only used it twice. She also wanted a framed TV set for the living room but it's more expensive. I think regular TV sets cost around $1,000, but this is $3,400. To have the TV mounted nicely, we had to do a false wall to bury the wires.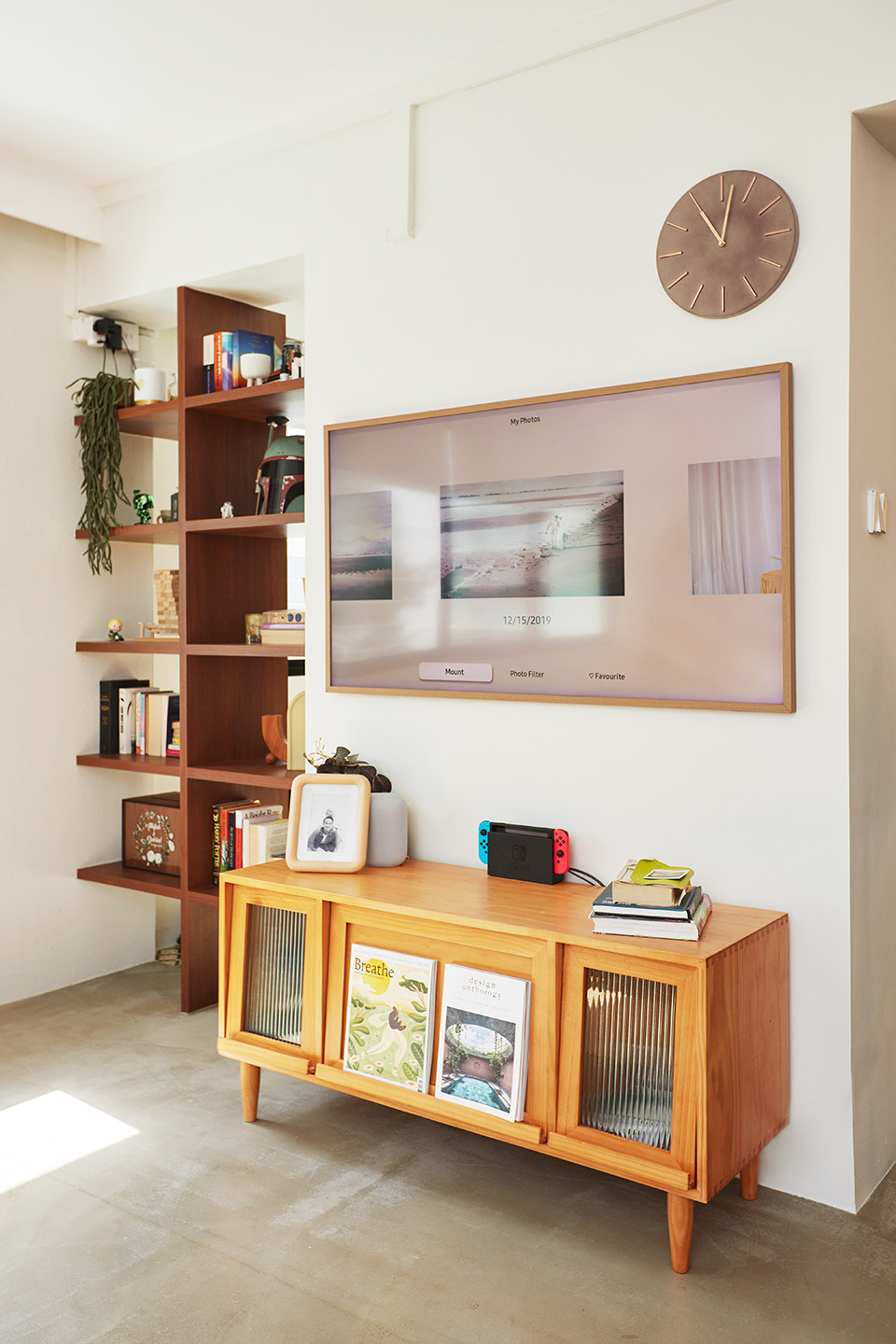 Did you run into unexpected costs along the way? 
Danial: Not really, but we gave the sink maker the wrong measurements and by the time we realised it, he had already made them, so we had to pay more for new sinks. It wasn't a lot, in total, we paid $800 for five sinks (including the wrongly made ones) and a bathtub. A bathtub alone in Singapore would cost you $1,000. 
And we didn't expect shipping to cost a bomb. The sink in the common bathroom was supposed to be a wall-mounted one, but it broke during shipping, so the manufacturer made a new one for us. We had to pay $300 for shipping and when it arrived at customs, we had to pay another $770 for it to be released. We didn't want to pay another $1,000 for a free sink, so we told them to keep it.

Anything that you wished you had done differently?
Danial: We didn't take into account the size of the fridge when designing the kitchen cabinetry. I wanted a fridge with French doors but they were too big for the nook. This is the biggest we could go.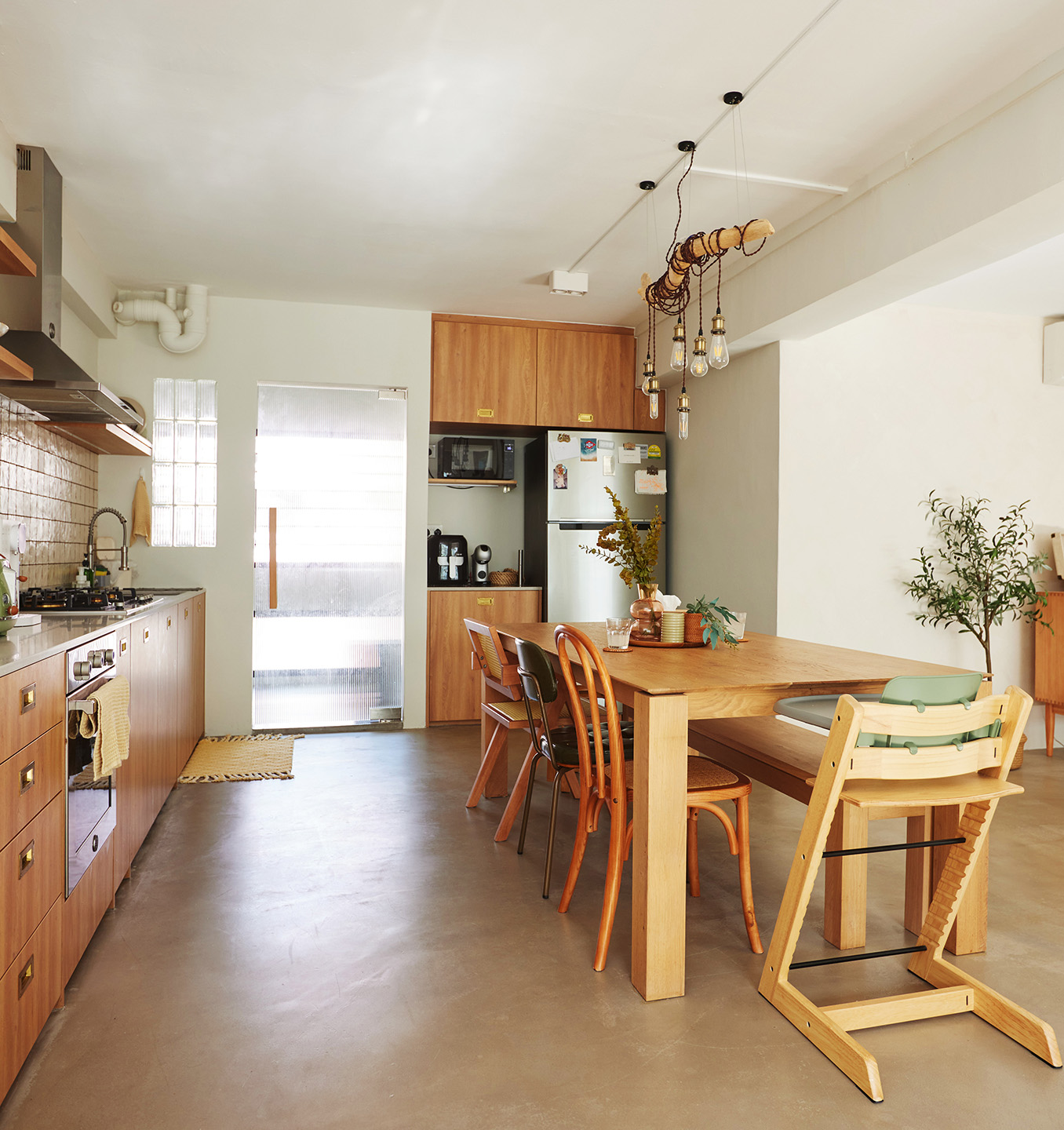 What's this we hear about you almost setting your kitchen on fire? 
Danial: It happened when I was cooking. The flames just went, voosh! (Makes animated gestures) I turned off the gas and quickly took a damp rag and threw it on top of the pan. My SCDF skills saved me (Danial used to be a paramedic with the Singapore Civil Defence Force). The backsplash and wall were covered with soot but thankfully, I managed to scrub it all off with soap. 
Photos: Kelvin Chia
No part of this story or photos can be reproduced without permission from 8days.sg.