Ah Girls Go Army Actor Opens "Malaysian-Style" Bak Chor Mee Hawker Stall In Tiong Bahru
San Hu Minced Meat Noodle serves dark soy sauce-slicked bak chor mee that's inspired by Malaysian-style wonton mee.
Fans of Jack Neo's Ah Girls Go Army might recognise the boyish hawker behind two-month-old stall San Hu San Hu Minced Meat Noodle as Sergeant Ken (pictured below), a supporting character in the movie. Although Jasper Choong, 26, didn't have much screen time in the first film (it's the rookie actor's first time appearing in a movie), he tells 8days.sg that he will have more scenes in the sequel, premiering later this month. The 1.8m-tall hawkerpreneur also occasionally does some modelling.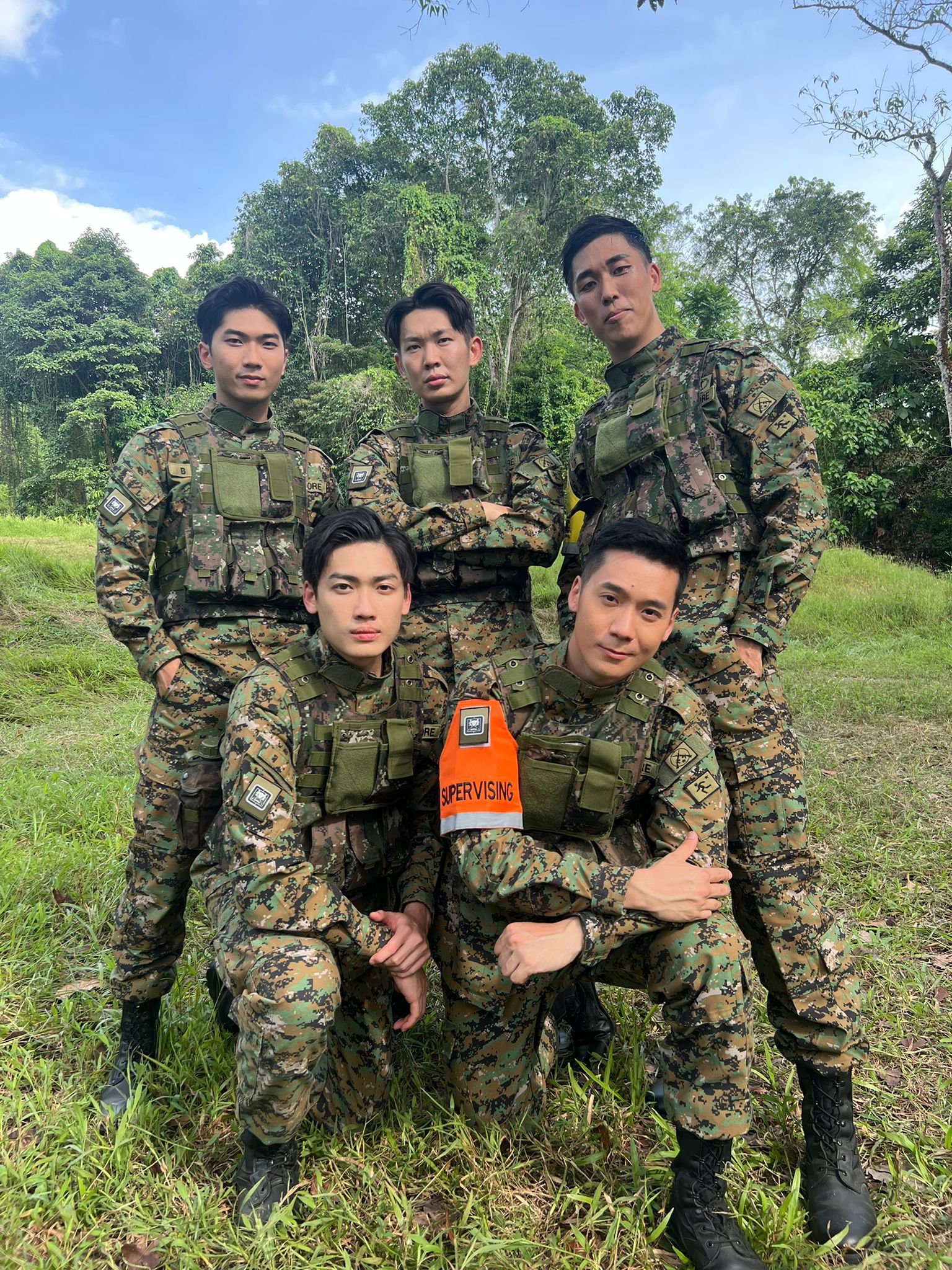 ​​​​​​Photo: Jasper Choong

The Malaysian native's stall is located in a kopitiam near Tiong Bahru MRT station, and was opened together with his mother Lee Joon Lean (in main pic), 60, and business partner Loh Tong Kit (who declined to be photographed for this story), 28. While there are other hawker stalls offering modern renditions of traditional bak chor mee, such as Minced Pork Bros' ikura bak chor mee or No. 25 Minced Meat Noodles' variant with tonkotsu-inspired soup, San Hu prides itself in its "Malaysian-style" minced meat noodles.
All photos cannot be reproduced without permission from 8days.sg.
What's "Malaysian-style" bak chor mee?
Jasper remembers tasting bak chor mee here when he first relocated from Penang to Singapore aged 12 — it was "love at first bite".

"I don't recall seeing bak chor mee back in Penang," Jasper, now a Singaporean, recalls. "Dishes back home tend to veer towards the savoury side and bak chor mee in Singapore inspired me and Tong Kit — who hails from Ipoh and used to work as a cook at a cafe in Jurong — to create bak chor mee that would appeal to those back in Penang".
The origin of bak chor mee is rather ambiguous, although many believe that the dish has Teochew roots. In Singapore, some of the earliest records of the dish go back to the early 1920s, from Swatow immigrants. 

According to the stall's cooks Jasper and Tong Kit, the sauce used in their noodles is inspired by the signature black sauce used in Malaysian wonton mee. Moreover, the duo also make it a point not to mix their chilli, which is fried in house with "more garlic, onions and dried shrimp", with the noodles. So their version of bak chor mee features noodles tossed in luscious dark soy sauce, with the chilli dolloped on the side. These elements, the hawkers insist, are what make their minced meat noodles "Malaysian" — even though there's no bak chor mee as we know it in Singapore that's commonly served in Malaysia.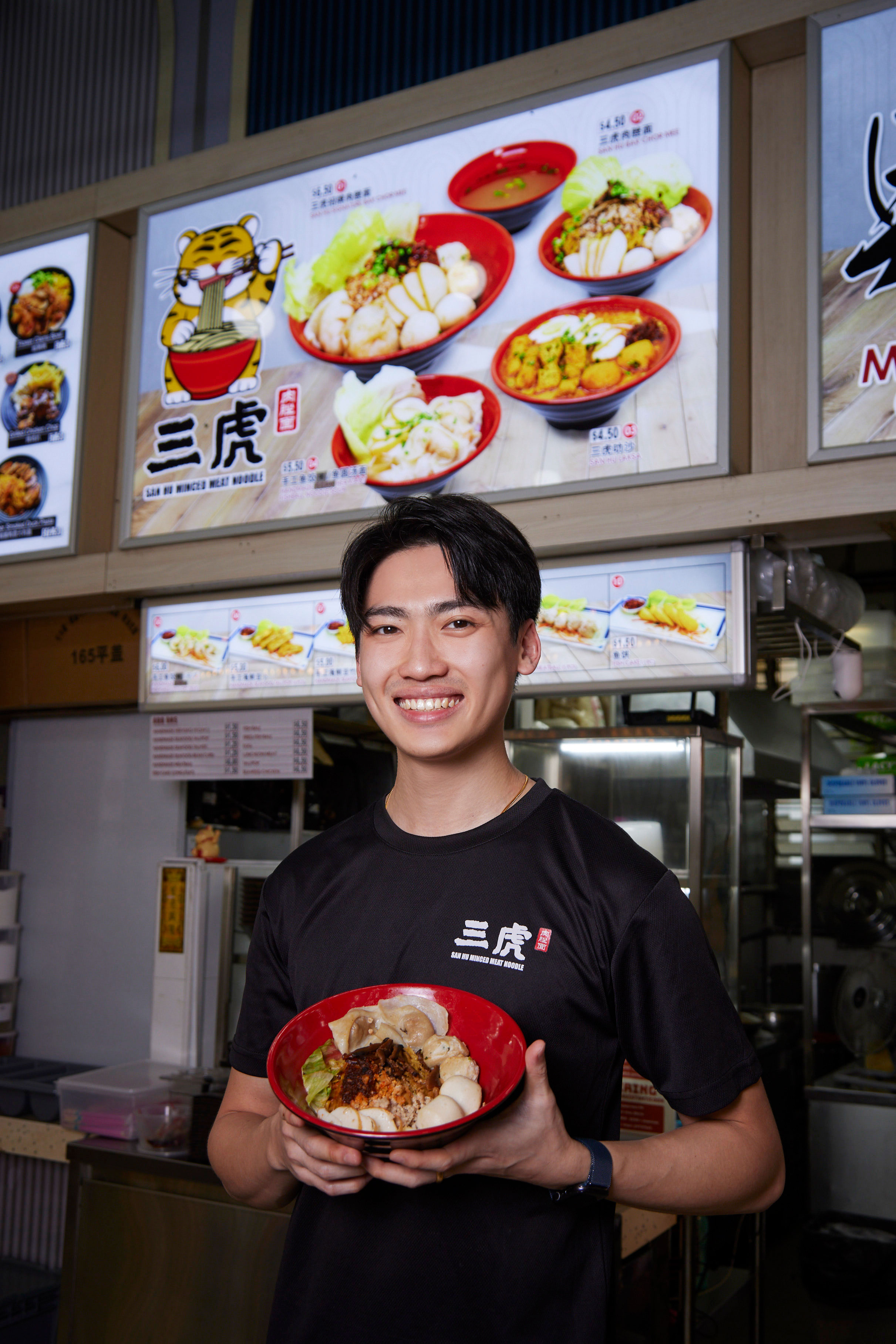 Late father inspired him to cook & set up a stall
With no professional culinary background, Jasper cut his teeth at a now-defunct bak chor mee stall in Tampines to gain experience before opening his biz. On why he wants to be a hawker, Jasper says his late father was a source of inspiration. "My father passed on years ago due to lymphoma," says Jasper, who was in NS back then. "I remember helping him in the kitchen and watching him cook. But it was when he became sick that I started cooking in earnest," he shares.
Jasper's passion for food is seen in his TikTok videos, where he documents his culinary experiments, including shrimp paste chicken, bacon rosti, and fish and chips.  
"My father, who used to work in a tech company, had always wanted to open a Taiwanese braised rice stall in Singapore. He used to make that dish for us, but he never got the chance to set it up. I wanted to remember his vision of setting up a food  biz, so I decided to give being a hawker a try," explains Jasper.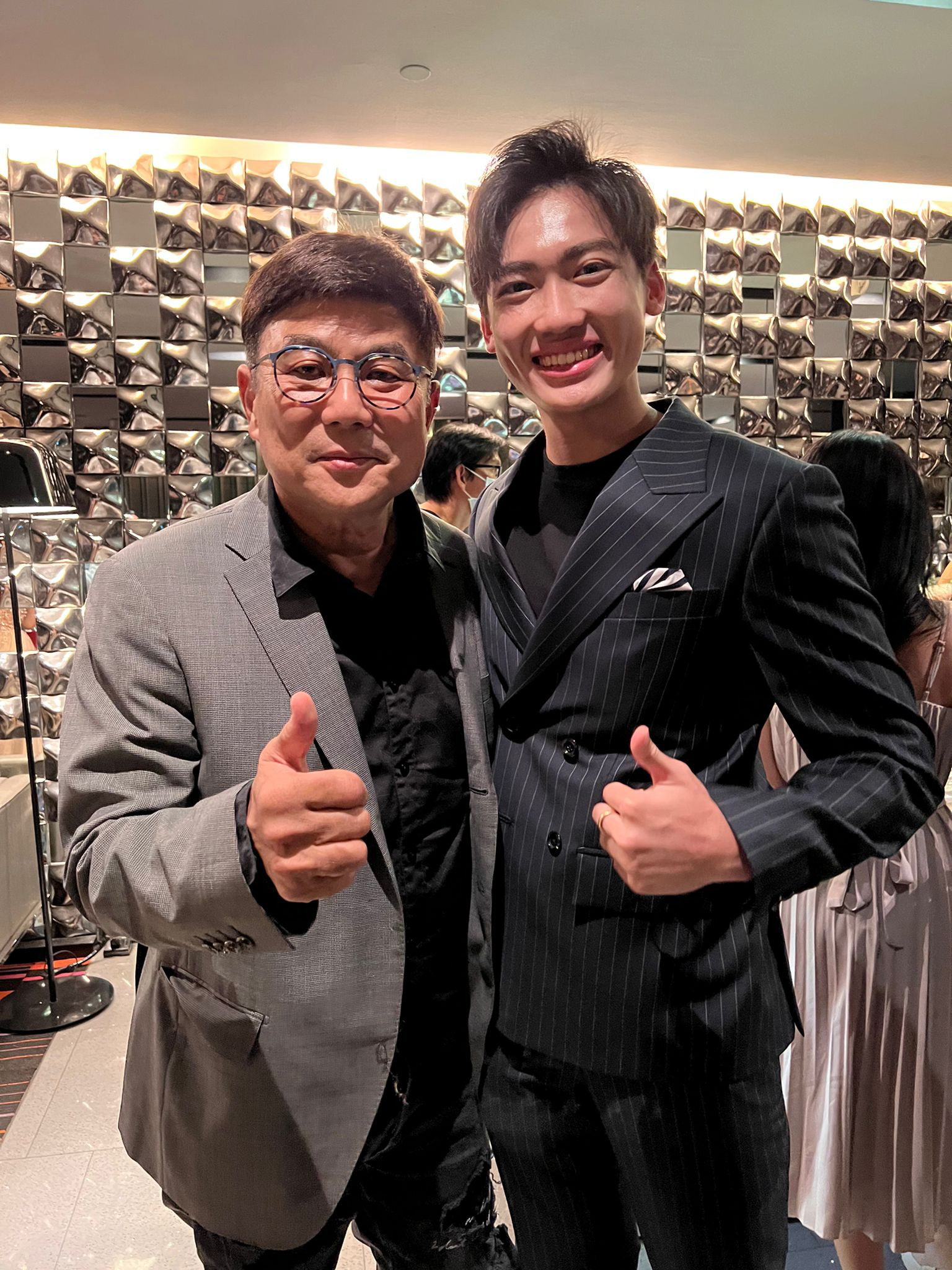 Jasper cooks at the stall when he has no acting or modelling engagements. Or if he doesn't have any client meetings — the energizer bunny also runs a creative agency on the side (he has a diploma in Game and Interactive Media Design from Singapore Poly) with a couple of partners. In case you were wondering, he hasn't invited Jack Neo to come try his noodles because he feels the standard of the food "isn't ready yet".

Photo: Jasper Choong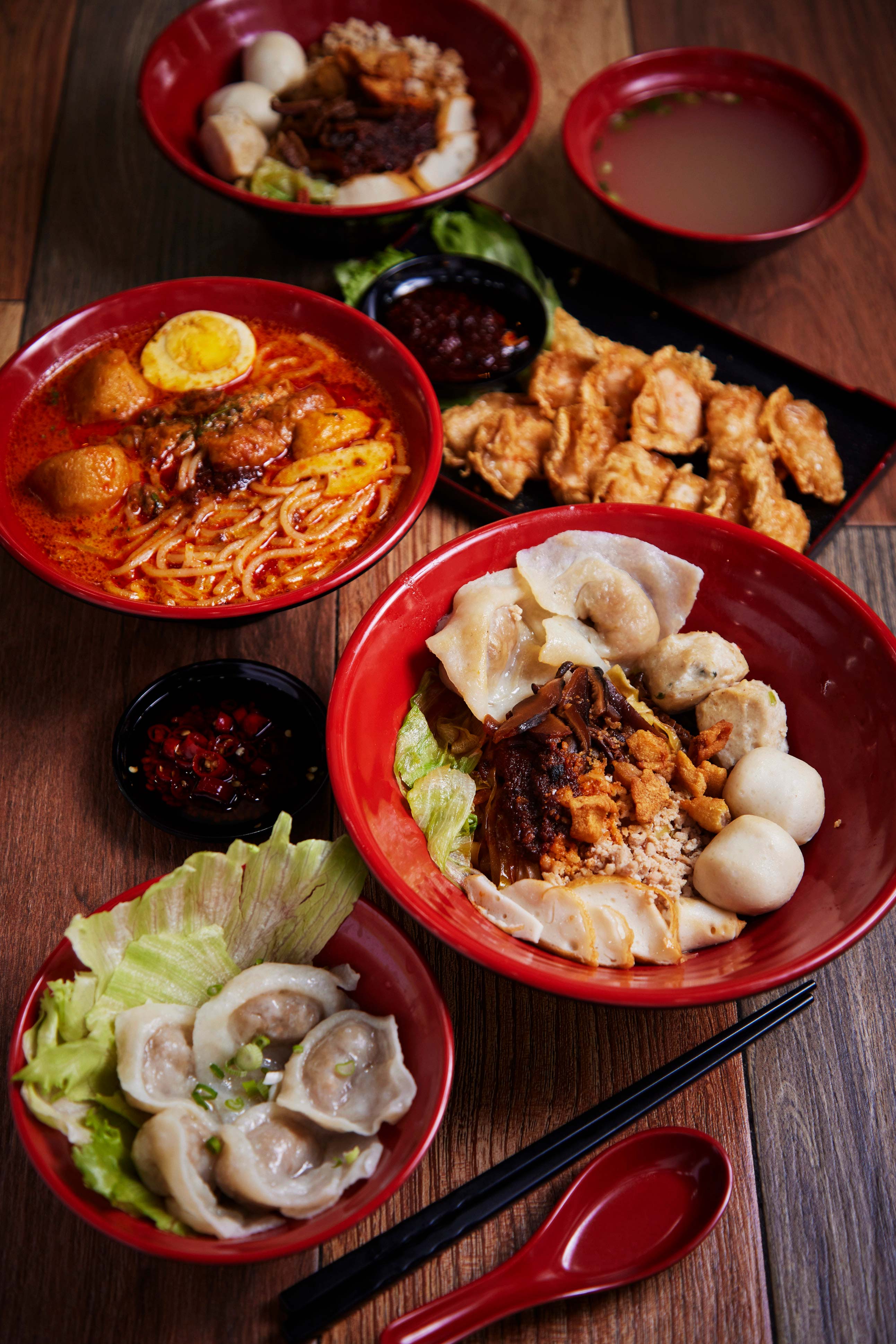 The menu
The menu is simple: both dry and soup versions of bak chor mee, with toppings such as Teochew fish dumplings (herh keow), as well as laksa. The $6.50 premium version of bak chor mee comes with more ingredients like an extra meatball and two additional herh keow. Otherwise, the original bowl is priced at $4.50 and has sliced fishcake, two fishballs and one meatball. 
San Hu Signature Bak Chor Mee, $6.50 (8 DAYS Pick!)

The signature bowl is heaped with fish cake slices, two fish balls, two meat balls and two herh keow, alongside braised mushroom, minced pork and a hearty serving of lard. We opt for the dry version to better savour San Hu's signature black sauce.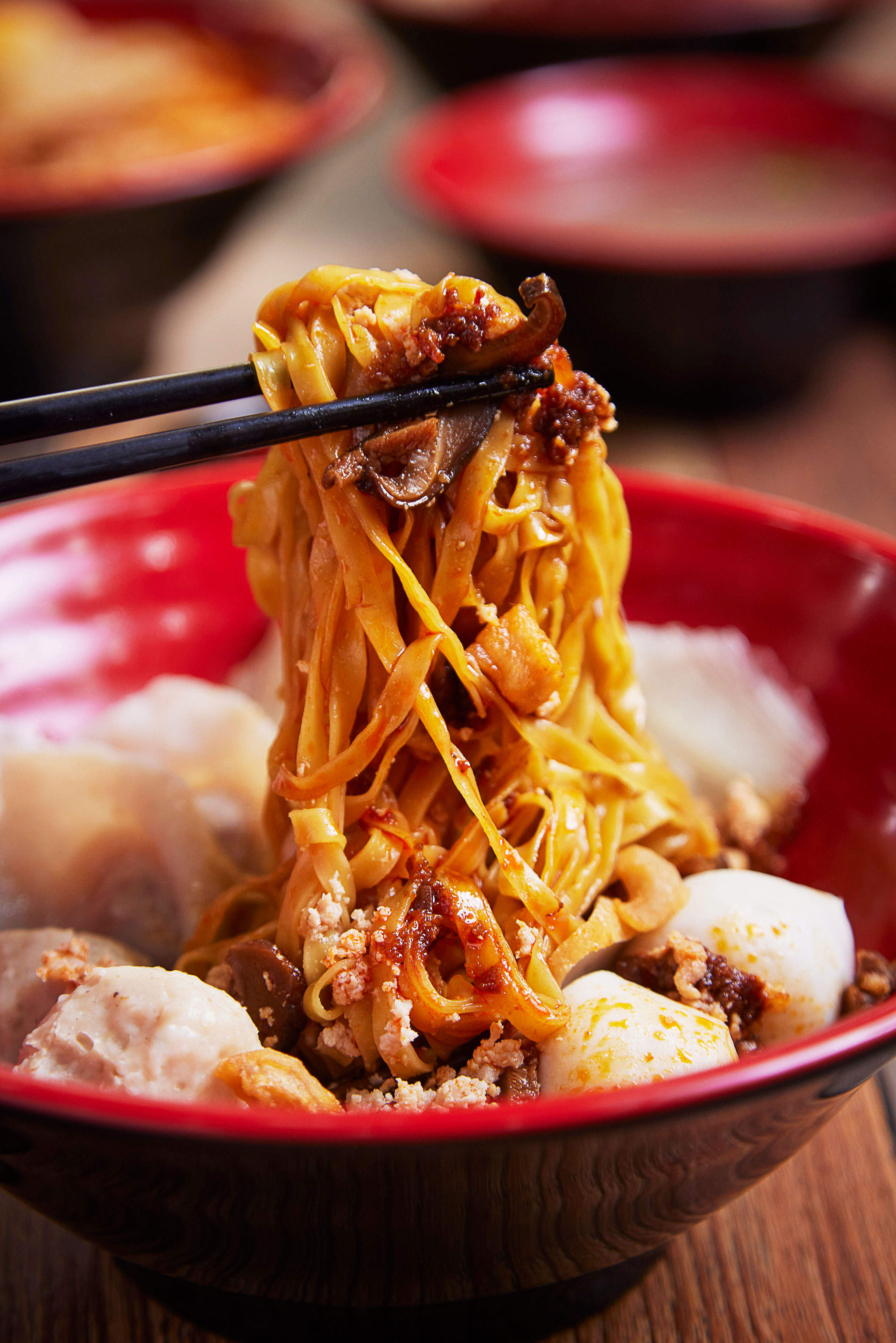 Unlike a typical plate of Malaysian-style wonton mee, the signature "black" sauce here is not exactly black. Instead, it's perhaps a little darker than the usual shade of reddish brown in bak chor mee. Jasper suggests trying the "noods" with the sauce, made from a blend of dark and light soy sauces, oyster sauce and lard oil, first before mixing in the chilli. The al dente, springy mee pok is well coated with the slightly sweet and savoury sauce. Meanwhile, the hae bee-laden chilli is aromatic, flavourful and has a nice kick. When tossed together with the sinful chunks of freshly fried lard and fatty mince, the dish is punchy, addictive, but also a little salty. If you prefer to savour the yummy chilli without too much interference from the other stuff, ask them to go easy on the dark sauce. And help yourself to some black vinegar on the side for some welcome acidity.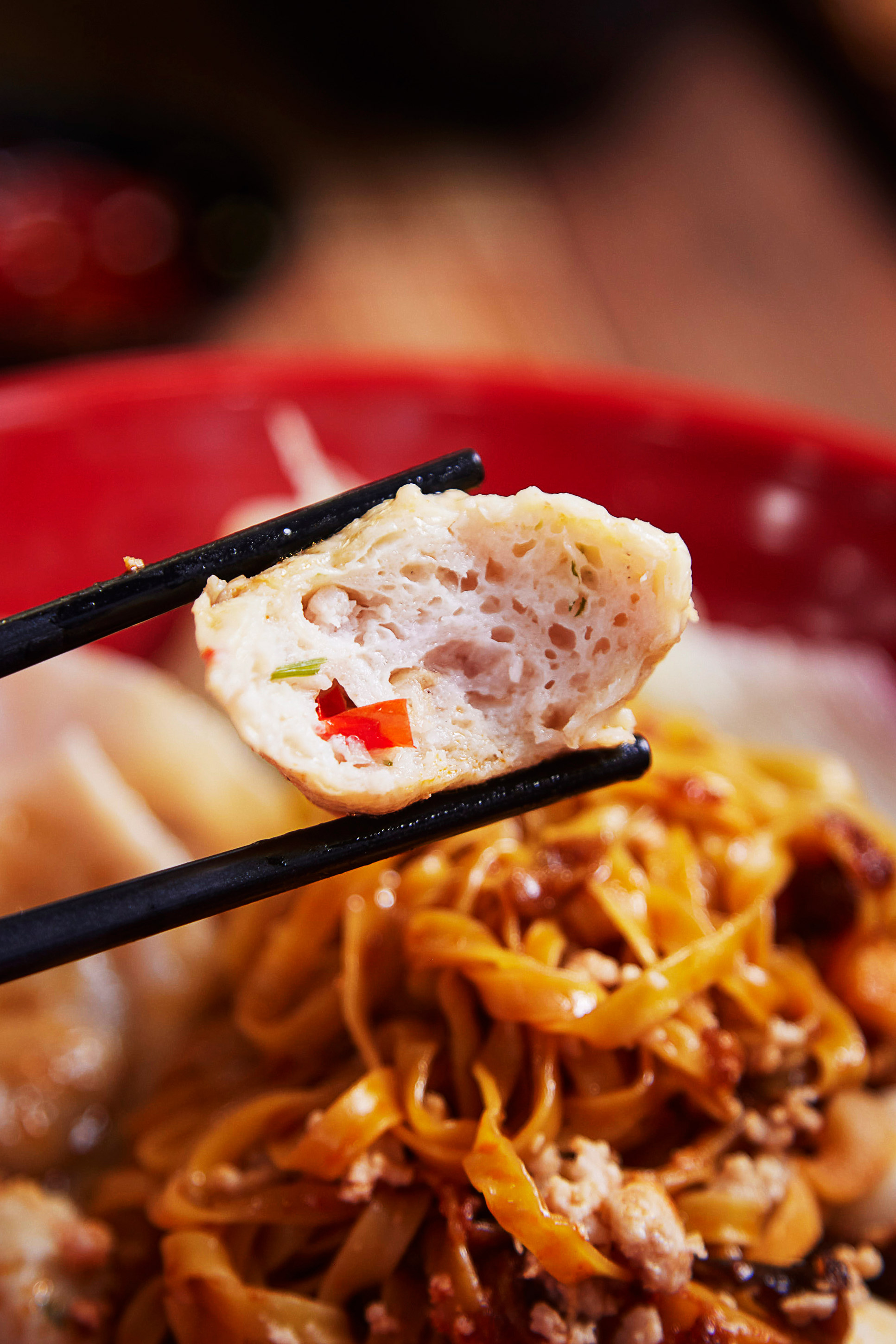 The meatballs, sourced from local supplier Lucky Her Kiao, has an elastic bite and hints of fish paste. Not bad. Surprisingly, the accompanying soup is clear, unlike the usual murky versions rich with minced pork. But it's still mellow and delish — Jasper says it's made with chicken and pork bone stock enriched with dried ikan bilis, yellow beans and cabbage.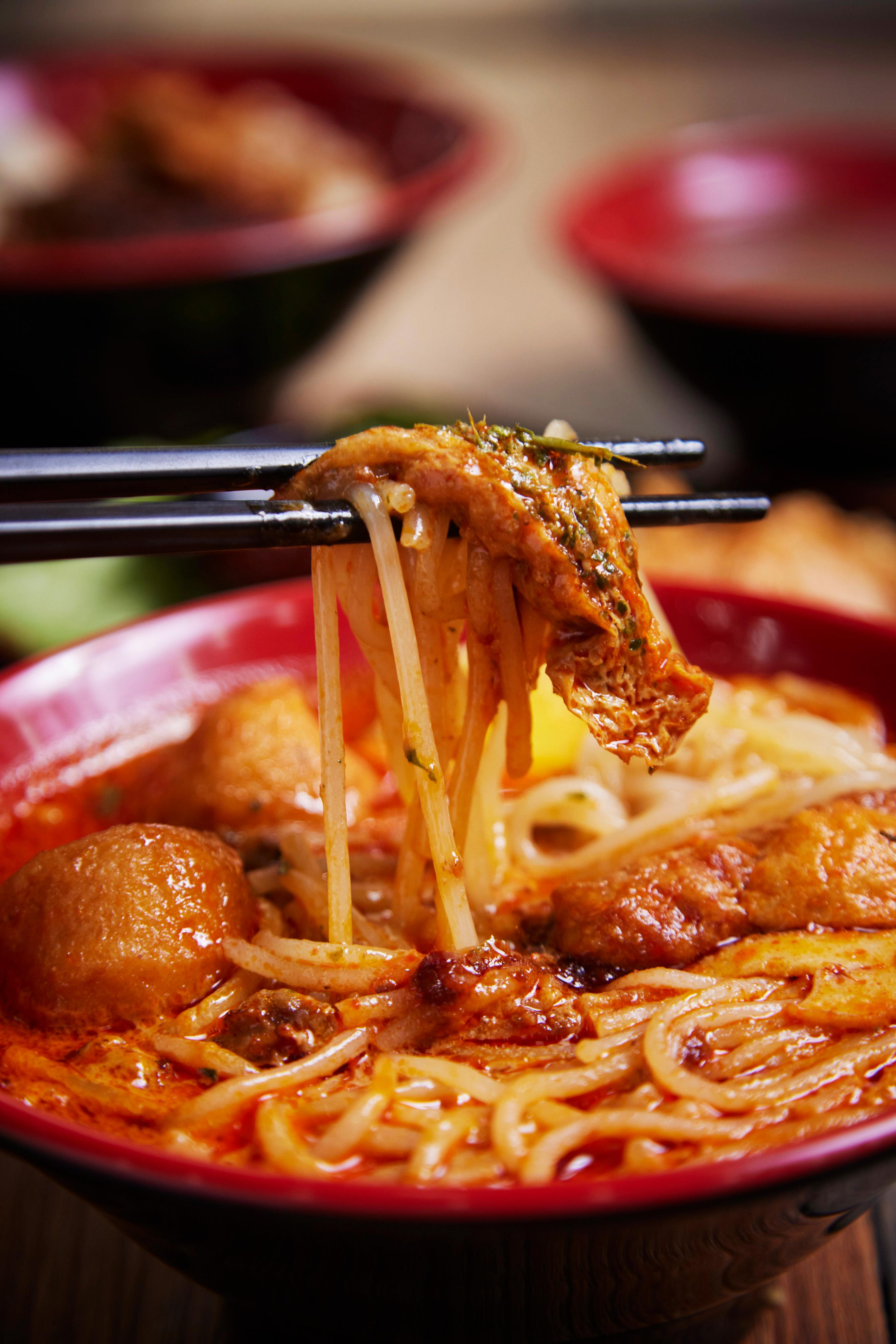 San Hu Laksa, $4.50
Each bowl of San Hu Laksa comes with two large fried fish balls, taupok, half a hard-boiled egg, and some cockles, with a dollop of sambal and laksa leaves as garnishes. Consistency wise, the gravy is very gao. It's also moreish and extremely lemak — pretty good considering this isn't the main attraction. Jasper says: "I thought it would be nice to have more options for my customers. I personally enjoy laksa too and our version is similar to the curry mee from my hometown, which I love."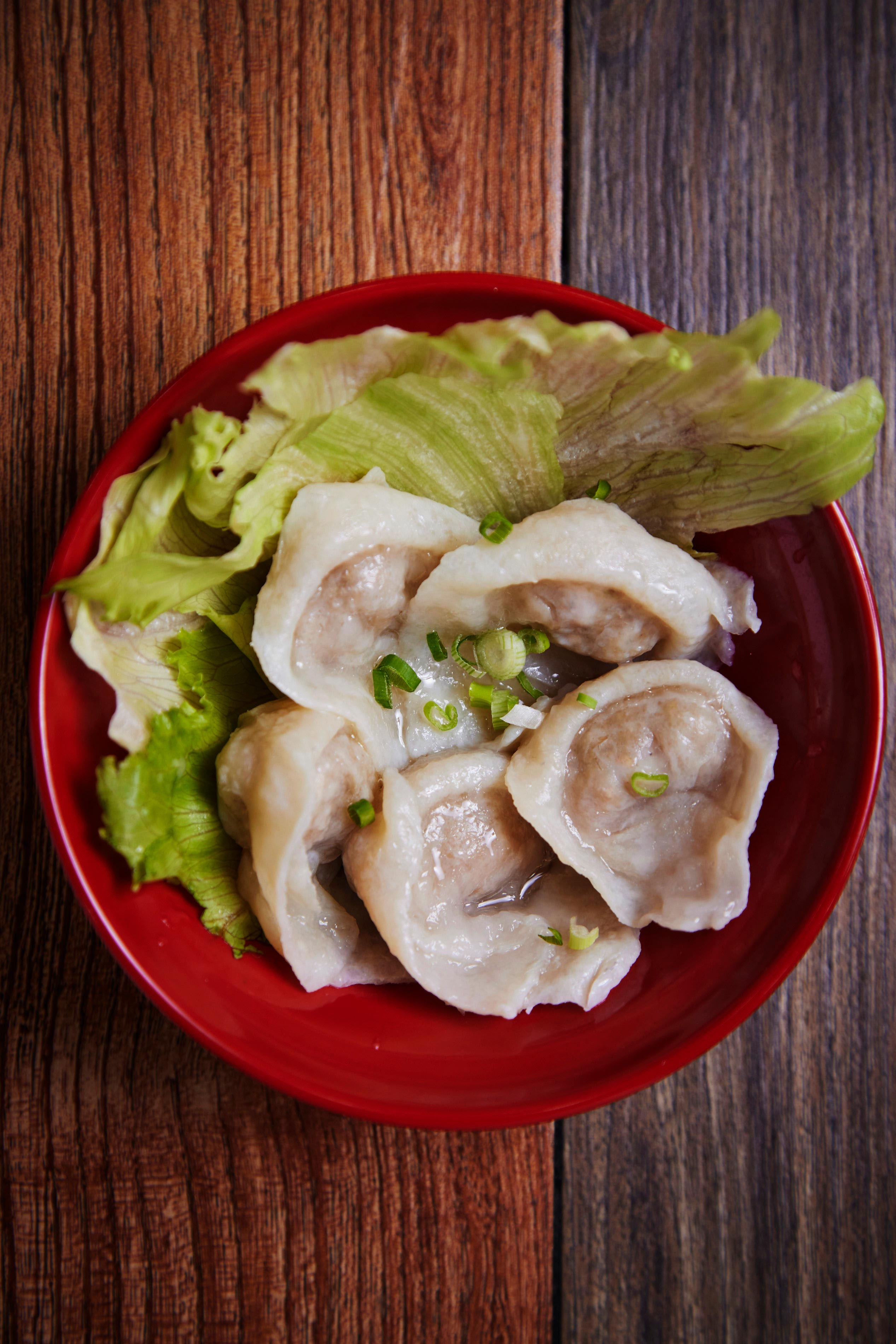 Handmade Herh Keow, $6
The herh keow here is also made by Lucky Her Kiao's James Chua. Available in both soup and dry versions, the plump fish paste and pork dumplings, which packs a generous amount of minced pork loin and dried flounder powder, boast a slippery chew and peppery punch.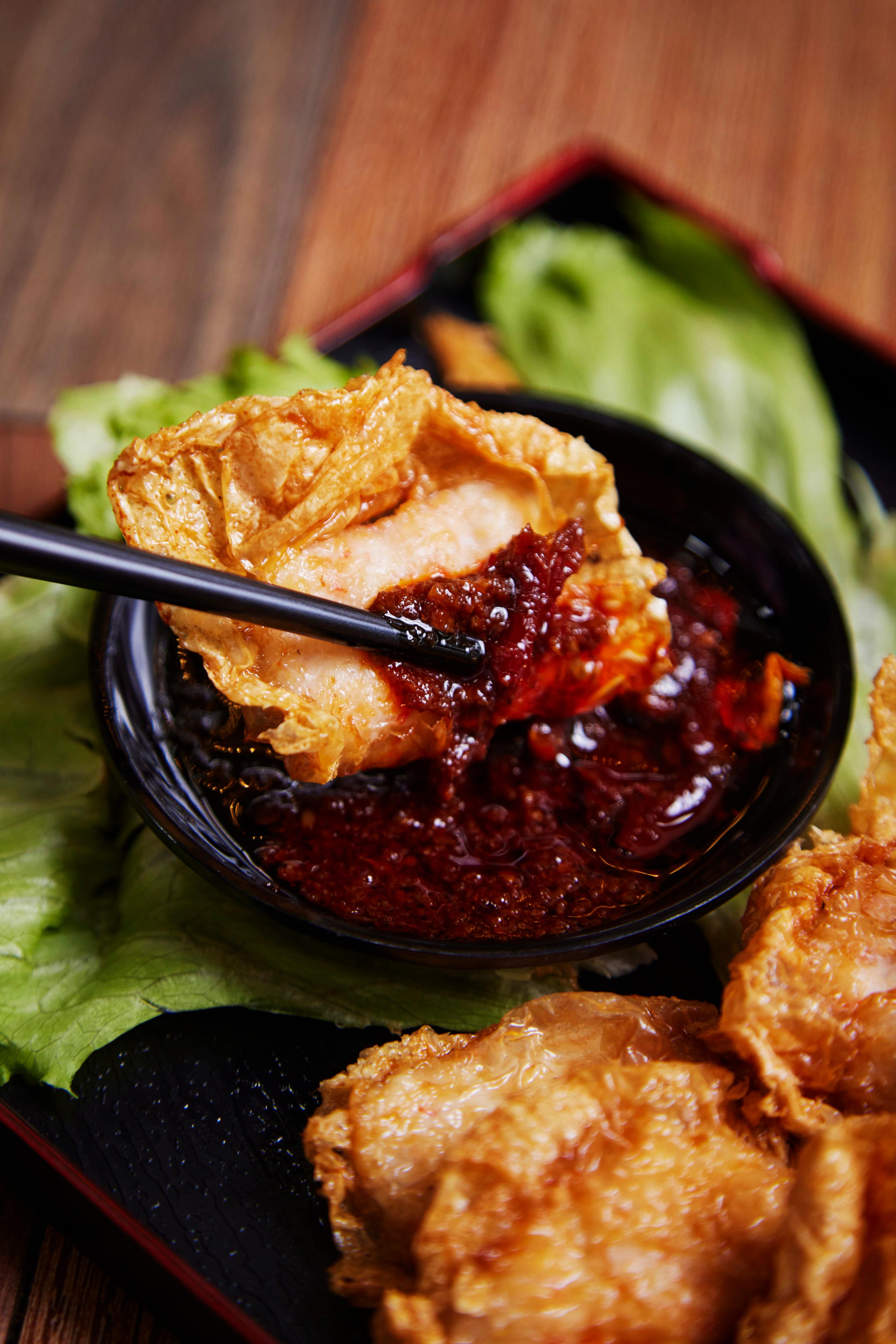 Handmade Seafood Tau Kee, $5 
This crunchy snack is created by Jasper's mum. Crispy on the outside and juicy on the inside, these fried snacks are a little salty, but cram a generous filling of minced prawn, fish and crunchy water chestnuts. Somewhat reminiscent of ngoh hiang.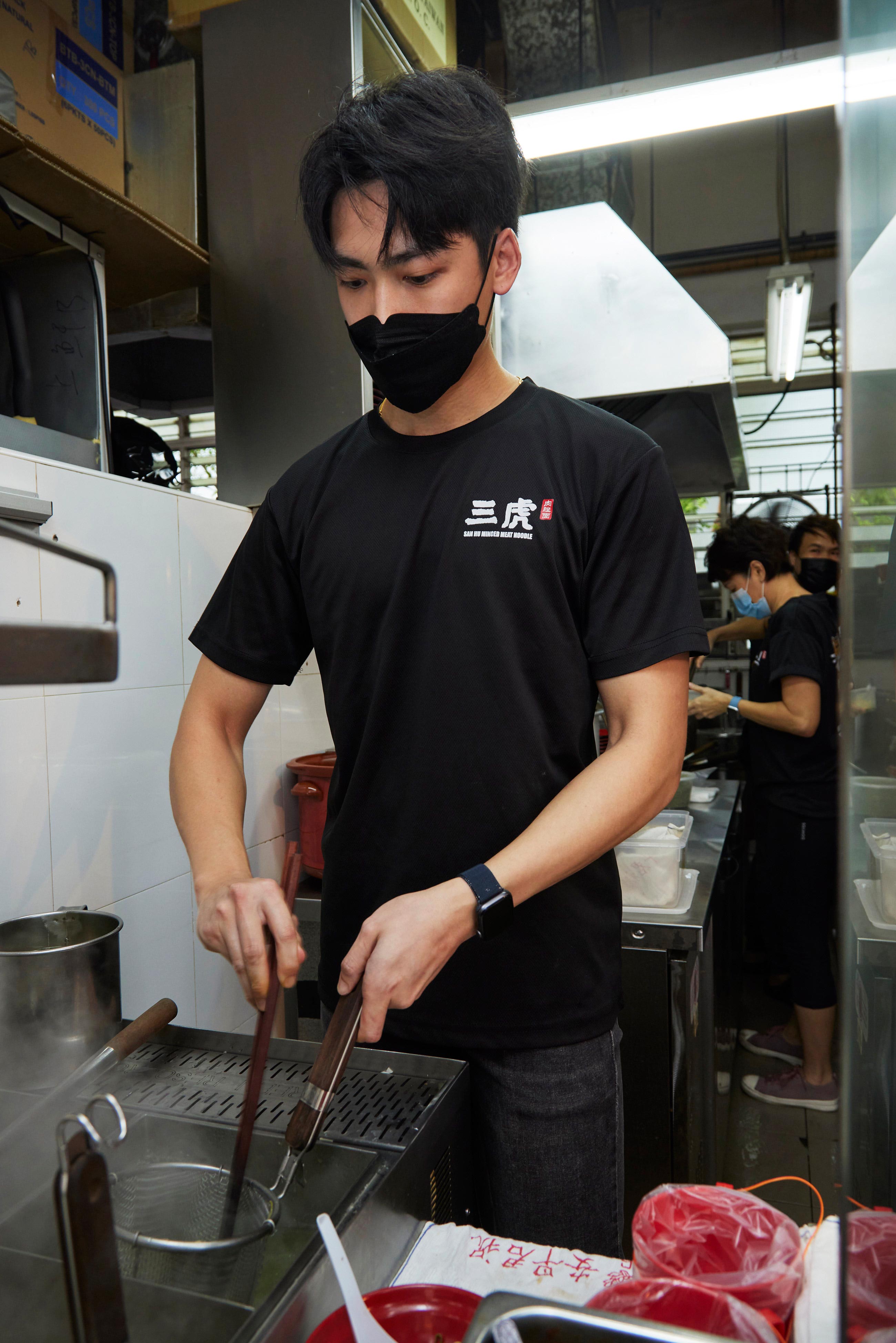 Bottom line
San Hu Bak Chor Mee may market its minced meat noodles as Malaysian-style, but its dark sauce is not exactly like the ones we've tried in Malaysian wonton mee, aside from a somewhat familiar subtle sweetness from the dark soy sauce. Nevertheless, it's still a pretty tasty bowl of bak chor mee, especially the umami chilli and flavourful soup. The laksa here is also worth a try. However, be prepared to wait a while for your food as the budding actor and his partners get accustomed to the hawker life.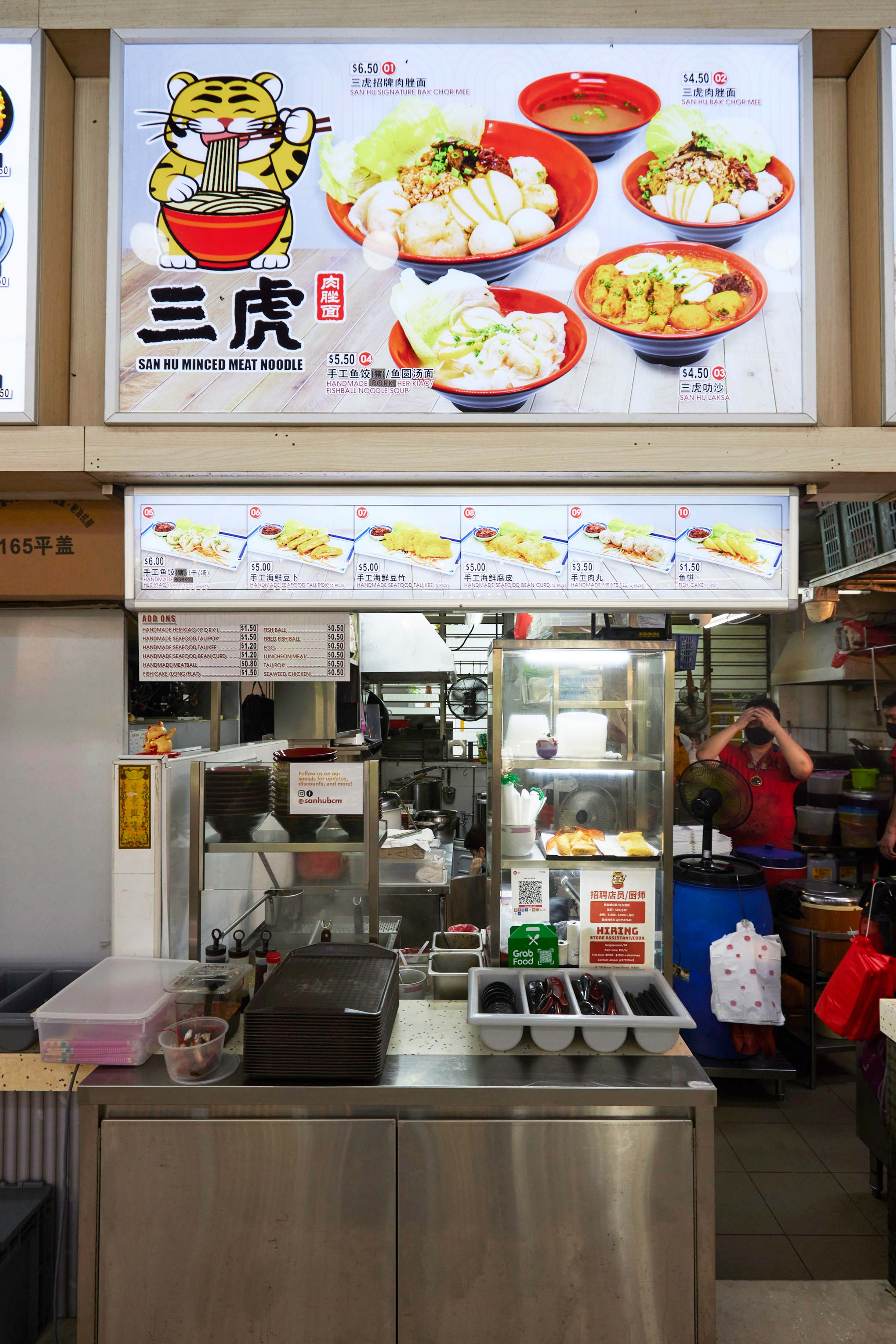 The details
San Hu Minced Meat Noodle is at Food Paradise, 11B Boon Tiong Rd, S163011. Tel: 9753-7643. Open daily 9am – 8pm. More info via Facebook or Instagram.
Photos: Kelvin Chia 
All photos cannot be reproduced without permission from 8days.sg.