Alan Tam, 72, Praised For Looking Younger Than Chow Yun Fat, 67
Netizens say Alan still has his "baby fat".
Cantopop star Alan Tam may not be "forever 25", but you can't deny the 72-year-old looks good for his age.
He's been praised for how young he looks, sometimes even better than his more junior pals. Read about it here and here.
He impressed netizens once again this week when he shared a selfie from his chance meeting with Hong Kong film legend Chow Yun Fat, 67.
"I met an old friend, who's indifferent to fame, on the streets a few days ago… international superstar Chow Yun Fat. He's in good spirits and in very good shape. He's worth learning from," said Alan on Weibo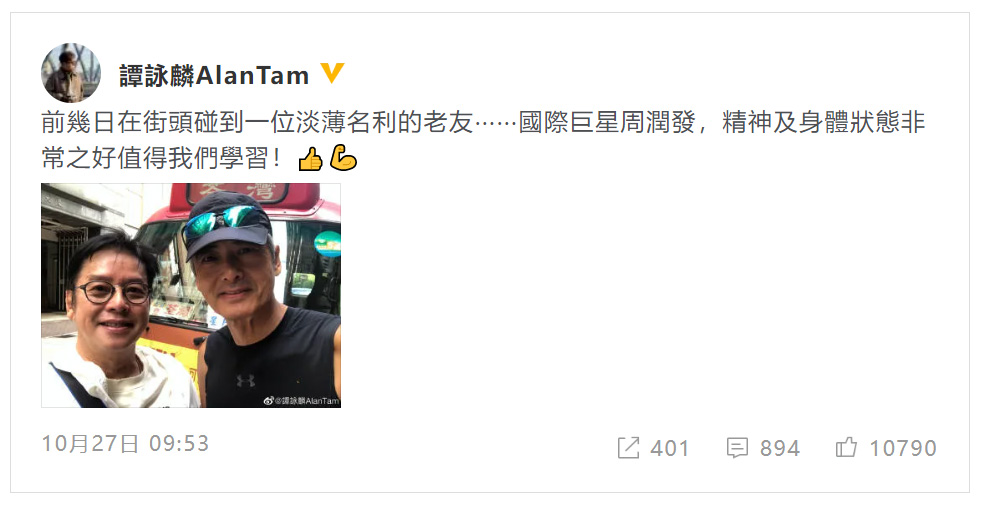 They are both lookin' good
Netizens flooded the comments section with praises for the two stars and how they "can't believe they are both in their 60s and 70s".
There were also netizens who said that Alan looked more youthful and "in better shape" than Yun Fat, and that his "baby fat hasn't gone away".
This is not the first time Alan has been complimented for looking younger than Fat Gor.
Last year, fans pointed out how different Fat Gor looked after Alan shared the below pic of him sporting all-white hair. 
We'd rock the silver fox look too if we looked this good
Like Fat Gor, Alan is very fit and enjoys going on hikes with his celeb pals.
He is still very active in showbiz too. The singer released his latest album in June and said that he would continue to perform.
"What I want is very simple, and that is singing, playing football, and meeting up with friends for tea. I love to go to cha chaan teng and street stalls. Don't invite me for extravagant feasts," he said.
Photos: Alan Tam/Weibo