Andy Lau "Deeply Sorry" For His Audi Ad That Plagiarised Content From A Chinese Vlogger
Audi has also apologised for making the grave error.
Luxury carmaker Audi and Andy Lau have apologised after a video ad campaign featuring the Hongkong star was accused of plagiarism.
On Saturday (May 21), a Chinese vlogger, who goes by the Douyin handle "Beida Mange", posted a clip claiming Audi had plagiarised the concept and content of his video which he released in May last year.
The vlogger, who has more than 3.6 million followers, provided comparisons between his 2021 post and the Audi ad, which showed Andy in an Audi delivering a monologue about the Xiaoman festival, the second solar term of summer in the lunar calendar.
In the ad, Andy recited a poem that Beida Mange claimed was his original creation. Except for some minor modifications, the content of the copy is almost the same.
"I've been plagiarised many times before… But I've never seen this kind [of video campaign] … in which ads are embedded from beginning to end … and copied [my] content word for word," he said.
But what was most infuriating was that when Andy first shared the ad on his Douyin, netizens had accused Beida Mange of plagiarism.
"I believe that Mr Lau, who is highly respected, will not come to my video to copy it word for word and release the ad, so it's best that whoever did it come forward to give me an explanation," he added.
Beida Mange claims the ad had copied his video almost "word for word"
The allegation triggered major backlash online, and "Audi, Andy Lau" ranked top on Weibo's hot search, followed by "Beida Mange".
The advertising agency responsible for the campaign M&C Saatchi has since admitted to "directly using" the content of Beida Mange's video without first communicating with him and promised to "do [its] best to make up for [his] loss".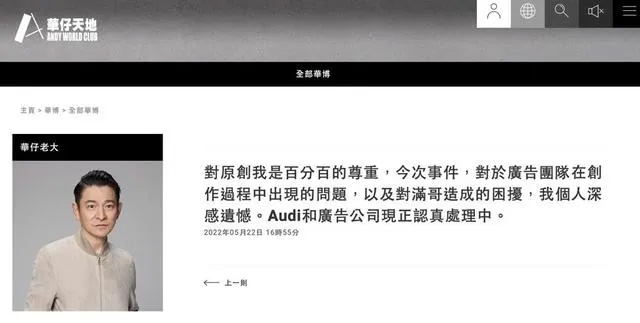 On Sunday, Audi issued a statement apologising to Andy and Beida Mange for the "copywriting infringement", which it blamed on a "lack of supervision and lax review" of the campaign. It has since pulled the ad from all online channels.  
Andy also issued a statement saying: "I have 100 per cent respect for originality. I am deeply sorry for the problems that the advertising team had encountered in the creative process and the trouble it caused Beida Mange."
Photos: PBE Media