Ase Wang, who is now a Mediacorp artiste, has found a new career reviewing luxury properties on YouTube
The 41-year-old Chinese-Swedish beauty, who made a name for herself as an actress in Hong Kong and Thailand over the past two decades, would also love to reunite with her co-stars from 2000 Mediacorp English teen drama Spin.
No part of this story can be reproduced without permission from 8days.sg.
Ase Wang is back in Singapore. Well, kinda.
The 41-year-old, who burst onto the scene in the early noughties as a model — remember her sexy FHM cover shoots? —  is now an artiste with Mediacorp's The Celebrity Agency. 
But she's still splitting her time between Singapore and Bangkok, where she and her husband, Chinese-American entrepreneur Jon Lor, 41, as well as their two-year-old daughter, Kaya, are based.
8days.sg caught up with the Chinese-Swedish beauty after her photoshoot for new profile shots in mid-March to find out more. 
She's in town for just four days this time, and we catch her right as she's about to dig into a tapow bowl of bak chor mee.
As she chows down on her lunch, Ase, whose family owns baking supply giant Phoon Huat, says: "I come back to Singapore quite a lot, I mean, my parents are here, I'm Singaporean, my daughter is Singaporean. I was just telling someone that sitting on the plane for two hours to come back to Singapore is like sitting in two hours of traffic in Bangkok. It's so near, so I really don't feel like I've really moved that far away."
She goes on to add: "I love the fact that I've come back to Singapore 'cos this is where I started. It feels good, like I'm coming home again."
From left to right: Ase's husband Jon Lor, their daughter Kaya, Ase, and her parents, Inga and John Wong.
After her turn in Mediacorp English teen drama Spin in 2000, Ase relocated to Hong Kong with just S$2,000 in her bank account to try and carve out a career for herself there. Ase's dad refused to give her "even a single cent" for the move.
"My father told my mum: 'Don't worry, she's going to come back, she's going to run out of money'. I stayed for seven years," she tells us with a laugh, adding: "I do believe what my father did was quite smart 'cos it put me in a situation where if I wanted it really badly, then I've got to make sure that I work for it. That's what my dad has always been about. He must've done something right 'cos if he didn't, I wouldn't be here today."
Speaking about her time in Hong Kong, Ase, who admits that her command of Mandarin and Cantonese is "not good enough", shares that she was landing jobs starring in music videos alongside Heavenly Kings like Leon Lai and Aaron Kwok.
"I was still working with people like Leon Lai, Aaron Kwok. Maybe I was a 'hua ping' [or 'vase' in Chinese, a term used to describe celebs who serve as a pretty prop in productions]. But you know, it was a stepping stone for me. I couldn't ask for anything more 'cos I couldn't speak the language. But I think I got pretty far, still. A lot of the mixed girls that started off in Hong Kong never spoke Cantonese," she said.
Some 20 years on, however, Ase knows exactly what she wants from showbiz and fame. And no, it's not necessarily about acting.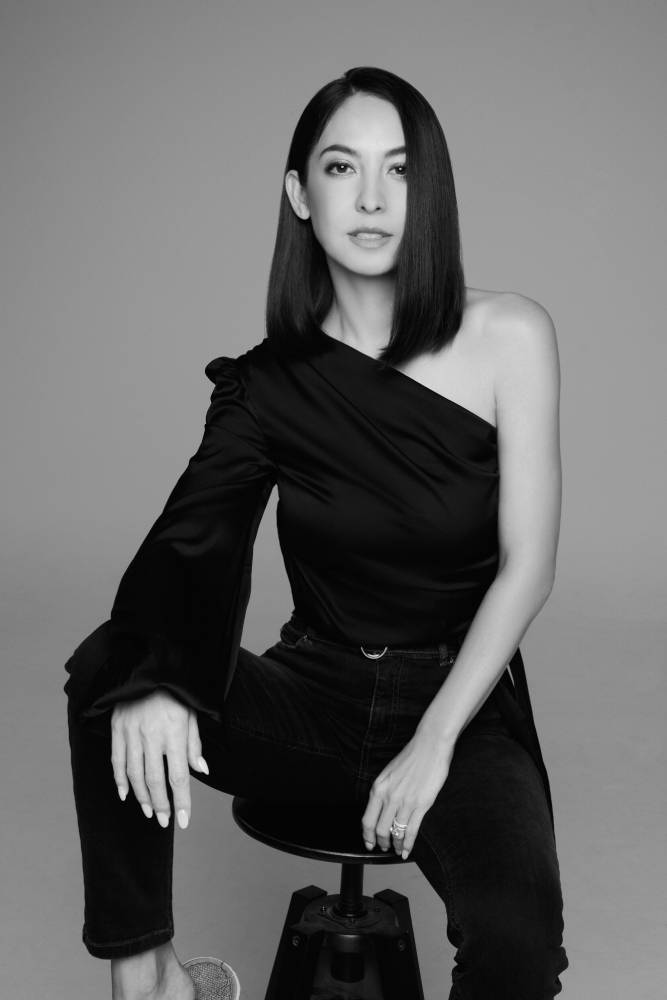 Ase's back.
8 DAYS: On the local front, will you ever consider doing a Ch 8 drama?
ASE WANG: I can't say yes right now 'cos my Mandarin is not good enough.
I'm the kind of person who, if I do something, I want to be able to do it and give it my 100 per cent. And 'cos I've worked in this industry for so long, I've made the mistake of taking on things where I couldn't give my all, and it just makes me, and my management, feel bad. 
So… honestly, I'd say I'm not ready for this yet simply 'cos the language barrier is still there. I do understand a bit of Mandarin here and there, and I can poke fun at myself now about not being able to speak good Mandarin, but it took me years [to become comfortable enough] to [joke about it].
I would like to try new things, be it dramas, or comedy, which I'm quite good at, but my main focus would still be English-language productions.
Which local celebs would you like to work with, or perhaps reconnect with?
I'd love to work with Sheila [Sim]. I love Sheila and we're friends. We used to work in Hong Kong together, so working with her would be a blast. I talk to her all the time. We will bicker through messages, about our mum problems, or even our career. It's very hard to get good friends in showbiz 'cos a lot of people can look at it as a form of competition. And Sheila's a very good friend. 
Oh, you know who would be crazy to work with again? The cast from Spin, like EJ [Choi], Madeline [Tan, who is now known as Maddy Barber], Keagan Kang, and all, that would be a blast.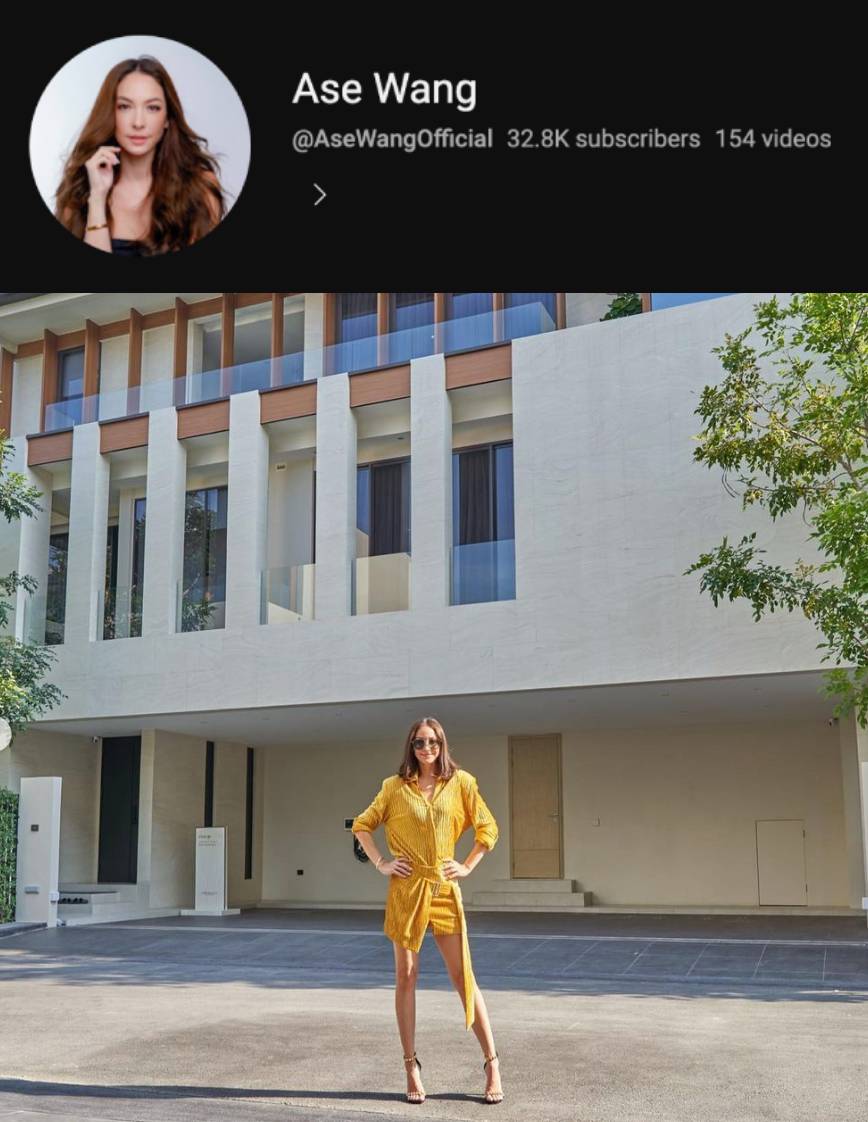 She's a YouTuber too.
You've been doing a lot of YouTube content [Ed: Her channel @AseWangOfficial now has 32.8k subscribers] recently too. Are you focusing on that for now?
Creating content for YouTube has been quite a new challenge, and I'm very intrigued by it. I get to create my own content, and I get to say what I want to put out. You become your own producer and director. I feel that as an artiste now, people want to know who you are, outside of the characters you play. It's both good and bad 'cos you're being judged on who you are as a person so you have to be a little bit more on-edge about stuff. I think it's been great 'cos you get to take control of your own career too.
There's a lot of property and luxury-focused content on your channel.
Yes! It started off as more of a joke. I told my YouTube team I wanted to view luxury houses, basically things that real people like us cannot afford lah. Then all of a sudden, all these developers started contacting me, and they actually want to pay me to review their developments. Now it's become a proper show on my YouTube channel, and I've just spiralled into being a property celebrity on YouTube.
It's got to the point where I can also choose whether I want to review a property, and if it suits our channel.
And I make it fun too. I like to see interesting properties and well-designed houses, things that are out of reach for a lot of us. I'll joke about what I'd do with the house if I lived there and make it more personal to my channel. 
It does sound like you're really into property too.
I have invested in property in Thailand, and during Covid, I was able to buy two houses, and I did them up and rented them out, so that gives me good passive income. 
This won't happen overnight 'cos it does require money, but I'd love to be an investor in property [development] as a whole. It's really just my passion. It's not something that I look at as a job.
Have you ever thought about reviewing properties in Singapore, then?
I'd love to do that in Singapore. In fact, Singapore will be a great place to do it since there are so many luxury properties here. I'd love to travel the world and view different properties too. That will be a good goal to work towards.
Photos: Mediacorp, Ase Wang/Instagram

Catch Ase in Spin below: