Ban Mian Hawker Praised By Netizens After Returning $445.50 Mistakenly Paid By "Elderly Customer"
The customer accidentally forked out $450 instead of $4.50 for a bowl of noodles via PayLah.
While the push to go digital with e-payments at hawker centres and kopitiams has been happening for quite some time now, here's a reminder that not all folks are technologically savvy — or perhaps careful with numbers. 
Recently, an "elderly customer keyed in the wrong figure" when purchasing a bowl of ban mian via DBS bank's PayLah! app at the Admiralty branch of Xiao Mei Ban Mian, a fusion ban mian chain opened by Myanmar-born software engineer-turned-hawker Khine Zar Lin. "He accidentally keyed in $450 instead of $4.50," says the 34-year-old naturalised citizen to 8days.sg. "That's enough for a hundred bowls of ban mian!"
But his overpayment went unnoticed during the dinner rush – her staff only discovered the discrepancy later that night when tallying up their earnings for the day.
No part of this story or photos can be reproduced without permission from 8days.sg.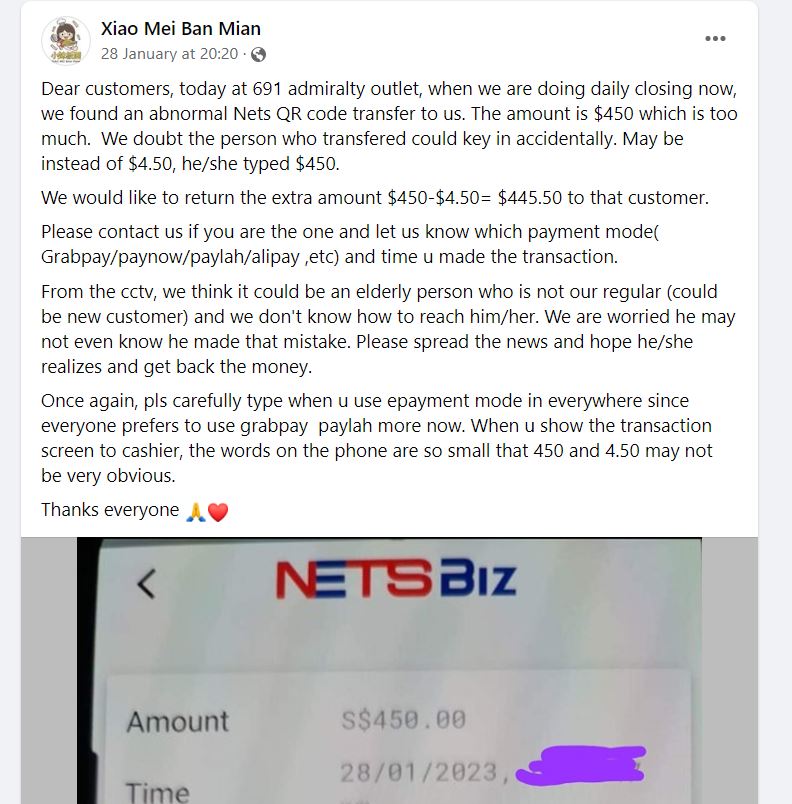 Identified customer via CCTV
Though Khine thinks she was able to identify the customer via her stall's CCTV camera, she could not retrieve his contact details. "Unfortunately, when customers are paying via the NETS QR Code, we cannot see their name or contact number. So I could not simply return the money to him directly."
Instead, she took to social media in the hopes that the customer – whom she estimates to be aged between "55 to 65" – would realise his mistake and return for a refund.
The Facebook post stated: "From the CCTV, we think it could be an elderly person who is not our regular (could be new customer) and we don't know how to reach him/her. We are worried he may not even know he made that mistake. Please spread the news and [we] hope he/she realises and gets back the money."
"We would like to return the extra amount [of] $445.50 to that customer," it added.
Many netizens approved of the hawker's actions, and praised her in the post's comments. "Honesty. That's what makes you successful! Well done!" said one, while another stated, "This type of vendor must support." The post has more than 800 likes at press time.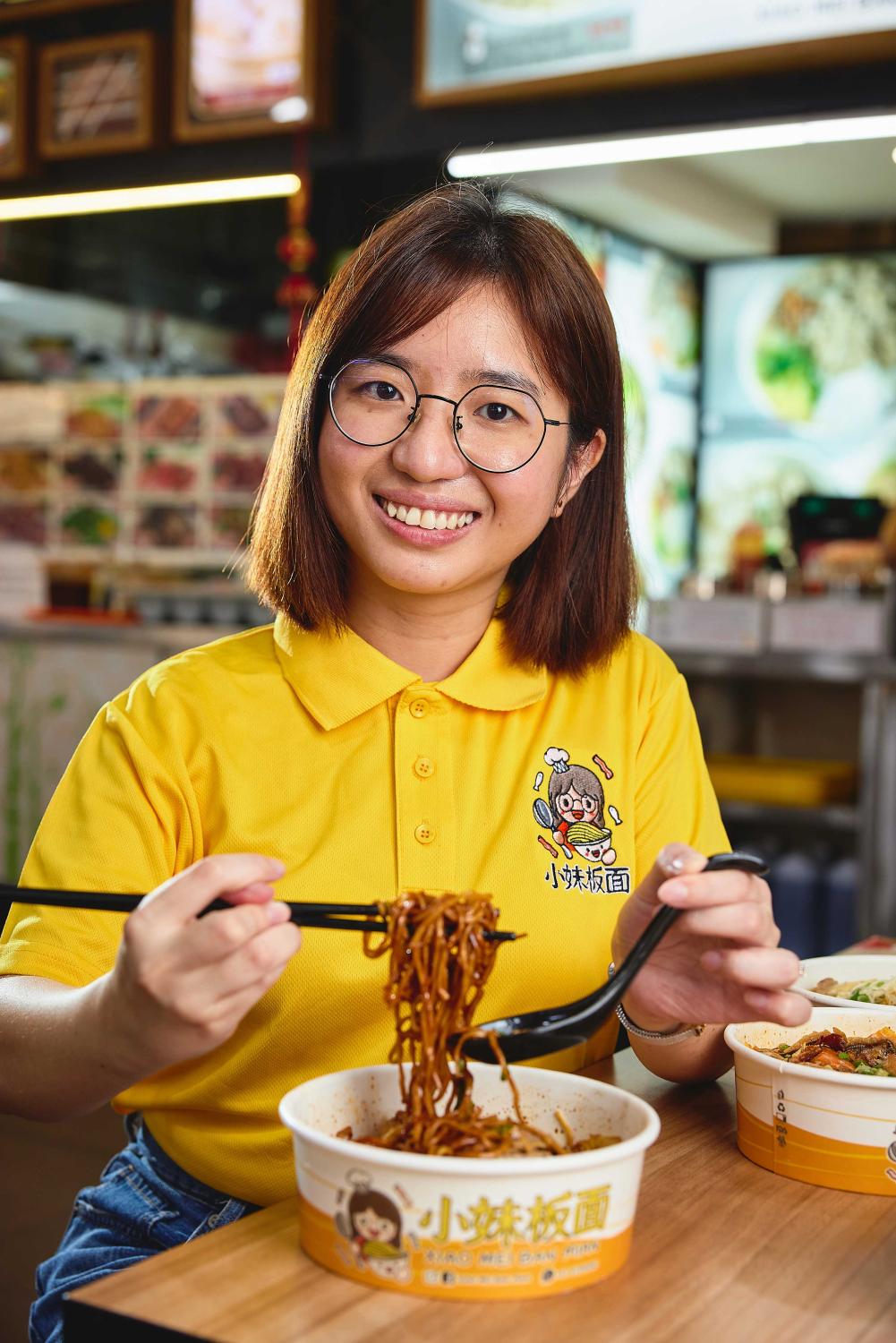 Customer still blissfully unaware of blunder
According to an update on the hawker's Facebook post, she has successfully refunded the excess money to NETS (which works with banks like DBS to process e-payments). NETS will subsequently contact the customer's bank to return him his money. 
On why Khine (pictured above) decided to make a Facebook post before initiating the refund, she says: "I felt that I should take the initiative to [publicly say I was] returning the money. Because otherwise, the customer might misunderstand and think that we are being quiet and keeping the money, even though we are already working to refund him [behind the scenes]."
It seems that the "elderly customer" hasn't had the time to return to the stall, or has yet to realise his mistake. "I was hoping someone would notify the customer about what happened, as he might not have even noticed that the money had left and come back into his account (laughs). If he is unaware of this accident, he might face this problem again in future," says Khine.
She adds: "He is about the same age as my father. My father also just learned how to use e-payments. He is happily using it everywhere, but sometimes he will also key in the amount wrongly. So far, it has been a few cents [extra] lah, so we just let it be. But if my father made this same mistake, he might panic or be afraid to tell us."
Customers and eateries should be more vigilant 
Khine asserts that both customers and stallholders can do more to prevent such incidents from occurring. "I think customers can be more careful when keying in and checking the amount again," she says. "Usually, customers would just show us their phone's screen after making a payment. But [my staff] can't see the details very clearly, like where the decimal point is in the number. And when it's rush hour, there's a tendency to just look quickly and say 'Okay, next order'."
She has also "informed her staff to take the time to check the NETS notification on [the stall's device] to ensure it is correct and tallies with the order."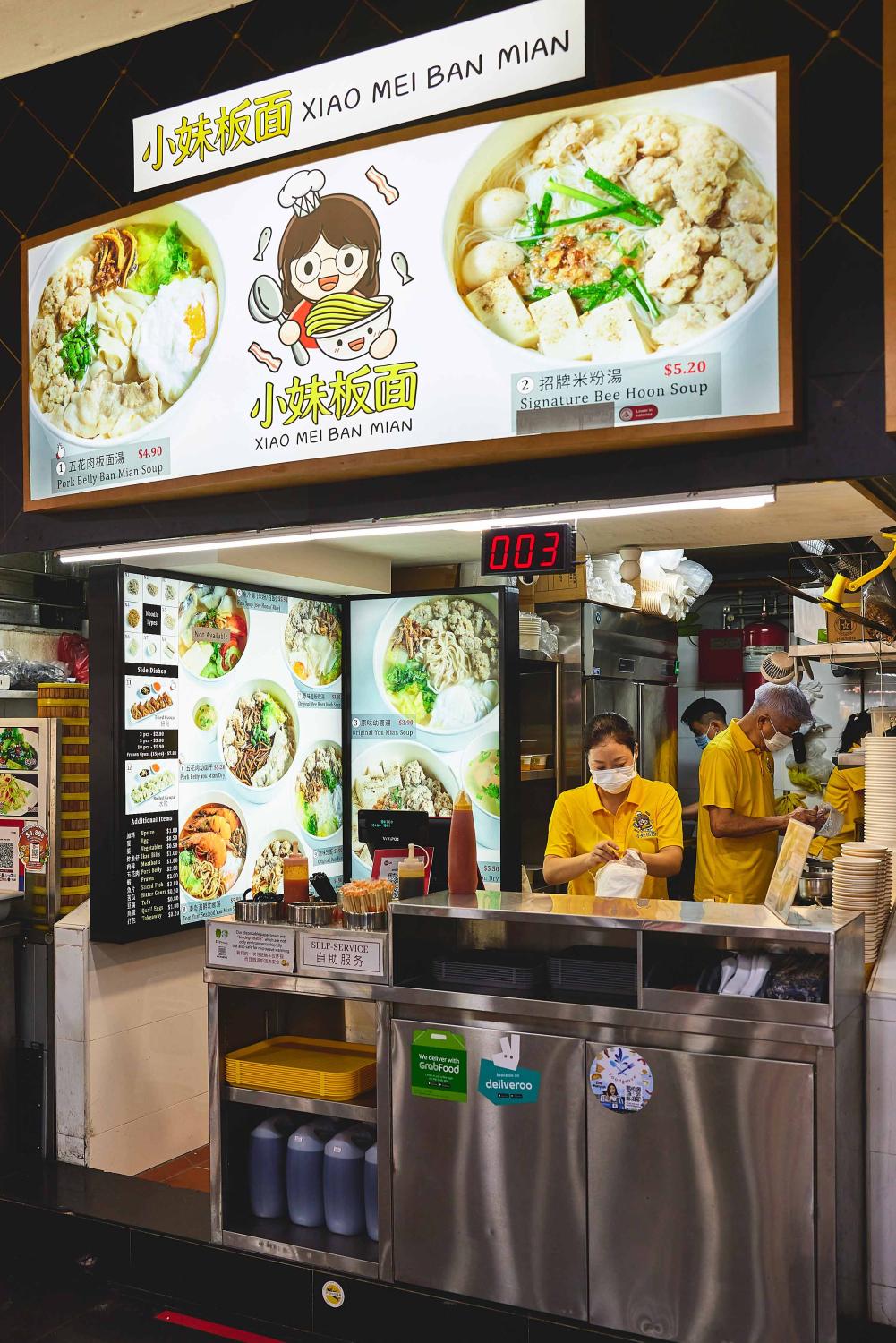 The details
Xiao Mei Ban Mian HQ outlet is at Blk 892C, Woodlands Dr 50, S732892. Tel: 8189-0081. Open daily 9am – 8.45pm. More info via Facebook & Instagram. 
Xiao Mei Ban Mian's other branches are at Blk 504, Yishun St 51, S760504 & Blk 691, Woodlands Dr 73, S730691. Open daily 8am – 8.45pm.
Photos: Alvin Teo
8days is now on #tiktok! Follow us on www.tiktok.com/@8dayseat
No part of this story or photos can be reproduced without permission from 8days.sg.