Bedok's Borobudur Snacks Shop Owner To Sell Longtime Business For $4 Million
The $4mil asking price includes his shop, recipes for his well-loved kuehs and a factory in Mandai Link.
Borobudur Snacks Shop is well-known among Bedok residents. Since the '80s, the charming old-school shop has been churning out Indonesian-style kuehs like bika ambon (Medan's famed honeycomb cake), ang ku kueh and kueh lapis. 
It was opened by one Richard Goh, an Indonesian-born Singaporean who passed away in 1996. After his passing, his co-owner Simon Tay, 74, helmed the operations. Simon is now planning to sell off his longtime business for the asking price of S$4 million.
Simon tells 8days.sg that the reason for selling his shop is so that he could retire. "I'm 74, I'm already old. There's not much time left, so better do it fast," he quips. Once he retires, he plans to "go travelling, maybe visit my daughter in Canada and stay there for a while".
No part of this story or photos can be reproduced without permission from 8days.sg.
Photo: Yip Jieying
$4 million asking price
Having made up his mind to sell his business, Simon started to calculate an asking price. He arrived at S$4 million. "I've a shop and a small factory worth at least over $3 million together. Plus my equipment in the shop and goodwill [with suppliers and customers], it should be worth more than that," he shares. But he maintains that he is "not asking for higher" as he thinks $4 million is a "fair price".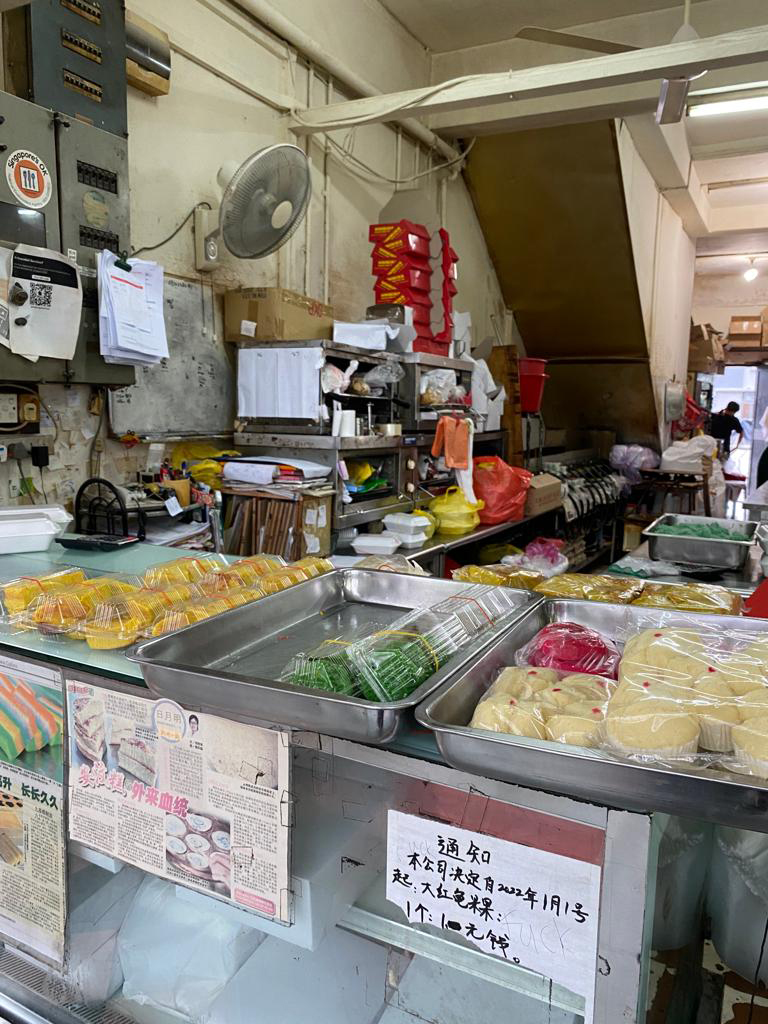 Photo: Yip Jieying
He is already in negotiations with a potential buyer, whom he describes as "a younger man" who agreed to his asking price. "We are also negotiating on how to transfer the skills of the business
—
these are important things," Simon says.
Even before the Covid-19 pandemic started in 2020, he had already started looking for buyers. "Covid-19 affected my business a little bit, but all Singaporeans were affected. I'm not as badly affected, I consider myself somewhere in the middle," he says. His business was not hit as hard as it focused on takeaway-friendly kuehs and snacks. "But now that everything has reopened it's okay," he notes.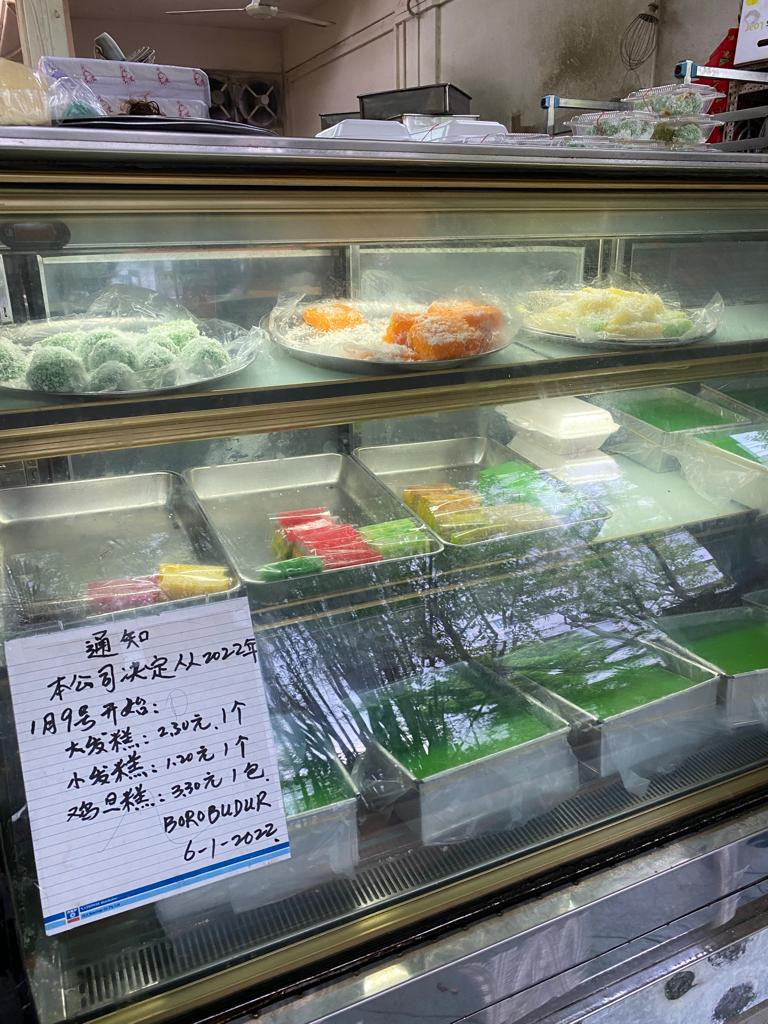 Photo: Yip Jieying
The new owner "must take care of my workers"
According to Simon, his main concern is that the new owner "must take care of my workers — some of them have been with me for more than 10 years". The sale will also include all of his kueh recipes.

He is confident about passing his longtime business to a younger generation, as he says: "I see that they are also hardworking." But he muses that "nyonya kueh to them is a new thing, so they need to catch up". He reckons that recipes can provide one with the requisite basic knowledge, but "for the rest you have to do the hard work [of learning how to make the kuehs well]".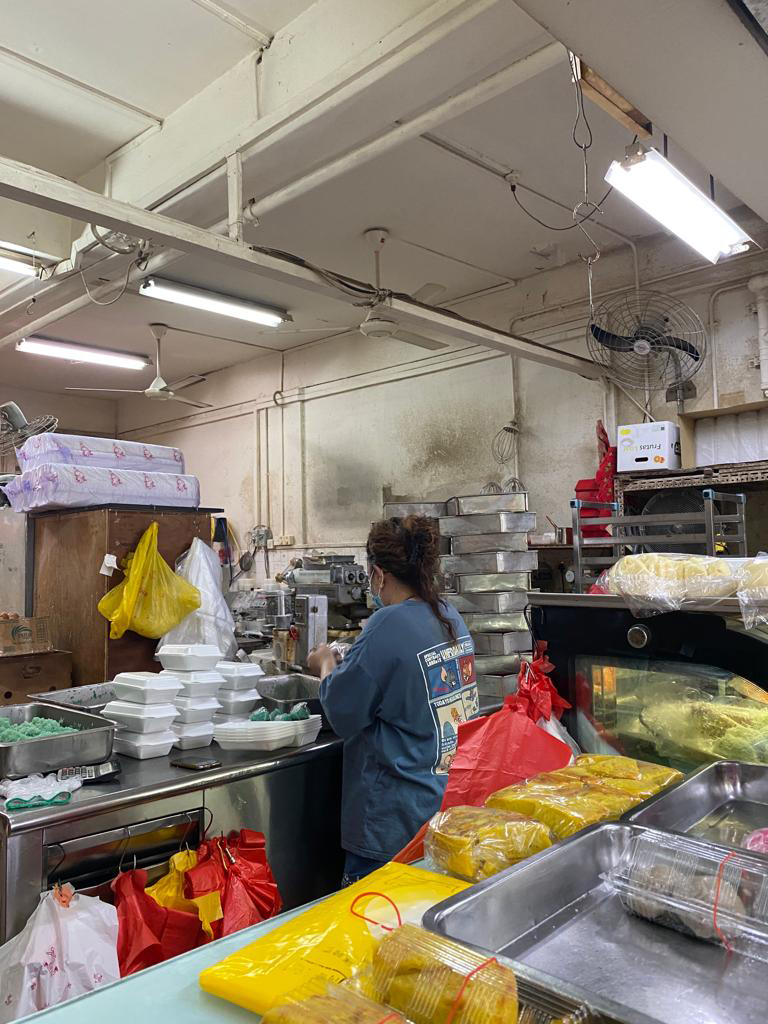 Photo: Yip Jieying
Over the years, Simon himself had also researched and tweaked his shop's recipes to improve his products. Formerly in the timbre export business, he had switched lines to F&B in the '90s when the Malaysian and Indonesian governments started restricting export of their timbre. "I thought F&B was good. I don't have to travel so much," Simon laughs.

But now that he's in his '70s, he reckons that it is time for him to take a break. He shares: "Of course I can't bear to give up my business, especially working with my colleagues. But no choice lah. I'm old already. I have high cholesterol and diabetes, so I don't think I can continue working. I need some rest. It's time to rest!"

Borobudur Snacks Shop is at 537 Bedok North St 3, S460537. Tel: 6442-7637. Open daily 7am-9pm.