Ben Yeo renovated his condo to kick his 2 tween sons, who have been bunking with him, out of his room
The family-of-four have been sleeping together in the same room since the boys were babies.
While it is not uncommon for kids to sleep with their parents' when they are small, few would hang around till their tweens. Not Ben Yeo's sons Javier, 13, and Jarius, 10, though. The boys have been bunking with Ben and his wife Claudia Cheong, both 44, in their bedroom since they were babies.
Ben decided it was time for the boys to sleep in their own room. 
The host renovated his 950 sq ft two-bedroom condo in the eastern part of Singapore last August, converting the playroom into the kids' bedroom.
"They were very happy to sleep in the same room as us, but I kicked them out," Ben tells 8days.sg. "How old already?! They are boys, so they should be more independent. How are they going to manage when they do National Service?"
He adds: "My older son is very timid and afraid of ghosts. The boys still prefer to sleep with us. It's so bad that they refuse to attend school camps 'cos they don't want to stay out overnight."
Despite this, Ben is happy to report that his sons took the eviction pretty well and have no issues sleeping on their own. "So far so good," Ben shares with 8days.sg. "They did not complain at all," he says with a laugh.
"I feel they have grown up since they moved into their own room. They are more independent now."
No part of this story or photos can be reproduced without permission from 8days.sg.
Change in sleeping arrangements aside, the 14-year-old home was also in need of an upgrade. Prior to this, it sported a Scandinavian-style theme, with the original wall and floor tiles provided by the developer still intact.  
Inspired by a fully wooden house he visited in Japan when hosting an interior design programme in the mid noughties, Ben wanted plenty of woody finishes around the house, including the walls and ceiling. 
"It feels very zen and calming, but my wife was against it 'cos she says it makes the place look small and claustrophobic. She agreed to let me have wood vinyl flooring, which is used for most of the house, and matching cabinetry, while I let her pick the wallpaper," he says. 
The result is a mix of
Japandi
and contemporary styles, with lots of
warm wood tones, neutral hues, and
natural elements like stone and linen.
Renovations took three months and came up to around $90,000, though Ben candidly admits his reno as well as furniture were fully sponsored.
Before: The house used to have a Scandi-influenced aesthetic with white brick and concrete walls (it's actually wallpaper).
After: Light-hued wood finishes is seen through much of Ben Yeo's interior living spaces.
Ben Yeo took inspiration from hotel suites when designing the living space.
The open living-dining space is designed to look like a cosy hotel suite. Textured wallpaper, sintered stone tables and mood lighting add a luxe touch, alongside bouclé and linen furniture. For a clean, seamless look, full-height TV wall and cabinetry run along one side of the room. You will find all sorts of random things like toys, books and even foldable bikes stashed in the cabinets.
"Our interior designer suggested we build this wall of cabinets 'cos we have way too much stuff. We designed it such that it can accommodate our bikes. Previously, they were just placed in the living room and were very dusty," shares Ben.
The star, who admits to be very OCD, spent a lot of time choosing the laminate for
the cabinetry to make sure it matches the flooring perfectly.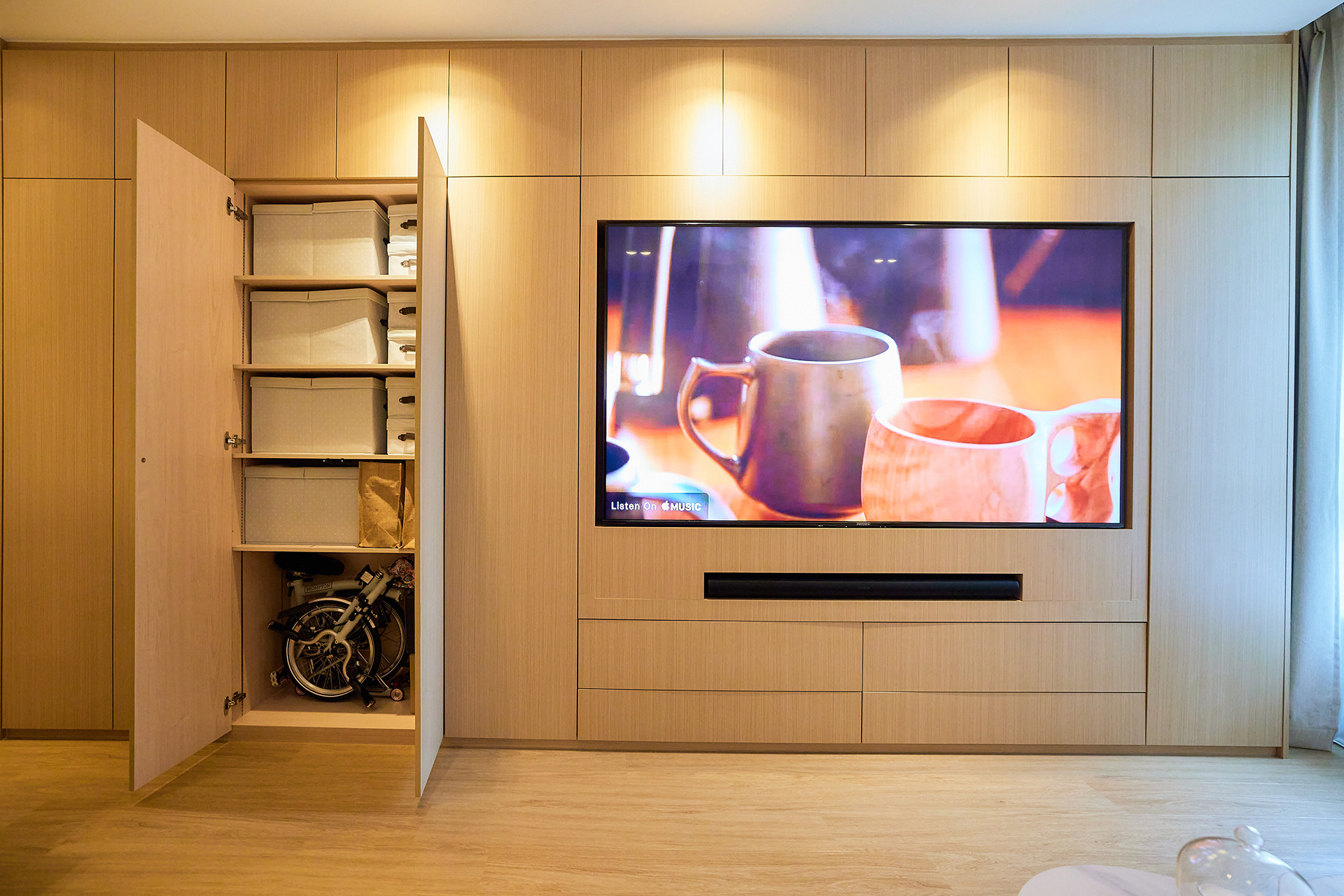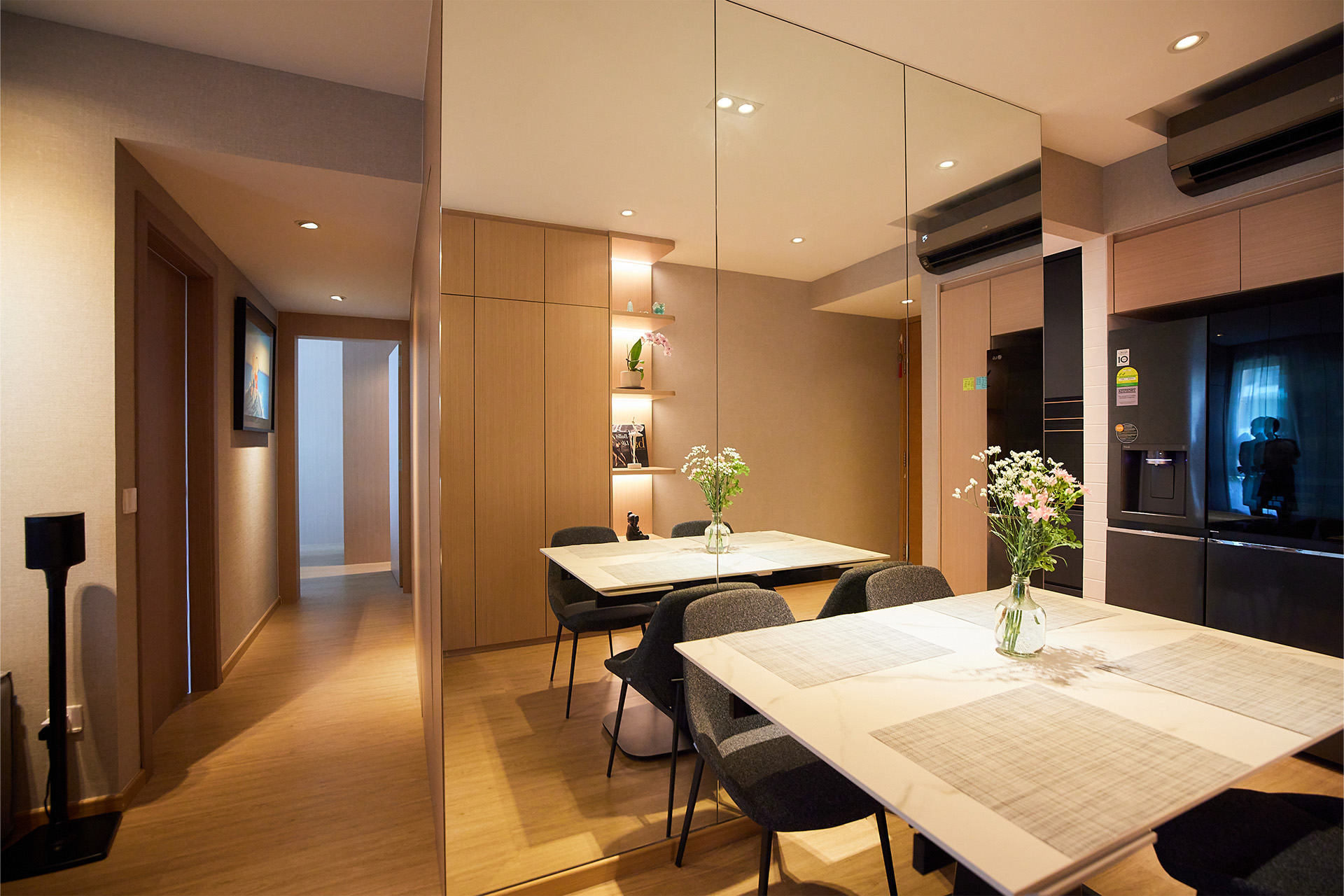 The dining area pulls double duty
A mirrored wall was not only added in the dining area to enlarge the space visually, but also to create a mini "dance studio" for Claudia, who teaches kids ballet part-time. 
"I wanted a space where I can practise ballet and this was the only available spot in the house. When I practise, I will shift the dining table to the living room," shares Claudia. She admits it's not the most practical arrangement and they are considering moving the dining table to the balcony.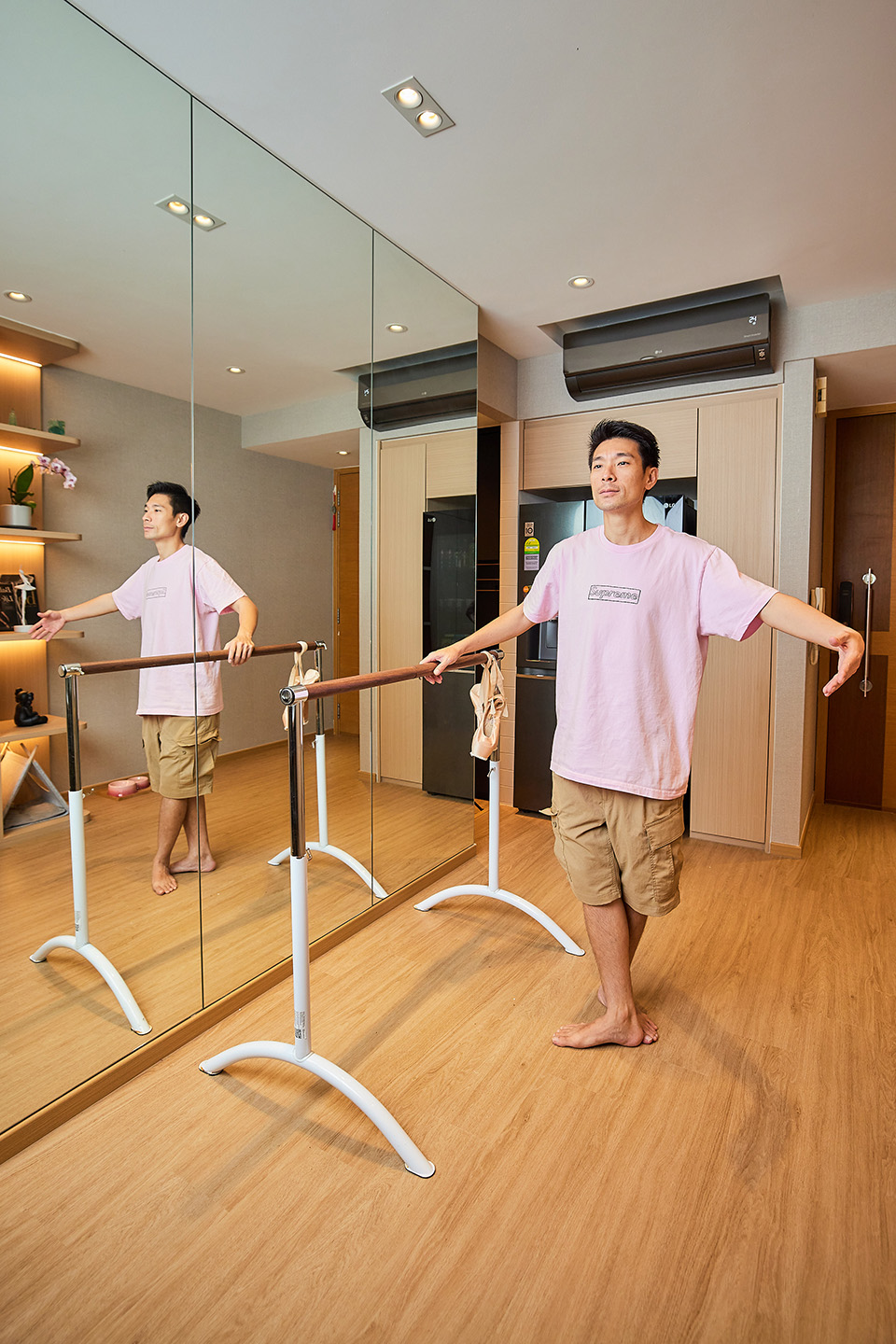 Ben Yeo transforms the dining area into a ballet studio to show us a few moves.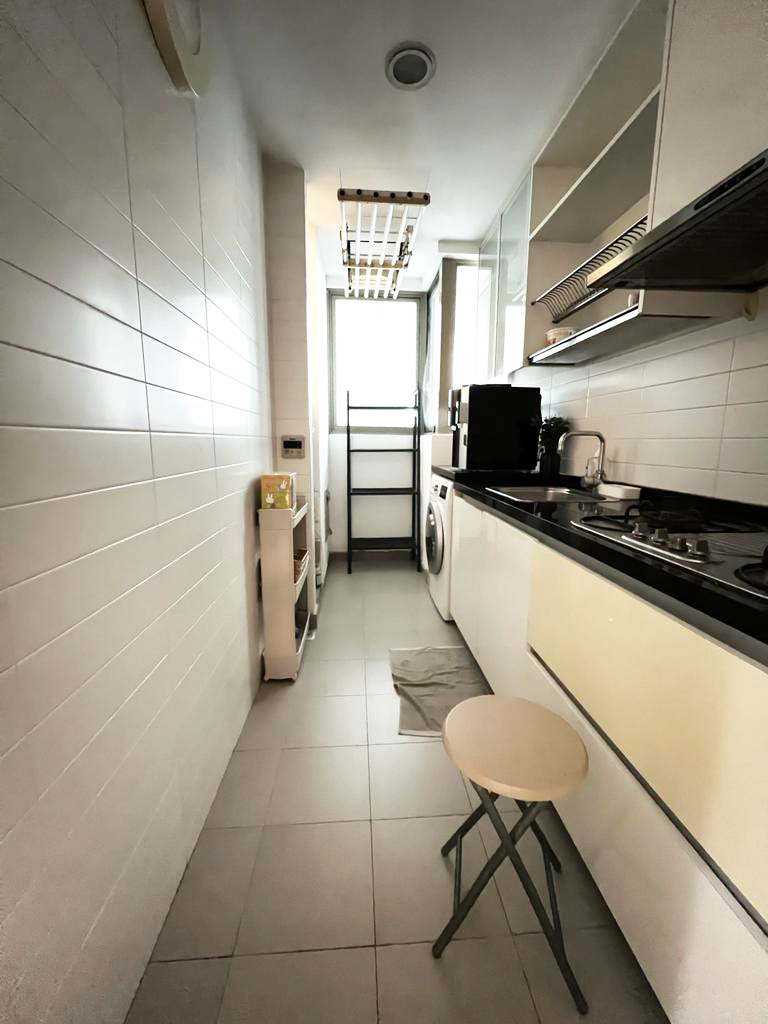 Kitchen
With its striking black theme, the kitchen is quite a contrast from the living spaces. Matte cabinets are paired with sleek appliances, quartz countertop and backsplash for a modern, high-end finish.
For more counterspace, the sink, which used to be beside the stove, was moved to the window and a pull-out island was also added. Ben also opted for an induction hob that comes with a surface-mounted hood (the grill-like feature) so he doesn't have to sacrifice precious cabinet space.
The kitchen has space-saving features like pull-out island and surface-mounted hood.
To prevent the narrow space from being too gloomy, he kept the original white wall tiles, which are still in good condition. "It also serves as a form of remembrance," says Ben.
While a black kitchen looks very stylish, Ben warns that it requires more maintenance as the surfaces are a magnet for fingerprints and dust: "You must constantly clean it otherwise there will be a layer of dust. My ID did warn me about this, but I still went ahead with the colour. No regrets. What's most important is the house looks good."
The hallway 
To keep things streamlined, carpentry lines the wall along the hallway, concealing the entrances of the bomb shelter and common bathroom. "They are so well hidden that sometimes I can't tell which is the door or end up trying to open it from the wrong side," laughs Ben.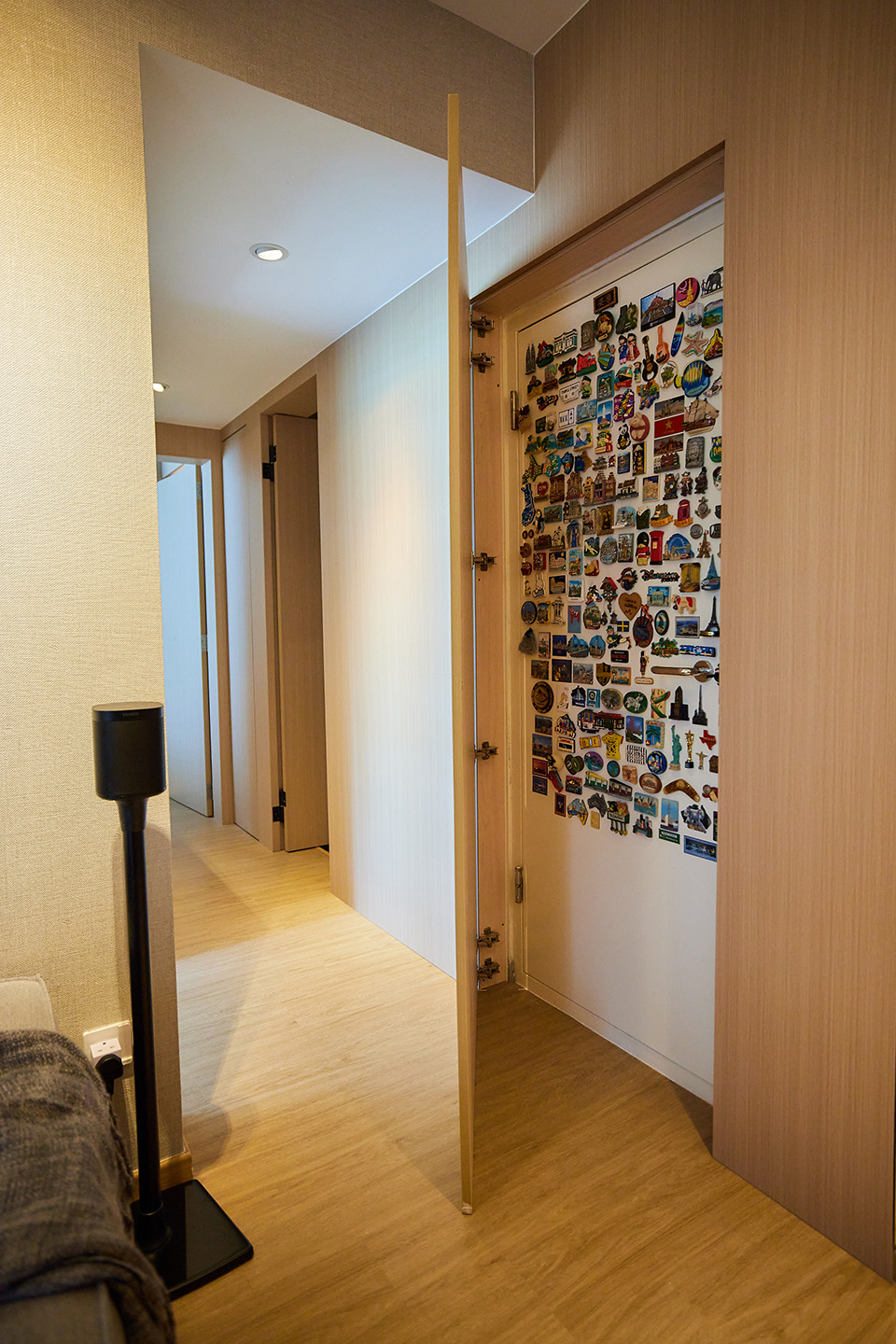 Javier and Jarius'

bedroom
On the other side of the wall is the boys' bedroom, which was converted from their playroom. When we ask if they had a say in how they wanted the room to look, Ben replies: "They only care about gaming."
"I designed the room. They didn't have any requests, except my younger son, who wanted a softer mattress. I guess boys are more easy-going," adds Claudia.
Before: The blue-hued room was used mostly for storage.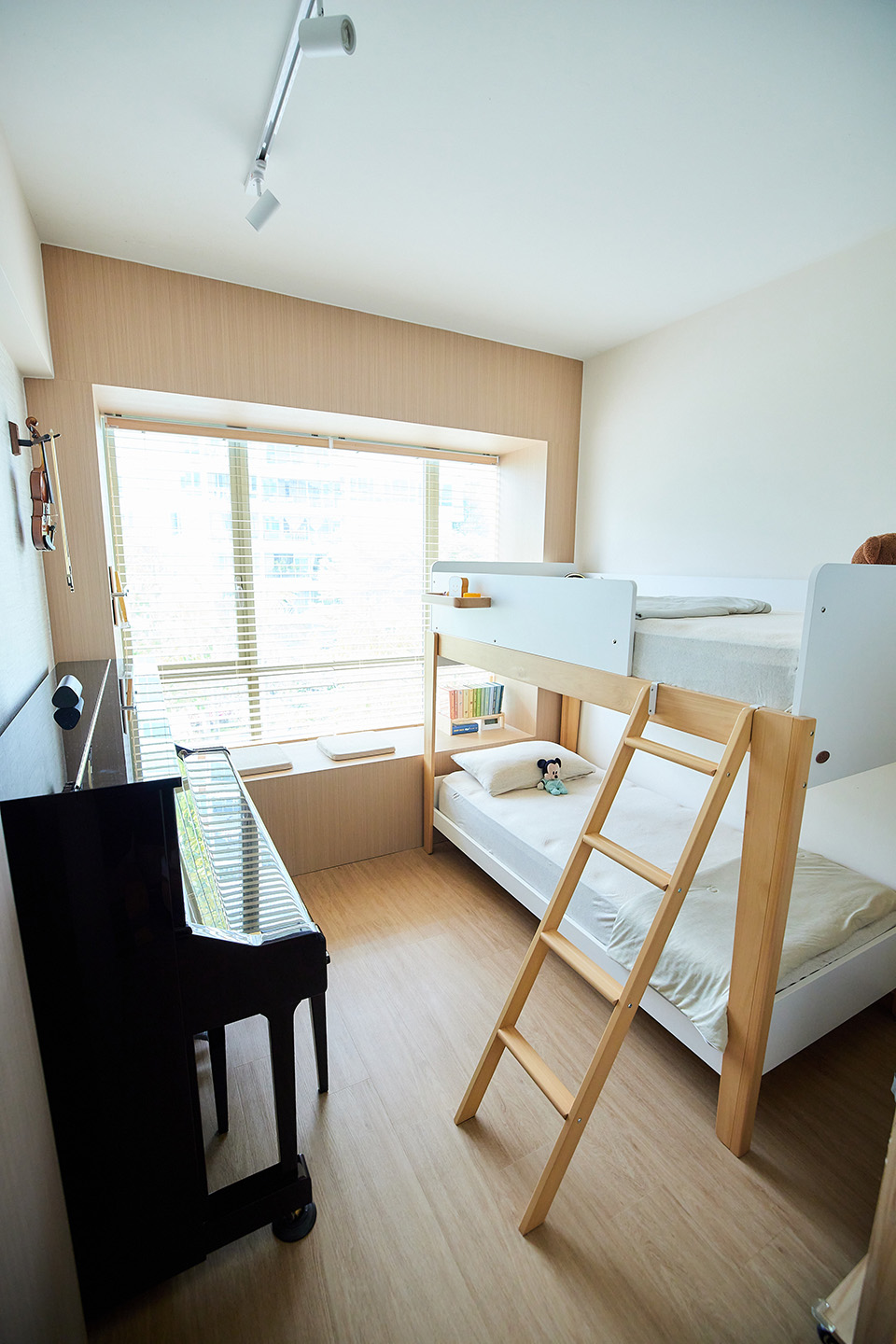 After: The room is now brighter without the cupboards obstructing the windows.
The understated and muted palette is very much in keeping with the Japandi look. A frame was built around the bay window to create a focal point in a room, and there are no wardrobes or desks due to space constraints.
"The kids study at the dining table. It's also better 'cos we don't want them to be constantly hiding in the room. This is also why all the doors do not have locks, and that includes the bathrooms and our bedroom. If not, they will say we are unfair," explains Claudia.
In case you're wondering, they have not walked in on each other in the toilet… at least not yet.
"If the bathroom door is shut, it means there's someone inside," says Ben.
Adding a pop of colour to the room is this whimsical portrait of Javier and Jarius by China artist
Wu Qiong
. He gifted the artwork to Ben when he was featured on Mediacorp variety show
Celebs' Curated Collections
in 2015.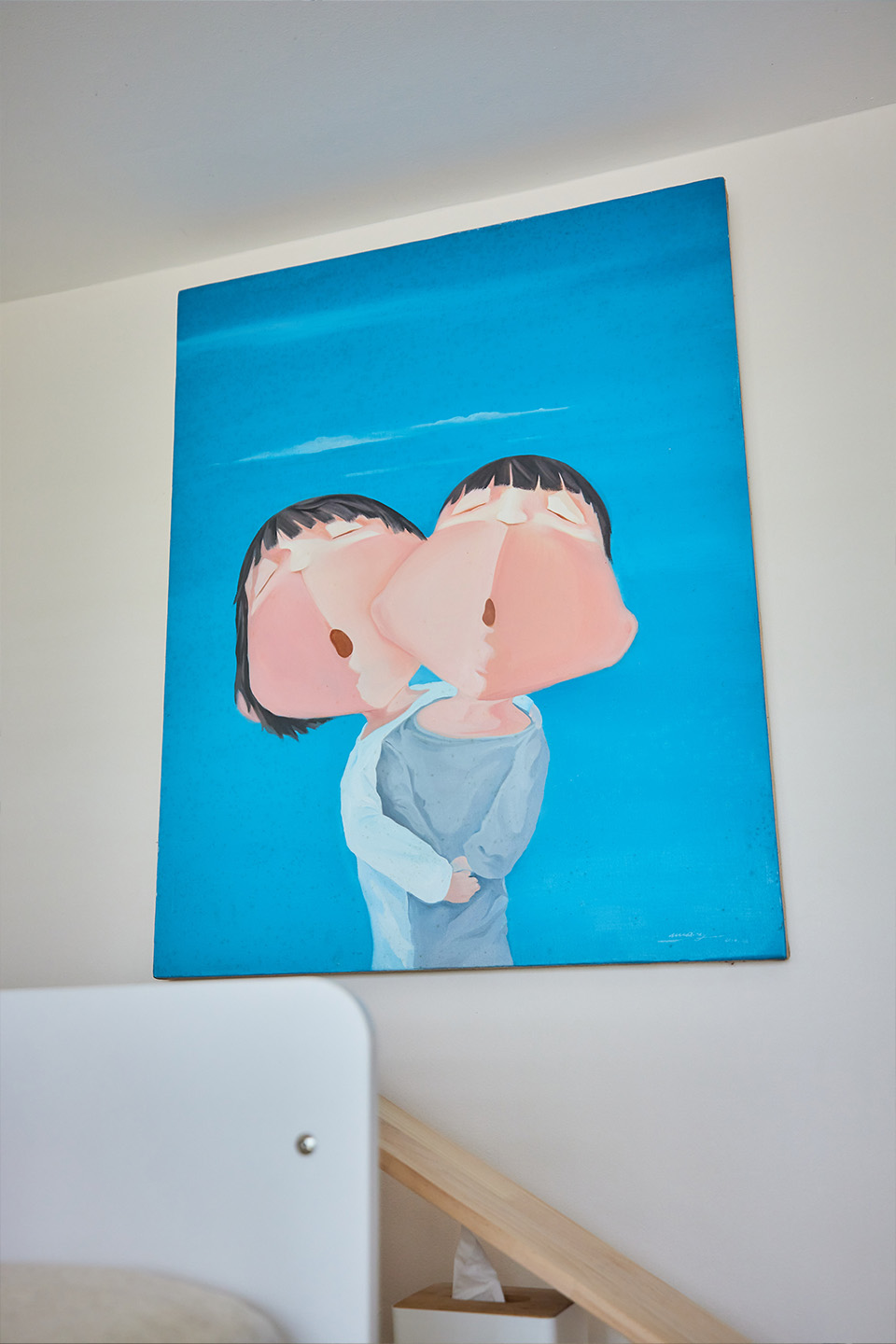 Portrait of the Ben Yeo's sons Javier and Jarius by acclaimed artist Wu Qiong.
Master bedroom
Like the living room, the master bedroom takes inspiration from hotel suites with wall-mounted bedside tables and clean, concealed built-ins. The bay window is transformed into a cosy reading nook and the TV wall and cabinets cleverly hide a second bay window (see below).
"It's too close to our neighbour's window. Previously, it was also sealed for privacy as my bed was just beside it," explains Ben. Now that he has kicked the boys out, he happily shares that he finally has space for a king-size bed.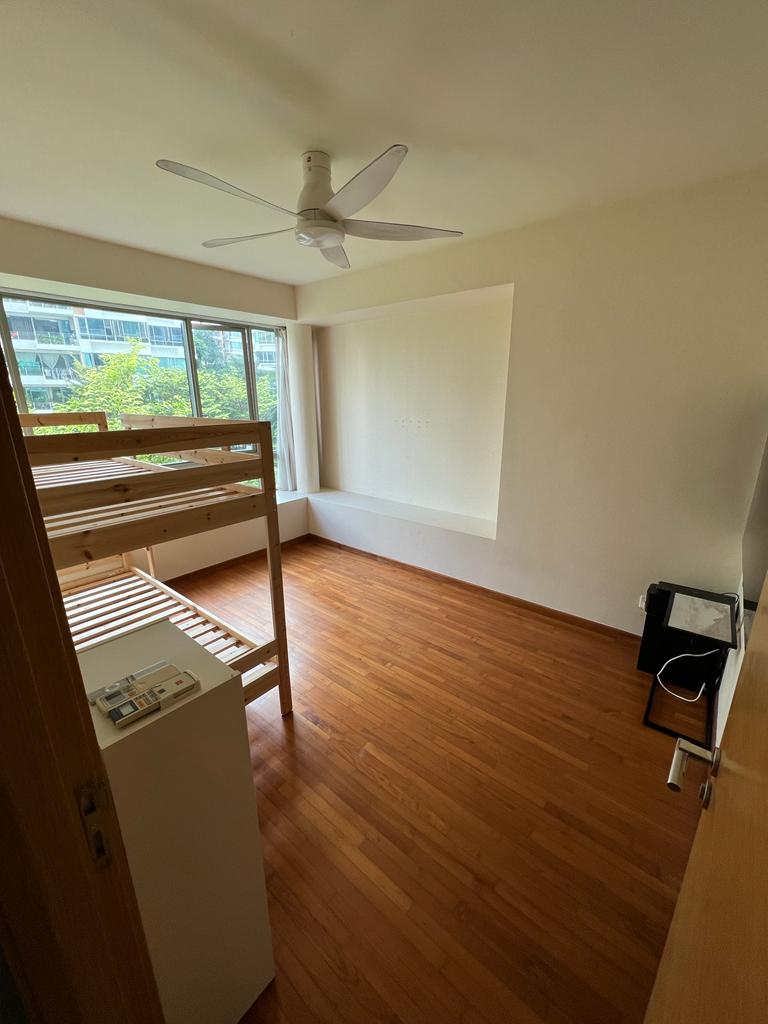 Before: Ben Yeo's bed used to be just by the second bay window (wall niche).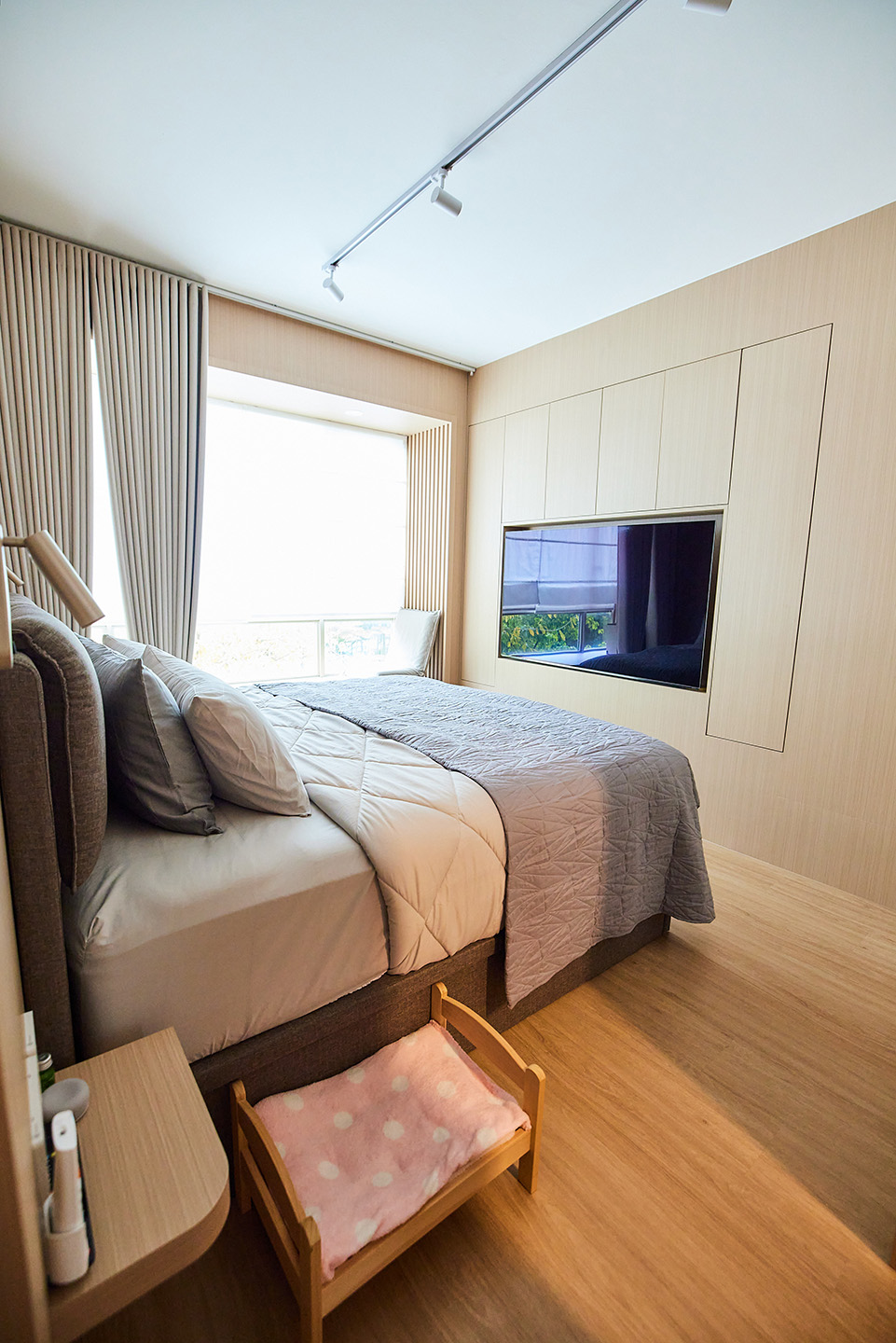 After: A wall of carpentry covers the bay window completely.
Unlike the boys, their six-year-old pooch Happy managed to keep her spot in the master bedroom.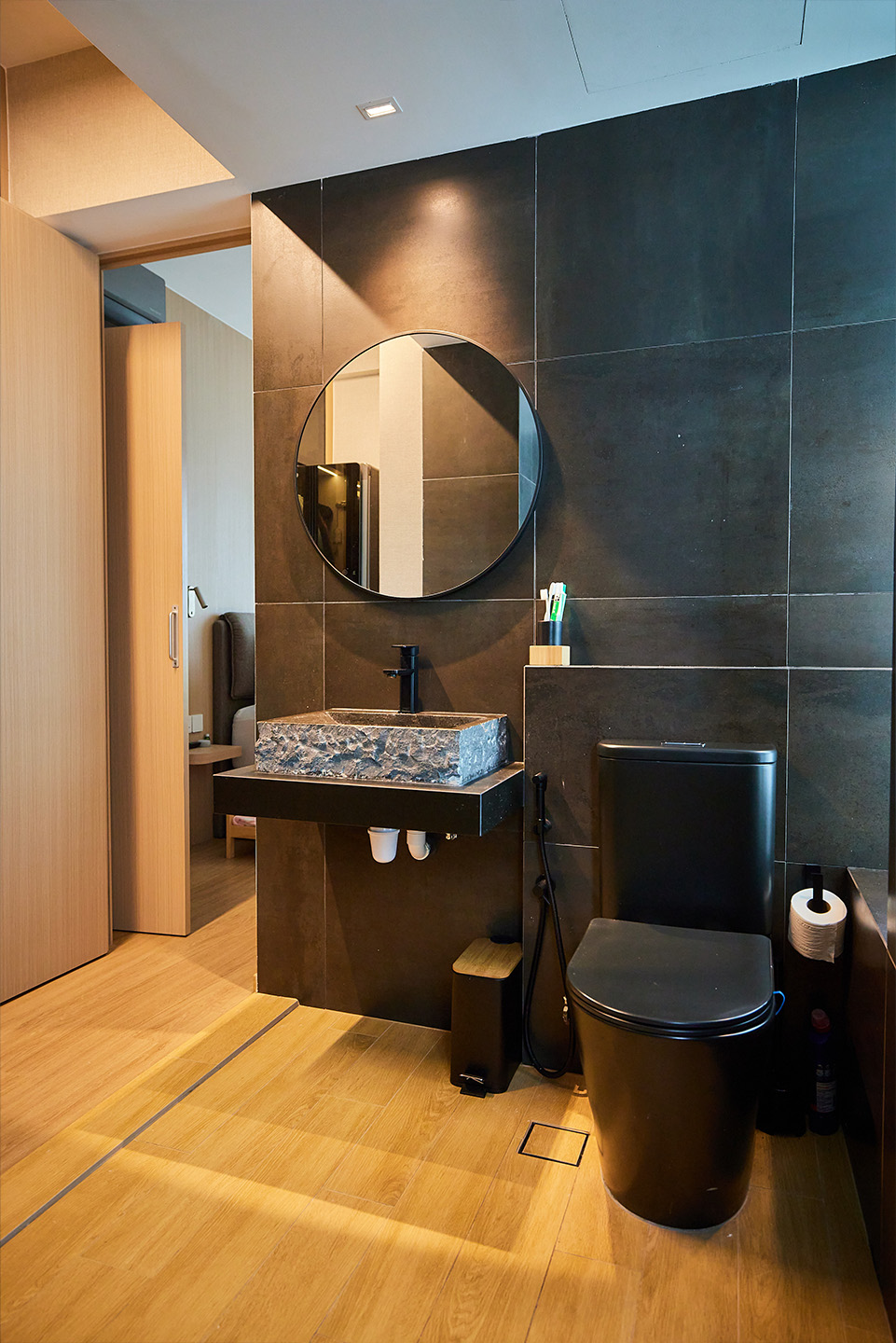 Master bathroom
The master bathroom is surprisingly spacious compared to the rest of the house. To maximise the space — around the size of a small bedroom — one side of the bathroom is used for Ben's closet, which he now shares with his sons. Yes, all the wardrobe space for three guys is in this bathroom. The closet in the master bedroom is monopolised by Claudia (nice!). For convenience, Claudia let the boys use the bathroom, while she uses the common toilet. And yes, it's a His and Hers bathroom situation here.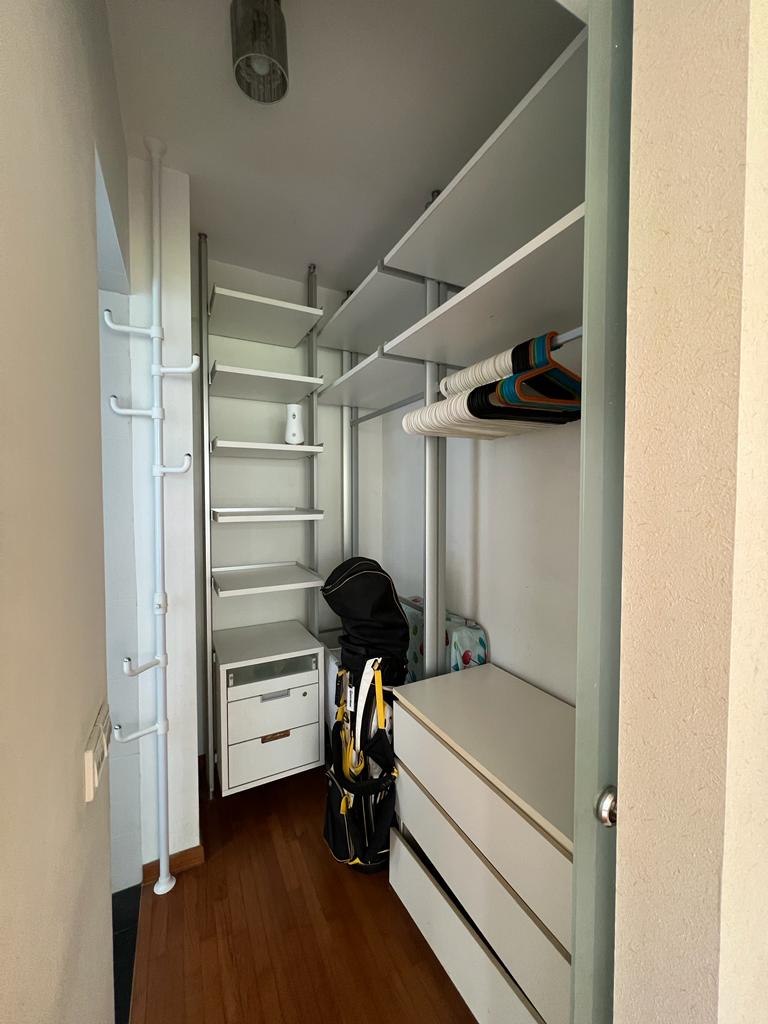 Before: Ben Yeo had a walk-in wardrobe in the bathroom.
After: Sleek glass closet to match the dark-themed bathroom.
A zen haven at home
Ben's design brief for this bathroom: a zen space with black and wood accents. The bathtub was removed for a walk-in shower, and rustic touches like slate tiles, stone sink and bonsai plant add character to the space. It is outfitted with speakers so he can indulge in music when he showers.
"It's very relaxing when I dim the lights at night. I plan to add a stool in the shower area so I can sit down when I bathe, but I have not found a suitable one yet," shares Ben.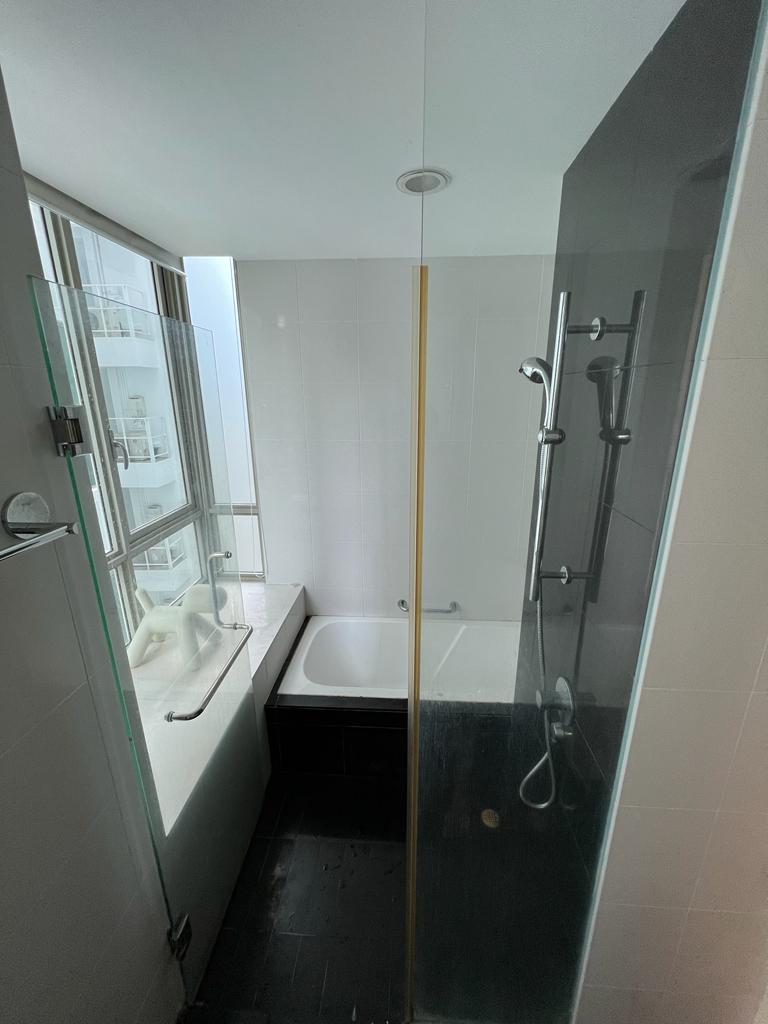 Before: The bathtub and shower used to occupy the nook.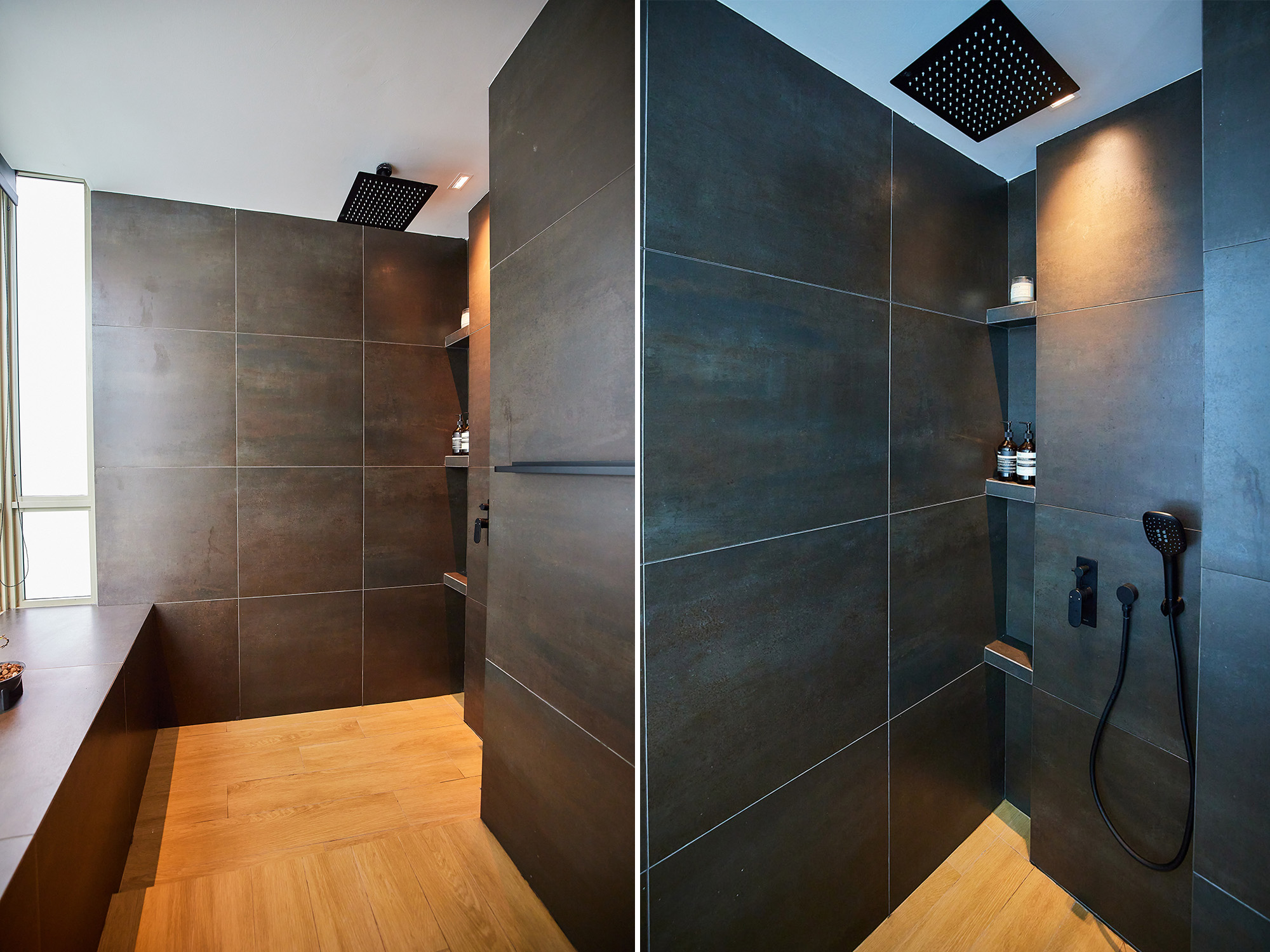 After: The black and wood combination gives a spa-like feel in the space.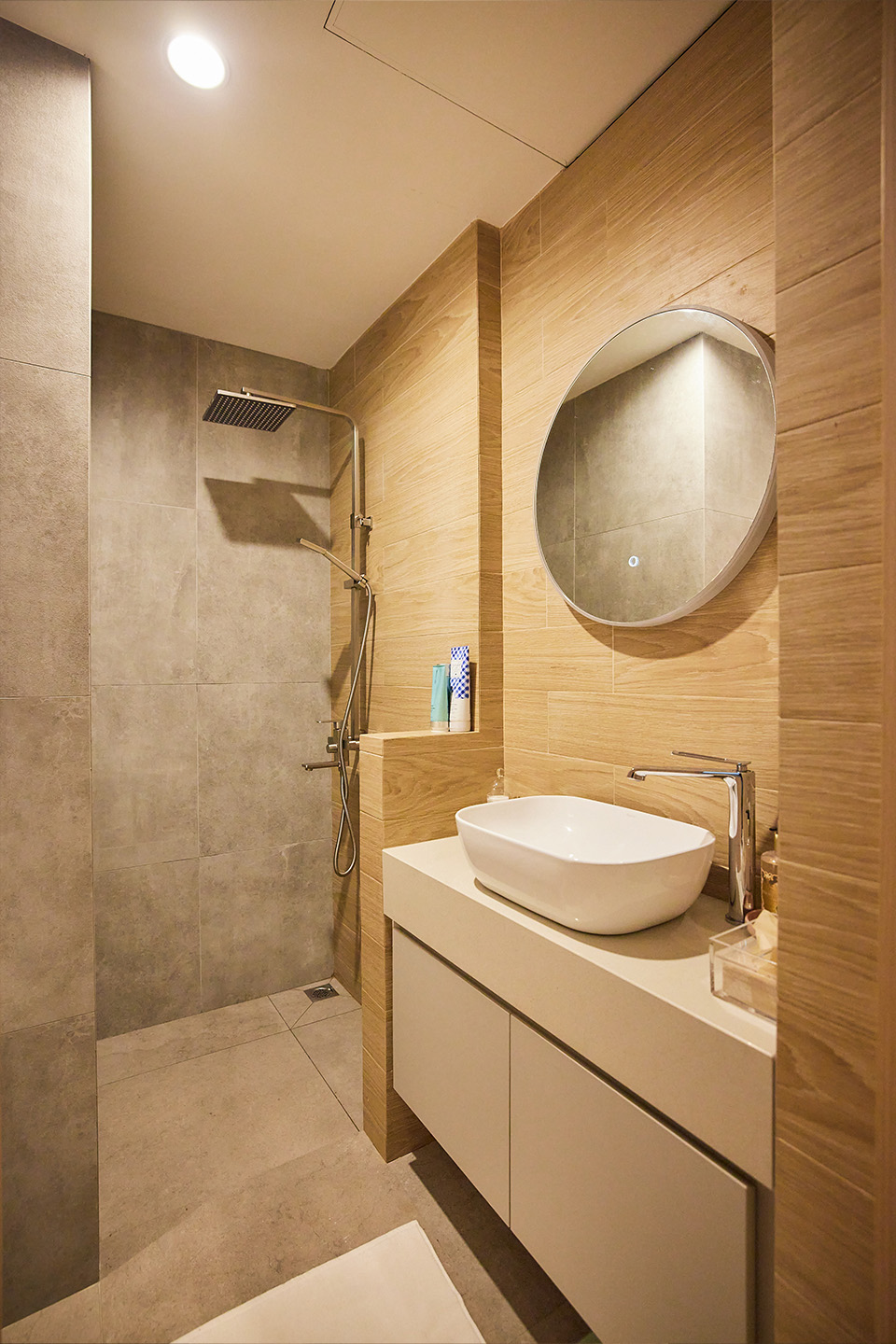 Common bathroom
In contrast, Claudia's bathroom has a brighter palette. She took design and colour cues from the living spaces, while adding her own personal touches in the form of the wall art and decor. When the lights are dimmed, the nook looks like an art gallery.
"I wanted a bit of ballet essence in the space, so I added the poster as well as the bow adornment on the toilet. It reminds me of a ballet shoe ribbon," she says.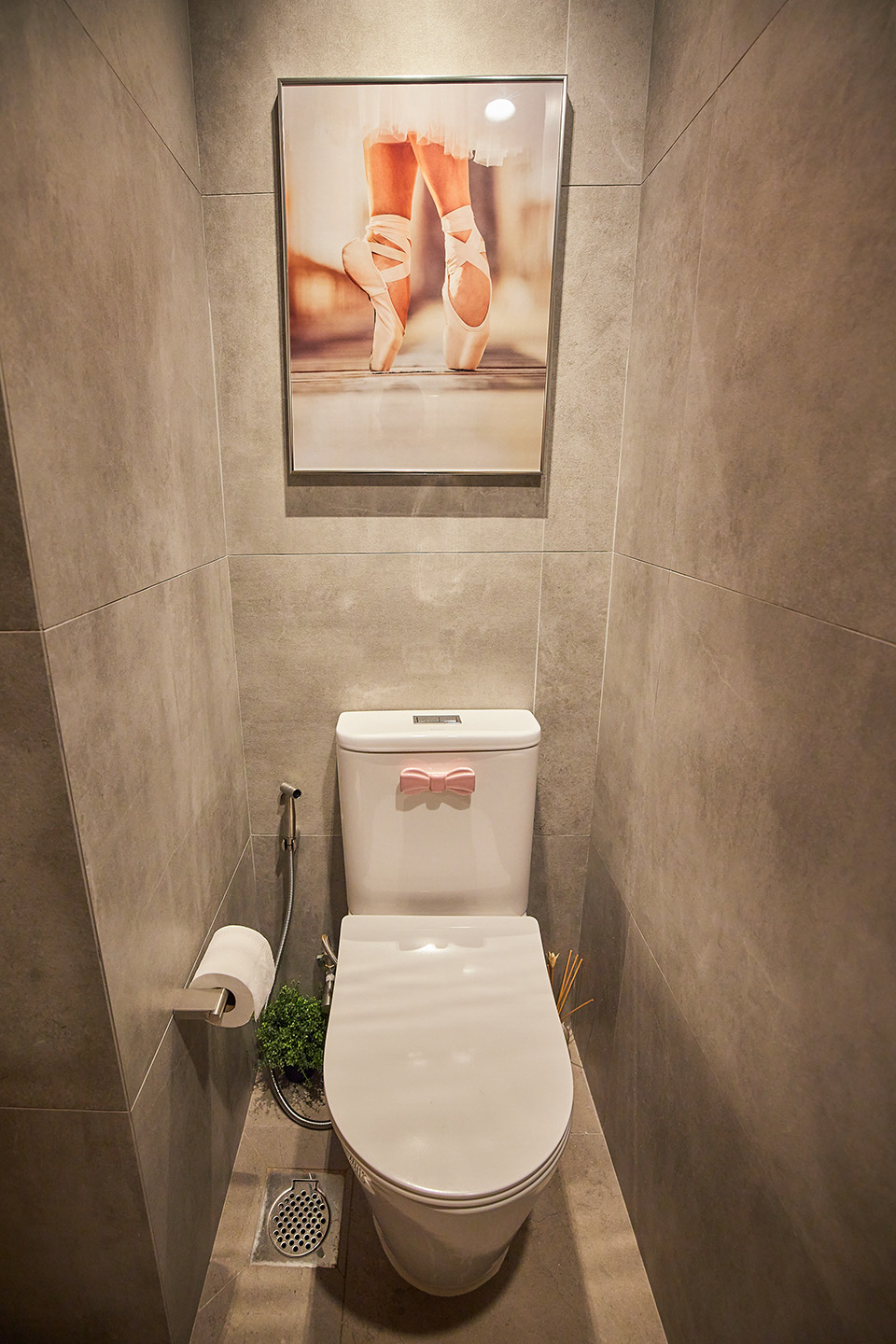 Claudia could not be more pleased with the new bathroom arrangement. She is spared from cleaning the guys' toilet, which she "cannot tahan". 
"I tell them not to use my toilet 'cos they will mess it up," she says.
Photos: Alvin Teo
No part of this story or photos can be reproduced without permission from 8days.sg.