BFFs Open Korean Hawker Stall With $15.90 Free-Flow K-BBQ & Army Stew Buffet
It's like a plot straight out of a K-drama – the tight-knit group has also roped in a Korean oppa chef to share his recipes for the menu.
Noona Korean Kitchen is a Bedok coffeeshop hawker stall that opened in March this year serving Korean fare like bibimbap and japchae. Its sister concept Eonni Korean BBQ, located at another nearby kopitiam, offers free-flow K-grill and army stew from a wallet-friendly $15.90 per pax.

Eonni recently relocated to be next to Noona, with both stalls occupying a double-unit space ('noona' is the term that Korean men use to refer to an older sister, while eonni is the feminine equivalent). After the move, Eonni was renamed to Noona Korean BBQ (according to its signboard). Both concepts were opened by a group of four best friends who also gave their biz some authentic cred by roping in a Korean chef who shares his recipes.
No part of this story or photos can be reproduced without permission from 8days.sg.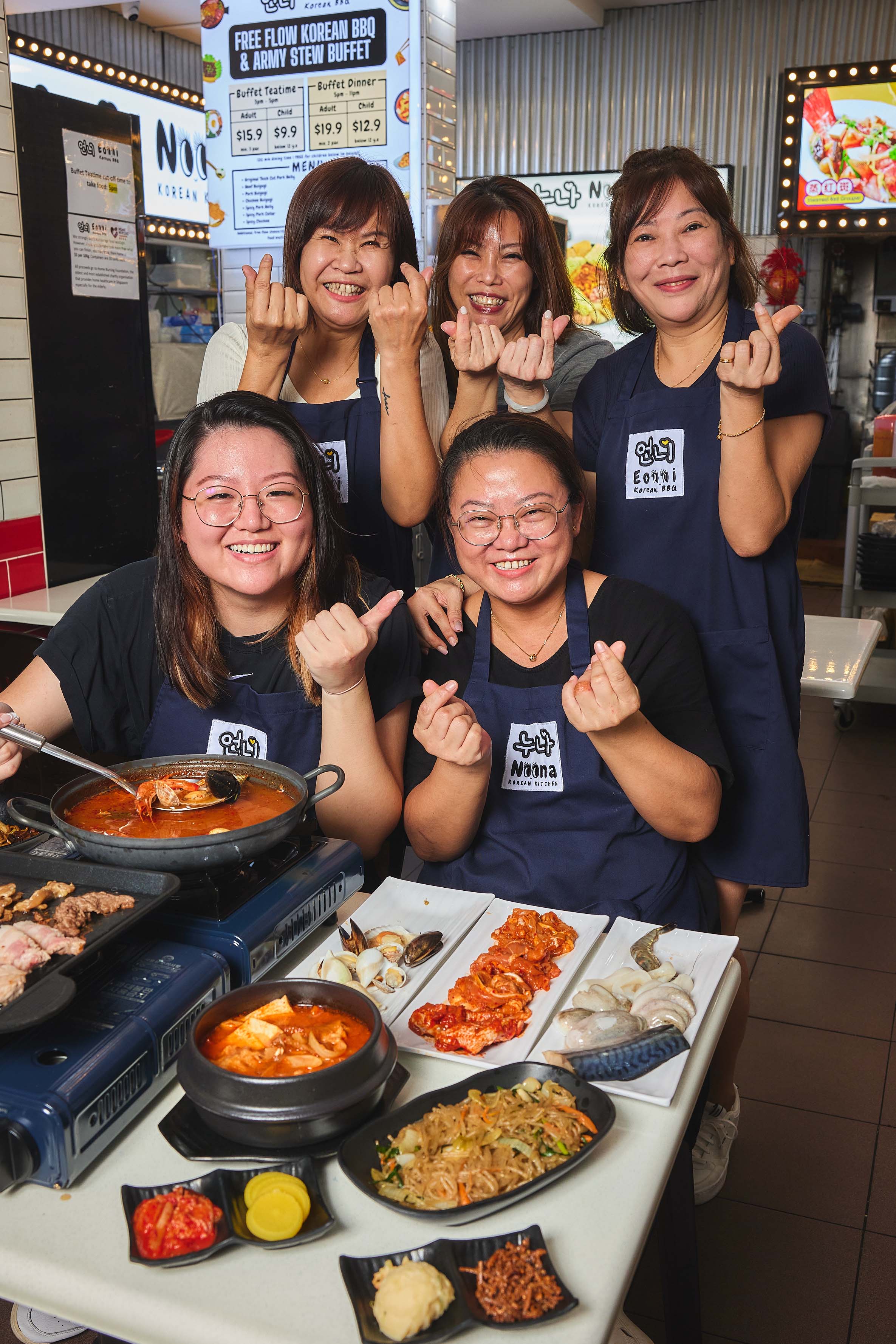 Business started by a group of travel buddies
The all-female group of besties has a friendship that goes back "more than 20 years". It comprises bubbly Estelle Lek, 45, and her trio of friends Jane Sim, 57, Chris Ng, 52, and Iris Loh, 51. While the latter three hold jobs ranging from private hire driver and airport operations to food distribution, Estelle has experience running another F&B biz, having opened a Korean restaurant a few years back. She declines to name the eatery as she has since sold off her share and parted ways with her co-owners on good terms.
Before the Covid-19 pandemic, the four women "used to travel together a few times a year to places like Taiwan, Bangkok and Korea, mainly for food". Estelle, who was looking to open another eatery after leaving her restaurant business, initiated setting up a Korean hawker stall with her travel kakis. They each invested a "five-figure" sum. "My friend who owns a coffeeshop asked me if I wanted to rent a unit and I thought, hey, maybe K-food at a coffeeshop could work," recalls Estelle, whose NTU undergrad daughter also helps out with marketing for the stall.
Recipes from a Korean chef pal
As none of the group of owners has any formal culinary training, they turned to Korea-born chef Kim Sang Bum, an executive chef at Estelle's previous F&B venture, for recipes. The 48-year-old, whom Estelle endearingly calls her "oppa" (older brother), has since left her restaurant to join casual Korean buffet joint Friends Tasty Korea as a head chef.
Naturally, this means that he doesn't cook at Noona (he also could not get away from work to attend our photoshoot), though he gets a share of the stall's profits in return for his recipes. "He taught us how to cook the recipes and visits from time to time to do quality control," says Estelle.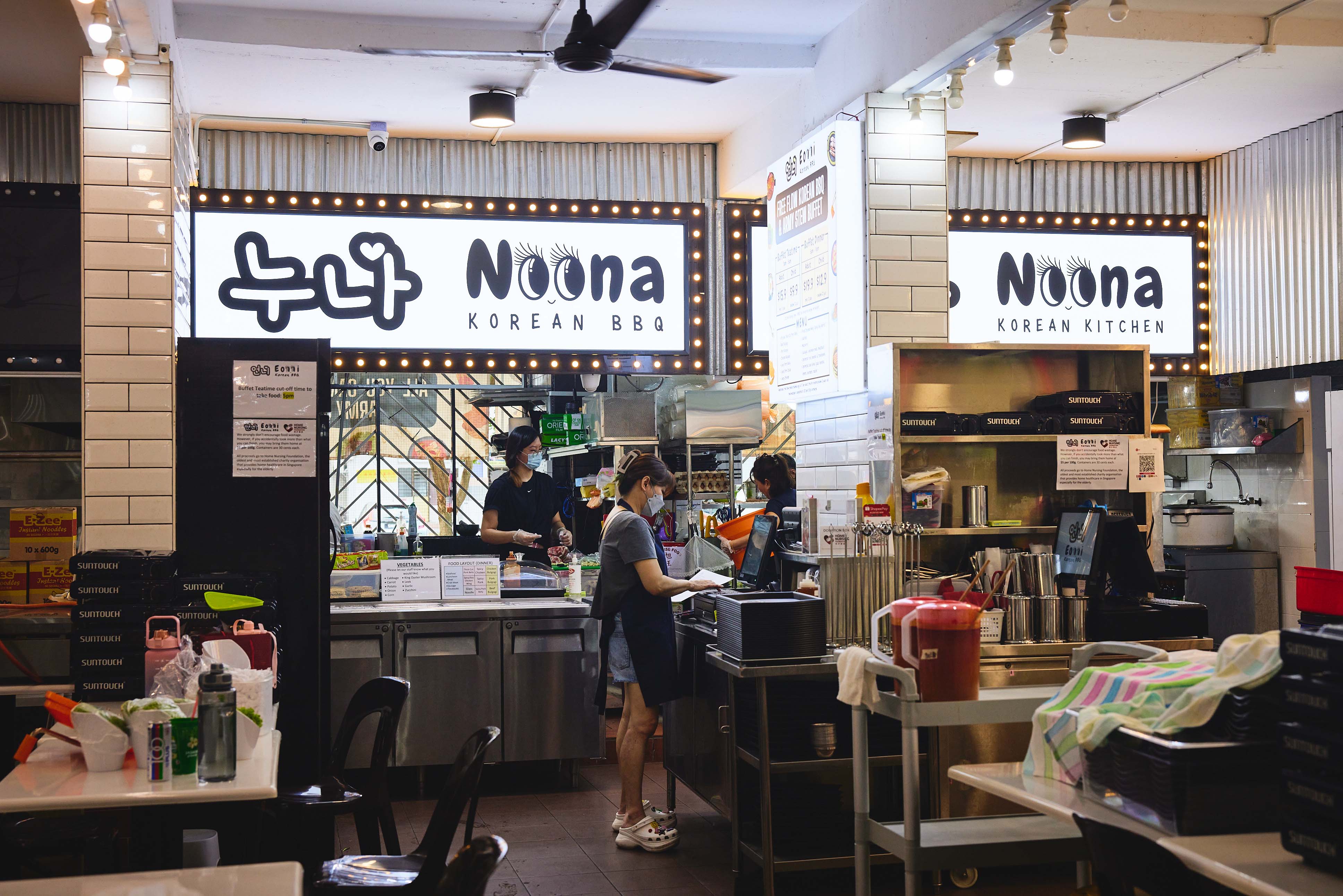 Popular on TikTok
Before its move to the same spot as Noona Korean Kitchen in May, Eonni Korean BBQ was located at a Bedok coffeeshop about 15 minutes away on foot. It saw a huge surge in business on its opening weekend after appearing in a TikTok video that was heavily shared online. But the stall was ill-equipped to deal with a large crowd due to electrical issues. "It was very stressful as we had to turn a lot of customers away. There were some who came all the way from Jurong. I felt so bad for them," Estelle says.
After just two weeks, Estelle and her friends shut their BBQ stall and relocated the concept to Noona Korean Kitchen, which was already occupying two units at its current coffeeshop. According to Estelle, business has been better than ever since self-service buffets returned – customers can now directly help themselves to the ingredients in the chillers. On weekends, Eonni Korean BBQ serves more than a hundred customers, so be prepared to wait for up to half an hour during peak periods.
Hoping to expand within the year
The ladies are here almost every day, depending on their schedules. Iris and Chris focus on serving customers, while Jane dishes out the banchan (Korean side dishes). Estelle and a staff member take turns to cook orders. "I told [my friends] that for this business to succeed, we need to get our hands dirty and understand how it operates inside out," she shares, adding that they hope to expand with another outlet "within this year" once things have settled down.
A la carte menu
Noona Korean Kitchen's a la carte menu features a selection of Korean classics like sundubu-jigae (soft tofu soup), rice bowls, noodles and pancakes. Prices range from $7 to $10 per dish, which comes with your choice of two types of banchan like fried anchovies and potato salad. Korean fried chicken is also on the menu, though it is currently unavailable as the stall lacks manpower to serve the dish.
Meanwhile, the K-BBQ stall offers both buffet and a la carte barbecue as well as army stew, all with meat options like Beef Short Rib ($12 for 100g) and Duroc Pork Belly (a fattier cut from around the stomach of the pig, $9 for 100g). The highlights for us were thick-cut pork belly and fatty mackerel – quite a treat, considering the no-frills kopitiam setting.
Free-flow Korean BBQ and army stew from $15.90
The main attraction of the BBQ buffet is the wallet-friendly price. For $19.90 per pax (minimum two pax), you get both a grill and a pot filled with an army stew soup base to cook ingredients in, including free-flow seafood, pork belly, chicken and beef bulgogi. It also comes with unlimited helpings of side dishes plus rice and noodles. If you dine between the off-peak hours of 3pm to 5pm, it's even cheaper at $15.90 per head (minimum three pax).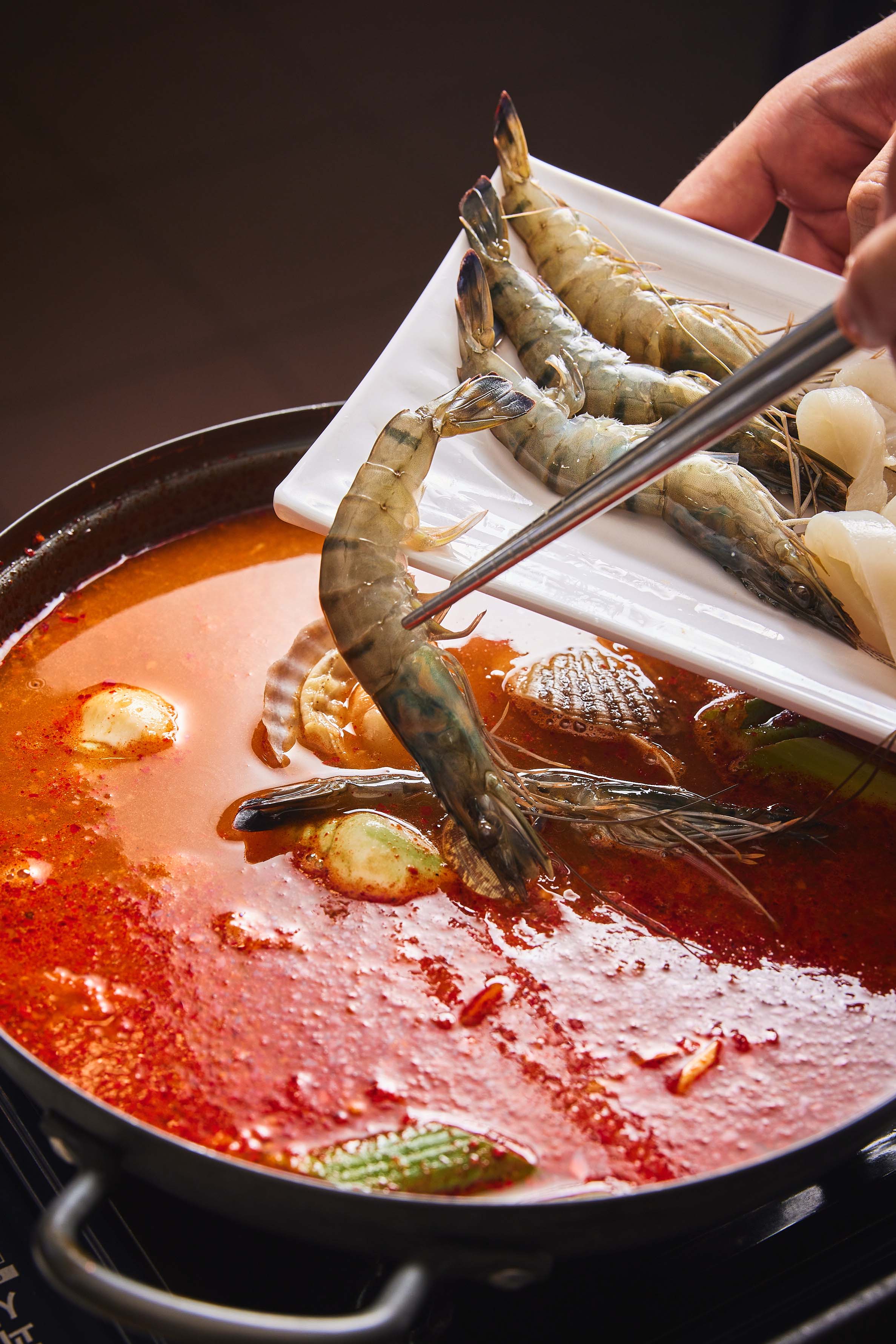 The army stew soup base is properly fiery, with a hint of sweetness. A good base for the decent selection of frozen seafood options available including gong gong, prawn and baby octopus.
The banchan
Free-flow banchan (Korean side dishes), mostly made in-house except for the kimchi, is also part of the buffet deal. This includes marinated tofu skin, pink pickled radish, potato salad, crispy fried anchovies, and spicy Korean beansprouts. The dishes are pretty satisfying, but our favourite from the lot is the surprisingly light potato salad – creamy and moreish, but not jelak. The slivers of pickled pink radish also make a good pick-me-up when you're feeling stuffed with spicy stew and grilled meat.
Rabokki, $7
Rabokki is a mashup between two popular Korean dishes: Tteokbokki (rice cakes) and Korean instant ramen, which is known for its springy, thicker-than-usual noodles. This is served here with a hard-boiled egg, tofu skin and Korean fishcake in a luscious spicy sauce. We are trying this dish for the first time and find it appetising enough, though very carb-heavy.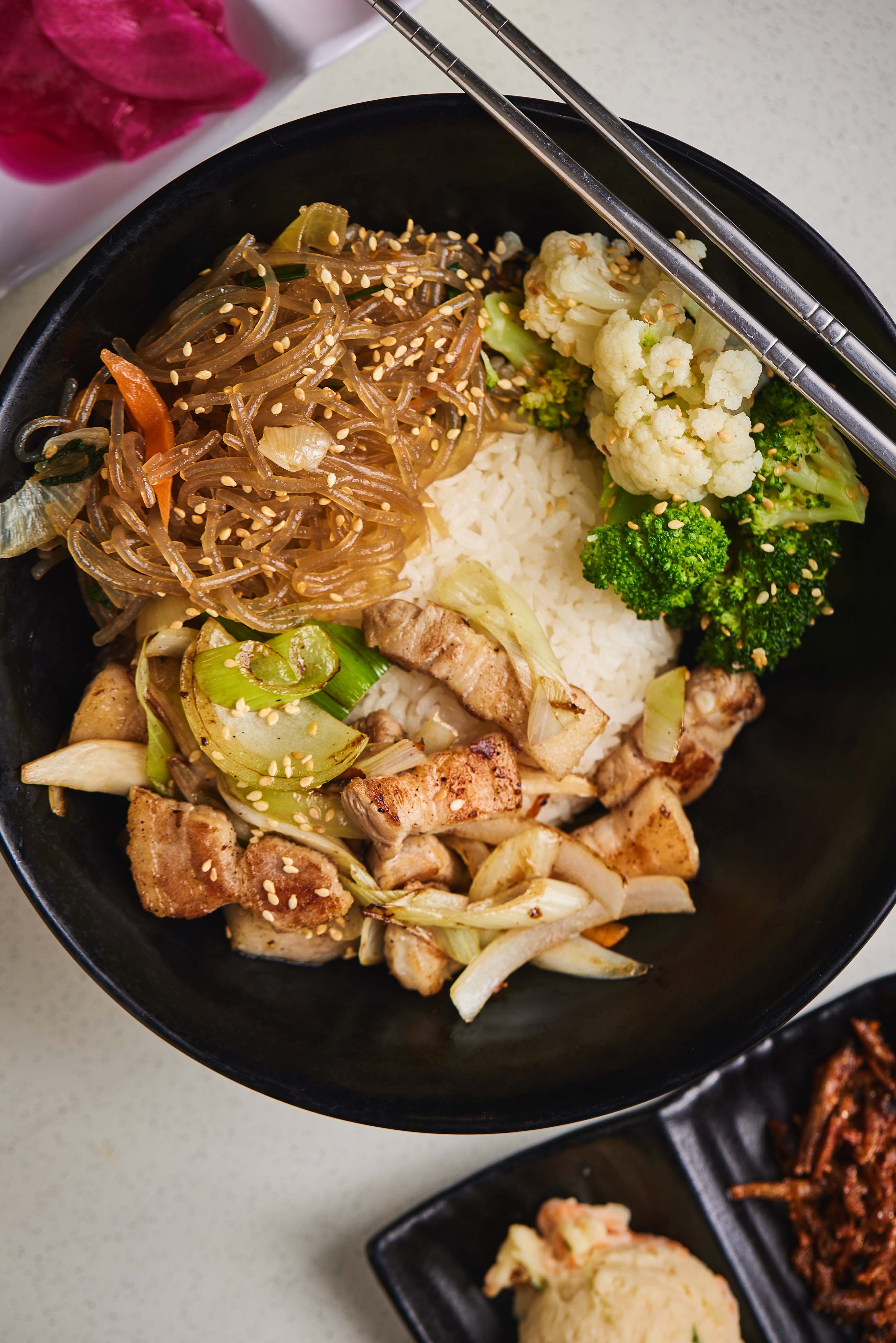 B.B.Q Pork Belly Rice Bowl, $8
If you want Korean barbecued meat but don't want to get the smell of smoke on yourself, go for this rice bowl instead — it comes with a generous heap of grilled marinated pork belly and onions with japchae over short-grain rice. The pork is succulent with a subtle smokiness – delish with the glass noodle japchae tossed with sesame oil.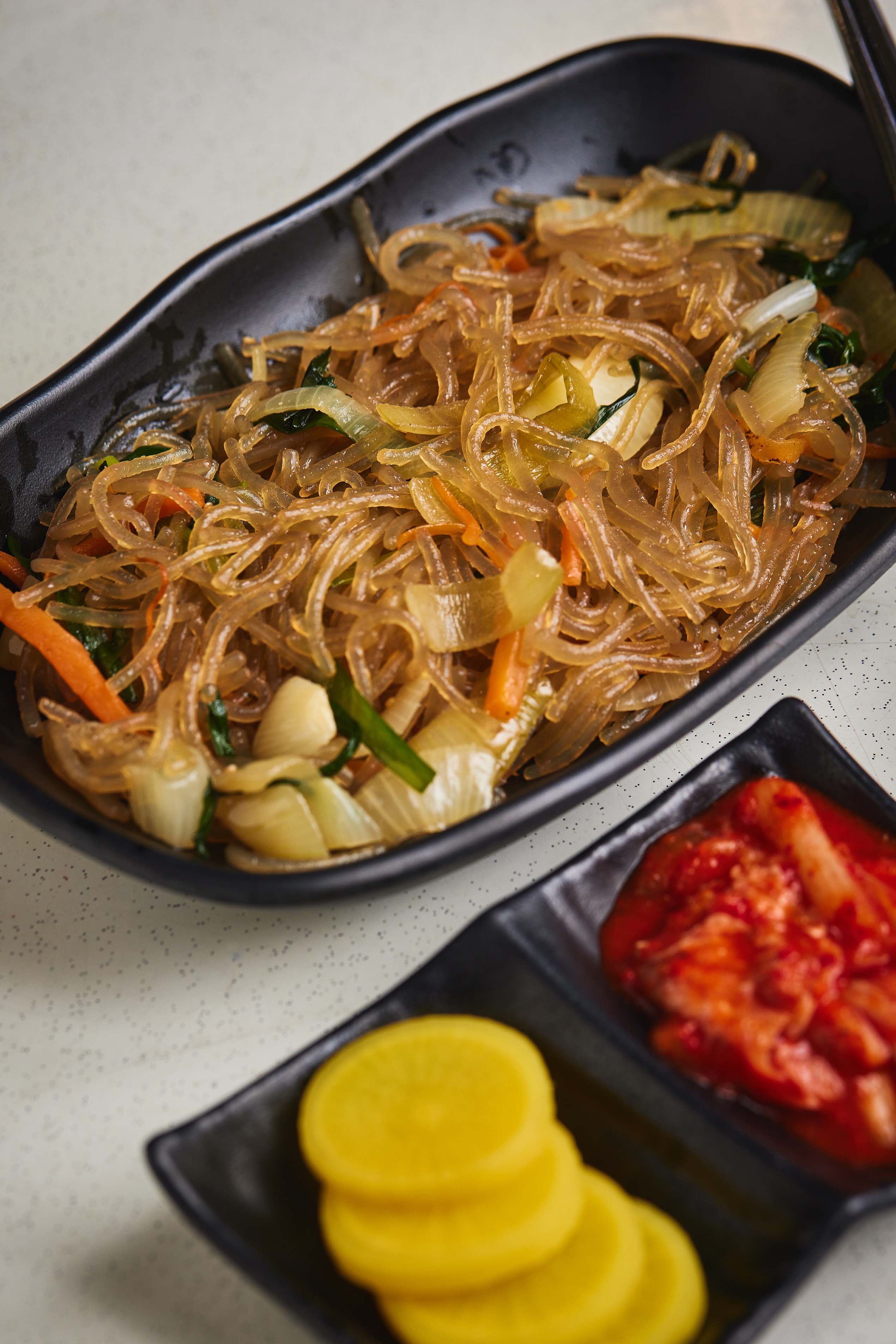 Japchae, $7
You can also order japchae a la carte. It's good on its own, and we especially dig the thick, super-crunchy slices of danmuji (pickled yellow daikon) that they only serve with this noodle dish.
Seafood Tofu Soup, $8 (8 DAYS Pick!)
Prawns, squid rings, lala and soft tofu simmer in a spicy anchovy stock. The steaming hot broth has a silky mouthfeel from the tofu cooking in it. There's enough of a spicy kick to make you sweat a little, but it's not punishing enough that you can't enjoy any of the clean-tasting seafood in the soup. Shiok.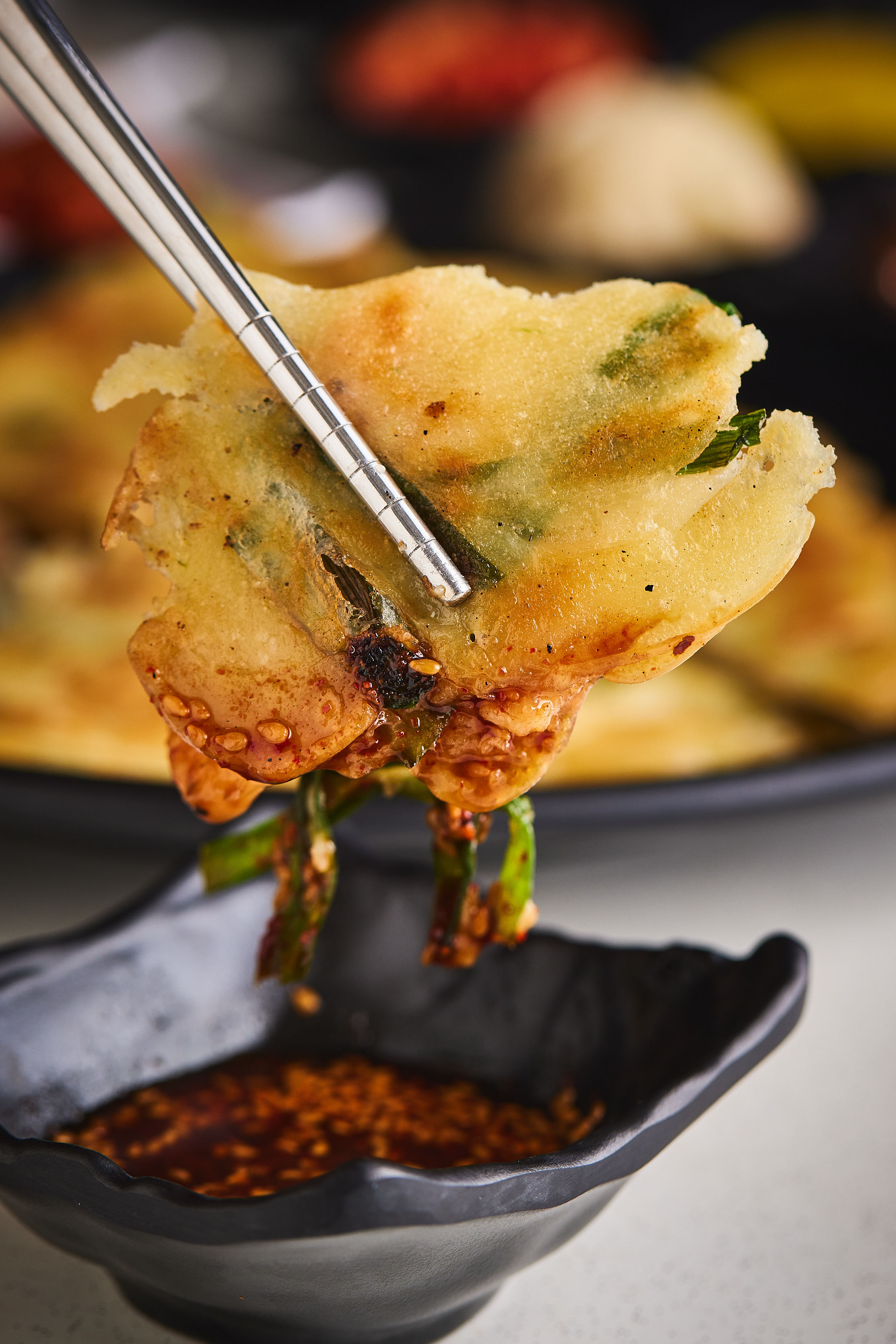 Seafood Pancake, $10 (8 DAYS Pick!)
This homely, crispy-edged seafood pancake arrives brimming with prawns, squid and spring onions. We enjoy the contrast between the crunchy exterior, springy seafood and softly chewy centre made punchy with a fragrant soy sauce, vinegar and sesame dip.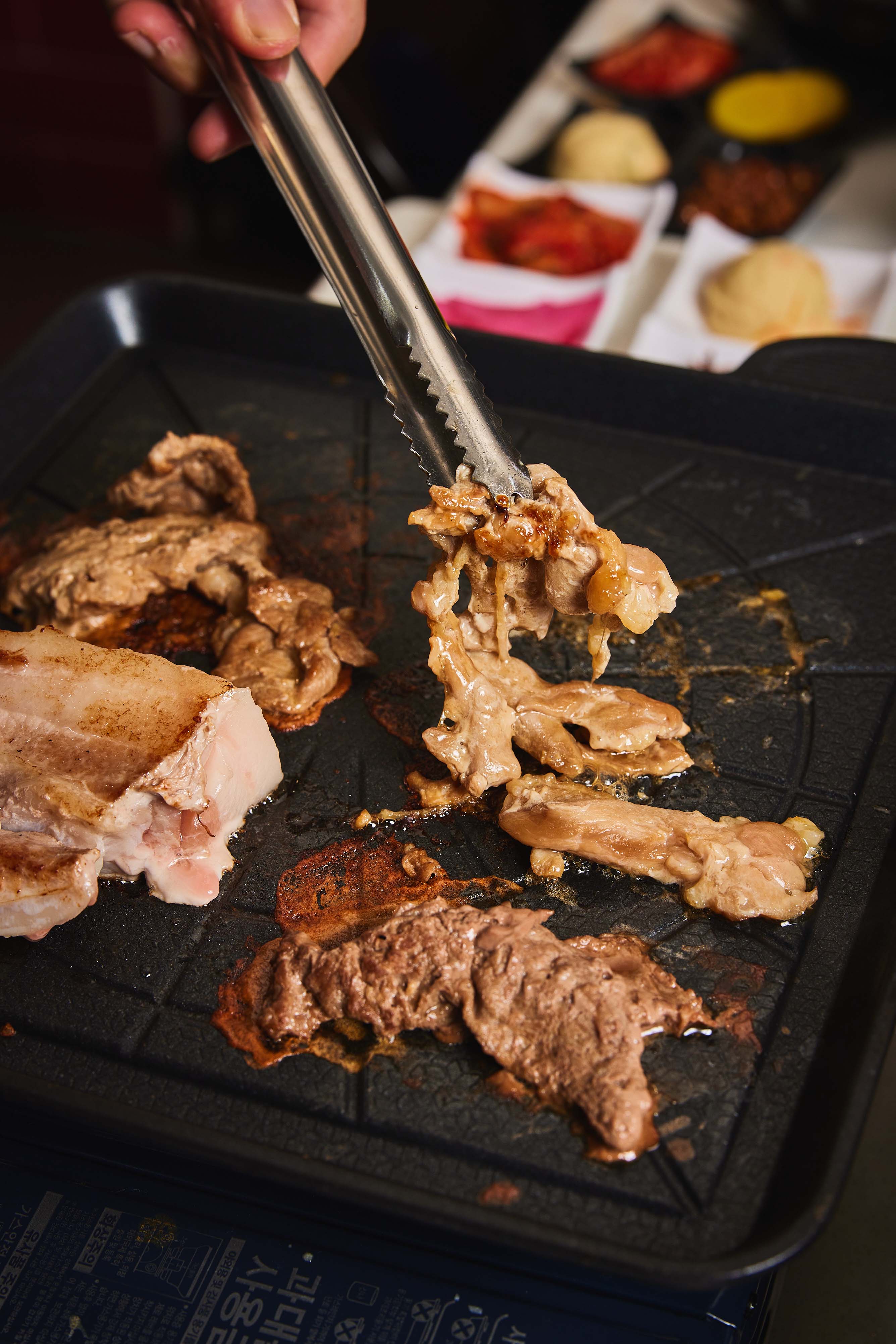 Bottom line
We wouldn't say Noona Korean Kitchen is the kind of stall that you should travel all the way to Bedok for if you stay in, say, Jurong. But the Korean nosh here is homely and cooked with heart (order the standout a la carte dishes like seafood tofu soup, pork belly rice bowl and seafood pancake), and its price for a free-flow K-BBQ and army stew meal is very easy on your wallet.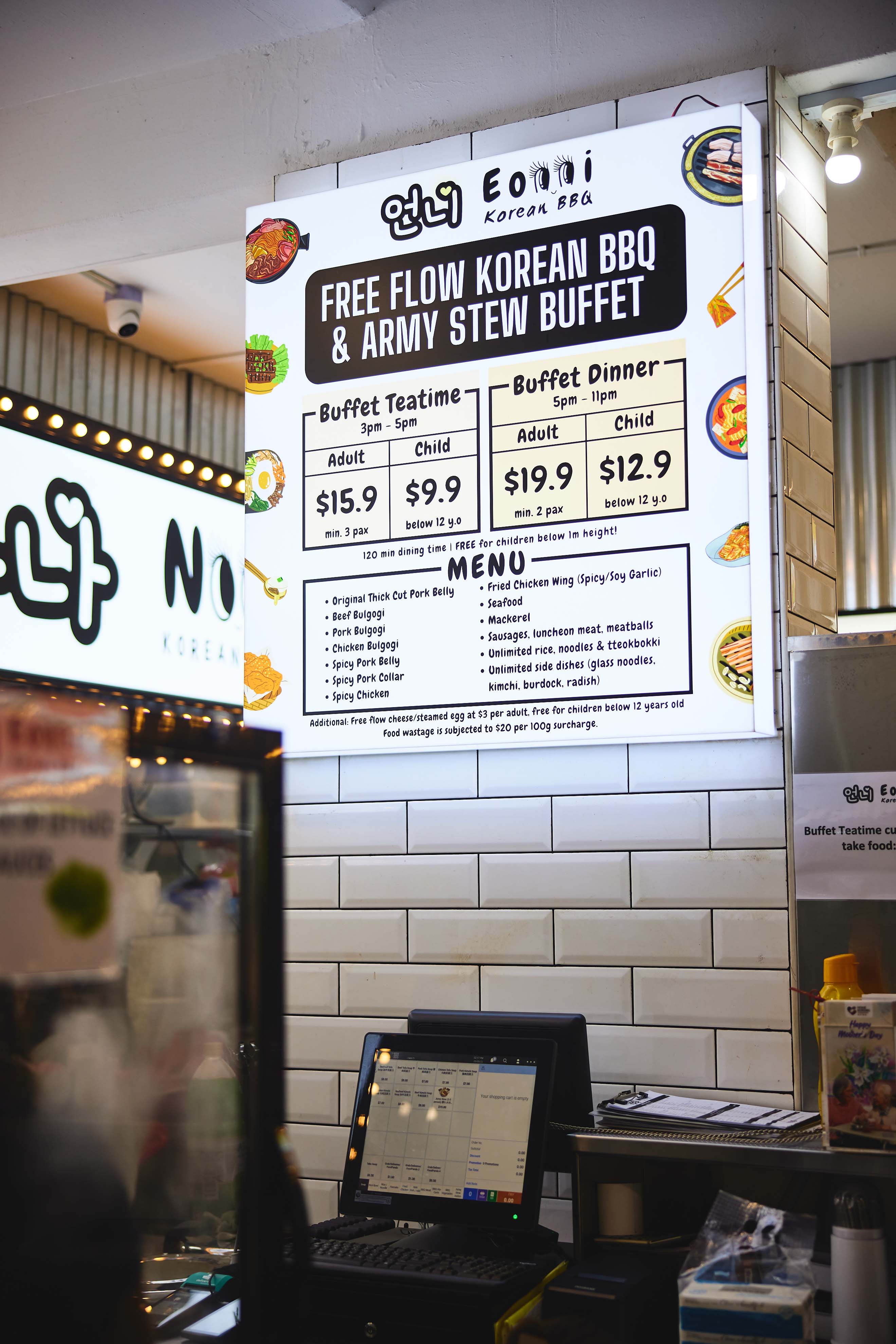 The details
Noona Korean Kitchen is at #01-55, Blk 418 Bedok North Ave 2, S460418. Tel: 8488-6768. Open daily, 11am – 9pm. More info via Facebook and Instagram. Order via Deliveroo, Foodpanda and Grabfood.
Noona Korean BBQ is open daily, 3pm – 11pm. More info via Facebook and Instagram.
Photos: Alvin Teo
No part of this story or photos can be reproduced without permission from 8days.sg.