Born in S'pore, he now lives in a S$180K tiny house in New Zealand where he DIY-ed most of the reno, including digging a hole for sewage
Instead of hiring a contractor, Singapore-born Fabian Low did most of the interior work himself.  "Now I don't take sewage for granted anymore."
Fabian Low was born and bred in Singapore, and moved to New Zealand when he was 15. After living and travelling around the world, the 43-year-old counsellor now lives in a 323 sqft tiny home in Auckland, a cheery, light-filled studio brimming with intelligent, functional design to maximise space, and oozes cosy vibes.
But this is not any regular house transformation journey, mind you. 8Days caught up with Fabian to find out more about his unconventional home renovation.
Fabian, whose home was recently featured on Living Big in a Tiny House, a YouTube channel that spotlights tiny homes around the world, explained in the video why he was drawn to tiny home living in the first place.  
"I was inspired mainly from a sustainable aspect, trying to minimise my lifestyle, to have less. And also the idea of owning my own place in an environment where the real estate market is inaccessible, I thought this might be a good way to get into the whole way of life," he said.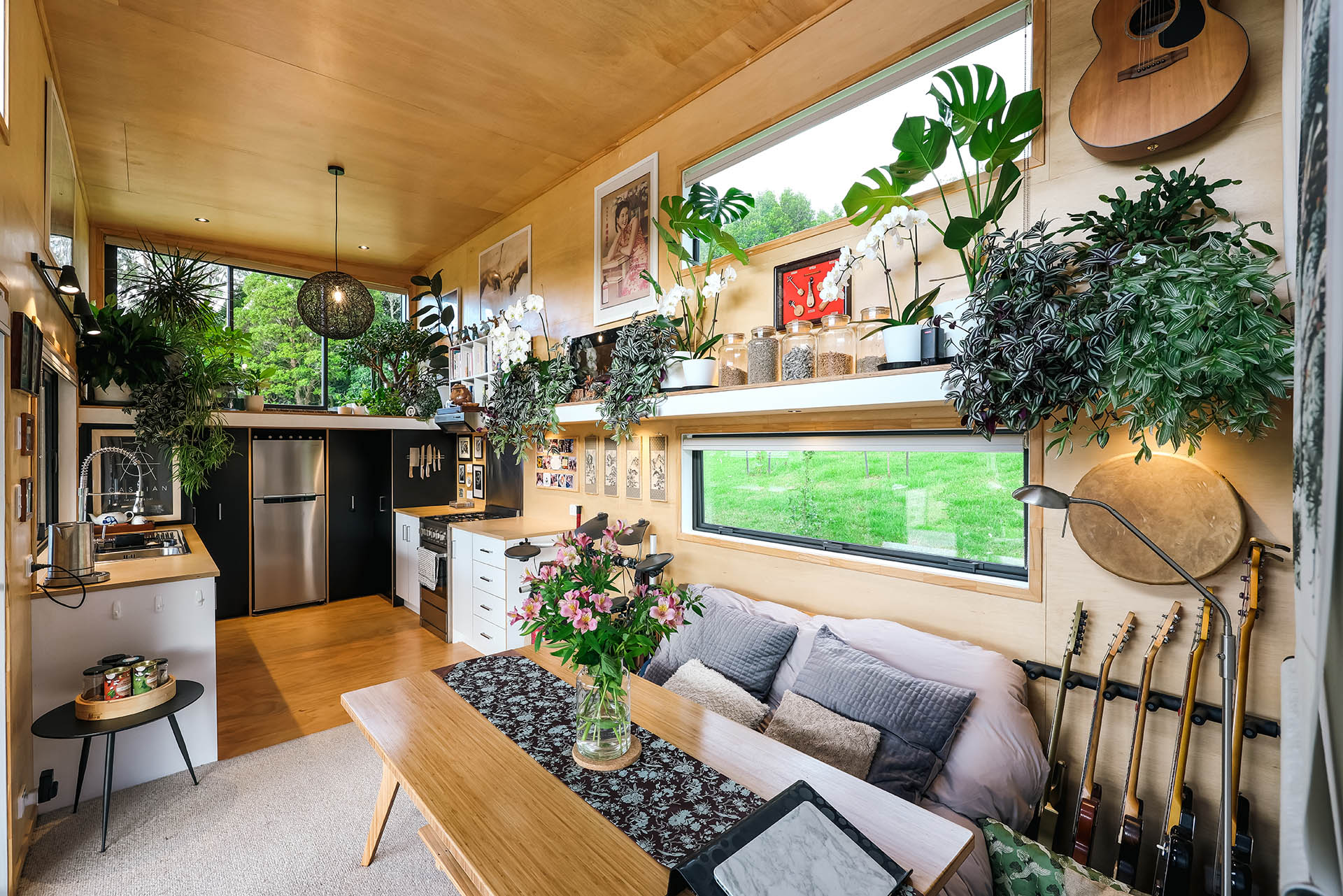 The sunlit studio appears larger than it seems, thanks to natural light, high ceilings and having clear zones, with a living room space, a kitchen with a mini loft area with full-length windows that, once fully opened, transforms into a balcony of sorts.
The mini loft area at one end of the house serves as an indoor garden, allowing Fabian to bring the outdoors in.
Building a tiny home with his own hands
The tiny house cost NZ$220,000 (S$180,597) and he pays NZ$270 a week to rent the land it sits on. On the same parcel of land, which measures "a few hectares", are his landlord's home and a house bus. Goats, alpacas and chickens live out in the yard next to a lush vegetable garden right outside Fabian's tiny home. Fabian and his partner, Stephanie, who lives part-time with him, tend to the veggie garden and take care of the livestock together with their landlords.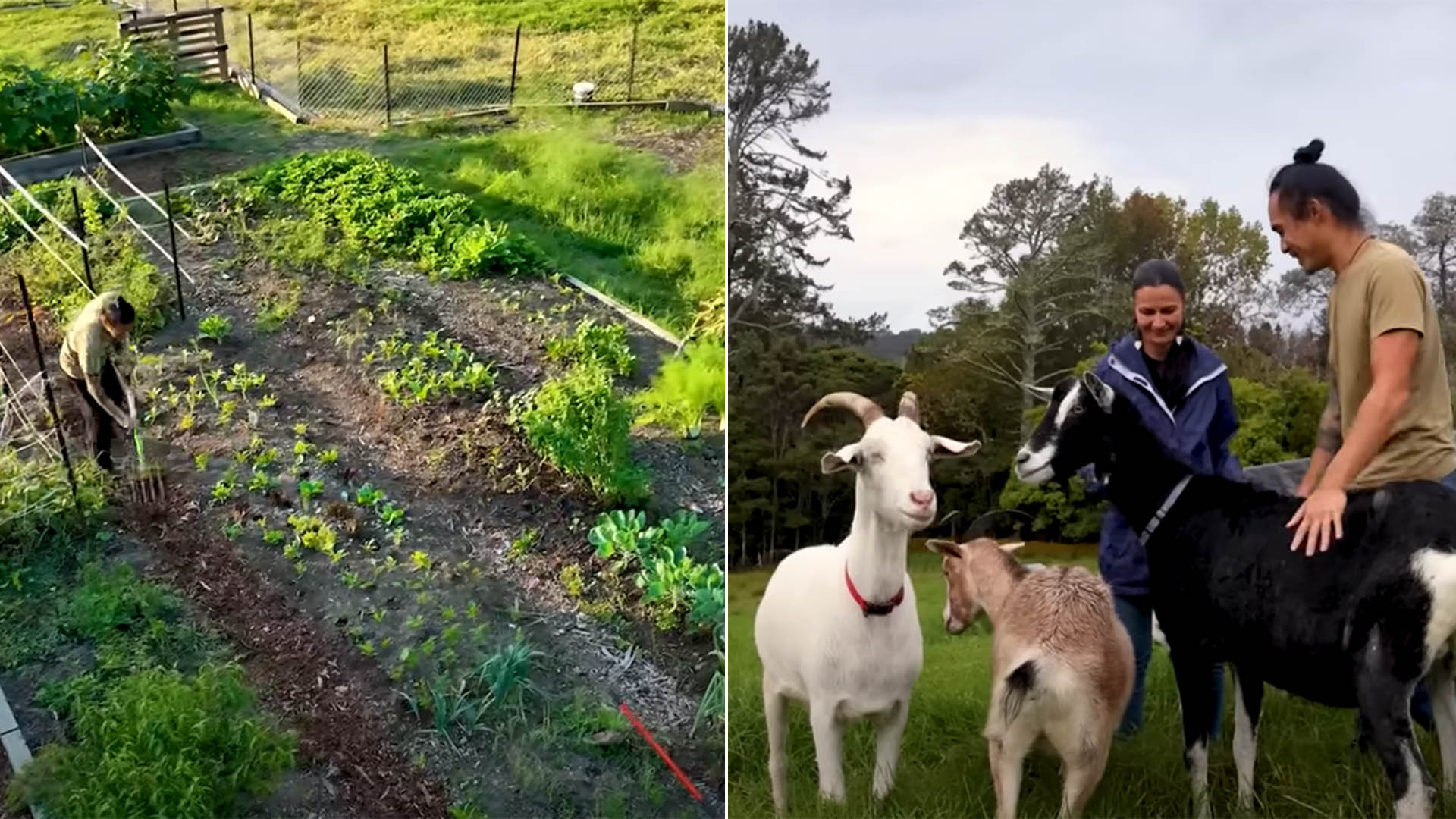 Living with goats and alpacas does have its quirks. "What the [YouTube] video didn't show is all the drama. Two nights ago, the goats escaped from the yard at 3am, and I had to herd them back. [They sound] like a screaming baby and start eating our crops. The white goat in the video keeps escaping — he enjoys food, like me!" said Fabian.
The tiny house was built by a tiny home construction company in New Zealand, and the shell of the home arrived already waterproofed, and most of the structures and fittings like the windows, doors and the kitchen were already installed.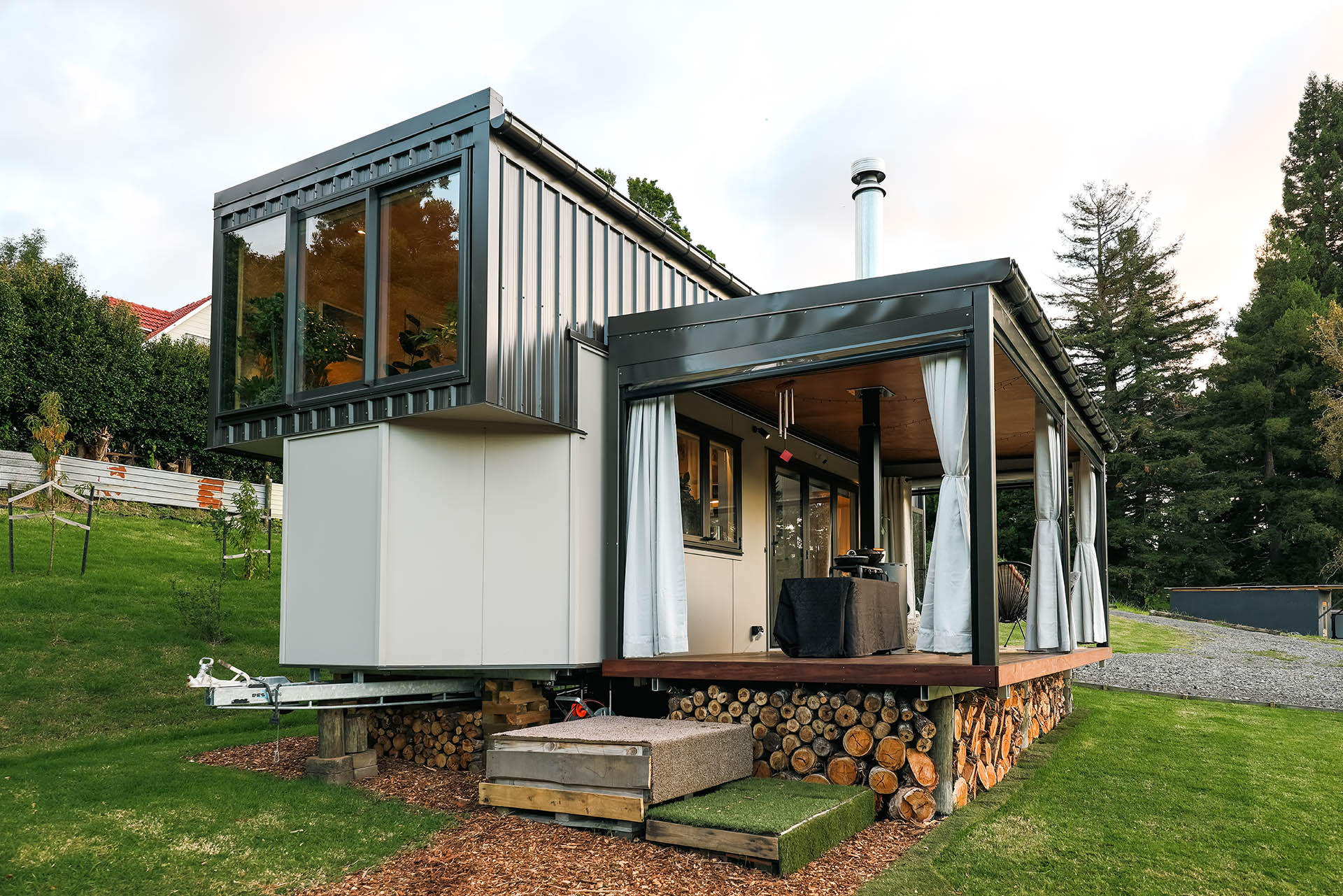 The tiny home structure was based on an existing design, with slight customisations.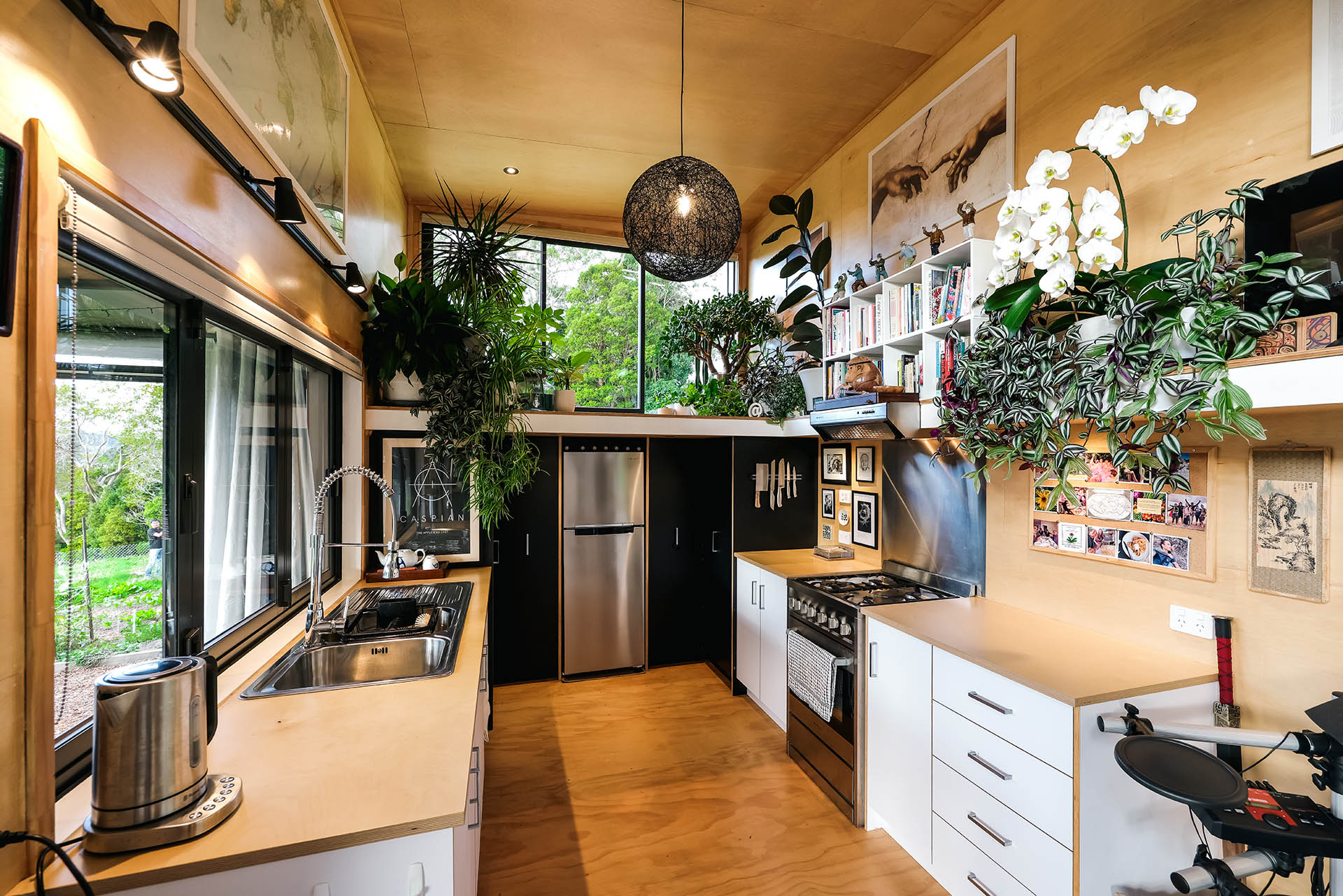 A kitchen that's spacious — by tiny home standards — was a must for Fabian who loves to cook.
As for the rest of it? Rather than hire an interior designer or contractor, Fabian designed it himself, drawing from his previous experience as a landscape architect (and he designed his parents' home in New Zealand too). Not only that, he also worked on the home's amenities and interiors himself, from wallpapering to installing sewage. We know, for most homeowners in Singapore, that's practically unthinkable.
"The reason behind doing it myself is that I want to have a part in doing the actual work," Fabian told 8Days. "I would have loved to do the entire build myself but that requires some sacrifices — I have a full-time job — and I did not logistically have the right construction space, the appropriate tools and people to assist me."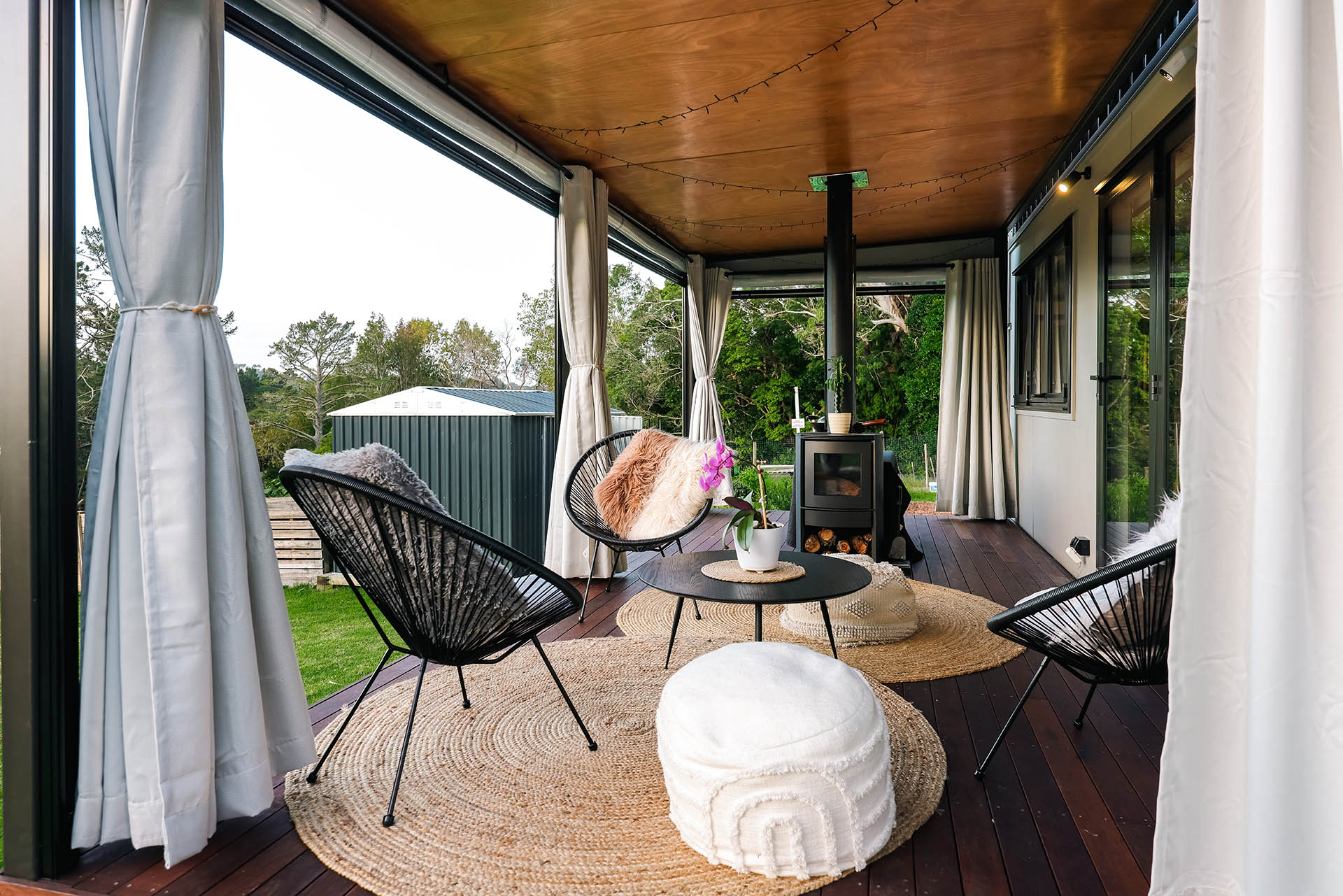 Fabian also constructed the outdoor deck, which not only serves as the perfect spot to chill out or to host guests, but has an outdoor kitchen stove for heavier cooking as well.
The home was delivered even before Fabian found land for it to sit on, a process that proved to be tricky. As a result, it had to be stored at a storage yard, where he worked on building the interiors for two months. To make things more challenging, there was no access to electricity or water at the storage facility.
"Going to the storage yard [felt like I was] going to a remote place. I couldn't even wash my paint brushes — I had to bring them back home to wash them. I couldn't use the sink or anything cos there was no electricity. Everything was battery powered," he explained to 8Days.  
The feature wall behind Fabian, where a painting takes centrestage, was cleverly designed such that it conceals a wardrobe, bathroom and stairs that lead to a loft bed.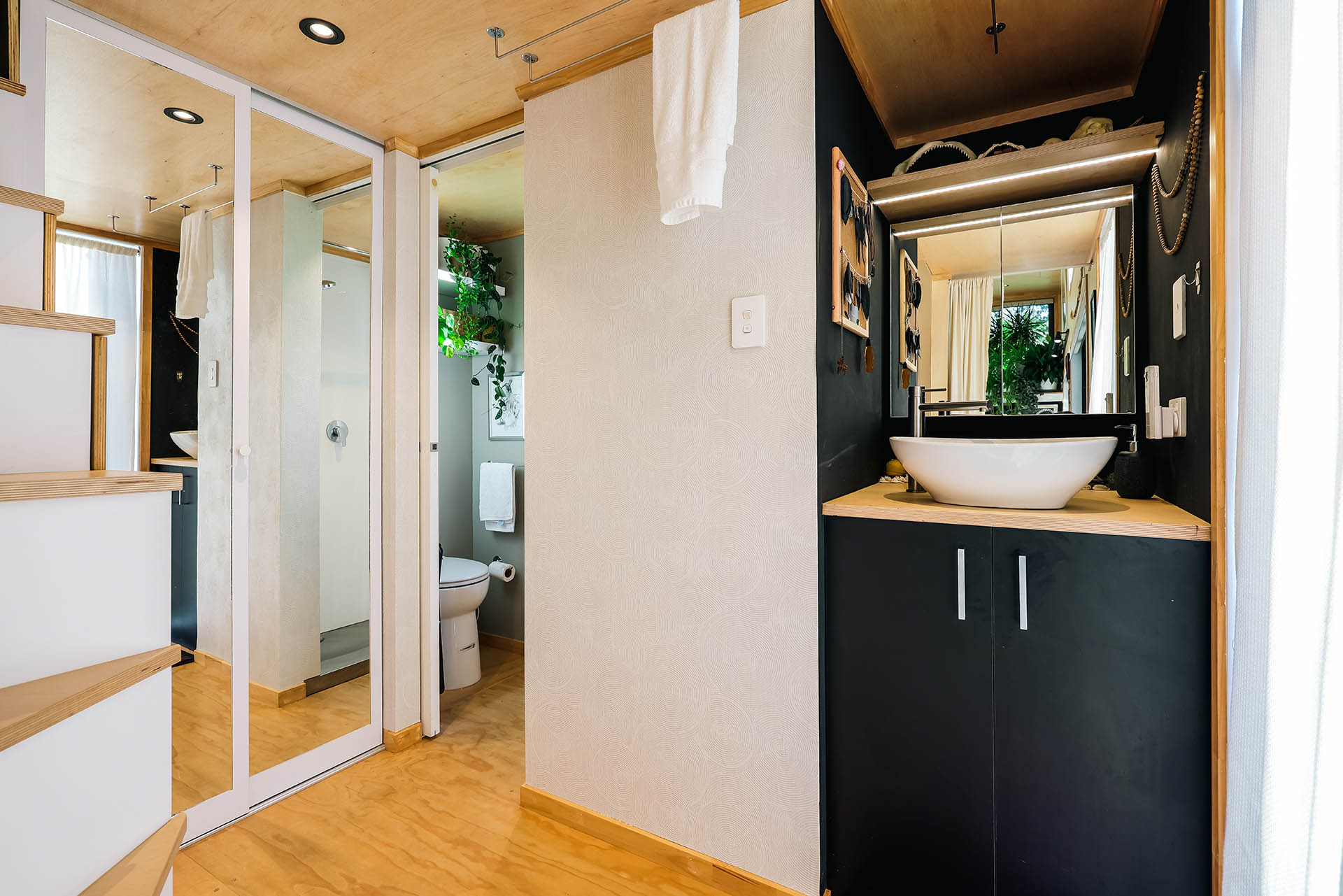 Here's what's behind the wall. On the left, a walk-in wardrobe big enough for two, storage space hidden in the stairs, a sink outside the shower so that guests can access it even if the bathroom is occupied. This multi-functional area can also be accessed from outside by way of a second side entrance ("I call it the staff entrance").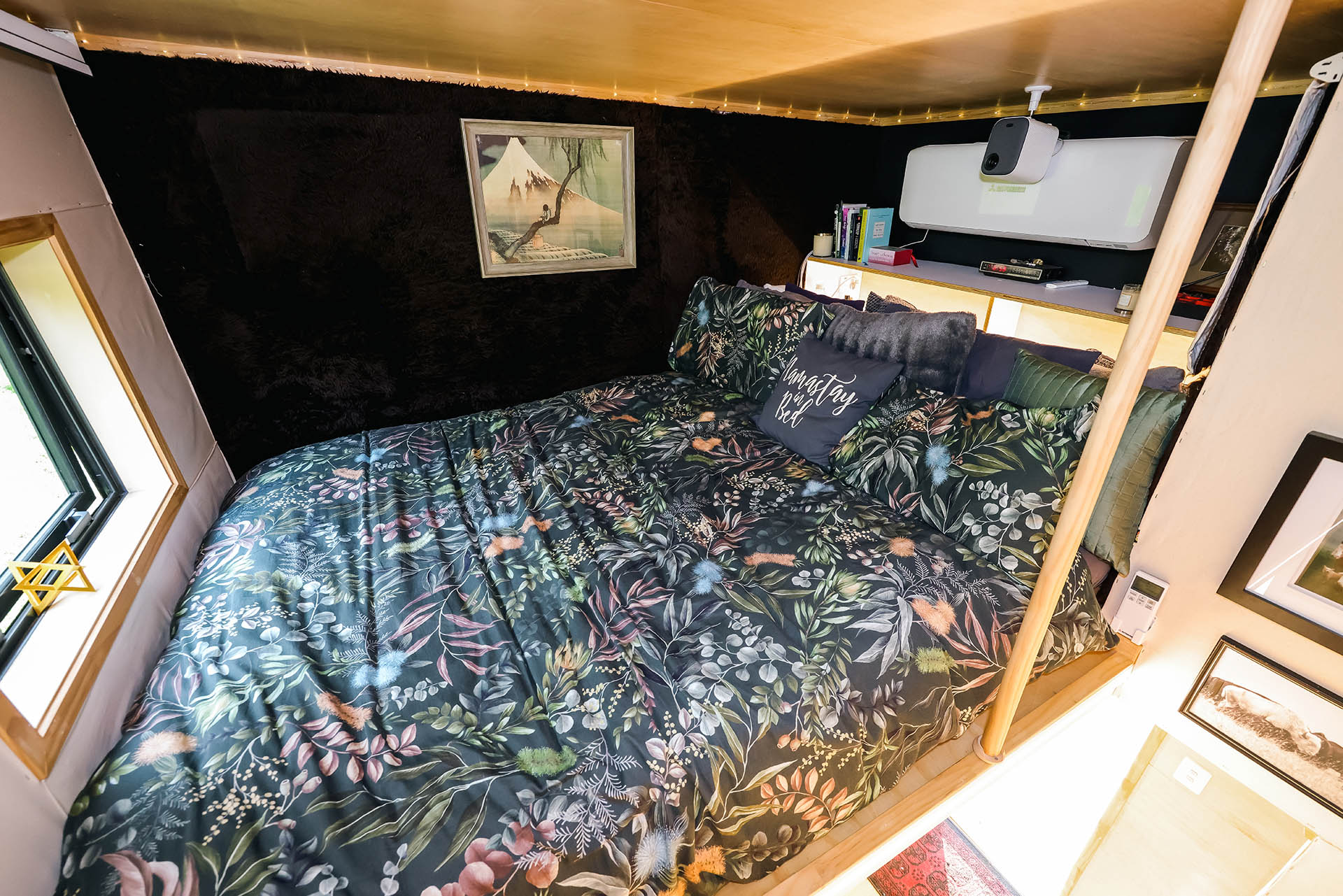 The loft bed, replete with a dark furry textured wall, may be a cosy nook, but it's packed with functional design. There's an aircon and a window for ventilation. A projector screen above the window can be pulled down for movie nights, and doubles up as blinds for privacy too.
Learning the handy skills required was one of the challenges that he faced. While he occasionally had friends to help with parts of it such as wallpapering, most of it was done himself. He learnt everything by watching videos, asking people at the hardware stores, talking to manufacturers and more.
"Trying to learn how to do the varnishing, even filling the holes in the walls for the nail, learning how to do plumbing and electricity — I did it all myself," he quipped.
There were plenty of unexpected surprises along the way as he was finishing up the place. Things like getting the right electricity cable and extension to run into his tiny home took a couple of tries. "I had to learn how to customise the cable, which set me back by about NZ$1,000. Costs do escalate as a result of not knowing things here and there. If I make a mistake, the mistakes cost money."
But one of the most arduous tasks has to be installing the sewage system. "Now I don't take sewage for granted anymore," he chuckled.
"I had to dig a huge hole, put in a tank, and figure out how the tank is going to work. [When I say] digging the hole, I used to do trenches in the army and we used to complain it was muddy and all and having to do it all night. But you try digging that in the middle of summer when the ground is rock hard and there are so many bricks underneath. It's not soil. Its brick, debris and construction things buried in the ground that you don't see."
He can't recall how long it eventually took him to finish the job, but "I went a bit crazy and [joked] that I was digging my own grave."
Born and bred in Singapore
Fabian's tiny home is by no means his first time living in a unique place.
Growing up in Singapore, Fabian lived in an apartment on Pulau Bukom. "My dad was working with Shell and the apartment was provided by the company and it's quite a spacious apartment," he elaborated.
He was studying in a "well-known school in Singapore" but moved to Christchurch where he lived in a "standalone, regular house". His family, too, had moved to Christchurch. Fabian returned to Singapore for National Service and lived in a maisonette in Tampines alone.
He later returned to Auckland and lived in a shoebox apartment that was about 269 sqft in the Central Business District. "But there were hardly any windows and I felt really trapped in that space. There wasn't any greenery, the apartment faced a car park, in fact. It was quite soul-destroying," he quipped.
He later moved to Vancouver for a while where he lived in a shared house, which was in a large part, why he was inspired to live in a tiny home. "In Vancouver, they take the housemate idea to the next level, especially in my community where people believe more around intentional living. [So you find housemates based on] your values and hobbies, so you're [living with] like-minded people."
He brought that way of living into his current living arrangement, where he and Steph, together with their landlord, are aligned on certain things, such as tending to the veggie garden and livestock together as a mini community.
Steph and Fabian
At the end of the day, if there's one thing that building the tiny home has taught Fabian, it's "the possibility to be very creative with the space you've got."
"It's about thinking outside of the box but within the box. If you don't have a lot of nature [around you], you can work on having plants in the house. A living room doesn't have to be just a living room. You can be creative with the multi-functional aspect of living."
 Watch the video of the home tour here:
No part of this story can be reproduced without permission from 8Days.sg.
Photos: Living Big in a Tiny House