Cafe-Inspired Brunch Fare Including Fried Chicken & Waffles For $8.90 At Hawker Stall In Kovan
Bread First Everyday is helmed by an ex-restaurant head chef. It serves tasty scrambled eggs, rosti and more. 
Tucked in Mee Sek coffee shop in Kovan, which also houses popular joints Ponggol Nasi Lemak and Qi Xiang Chicken Pot, Bread First Everyday is a one-month-old stall that serves all-day brunch and classic Western fare like Swiss-style rosti, chicken chop, burgers and fried chicken and waffles.
No part of this story or photos can be reproduced without permission from 
8days.sg
.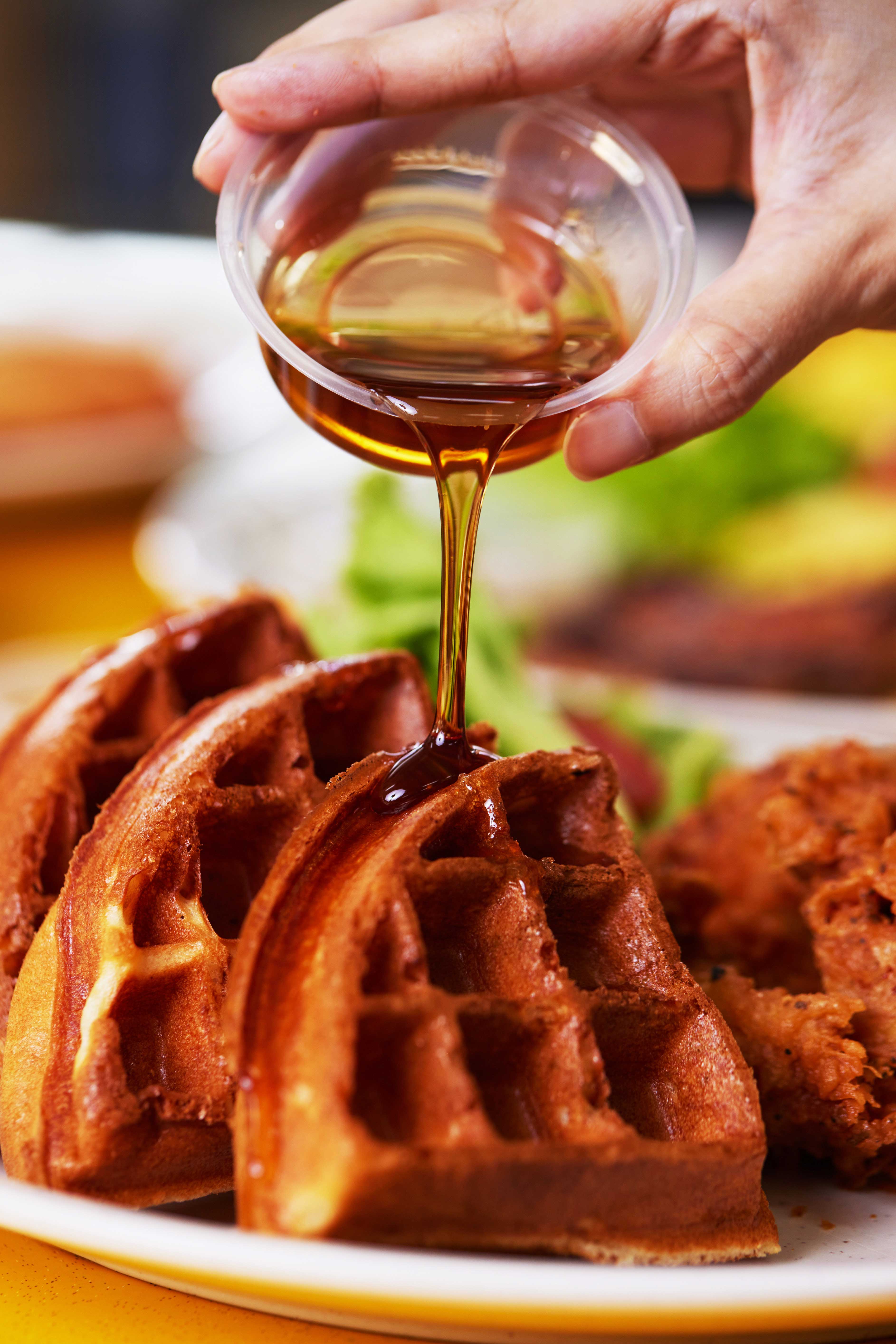 Owned by Qi Xiang Chicken Pot bosses & ex-Nara Thai restaurant head chef
Surprisingly, the western stall's owners include Lex Loi, 39, (left in main pic, sitting) and Zen Neo, 34, (right in pic, sitting) who run Qi Xiang Chicken Pot – a four-year-old stall famous for its claypot chicken steamboat in the same kopitiam. They also own Qi Xiang Hotpot, a steamboat restaurant in Boon Lay that opened last year.
The two partners help out occasionally at Bread First Everyday – a wordplay on the stall's breakfast-themed menu – while the stall's third co-owner Chua Keng Ling, 34, (right in pic, standing) who goes by the nickname Bear because of his lanky appearance, helms the kitchen. He's assisted by hired cook Michelle Tan, 28, (left in pic, standing).
Lex explains the seemingly incongruent theme of their newest venture. "We asked our childhood friend Bear to join our business last year and wanted to open a new concept that plays on his strengths," he says.
Armed with a culinary diploma from
local vocational school
ICASTEC, Bear has been working as a chef for almost two decades, including a ten-year stint at the now-defunct Nara Thai Cuisine, a Thai restaurant located at ION Orchard, where he served as the head chef.
Why is a former chef from a Thai restaurant cooking hawker Western grub now?
Even though he spent the majority of his career cooking Thai food, Bear says he has always wanted to open a cafe that serves Western food. "Over the years, I've learned to cook many different cuisines but my dream has always been to open a cafe that sells Western food," shares the chef-turned-hawker. Before working at Nara Thai, Bear learned to cook various western and asian cuisines at Hotel Royal, the central kitchen of Suntec Singapore Convention & Exhibition Centre and now-defunct Spanish restaurant Zsofi Tapas Bar in Little India.
Despite its name, bread isn't quite the primary dish on the menu here — the signatures include waffles, rosti and chicken chop. The stall's milk bread is sourced from a local bakery, who bakes the bread according to the Bread First Everyday's specifications for a softer and sweeter loaf, while the burger buns are from a supplier.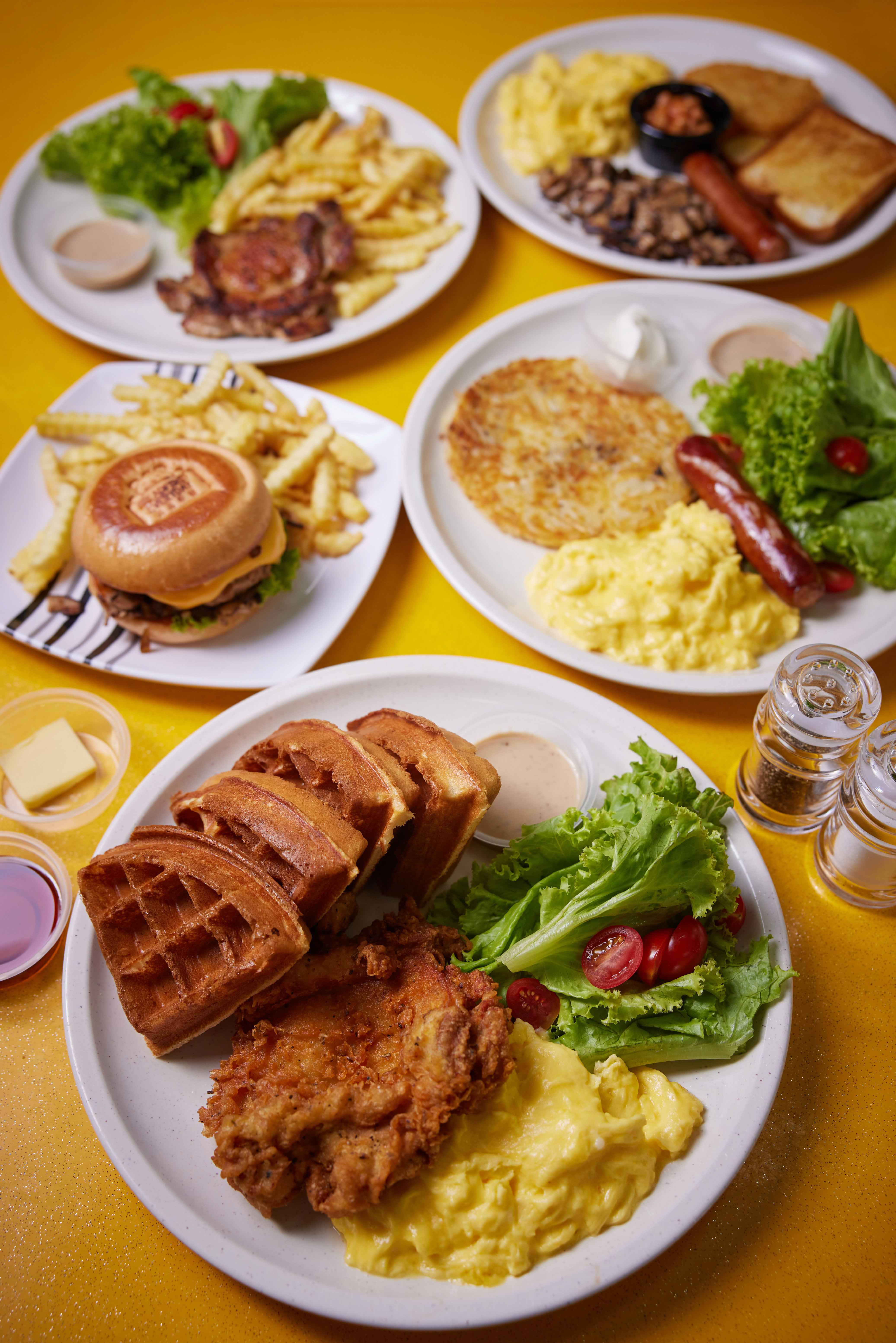 A random idea that took off
"We were brainstorming ways to improve our business at Qi Xiang Hotpot and thought of offering a small all-day western menu to attract more customers during lunch hours," shares Lex. "We thought it would help to improve sales as most of our customers only come for dinner."
Why western breakfast items, though? "We had similar food one day while eating out and thought we could offer something similar, but at affordable prices and a more generous portion. I already knew how to make most of these dishes and thought we could give it a try. It's also something kids can enjoy if they don't want to eat hotpot [at the restaurant]," explains Bear.
They started offering items like rosti, sandwiches and breakfast sets at the steamboat restaurant early this year. "We had positive feedback and saw the potential in opening a concept that specialises in breakfast food," says Lex. When a stall unit at the same Kovan coffee shop where Qi Xiang Chicken Pot is located became available, the trio snapped it up. "We thought it's a good place to start because we can support the stall [while running Qi Xiang Chicken Pot]," he adds. The pals aim to open a Bread First Everyday cafe someday.
Tough start due to unexpected crowd
The one-month-old stall faced some unexpected challenges recently after earning a feature on a lifestyle website in mid-July. "We didn't know about [the feature], and were surprised by the crowd that showed up that weekend," says Lex. 
Some wrote one-star reviews on Google – a couple of customers claimed they waited more than an hour for their food to be ready ."Rosti takes a longer [cooking] time so we can make it crispy and not oily [which added to the longer waiting time]" shares Bear. 
"We were overwhelmed. The paging system was spoiled, so we couldn't let them know [quickly] the food was ready. Our staff had to bring the food to their tables on top of manning the cashier," explains Lex. "We wanted to grow the business slowly so we were worried [after experiencing the unexpected crowd]. We've learned to be more prepared now."
The long queues were a one-off occurrence following the media mention, according to the owners. The stall is slightly busier on weekends, serving around 50 sets of their signature chicken waffles and rosti platter each.
Chicken Cutlet on Waffle, $8.90 (8 DAYS Pick!)
Crispy on the outside and light and fluffy in the middle, the waffle boasts the requisite eggy fragrance and forms a yummy vehicle for the accompanying maple syrup and butter. The chicken cutlet is juicy beneath its crunchy, peppery shell, while creamy scrambled eggs add a lovely textural contrast to the platter. To keep the meal from becoming too heavy, there's also a simple garden salad with sesame dressing on the side. 
Rosti Platter, $8.90
The delicate shreds of Idaho potato – prepped daily by the team – retain their shape and offer a pleasant, light texture as we bite into the pancake, which has a crispy exterior thanks to the hefty amount of butter used. Seasoned simply with salt and pepper, the rosti goes perfectly with a smear of sour cream served on the side. Together with silky scrambled eggs, juicy smoked pork bratwurst and garden salad, this makes a light but satisfying meal.
Smoky Chicken Chop, $7.90
Well-seasoned chicken thigh boasting strong, smoky flavour from the griddle and addition of liquid smoke to the meat before cooking. The chook is satisfyingly succulent, though we found the butterflied portion – served with fries and salad – a little petite and not quite filling enough for hearty eaters.
Hungry Breakfast, $9.90
A standard breakfast set with scrambled eggs, pork bratwurst, baked beans, hashbrown, mushroom and two slices of buttered toast. The milk bread is soft and has a pleasant, slightly sweet fragrance – we wish it was sliced a little thicker to accentuate its tender crumb. We liked the garlicky sauteed mushroom and creamy, fluffy scrambled eggs best.
Handmade Pork Burger, $7.90 (8 DAYS Pick!)
Bear wanted to offer a pork burger rather than the usual beef version as "quite a lot of older [heartlanders] here don't eat beef". His creation features a thick house-made pork patty between standard buns from a supplier stamped with the stall's cute logo. The stack is dressed with sliced cheese, caramelised onion and sauteed mushroom, which added a lovely medley of sweet-savoury flavours and textures to the juicy burger. This is one of the better pork burgers we've had from a kopitiam stall.
Bottom line
Affordable, hearty breakfast items with simple flavours and well-executed elements like creamy scrambled eggs and crispy rosti. We especially enjoyed the cafe-inspired fried chicken with waffles and the old-school, homey taste of the house-made pork burger. Hopefully the standard of the cooking here remains consistent even when head chef Bear no longer helms the kitchen daily.
The details 
Bread First Everyday is at Mee Sek Food Court, 965 Upp Serangoon Rd, S534721. Open daily except Tue, 9am-5pm. More info via Facebook.
Photos: Kelvin Chia
No part of this story or photos can be reproduced without permission from 8days.sg.