Cast Of Police And Thief Reunite; Mark Lee Reveals He Didn't Want To Act In The Sitcom At First 'Cos Of His "Langgar" English
It's a good thing the actor got over his initial worry as the English sitcom is now considered "the last great series of Singapore's sitcom heyday", according to CNA's On The Red Dot.
On a recent episode of CNA's On The Red Dot, the cast of popular local English sitcom Police and Thief got together to reminisce about the six years they spent filming the show. 
Police and Thief ran for six seasons, from 2004 to 2010.
After all, the show basically lived rent-free in our minds back then, thanks to the catchy theme song, and the antics of the titular police and thief neighbours, Sergeant Dollah (played by Suhaimi Yusof, 53).and Lee Tok Kong (played by Mark Lee, 54).
The sitcom, which CNA described as "arguably the last great series of Singapore's sitcom heyday", found most of its charm in the endearing, 'ah beng speaking broken english' twist that Mark brought when portraying Tok Kong.
In fact, one of the first things Suhaimi said to Mark upon reuniting once again was this — "I remember the first time when I met you ah, I didn't know what the heck you're talking about".
Mark immediately retorted laughingly: "Sometimes, I myself also don't understand what I speak in English".
Yup, their chemistry is still there.
Watch the full video below to find out how Suhaimi was cast as Sergeant Dollah, and why he "didn't know what to feel" when he first got the role. Our story continues below.
The executive producer for the sitcom's first season, Ng Say Yong, shared in an interview that the idea for Police and Thief came about 'cos of Mark, who was appearing in shows like Comedy Nite back then.
Describing Mark as a unique comedic talent, Say Yong approached Mark, inviting him to do a comedy centred around an "ah beng character" played by the comedian.
After all, Mark had already been introduced to the world of English sitcoms through Phua Chu Kang, where he had a guest appearance as Lee Kok Peng.
"[But] I said cannot ah, my English is really, really ah, langgar [loosely translated as 'a wreck'] one you know," Mark said.
He went on to share that he initially rejected the producers, saying that he had "no time" to film the show. However, the truth was that he was actually "scared" of having to act in English.
Thankfully, the producers managed to convince Mark.
"Actually everyone can speak English, that's the unique thing that makes us Singaporean. It's just a matter of fluency lah," said Ng Chiang Meng, who was the head writer for the first season of the sitcom.
All about the 'S'. Here's Mark with his onscreen wife, former Mediacorp actress Margaret Lee.
However, Mark's worries did not end there. Though he ended up doing the show, he struggled with some of his lines, with Suhaimi bringing up two lines that he still remembers till this day.
Mark immediately collapsed in mock horror after hearing the first few words, recalling that it took him 45 minutes to perfect this line. It goes: "It is like I am Shaolin shifu [master]. I know 18 luohan style of kungfu. But the HDB people want me to use only two styles."
"Whether it ends with 's' or without 's', that was a very big problem on set," Suhaimi recalled, adding that Mark found it difficult to remember which English words ended with an 's', and which words didn't.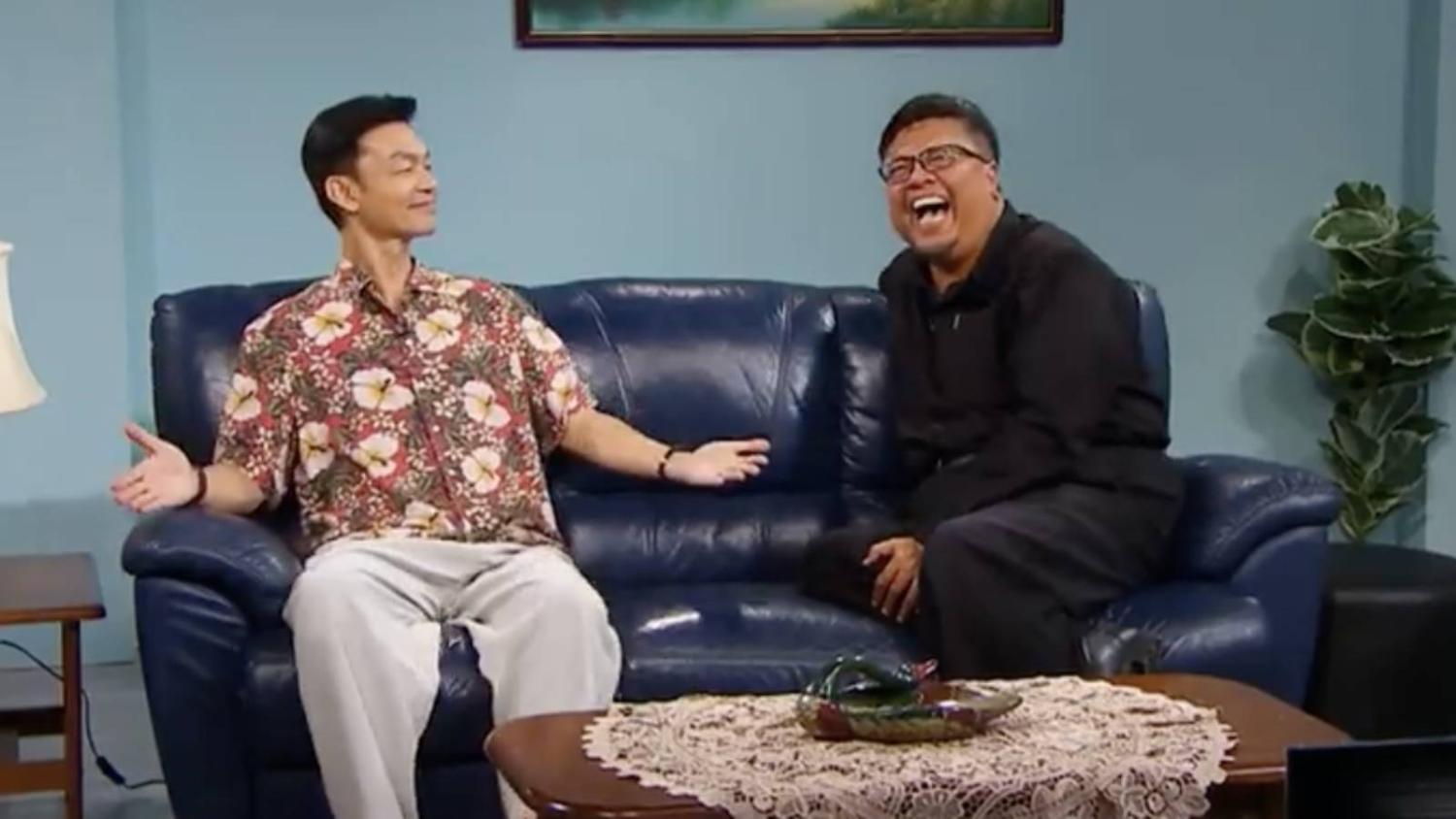 He's got it, alright.
The other line Suhaimi brought up was relatively simple, when compared to the previous one — "One day I won't be surprised to see you on the cover of FHM".
However, Mark shared that he had problems pronouncing FHM, and that it took him "about half an hour" to get those three letters right.
Finally, there's one line that Mark's particularly proud of getting right — "You can't judge a book by its cover", which he managed to deliver with a posh accent on the show.
So, don't go judging Tok Kong by his 'ah beng' cover, okay?
You can catch all seasons of Police and Thief on meWATCH here. The first episode of Season 1 is embedded below.