Char Siew Hawker Who Won $1Mil Toto Prize Opens 2nd Outlet; Wins Toto Again This Year
The hawker behind Char Siu Lang missed out on the $2Mil Toto prize by a single digit earlier this year – guess how much he won? His new stall opens soon in Ang Mo Kio.
Char siew hawker Ivan Leong considers himself a "lucky" man. But don't just take the 34-year-old's word for it – let his Toto results do the talking. Back in 2013 – long before he quit his job as a financial advisor to start roast meat stall Char Siu Lang (a play on the Hokkien phrase cha si lang, which roughly means 'annoying people to death') in 2020 at Bukit Merah – he won $1 million in a lottery draw with just a $3.50 Toto ticket. He used his winnings to buy an HDB flat with his wife Stephanie Ng, 31, before giving the remainder to his parents.
This year, while "trying my luck during the Chinese New Year period" in February, he got lucky again. Well, sorta – he missed out on the $2 million Toto jackpot by one number, which meant he had to settle for a far smaller prize of "around $3K" instead. "Very heart pain," he says, before adding cheerfully, "This is the closest I've come since my first Group 1 win [in 2013]. Even if it's now only a Group 3 win, it's really not easy. I'm a lucky guy". Indeed. 
Foiled by one digit. Ivan nearly won the $2Mil Toto prize this Feb, but had to settle for $3K instead with his System 7 ticket (which earned him a bigger prize than what's shown in the above pic).
His roast meat biz is doing well, too: Char Siu Lang opens a second outlet at a coffee shop in Ang Mo Kio Avenue 1 on October 14, Friday. Head down early to score its signature charcoal-roasted meats such as roast pork and char siew fresh from the oven.
No part of this story or photos can be reproduced without permission from 8days.sg.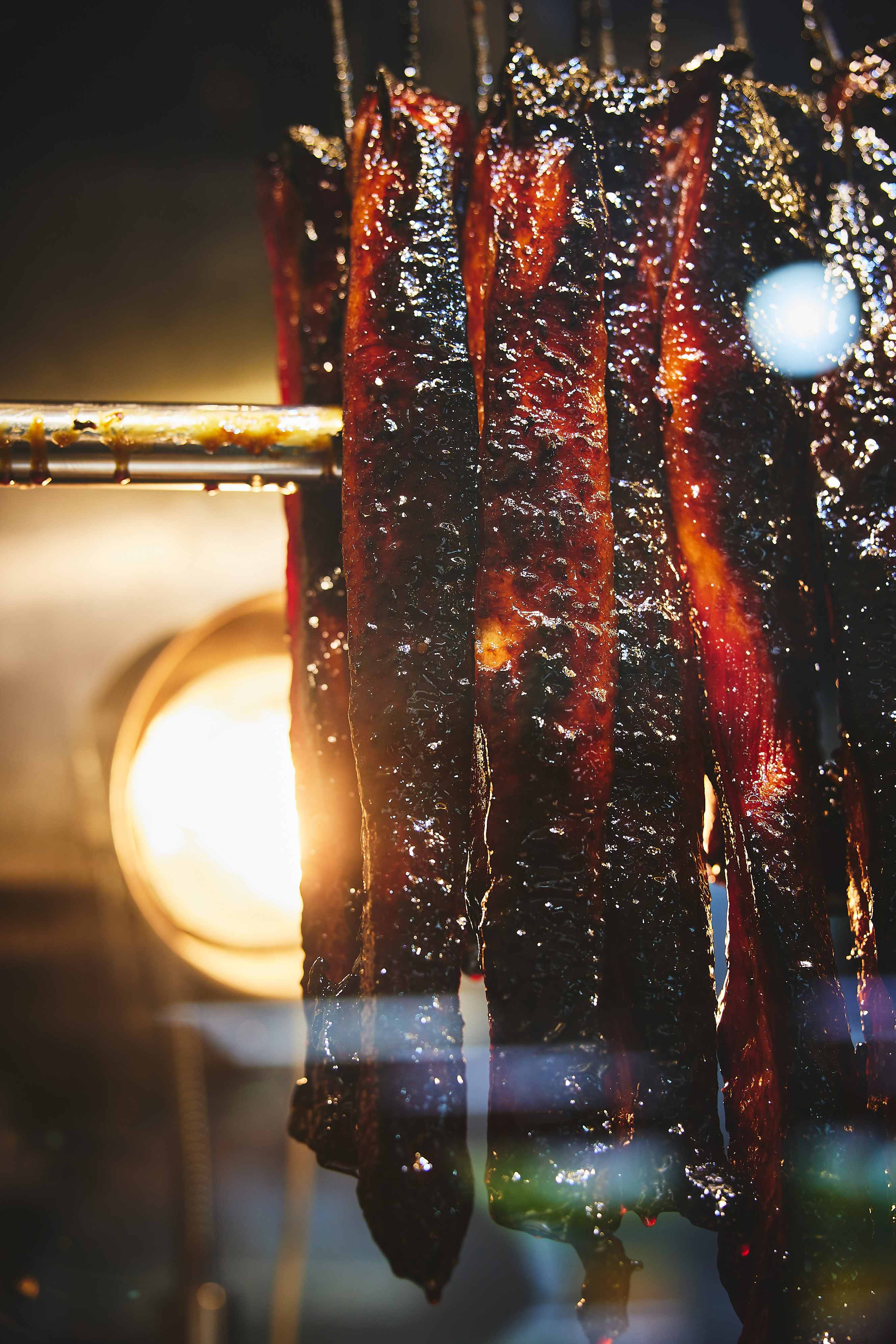 Queues now "around 15 mins" at Bukit Merah stall during peak periods
Long queues that sprouted at Char Siu Lang after 8days.sg's coverage of the stall have since abated to a more manageable wait, peaking at "around 15 minutes" during mealtimes, says the boss.
Location is key
"[I've had the idea to] expand my biz since quite a while back, but I was just biding my time and waiting for the right place and time. Location is very crucial – I don't just want to expand for the sake of expanding. I was looking at crowded hub areas surrounded by a lot of coffee shops with a nearby wet market, so that we will always have a crowd," he says. Thus, the new stall is located beside Teck Ghee Court Market and Food Centre in Ang Mo Kio. 
He and his business partner, Liu An Qi, 34, have added a third member – whose role centres around "handling backend legal matters" – to their growing brand. The new outlet, which cost around $30K to set up, was funded by their earnings from the first stall.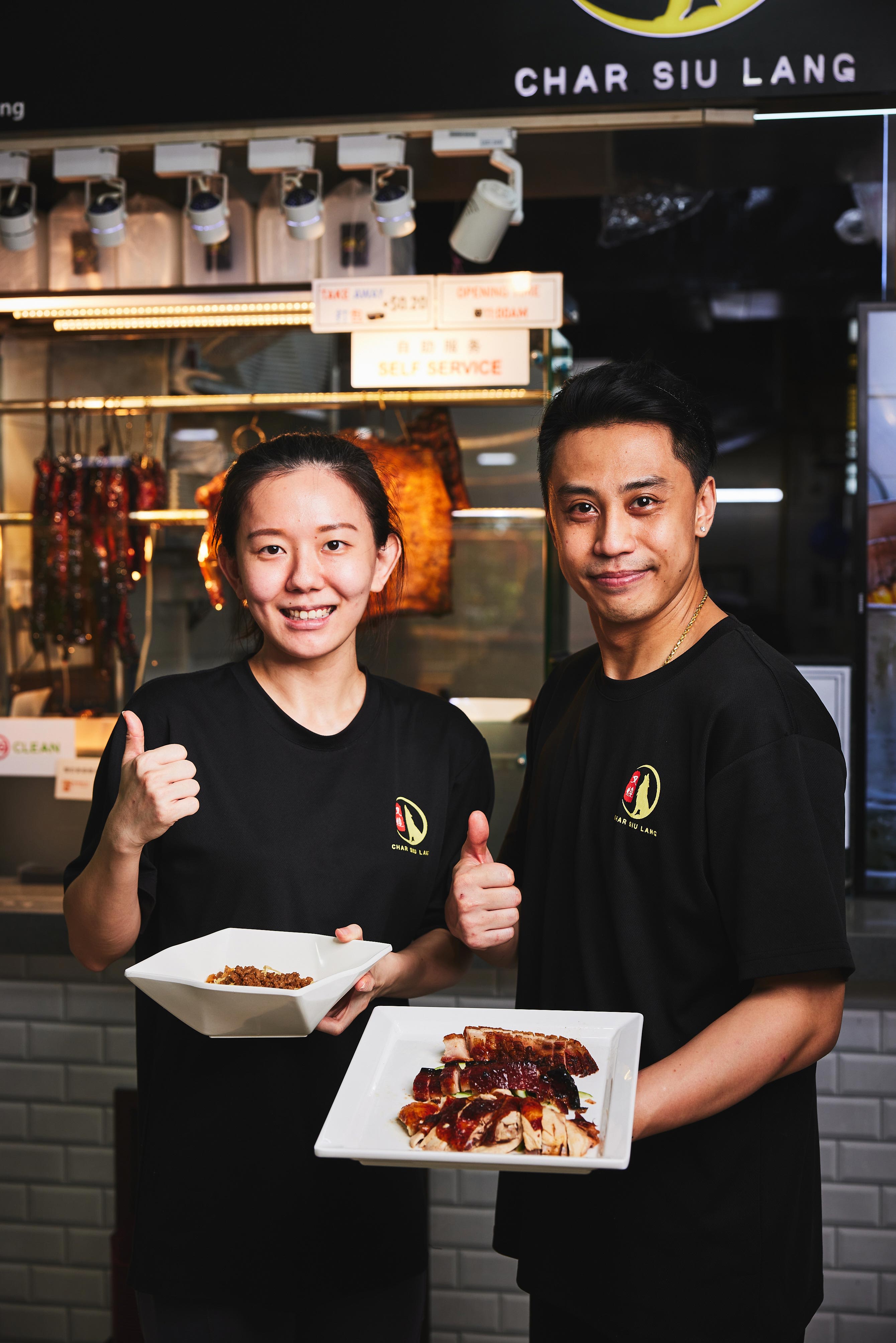 Towkay will helm AMK stall 
Ivan (pictured with his wife) will leave the Bukit Merah outlet's operations in the hands of his "trusted disciple", who's been with them since last May. Ivan will now do the cooking at the new outlet. The menu is identical at both stalls.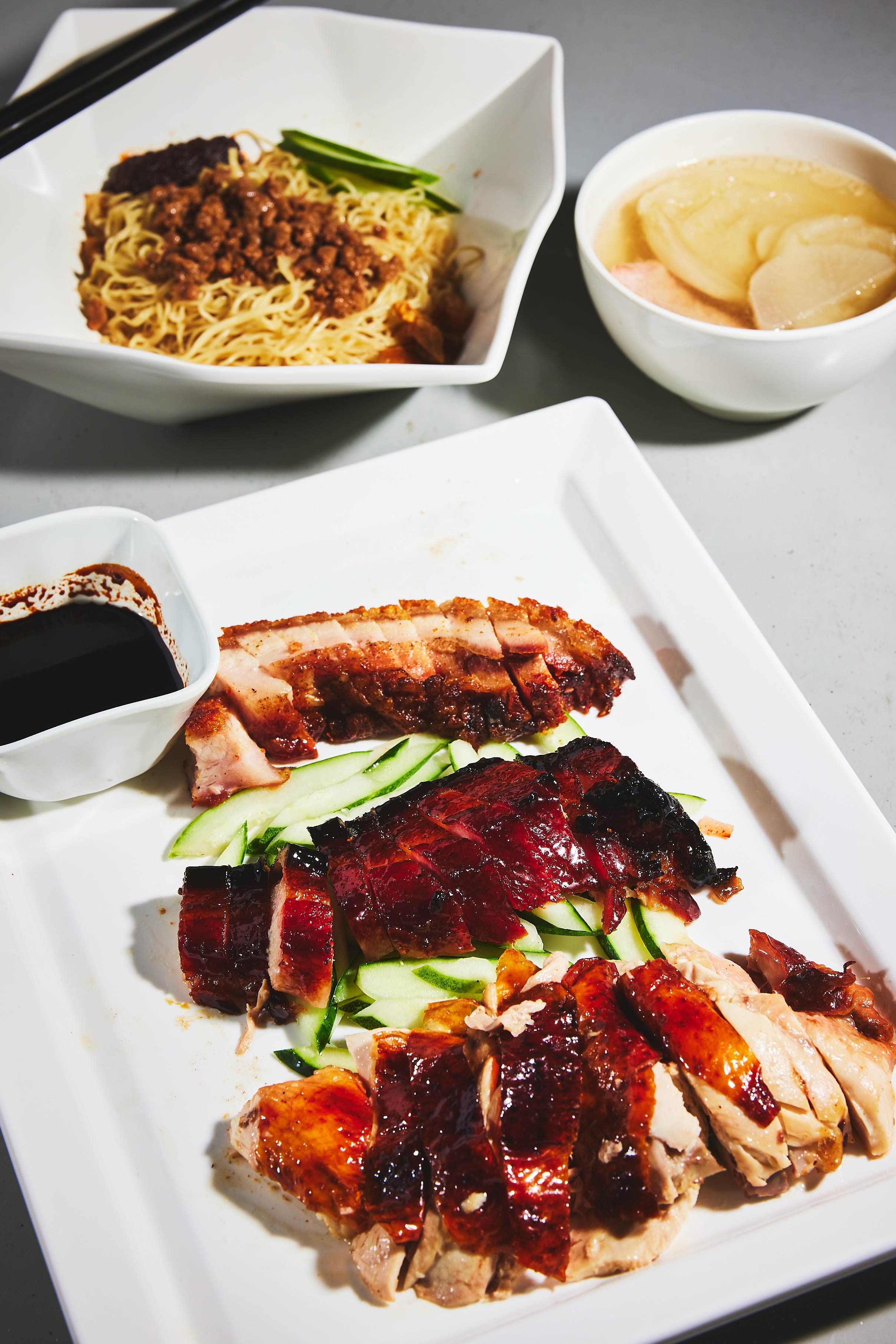 Prices slightly higher due to inflation
"Just about every ingredient we buy for the stall – literally everything – went up in price," says the hawker. "Because of the war, and this chicken issue [with Malaysia curbing exports] – prices for frozen chicken are so expensive now. I can say that chicken is much more expensive than pork (laughs)!" He is eagerly awaiting news from his chicken supplier now that fresh chicken exports have resumed from Malaysia.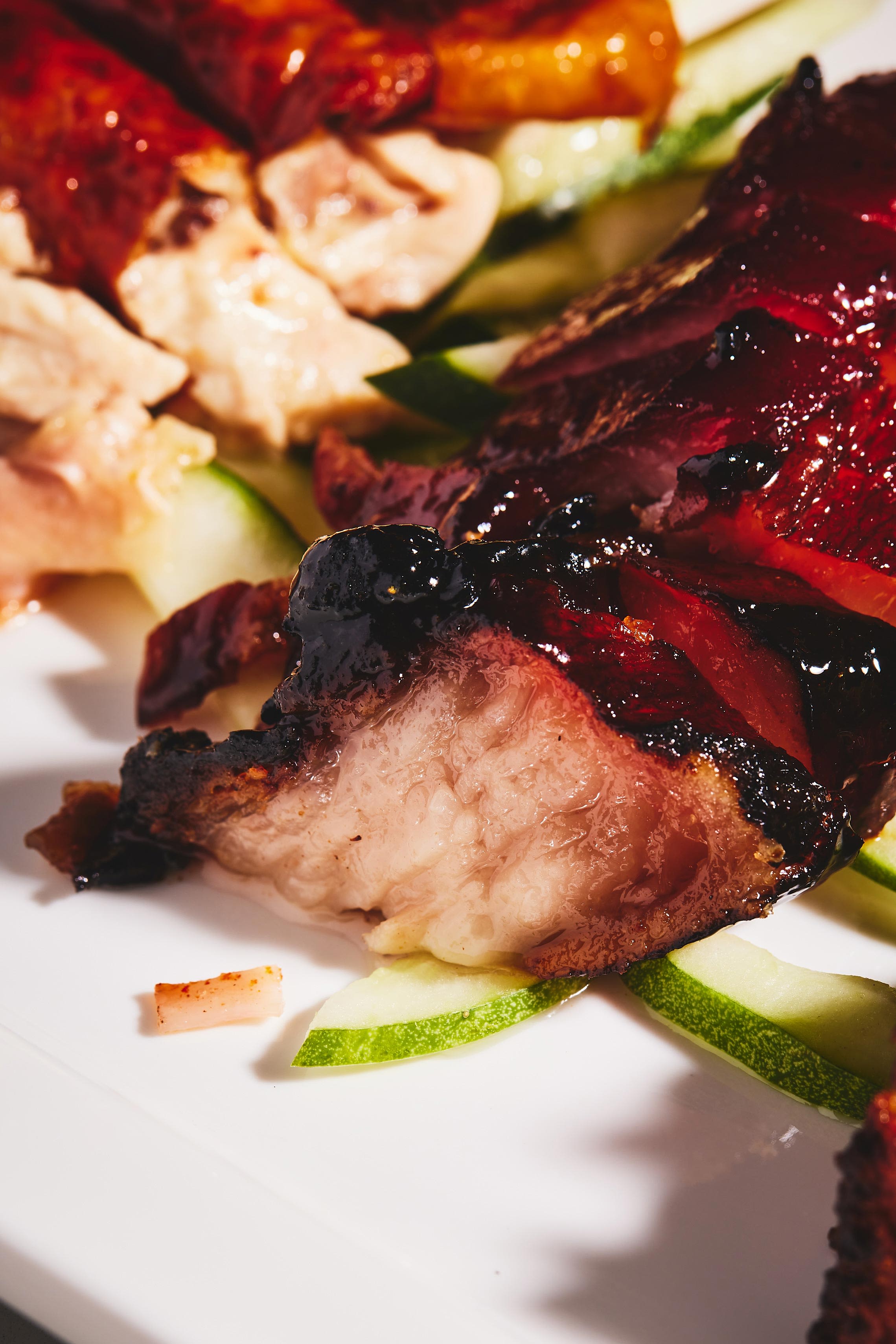 No surprise then that the trio of roast meats offered – char siew, roast pork, and roast chicken – are pricier than before. Char Siu Lang's scrumptious smoke-kissed char siew, cooked with fatty pork belly, costs $50 per kg now, up from $46 previously. It is also sold in smaller portions at $26 per 500g and $5.50 per 100g. The crunchy roast pork, juicy and unctuous, is similarly priced. Their not-as-yummy roast chicken costs $26 per bird, compared to $24 previously.
Individually-portioned plates with one choice of roast meat on rice used to cost $4, but now goes for $4.50.
Gambling is not a science
Any advice on how to tio beh pio (Hokkien for winning the lottery)? Unsurprisingly, Ivan has none to give. "No tips lah. I just buy Quick Pick (where the system automatically picks numbers for you) when I want to [occasionally] try my luck for big jackpots," he says breezily. "I'm not superstitious about which Singapore Pools outlet I visit – just whichever is nearby." 
Fun fact: he bought his million dollar-winning ticket in 2013 from the SP outlet at Chinatown Point, while his $3K ticket earlier this year came from an Alexandra Village one.
The details
Char Siu Lang's second outlet opens on Oct 14 at #01-1697, Blk 340, Ang Mo Kio Ave 1, S560340. Tel: 9677-5212. Open daily except Wed 11am – 7pm. More info via Facebook & Instagram.
Char Siu Lang's original outlet is at #01-5134, Blk 2 Jln Bukit Merah, S150002. Open daily except Wed 11am – 7pm. 
Photos: Alvin Teo
No part of this story or photos can be reproduced without permission from 8days.sg.