Charlize Theron Shares First Look Of Her MCU Debut In Doctor Strange In The Multiverse Of Madness
Warning: This story contains some spoilers for the Doctor Strange sequel, so approach with caution.
Guess it's now okay to talk about Charlize Theron's cameo in Doctor Strange in the Multiverse of Madness.
The Oscar-feted actress shared on Instagram the official first look — for some folks, that is — of Clea, her character in the mid-credits scene of the Sam Raimi-helmed movie, which has earned close to US$480 million (S$666 mil) at the box-office since its global roll-out last week. (There's a second stinger after the credits, but that's more a treat for Raimi aficionados.)
Pretty sure Theron cleared this reveal with the Marvel big cheese who are usually sensitive with spoilers. (Then again, they did release a very spoilerific TV spot, didn't they?) And even if The Old Guard star didn't, what are they going to do about it? Fire her? (You know what? Abbie Cornish does look a bit like Theron…just saying.)
Back to the cameo. In the movie, Clea turns up to inform Benedict Cumberbatch's Stephen Strange that his actions earlier in the story have resulted in an "incursion" between universes and she needs her help to fix the damage done to the multiverse (and boy, did it take some pounding). She slices open the fabric of reality with her sword. Clea and Strange then jump into it… Presumably, they will resurface in another Doctor Strange movie or a Disney+ series. You never know these days with cross-platform storytelling.
And who the heck is Clea?
I'm too lazy to paraphrase, so I'm just going to quote Variety on this: "In the Marvel comics, Clea is a fellow sorcerer with a lineage that traces directly to Dormammu, the overlord of the Dark Dimension who faced off with Strange in the climax of 2016's Doctor Strange." (In that film, Dormammu is represented by a semi-corporeal giant floating head also voiced by Cumberbatch, whereas Clea is, to recap, played by the flesh-and-blood Theron sporting smokey magenta eye shadow.) Eventually, Clea and Strange get married, but Clea must commute between the Dark Dimension and Strange's reality, which, naturally, puts something of a strain on their relationship."
Theron recently started work on Fast X, the troubled Fast & Furious instalment which director Justin Lin bailed (smart move!) barely a week into filming; days later, Universal hired Louis Leterrier (good luck, pal!) to continue the shoot. She's also set to appear alongside Kerry Washington, Michelle Yeoh, Ben Kingsley, Rachel Bloom and Laurence Fishburne in The School for Good and Evil, Paul Feig's adaptation of the bestselling YA book bound for Netflix later this year.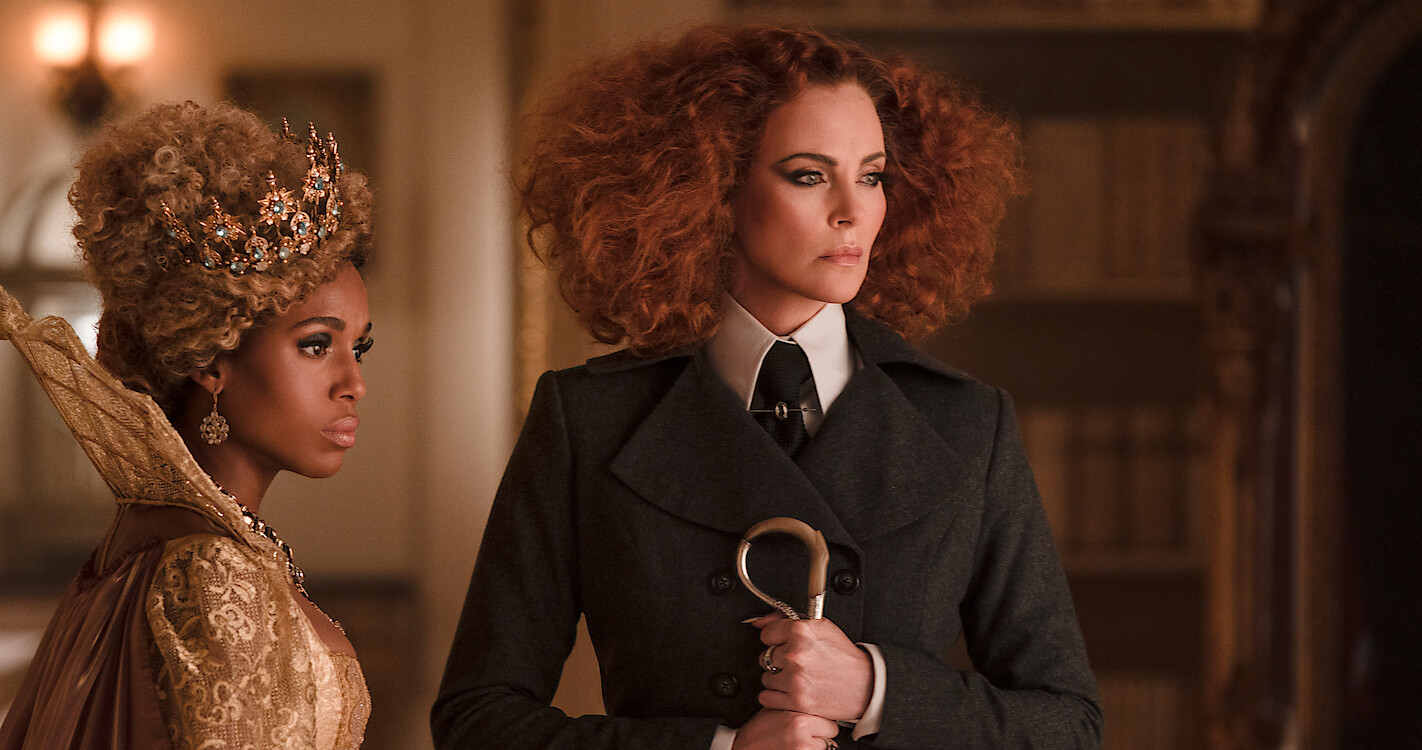 Up in the (h)air: Kerry Washington and Charlize Theron in Paul Feig's The School of Good and Evil, coming soon to Netflix.
Doctor Strange in the Multiverse of Madness (PG13) is now in cinemas. 
Photos: TPG News/Click Photos, Helen Sloan/Netflix