A Chat On Domestic Helpers: Zoe Tay Once Told Her Helper Not To Wear Short Shorts And Spaghetti Strap Tops As Her Household Is "Made Up Of Guys"
Zoe along with Guo Liang and Kym Ng had a lively discussion on the boundaries and expectations people set for their helpers.
This week's episode of The Zoe and Liang Show saw Zoe Tay and Guo Liang talking about their relationships with their domestic helpers, together with guest Kym Ng.
While both Zoe and Guo Liang hire domestic helpers and see them as a "need" for their households, Kym has never had help, nor has she entertained the thought of hiring a part time helper.
According to Kym, her mum was a housewife growing up, and they never needed the extra hands around the home.
Her current house is also "very small", and she has very "high standards" when it comes to doing household chores.
For example, Kym needs to have freshly washed hands and clean clothes before changing her bed sheets and she would require a helper to do the same. As such, she doesn't think it's practical to impose the same high standards on another person.
Kym is very particular when it comes to getting household chores done
The trio then talked about the "cultural differences" they face with helpers.
"The culture difference doesn't occur in the sense of varying living habits 'cos those can be changed. I'm referring to emotions. To give an example, I would tell [my helper] to put my spoon on my plate [instead of the table] so it's clean, and she will start to cry. Or when she quarrels with her husband or is not feeling well, wah [it's tough]," said Guo Liang as he described the challenges he faces with his helper, though we're not sure what the host meant by describing it as a 'cultural difference'. 
"But that's not the problem with the helper. In a company, there will also be staff who face such [personal] problems," reasoned Kym.
That led Guo Liang to the point he wanted to bring up. "The difference between an office staff and a helper is that the latter joins you as part of your household. And you will be [affected] because you don't know what's going on," he said.
He recalled a conversation he had with a family friend, whom he always thought had a very good helper who shared a close relationship with the family.

But his friend, an older lady, would always say that the helper is someone that "you would never get to know well enough", a line that left a deep impression on Guo Liang. 
Guo Liang shared his thoughts on never knowing his domestic helper well enough
"I've had a helper who was great at everything, she was also a good person and good at her job. But even when I treated her well wholeheartedly and we're like family, there would always be little things about her that I wouldn't know," said Guo Liang.

For example, his helper would always have things she would not tell him about. When he gave her his old phone that he used for "only two years",  she changed it again soon after without telling him. 
According to Guo Liang, he wouldn't have an issue if he was privy to the information. The problem for him was that he was never aware about what went on in his helper's personal life, although he wished to treat her as part of the family.
"They will always have the mentality that they are here for work and to earn money. And [my] relationship with them is but employer and staff, and it will always be that way," he concluded.
"She's not wrong 'cos on one hand, she wants to protect herself. Also, she left her home alone to come here to work, and has already given her all to serve your family. So she wants to have some personal space, and feels like she wants to hide the things given to her instead of reporting to you," said Kym, who empathised with the helper.
"But when we hire a helper, our goal is to naturally have them assimilate into the family and become a part of it. Because when you're family, they will look out for your interests. But that seems almost impossible," added Guo Liang.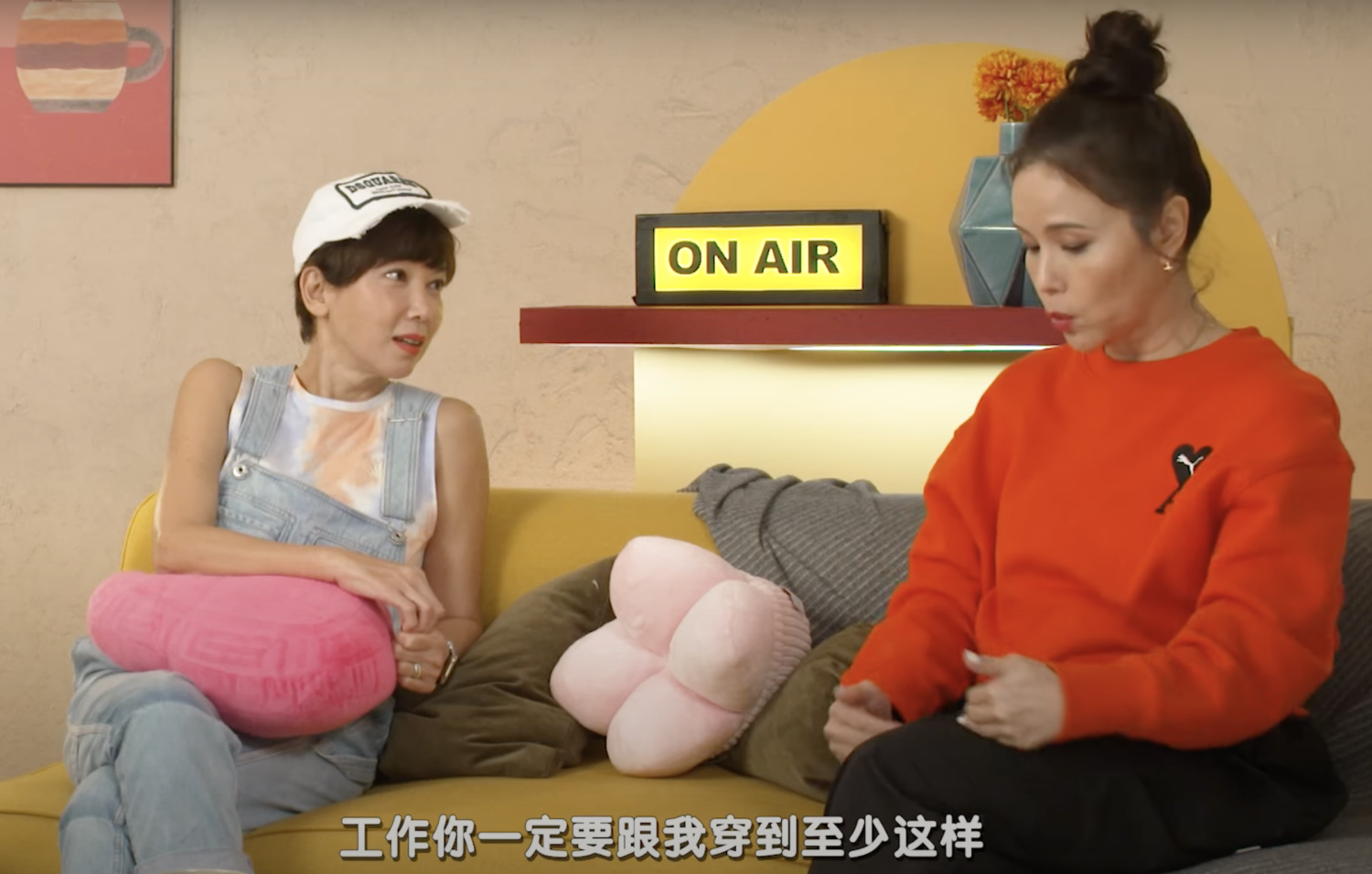 Zoe required her helper to dress more modestly as her family was "
made up of all guys"
After the stars traded stories of friends who restricted the lifestyles of their helpers, and those who paid for their helper's education and treated them like family, Zoe brought up the importance of communication.
"To let a stranger from a different country and different background stay in the same house as you, mutual communication is essential," she said.

"For example, when my helper first arrived, I told her about her responsibilities, like how I don't have elderly at home so she doesn't need to take care of any. I would inform her that I require her to cook meals and do household chores, so she needs to know how to do the basic things," said Zoe.
Kym then asked Zoe if her helpers had to wear uniforms. 
"No, but my helper wore [shorts] that got shorter and shorter. When she first arrived she was very well behaved, but after some time, she started to do that. [Once] I looked up the stairs and I could see [inside her shorts]," recalled Zoe, adding that she also told her helper not to wear tops with spaghetti straps.

"I said I couldn't accept it," said Zoe, adding that her concern was because her family is "made up of all guys".
She said she would always sit her helpers down for a chat when they first arrive because "it's easier for girls to talk to girls".
She would talk to them about respect, assure them that they would be provided with everything they need, and also offer to help where possible with problems they may face back home.
Zoe would also set boundaries, telling them they shouldn't be getting into relationships and bringing those problems to her.

"I don't think it's right, because [this is] a job and there are things that you have to be responsible about. We will have conversations like this," she added.
Guo Liang dreads the day that his helper asks to quit
Guo Liang chimed in with his experience with the "best helper" he has ever hired.
"The good thing about her is that she worked for me for about six to seven years, and she never changed. She had her shortcomings, but her positive traits never changed," said Guo Liang.
He continued: "My helpers always started changing at the second-year mark. By the third year, they will always [start acting differently].We are the same when it comes to work. As a newbie in a company, you are always more hardworking and enthusiastic, but after some time, you'll start to realise your boss' habits, such as how they would only get in for work after 9am."
"So I'm most afraid to hear "Sir, I want to go back," he admitted, as Kym and Zoe chuckled.
Photos: meWATCH
To find out more about why the trio think that helpers are an essential part of many Singaporeans' lives, watch The Zoe and Liang Show on meWATCH, or catch the episode below.