Chef Leaves One Michelin-Starred Restaurant To Open Hawker Stall Selling Steamed Fish Sets From $6.50
The 28-year-old swapped serving posh plates at restaurant Sommer for humble steamed fish at his new stall Nian Nian You Yu at Maxwell Food Centre.
After spending a year as a junior sous chef at one Michelin-starred mod European restaurant Sommer, Issac Lim, 28, swapped serving posh plates for something much humbler – steamed fish sets with rice and soup in a hawker centre. 
Opened with close friend Eric Kee (left in pic below), 30, in early April, Nian Nian You Yu (a play on the Chinese expression meaning "abundance through the year" – 'fish' in mandarin sounds like 'abundance') specialises in affordable steamed seafood sets for individuals. 

Though it's not a unique concept (we've recently featured two similar hawker stalls), Nian Nian You Yu has the advantage of being the only stall offering steamed seafood sets for solo diners at Maxwell Food Centre, a popular food destination among office workers in the CBD. 
Amid the more traditional hawker stalls at Maxwell Food Centre, Nian Nian You Yu stands out with a fresh, minimalist signboard. The bright blue sign features a simple fish logo above the stall's name in mandarin and pinyin.

All photos cannot be reproduced without permission from 8days.sg.
Trained at fine-dining restaurants, but got tired of working for others
Prior to setting up his first hawker stall, Issac was a Nitec Asian Culinary Arts graduate with a rather impressive resume. He worked as a chef de partie (line cook) at contemporary French restaurant Bacchanalia, which was awarded a Michelin star in 2016 and 2017, and stayed on in the same role when the restaurant was rebranded as Vianney Massot Restaurant in 2019 (the fine French restaurant closed permanently in 2020). 
The boyish-looking chef then moved on to Sommer as a junior sous chef in 2021 – the stint lasted for a year. There, his specialties included cooking crispy kinmedai (a snapper prized in Japanese cuisine) and beef wellington. "Late last year, I started feeling quite tired of restaurant work. I didn't want to work for other people anymore and wanted to have my own stall," he shares. 
"I wanted the excitement and adrenaline [rush] of starting my own biz. I wanted to try things out for myself without getting bossed around as an employee. And since I'm still young, I've nothing to lose". 

After deciding to open a hawker stall because it requires "lower rental costs", the candid chef left Sommer last December.

Issac tells us he found it "a bit weird" adjusting to hawker life at first. "The biggest change [from working at fancy restaurants] is the environment. I was used to working in a big space but now it's the opposite, so organising has become very important here. I've also never had to wash my own bowls and plates in the past. Being a hawker made me realise how expensive it is to use gas, compared to electricity in the restaurants [I worked at]. We count every cent of our utility bill now." He adds that the shorter working hours have been a surprising perk. "I worked 14 hours on average back then at fine-dining restaurants compared to ten hours now." 
Biz partner used to run a kopitiam with his family
"It was just the right timing," says Eric, on his decision to partner with Issac – who he met during National Service – to open Nian Nian You Yu. "He's very experienced and I trust his cooking. I've been wanting to start a food business on my own too."
Though he's a first-time hawker, Eric is no F&B newcomer – his family owns a kopitiam in Yishun and he was helping to manage it full-time before opening his own hawker stall. Currently, all the cooking is done by Issac, while Eric takes care of "everything else", including taking orders, liaising with suppliers (their fish supplier is a close friend) and marketing.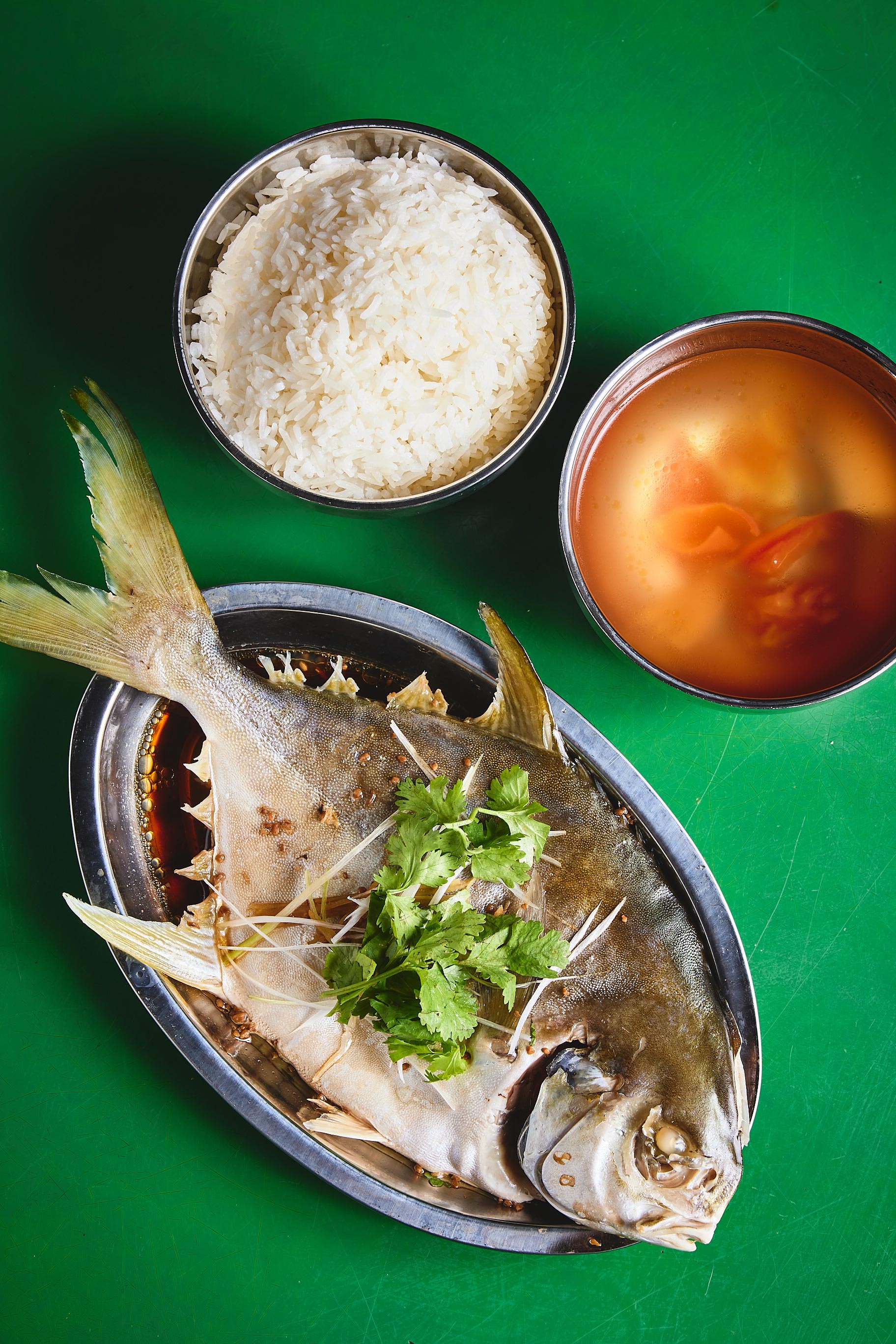 Steamed fish for one person
"I personally like western food because of my background and it's also easier for me to come up with western-style dishes. But we also realise that it's hard to sell it here with just the two of us and the space we have. The start-up costs would also be higher in terms of ingredients and equipment," says Issac.

The pals were inspired to offer individually-portioned steamed fish sets after a zi char meal that included a large whole steamed fish dish. "We realised that most places only offer whole fish and they cater to bigger groups. We thought there's potential in serving steamed fish to individuals," says Eric.
"It also made sense as Eric doesn't have cooking experience, so something like steamed fish is easier to prepare," adds Issac, who has been training his partner on how to clean, prep and steam fish during non-peak hours at the stall.

Issac says it was "a bit of struggle" for him to learn to master the Chinese style of steaming fish at first. "It's very different from what I used to do. The cutting is different – we used fillets at the restaurants I worked at. In the end, I just did a lot of trial and error to figure it out," he says.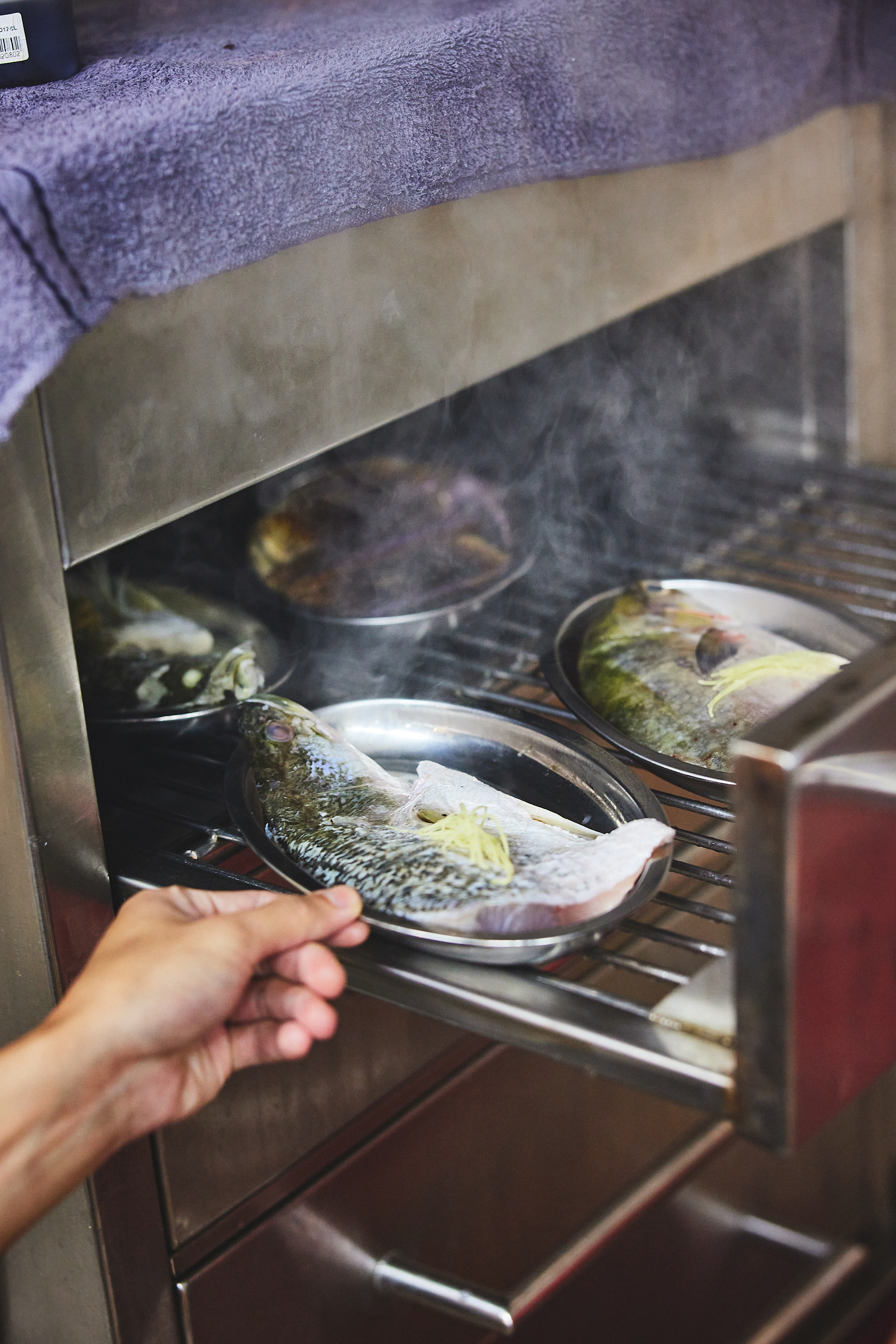 Plans to expand menu & open more outlets 
The chef-turned-hawker plans to showcase more of his repertoire in the future. "There's a lot of stuff we can do, like fried seafood dishes, but we're keeping it simple for now as I want to limit the menu to items that we can prepare using our steamer (a commercial tiered steamer)."

"Once Eric learns how to steam fish, we can start planning for the next step. Our plan is to have more outlets – we'll each be in charge of a different stall," he adds. After "a slow start", the hawkers say business has been brisk lately, following some positive reviews on food-related Facebook groups. They noticed a daily sales increase "from about 60 sets a day to about 100 sets now".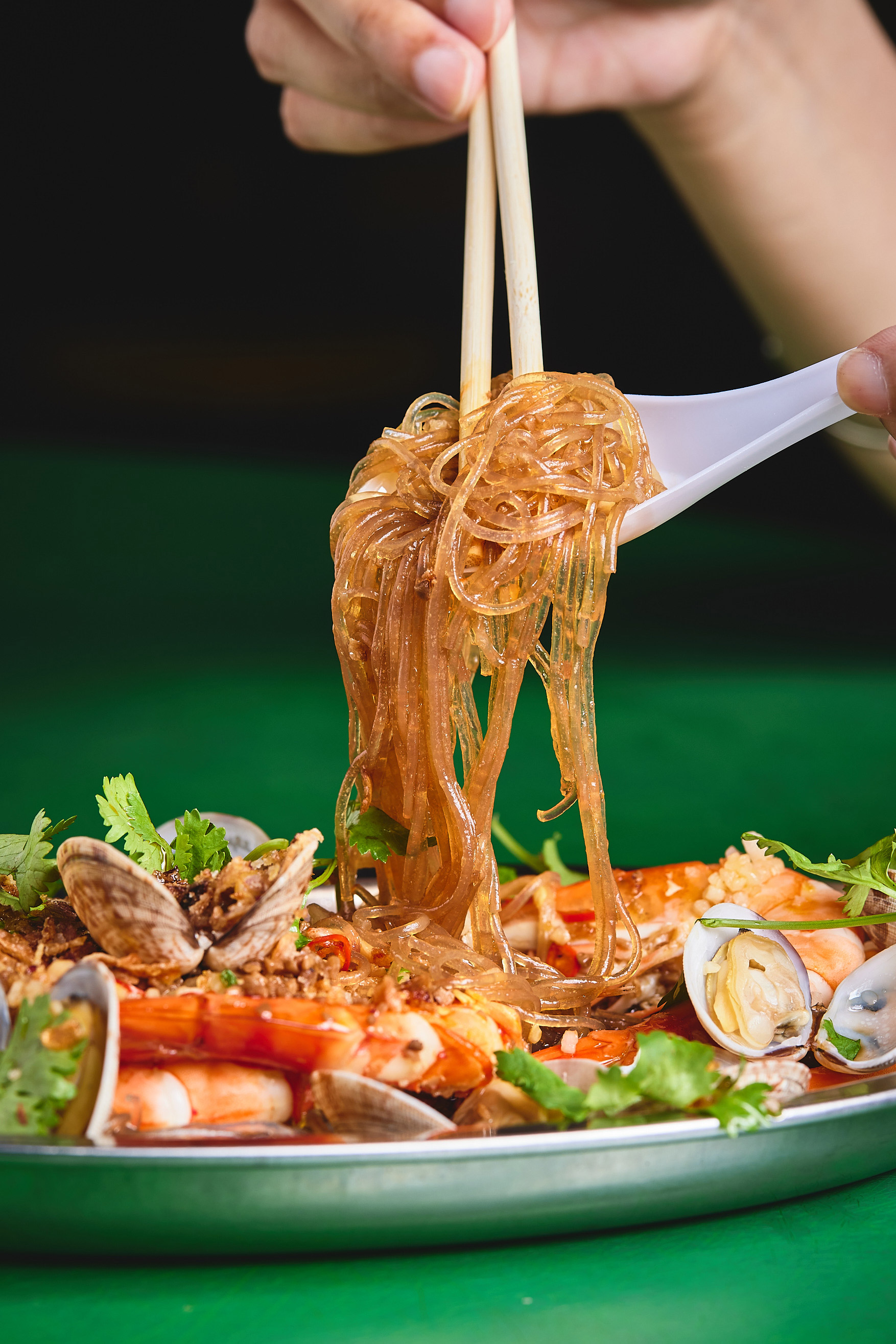 The menu
For individual diners, there are two types of steamed fish sets to choose from – sea bass or pomfret, served with a Hong Kong-style sauce featuring soy sauce, ginger and chicken stock. Both are priced at $6.50. For an additional dollar, you can swap the sauce for a sour-and-spicy Thai dressing with garlic, chilli and lime. Each set comes with rice and a comforting clear tomato soup. There are also steamed seafood items for sharing such as lala (clams) and whole grouper, as well as sides like steamed veggies and chawanmushi to complete your meal.
Pomfret, $6.50
The stall uses the more affordable farmed golden pomfret for this set. We're told each portion weighs about 250g, which is half a modest-sized fish. Issac cooks the fish in bulk and keeps them warm in the steamer to cater to his main customer base of office workers (who are usually on a limited lunch break) – a risky move for a dish as finicky as Chinese-style steamed fish, where every second counts. In our case, we found the flesh to have decent firmness but slightly overcooked and not as moist as we'd like.
The simple dressing of soy sauce, chicken stock, garlic and ginger is fragrant and not overly savoury, which pairs well with the mild sweetness of the pomfret, and the portion should satisfy most solo diners.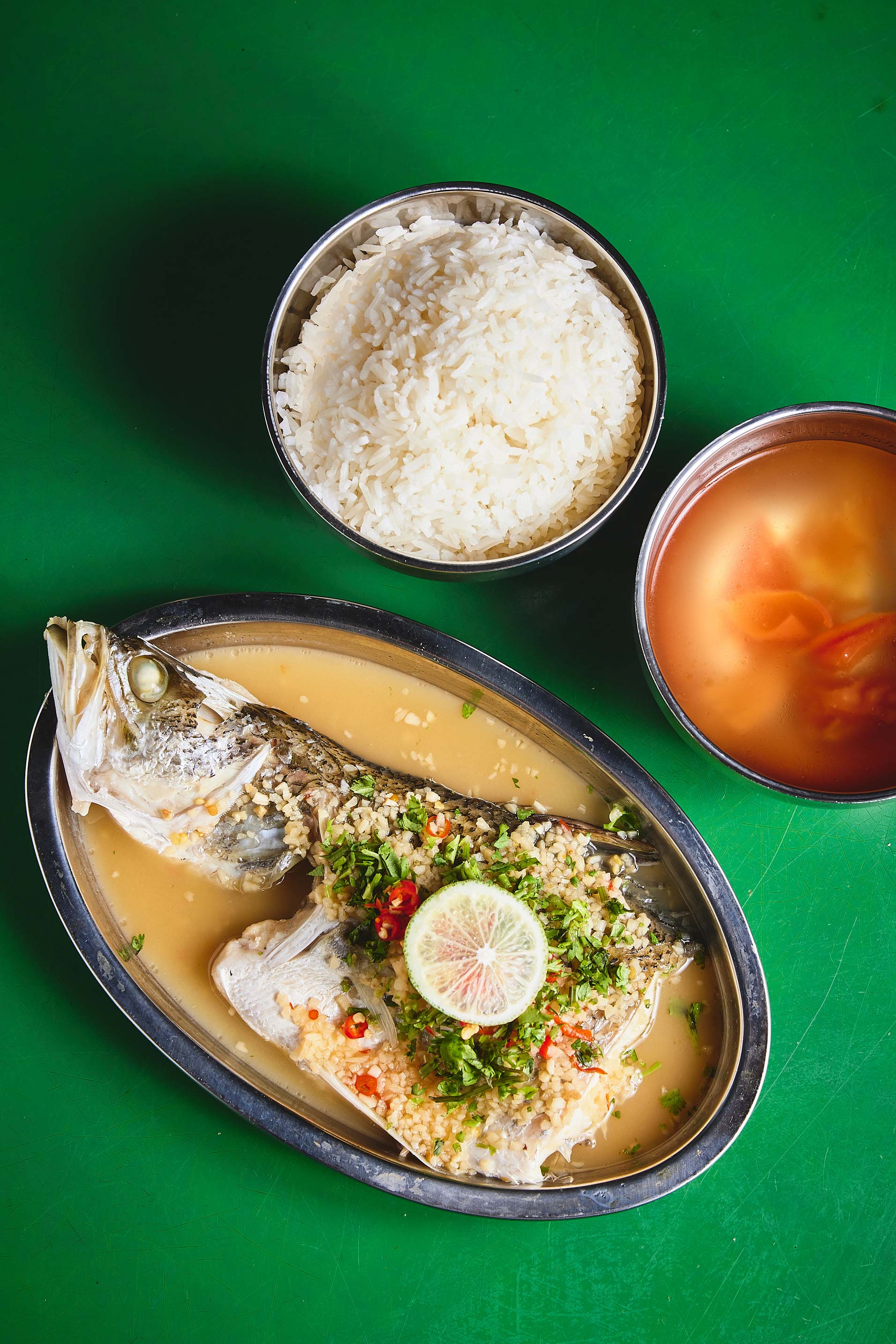 Thai-Style Garlic & Lime Sea Bass, $7.50
Our order came with the favoured head and stomach portion of farmed sea bass (also around 250g) – the flesh was moist and delicate but lacked suppleness. We enjoyed the tangy citrus dressing, featuring lemongrass, chicken stock, chilli sauce and lime juice, which lent a bright buoyancy and pleasant sour kick to the dish.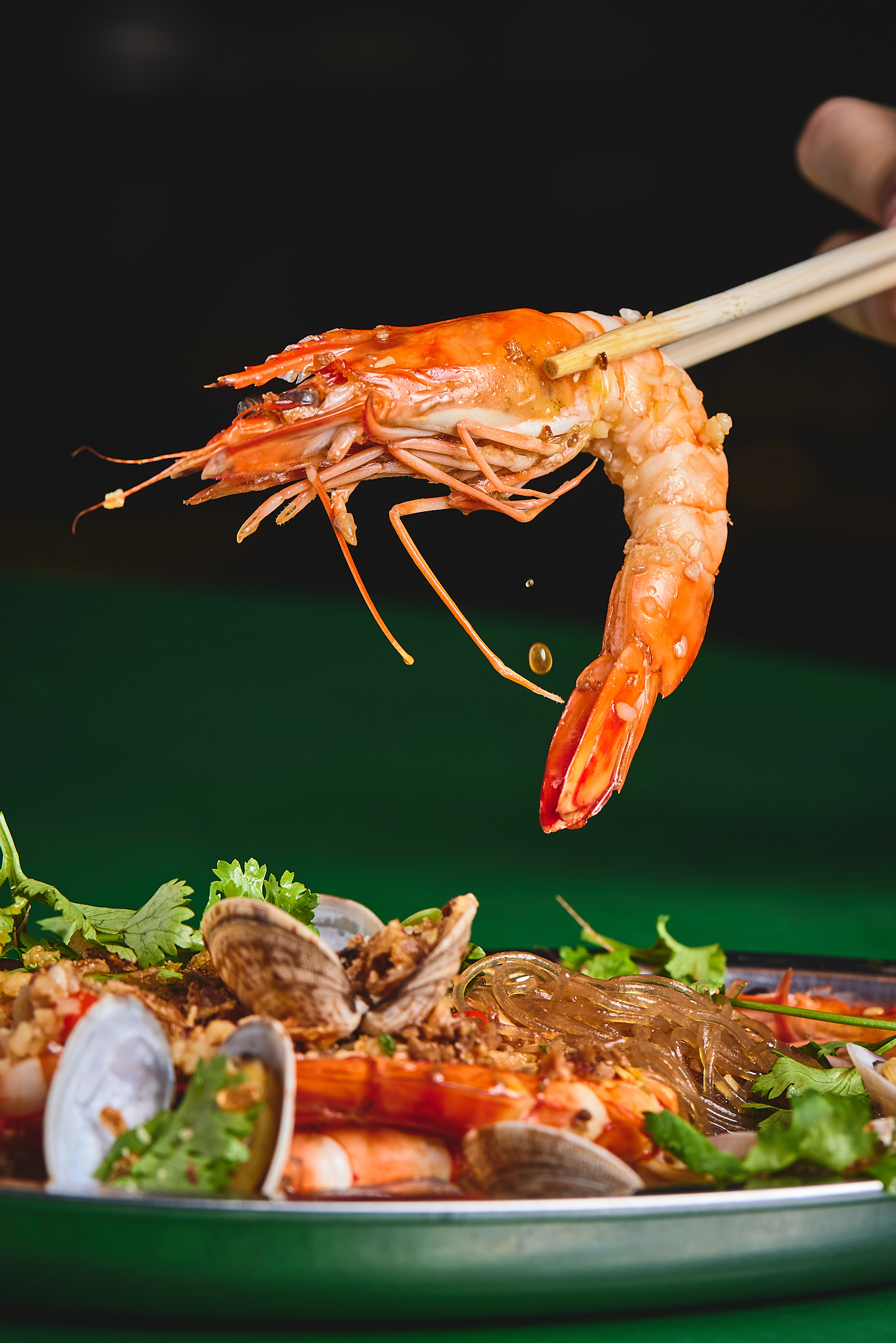 Steamed Tiger Prawns with Lala & Vermicelli, $8.50
This hearty starter is good for two and features steamed tiger prawns and clams on a bed of vermicelli seasoned with soy sauce dressing. As the components were cooked separately, there was not enough time for the springy glass noodles to soak up the sweet, briny goodness from the juices of the tiger prawns and clams – a shame, as the seafood was fresh and cooked just right.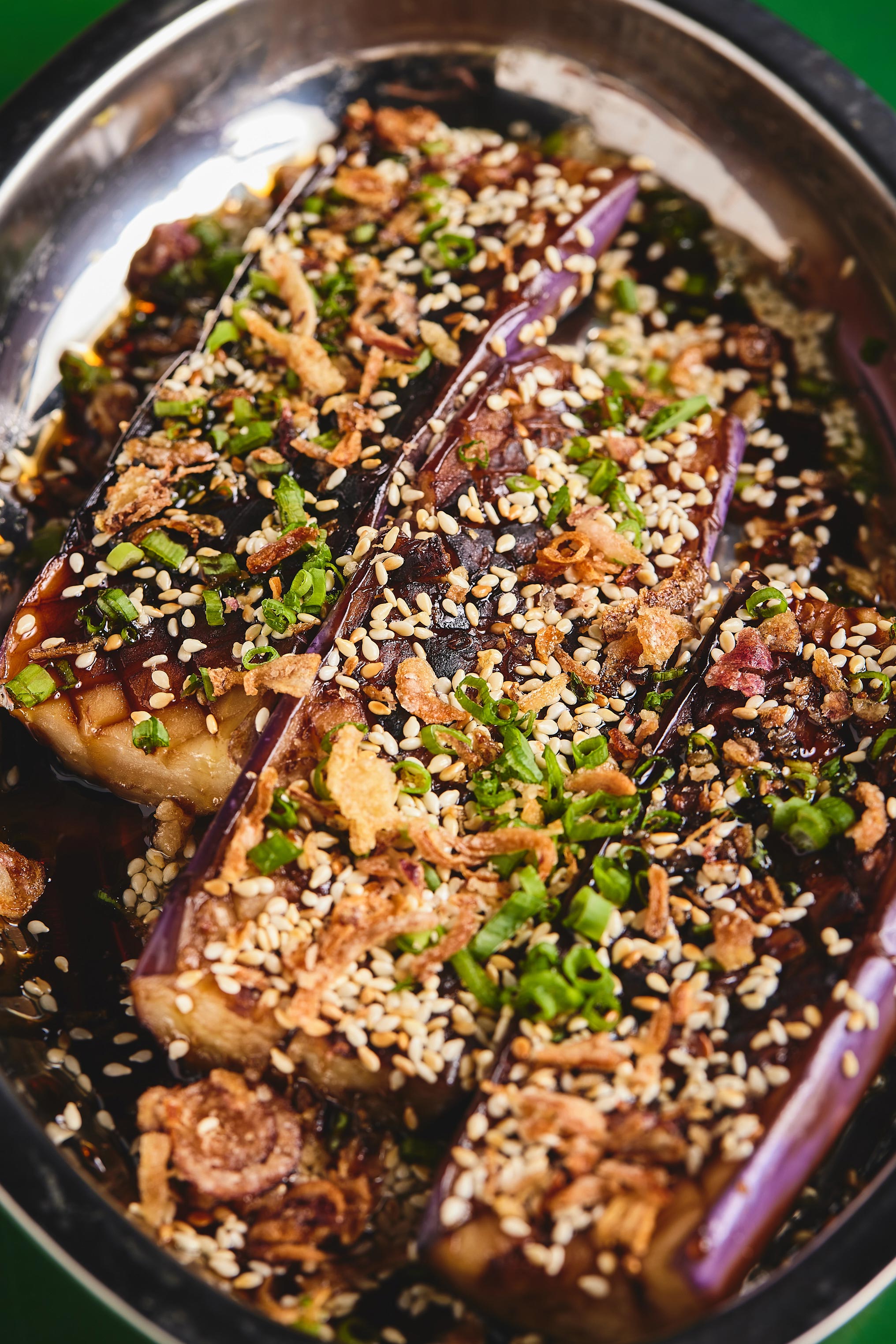 Seared Eggplant, $3
The soft, sweet creamy flesh of the eggplant is rounded off with a bold soy-based dressing, topped with an aromatic garnish of sesame seeds, fried shallot and spring onion. A tasty, appetising veg order to complete your meal.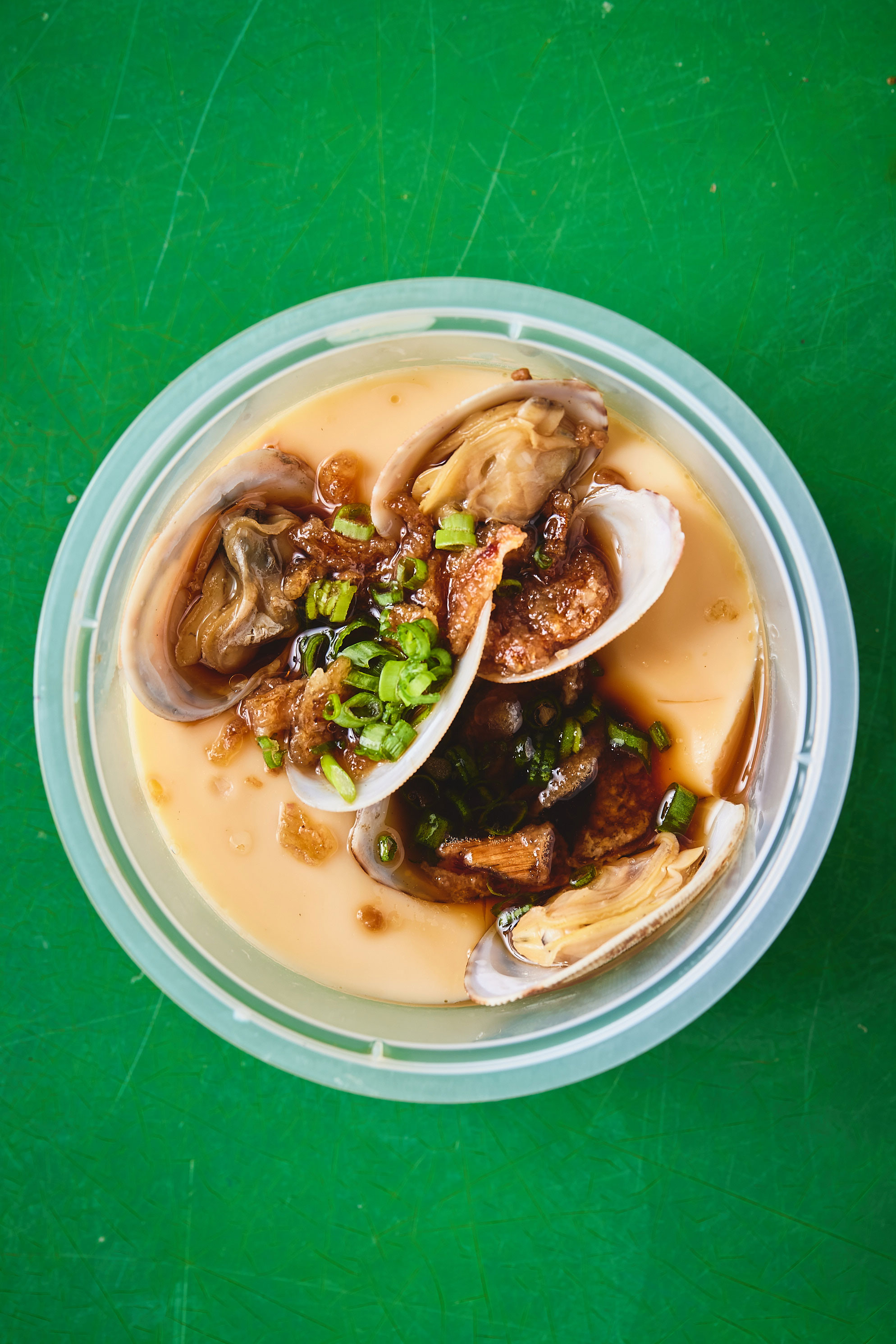 Steamed Egg with Lala, $1.80
A fairly standard, small cup of chawanmushi topped with three small clams. We recommend getting the more satisfying eggplant side dish instead.
Bottom line
Decent portions for fairly affordable prices aimed at solo diners who frequent Maxwell Food Centre. The steamed fish sets are slightly pricier than similar stalls in the heartlands, but Issac's restaurant experience is evident in the fancier presentation here – all the dishes are plated with finesse and are more sophisticated than the homelier dishes served at the other joints. In addition to the usual soy sauce-based dressing, there's also a yummy Thai-style sauce available for your seafood set. Our only gripe is the texture of the steamed fish, which was somewhat compromised as they were pre-cooked for a quicker serving time. With more experience, we hope the enterprising hawkers can strike a better balance between the two.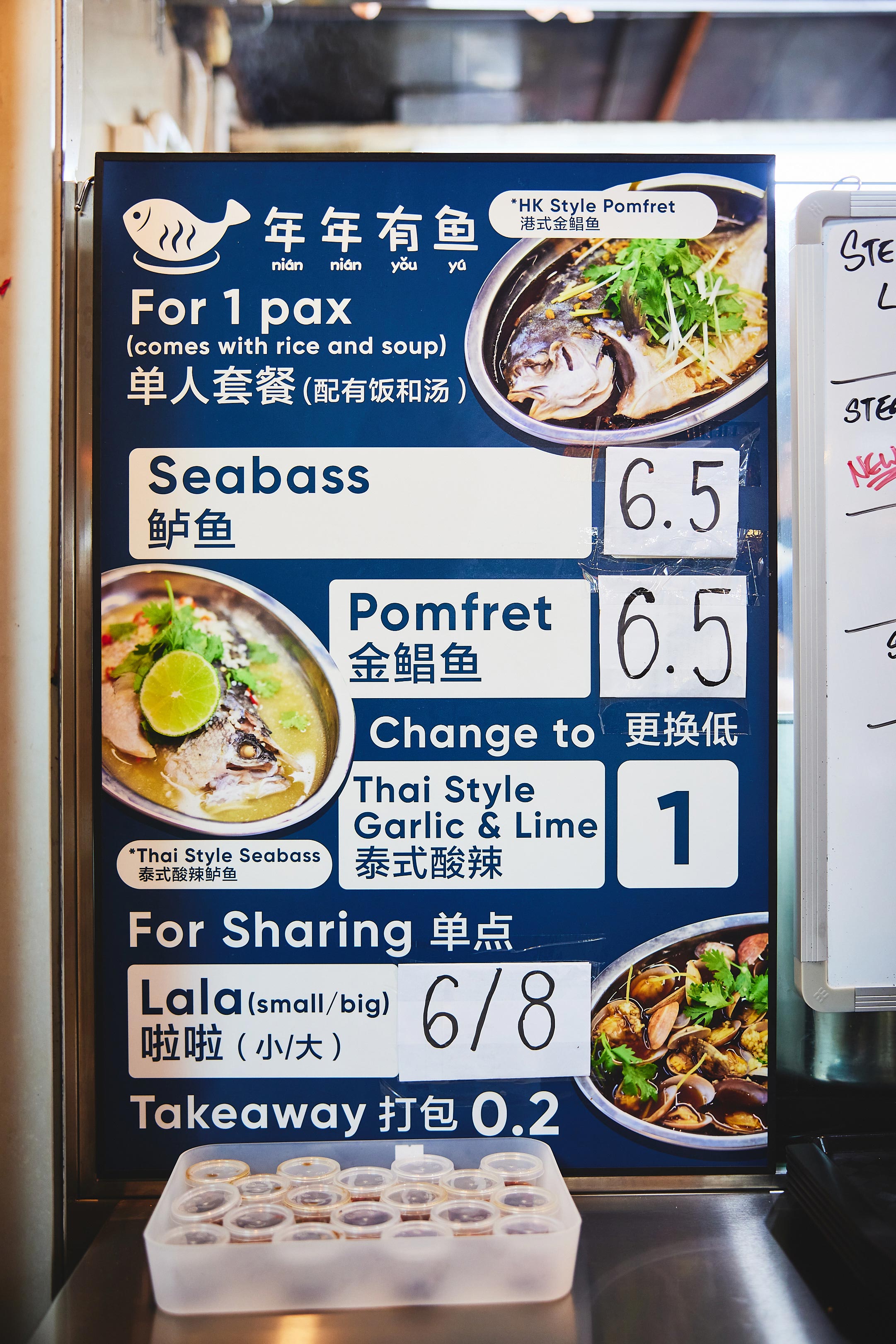 The details
Nian Nian You Yu is at #01-78 Maxwell Food Centre, 1 Kadayanallur St, S069184. Open daily except Sun, 11.30am - 7.30pm. Facebook Instagram

Photos: Alvin Teo
 
All photos cannot be reproduced without permission from 8days.sg.