Chinese Father & Son Make Delish Indian-Style Prata At Jurong Hawker Stall
The Seah family have been prata hawkers for two generations, and make very good pratas that they serve with "Chinese curry".
In a multicultural country like Singapore, it's not unusual for people of any race to sell food that originated from other races. Like viral hawker stall Lina Fishball Noodle, which is helmed by a husband-and-wife team of Indian and Indian-Chinese heritage cooking the traditional Chinese dish.

Likewise, Jurong East roti prata stall Xie Jia Chinese Prata is run by a Chinese father-and-son duo, who make the Indian flatbread that was popularised here by Indian hawkers.
How a Chinese family came to sell prata
'Xie Jia' in the stall's name refers to the Seah family, which includes Roger Seah, 41, and his father Seah Kian Huat, 66. According to Roger, his family has always been in the kopitiam business.

At one point, they owned a "whole coffeeshop" at Blk 352 Jurong East St 31, where they ran a drinks stall and occasionally operated stalls that sold BBQ seafood and noodles. "My uncle who used to sell chicken rice noticed that prata was very good business as its cost price wasn't very high," Roger recalls.

But it was his cousin who first started selling prata. "He learnt how to make prata from other people and had a stall at [Yuhua Market]," says Roger. His cousin has since given up hawking as "it was tough work — it's a laborious job that nobody really wanted to do as all the pratas are made a la minute."
Undeterred, Roger's father tried his hand at selling prata too. Roger shares: "My father more daring. Don't know how to flip prata also open stall (laughs). But we want to do this because no other Chinese people are doing it. That's why we're unique."

To learn how to make prata, Kian Huat initially observed how his hired Indian staff worked. "No one will teach you how to make it. This is how people do business. But we don't hire someone to steal their skills and ask them to go away. That's not right," says Roger, who explains that their staff gradually left when they shifted locations a few times due to issues like rental increase.

It took Kian Huat about three months of practice to finesse his prata-making, while Roger got the hang of it in about "two to three weeks". The close-knit pair have been flipping pratas at their current stall for about four years. Before that, Kian Huat had been running his own stall called Golden Prata at the coffeeshop next door, while Roger worked as a taxi driver.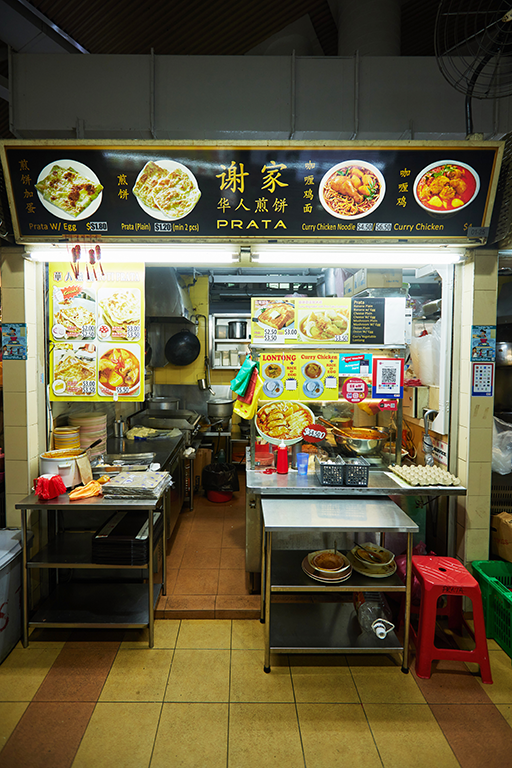 The younger Seah eventually changed his job when his taxi got hit by too many errant motorists. "My father saw how many people hit my taxi — I got hit 12 times in a year!" Roger exclaims. Concerned for his son's safety, Kian Huat persuaded Roger to sell prata with him. They moved to a new unit at the nearby Yuhua Village Market & Food Centre, and Roger renamed their business to "Xie Jia Chinese Prata".

For the uninitiated, certain stalls in a hawker centre are allocated to sell only specific cuisines according to NEA regulations. Xie Jia Chinese Prata's stall was marked for only Indian or halal food. Even though there is an Indian-Muslim prata stall in the same hawker centre, Roger says he gets his own pool of customers from all ethnicities. "Out of 20 customers, we get maybe one Indian customer," he says.
But he also had his fair share of detractors, whom he observed were ironically Chinese. "Honestly speaking, they looked down on us. Chinese people bully Chinese people. They said, 'Wah, you know how to make prata meh?' And looked at us up and down and walked away. We get that every day," says Roger. He adds that "Indian customers are surprised to see us selling prata, but they don't say anything. There was only one Indian guy who said only Indian people know how to [make prata], not the Chinese."
The 'Chinese prata' menu
The Seahs use factory-supplied dough to make their prata by hand. "But we serve it with Chinese curry," Roger says. His version of "Chinese curry" is a paler orange than the deep, almost amber-coloured curry we usually get at Indian prata stalls.

There's also only chicken curry available, with no other variations like fish or mutton. From what we have tasted of Xie Jia's curry, it is more coconutty (compared to the typical prata curry, which is usually cooked with just a dash of coconut milk), less spice-laden and comes with chunks of boiled potatoes. You can also get a bowl of the Curry Chicken ($5.50) a la carte to go with rice.

Prices for Xie Jia's roti prata starts from $1.20 for a plain prata (minimum order of two pieces). There are about eight classic flavours available, including Prata with Egg ($1.80), Mushroom with Egg ($3.50), Plain Onion ($2) and Cheese with Egg ($3.50). 
Other than prata, the Seahs also offer Lontong ($3.50) with vegetable curry and Curry Chicken Noodles ($4.50). And French Toast, in three flavours: Plain ($2.50), Egg ($3) and Cheese ($3.50). "Nobody here sell mah. We sat down and think think think about what is unique," says Roger colloquially.
On making prata
Making prata is an art for individuals of any race, as we can attest. Roger invites us to have a go at making prata, and we can barely flip the slippery dough fast enough for it to expand into a sheet before it collapses limply on itself. "It's not easy. You have to know how to grasp the softness of the dough to flip it. You are working with gravity and the dough here," he says sagely.
Prata with Egg, $1.80 (8 Days Pick!)
But both Kian Huat and Roger have mastered the skill; we try the freshly-cooked prata that Roger made and find it pleasingly crispy with a soft, chewy bite. It's also less greasy than the usual prata. That said, its crispiness cannot rival the famous Joo Chiat prata stall Mr & Mrs Mohgan. The stall's late founder, Somasundram Mohgan, had created his famed recipe based on the Chinese fried you tiao.

The "Chinese curry" here is also very good; not as spicy as Indian-Muslim prata curry, but still feisty enough for us to slurp up the whole plate. That said, if you're looking for robust Indian curry to go with your prata, this is not the place for you. But you like a good bowl of coconut milky Chinese-style curry to go with competently-made prata, this stall is the one.
Chicken Curry Noodles, $4.50 (8 Days Pick!)
What is also worth ordering is the chicken curry noodles, which comes with yellow noodles and tender chicken chunks drenched in a thicker, rich curry gravy. Seriously shiok stuff.
Lontong, $3.50
The humble lontong here is not bad; each bowl comes with firm rice cakes, tau pok and a hard-boiled egg swimming in vegetable curry. There's also a dollop of sambal on the side if you need extra oomph. But we say go for the better chicken curry noodles if you want some curry and carbs.

Xie Jia Chinese Prata,  #01-25 Yuhua Village Market & Food Centre, 254 Jurong East St 24, S600254. Open daily 5.30am-12.30pm.

Photos: Kelvin Chia