Comedian Jaspers Lai Has A See-Through Bathroom In His East Coast Condo So He Can Enjoy The View When He Showers
The apartment, with its own private lift, is decorated with Mark Lee posters that made one friend joke that it looked like Jaspers and Mark were a couple living together.
When 8days.sg approached actor and comedian Jaspers Lai to do a house tour of his new home in East Coast, we knew we would be in for some surprises. After all, the 35-year-old is known for his colourful, quirky style and wacky personality.
Still, we most certainly were not expecting to see a see-through bathroom, which, by the way, is the only toilet in his 880 sq ft condo. Only a glass wall and door separate the bathroom from the bedroom, though there are blinds that you lower for some modesty.
Why such an exhibitionist? "Bachelor mah," chuckles the Number 1 star. 
"I bought the apartment for the view, so I want to enjoy it when I shower or when I am doing my business. It would be a waste to block it. Having a glass toilet also gives the room a hotel vibe."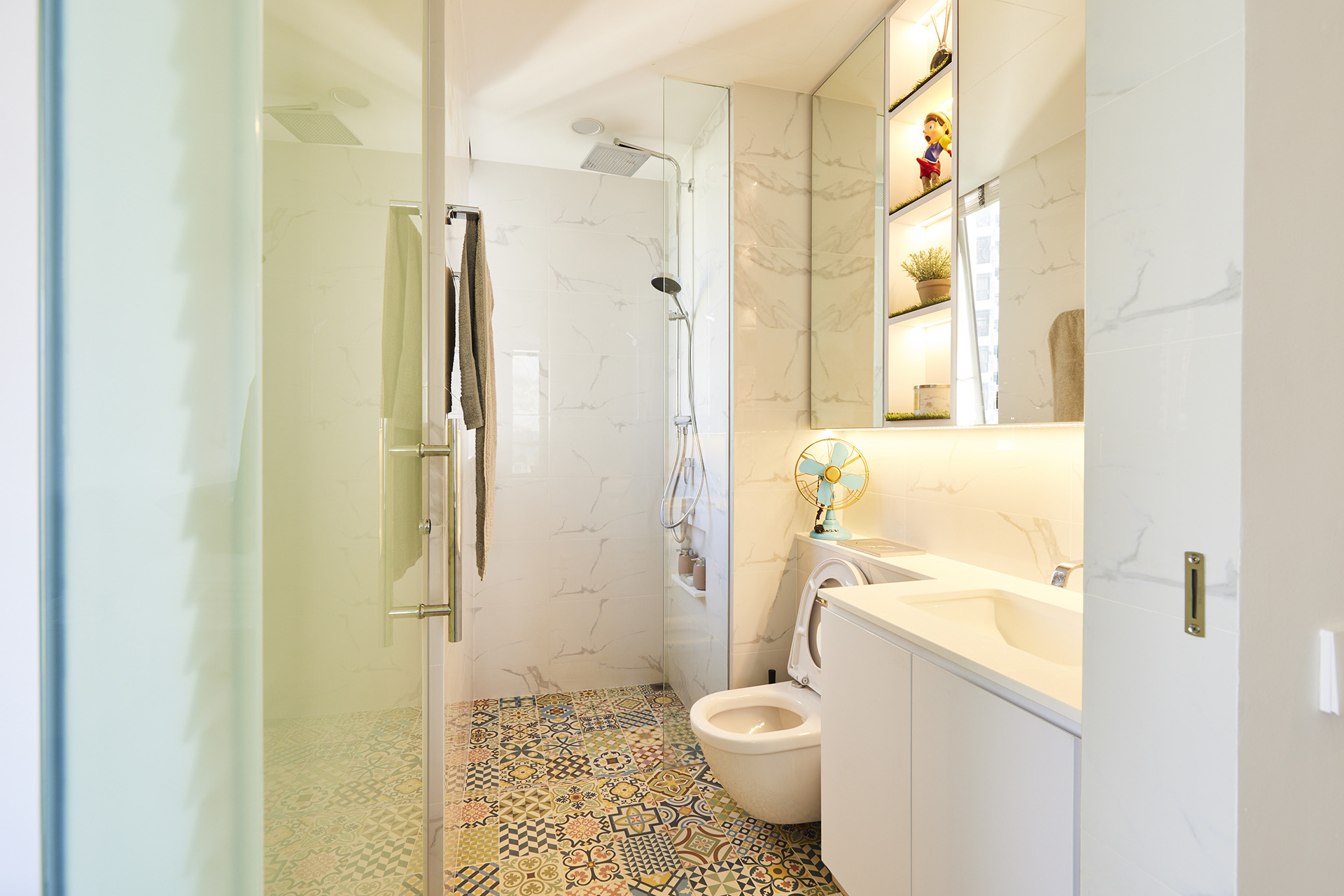 Chic, stylish and free of privacy
Situated on a high floor, the unit, which Jaspers moved into last month, overlooks private houses and offers unobstructed views of the neighbourhood.  
The peekaboo bathroom, which has direct line of sight to the awesome view, isn't fully transparent though. The door is frosted for fengshui reasons, though if Jaspers had his way, he wouldn't even have a door. 
"Why do things the conventional way? I am not that type of person," he says.
Quirks aside, Jaspers wanted an open concept for practical reasons. It not only makes the room look more spacious, the view can inspire him too.
"The bathroom is a very special place to me as I often get inspired when I am there. Sometimes, when I cannot figure something out, I will go to the loo or take a shower and it will hit me. Usually the bonus sparks, the ones that take my ideas from A to A* are born there, like [his YouTube channel's bucktoothed alter ego] Bao Ya Gu, so I want the space to be interesting enough to stimulate my creativity," he explains.
This is also why he chose different Peranakan floor tiles for the space.
"These tiles come in more than 60 different designs, so I told my ID to get all of them so that, as far as possible, the designs are not repeated. Each day, I will look at a different tile and hopefully it will inspire me," he says.
No part of this story or photos can be reproduced without permission from 8days.sg.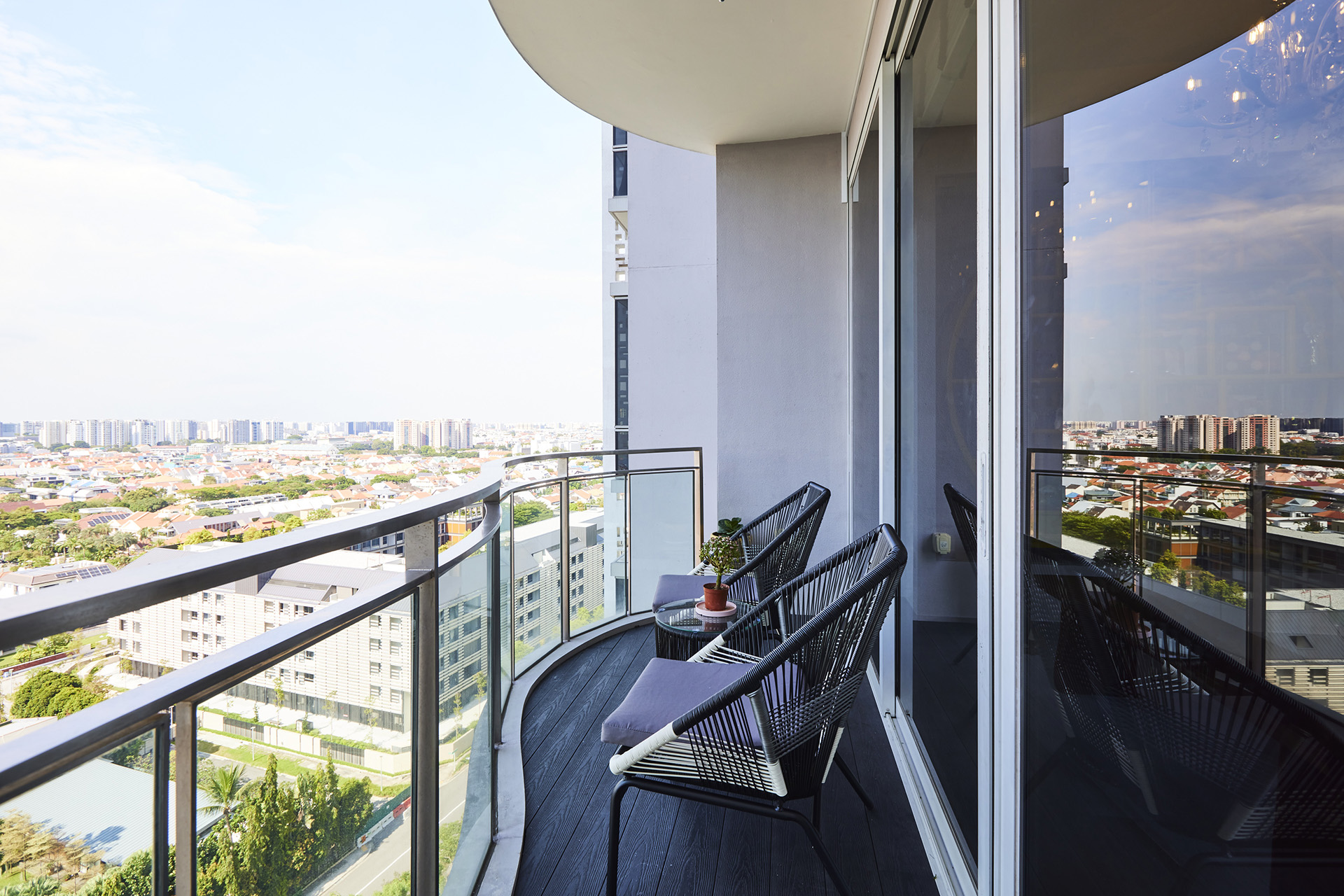 Besides the view, Jaspers was also very drawn to the six-year-old apartment's spacious curved balcony and the privacy it affords. The unit comes with a private lift and Jaspers admits he was sold when the elevator doors opened.
"I went 'wow' when I saw the balcony and view. I love balconies as I enjoy the sun, breeze, even the rain. The natural elements spike my senses. I can spend hours working on the balcony," shares Jaspers.
He adds: "When I bought this house, my fengshui master said most likely I wouldn't get to spend much time here as I will have to travel a lot."

The house is steeped in fengshui
Renovations for the apartment took four months and came up to around $80,000, though Jasper candidly admits his reno was sponsored and he spent about $20,000 on furniture and fittings. The apartment feels like an art gallery, showcasing Jaspers' movie posters and penchant for whimsy. White walls and light grey vinyl flooring define much of the space, accented by fun statement pieces and vibrant bursts of colour.
As Jaspers' dad is a firm believer of fengshui, much of the interior design is determined by it. "I had many quarrels with my dad and also had to cham siong (compromise) with my fengshui master over the furnishings. The biggest challenge was how to mix fengshui with my personality and yet still make the house look cohesive and pleasing to the eye," shares Jaspers.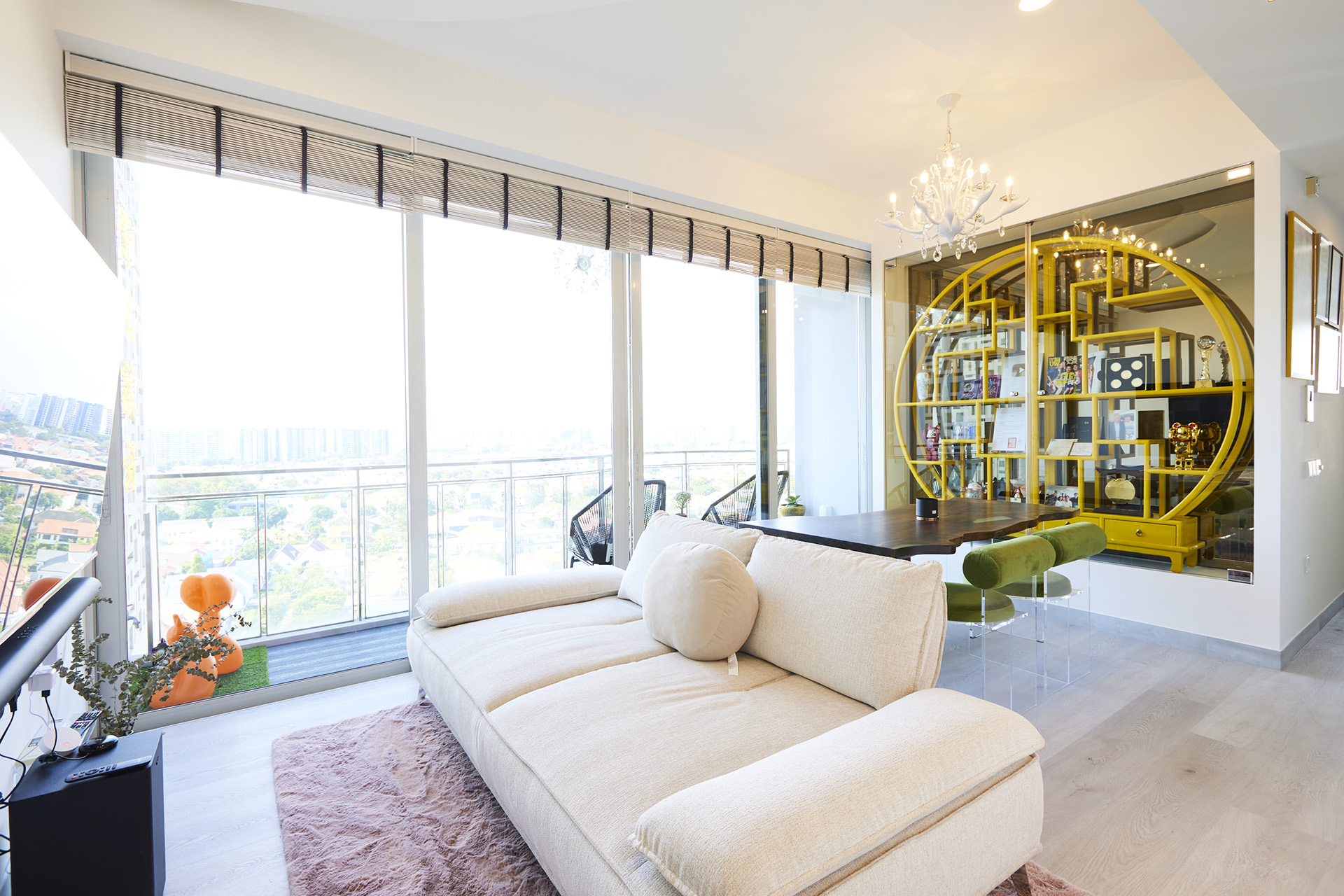 The living and dining area was designed around this yellow oriental display shelf, which doubles up as the feature wall. As this is a fengshui spot, Jaspers was advised to place a glass cabinet, mirror and shelf there. Not one to settle for anything basic, Jaspers got a round rosewood shelf and had it painted yellow.
Calling it his "dream board", he displays things that are meaningful to him like his awards, family photo, and pics of him at the 2020 Golden Horse Awards, where his film Number 1, for which he wrote the script, won Best Make-up and Costume Design and Mark Lee was up for Best Actor. "I left the top part of the shelf empty to motivate myself. One day if I win a Golden Horse award I will put it there," he smiles.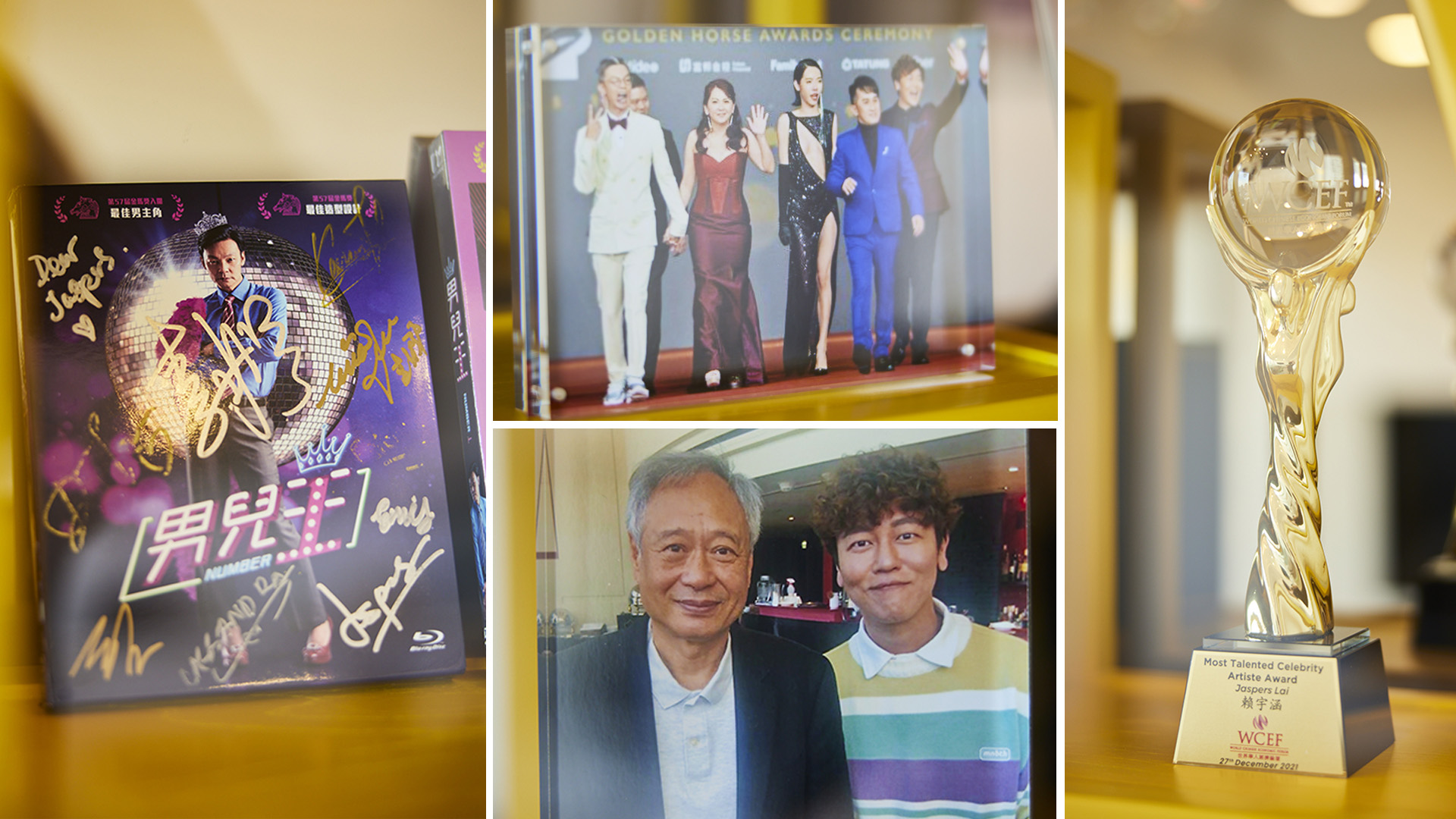 From left:
Number 1
DVD, photos with Team
Number 1
and director Ang Lee at the Golden Horse Awards, and award for Most Talented Celebrity Artiste at the
World Chinese Economic Forum 2021.
Just by the feature wall is an edgy dark wood epoxy dining table paired with a matching bench and funky green chairs from Taobao, and above it, a glass swan chandelier, which was picked for, you guessed it, fengshui reasons.
"My fengshui master told me to get something with odd-numbered or nine lightbulbs, so my dad being my dad, said get the best one, which is nine. Do you know how challenging that was for me? And the crystals cannot be sharp," Jaspers says exasperatedly, adding that after much searching he finally found something suitable in Johor Bahru.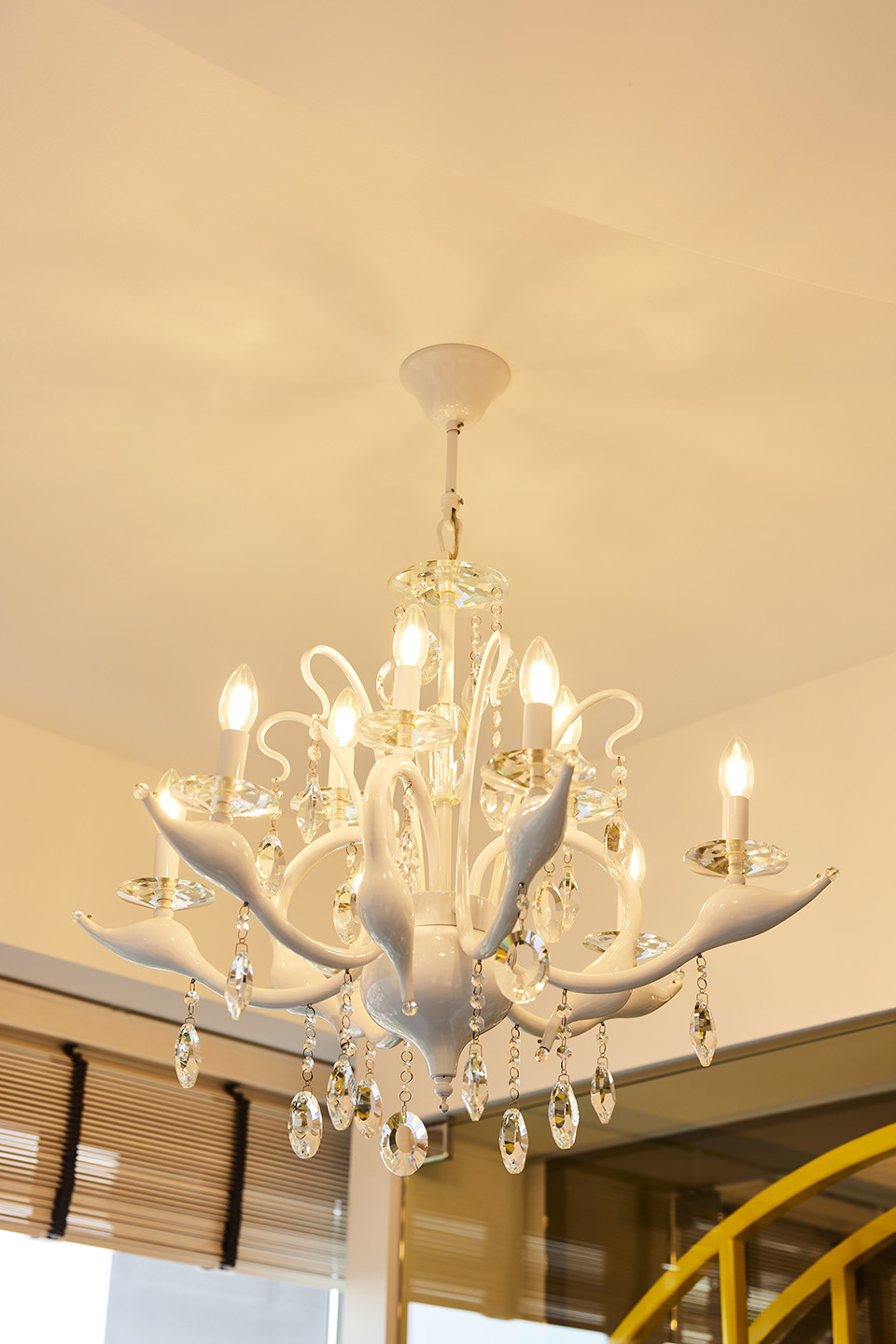 Finding a light with nine bulbs is no easy feat.
Completing the space is the curved ceiling that matches the wavy balcony. It also conceals ambient lighting that transforms the living room into a party space. 
"When I have friends over for karaoke, I will turn on the flashing rainbow LED lights to set the mood," he says.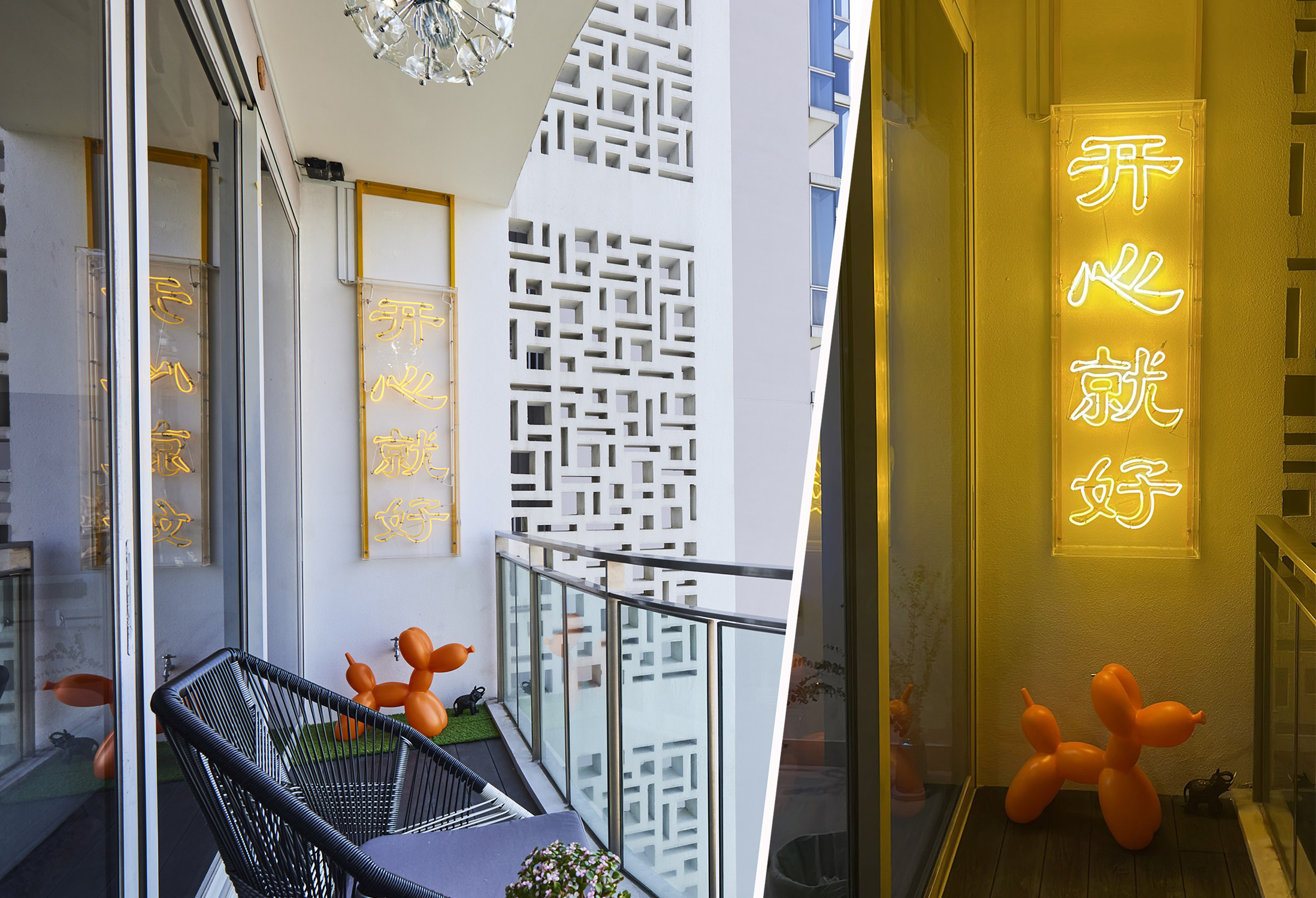 The balcony
The balcony, Jaspers' favourite spot in the house, is equally quirky. 
The centrepiece is this custom yellow neon sign reminiscent of the iconic signboards that light up Hong Kong streets. The sign, which screams Jaspers' life motto "kai xin jiu hao", or 'just be happy', is shaped by hand and cost $3,000 to make.
"I wanted a sign that represents me or can remind me of what I do. Since I do comedy, I chose kai xin jiu hao, which has dual meaning. The first is just be happy and the other meaning is if you are happy, everything will be smooth sailing and good, so do things that make you happy. I think that is very important," he explains.
To up the fun factor, he added a "disco ball light" for a pub vibe. 
"Initially, I wanted the balcony to be like an open-air bar, with a disco ball and I will shoot laser beams, so the whole neighbourhood will know I am home. Of course, that is not possible, but I still stayed true to my disco ball idea and got a hybrid one," he laughs.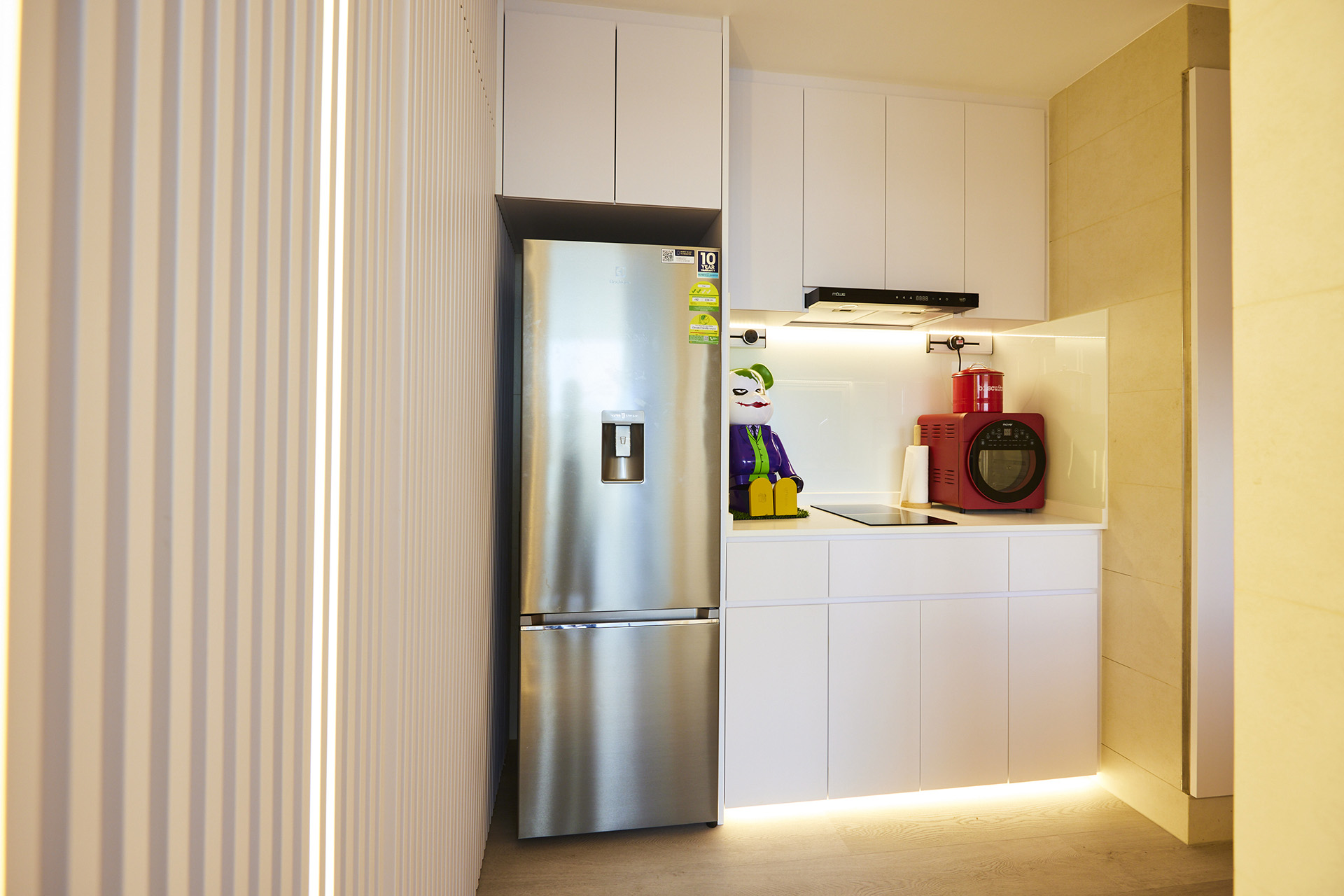 The kitchen
Even in the kitchen, there is no escape from the cheery colours that Jaspers loves. The Joker Bearbrick figure and futuristic red air fryer stand out in the predominantly white kitchen, while light grey wall panelling adds visual interest while hiding the bomb shelter.
"I suggested adding these light strips [between the panels] and down lights below the kitchen cabinets so sometimes at night, I turn those on instead of the ceiling lights for some ambience," he says.
Gallery walls
The living room and hallway walls, which are fengshui powerspots, have been transformed into gallery walls for Jaspers to "showcase my movie posters to myself". He had 13 posters framed up so he can switch things around depending on his mood.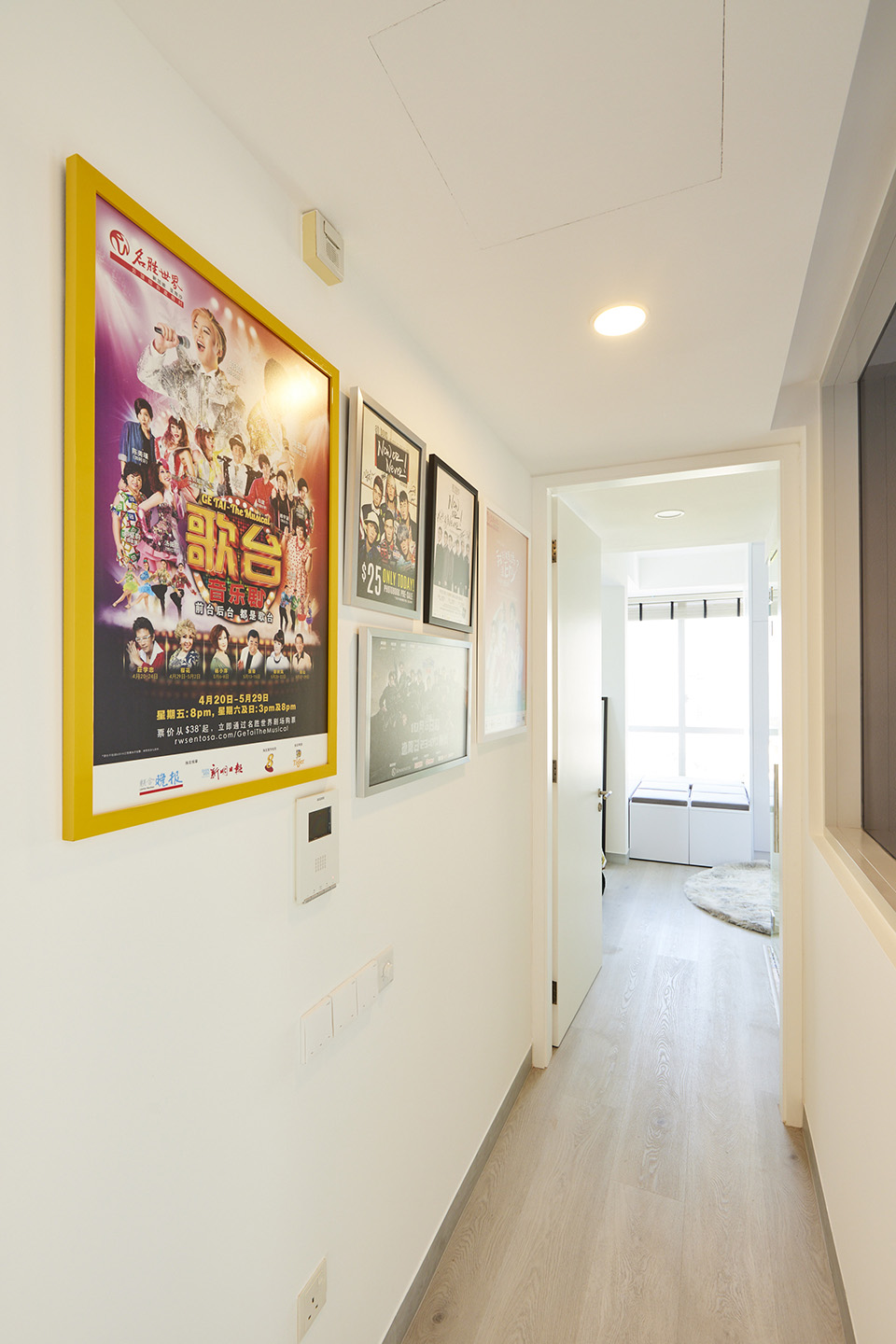 "I want to see my posters even though my face is very small at the back," he laughs. 
"Some people might misunderstand I am trying to show off, but no. I am just very proud of the shows I have done, and I miss these people whom I worked with.
Sometimes when I get stressed, I look at the posters as motivation to create better work."
Master bedroom
Designed like a suite, the master bedroom features a more muted palette and pared-down styling for a relaxing ambience. 
To make the room more spacious, the adjoining wall (previously located where the poster is) between the master and guest bedrooms was removed to combine the spaces.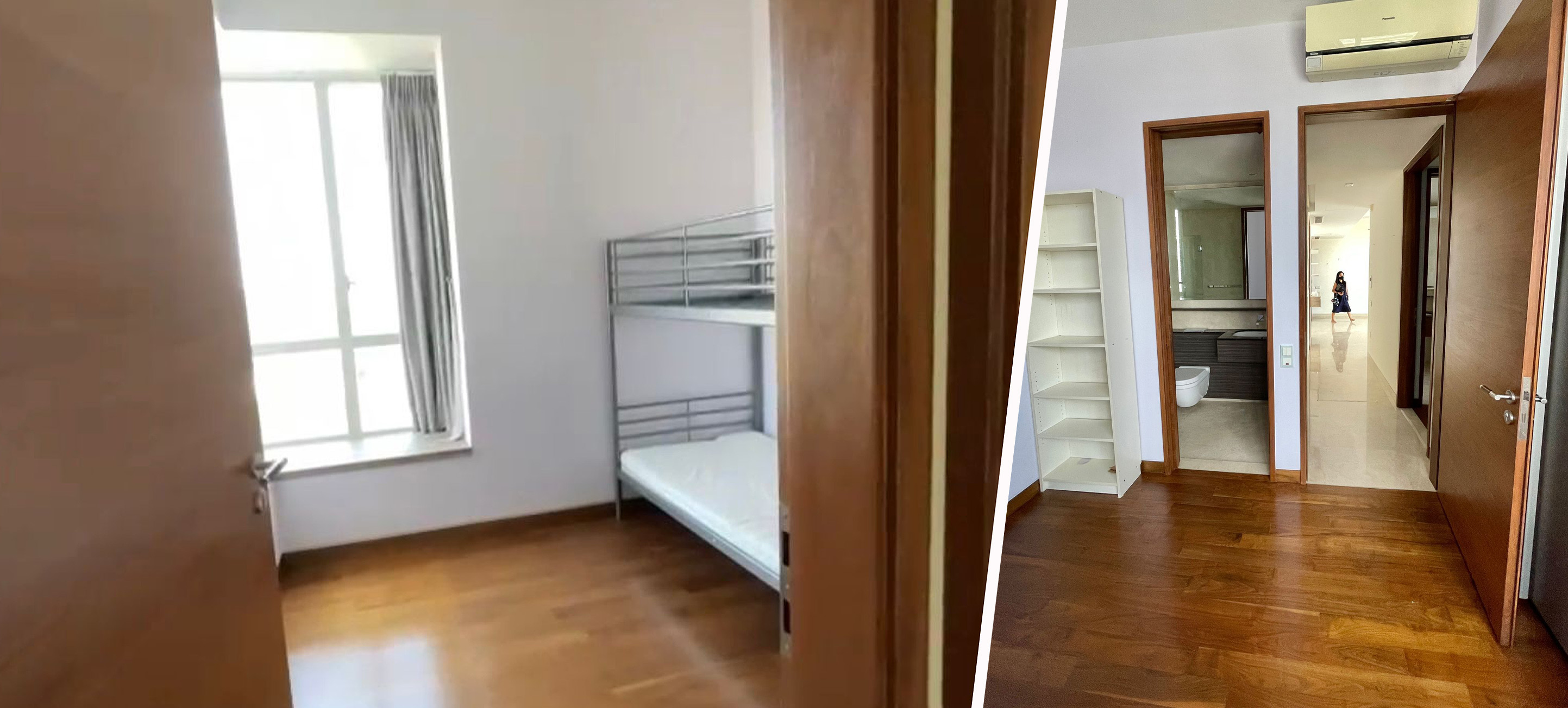 Before: The original guest room, which was accessible to the common bathroom, was "too small to do anything with", so the wall behind the door was hacked to connect the two bedrooms.
After: The guest bedroom now houses Jaspers' wardrobe and an area for chilling, and bathroom walls were replaced with glass to create the see-through toilet. The bedroom door was moved out to extend the space.
Jaspers' ID designed these storage stools that can be combined with the bay window to create a cosy nook. 
Before: There was a desk built over the bay window in the master bedroom. Facing it was the wardrobe which shared the wall with the guest bedroom.
After: The desk by the window was removed to show the bay window. The room is now accessible to the wardrobe area and bathroom.
The sleeping area is jazzed up with décor pieces in gold and rainbow hues, but perhaps the most eye-catching is this huge poster of Jaspers and Mark. 
When we ask if the poster is there for fengshui reasons too, Jaspers jokes: "Mark Lee brings good fengshui. He's my boss and mentor. He brings me luck and business."
He continues: "There are several posters of me and Mark (three out of the 10 displayed, to be exact) displayed around the house. My friend said it's like we're a couple and this is our bedroom."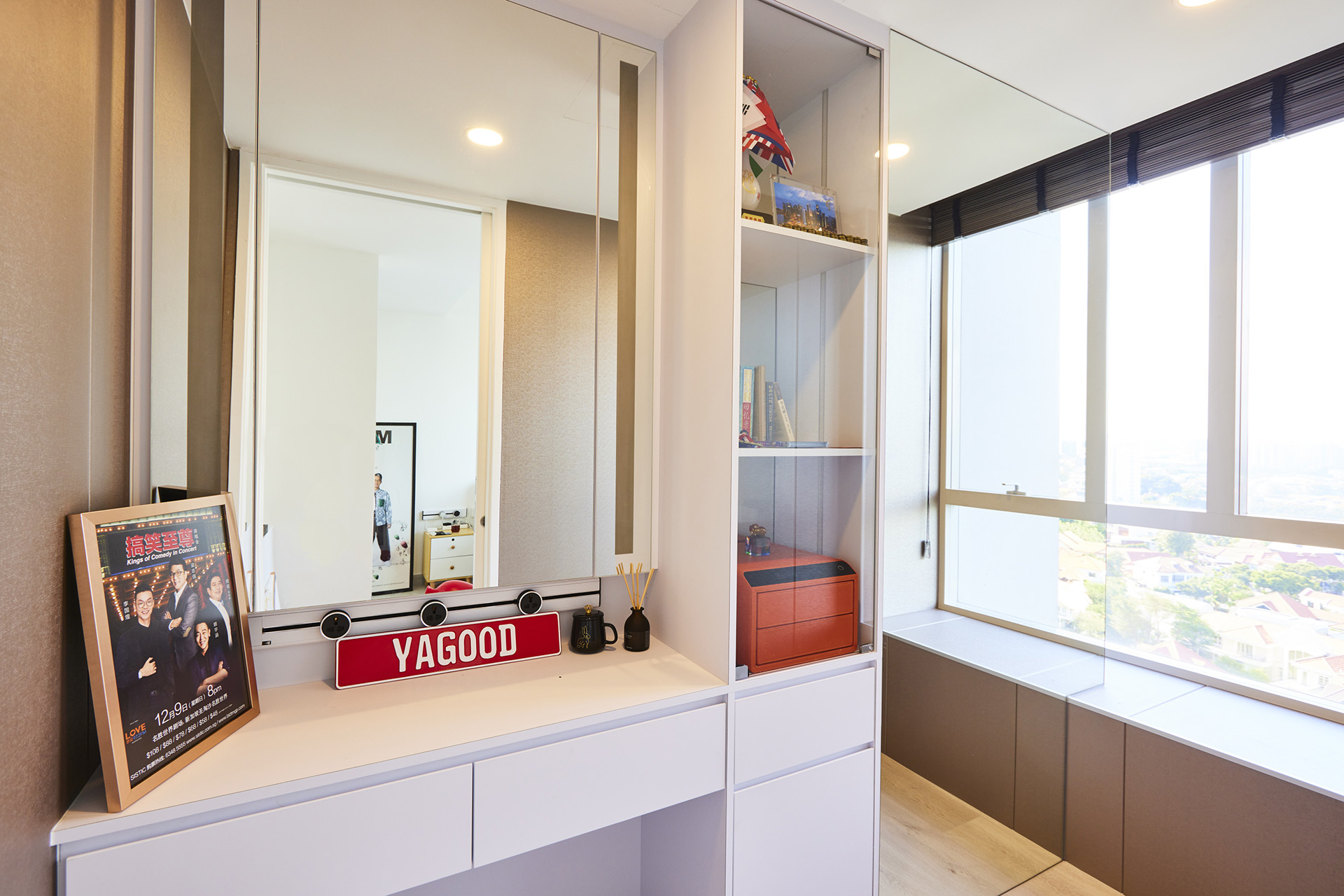 Due to fengshui, the original master bathroom was converted into a dressing area and space for Jaspers to keep things that are valuable to him like his newspaper clippings, safe, a poster with his three mentors, Mark, Jack Neo, and Henry Thia, as well as books on the late Lee Kuan Yew.
The guest room, which features a darker palette, was designed to look "more mature and glam" as a nice backdrop for the actor's livestreams and virtual meetings.
"It's a pity I can't have this as my bathroom. It's bigger and has a better view than the other one," he sighs. "But I kept the toilet bowl just in case we need to reinstate it when I sell the condo. Don't waste, right?"
Before: The master bathroom, which has a better view, was removed for fengshui reasons.
8 DAYS: Your apartment is bursting with character. Is this how you envisioned it to look?
JASPERS LAI: Initially, I wanted a colourful pop art-themed home, complete with an arcade machine. I even sourced for it and discussed with me ID how I wanted the place to look. Then one day, it dawned on me that this is what I think I want and what people expect Jaspers' house to look like. But at the end of the day, I just want something simple, with a little bit of quirky, like an art gallery where I can showcase my posters to myself.
 
What was your parents' reaction when they saw how the place was furnished?
They were quite surprised that I didn't turn it into a "karung guni place". I'm not kidding. I think in their hearts they were thinking let's see how Jaspers ruins this place, and then when they saw it, they were pleasantly surprised. I wouldn't say I have good taste, but they were surprised that I managed to control myself and tone it down.
 
Karung guni? Are you a hoarder?
I am a collector, hopefully not a hoarder.
(Laughs)
I have a tendency to hoard stuff, so I want to start anew here. New house, new rules, new me. I get emotionally attached to some things like my scripts. I still have all of them but I didn't bring a lot of things over. I think I have almost maxed out when it comes to décor pieces, so I can only replace, and not add more stuff. Things that I do not need, I will store them at my parents' place 'cos they can be used as props.
We love the personalised touches like the neon sign in the balcony. Aren't you afraid that people know where you live?
It's okay, they cannot come up anyway. (Laughs) They really cannot come up. Before I moved in, there was once I was stuck outside my house for more than two hours 'cos I left my mobile phone and key card in the apartment. So, after that incident I made sure to install a digital lock at my service entrance at the kitchen so I can come up via the service lift 'cos the security guards have the key card to that lift.

What other smart features do you have?
As I'm a bit of a geek and also quite absent-minded, I really wanted a smart home. So now, before I go out, I will say l, "Hey Google, I am leaving," then all the lights, and appliances like the air-con and TV will automatically turn off and the blinds will come down. I also coded my mum's catchphrase into the system 'cos I miss her nagging. When I leave, Google will say, "Go out, go out, everyday go out. What time you come back?" and when I return, it will say, "Now then you come back" and the Star Wars theme song will play to welcome me home. 
I also made sure I got a smart stove 'cos my mum once forgot to turn off the stove and our house was almost burned down. All our clothes had the burnt smell. So, this is very important for people like me who are very absent-minded. With the smart stove, even if I forget to turn it off, I can do so off via the app.
 
Was there anything that you wanted but was vetoed by your fengshui master?
Having completely see-through glass doors for my toilet and also keeping the original master bathroom. I argued with my dad over these and many other things, but at the end of the day, they are small things. I understand why my dad wants to stick closely to fengshui, but I am also stubborn, so I will try to negotiate with my fengshui master. For example, my fengshui master said that I do not need a sofa, but I really fought for it 'cos the TV, bed, sofa and balcony are very important to me. They are essential to my life and my work. I ended up getting it in JB.
What other challenges did you encounter when furnishing your new home?
I didn't know I had to wait so long for furniture. I only started shopping a month before I moved. I thought when you buy a sofa, you can get it immediately. But because it was customised, the store said it would take three months. I had to plead with the sales staff to rush it for me. It's not that I shopped last minute, I really didn't know. I have never bought a sofa before.
 
You bought quite a bit of furnishings from JB. Was it because you couldn't find anything suitable here?
My friend said there's cheaper and nicer stuff there. I did think of buying from Taobao but I am not very into online shopping 'cos I prefer to feel and see the items in person 'cos they need to [speak to him]. I don't mind paying a bit more.
 
But you can see the item in person then find the exact item online.  
I am afraid I will buy the wrong item.
You know that kind of disappointment where you wait for your purchase for months and the item that is delivered is [nowhere near your expectations]… Take this "fan" for example. Taobao said it is a fan, but it is actually a prop. There is no motor, and this is not even a wire. It's fake. This is the sort of disappointment that I want to avoid. Even though it's useless, I can't bear to throw it away. I use it as décor.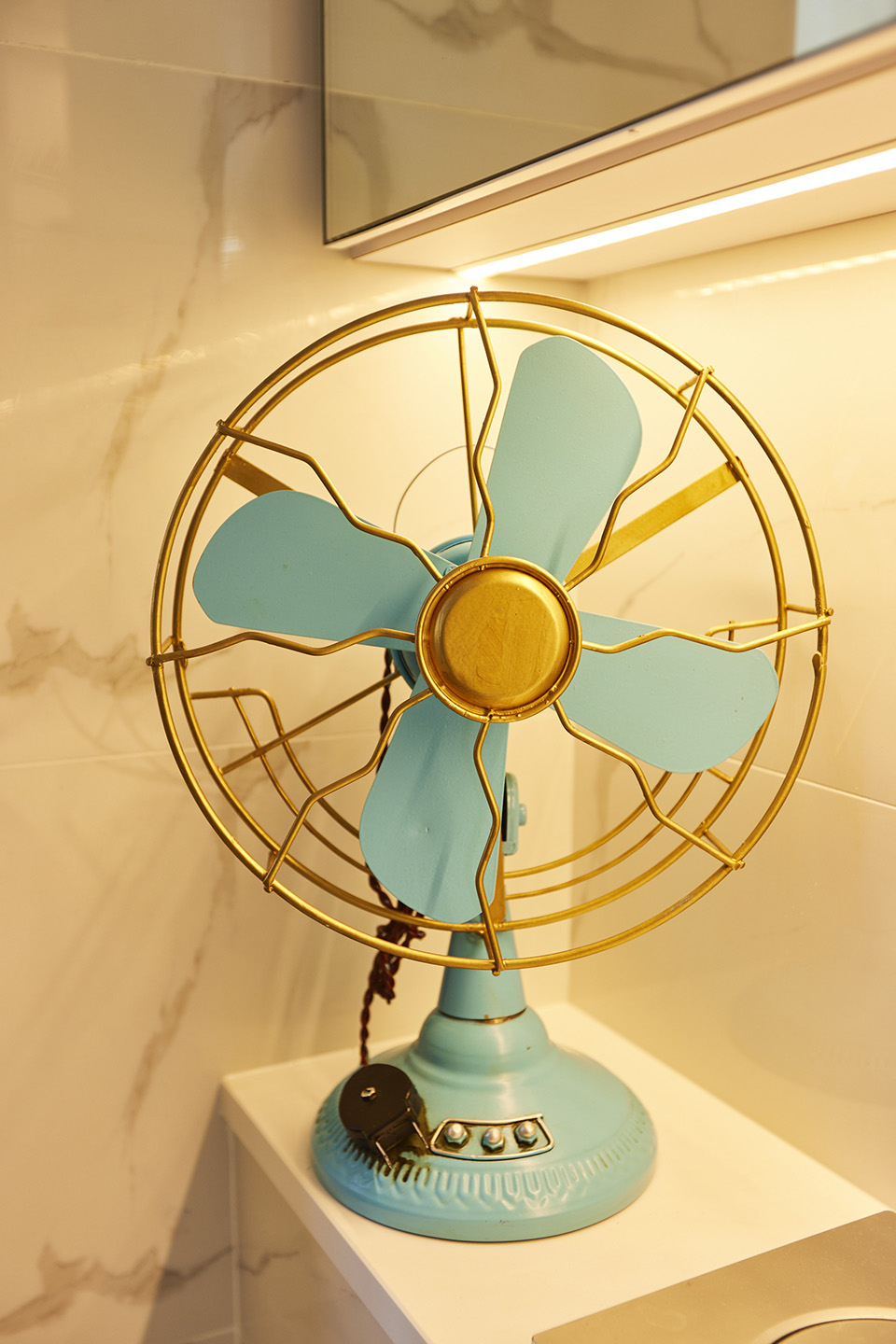 Hopefully this $20 fan, which is now displayed in the bathroom, can inspire Jaspers.
Watch
#JustSwipeLah f
or a tour of
Jaspers'
 home.
Photos: Alvin Teo
No part of this story or photos can be reproduced without permission from 8days.sg.