Comforting KL-Style Pork Noodles With Large Meat Patty Found At Yishun Hawker Stall
The Malaysian-born restaurant chef-turned-hawker of Chef Wai Hometown Noodle serves zhu rou fen from his hometown.
Nope, this is not bak chor mee as we know it in Singapore. Called zhu rou fen (pork noodles in mandarin) in Malaysia, this bowl of meaty goodness was recently introduced to a new BTO estate at Yishun Ave 6 by former restaurant chef Steven Chan, 32. Instead of loose bits of bak chor or minced pork in Singapore's version, his bowl comes with a photogenic large meat patty soaking in cloudy soup, along with a variety of pork cuts.  
Housed at Prime Court coffeeshop, the ten-week-old stall has a cute but kinda confusing logo. Next to a bowl of noodles are the mandarin words 'Chen Jia Mian' ('Chen Family's Noodles' — the hawker's Cantonese surname Chan translates to Chen in mandarin). Bewilderingly, the English name in small print says 'Chef Wai Hometown Noodle'. What gives?
No part of this story or photos can be reproduced without permission from 8days.sg.
Resume as a chef
"I used 'Chef Wai' because when I came to Singapore [from Malaysia] at 18 and worked in a Chinese seafood restaurant, everyone called me 'Ah Wai'," explains Steven aka Chun Wai, a KL boy-turned-Singaporean. He later joined the Paradise Group as a cook (and eventually, was promoted to kitchen manager) for three years in their now-defunct western concept cafe, while earning his part-time diploma in culinary management at a private school. His last stint was at Jack's Place, where he oversaw 15 outlets and their central kitchen as senior sous chef.
Met Singaporean wife at Jack's Place
It was during his first stint at Jack's Place seven years ago that he met his Singaporean colleague-turned-wife, restaurant manager Felicia Hui, 33. The parents of two young kids who recently moved to their BTO flat in Yishun had always planned to start their own hawker stall someday. Steven was chuffed to chance upon this vacant stall just 10 minutes' walk from home. Felicia then quit her last job at 18 Chefs cafe to run their stall together. While Steven watches the soup station, Felicia mans the noodle one, following Steven's strict instructions ("Cook the mee kia for 20 seconds!").  
Introducing KL-style meat patty to Singapore
Steven decided against selling the western food that he was familiar with because he felt it was too competitive with the likes of Astons cornering the affordable western food market. Instead, he wanted to specialise in Malaysian-style pork noodles uncommonly found here, so as to give his countrymen a taste of home while introducing Singaporeans to the popular comfort food. "We're really glad to see Malaysians travelling here to try it, and even recommending it to their friends."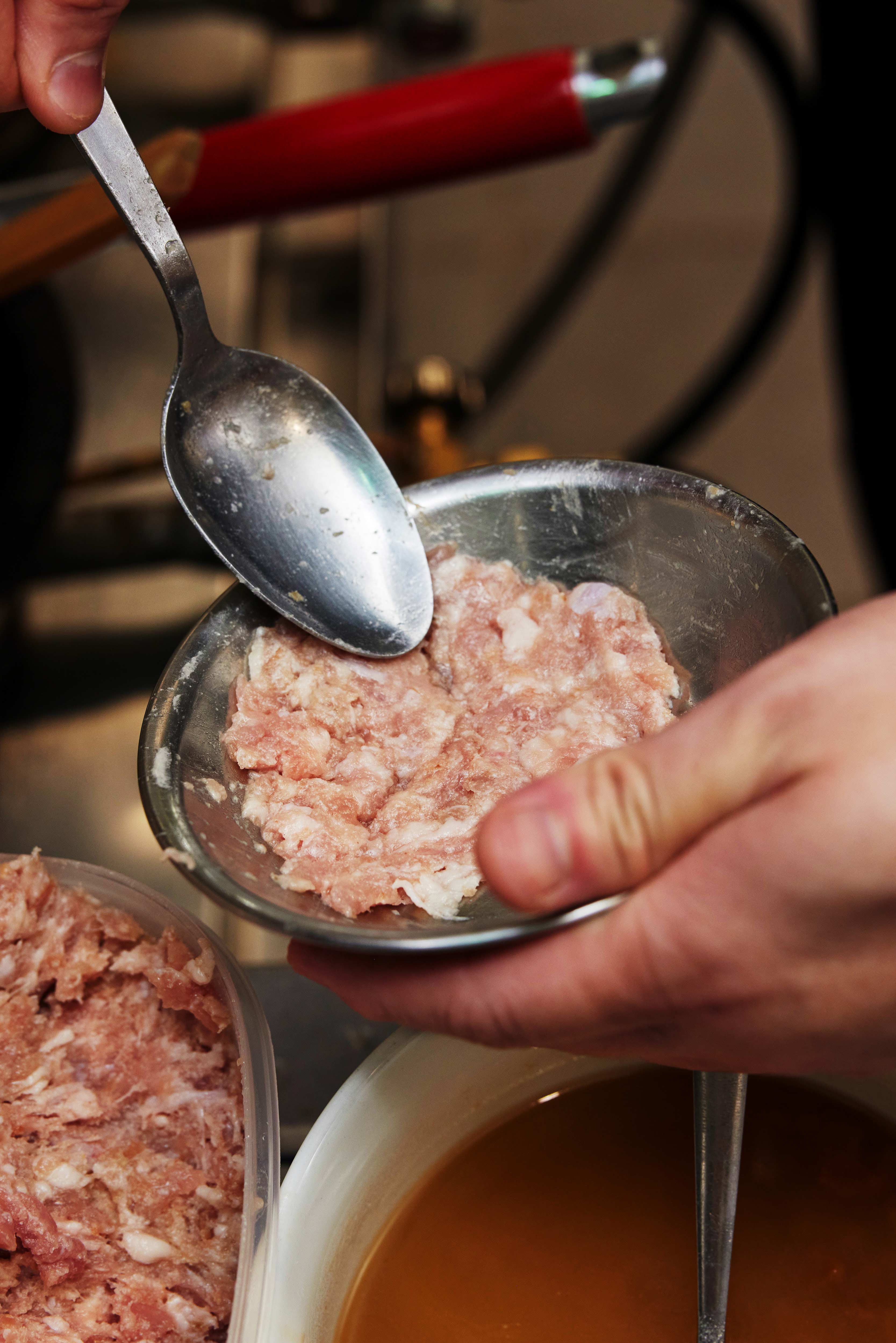 The patty, the size of a child's palm, is apparently a newish trend among hawkers in KL says Steven, though the traditional version with regular minced pork is not new and can be found across Malaysia. The last time we had a bowl of zhu rou fen was in Ipoh, where the minced meat was served as bite-sized chunks instead of a single large patty.
Five noodle options – but no mee pok
Just like how it is served in Malaysia, you can have dry or soup versions of the dish. Choose your fave noodles from hor fun, bee hoon, yellow noodles, mee kia or mee tai mak. Why no mee pok? "Because Malaysian-style zhu rou fen isn't served with mee pok," says Felicia.   
Tossed in a house-made blend of dark soya sauce and "my own kungfu", says Steven about his mysterious seasoning, the noodles come topped with fried pork lard. He makes a fresh batch of 15kg every five days. For fifty cents more, you'll get an extra scoop. "Three in five of our customers – mostly middle-aged folks – request for extra lard!"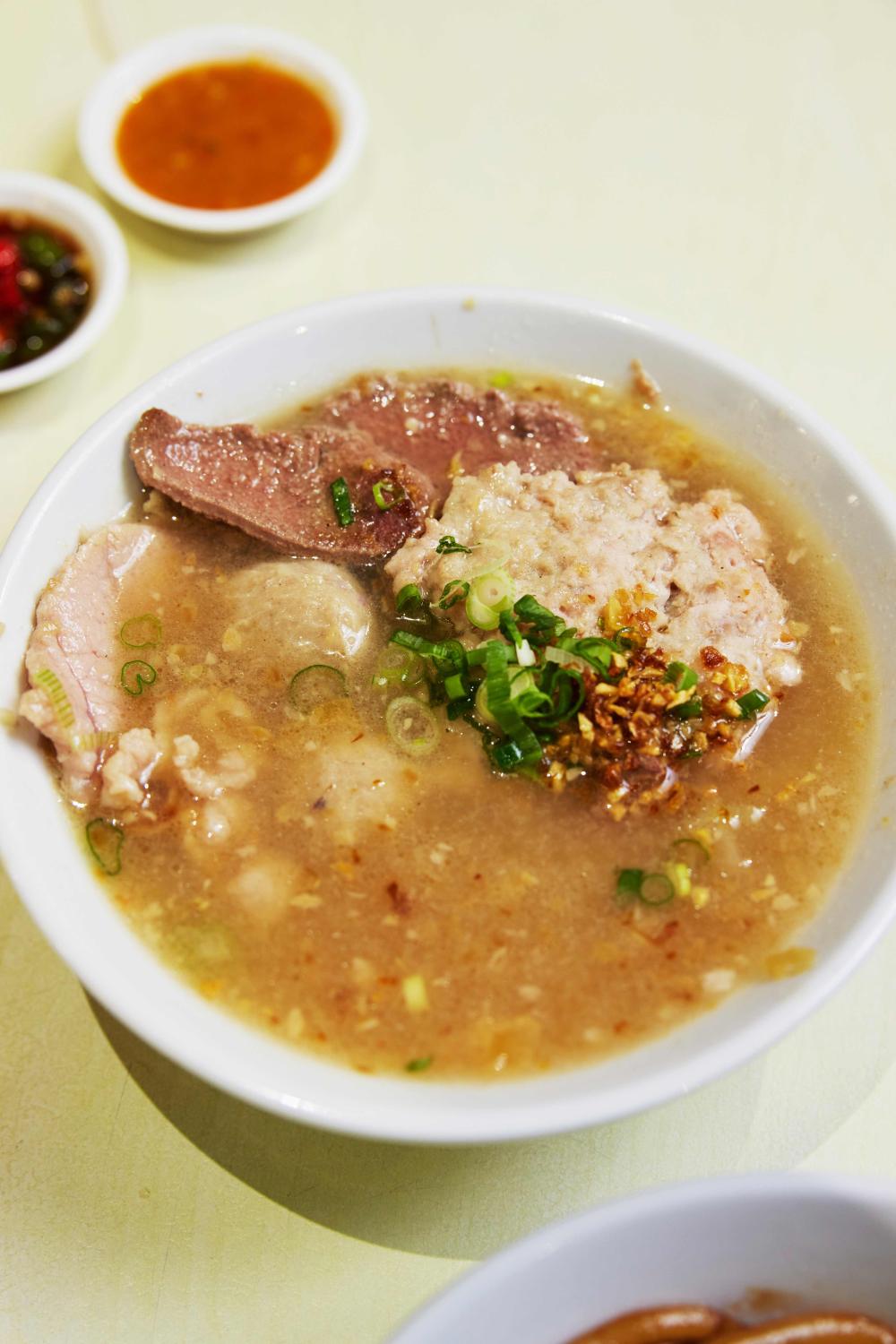 Classic Pork Noodle Dry, $4.50
The star of the show here is undoubtedly the accompanying bowl of full-bodied broth. Pork bones, cabbage "and other secret ingredients" are boiled for at least eight hours. Every bowl is cooked fresh and served with a spoonful each of fried garlic bits and spring onion. You get two to three slices of sliced pork, two store-bought meatballs and that tender large pork patty. We detect a savoury tinge in the patty that reminds us of salted fish. "Nope, not salted fish nor dried sole fish; it is mama de wei dao (mummy's special flavour)," says a tight-lipped Felicia. 
Three slivers of liver are added to the boiling pot at the very end to keep them pink and tender. "I love their liver, it's so soft," enthuses a regular customer queueing for her breakfast at 9.30am. We suggest going for the QQ dry mee tai mak tossed in Steven's dark soya sauce-based dressing, an excellent contrast to the crunchy lard. Chase it down with their hearty soup.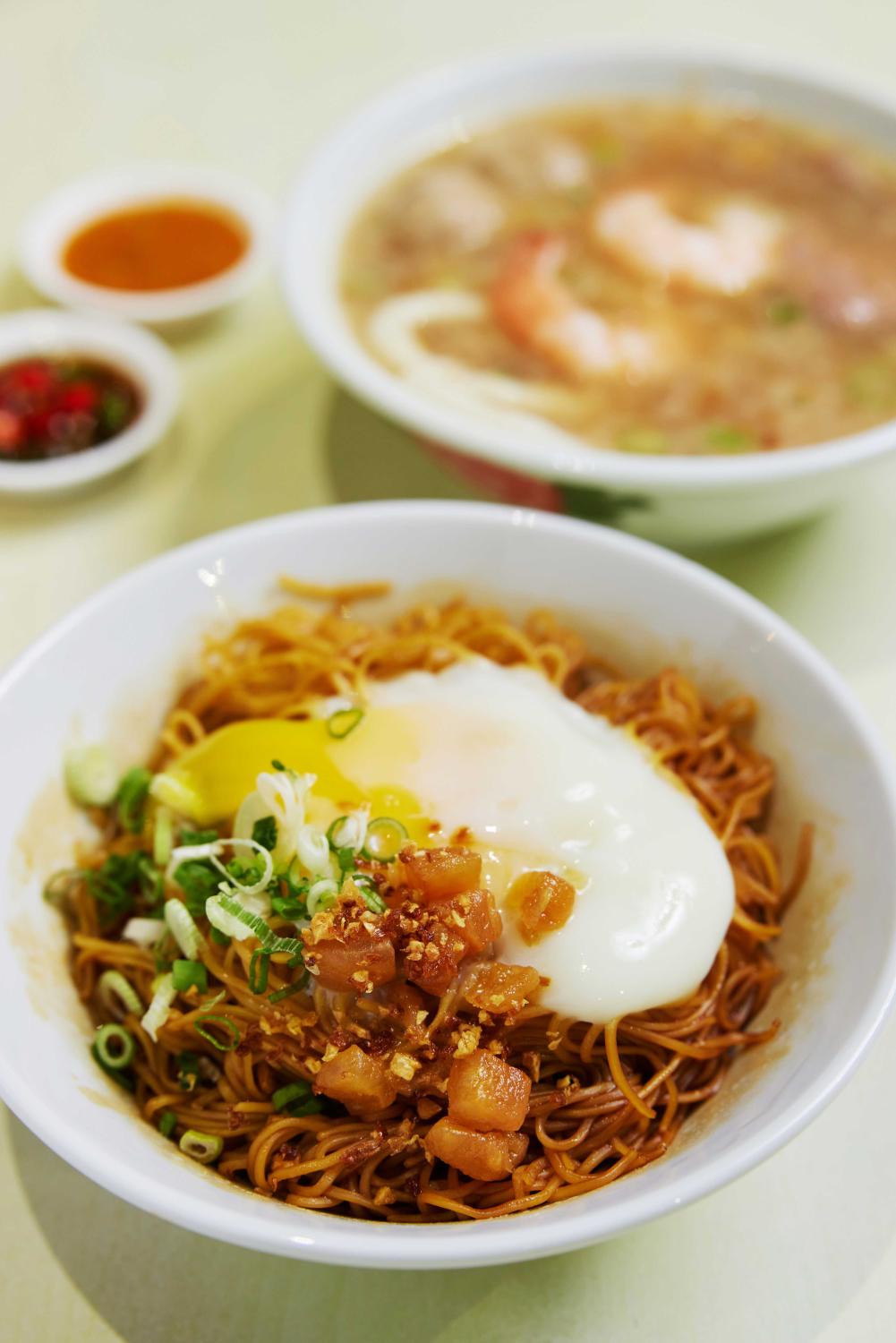 Signature Seafood Pork Noodle Dry, $6.50 (8 DAYS Pick!)
The Seafood set costs $2 more than the Classic Pork Noodle. Besides the usual ingredients, it comes with two decent-sized, deshelled prawns, three rather chewy thin squid rings, and an onsen egg cracked onto your choice of noodles. Considering that it would already cost you $1 extra to add an egg, we think this set offers good value for money. We recommend the al dente mee kia, lovely when coated with the silky egg.
Bitter Gourd Pork Noodle Soup, $4.50 (8 DAYS Pick!)
Bitter gourd haters may not agree, but we think the addition of the thin slices of gourd elevates this bowl of slippery hor fun soup. (Mee tai mak also makes a good choice for the soup version.) The greens lend a refreshing sharpness that cuts through all that meaty lardiness. Dip the meat into the house-made chilli sauce, a piquant mix of fresh big chilli, chilli padi, vinegar and calamansi zest.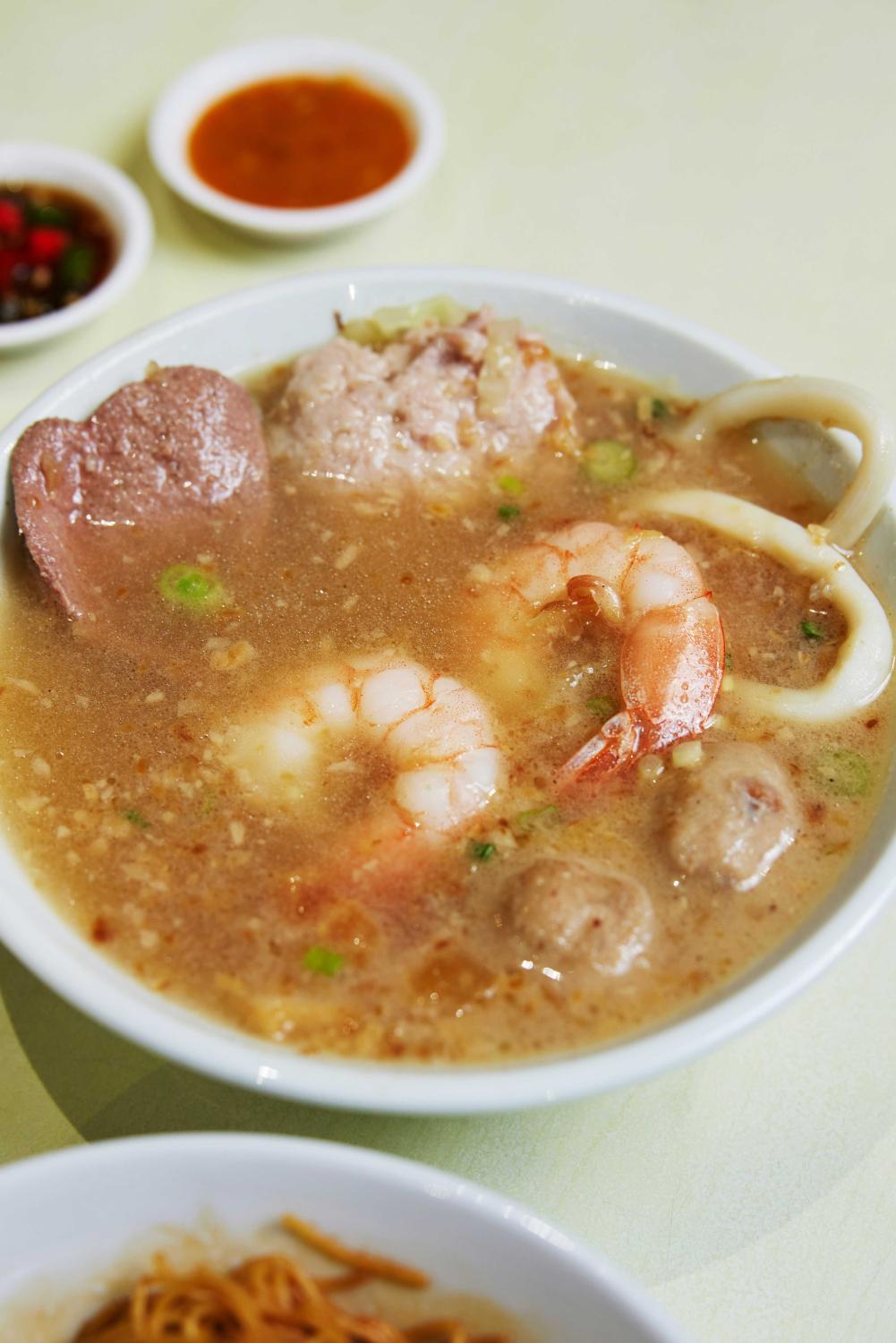 Bottom line
We find the large pork patty here more tender and juicy versus those served in smaller chunks elsewhere. While it's not the best bowl of zhu rou fen that we've tried – that honour goes to the heritage stall we visited in Malaysia – Steven's soup is still pretty tasty. We recommend ordering his dry noodles perfumed with lard oil and robust chilli while enjoying the broth with the meat patty on the side.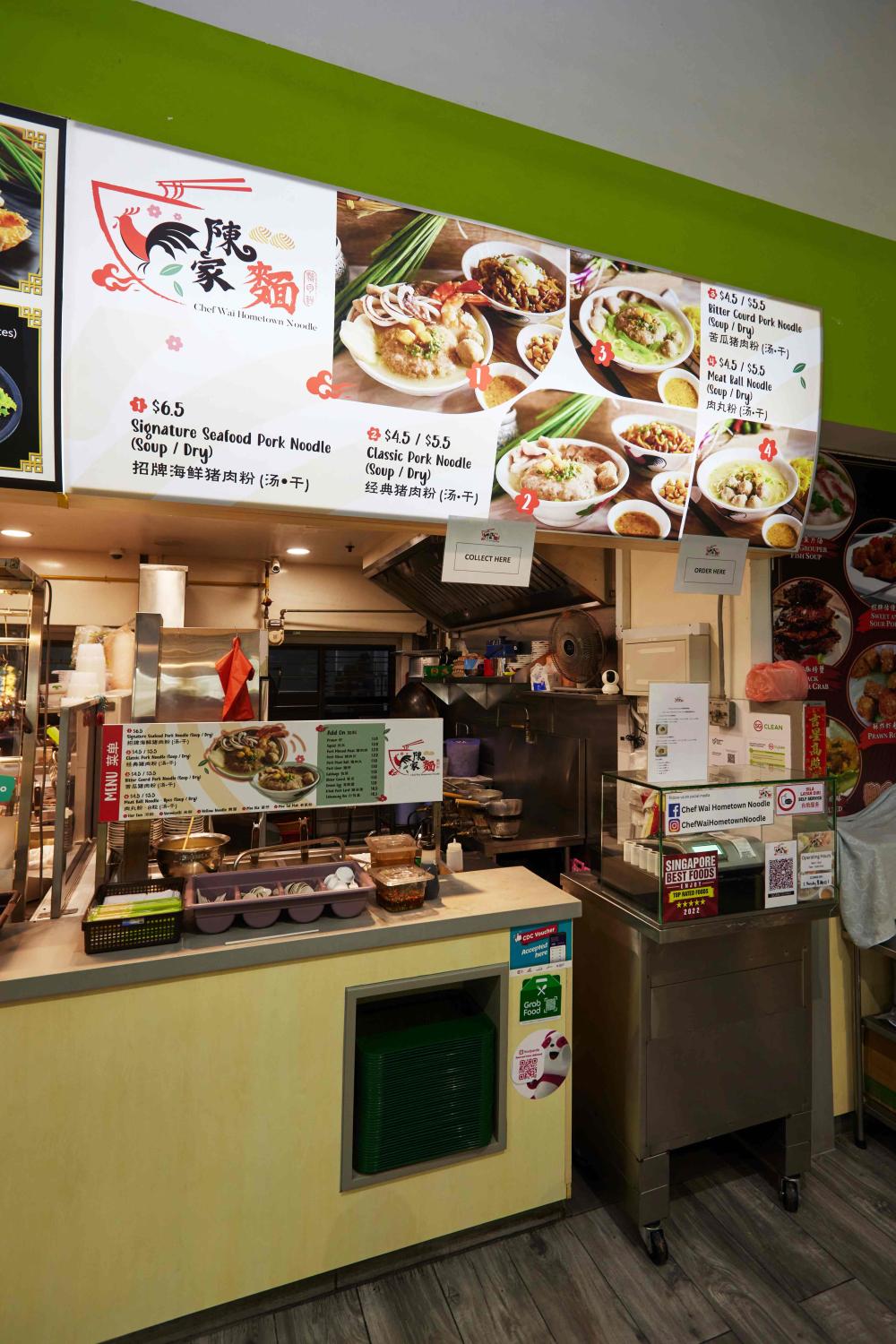 The details
Chef Wai Hometown Noodle is at
Blk 461 Yishun Ave 6, Prime Court Stall 5, S760461.
Open daily except Thur, 7am to 5pm. Open 7am to 4pm on Christmas Eve, Christmas Day, New Year's Eve & New Year's Day.
More info via
Facebook
&
Instagram
.
Photos: Kelvin Chia
8days is now on #tiktok! Follow us on 
www.tiktok.com/@8dayseat
No part of this story or photos can be reproduced without permission from 
8days.sg
.