Community Fan-Fave Jim Rash On Being Cast In LGBTQ Rom-Com Bros And Working With Russo Bros On A Marvel Movie
Jim Rash, aka Dean Pelton, is happily playing a small part in a historic rom-com. 
When Jim Rash first got involved with Bros, he didn't know he was part of history in the making. In fact, he wasn't even cast.
"I don't know what draft number it was, but it was an early draft of Bros, and they just brought some actors together for a table read," says Rash, who's best known for his role as Dean Pelton in Community, the cult comedy series about a group of strangers who become BFFs in a community college.
It wasn't until two years later that when Rash was cast that he realised how significant the project was.
Starring and co-written by Emmy-nominated comedian Billy Eichner, Bros is the first gay rom-com to be given a wide theatrical release by a major studio (Universal), as well as the first with an all-openly LGBTQ+ cast.
Directed by Nicholas Stoller and produced by Judd Apatow, the team behind Forgetting Sarah Marshall, Bros tells the story of Bobby, a lovelorn gay podcaster (Eichner) with commitment issues. As he's sorting out his messy love life, he's hired to oversee a brand-new LGBTQ+ Museum of History and Culture.
Rash plays Robert, one of the members of the committee chaired by Bobby. Granted, Robert is a small part but as the saying goes, "there are no small parts, just small actors." Despite his limited screen time, Rash still manages to steal a scene or two, including one moment where he suggests "a hall of bisexuals".
"I wish I could take credit for that," says Rash, who's also an Oscar-winning writer for the 2011 George Clooney dramedy The Descendants. "That was in the script." Rash also has a few credits as director (which he frequently shares with The Descendants co-scribe Nat Faxon), including 2020's existential crisis comedy Downhill, starring Will Ferrell and Julia Louis-Dreyfus.
When 8days.sg spoke to Rash over Zoom from Los Angeles, Bros just had its world premiere at the Toronto International Film Festival and hasn't opened in the US. (The interview also happened before the Community movie was officially greenlit, but that's another story for another time.) Rash is hopeful that the rave reviews will translate into sizzling numbers at the box-office (sadly, it didn't). But whether it's a hit or no hit, Rash believes Bros is a trailblazer in inclusive casting and diverse storytelling. 
Bros premiered here at the 13th Love & Pride Film Festival on Oct 4. A second screening is slated on Oct 15. 
Meeting in session: (from left, clockwise) Eve Lindley, Jim Rash, Dot-Marie Jones TS Madison, Billy Eichner, and Miss Lawrence in Bros. 
8 DAYS: Robert is a small part in Bros. What's the secret to making a minor character memorable?  
JIM RASH: Well, look, that's the beauty of an ensemble piece. What Billy created at the core of this movie is this gay romance, and then brought all these diverse characters into it, so you have this wealth of points of view coming at him. We shot three long scenes with the committee around a table. This movie was probably 140 pages script-long, so a lot of the stuff got cut out along the way. But what's left keeps the spirit of that ensemble intact.
If Bros becomes a hit, how would it affect the way Hollywood cast LGBTQ+ actors?
I hope, well, look, I, know it'll be a hit, right? I just hope it pushes and keeps the momentum going. We have a tendency to ebb and flow with representation — with a few steps forward, and a few steps back. And I don't want it just to be based on the box-office success, but rather the desire to tell great stories and let our eyeballs find them. It's so imperative, especially in our world right now, the gift and the curse of social media platforms allow people to voice their opinions. I think now is a great time for us to put out stories that represent everyone. So I hope studios follow Universal's lead here and keep telling these stories.
As a director, what did you learn about comedy from watching Bros director Nicholas Stoller?
It's a good question. I admire Nick. I'm a writer, director and actor. I'm always learning when I'm on set. What I really appreciated was Nick understands the beauty of improv. When you have a strong foundation of a script, that's so solid in characters that improv only enhances rather than derails the project. He also understands pace and comedy because when you're doing those scenes together, there's this energy when you're directing it on the set which you have to recreate back in the editing room.
What did you learn about directing from the Russo Brothers, Anthony and Joe? You did Community with them and they cast you in Captain America: Civil War.
Yeah, I admire those two so much. Community was such a gift that, you know. When they were doing the show, they were alternating as directors. So you'd either have Anthony or Joe at the helm, you know, while the other one was prepping. They were just well-oiled machines in the best possible way. They know comedy, and then to watch their career graduate into, not graduate, evolve into the Marvel world…  I remember when we were shooting Community, Joe had dailies from the elevator fight scene from Captain America: Winter Soldier. He was just showing off this incredible scene that they choreographed within the confines of an elevator. I marvelled at how they kept the set so light. From what I saw on the Civil War set, I never saw the stress on them. I don't know if that's possible. Or maybe it was internalised, but I want whatever they were drinking (laughs).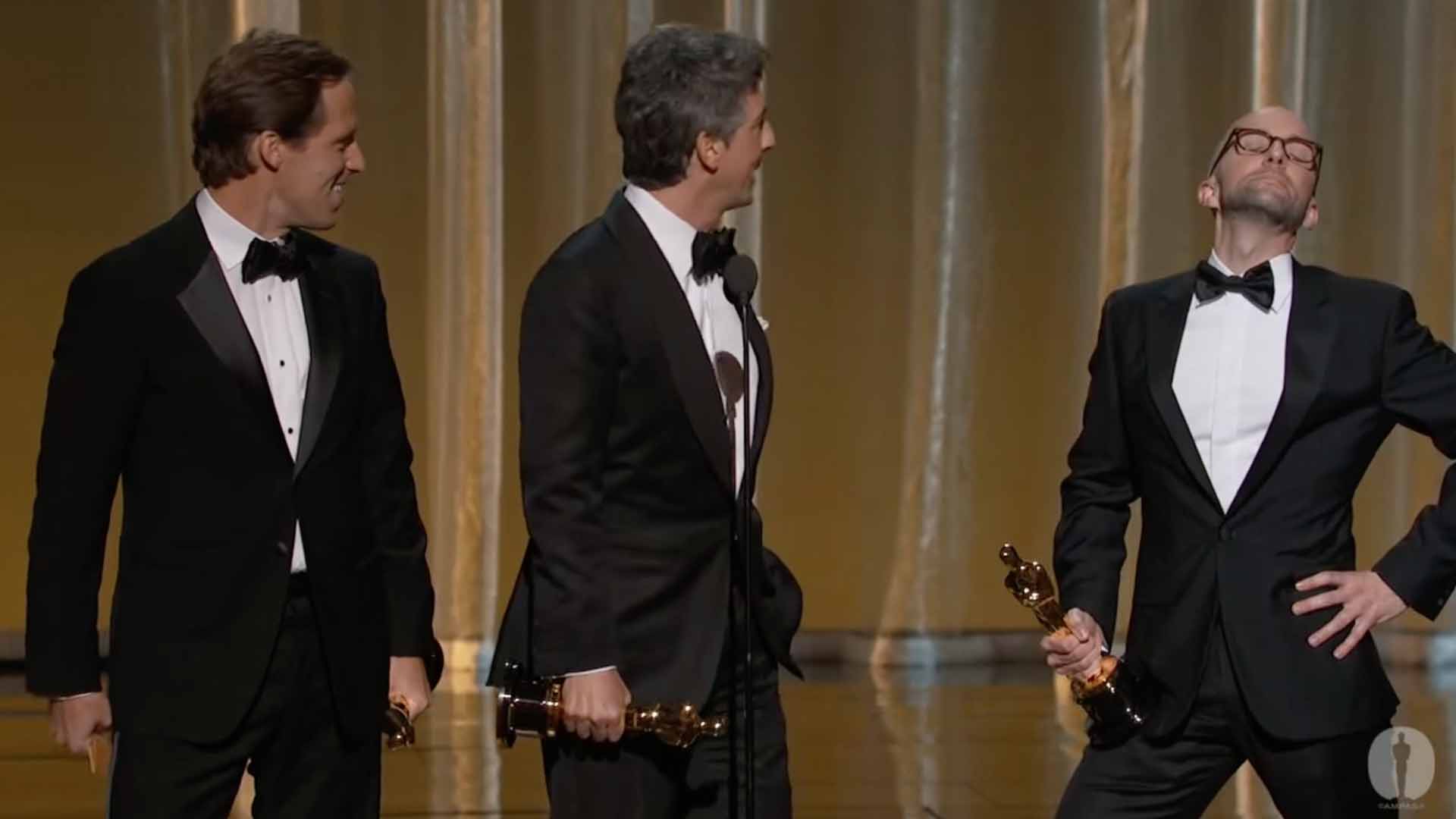 Clowning around: Jim Rash on stage with Nat Faxon and Alexander Payne at the 2012 Oscars, where they won Best Adapted Screenplay for The Descendants. 
When you, Nat Faxon and Alexander Payne won the Oscar for Best Adapted Screenplay for The Descendants, you went on stage and paid homage to presenter Angelina Jolie's right-leg flashing pose. It was a classic moment. Out of curiosity, where do you keep your Oscar?
It's just on a bookcase. I should put it on a pedestal. (laughs)
Catch Bros (R21) at the 13th Love & Pride Film Festival at Golden Village Vivocity on Saturday (Oct 15), 6.50pm.
Photo: Jim Rash (Main), TPG News/Click Photos