Construction Worker Pronounced Dead After Falling 15m While Dismantling PSY's Concert Stage
Initial investigations revealed that the worker, who's in his twenties, likely lost his footing while dismantling a light tower at the summer concert, which is known for using up to 300 tons of water to splash concertgoers.
Hallyu star PSY, 44, who's most known for his 2012 mega-hit song 'Gangnam Style' issued an official statement on yesterday (Jul 31) after reports revealed that a construction worker had fallen to his death while taking down the stage at the star's Gangneung concert.
PSY is known for his summer concerts, which he has held since 2011.

The main-selling point of the tour, which features multiple stops in cities over Korea, is that copious amounts of water will be used at the concert.

Giant water cannons are used to spray water into the crowd during the concert. According to reports, each concert will use up to 300 tons of drinkable water.
The concert tour was put on hold due to COVID-19, making this year's tour the first in three years. However, even before the concerts, PSY faced criticism from netizens for "wasting water", as South Korea is currently facing a severe drought.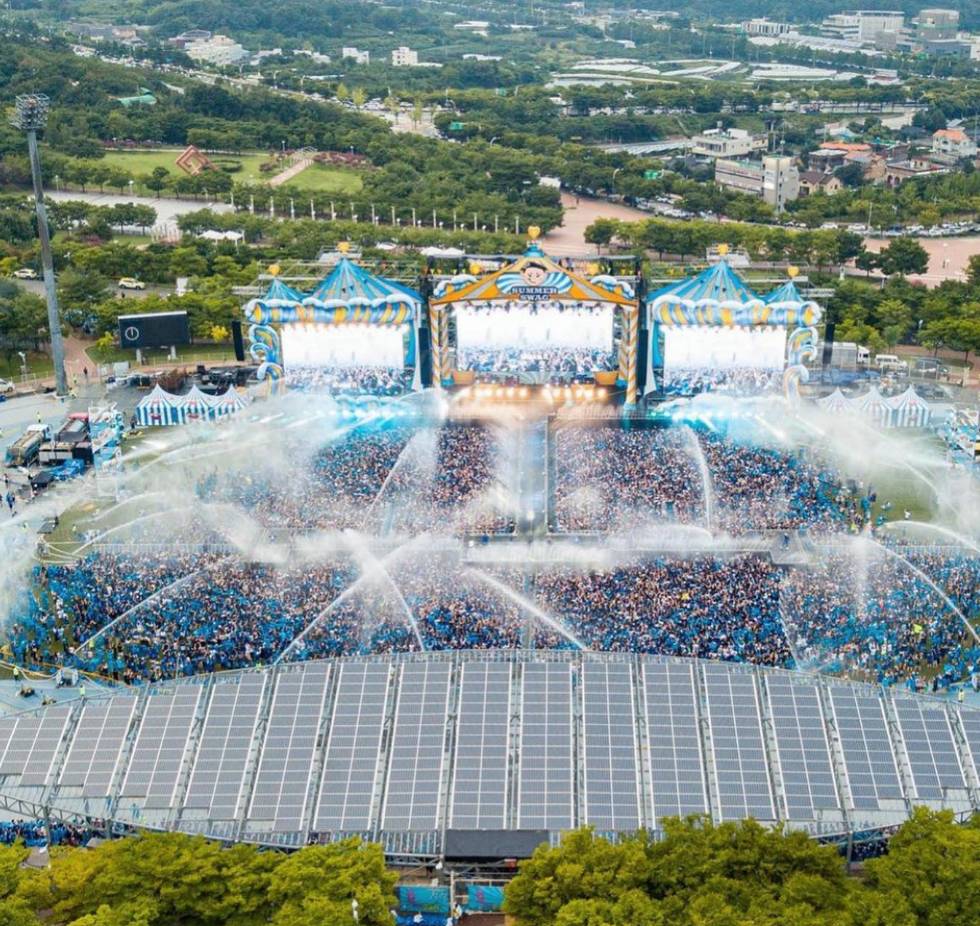 Water park, but make it a concert.
Nevertheless, the 10-stop concert tour proceeded on as planned.

On July 30, PSY performed in Gangneung. One day later, it was reported that the construction workers dismantling the stage were ordered to stop work at around 3:53pm.
Later reports revealed that a Mongolian worker in his twenties had fallen from a light tower while dismantling it.

The tower was about 15m high, and the worker, who was in a state of cardiac arrest, was rushed to the hospital. Unfortunately, he was pronounced dead upon his arrival.
Initial investigations revealed that the worker most likely slipped from the light tower due to the wet and slippery conditions of the stage.

Currently, investigations are being conducted to ascertain if the proper safety procedures were followed when the accident happened. Additionally, the exact cause of the fall has not been confirmed yet.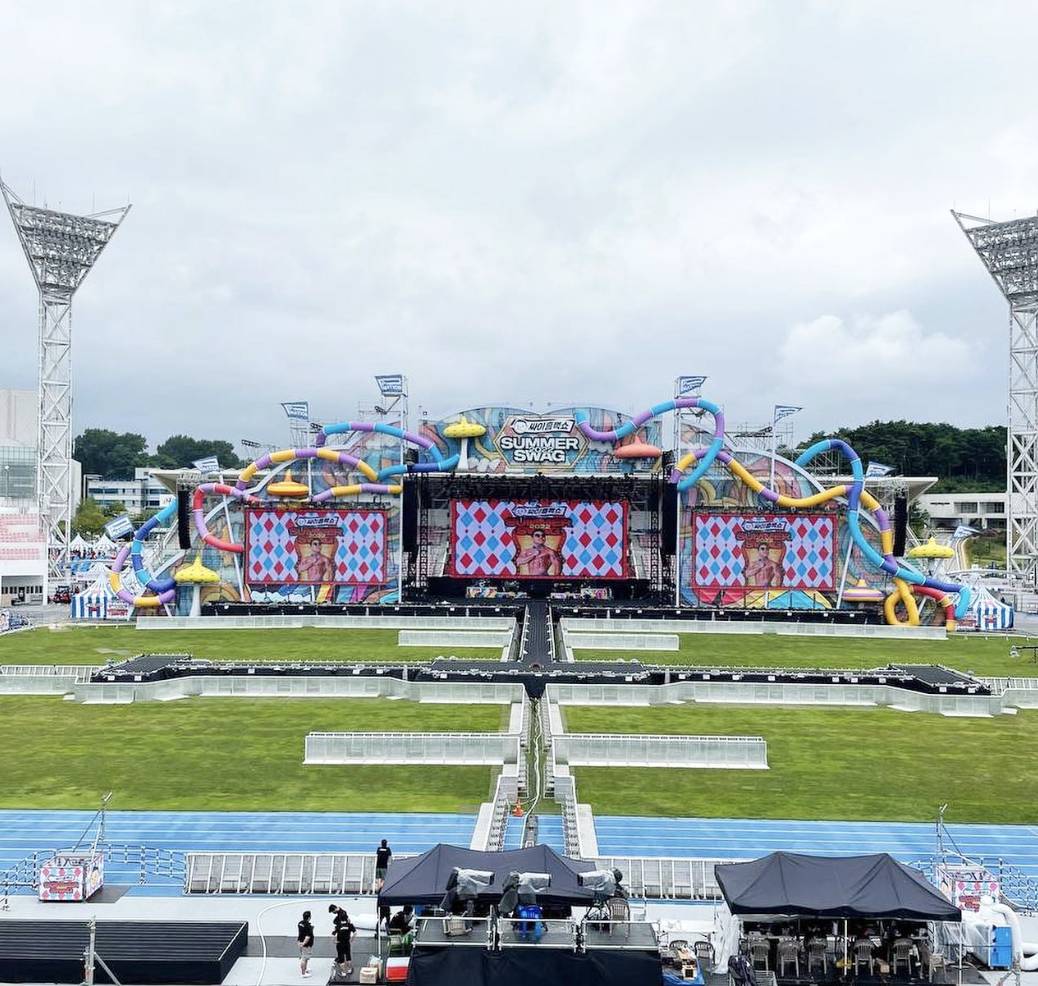 This was the stage set-up for the Gangneung stop.
PSY's management agency, P NATION, issued a statement on the day of the accident, confirming the construction worker's demise.

They revealed that the Mongolian worker was employed by an outsourced contractor, and also expressed their utmost regret.
"We are deeply aware of the hard work put in by the labourers who toil silently behind-the-scenes, and as a result feel even more anguished by this [fall]," the statement read.

P NATION added that they will do their best to assist in matters regarding the labourer's funeral. They also pledged to review their operating procedures, and incorporate countermeasures, so as to prevent any similar incidents from happening.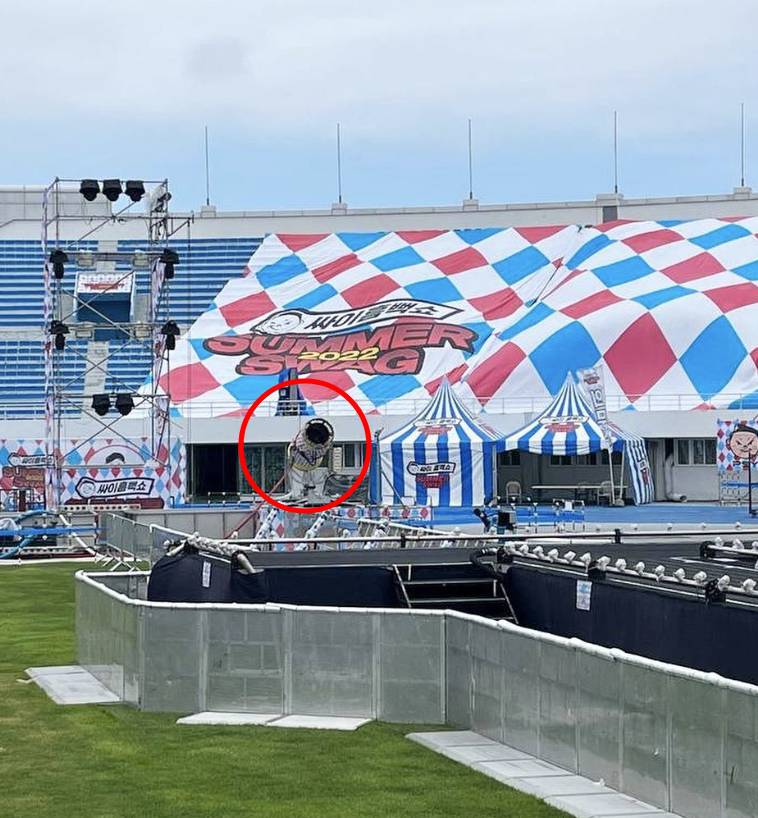 One of the water cannons installed at the concert (circled in red).
Photos: PSY/Instagram, eyesmag/Instagram