Controversial Chinese coffee chain, dubbed 'Starbucks of China', coming to Singapore
Luckin Coffee, which boasts over 8,200 outlets in China, was embroiled in an accounting fraud scandal three years ago. It's now endorsed by Olympic star Eileen Gu.
China's largest coffee chain Luckin Coffee is set to debut in Singapore three years after its shocking accounting scandal. Once considered a 'unicorn' start-up with a valuation of more than US$1 billion, the Xiamen-based company born in 2017 was forced to delist from American stock exchange Nasdaq in 2020 after admitting to falsely inflating sales by over US$300 million.
Remarkably, the once-controversial company, which is now under new ownership and management, appears to be making a comeback – including an aggressive international expansion in Singapore. While details have not yet been disclosed, 8days.sg has spotted signs of the upcoming openings around the island recently.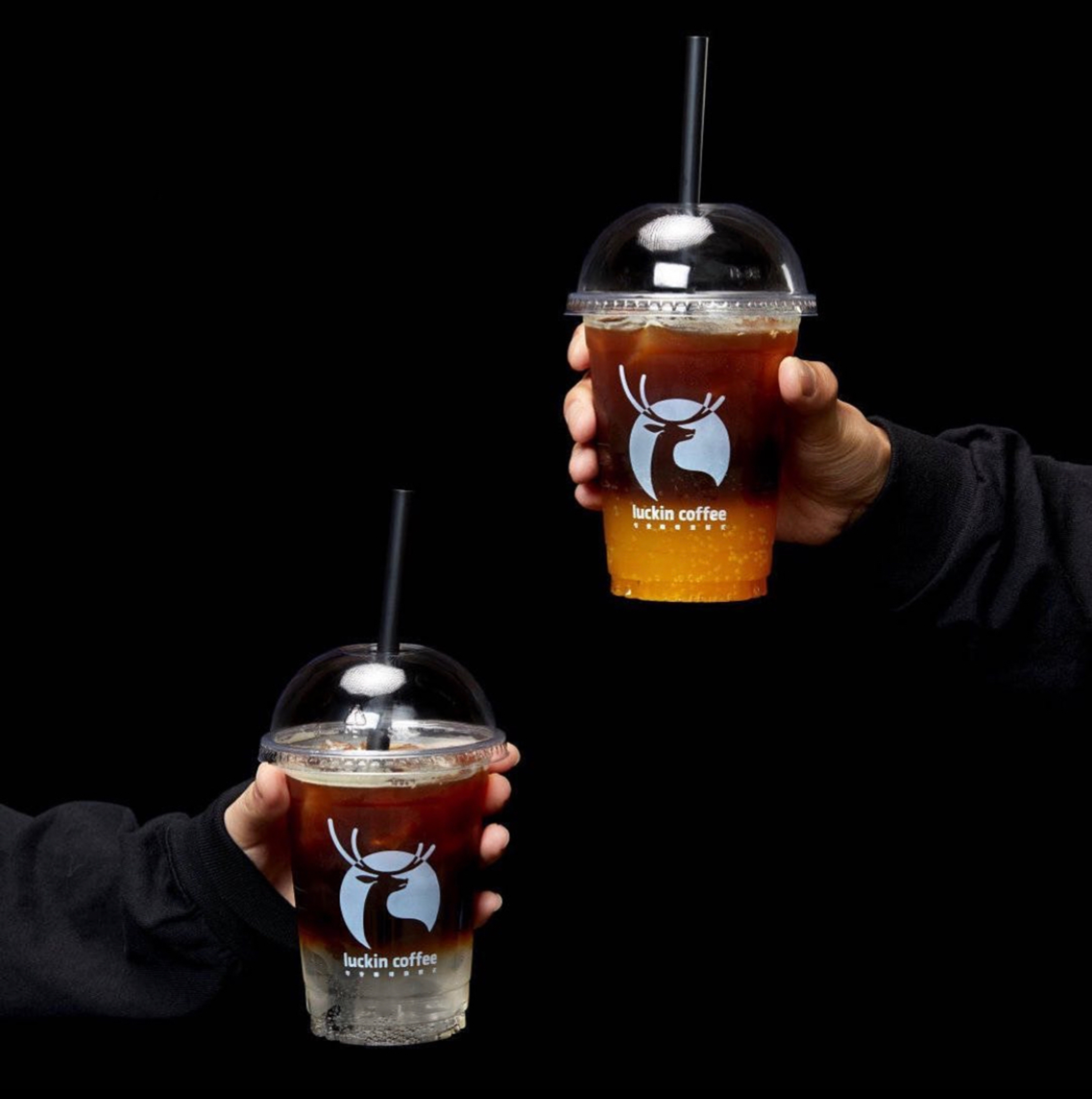 According to Singaporean Chinese daily Lianhe Zaobao, Luckin Coffee plans to open a total of ten outlets in Singapore by the end of April. This marks the chain's first international expansion. In China, the coffee giant that's dubbed "the Starbucks of China" by the media currently operates over 8,200 stores, surpassing the U.S. chain, which has "more than 6000 stores" in the country.
No part of this story or photos can be reproduced without permission from 8days.sg.
Outlets in Ngee Ann City and Marina Square 
The Singapore debut includes an outlet outside Ngee Ann City, believed to be opening late March, according to the shop's hoarding as seen above. Interestingly, the brand's font and colour scheme looks kinda like Facebook's.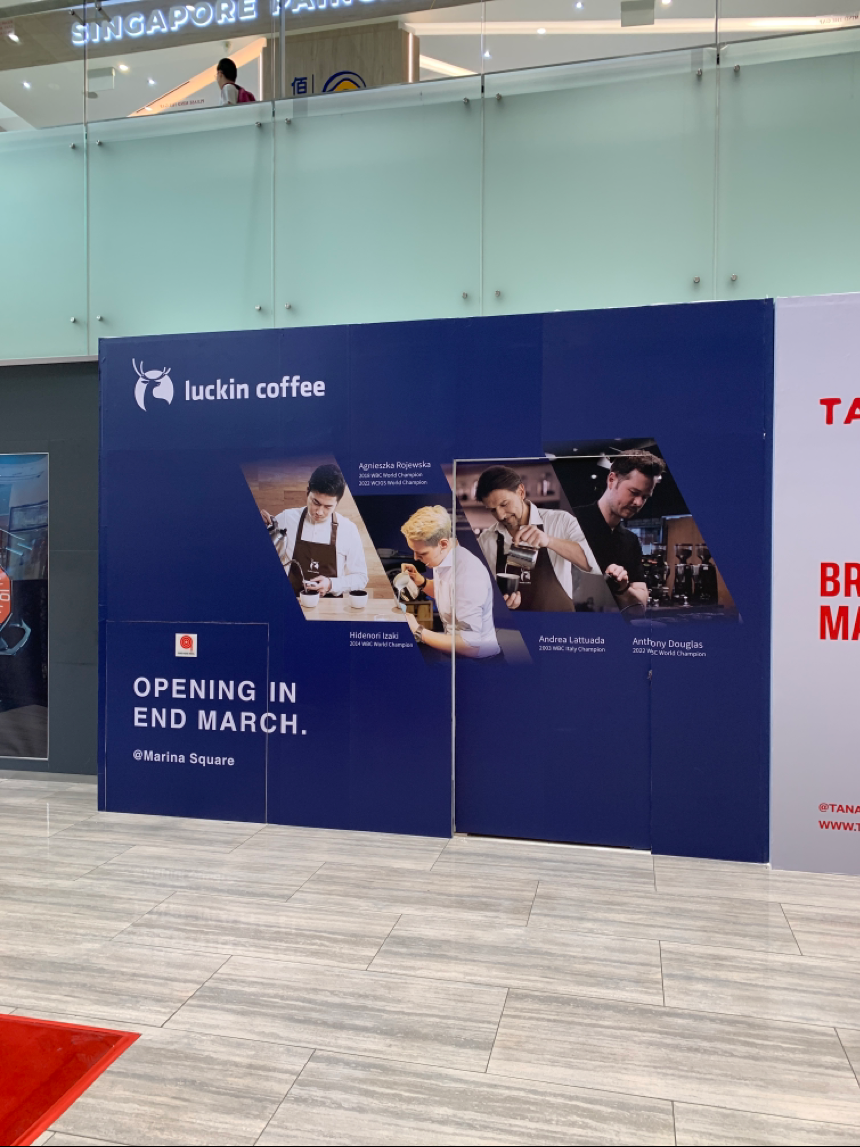 Photo: geordano/Reddit
Also opening this month – a shop at Marina Square.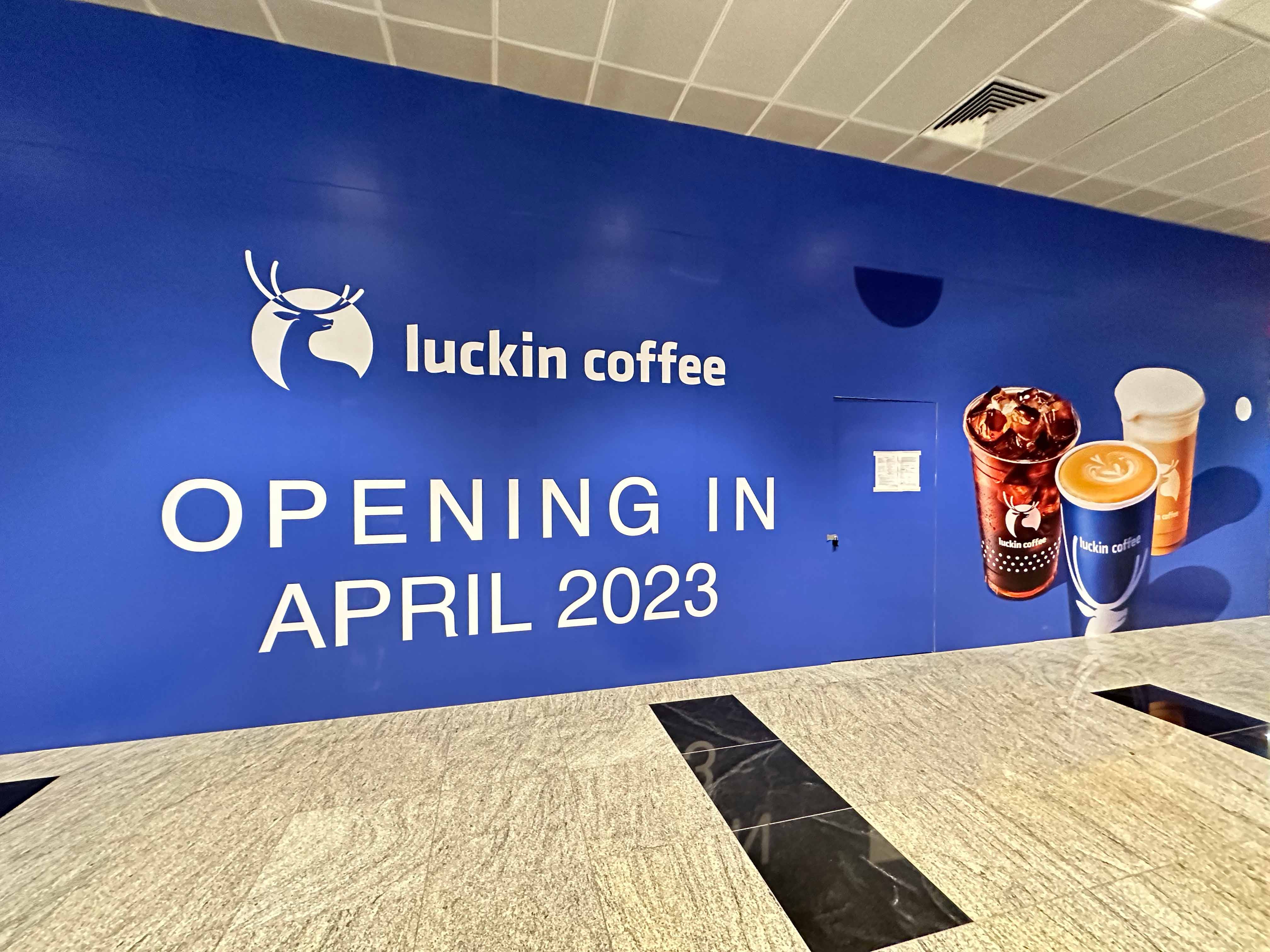 Another sign was spotted within Guoco Tower in Tanjong Pagar, where the cafe is slated to be opened in April.
Olympic star power

 from Eileen Gu 
The chain's reboot has gotten a boost from spokesperson, Chinese freestyle skiing Olympic champ Eileen Gu (also known as Gu Ailing). The 19-year-old became a breakout star at the 2022 Winter Olympics, where she took home two gold medals. 
Her performance created such a buzz in China that Luckin Coffee sold out of drinks that were endorsed by the media darling (she also has brand deals with Louis Vuitton and Tiffany & Co.) as fans clamoured for cup holders that bore her image.
Since then, the athlete has been a fixture in the chain's marketing campaigns, including a recent appearance on an International Women's Day poster. We've reached out to the brand to ask if Eileen will make an appearance in Singapore for the launch, but have yet to receive a response.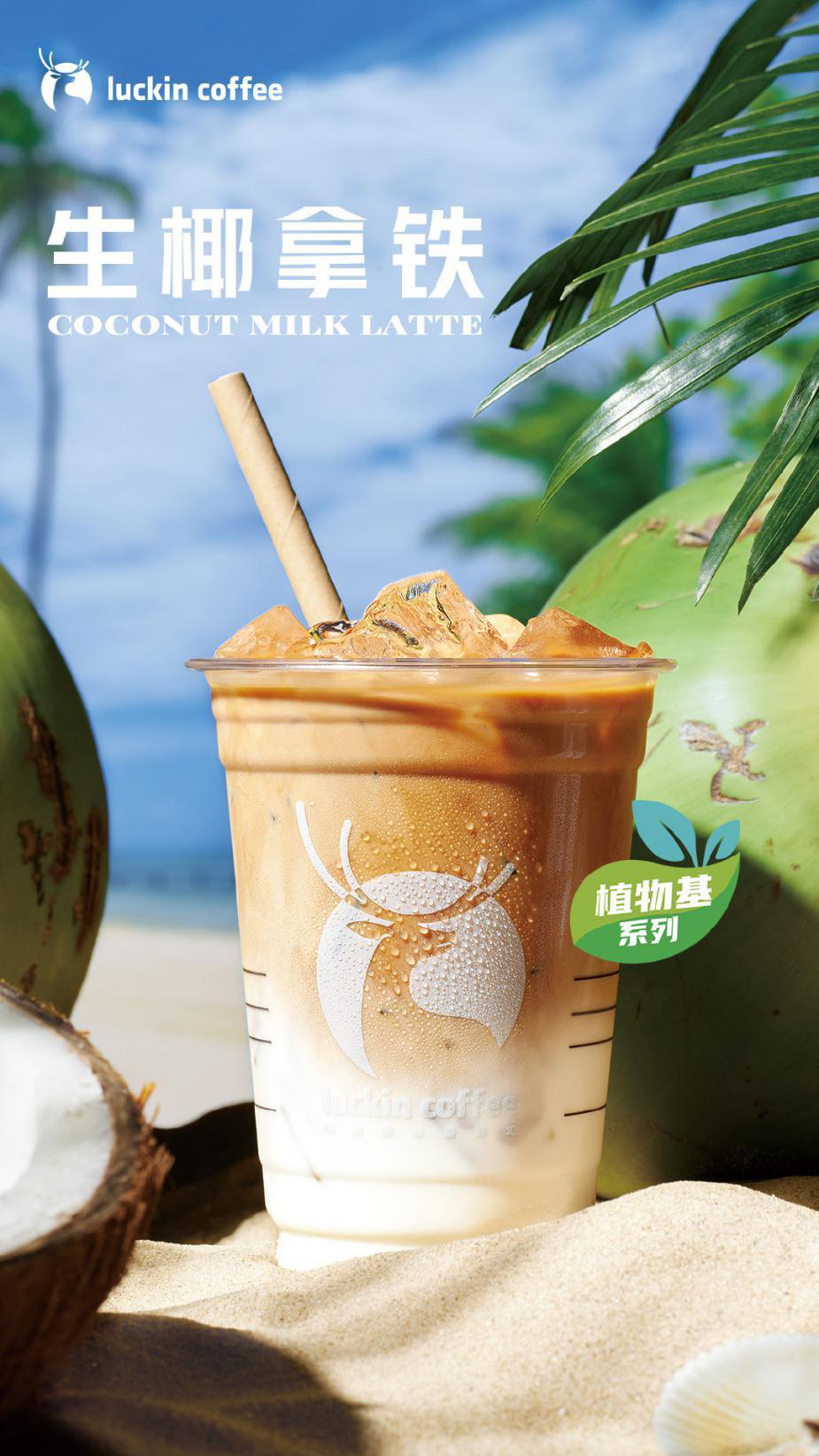 Luckin's trendy creations have been a hit in China
While we're unsure of what will be on the menu at the Singapore outlets, we're guessing that the chain – which targets a younger demographic – will bring its buzzworthy beverages to our shores.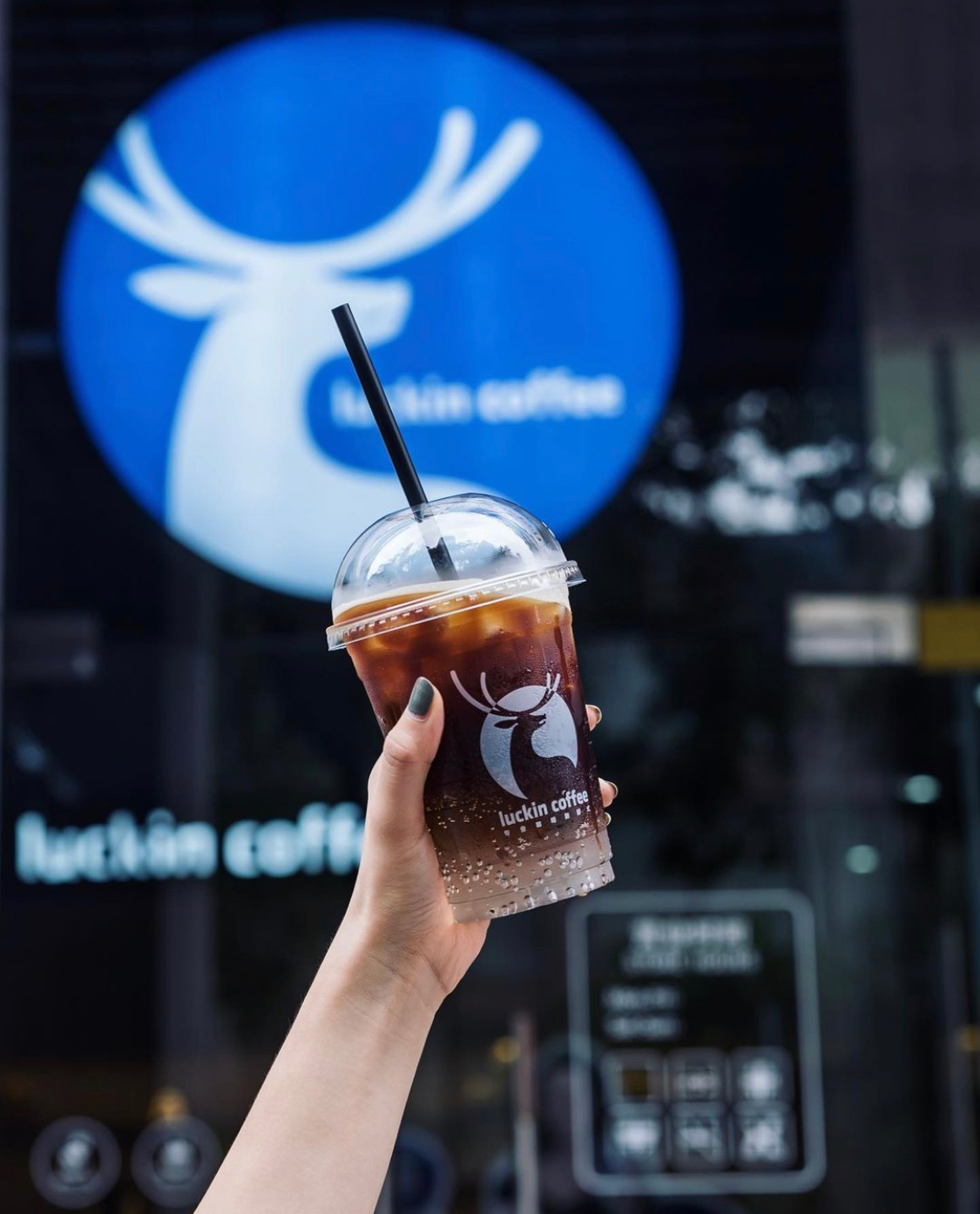 Some of their hits include a Cheese Flavoured Latte (which sold over 6 million cups in the first week it launched according to the brand's Weibo post) and its popular Coconut Milk Series, which features coffee-based and matcha lattes made with cold-pressed raw coconut milk. Stay tuned for more updates.
Photos: @luckincoffee/Weibo, @luckincoffee_official/Instagram
No part of this story or photos can be reproduced without permission from 8days.sg.
8days.sg is now on #tiktok! Follow us on www.tiktok.com/@8dayseat.