Cool Muslim-Owned Bagel Shop Draws Crowds, Co-Owner Was Head Chef At Lolla Restaurant
Beigelhaus serves house-baked bagels with gourmet touches like house-cured salmon and creative "schmears".
Following the relaxation of Covid-19 rules, the CBD welcomes the returning work crowd with its latest trendy joint – Beigelhaus, a Muslim-owned bagel shop at Robinson Square. The menu focuses on the titular bread, with a wide selection of fillings and schmears, as well as coffee and sparkling teas.
Though it only opened a month ago, the eatery is already buzzing with long lines and sought-after items like The Pink Loxy, a house-cured salmon and cream cheese combo prone to selling out. The crowd had a mix of Muslim and non-Muslim customers during our weekday lunch visit.
All photos cannot be reproduced without permission from 8days.sg
Dark, edgy decor
The casual 12-seater sports raw, edgy decor with dark walls, chalkboard menus and industrial accents. Co-owner Diyana Zarki, 35, tells us their design was partly influenced by next-door neighbour KYO Kohee, a minimalist cafe with a mostly-white interior. "We wanted to have a contrast," she says. There's limited seating here, and Diyana says they're thinking of taking over a neighbouring unit to accommodate more customers. For now, most customers order their food to go. Good thing the sandwiches are neatly packed and are easy to eat while on the move.
Team of F&B veterans
The Beigelhaus team is stacked with industry veterans, including an ex-head chef and restaurant general manager. Interestingly, it's also a sibling operation. Former head chef at chic small plates joint Lolla and experiential mod European restaurant Nox - Dine in the Dark, Mohd Shahrom (extreme right), 40, helms the kitchen. His ex-COMO Dempsey mixologist brother Mohd Sharizal (extreme left), 34, mans the beverage station.
Then there's Diyana (third from left), who's the former general manager of Nox, running operations and her brother Dzul Iskandar (second from left), 27, the only F&B rookie on the team, who does marketing and helps out at the shop while juggling his day job as an IT professional. The four co-owners are equal partners and declined to share how much has been invested.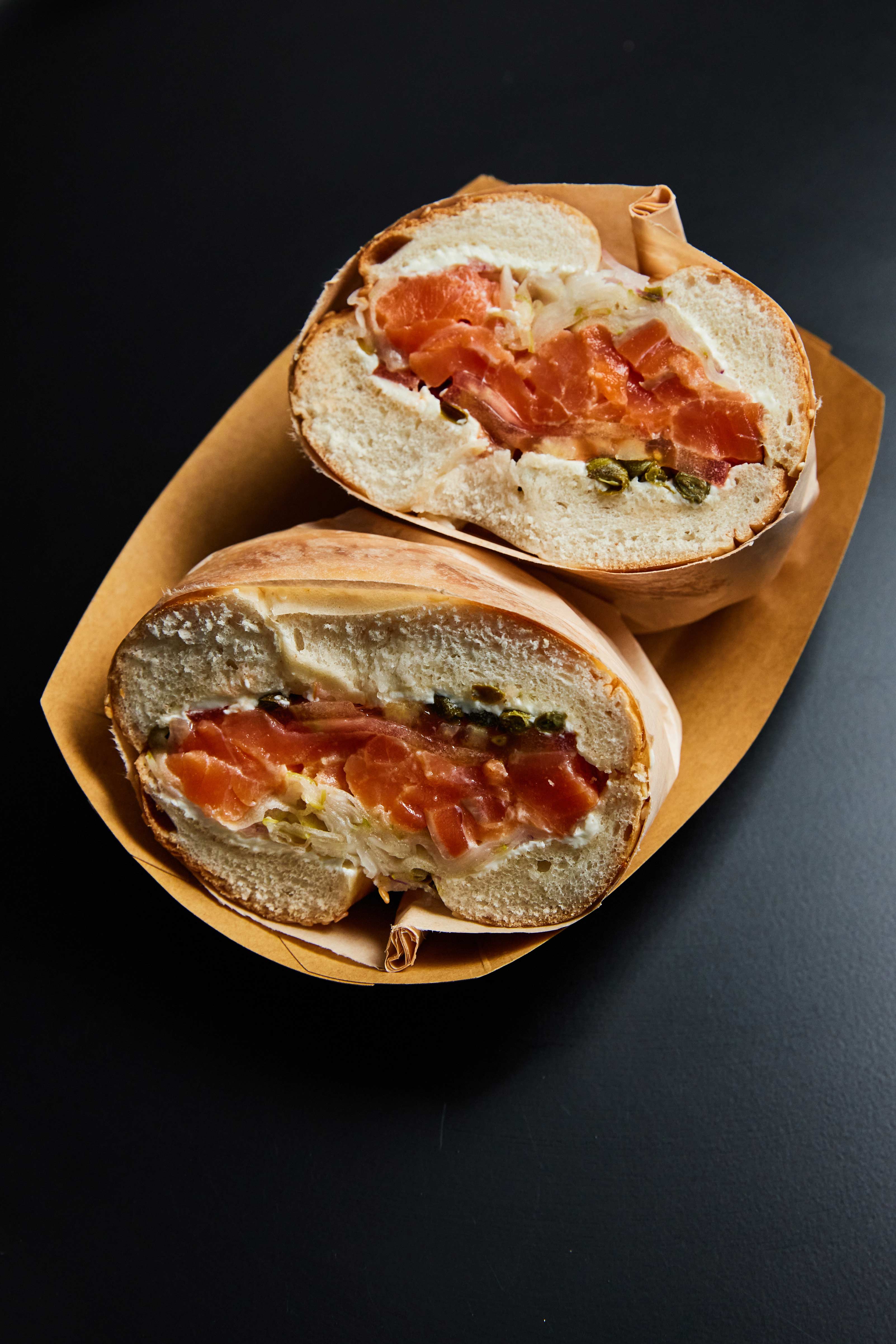 Ex-colleagues turned biz partners
Diyana and Shahrom, who met while working at Nox, started discussing business ideas late last year after the restaurant had to vacate its Beach Road premises due to a lease issue in July. Nox reopened at Club Street in February. 
"We're both Muslims and throughout our career, we've always worked in non-Muslim restaurants. We wanted to open a Muslim business that taps into both the Muslim and larger community," she says. "After some market research, we thought something grab-and-go would be good, like sandwiches." 
A friend suggested selling bagels and the duo took to the idea immediately. Once the concept started taking shape, their younger siblings decided to join the team. Beigelhaus opened on 18 April.
The menu
Beigelhaus offers two types of bagels – plain and sesame, paired with various filling options. Both bagels are baked offsite daily at a cloud kitchen based on Shahrom's recipe. The chef has no prior bread-making experience and spent months on R&D before he was pleased with the final version. "The proofing was the most difficult part [to perfect]. Recipes say 'rest in a cool place' but how cool is cool? There was a lot of trial and error to get it right. Our baker [an employee] also helped to refine the final recipe."
There are about nine types of fillings to go with your bagel – choose from classics like house-cured lox or egg and turkey ham, or savour schmears (what they call spreads on bagels in New York) such as cream cheese, hummus and kombu butter. Pair your sandwich with the fun concoctions created by Sharizal, who clinched a merit award at the e-National Cocktail Competition last year. There are specialty teas, ice-shaken chocolate and milkshakes on top of the usual coffee selection of smooth brews.
Plain Bagel with Kombu Butter, $6
Textbook New York-style bagels tend to be heavy, dense and chewy — this bread was popularised by Jewish immigrants from Europe. The hefty orbs are boiled then baked. 
Our favourite bagels have a crispy crust and chewy interior. The Beigelhaus version (toasted by default which we feel improves the texture of a bagel contrary to what a New Yorker might say) is far more delicate and less dense, with a smooth, thin surface. Slathered with tasty, umami-tinged seaweed butter, the bagel's crumb is light and boasts a decent chewiness. Quite yummy as a simple snack.
The Pink Loxy, $15.90 (8 DAYS Pick!)
This bestselling item features a mix of house-cured Norwegian salmon, apple fennel salad, capers, red onion, tomato and cream cheese. The lox (a style of curing salmon by brining it in salt popularised by Jewish immigrants in America), which takes three days to make from scratch with "secret ingredients", is plush and shines with the gentle flavour of fresh salmon sashimi. We also enjoyed the crunchy slaw, which tempered the brininess of the fish, while the sesame-coated bagel gave the sandwich a lovely, nutty aroma. Tip: this item tends to sell out, so call ahead to check its availability.
The Hatch, $8.90 
Slow-baked egg with a fine, custard-like texture, turkey ham and smoked cheddar meld into a cohesive, satisfying all-day breakfast sandwich. The house-made basil pesto, lettuce and tomato are a nice touch to keep the flavours buoyant and fresh.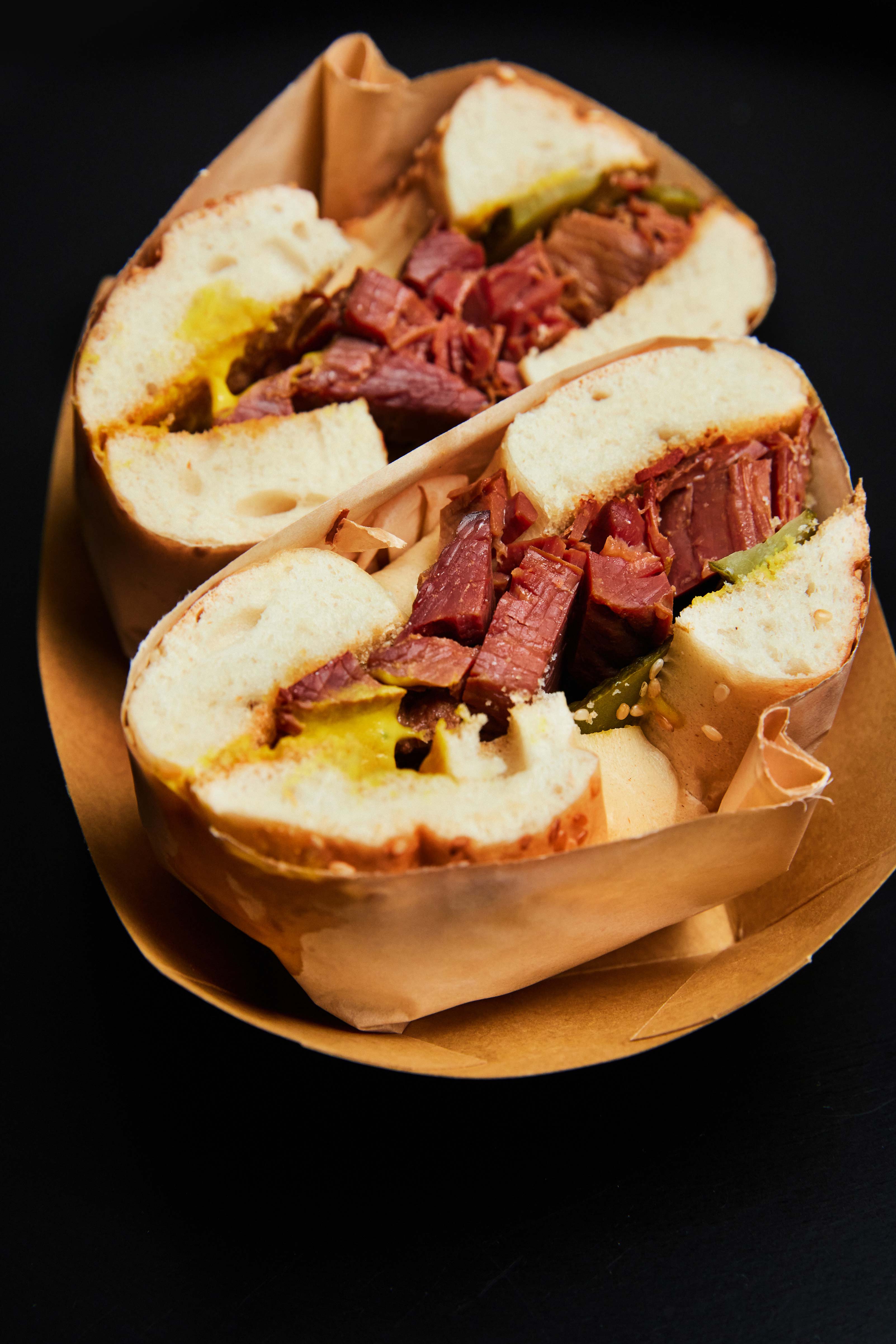 The Corned Cow, $13.90 (8 DAYS Pick!)
A soulful sandwich crammed with the pronounced taste of beef brisket that's been salt-cured by a supplier, then braised in-house. The corned beef is soft and tender, with a slightly briny flavour that's balanced by thick slices of tangy pickle and a lick of mustard. A hearty, rewarding combo.
Assorted Drinks, from $5.50
We liked the Sour Burst (middle) best – this house-made soda has an invigorating zing from kiwi puree and fresh lime juice, followed by a mellow hint of lemongrass. Zesty Lime (right) is a refreshing black tea concoction with a robust but harmonious mix of red date, winter melon and lime. Mango Cheese Latte (middle) features an unlikely blend of mango syrup with creamy coffee, but was surprisingly tasty with its tropical twist.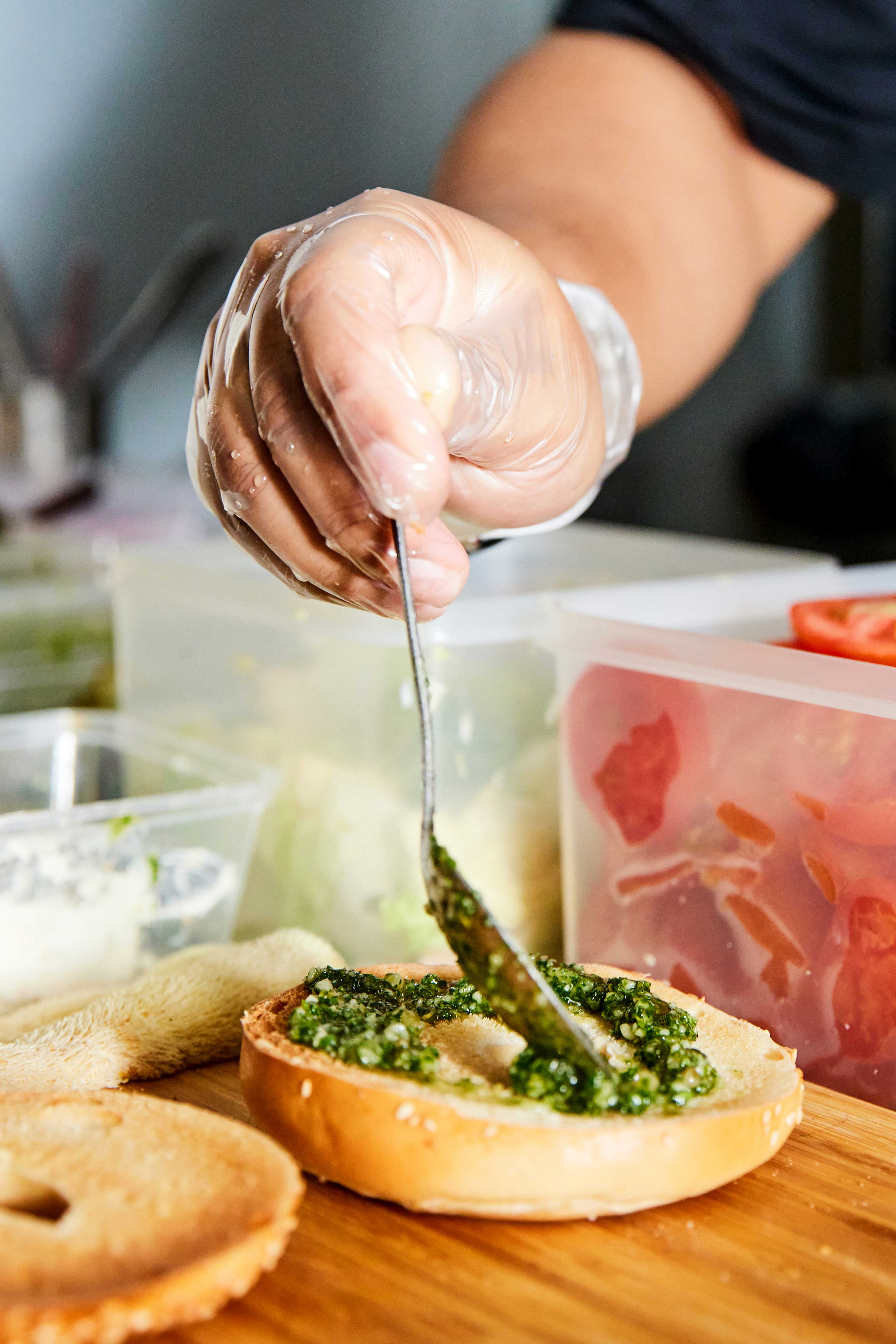 Bottom line
The Beigelhaus bagel is quite light, with a pleasant chew, which we think should please most locals who may not appreciate the denser texture of authentic NYC-style bagels. The house-made fillings here are the star of the show – particularly the lox. The shop is small and gets very busy during lunchtime, but service is great and the lines move rather quickly. Prices are slightly cheaper than popular bagel joints like Two Men Bagel House, though we found the portions here correspondingly a tad smaller. The flavours here are also simpler and cleaner, compared to the fancier, more robust-tasting fillings at Two Men. A worthy newcomer to the bagel scene in Singapore.
The details 
Beigelhaus is at #01-02 Robinson Square, 144 Robinson Rd, S068908. Open Mon-Thur 8am-6pm; Fri 8am-8pm & Sat 10am-5pm. Instagram.
Photos: Aik Chen
All photos cannot be reproduced without permission from 8days.sg