'Cowboy' Bak Chor Mee Hawker Reopens Stall After Closing It Due To Errant Rule-Flouting Customers
The hawker gave up his popular stall out of frustration during Circuit Breaker Phase 2, as he kept getting into trouble with SDAs over a group of rowdy beer drinkers at his coffeeshop.
The Covid-19 pandemic has brought about more than a few

F&B closures

. But

hawker Terence Tham

's case is unusual. Last September, the 54-year-old
—
who is well-known in his neighbourhood for donning a campy cowboy hat to cook
—
closed his Grandfather Bak Chor Mee stall

at a Siglap coffeeshop. He had been operating there for only a few months.

The closure came after a prolonged period of frustration for Terence. He was struggling with errant customers who kept drinking in large groups at his kopitiam long after the cutoff time of 10.30pm.

For those who need a refresher on Circuit Breaker Phase 2 restrictions: Customers had to maintain safe distancing of 1m and dine only in groups of two.

The drinkers shifted demarcated tables and chairs, causing Terence's stall to be written up by SDAs for not adhering to safe distancing. He was penalised by having his dine-in service suspended. "My business goes up and down. It's a headache. Open and close, open and close. It made me very sick and tired," he complained.
No part of this story or photos can be reproduced without permission from 
8days.sg
.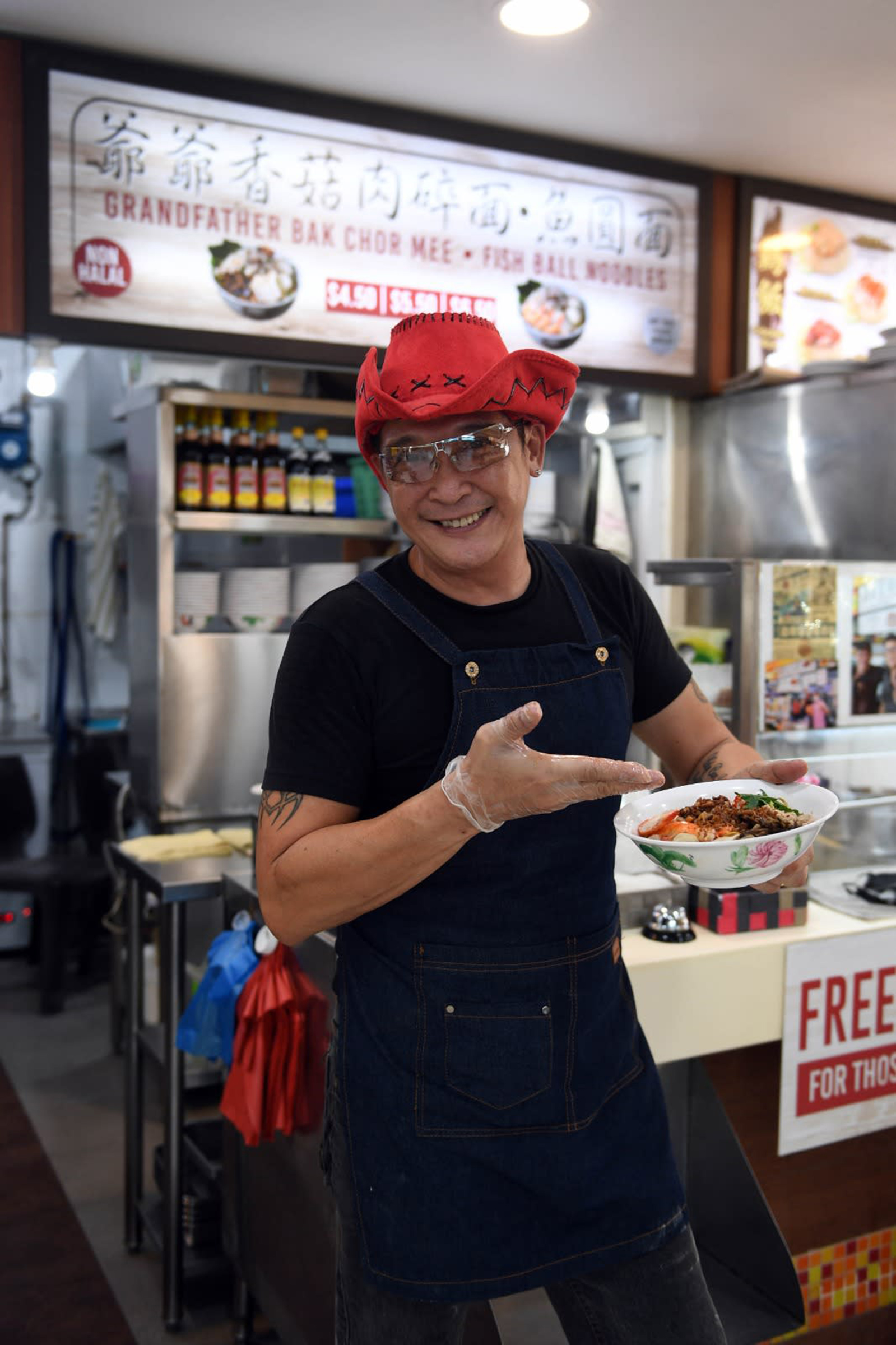 Reopening in Bugis
One year on, Terence is reopening his bak chor mee stall again on Nov 28. This time, he has shifted to a coffeeshop stall at Queen Street in Bugis. "Many of my customers have been asking when I'm reopening. They said they really miss my bak chor mee and spicy mee tai mak," says Terence, who also runs a carrot cake stall in Siglap and a Western diner called Willy Wankerz at North Bridge Road.

Now that there are no Covid-19 restrictions on dining out, Terence says he feels much more relaxed. And one year on, he reckons that the impulsive closure was kind of a blessing in disguise. "It was only after closing that I had many customers messaging me on Facebook and WhatsApp asking me to open a stall again," he shares.
Price increase by 50 cents
Terence's menu remains unchanged from his Siglap days. There is just Bak Chor Mee in three sizes at $5, $6 and $7 a bowl, with a 50 cent price increase. "My costs went up," he explains.

Each bowl of bak chor mee (served dry or in soup) comes with your choice of mee pok, mee kia, mee tai mak or kway teow blanched in a house-made pork bone broth. The carbs are topped with meatballs, minced pork, lean pork slices, crunchy lard and a fragrant heap of flounder fish powder.

To attract younger customers, Terence also throws in ingredients like prawns and herh keow. It's not the healthiest meal, but we have tried this cowboy's bak chor mee and found it thoroughly shiok.
Off-menu mee tai mak
There is also a tasty off-menu Spicy Mee Tai Mak Soup, which Terence likens to "the Chinese hot and sour soup" (you can just request for it at the stall). Think of it as a bowl of bak chor mee with all the ingredients and noodles drenched in a sambal chilli and vinegar-spiked pork bone broth.

3838 Eating House (opposite Bugis+ taxi stand), 269B Queen St, S182269. Open daily 7am-4.30pm.

Photos: Lionel Lai

No part of this story or photos can be reproduced without permission from 8days.sg.