Cult Fave Sandwich Joint Opens Hip New HDB Shop, Massive Korean Fried Chicken Ciabatta On Menu
One of 46 Mittsu's owners is an ex-chef who also worked at popular sarnie cafe, Two Men Bagel House.
If you're a sandwich fiend, you've probably heard of the well-loved Two Men Bagel House, an artisanal brand slinging house-baked bagel sarnies bulging with creative fillings. But did you know that cult fave sando purveyors 46 Mittsu has links to Two Men? Two of the founders here used to work as chefs at the bagel joint. Anyhow, the equally cool year-old eatery, previously housed with other F&B establishments in a shared space of commercial building The Herencia in Robertson Quay, now has a space to call its own. It has relocated to a unit in the indie F&B enclave of Everton Park, within an old HDB estate. It opened its doors on August 8, tucked between sleek java shop Handcraft Coffee and a laundromat. Its other cool Everton neighbours include granola outfit Dearborn and kopi darling Nylon Coffee Roasters. With the move comes a change in the menu – gone are the house-smoked meats like beef brisket and pork ribs that starred in Mittsu's sandwiches, now replaced by seared flank steak and Korean-style fried chicken. 
No part of this story or photos can be reproduced without permission from 8days.sg.
Eclectic backgrounds
The three pals behind 46 Mittsu – Samuel Ang (centre), 32, Jay Goh (left), 31 and Marcus Say, 29 – tell us that change is necessary. "Every good thing needs to come to an end. We have to steer away from smoked meats for a while and try new things. We can't be a one-trick pony," declares Samuel. Pity, since their smoked meats were the highlight of the old menu, in our opinion.
At-Sunrice Global GlobalChef Academy grad Samuel is no stranger to change. He cut his teeth in fine-dining kitchens like the now-shuttered Joël Robuchon Restaurant in Resorts World Sentosa as a commis chef for about a year before moving on to Strangers' Reunion café (also defunct). His longest cooking stint was around four years as a chef at the aforementioned Two Men Bagel House.
"But I promised myself that by 30, I'd start my own thing no matter what. So last year, before I hit 31, I quit," he says. "I'll always cherish my time there and it was a very vital part of my growth as a chef, but it was time to move on."
The original 46 Mittsu team included a fellow ex-Two Men Bagel House chef who recently left the partnership. Currently, Samuel's biz partners at Mittsu are both newbies to the F&B world: amiable Jay, an ex-air steward (who declines to share which airline he worked for) and Marcus, a former regular in the police force looking for a career shift.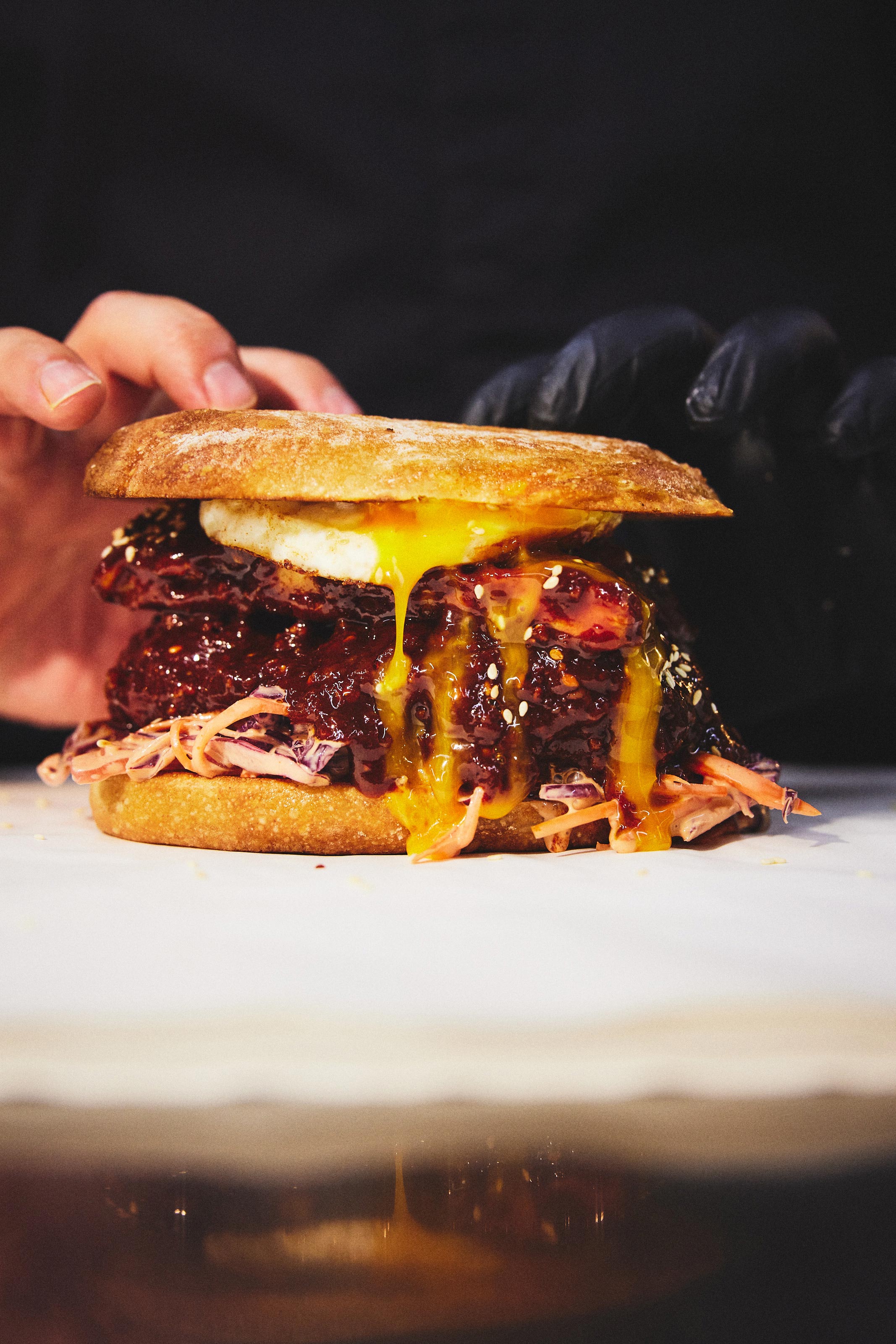 From rice bowls to sandos
46 Mittsu was born in April amid the pandemic last year. Mittsu means three in Japanese, and refers to Samuel's original plans to host private-dining experiences featuring fusion Japanese cuisine from his home with two other partners (which they shelved due to Covid-19); while 46 pays tribute to the brand's birthplace on 46 Kim Yam Road.
Funnily enough, they started off focusing on rice bowls, only pivoting to sandos when Phase 2 (Heightened Alert) restrictions kicked in last May. That pivot turned out to be their big break: an Instagram post from a food blogger brought their sandos into the spotlight, where they quickly eclipsed 46 Mittsu's rice bowls in popularity.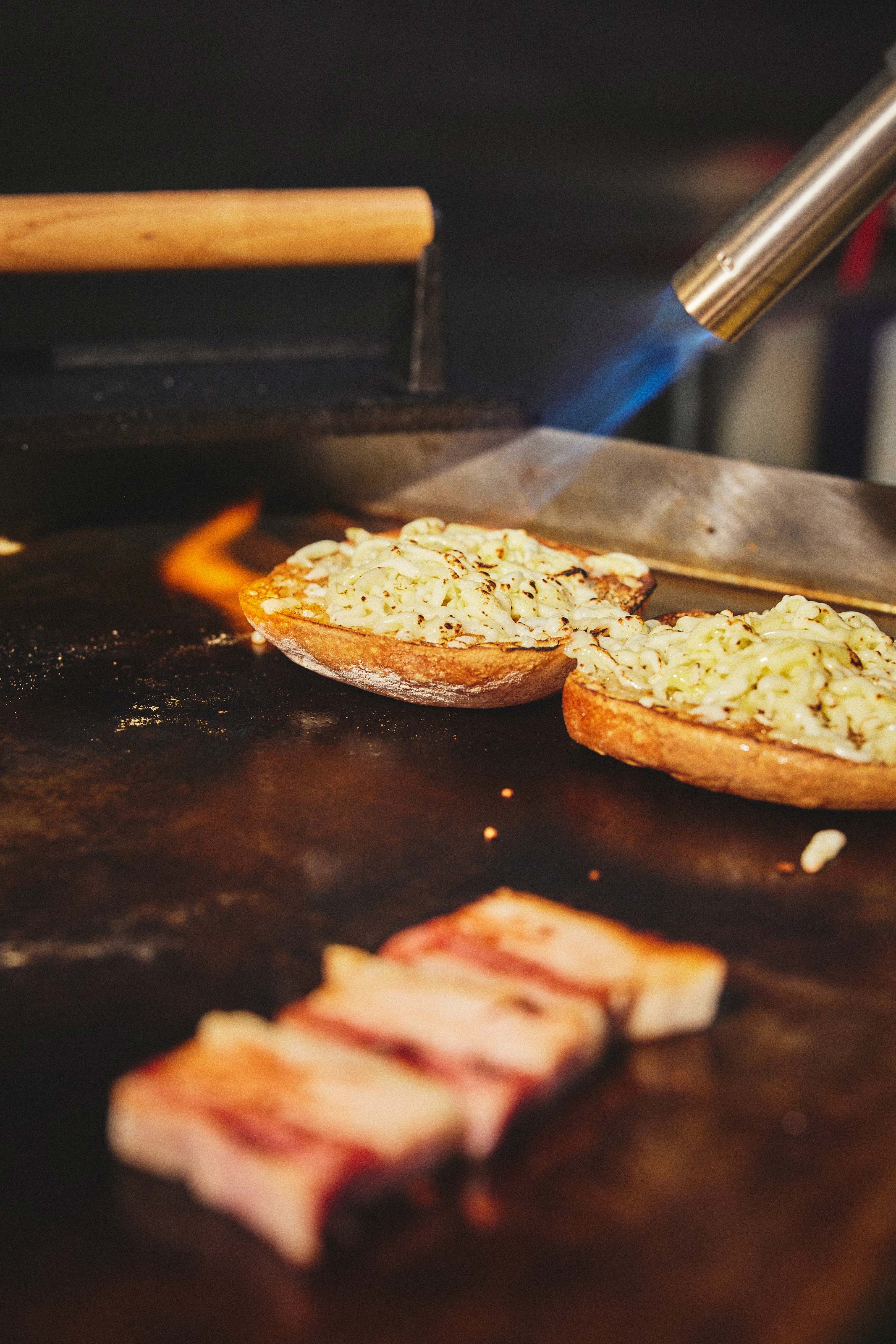 Relocated after one-year lease up
But like the towkays said, all good things come to an end. As they neared the end of their one-year lease, the Russia-Ukraine war sent "the price of utilities through the roof". 46 Mittsu, then splitting utility bills (somewhat unevenly to their disadvantage, they say) with other F&B operators at the shared space, had its profits "badly affected". "We couldn't find a solution that would work for us, so we decided it was best to leave," says Samuel, declining to elaborate further.
Other reasons for their shift, Jay adds, includes The Herencia's "ulu-ish location". Weekday sales were largely limited to nearby office workers, and the weekend crowd – though bustling – also faced issues reaching the inaccessible location. "It's a full 15-minute walk from the MRT – and it's uphill (laughs)," he says. "A lot of our customers would come drenched with sweat from the walk. It was our number one complaint."
Part of Everton Park enclave, but no official dine-in license 
The trio invested around $100K into their move, mostly on new kitchen equipment like a $16K combi oven (that steams and roasts simultaneously) and plancha grill. The decor is a mix between tasteful and playful: tiny bonsai trees and potted plants intermingle with KAWS figures, oat milk packets and the occasional sticker – hand-drawn by the towkays.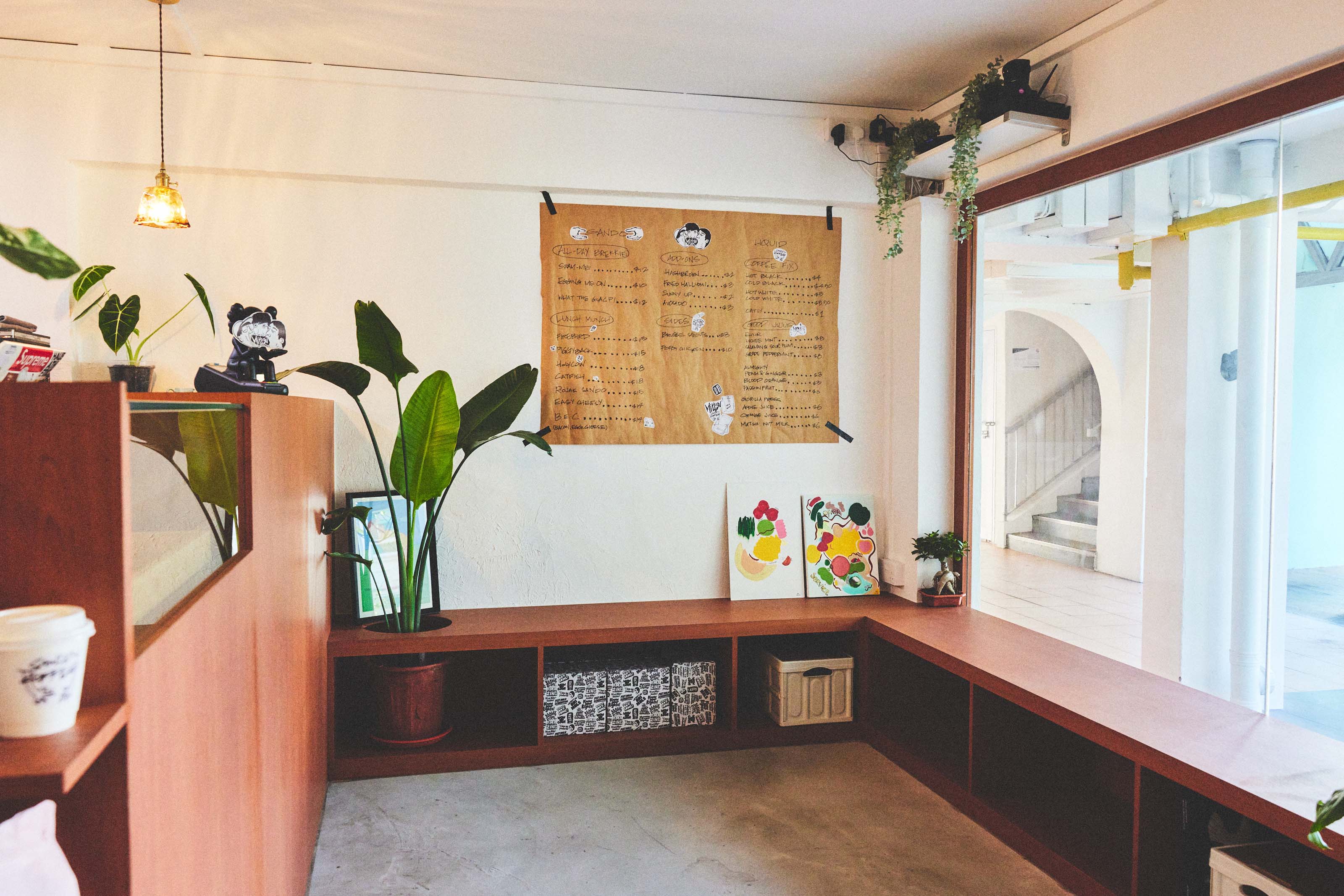 The lack of a dine-in license (which also applies to most of the food brands in Everton) at this new location does have its drawbacks. For one, there are only a few camping chairs outside the shop and a wooden bench indoors should customers wish to scarf down their sandwiches on the spot – we estimate room for around 10 to 12 pax. Only tiny side tables are available inside, so watch out for falling fillings on your lap. But the young bosses aren't worried that customers would be put off by this. "It's a similar vibe to what we had at The Herencia – something very laid-back and chill," says Samuel. However, their old premises had proper tables and chairs for comfier dining. 
Another downside here: the lack of a proper exhaust system, leading to the lingering odor of grease that three ventilation fans and an air purifier could hardly dispel. 
So, why did they still choose this spot? "The rent was justifiable, and we felt that the chill vibes of the area would jive well with the kind of attitude we tried to bring with 46 Mittsu," answers Samuel.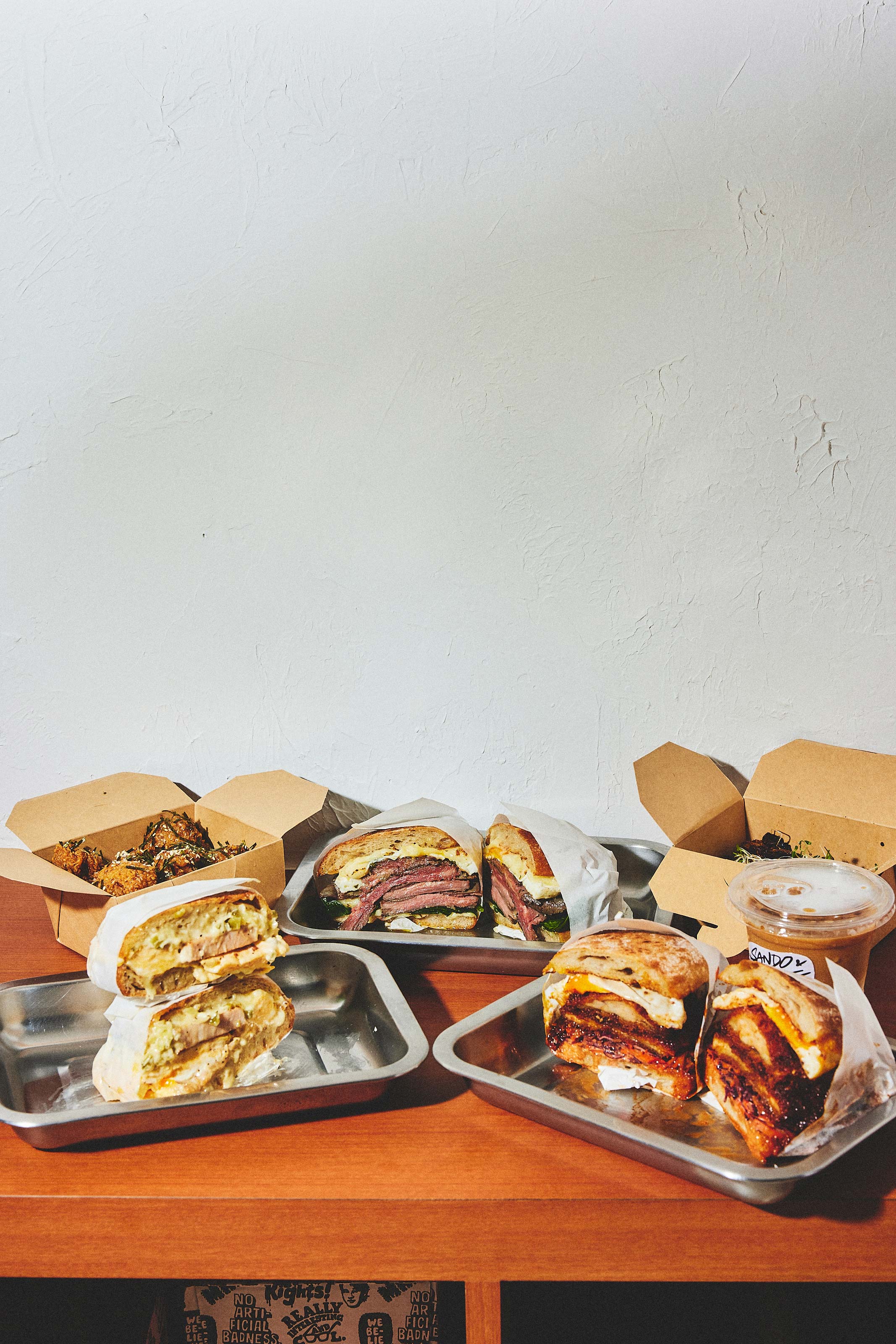 The menu
Only the B.E.C (which stands for bacon, egg and cheese) from Mittsu's old sandwich menu remains after the move — everything else is new. The rice bowls have been completely done away with too. There are now 10 sarnie options in total vs six previously – three for brekkie (sold all day, with sourdough bread), and seven for the rest of service (available from 11am onwards, sandwiched in ciabatta), all from $10 to $18. They're priced slightly higher than before, though they seem heftier too.
Sharing options like deep-fried brussel sprouts are also sold, along with drinks. These range from bottled juices ($6) to freshly brewed coffee (beans come from Double Up Coffee, a coffee specialist in Kampong Glam; from $4).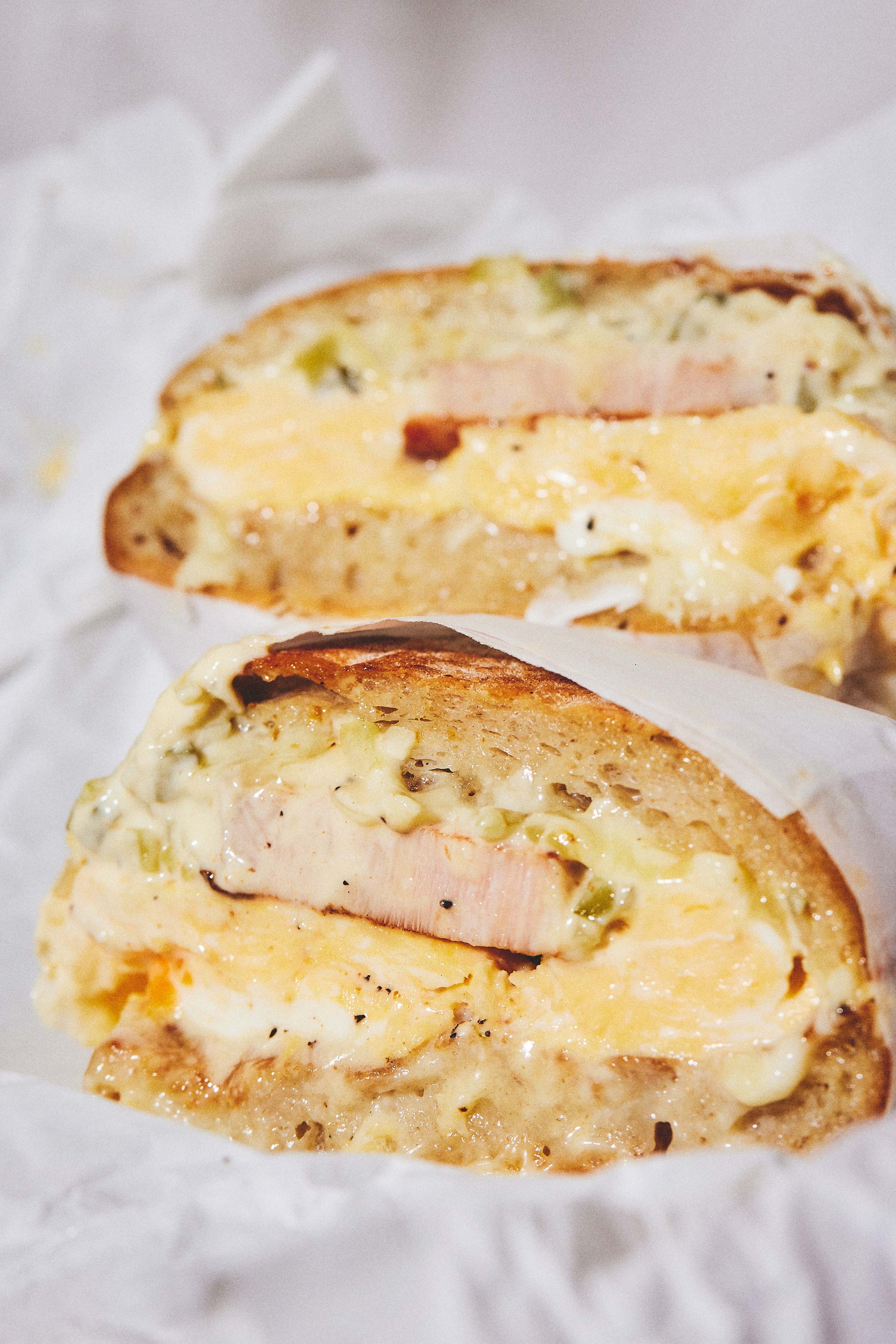 B.E.C, $14 (8 DAYS Pick!)
The bacon, egg and cheese its moniker stands for comes in the form of lightly briny thick-cut bacon – sourced from a supplier, then cooked sous-vide and seared to finish – set against velvety scrambled eggs, oozy cheddar and a splash of gribiche (a piquant French sauce sorta like mayo spiked with gherkins and herbs), all sandwiched between buttered ciabatta.
A delicious and satisfying affair, but we find the chewy ciabatta a tad stiff for the generously stacked sando as the fillings tend to go everywhere. We miss the easier to eat softer brioche used in their Kim Yam Road days.
Samuel explains why they made the switch: their ciabatta and sourdough (the latter used in breakfast sarnies) are sourced from the ex-owner of Pickle Bakery, who last occupied this space at Everton Park. "We figured that since they have a following here already – it makes sense to capitalise on that," he says.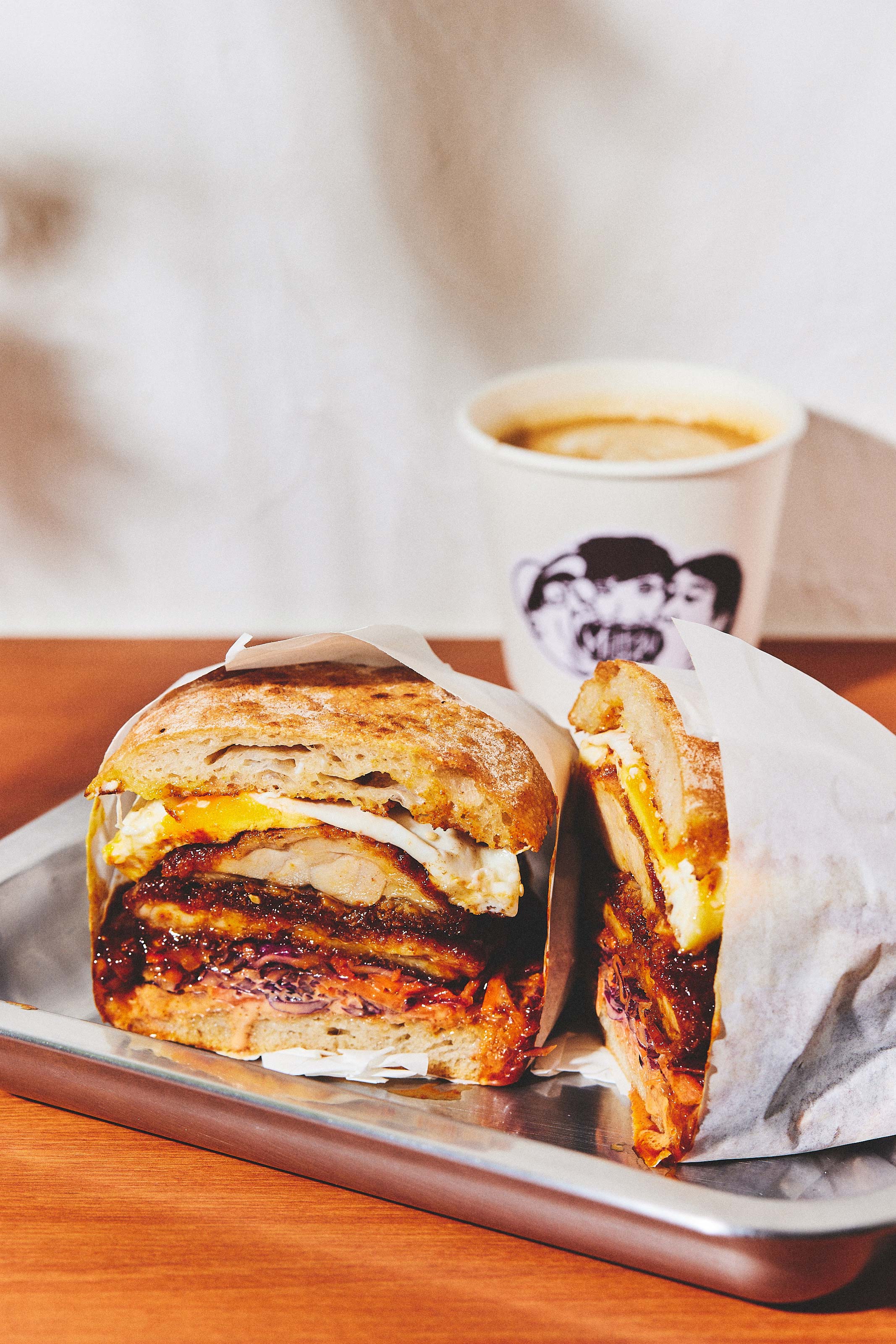 Firebird, $15
A Korean-inspired number. Chicken thigh is dredged in flour and deep-fried before being covered in an umami gochujang glaze, redolent with the fiery Korean chilli bean paste, toasted sesame seeds and garlic. The protein is paired with a sweet-spicy slaw of purple cabbage, carrot and hoisin mayo, an extra hit of sesame seeds and a sunny-side up egg.
This sandwich is rich and the sauce super intense - you're hit with strong notes of sweet, salty, spicy and a slight hint of funk with every bite. Share this with a friend or two as it all gets too much after a while.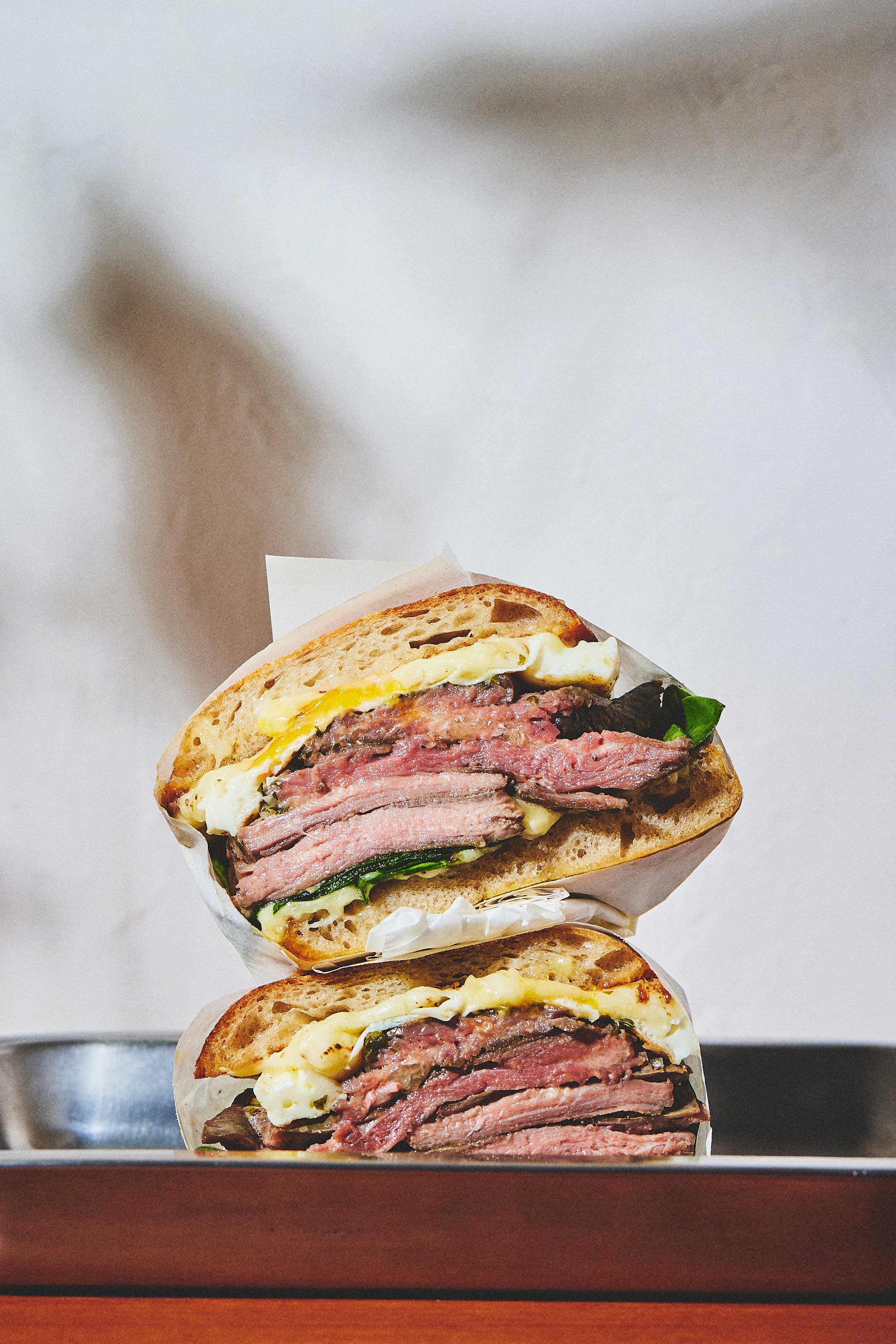 Holycow, $18
We prefer the decadent yet well-balanced flavours here – seared flank steak, cheddar cheese, roasted garlic butter and fried egg are brightened with a smear of tangy chimichurri (an Argentinian parsley and olive oil dressing) and fresh baby spinach.
Perhaps it's because we had to wait 45 minutes till our photo shoot was over to eat this, but the steak was rather tough despite being cooked low and slow in a sous-vide machine and seared on the grill to finish. Moreover, the thick layers of beef and ciabatta make for a jawbreaker of a sandwich. We can't help but draw comparisons to the fall-apart tender house-smoked brisket in their former beef sando. 
Brussel Sprouts, $8 (8 DAYS Pick!)
This dish used to be served with teriyaki sauce; now, the greens are tossed in the deep-fryer to crisp up on the edges and doused in a housemade non-spicy rojak sauce of lime, gula melaka, ginger flower and vegetarian bean 'belacan' (no fermented prawn paste aka hae ko). A sprinkling of furikake (dry Japanese seasoning) and alfalfa completes it. 
It's quite addictive, even for someone who doesn't fancy their greens – the veg is nutty, slightly crunchy and sweet-savoury throughout, though not exactly identifiable as rojak-inspired as it lacks that characteristic umami funk from the hae ko. Nor is it diet-friendly, as these deep-fried morsels are greasy.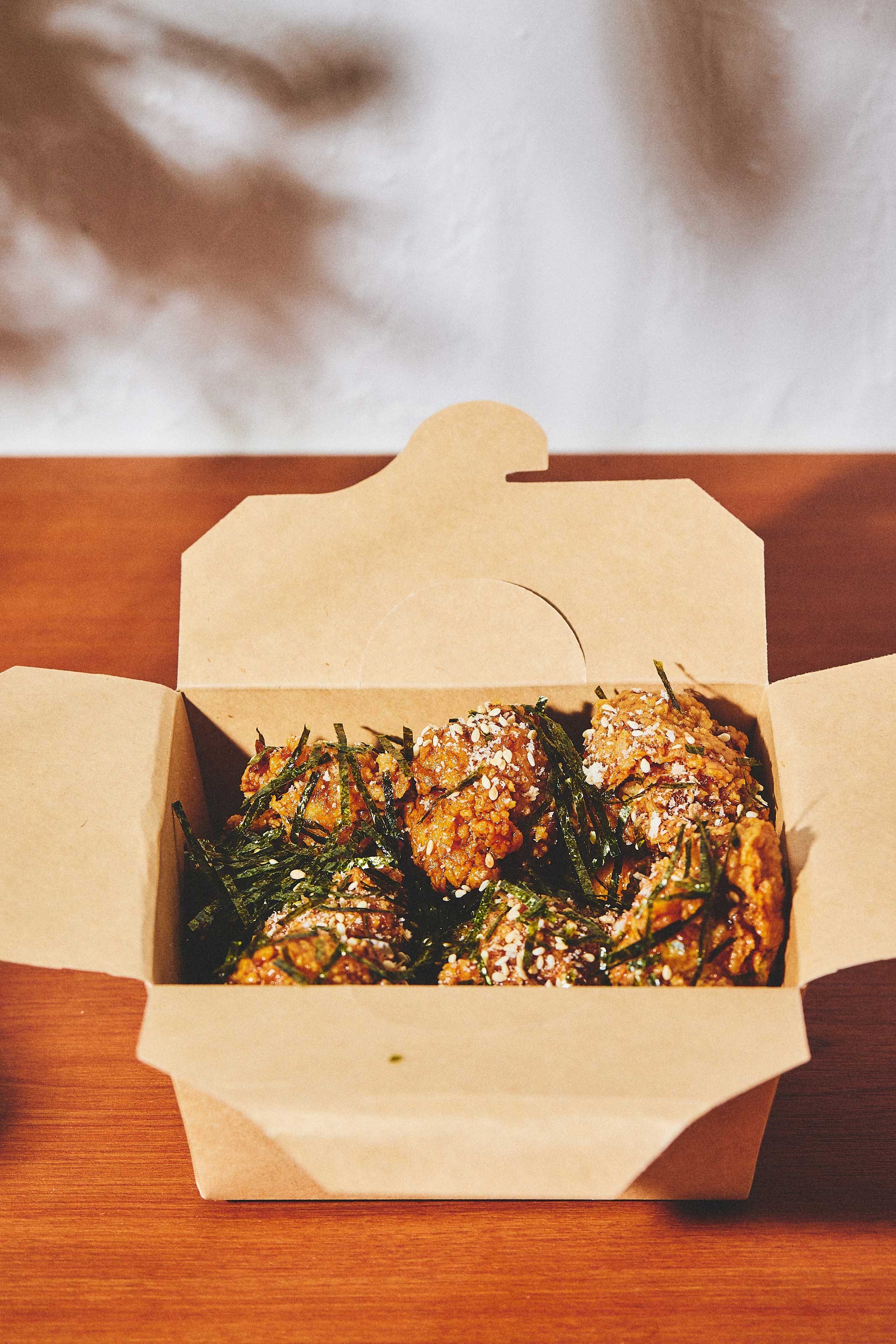 Poppy Chicken, $10
Store-bought chicken karaage gussied up with sesame seeds, shredded nori and a sweet-soy sauce. Unpretentious and quite yummy – worth getting if you'd like something extra to nibble on.
The coffee, Hot White, $5; Cold White, $5.50
Jay handles barista duties during our shoot (the team got a crash course from Double Up's boss), sharing that they "aren't looking to compete with all the nearby coffee experts". "We just want to make a nice cup of coffee so you don't feel like you have to go elsewhere," he says. The cup of iced joe is full-bodied and chocolatey with a mellow acidity, and goes down smoothly enough.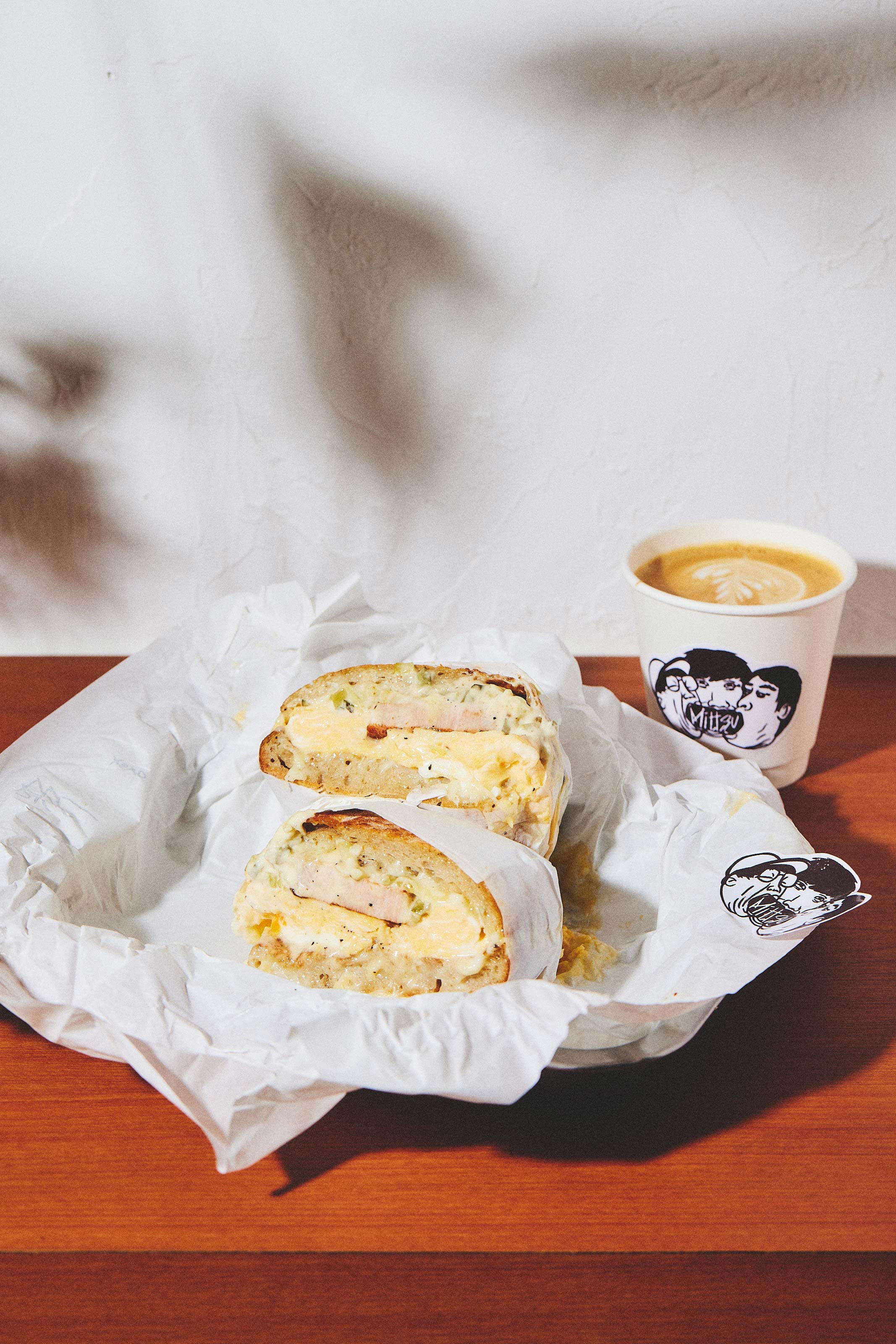 Bottom line
It's hard to talk about 46 Mittsu's new menu without reminiscing about its stellar old one. While its current sarnie line-up is competently executed with flavour combinations that make its chef-owner's culinary experience at fine-diners and Two Men Bagel House apparent – we can't say it's as impressive as the version we tried at its former locale. Replacing brioche for thicker, chewier ciabatta here makes the hefty sandwiches unwieldy, and we miss the scrumptious house-smoked meats. Teething problems that will soon be sorted out, hopefully. Still, all that plus the lack of proper tables and chairs at this new Everton Park spot haven't stopped the hipsters hordes from descending on the eatery. We suppose its quirky decor, friendly owners and charming vibe of the surrounding HDB estate are definite draws. 
The details
46 Mittsu is at #01-61, 2 Everton Park, S081002. Open daily 8am – 5pm. More info via Instagram. Delivery coming soon. 
Photos: Alvin Teo
No part of this story or photos can be reproduced without permission from 8days.sg.