Customise your prata, mala-style, by picking from 20 ingredients at this new stall
Choose your fave fillings from a fridge mala xiang guo-style at the funky new PrataLahhh! Or order 'eggs Benedict' prata from the set menu here. 
If you can customise your mala xiang guo bowl and pizza, why not prata? PrataLahhh! is the brainchild of Kumaraysan and Ghauthaman, both 30, who grew up flipping dough at their family's prata shop since they were 14. They declined to name it but yes, it's part of a famous chain. After completing their National Service, the cousins, who sport matchy-matchy diamond ear studs, ventured into non-F&B jobs: Kumar as an accounting executive at Singtel, while Ghau "did all types of sales" jobs.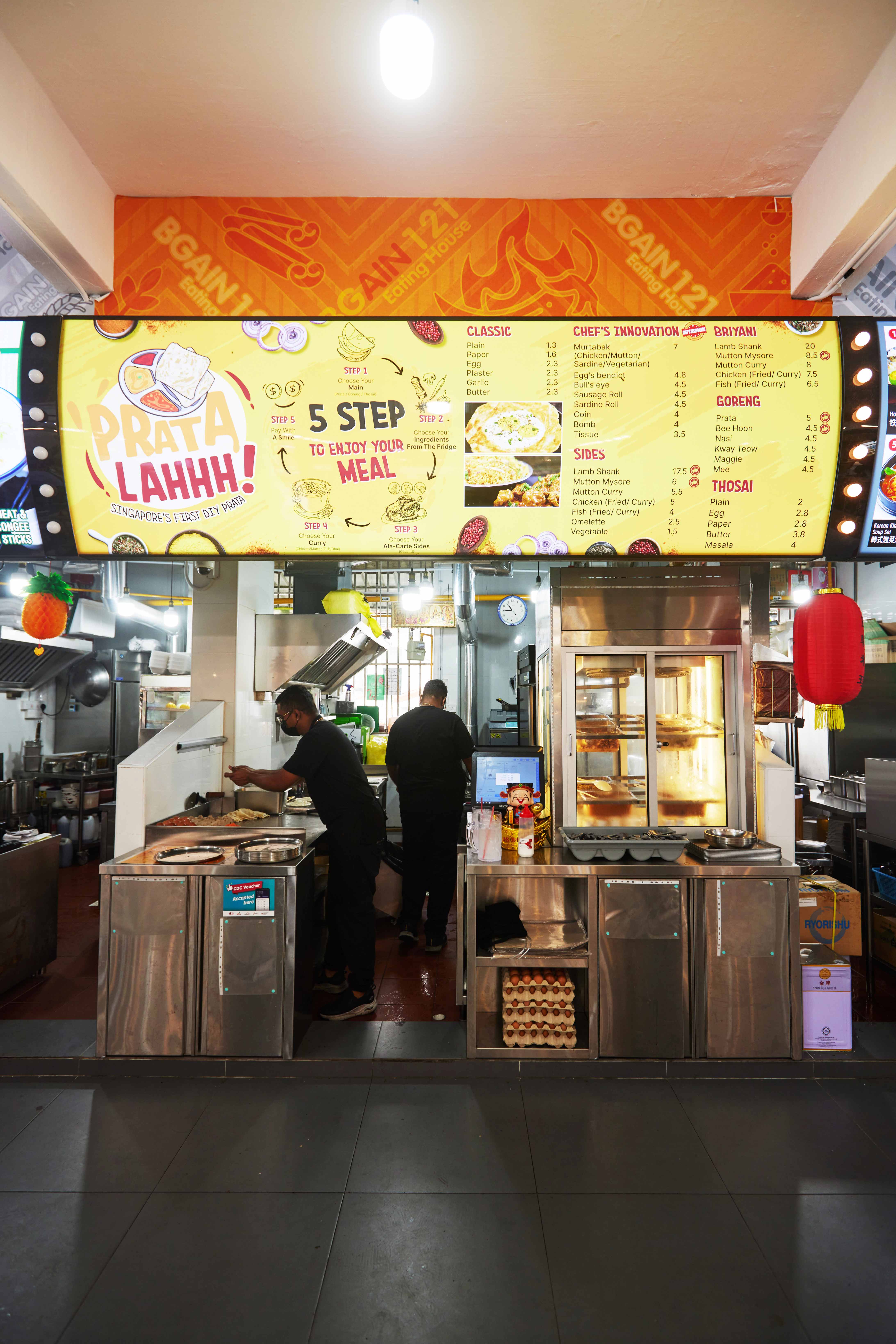 Two years ago, they decided to return to the family business. They co-own one branch of their fam's more traditional brand and in December 2022, invested $40,000 to launch a second hip new label in Hougang kopitam to woo the younger market. Why the name? "Because it's easier to register. When people ask 'What do you want to eat?' We usually answer, 'Prata lah!'" explains the pair.
No part of this story or photos can be reproduced without permission from 8days.sg.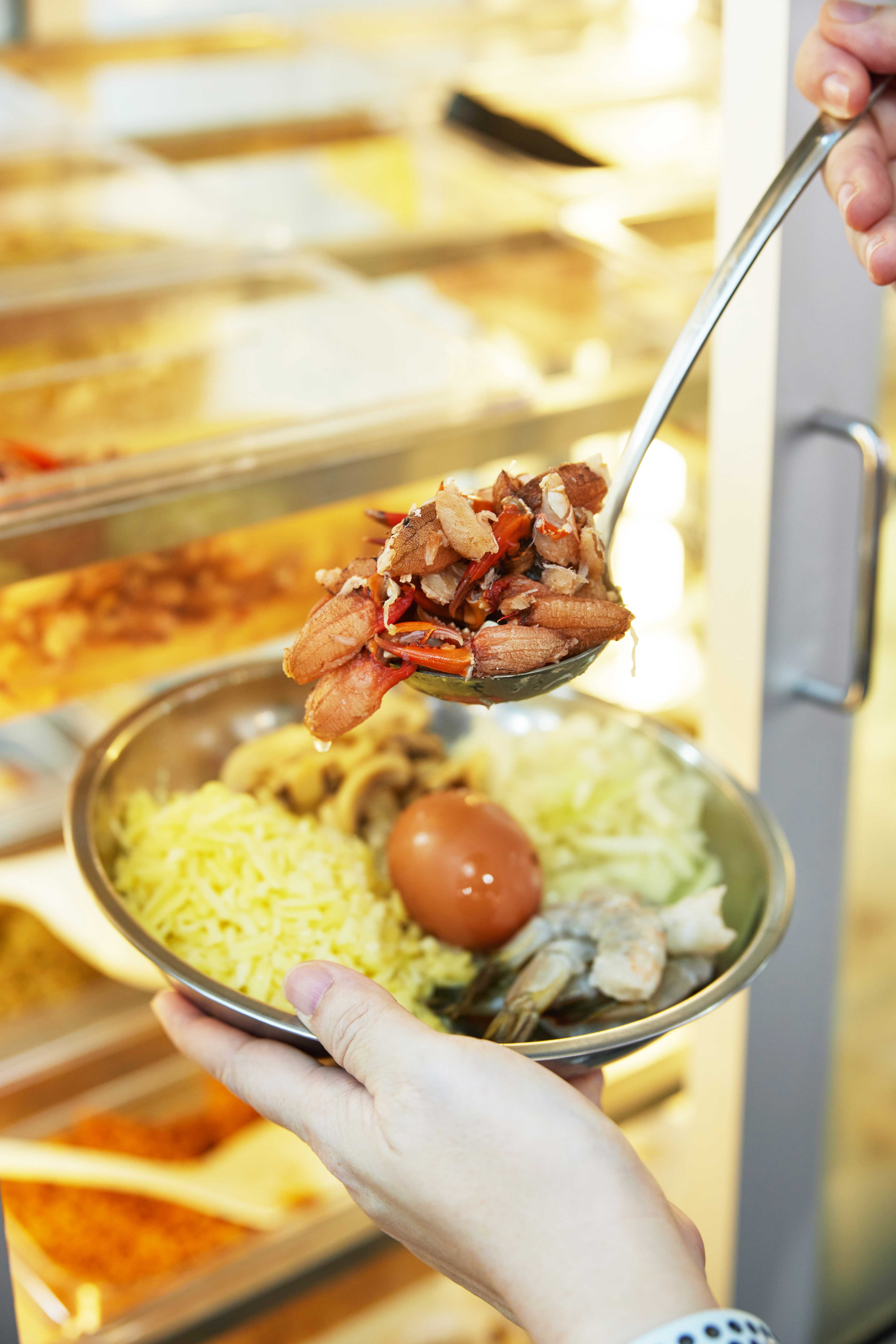 "Singapore's first DIY Prata"
PrataLahhh!'s biggest draw is their "Singapore's First DIY Prata" claim. Although, it really is more a "customise your order by picking your own ingredients" thing — you don't get to actually DIY and flip your own prata here.
Not that we're complaining.
The menu
Choose your fillings of choice from over 20 trays neatly showcased in a fridge with a glass door, exactly like how mala xiang guo ingredients are displayed.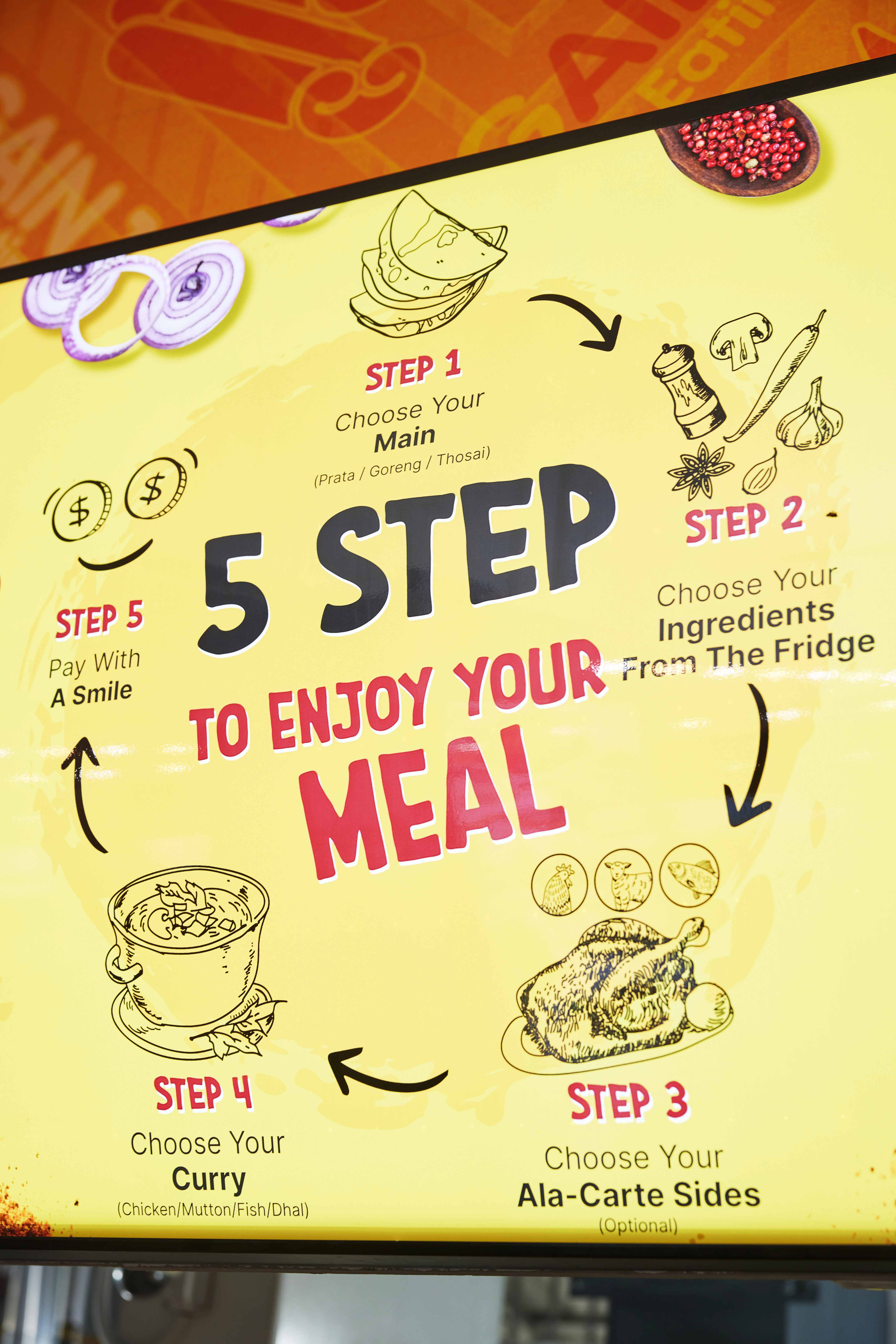 You can grab a plate and help yourself to the ingredients you want, mala-style, and pass it to Ghau or Kumar. Or, you can just tell them what you'd like, and they'll fill a plate for you.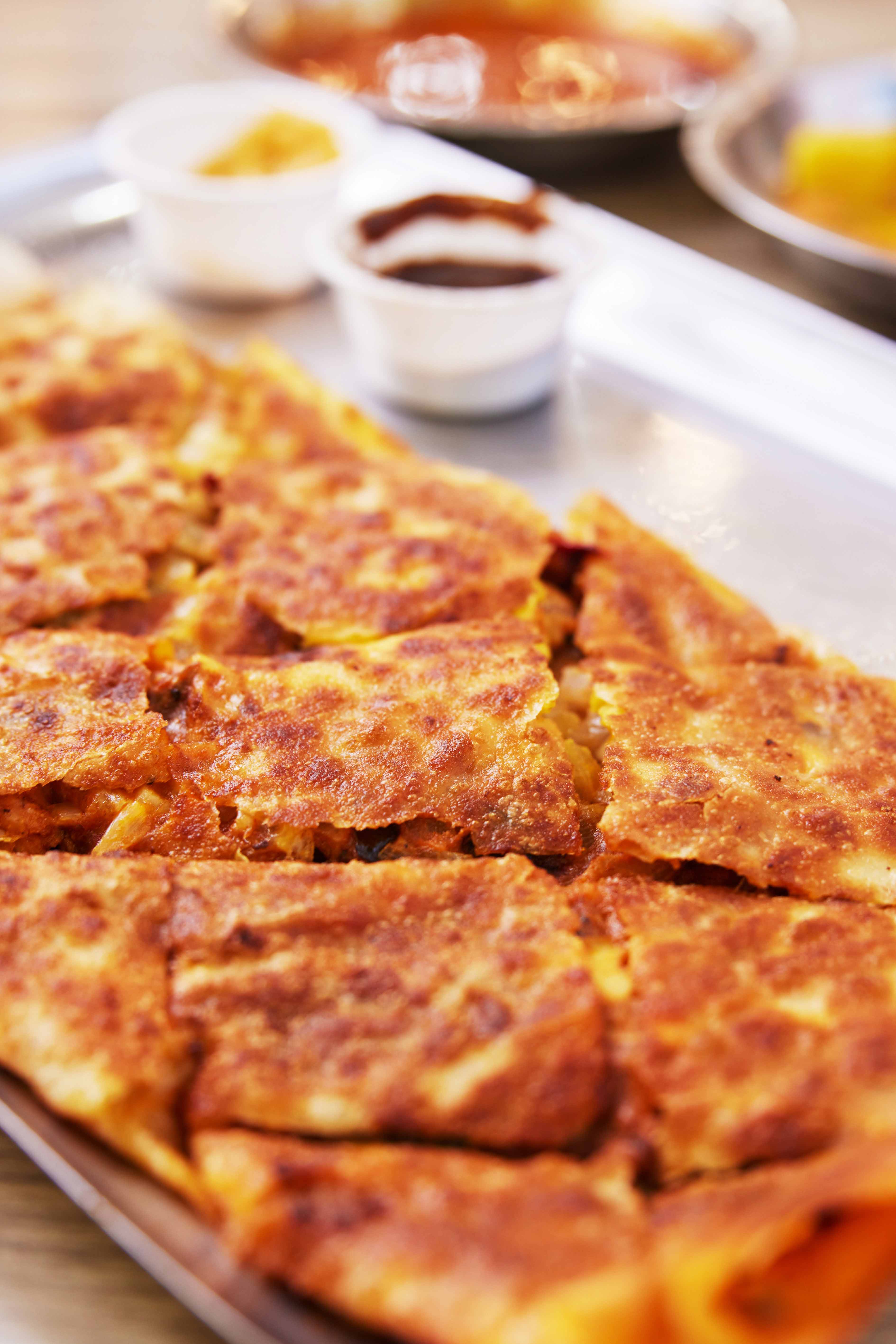 The base carb costs $1.60 for prata, $2 for thosai, or $4.50 for a rice or noodle option. Each standard scoop (a decent-sized ladle) is charged according to the item. Ingredients start from 80 cents for egg or onion; $1.80 for mozzarella or cheddar cheese (the most popular item); $2 for meat like chicken, mutton or beef keema; and $3 for prawns or crab meat. They give you actual baby crab claws, not crab sticks – nice. There are also sweet options like bananas and seasonal fruits like strawberries may be added in future.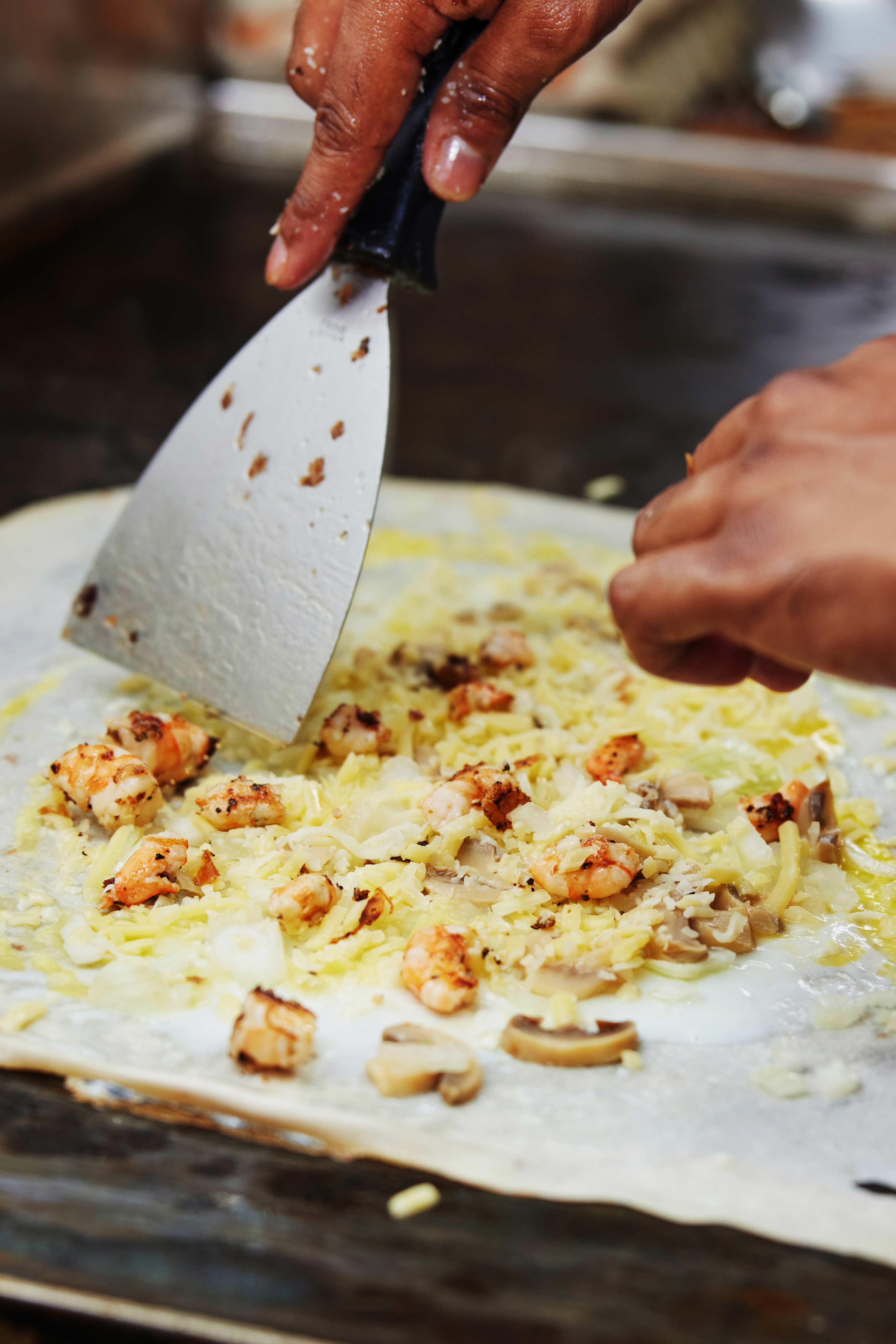 What should you mix and match? When in doubt, ask the cooks for advice. One customer mixed beef, crab and potato masala, onions, and cheese. "We asked him, 'Are you sure or not? The ingredients don't go!'" says Ghau. And true enough, the customer didn't enjoy his choices.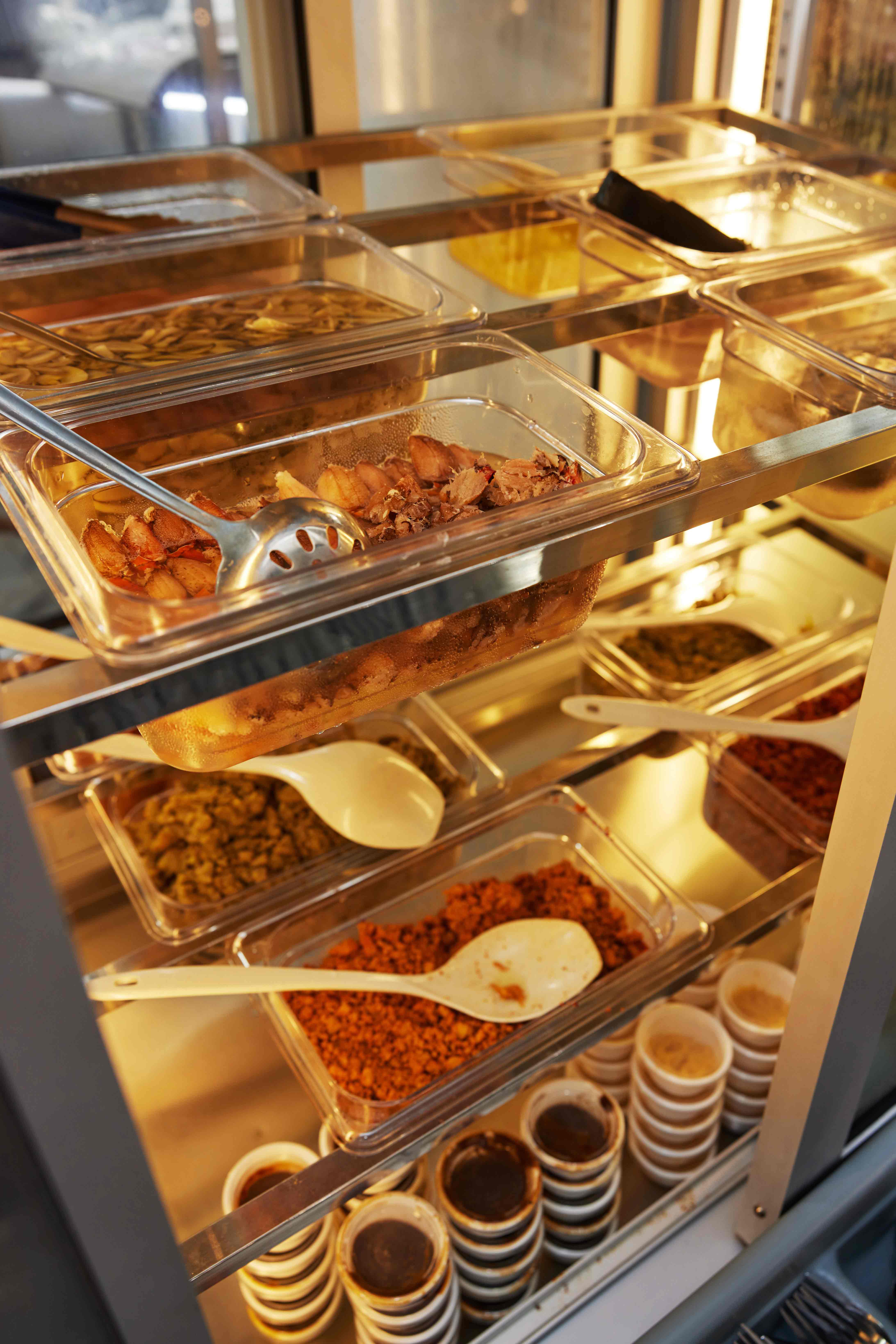 Your creation is served with your pick of chicken, mutton or fish curry (our favourite), or dhal. You also get small containers of complimentary sauces like black pepper, barbecue and even chocolate and honey – yummy with their dessert pratas like banana.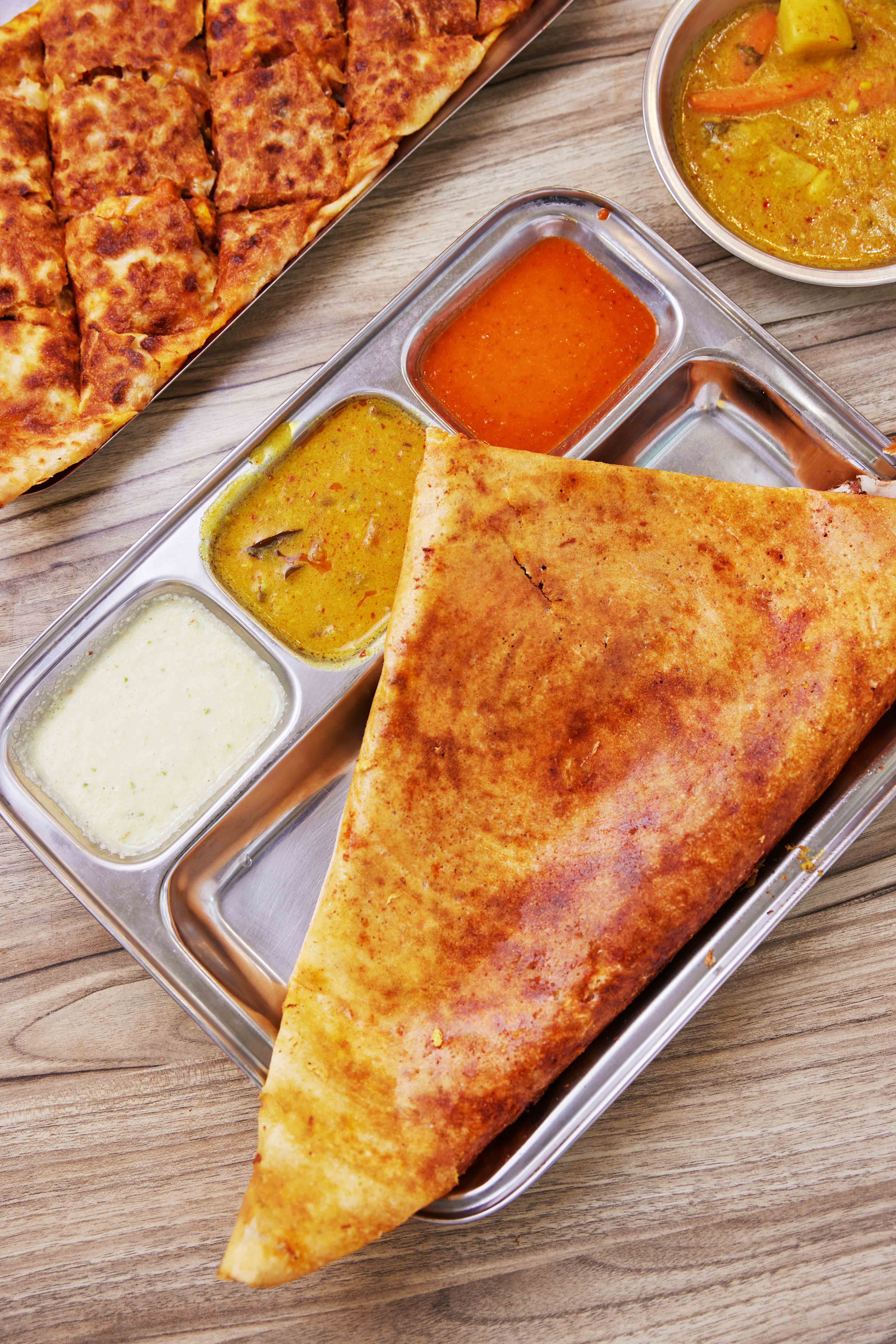 Besides prata, you can also customise your thosai or a goreng dish. Choose from carbs like bee hoon, Maggie mee, or even goreng prata (chopped up bits of dough that's stir-fried).
Too lazy to think? Just order off their regular set menu which includes the usual suspects like plain, paper and plaster prata. Also available: 'Eggs Benedict' prata and biryani with various meats.
Seafood Prata (crab, prawn, homemade sardine, cheese, egg, mushroom), $14 (8 Days Pick!)
The frozen prawns and crab claws are a decent size and for the quantity, is worth the $3 price per scoop. They are first fried on the griddle, before being added to the prata dough with the other ingredients, wrapped up, then fried till golden-brown.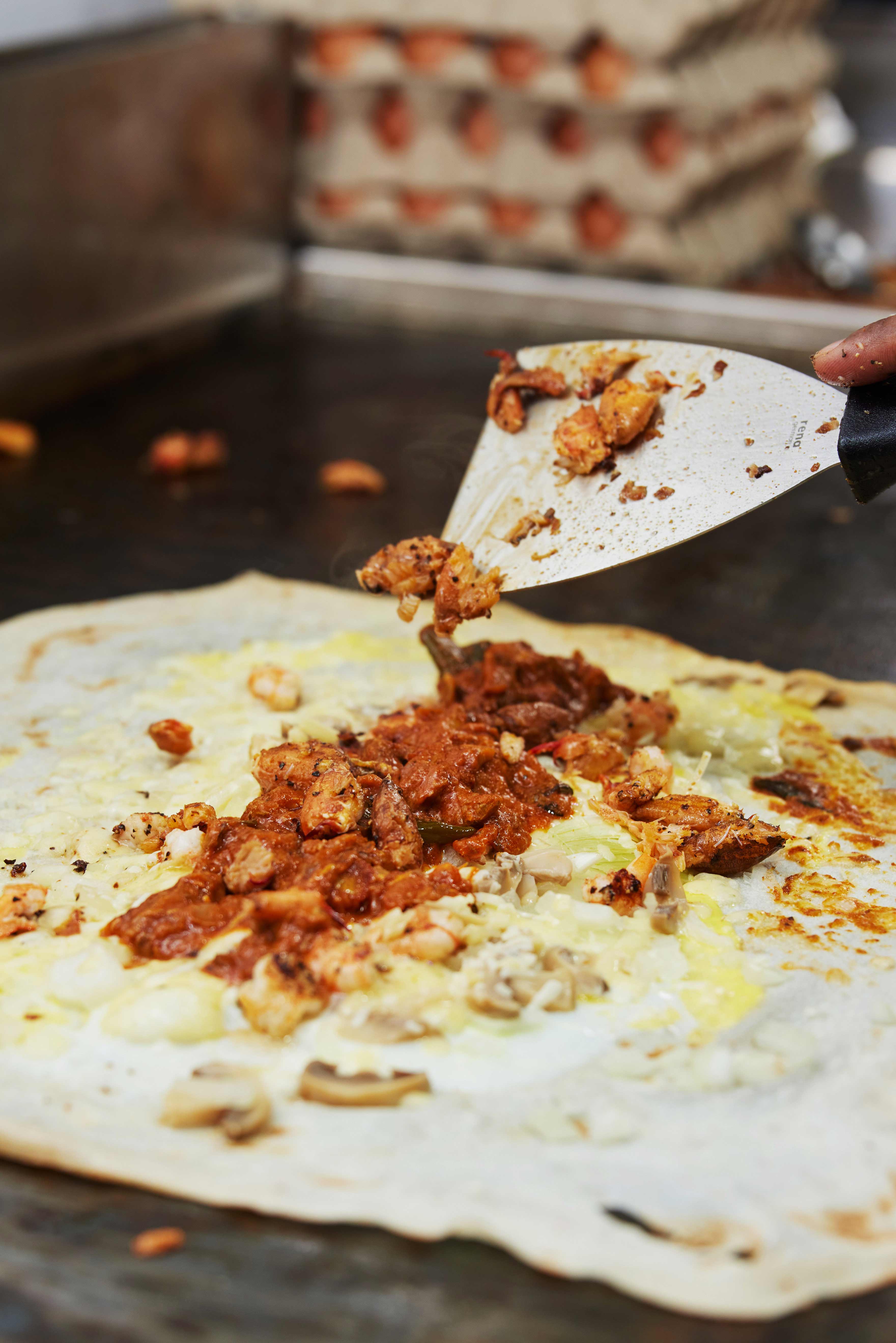 The homemade sardines steal the show. Instead of canned sardine, the guys make their own with fresh fish stewed in a spicy, fragrant sauce chock full of fresh tomatoes and chillies.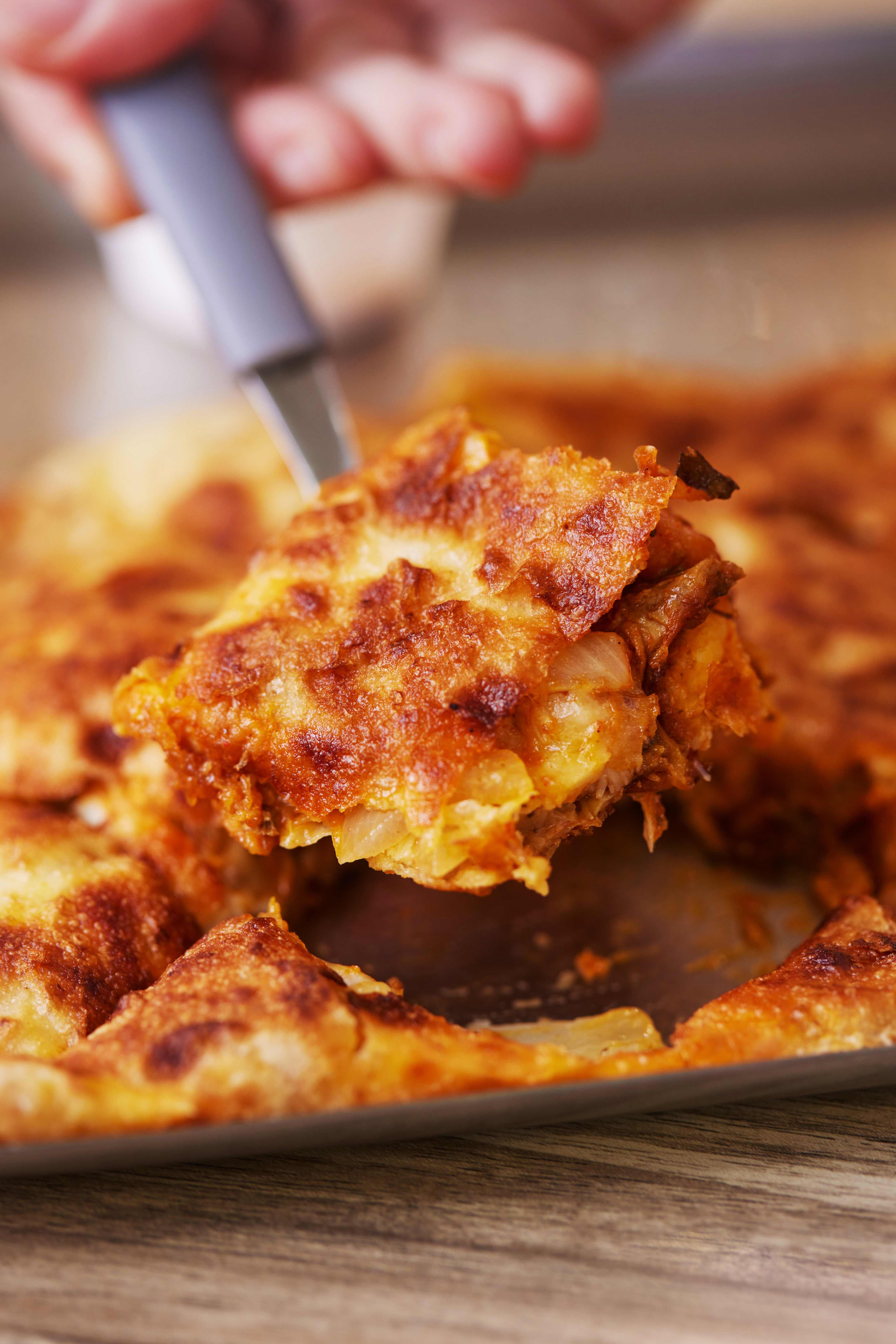 An egg and cheese pull everything together, all wrapped in the thin, crackly dough and pan-fried into a rectangle the size of a large murtabak. Though it sounds like a lot of ingredients, it's nicely spread out within the crispy prata and isn't too jelak. It's like the love child of a calzone pizza and a savoury crepe – but with the sinfully greasy yumminess that only a prata offers.

$14 sounds pricey but for the ingredients and size — this feeds about two people — it is a reasonable price to pay.
Meat Thosai (mutton keema, beef keema, onion, mushroom, grated cheese, chicken sausage, egg), $12
We usually like the subtle tang of
the fermented rice flour
in thosai. but having meaty fillings in it simply didn't work for us. Strangely, eating it with a smear of barbecue sauce balanced everything out nicely. We imagine this combination of fillings will work much better with prata.
Eggs Benedict, $4.80 (8 Days Pick!)
The dudes took great liberty in calling this messy concoction eggs benedict — but boy is it ugly delicious.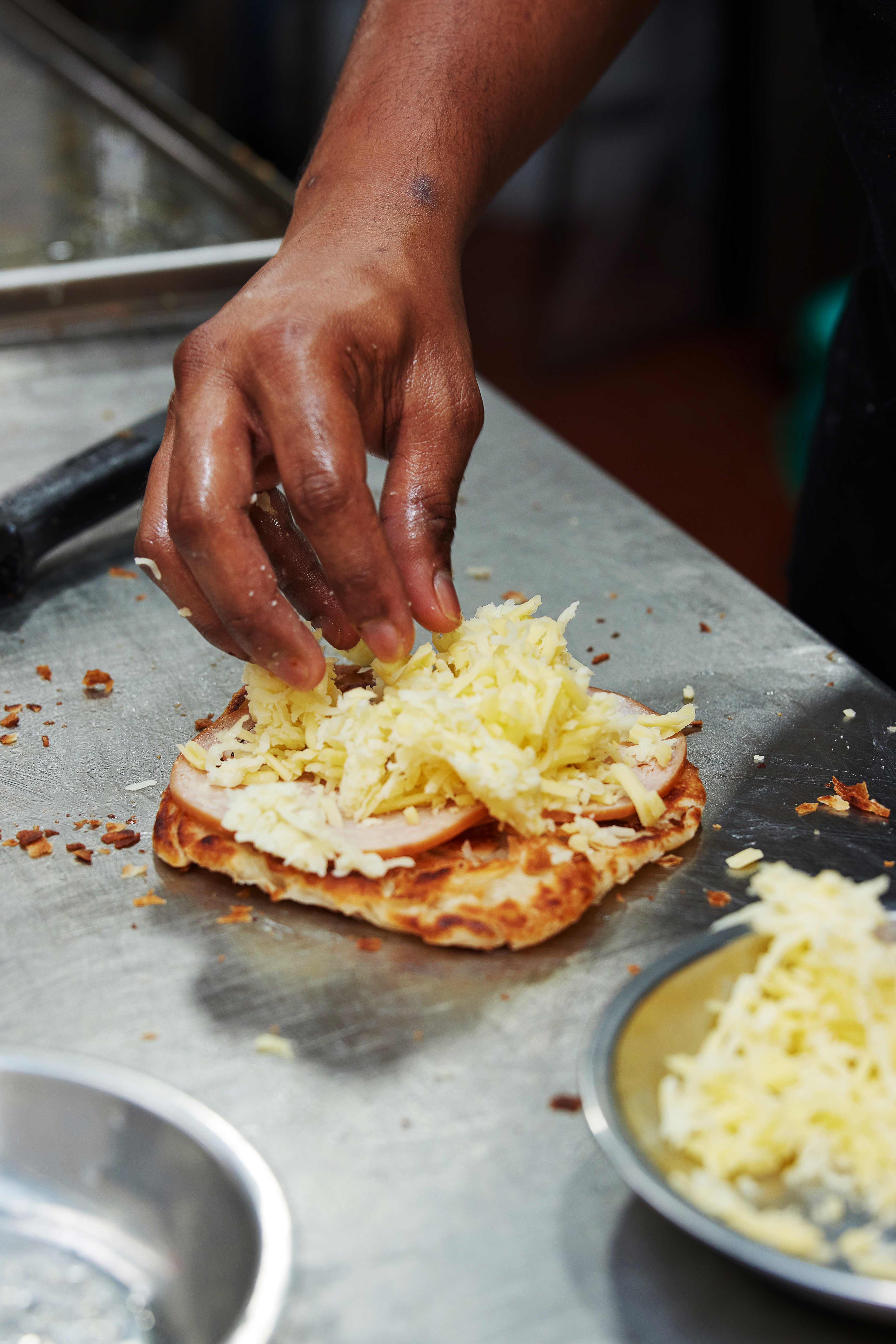 What's in it? No English muffins or hollandaise sauce here, so look away brunch snobs. Instead, turkey ham is wrapped in dough and while it is being fried on the griddle, a generous handful of shredded cheddar tops the prata, which is then flipped to grill the cheese into a salty, crispy crust.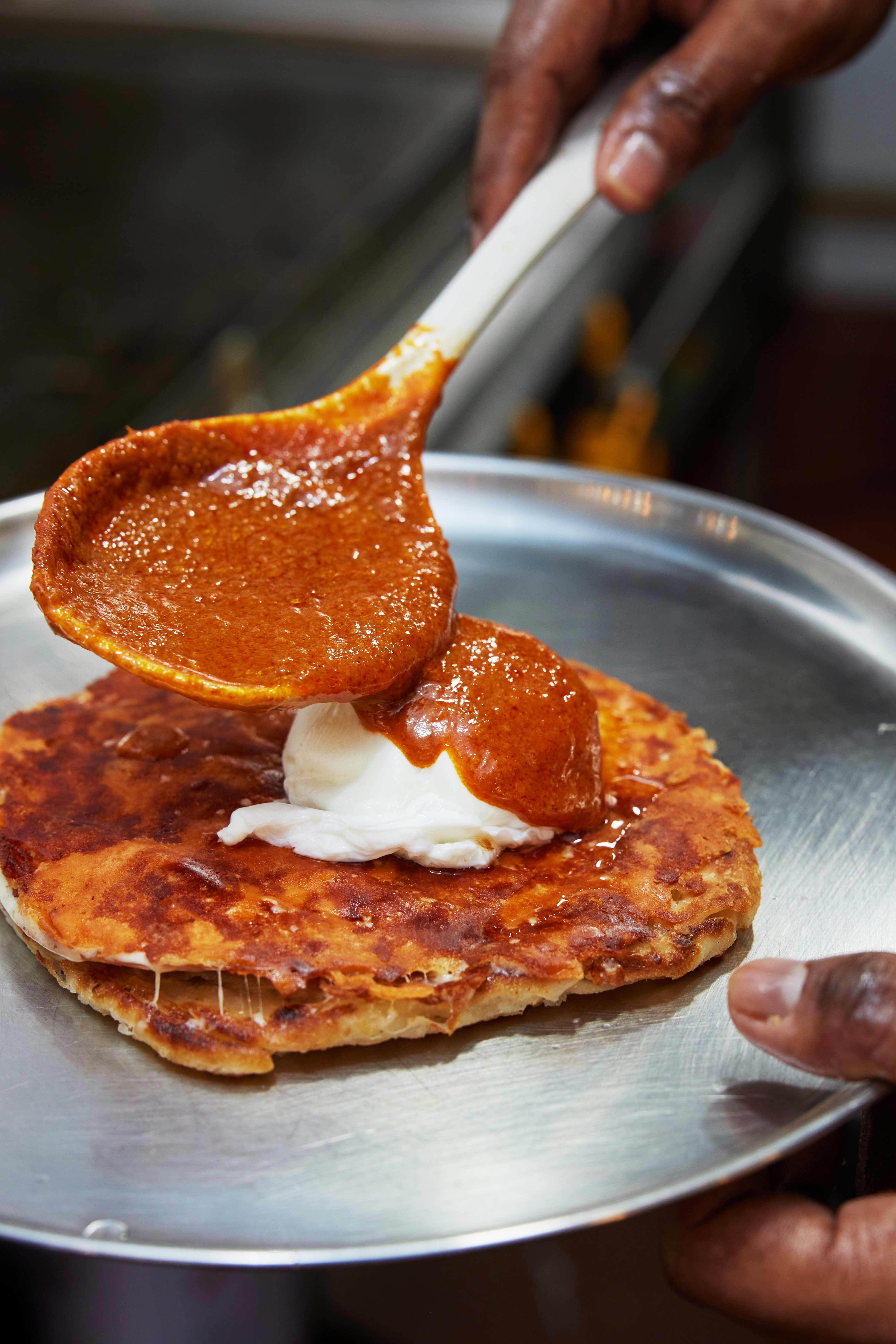 Finally, it is crowned with a single poached egg and cloaked in curry. If you think it sounds weird and discordant, it is. Yet, somehow, the combination of crispy prata with salty cheese and ham, runny egg and spicy curry is sedap.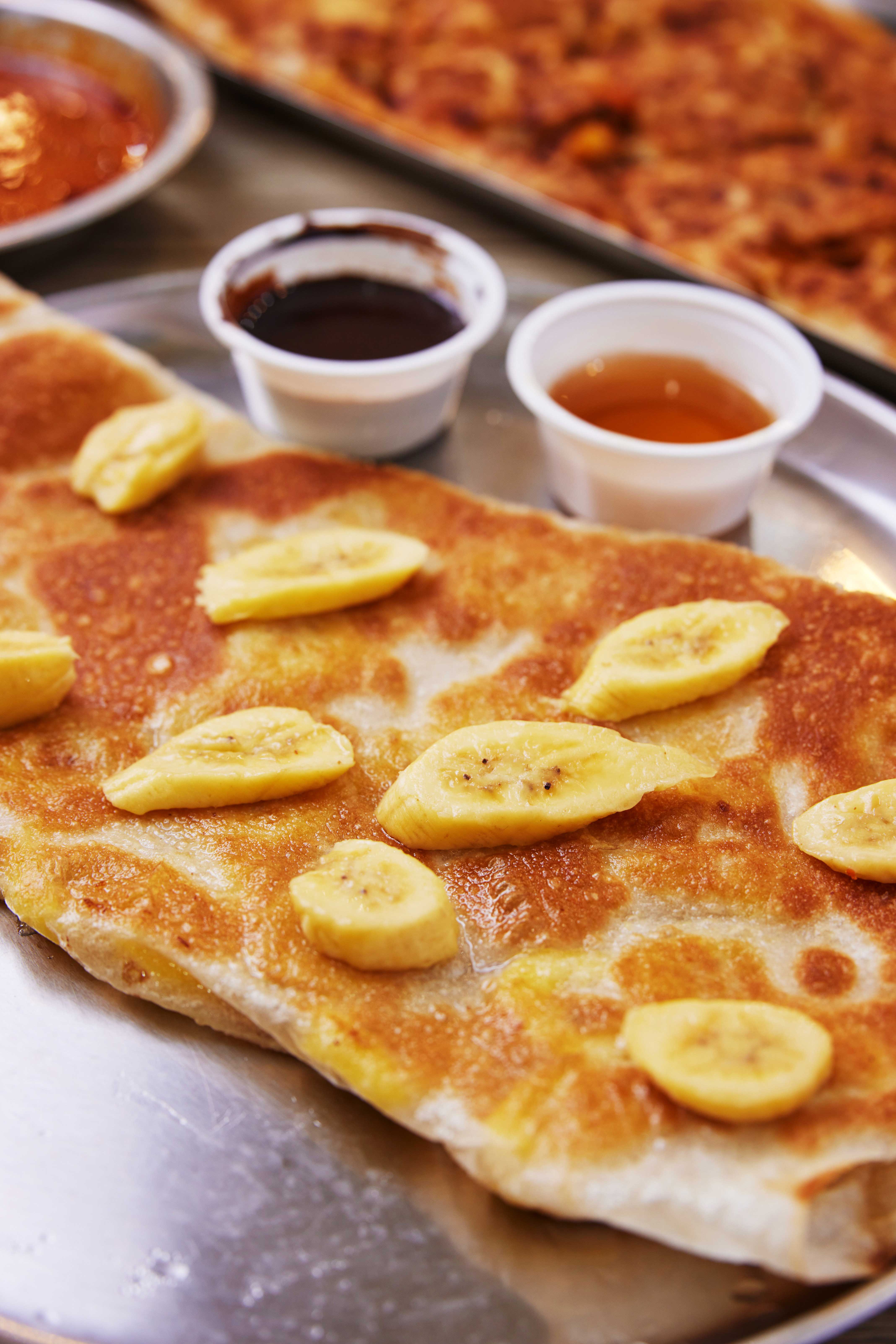 Banana Prata, $2.40
This cheap and tasty dessert prata is just what you need to round up your meal. Each banana costs just 80 cents, on top of the basic $1.60 prata. Add two if you're feeling flush. We liked ours plain with just the sweetness from the banana, but you could also ask for a chocolate dip for extra decadence.
Bottom line
We imagine the fun-to-eat, customisable pratas here appealing to young
adults willing to pay more for premium ingredients and adventurous flavour combinations
. The millennial hawkers
who cook at this branch daily
are planning to open more PrataLahhh! outlets at
Seng Kang and Punggol
– where many of their fellow millennials live. Expect more funky offerings ranging from nasi lemak prata to custard prata ("for that lava flow")
soon.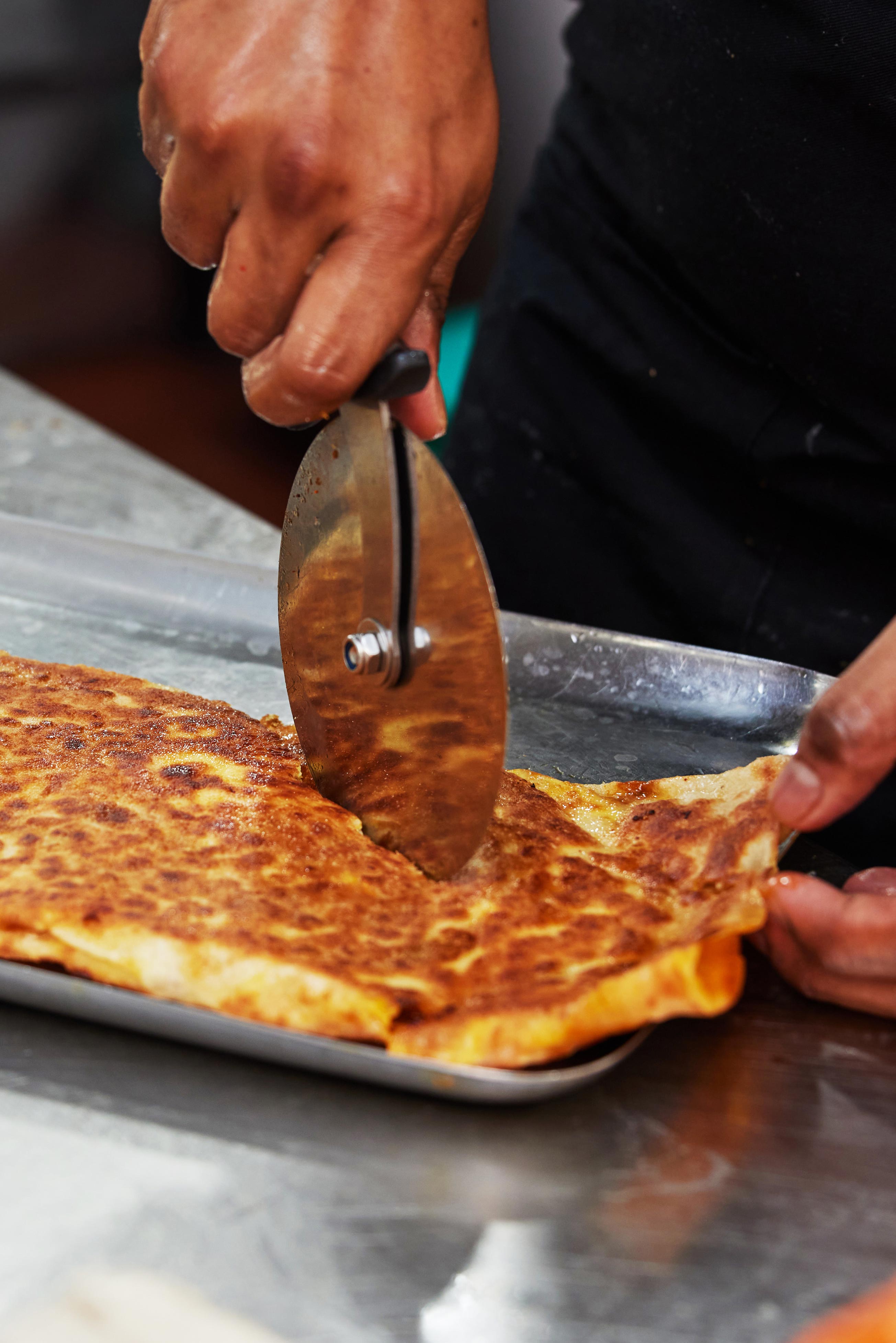 The details
PrataLahhh! is at Bgain 121 Coffee Shop, #01-1358 Blk 121 Hougang Ave 1, S530121. Tel: 98154559/93394814. Open daily except Tue 10am to 9pm. More info via Facebook and Instagram.

Photos: Kelvin Chia

No part of this story or photos can be reproduced without permission from 8days.sg.
8days.sg is now on #tiktok! Follow us on www.tiktok.com/@8dayseat.