Cynthia Koh Dedicates Top 10 Popular Female Artiste Award To Fans Of Her Va-Va-Voom Dress In Greece: "I'm Going To Tag Them"
The 'My Star Bride' star was also vying for Best Supporting Actress but lost out to co-star Lin Meijiao.
Cynthia Koh is still reeling from being named one of the Top 10 Most Popular Female Artistes at Sunday's Star Awards 2022.
The 48-year-old actress was also up for Best Supporting Actress for her performance in My Star Bride, which won the Best Drama at the three-hour ceremony that unfolded at The Theatre at Mediacorp.
Did she prepare two separate acceptance speeches?
Just one: She was actually gunning for the Best Supporting Actress title. The Top 10 gong was "totally unexpected," Cynthia tells 8days.sg backstage.
She figured that after being nominated in the Best Supporting category two years in a row — for 2018's Say Cheese and 2019's After the Stars — it was her turn to take home the trophy.
"I thought there must be something I have done right," she says.
That said, Cynthia is thrilled that her fellow My Star Bride co-star Lin Meijiao, 58, received the award.
She says, "I had lunch with Meijiao jie the other day and she asked me who my rival was, and I said, "You lah!"
"She's someone I look up to in the business," Cynthia adds. "I feel very honoured to be recognised in the same category as her."
Will her Top 10 win nurse the heartbreak she suffered after her Mercedes was vandalised early this month?
"Honestly speaking, I'll leave that matter to the police," she said with a boisterous laugh. Looking at the Top 10 trophy, she continued, "This is the result of the audience who loves my work and recognises it and gives me something really nice. Maybe you can say that…yes!"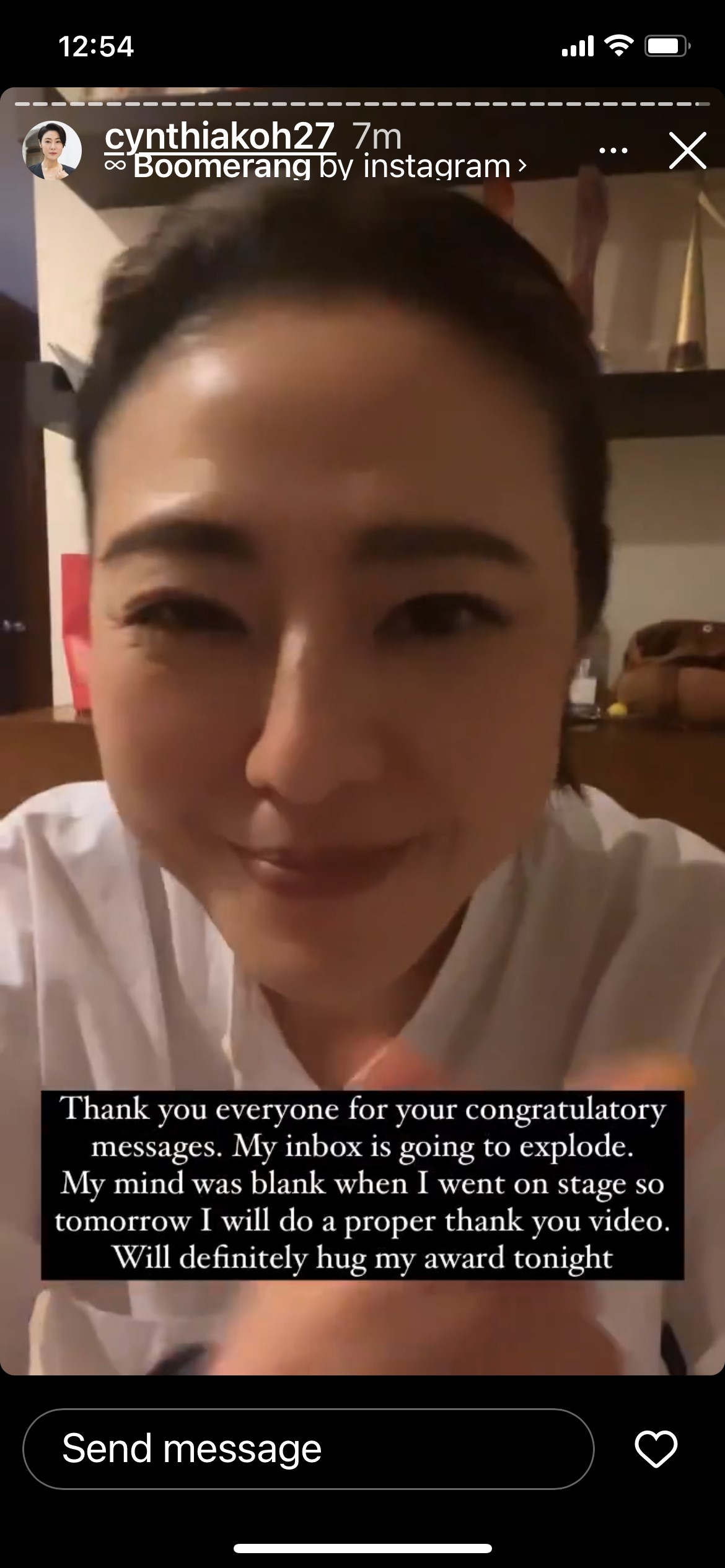 Too psyched for words: Cynthia Koh informs her fans that she'll share "a proper thank video" soon as she is reeling from the surprise win of The Top 10 Popular Female Artiste Award at Star Awards 2022.
Elsewhere, Cynthia also addressed her rather conservative Moschino gown which was a far cry from the head-turning cleavage-showing dress she wore at last year's Asian Academy Creative Awards.
She had originally wanted to try on a suit but the gown caught her attention during fitting. "It was fortunate that Moschino flew it in from Milan — this is from their Fall/Winter collection — and when I saw it, I said to [stylist] Keith [Png], 'Can I wear that dress?'"
Meanwhile, she can't wait to share her win with her newfound fans from Greece. "I am going to tag them on [Instagram]", she says, beaming.

Watch Cynthia's winning moment here from Star Awards 2022 here:
Photo: Mediacorp Photo Unit