Cynthia Koh Is Spending Chinese New Year Eve In The Hospital After Getting A High Fever From Pelvic Inflammatory Disease
The actress says she hopes to be able to spend at least the first day of CNY at home.
The actress says she hopes to be able to spend at least the first day of CNY at home.
On Sunday (Jan 30), Cynthia Koh, 47, took to her Instagram to share that she's been hospitalised. According to her IG Story, the actress was sent to the A&E department of Mount Alvernia Hospital on Jan 29.
She went on to share that she had a high fever and as a result, was warded for observation, and placed on antibiotics. She also said that her reunion dinner will be in the hospital.
"I had this episode before in 2016… 5 years later it came back again," Cynthia wrote in another IG Story. As it turns out, the actress is suffering from pelvic inflammatory disease, which is an "infection of one or more of the upper reproductive organs".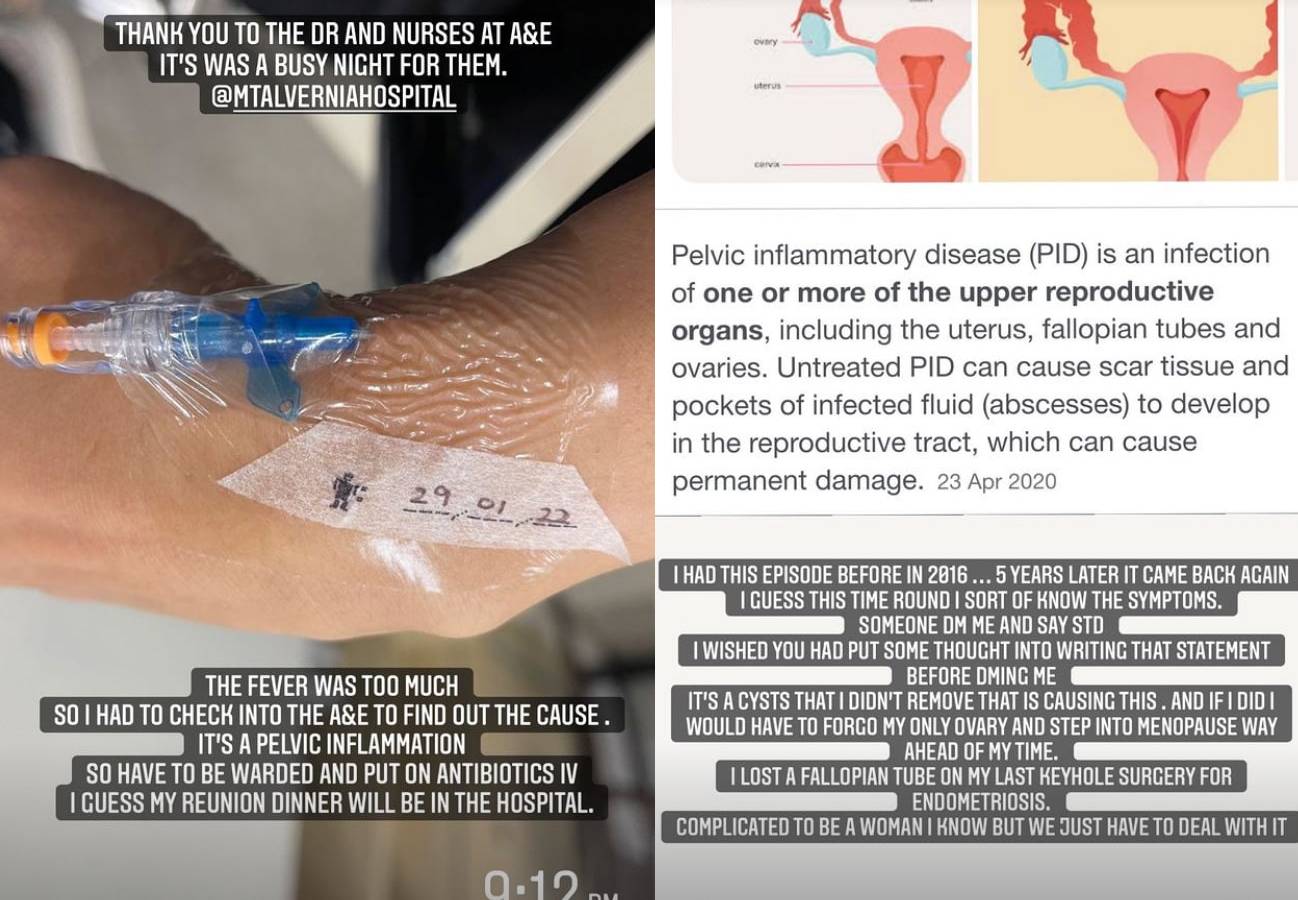 Netizens can be so rude sometimes
Cynthia also revealed that a rude netizen who DM-ed her had speculated that she was suffering from a sexually transmitted disease (STD).
"I wished you had put some thought into writing that statement before [messaging] me. It's a [cyst] that I didn't remove that is causing this (sic)," the actress wrote.
She shared that she chose not to remove the cyst as it meant that she would have to "forgo [her] only ovary and step into menopause ahead of [her] time".
Cynthia added that she'd "lost a fallopian tube" after her last keyhole surgery for endometriosis.

The actress was diagnosed with that condition, which is characterised by frequent menstrual bleeding and the growth of uterine tissue in other parts of the body, in 2012.
Here's wishing for a speedy discharge!
"Do keep me in your prayers, I hope to at least be home on the 1st day of CNY," she went on to write in another IG Story.
Cynthia's last update was posted at around 7pm on Jan 30, where she shared that she's "feeling slightly better", and that she's still "trying to suppress this fever".
"I'm eating more than the last few days, functioning slightly better. I'm glad I came to the hospital first. Hopefully I'll get out soon," she said.
Get well soon, Cynthia!
You can catch Cynthia in My Star Bride - Hi, Mai Phương Thảo, which will premiere on Feb 1, 7.45pm on Ch 8. It will be available on demand for free on meWATCH on Feb 2.
Photos: Cynthia Koh/Instagram, 8world