Daniel Ong Opens $500K Seafood Restaurant At Palais Renaissance Even As He Admits Steakhouse "Not Doing Well"
Despite the fact that his steakhouse chain is "not doing well", Daniel is on a "brand creating" expansion mode and opened this new restaurant for his pescatarian wife.
Daniel Ong, 47, is slowly rebuilding his F&B empire. Since shutting his casual western restaurant chain Rookery in 2020 due to the pandemic, the former radio jock has started Korean-influenced steakhouse Dan's Steaks, which now has two outlets and a third on the way.
He recently opened Estuary, a chic pescatarian (for folks who don't eat meat but consume fish) restaurant and oyster bar at Palais Renaissance along Orchard Road. The two-week-old concept, which serves up seafood-forward small plates like ceviche and carpaccio, charcoal-grilled aged fish and greens, is a collaboration with former Group Executive Chef of Jigger & Pony Group, Polo Seah, 39, and Gary Lian, 37, ex-chef de cuisine at buzzy Sugarhall and Caffe Fernet, both also under the Jigger & Pony Group. Daniel also previously ran restaurant-bar Mischief (he has since sold his share of the business) and craft beer brand Brewlander with other business partners.
No part of this story can be reproduced without permission from 8days.sg.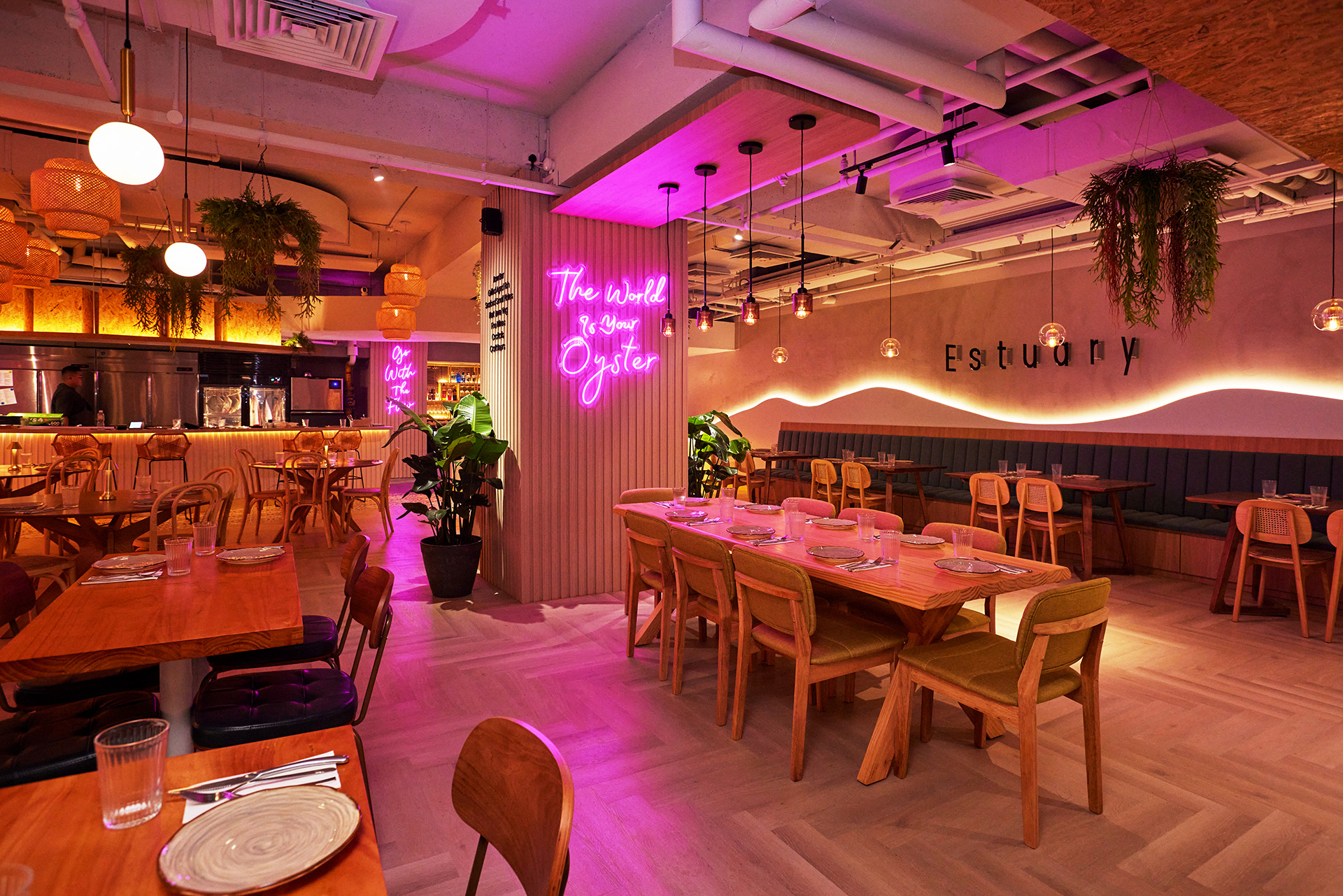 While Dan's Steaks began as a necessity after Daniel had "lost all [his income]" due to the Twelve Cupcakes wage case (he was eventually fined $65,000 for breaching employment laws), his reason for starting Estuary is a rather romantic one.
"I did it for the love of my life," he tells 8days.sg with a smile. "My wife Fay [Tan] is pescatarian and she always says, 'oh man you are doing steaks all the time', so I decided to have a pescatarian brand for her."
He adds: "I have known Polo for a long time and we're always talking about starting something together, so we finally took the plunge." Together with Gary and another sleeping partner, they invested "around half a million dollars" to open Estuary.
Daniel with chefs Gary (left) and Polo (right)
In 2020, the outspoken entrepreneur made headlines when he went on a social media rant about the state of his F&B businesses and the mounting losses he was suffering during the pandemic, and appealed to landlords to waive rent for a couple of months.
So why open shop in Orchard Road where the monthly rental runs into the tens of thousands?  
"Orchard Road will always have a following and we like it here 'cos of the clientele. Unlike Rookery that catered to the office crowd [in the CBD] entirely, we're nearer the residential part of Orchard Road where there are a lot of condos, so people will always be around. Unless the government announces another lockdown, that's a different story altogether, but we have reasonable confidence the government is not going to do that anymore 'cos the situation is under control for now," explains Daniel.
Dan's Steaks not doing well
Besides Estuary, Daniel has also been busy getting his third and largest Dan's Steaks outlet at Star Vista ready for business. It's slated to open early July.
The restaurant is taking over the space previously occupied by Eighteen Chefs on level 2 and is "twice the size of a regular Dan's Steaks". It will feature an outdoor area for pooches, as well as a dog menu.
"Here, your dogs can enjoy steaks too. They are available raw or cooked, with no salt or preservatives, and will be served in a nice steak plate for dogs," says Daniel.
Though Dan's Steaks is "nowhere near breaking even", it has been slowly spreading its footprint across Singapore. It opened its first outlet in Serangoon Gardens in April 2021, followed by another at Upper East Coast Road seven months later.
"Every outlet that opens comes with an opportunity. For me, creating Dan's Steaks is more about creating a brand that people trust, a place where people can have a great steak and that quality is assured every time they come. All the recipes and items on the menu come from me and my years of cooking. That really is the kind of steakhouse I envisioned I want to eat at," he says.
"It's been tough for Dan's Steaks on certain months 'cos of bad sales, though we mostly break even. Things are pretty quiet from Tuesday to Thursday and then on Friday and Saturday, we are full, so it's kind of a struggle to juggle that. The cost of everything is going up, but we don't intend to raise prices. As long as we break even, I am pretty happy. I am just trying to earn a living, we are not even doing well," says Daniel.
Why open a new pescatarian restaurant then amid all these challenges? Daniel simply says it has always been his dream to run multiple concepts. "In a nutshell, we are brand creating now", he says of his expansion strategy. In fact, he is currently working on two other concepts. While he declines to reveal more, he says he is already "drawing the plans for logos and operations".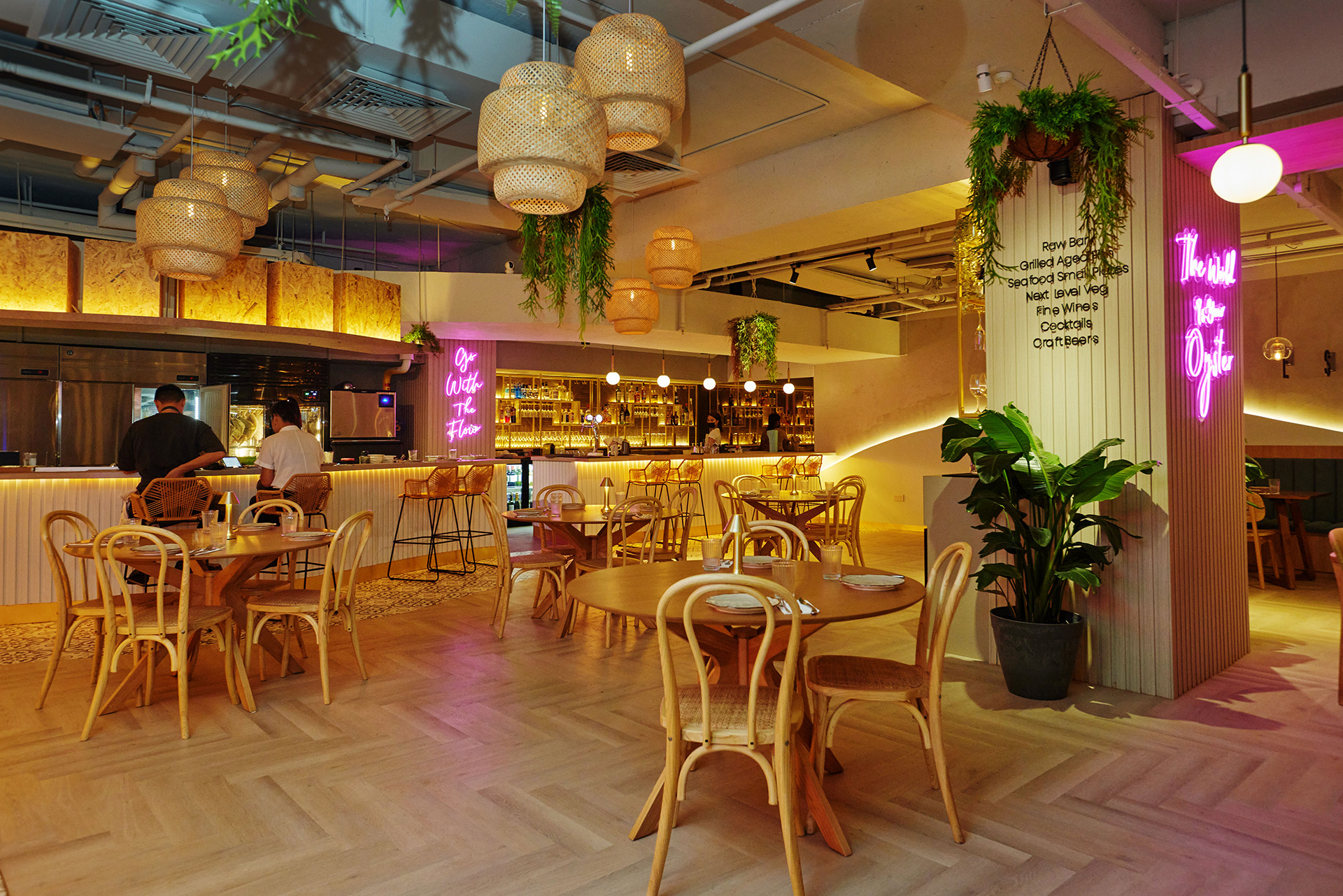 The look
Though Estuary is situated at the basement of the mall, there is nothing dark and gloomy about the space. Done up in tasteful neutral hues and light woody tones, the spacious 80-seater restaurant is bright, airy, and modern, with interesting touches like pink neon signs with phrases like "The world is your oyster". Taking centrestage is the open kitchen aka chef's table, with bar seats where you chat with the chefs and watch them cook.
Inspired by an estuary, you will see subtle seaside-themed décor like aquamarine seats, wave-light designs, and rattan pendant lights that resemble fish traps. Even the chef's table was designed to mimic a meandering estuary.
"We wanted the space to have a feminine vibe as we envisioned it to be a place for girls' night out, hence the pink neon lights, herring bone flooring, and gold accents across the restaurant. A lot of the stuff was from ezbuy, Taobao and Shopee," laughs Daniel.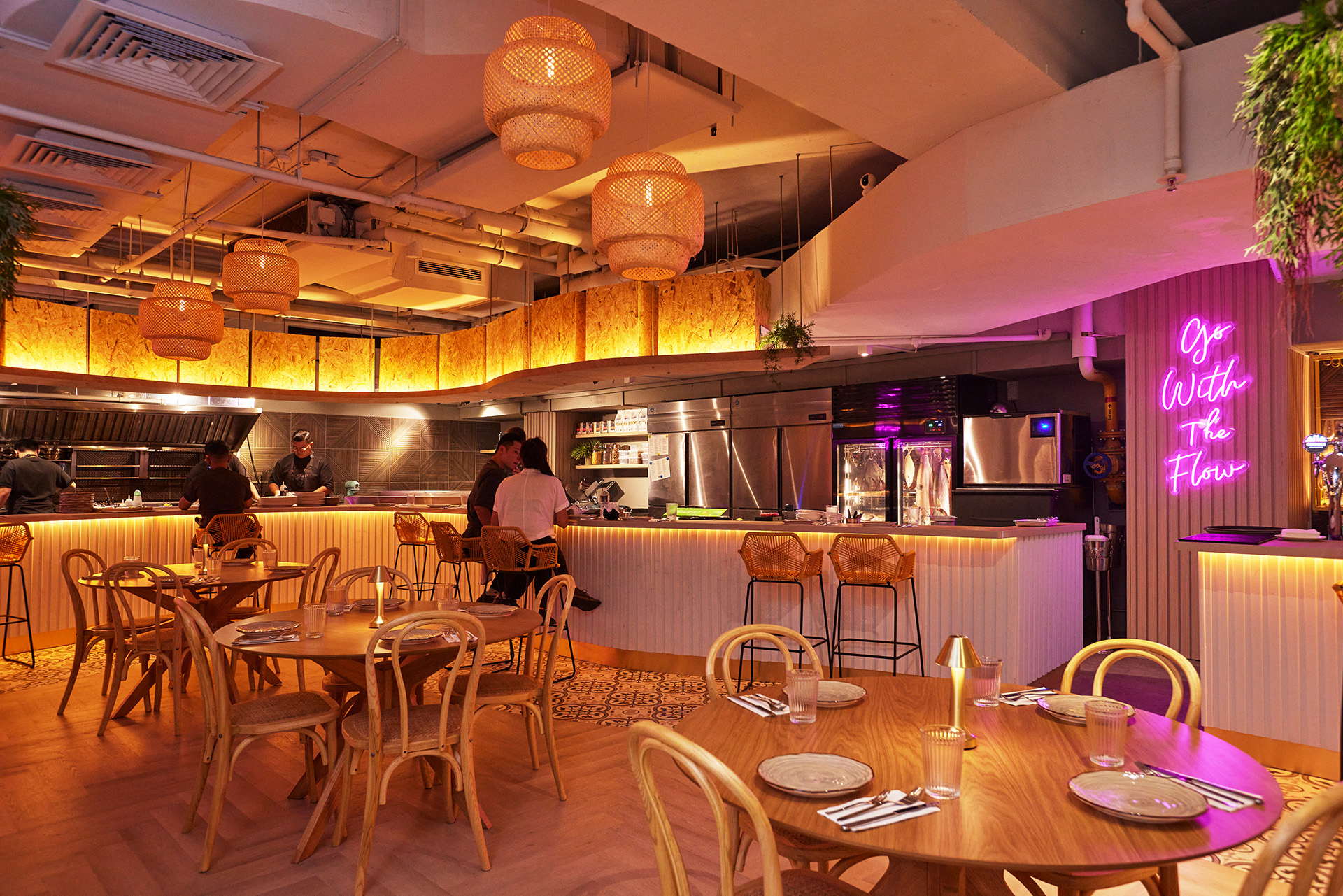 The chef's table is very popular with customers
Not only did he design the space himself, Daniel, who used to run a renovation business, literally built it with his own hands.
"I was the contractor, so I was shovelling cement, doing the screeding, hacking walls and putting up the lights," he says.
"It was insane as the mall only allowed renovations between 11pm to 4am, so I was here working every night then I would go home, sleep for two hours, then wake up at 6am to cook for my kids and wife, send them to school and work, then start my day at around 10am. And I would be back here at 11pm to do it all over again. That went on for the whole of April and May, I almost died."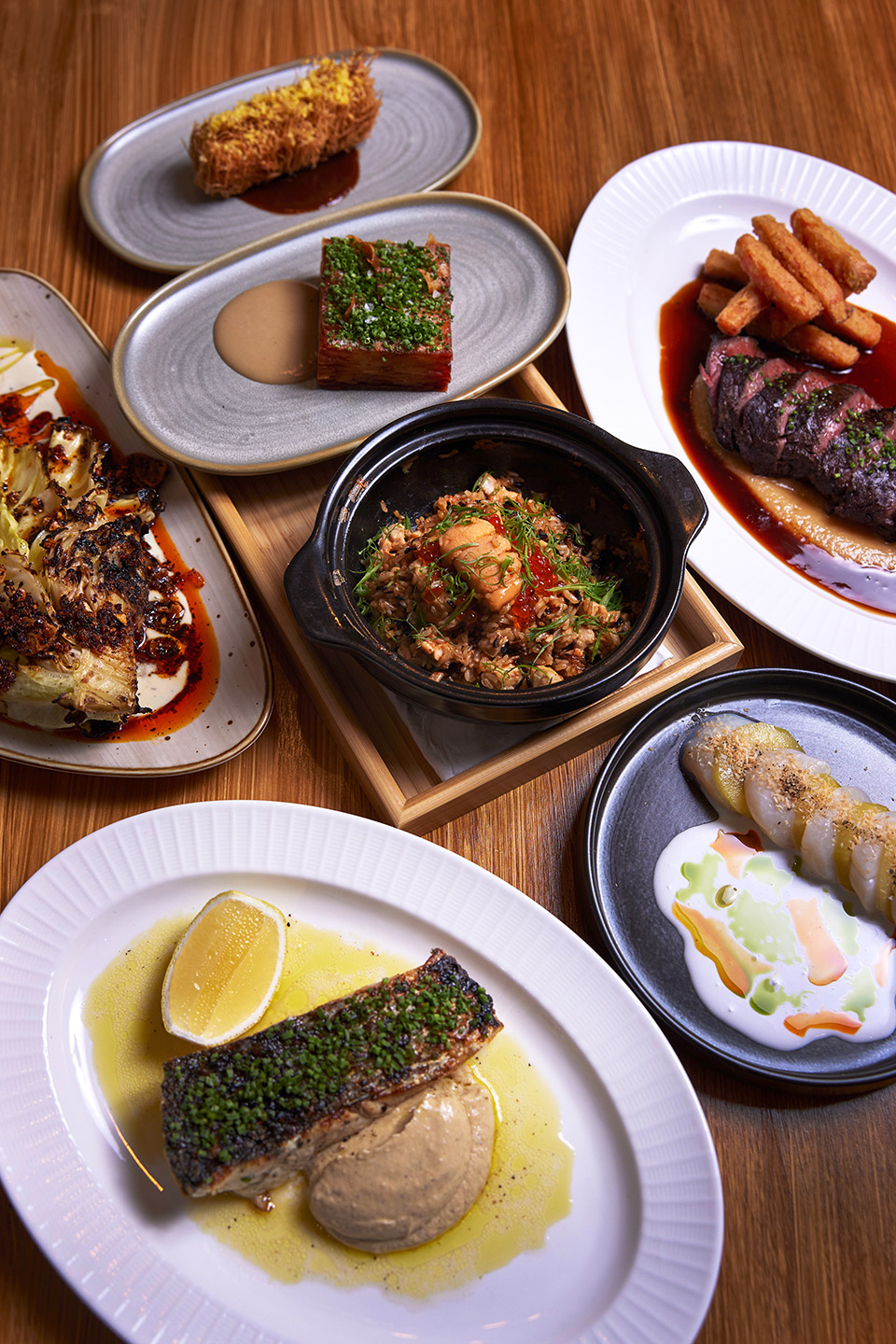 The menu
The menu here is created by Gary, who knows his way around a grill, and Polo, whose specialty lies in seafood and grilled greens. According to Daniel, the menu is constantly evolving depending on what's in season and changes every month. This also gives the chefs the chance to fully embrace their creativity. Signatures include charcoal-grilled aged fish, seafood small plates, grilled vegetables and freshly shucked oysters.  That being said — there is one steak on the menu for those who can't live without meat
"We take ingredients from small, dedicated producers, like locally-farmed fish from Ah Hua kelong and hydroponically-grown vegetables, and a lot of it is very seasonal. So, every single time you come, there's gonna be something fresh and new on the menu," shares Daniel.
Since Estuary opened its doors on May 28, Daniel claims "people are calling this Michelin star-quality food at non-Michelin prices". He adds: "We make sure we are able to cover the cost, but at the same time, we don't price things out of whack. You can get oysters at $3, $10 beers and wines during happy hour".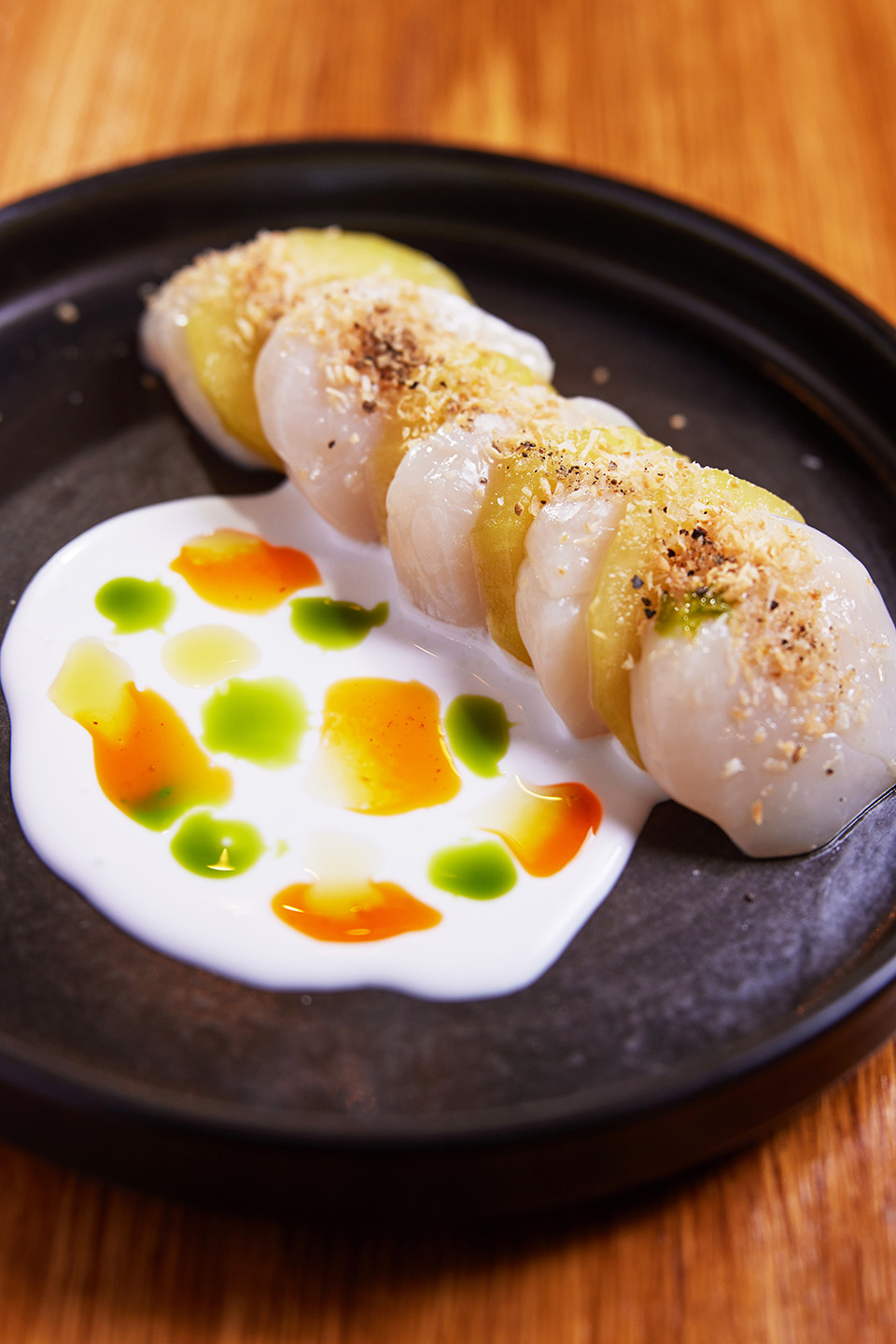 Scallop Ceviche, $25
Slices of sweet Hokkaido scallops and tangy kiwi are topped with toasted desiccated coconut that impart a hint of nuttiness and texture. When paired with the accompanying freshly squeezed coconut milk and dill and chilli oils, the whole dish is lovely.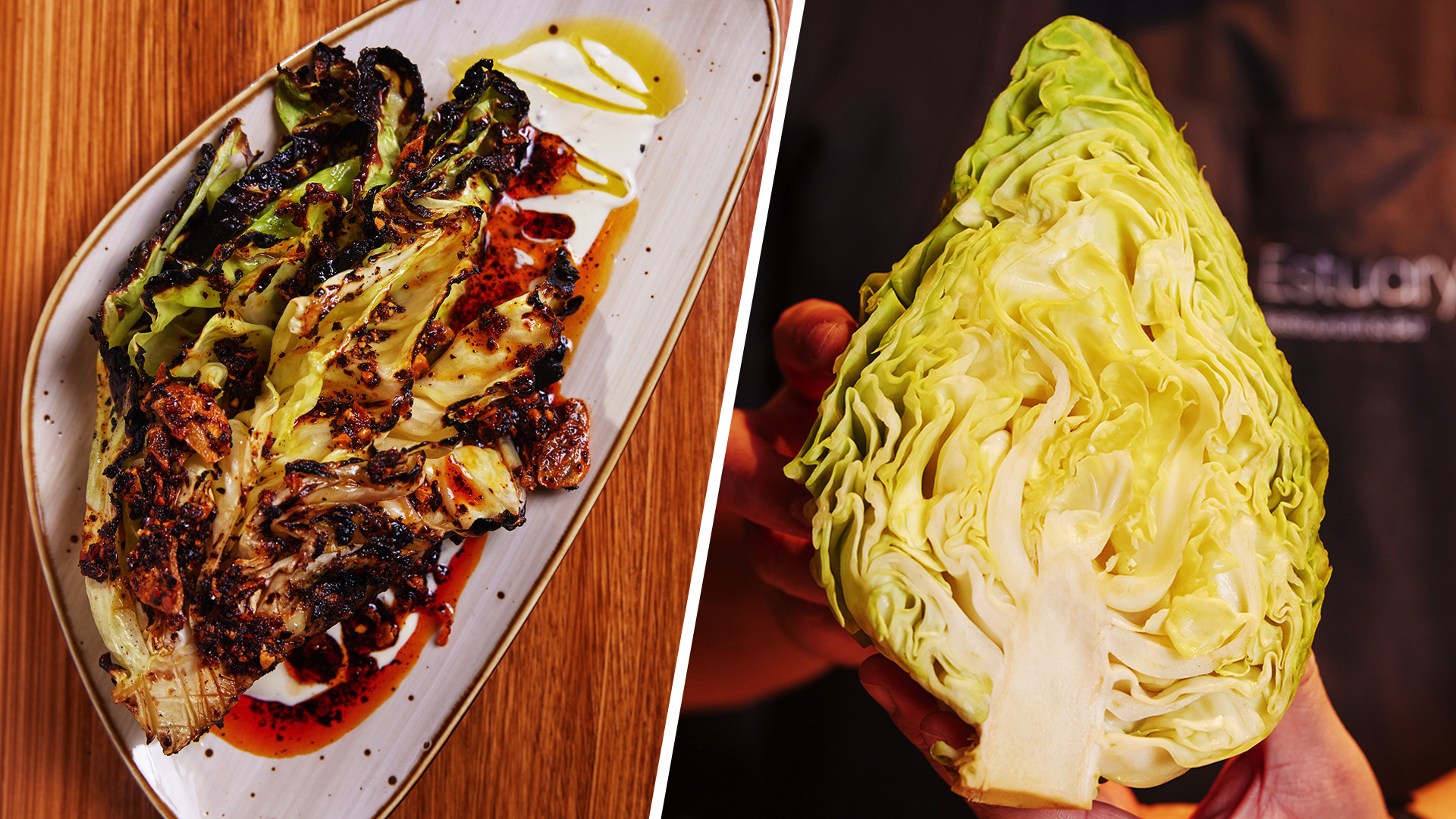 Hispi Cabbage, $15
Who knew cabbage could taste like this? A portion of the triangular cabbage, which looks like a Christmas tree in cabbage form, is grilled till the edges are slightly charred. There is an explosion of flavours from the sweet, smoky cabbage and the bed of rich butter-based sauce and spicy, salty housemade Lao Gan Ma-esque crisp peanut chilli oil. Quite addictive.
Dungeness Crab Kataifi, $18 (8 Days Pick!)
We utterly enjoyed this Dungeness crab croquette. Crab potato filling encased in kataifi pastry (finely shredded filo pastry) on a bed of umami-rich kani miso sauce and topped with grated cured salted egg. Crispy on the outside, and creamy within — we would have liked the crab a bit chunkier for better texture though.
Crispy Sebago Potato, $16
It might not look much, but this potato mille-feuille, which is stacked in layers like the French pastry, takes three days to prepare. Thinly sliced potatoes are baked in butter then left to set for two days before they are deep-fried to crispiness. The inside is soft and tender, like hand-cut fries, which we eat with a dab of umami anchovy aioli. Simple, but enjoyable.
Sarawak Bario Claypot Rice, $35 (8 Days Pick!)
An atas take on the claypot rice that Gary, who is from Sarawak, enjoys. Bario rice, a medium-grain heirloom rice from the highlands of Sarawak, which has been pre-cooked in fish stock, is tossed with aged fish trimmings like salmon and hamachi, and crab head butter at the table. It is then topped with creamy uni and ikura. It's an umami bomb with the pops of brininess from the seafood. The smoky, crispy chao tar grains are also a winner, though we wish the serving was slightly bigger to justify the rather steep price.
Barramundi, $32
Cooked on a charcoal grill, the dry-aged barramundi fillet (around 320g) came out moist, flaky, and flavourful, while the skin is shatteringly crisp like a deep-fried fish skin snack. Good on its own, even better with the smoky, creamy baba ghanoush (Mediterranean roasted eggplant and olive oil dip) that gives it another dimension of flavour.
Fresh Medjool

Date Pudding, $14
The date pudding here is worth the calories. Served with light crème fraîche ice cream and housemade caramel sauce, the moist and fluffy dessert is full of texture and flavours from the chunks of dates and chopped pecans.
Bottom line
A nice place to chill at, with great food to match. The chefs here take simple ingredients and elevate them to another level. Some dishes like the Sarawak Bario Claypot Rice are on the pricier side, considering the modest portion, but it's still worth a try.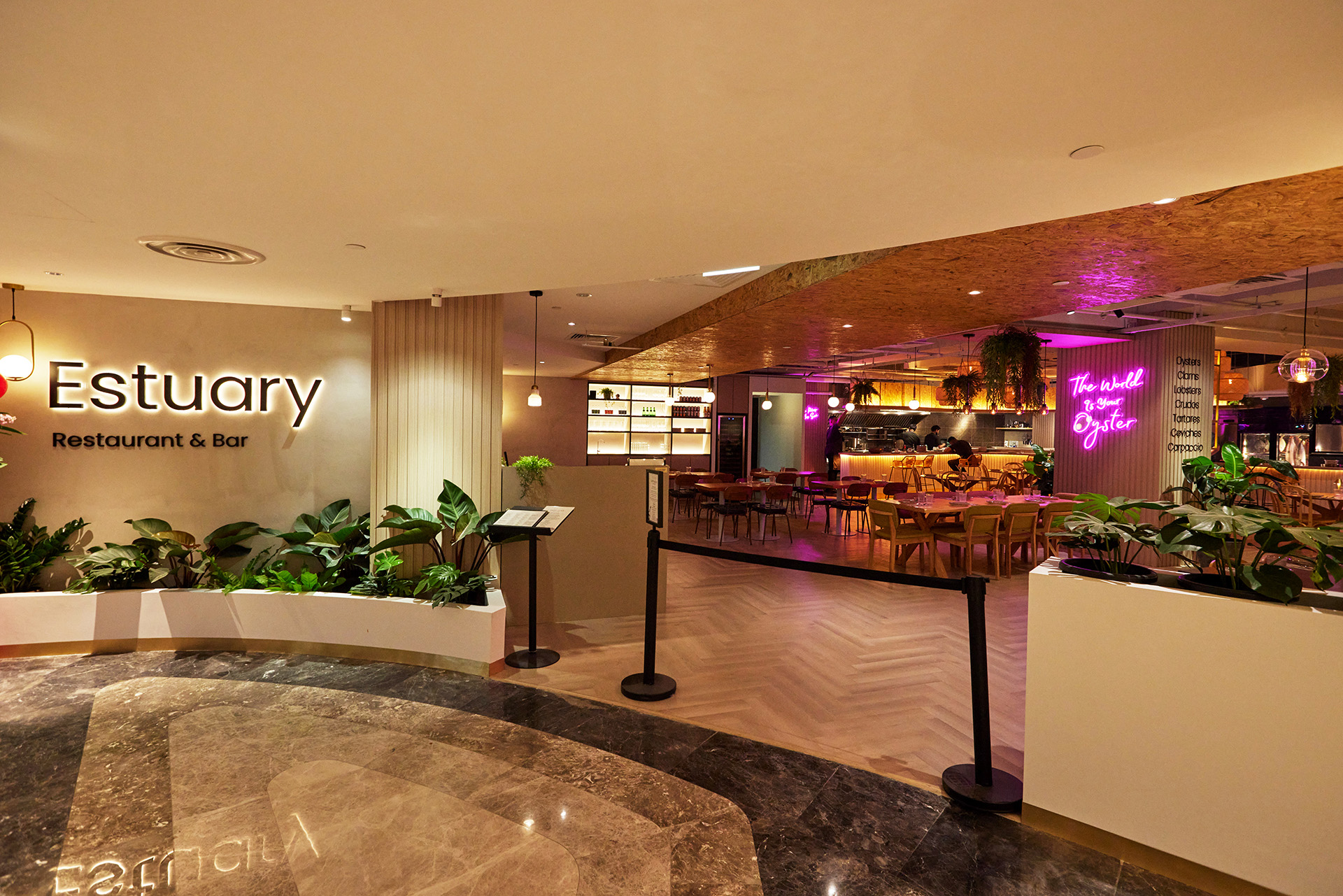 The details
Estuary is at #B1-04, Palais Renaissance, 390 Orchard Rd, S238871. Tel: 8281 0405. Open daily 4.30pm-11pm. More info via website, Instagram and Facebook.
All photos cannot be reproduced without permission from 8days.sg
Photos: Kelvin Chia