Decadent Pork Belly Rice & Deep-Fried Lor Bak By SIA Steward Turned Hawker
BBraise's unusual crispy fried lor bak is a sinful but delicious creation.
If you had asked Alvan Chew, towkay behind two-month-old braised pork belly rice bowl joint BBraise at Amoy Street Food Centre, three years ago whether he would ever envision himself as a hawker, his answer would've been an emphatic "no". Though the 29-year-old has always had a passion for food, cooking for a living was never on his radar.
You see, Alvan, who was brought up on "tapow food", had no culinary skills. "My family basically has no knowledge of how to cook. The only thing my mum can make is instant noodles," he tells 8days.sg.
But all that changed after he left his cabin crew job at Singapore Airlines in 2019 to "try new ventures". Since he had "nothing else to do", he agreed to help out at his friend's hawker stall (Alvan declines to reveal more about the biz), and has never looked back.
All photos cannot be reproduced without permission from 8days.sg.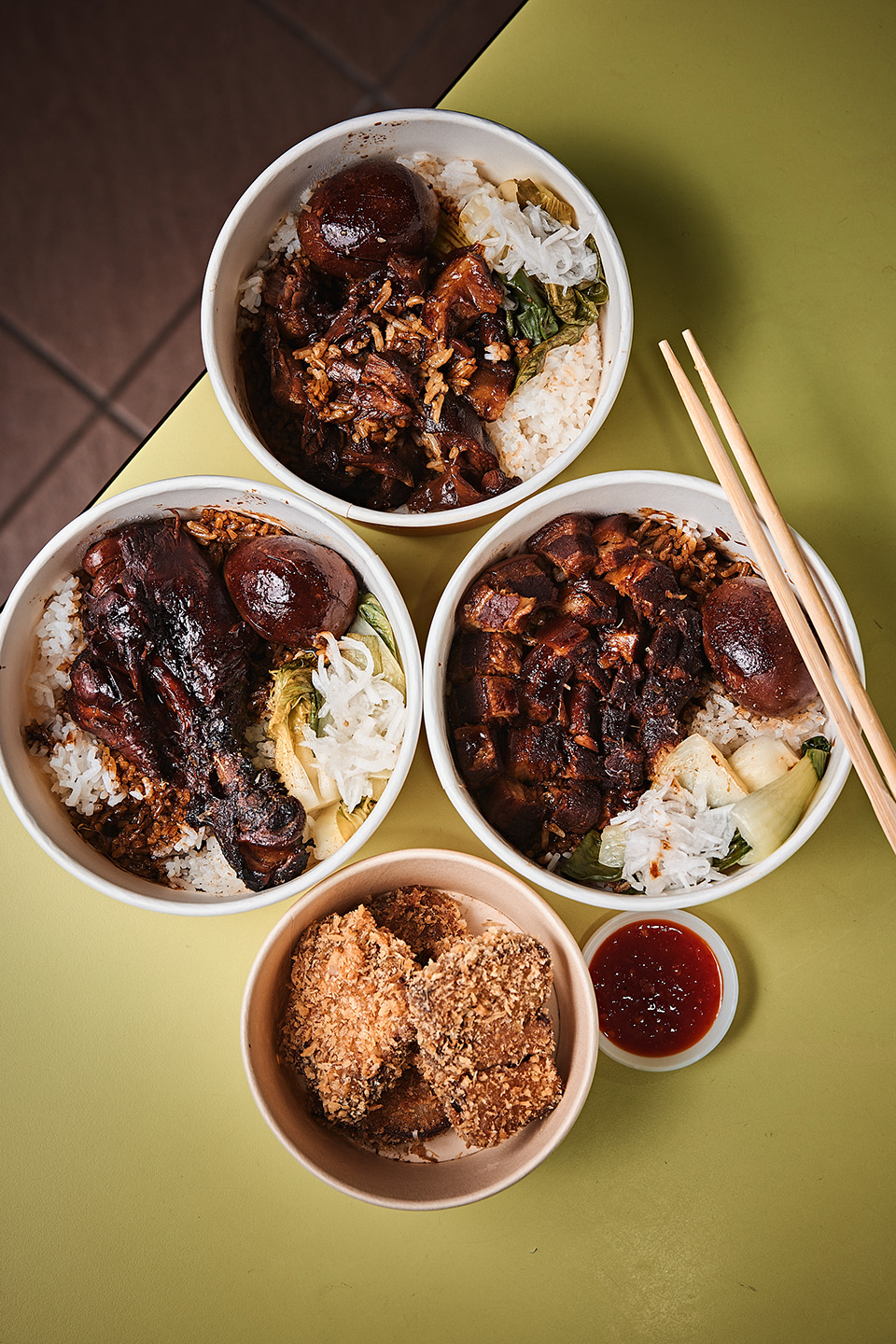 Found his calling for cooking later in life
It was there that he learned how to make the braised pork belly dish and even became the main cook at the stall. "I was quite surprised that I was interested in cooking. Braised pork belly is one of my favourite foods so I started to experiment on my own, tweaking the recipe to make it better," shares Alvan.
He left the stall in January 2021 to start his home-based business from his family's HDB flat in the east peddling rice bowls topped with braised pork belly, trotters, or chicken. Unlike his friend's stall's Teochew-style braised pork belly, which is cooked in a thin, sweetish sauce, Alvan says his "local" version features a thicker sauce and is "more catered to local tastes".
"I like it more savoury and thick, so it coats the rice and meat better and also enhances the flavour," he reasons.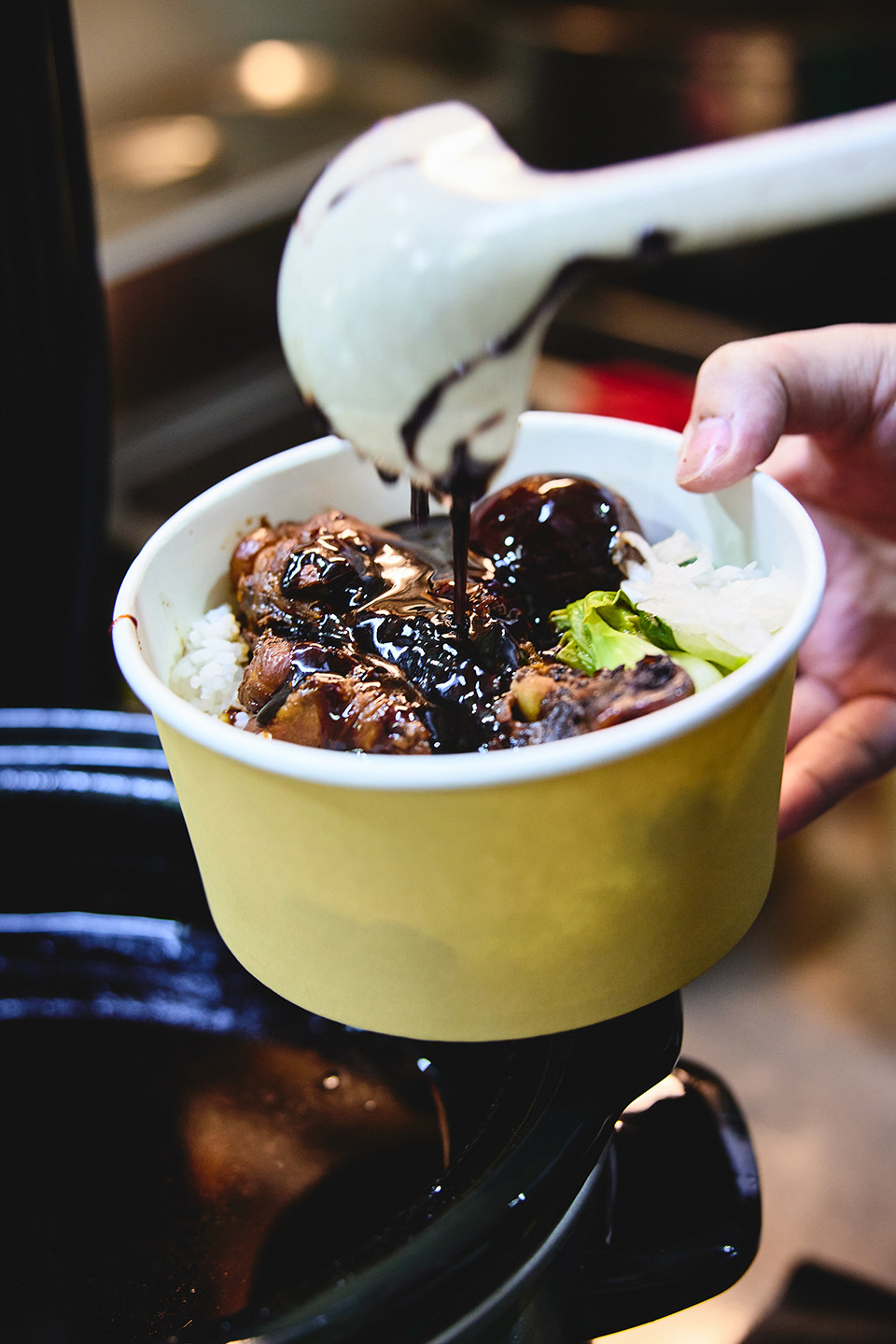 Alvan began getting steady orders for his rice bowls, selling around 250 bentos a week on average from home.
"When I was running the home-based business, I catered more to the industrial area, so I got large orders. There were a few times where we sold 200 bowls in a day. I was lucky that I was able to get those deals, but it was also very hectic 'cos I was running the business alone. I did all the cooking and delivery myself, with some help from my family," he says.
His production capacity soon became the business' limiting factor and Alvan felt it was time to open a stall.
"The kitchen was so small so I couldn't experiment with new dishes at home. At one point my mum was also complaining that the house was getting messy," he laughs.
Starting from scratch with new clientele
Though Alvan had already established a clientele in the east, he decided to set up shop in the popular Amoy Street Food Centre in February this year.
"I chose this location because I like the young office crowd here. This place is also good for creating awareness for the business," he explains. He was also optimistic that business would pick up once workers return to offices, though he notes that footfall hasn't increased as much as he had hoped.
"We were doing relatively okay for a start, but the CBD crowd hasn't quite returned yet. We are only very busy for around one plus hour during lunch time. Other than that, it is relatively quiet," shares Alvan.
While he declines to reveal the number of rice bowls sold daily, he says business is slightly better than when he was running his HBB, partly due to occasional orders from his old customers from industrial firms on weekends. It also helps that he extended his operating hours to catch the breakfast crowd.
As Alvan is at the stall at 6.30am to cook his meats, his rice bowls are ready to serve by 9am. "I find it strange that people eat rice at that hour. Initially I just wanted to sell from 11am to 2pm but people asked to buy them [in the morning], so we serve lor. It isn't a lot, maybe around 20 bowls," he says.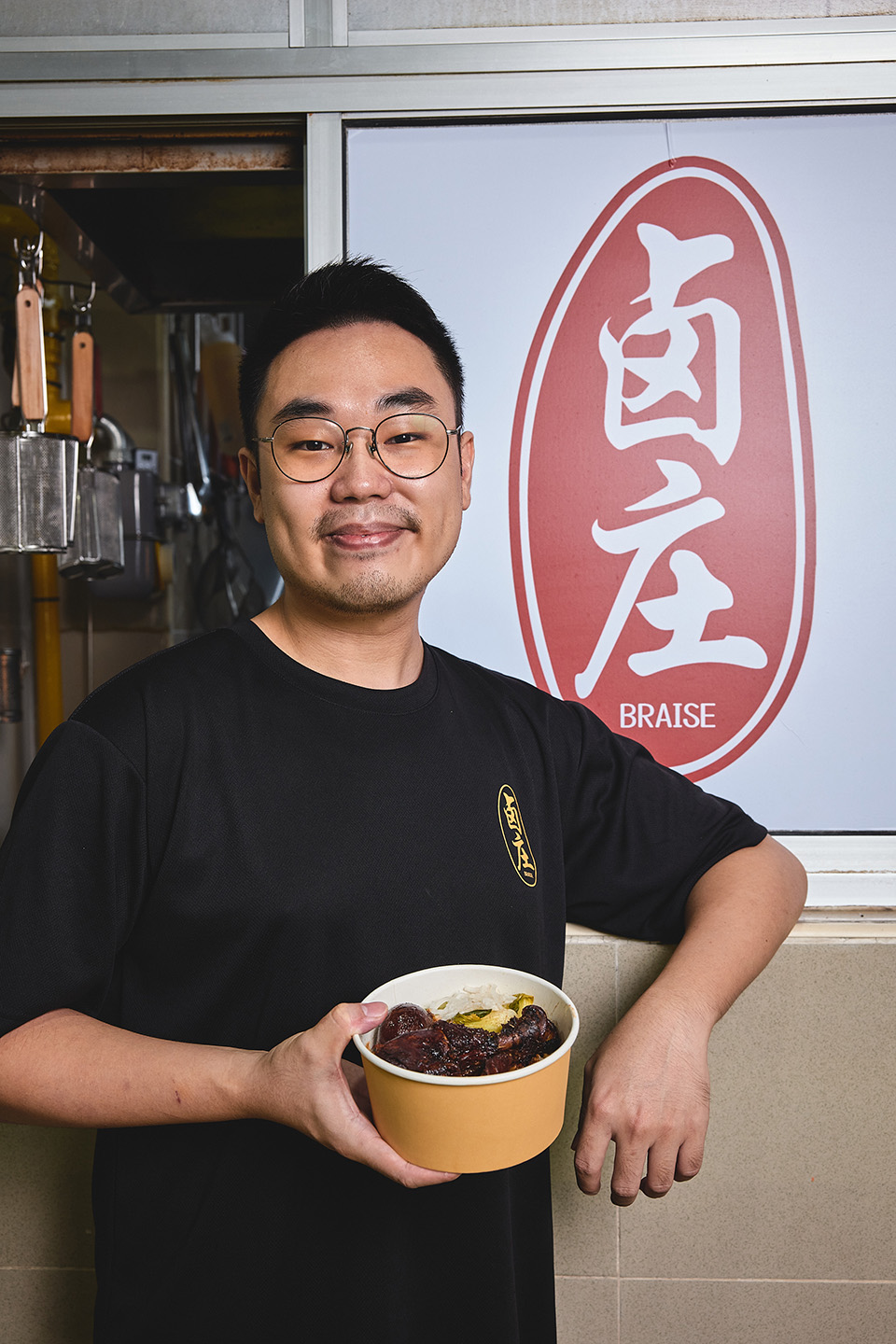 Not to be confused with Braise at Golden Mile Food Centre
Those who have tried offerings from Alvan's home-based biz might find the taste slightly different as he's tweaked his recipes to taste a little sweeter based on feedback from customers. When we ask if he had also rebranded his biz, which says Braise, instead of BBraise on the signboard, Alvan tells us the printer had made a mistake. 
"He thought it was a typo and changed it to Braise without first checking with me. By the time I realised it, it was too late 'cos we were about to open, so I just left it. It's frustrating, but we will be changing the signboard and menu soon when we introduce new dishes like Taiwanese lu rou fan," he says sheepishly. He is still working on improving his lu rou fan recipe, which he says has more complexity of flavour compared to braised pork belly as the meat is fried in aromatics before being braised-till-tender.
Does he have any concerns that customers might confuse his stall with Braise at Golden Mile Food Centre, which has similar offerings? 
"We're not worried as we are known as BBraise, which is actually a play on the words 'be braised', like be braced for something new in town, like our B'Fry snack (more on that later)," he notes.
The menu
Currently, the menu features three braised meat rice bowls: pork belly, trotters, and chicken, starting at $5.90 a pop. Add-ons like braised tau pok, tau kwa, and egg are also on offer.
The items are braised with Alvan's braising gravy made from a savoury master sauce containing dark soya sauce and "nearly 20 herbs and spices" including cinnamon, star anise, five spice powder, and garlic. Depending on the type of meat, they are braised for at least two hours to bring out their flavours and tenderise them.
According to Alvan, the master sauce is constantly simmering and never thrown away. "The braising liquid for the pork belly is added back to the master sauce at the end of the day to make it more flavourful," he says.
Braised Pork Belly Rice Bowl, $5.90 (8 Days Pick!)
On a bed of fluffy Thai jasmine rice sit chunks of fat-streaked pork belly slathered with lusciously thick, umami gravy and a dusting of crushed bonito flakes and seaweed. Alvan tells us the pork belly is cooked for around two hours in a master sauce with ingredients like fish sauce and sugar. The meat is melt-in-your-mouth tender, aromatic and permeated with flavour.
Instead of mei cai (preserved vegetables), Alvan's slightly Japanese-inspired rice bowls now come with a side of leafy greens (we got xiao bai cai) and zingy housemade shredded pickled radish to cleanse the palate. "I find mei cai very old fashioned, so I replaced it with boiled greens and added the bonito flakes and seaweed topping and pickled radish for a Japanese twist. I got the idea from Tonkatsu [by Ma Maison] at Jewel," reveals Alvan.
When we tell Alvan he should consider selling his addictive pickled radish, he tells us modestly that we're not the first ones to say so. Also yummy is the intensely flavourful egg, which has been braised overnight. Kinda reminds us of tea leaf egg. Alvan makes everything in-house from scratch as he likes the "sense of achievement" he gets from creating his own recipes.
Braised Trotters Rice Bowl, $5.90
The Braised Trotters Rice Bowl holds the same appetising offerings, except that it comes with glistening cuts of fatty trotters. Braised in the master sauce for around three hours, the trotters taste slightly more herbal. It is gelatinous with a bit of bite and not gamey, though we found the skin a bit chewy. Nonetheless, still a comforting, moreish rice bowl.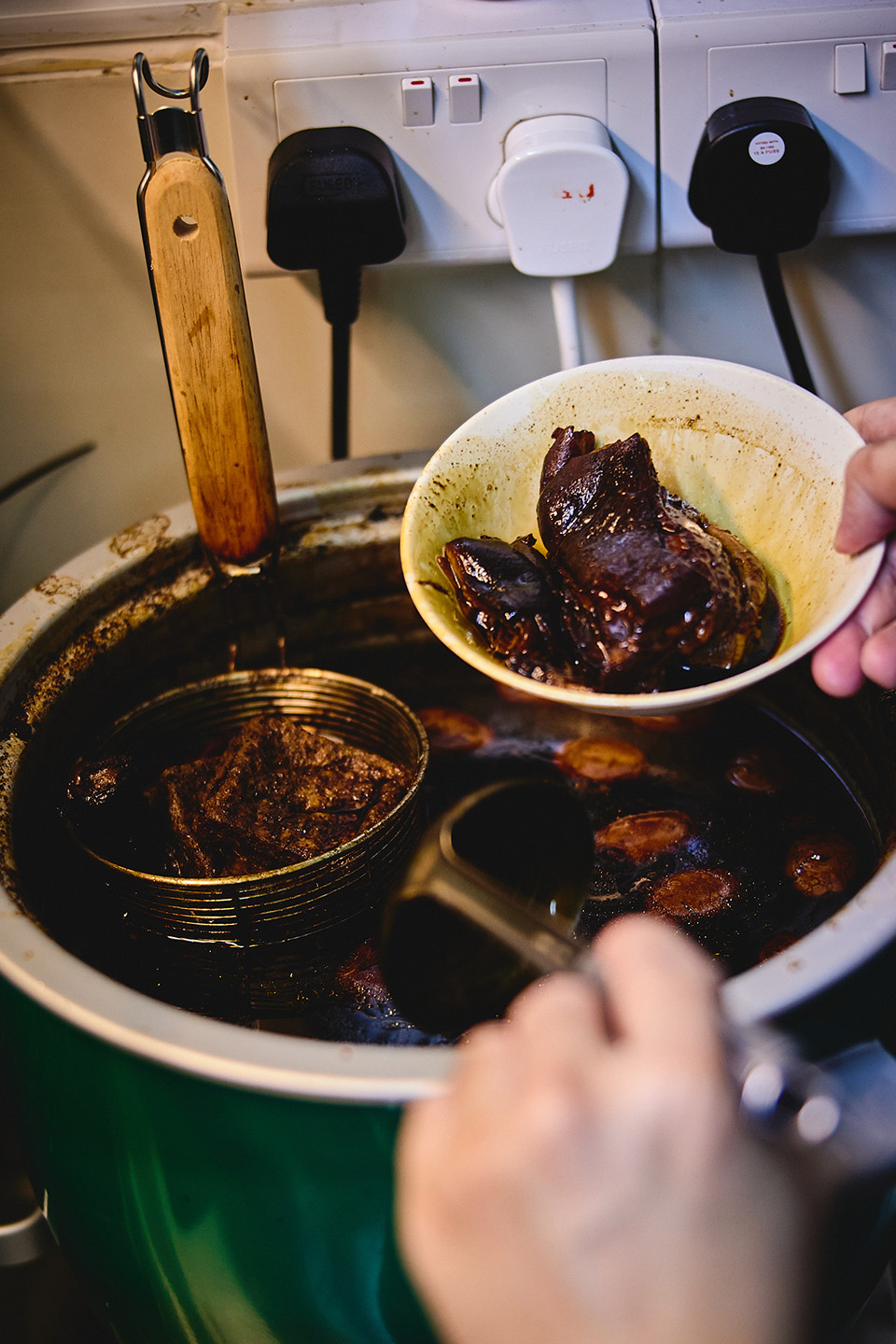 Braised Chicken Rice Bowl, $5.90
If you prefer leaner meat, there's the Braised Chicken Rice Bowl, starring a succulent drumstick and the same accompaniments. The drumsticks are braised with some dried chillies to give it a hint of spice, though we couldn't quite detect any heat. We prefer this to the trotters.
B'Fry, $3 for five pieces (8 Days Pick!)
Think of the B'Fry, which stands for "braise fry", as deep-fried lor bak. Chunky slices of braised pork belly are dipped in a batter of "a mixture of flour and braising liquid" before being coated in "a special breadcrumb mix" and deep-fried till golden brown. The combination of the crispiness of the panko coat with the juicy, meltingly fatty braised pork belly is delish and pretty genius, though it can get a bit jelak after one too many pieces.
"I wanted to create something different and I suddenly thought why not just fry the braised pork belly. But it took me six months to perfect the recipe. I tried different combinations like coating the meat in flour, a bit of egg wash and frying it, but it didn't taste very good," Alvan tells us.
The effort paid off. The snack is so popular that sometimes Alvan has to turn customers away. "It's fried to order, so during lunch when the lines are long, I will tell customers that it's temporarily sold out. The process of battering and frying takes time, and we don't want to keep customers waiting," he explains.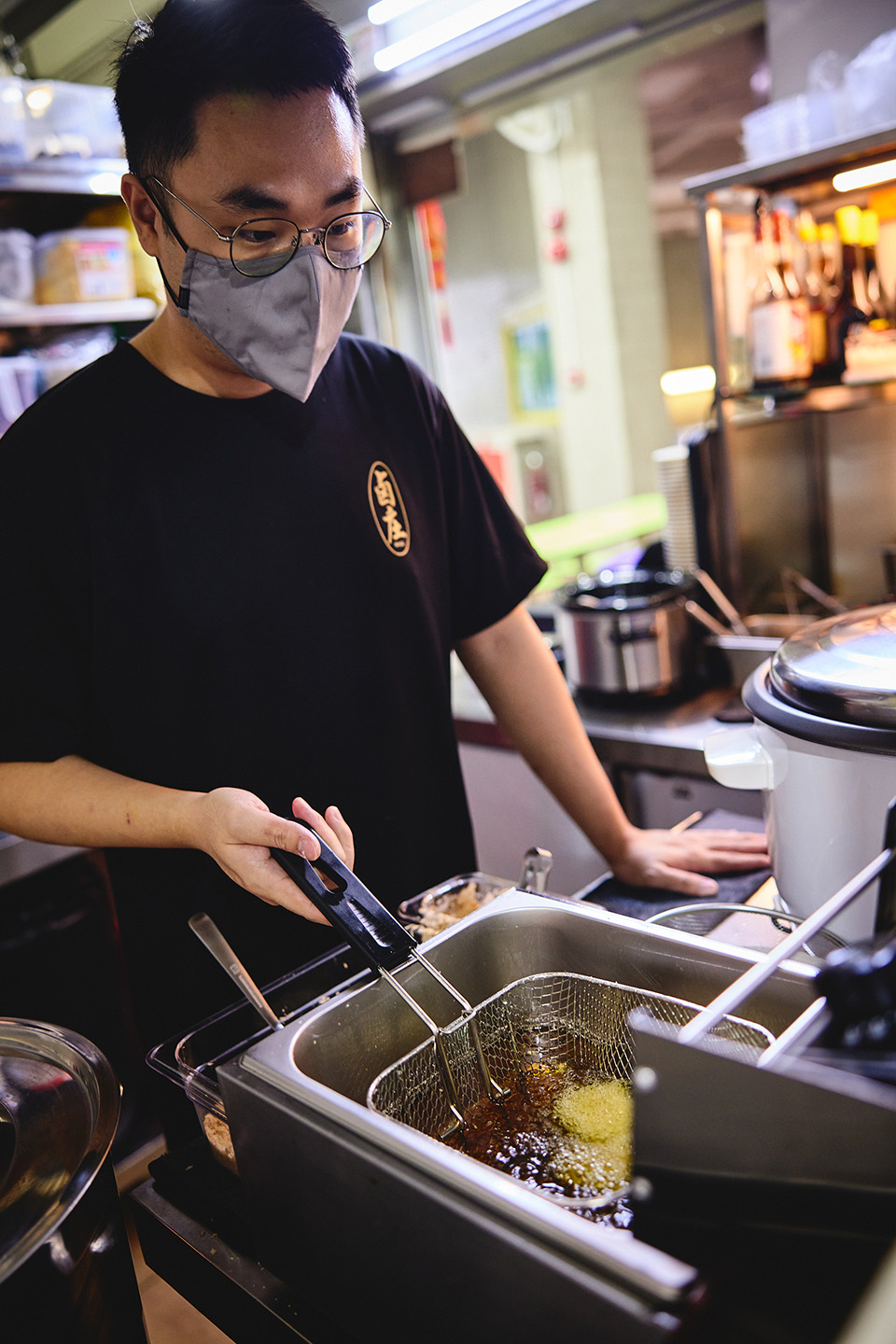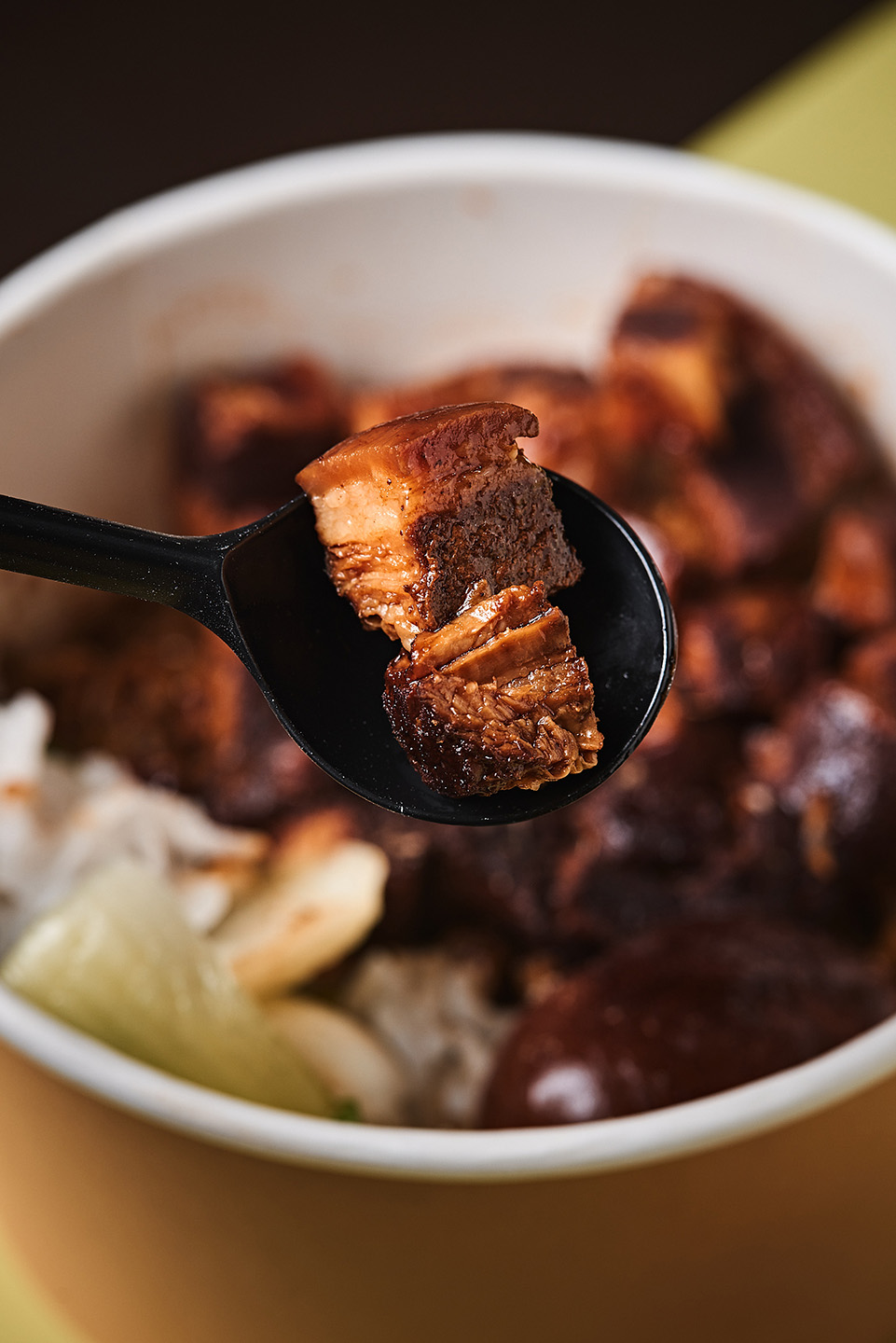 Bottom line
Simple, homey rice bowls that are well-executed and easy on the pocket. We're impressed by the tasty braised pork belly and even more so by the B'Fry (deep-fried pork belly). But go easy on that crispy lor bak for the sake of your arteries. We'll definitely be back to try the lu rou fan when it launches.
The details
BBraise is at #02-131 Amoy Street Food Centre, 7 Maxwell Rd, S069111. Open daily except Sat. Sun-Fri 9am-2.30pm. Instagram  Facebook
All photos cannot be reproduced without permission from 8days.sg.
Photos: Alvin Teo