Dessert Hawker Takes 30% Pay Cut From Bank Job To Open Stall Selling $2.50 Kaya Butter Croissant
Herbert Bong and his ex-colleague Natalie Teo started their own hawker biz offering house-made Korean croffles and fancily-plated treats like brownies and Belgian waffles.
Kaya and butter toast is a popular breakfast choice in Singapore. But how about an XL size
kaya butter
croissant? That's what customers can get at hawker Herbert Bong's Toa Payoh stall, which he opens at 7am to serve Western-style cafe pastries like waffles, madeleines and croissant sandwiches, all house-made.
No part of this story or photos can be reproduced without permission from 
8days.sg
.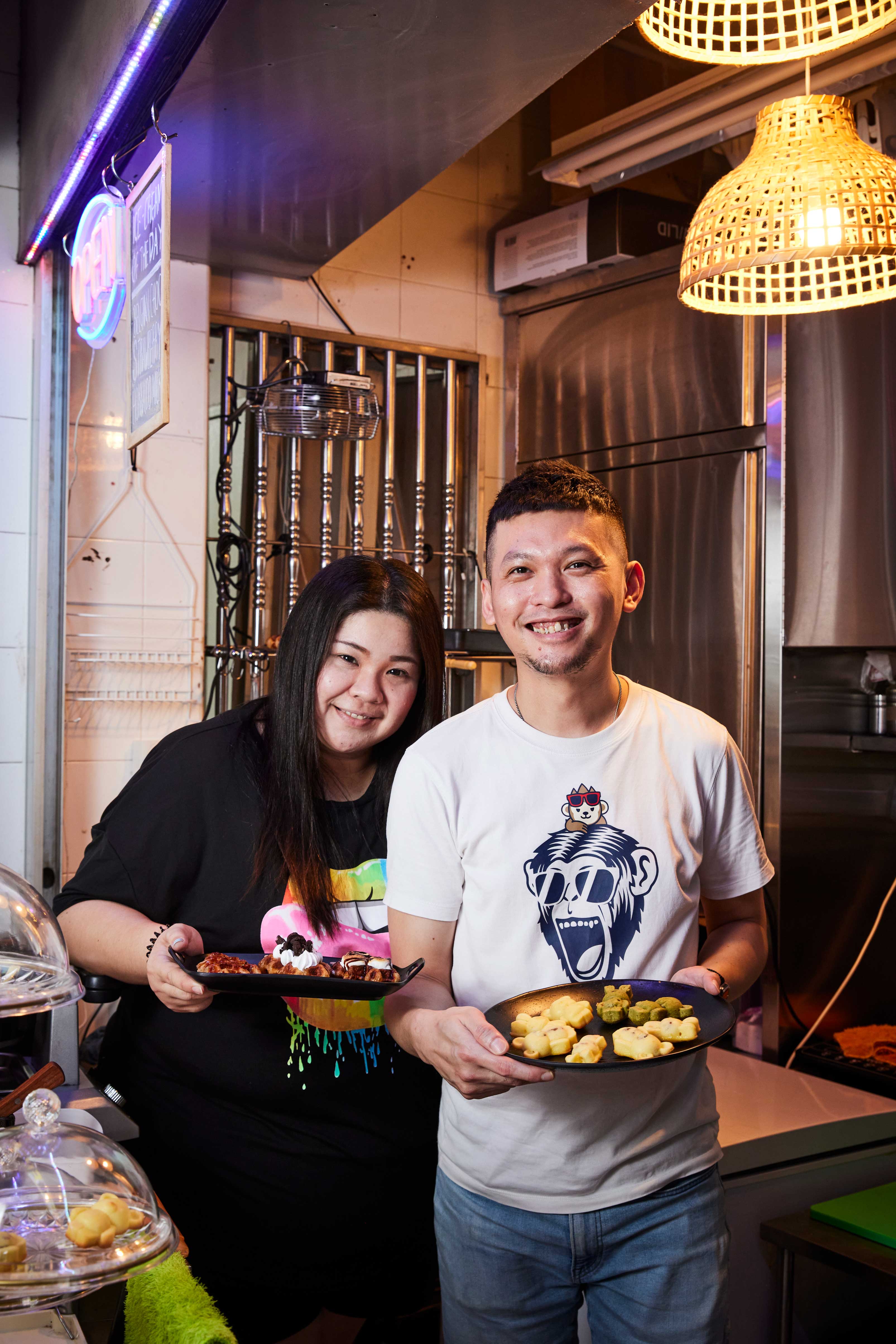 Best friends set up a hawker stall
The 37-year-old set up his stall called Butter & Flour on April 1 this year with his colleague-turned-best friend Natalie Teo, 35. The duo struck up a friendship while working together in the legal and compliance department at a local bank.
In
2020
, Herbert decided to leave his job to pursue his interest in F&B. While Natalie remained in her compliance job, the BFFs founded a home-based business called JumpStart, where they sold homemade cakes and pastries. "We both have the passion for baking, so we wanted to do something we love," says Natalie.
A few months later, the pals decided to scale up their operations by opening a canteen kiosk at Sprout Hub in Henderson Road. "But the crowd there wasn't good," Natalie recounts. Due to lacklustre sales, the pals soon closed shop. Herbert then sought the opinion of his uncle Desmond Lum (pictured above), 57, an F&B veteran who runs his own catering company. "We wanted to expand our business, so my uncle came in and gave us advice. He said, 'Why not bring cafe food to a hawker setting?'" Herbert shares.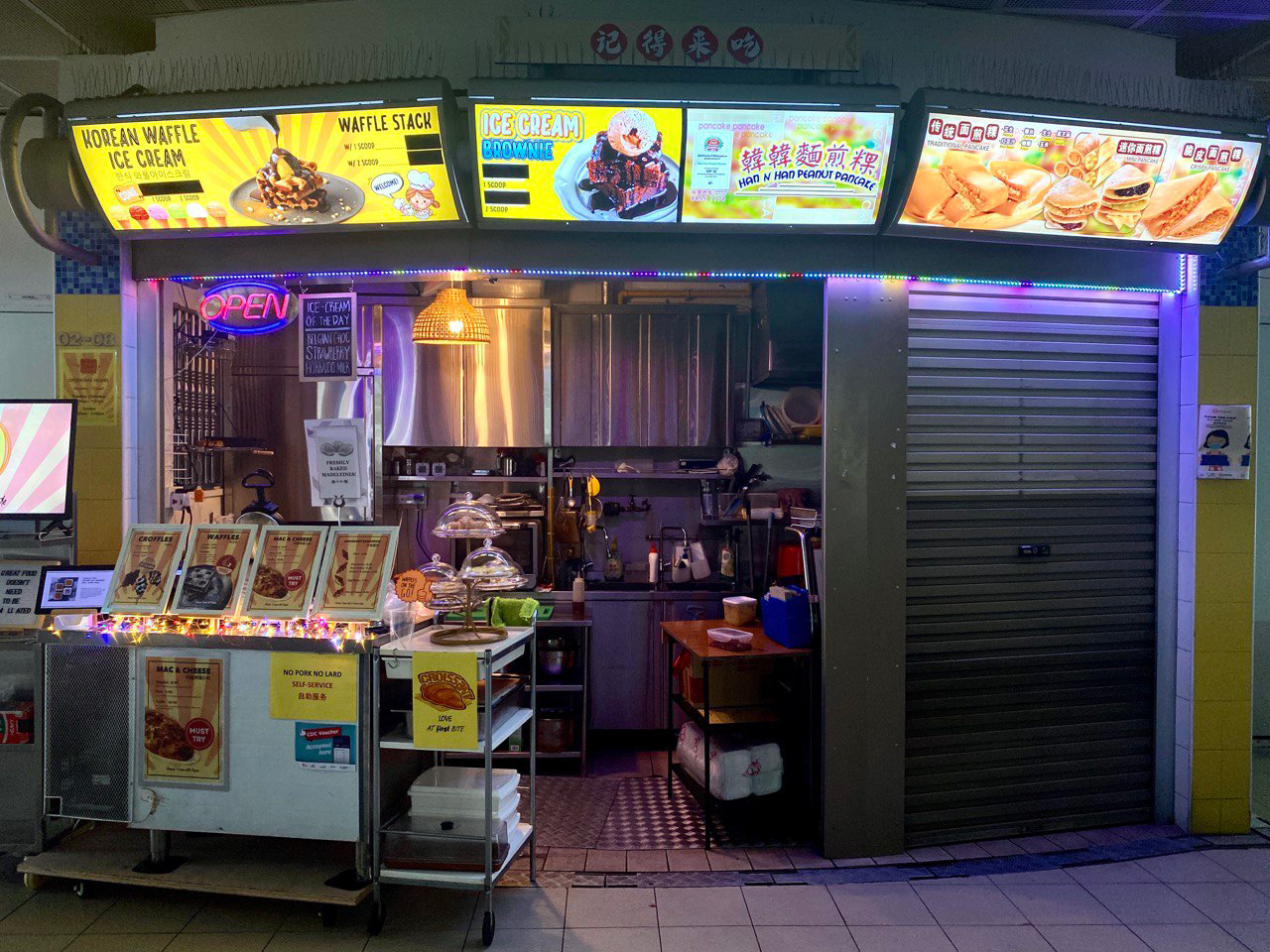 Herbert reopened at a hawker centre stall at Toa Payoh Lor 1, which also houses the famous Come Daily hokkien mee joint. He shares the space with a min jiang kueh stall that operates only in the morning.

A colourful signboard advertises waffles and brownies - all items that Herbert offers - though he sheepishly explains that the signage was actually left behind by the previous stallowner. "We didn't really earn much when we were at Sprout Hub, so we were looking for a space where we didn't have to do much renovation," says Natalie, who helps out at the stall on weekends when she has time off from her day job.

To go into F&B, Herbert had to take a 30 per cent pay cut from his previous job. He and Natalie both invested $12,000 each to set up their hawker stall. According to Herbert, having a dip in income is made bearable by the fact that he's doing something he likes. "Being a hawker is more fulfilling for me," he muses. "I really love cooking and trying new recipes that people like. The other day, a little kid came over and told me my croffle was nice (laughs)."
Croissants and waffles for senior citizens who are intimidated by cafes
It may seem counterintuitive to open a Western dessert stall at a hawker centre frequented by nearby elderly residents. But according to Natalie, the pioneer generation "surprisingly" loves waffles. "They wanted to try cafe food but they didn't dare step into a cafe," she notes. "Now they even come at 7am for waffles and ice cream," Herbert laughs.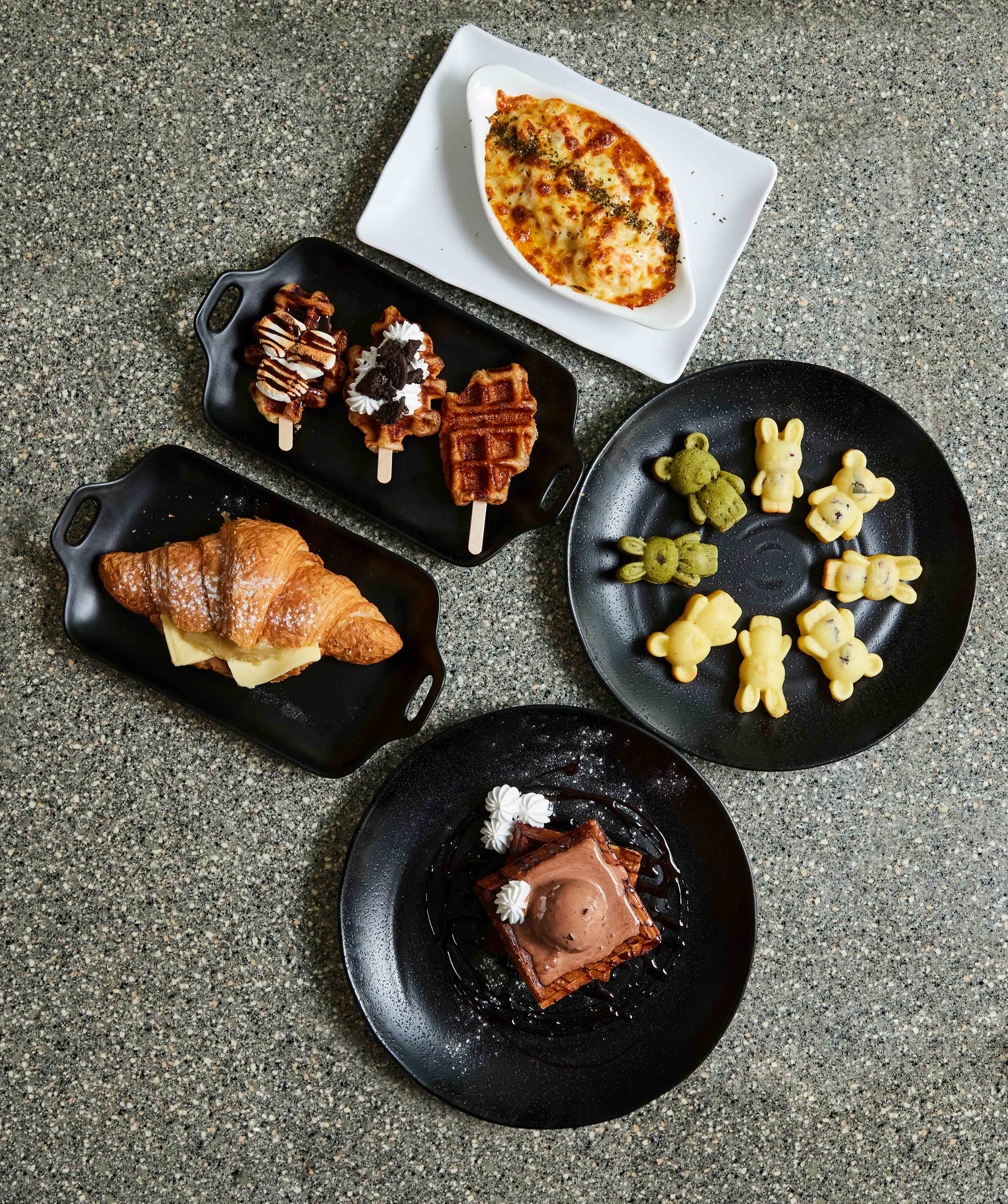 The menu
Compared to the hipster cafes scattered around his stall's neighbourhood, Herbert's prices are very reasonable. A supersized house-made croissant, almost twice the size of a standard issue version, costs just $2. You can also get it as a sandwich with fillings like Kaya Butter ($2.50), Custard & Cream ($2.50), Egg Mayo ($3.90) and Ham & Cheese ($4.90). There are Korean croffles on a stick too, in three flavours like Cinnamon Sugar ($2), Oreo & Cream ($2.50) and S'more ($2.50).
Waffles are
$3 a piece (two for $5)
and come with complimentary drizzles of chocolate sauce and honey (add
$
3.50 
for a scoop of ice cream
). As he only serves his croissant sandwiches for breakfast from 7am to 11am, Herbert offers a more filling Mac & Cheese in three flavours including
Original ($8.90)
,
Ham ($9.90)
and
Truffle ($10.90)
for the afternoon crowd. "It's all priced such that everyone can try my food," Herbert explains.
Kaya Butter Croissant Sandwich, $2.50 (available 7am-11am)
Our gigantic croissant looks adorable with two pats of butter and a dollop of store-bought kaya. Take that, basic kaya toast. Unfortunately, the croissant is rather dry. We would have liked it more buttery, though at $2 for a large plain croissant made from scratch, the young hawker's profit margin appears to be already razor-thin. The melting butter and coconutty kaya jam save the day, but we say don't expect the same quality as a pricier croissant from, say, Bakery Brera ($3.80 for one).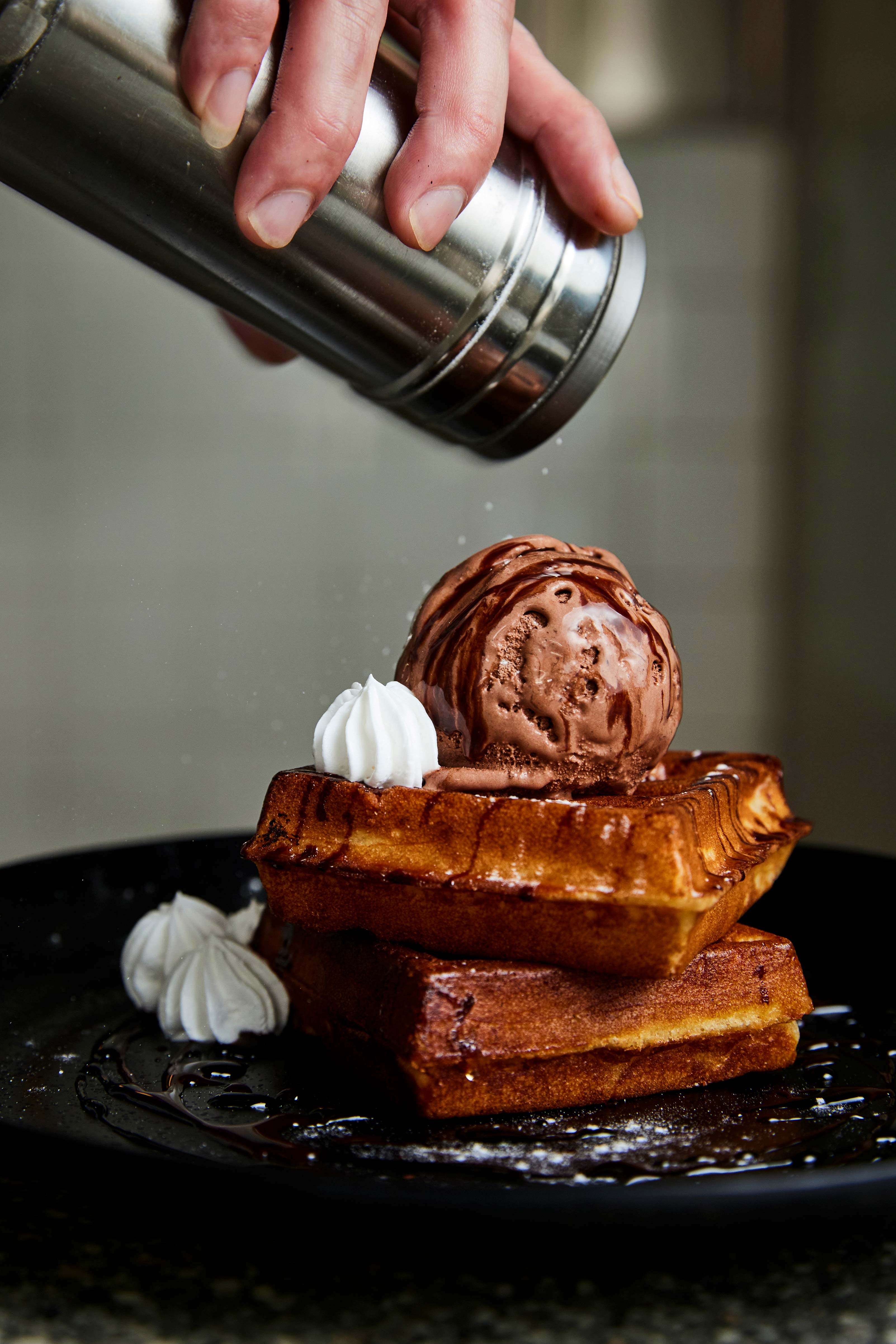 Waffle with Ice Cream,

$8.50 (8 Days Pick!)
Waffles with ice cream at most cafes (like nearby Creamier) cost at least $12. Herbert's hawker version is lower-priced but looks just as fancy. He offers around three ice cream flavours (Hokkaido Milk, Belgian Chocolate and Strawberry during our visit). Like the croissant, the American-style waffles aren't the most buttery or eggy, but it's crispy and decent enough for the price.

We are impressed by the scoop of Belgian choc ice cream — smooth and creamy with a rich chocolate flavour. Very yummy. Go for this if you are trying to quit a cafe-hopping addiction amidst global price inflation.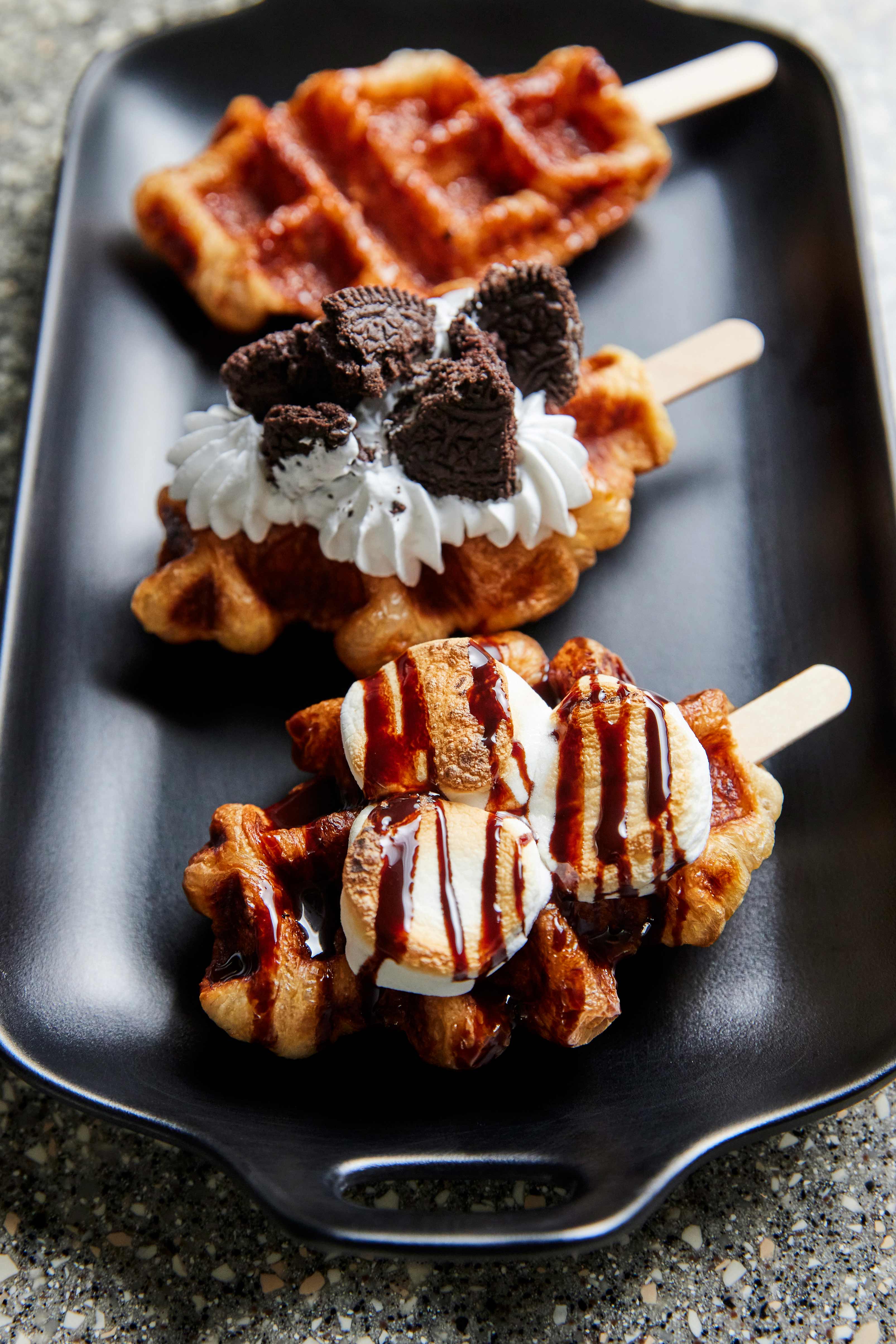 Croffles, $2 to $2.50 each
The trendy Korean croffle is what you get when you kiap croissant dough in a waffle maker. Herbert uses his proprietary dough to make these pretty croffles. Even though it looks the plainest, we are fond of the homely cinnamon and sugar flavour, which gives the crispy croffle a subtle fragrant sweetness. It's also dangerously easy to pick one up by its stick and devour it in three bites like a popsicle.

The S'more flavour is also good, with chocolate sauce and pillowy marshmallows torched a la minute. We reckon the whipped cream and Oreos flavour, while photogenic, is more for the sweet-toothed kiddos who love whipped cream and, well, Oreos.
Brownie with Ice Cream,

$8.50 (8 Days Pick!)
It appears that Herbert has a flair for baked desserts like cakes and brownies from his home-based biz days. His brownie ($5 each a la carte) is excellent; a dense, compact square of decadent Belgian dark chocolate cake loaded with macadamia nuts. Pair it with the just-as-rich Hokkaido milk-flavoured ice cream for a very satisfying treat.
Madeleines,

$0.90 to $1.10 each
Madeleines are traditionally shell-shaped, baked in shallow moulds that allow the chilled batter to rise and form a signature 'hump'. While it's a madeleine in name and batter recipe, we reckon the house-made madeleines at this stall is more like airy génoise sponge cakes shaped into little rabbits and bears using a silicone mould.

They come in four flavours: Original, Lemon, Matcha & Adzuki Bean and Cranberry. We recommend going for the latter two flavours, which are dangerously easy to pop mindlessly (the adzuki beans and still-juicy dried cranberries add texture to the fluffy sponge cake). Flavours will change daily — other picks include banana walnut and orange raisin.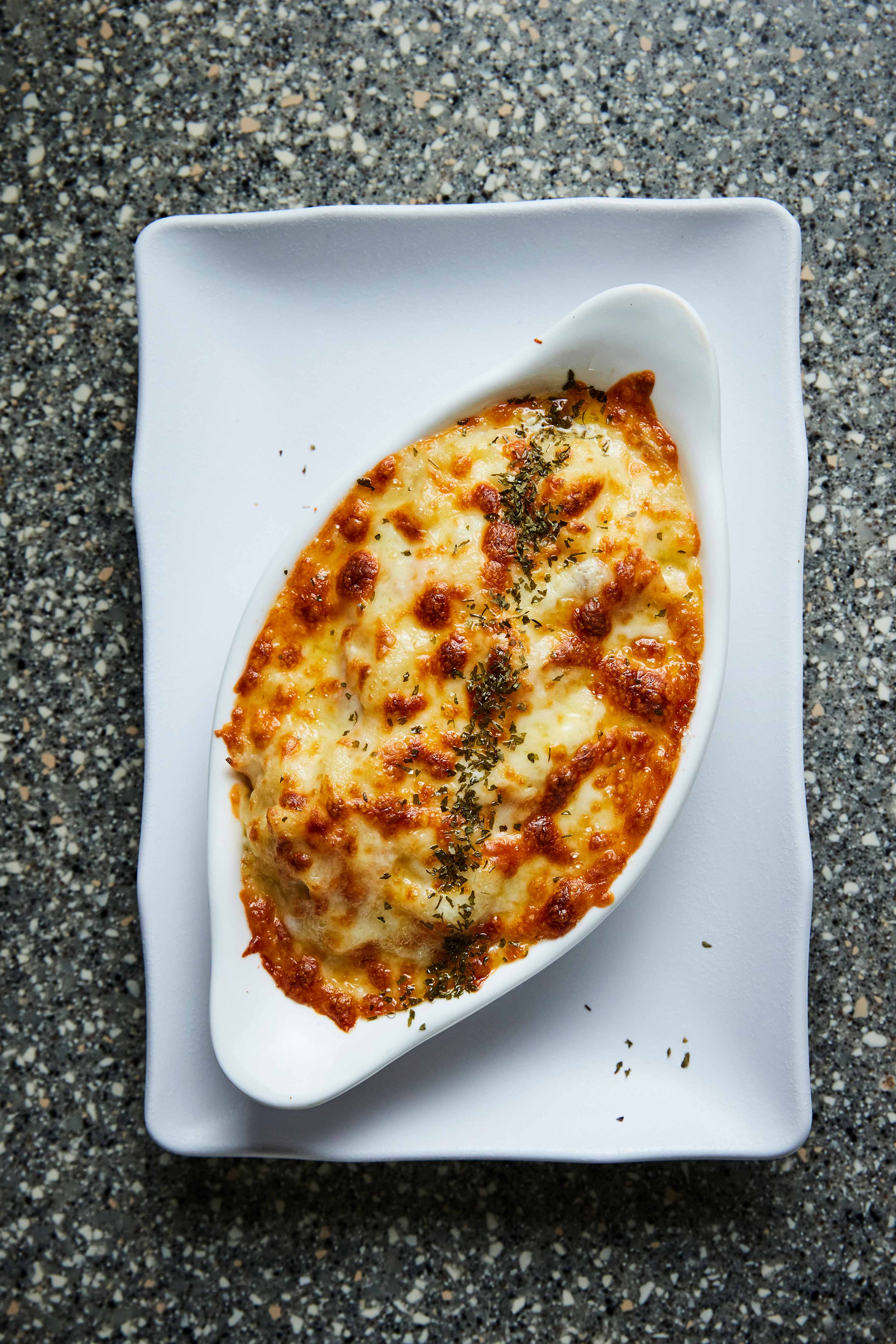 Truffle Mac & Cheese, $10.90 (available 11am-7pm)
The truffle mac & cheese here, made upon order with a waiting time of around 20 minutes, is also pretty wallet-friendly. And it's plated just as nicely as what you'd get at a cafe or restaurant. Herbert uses three types of cheeses, sharp Parmesan, cheddar and mozzarella, baked to a golden finish with al-dente macaroni. Not bad, but we'd save more stomach space for the desserts here.
#02-08, 127 Toa Payoh Lor 1 Food Centre, S310127. Open daily except Mon, 7am-7pm. www.instagram.com/jumpstartbakes.
Photos:
Aik Chen
No part of this story or photos can be reproduced without permission from 
8days.sg
.