Drea Chong On Finally Launching Her Own Fashion Label, Juggling Work & Family — & Still Finding Time For Date Nights With Her Husband
The influencer and mum boss returned to work 11 days after her C-section.
Andrea Chong gave birth to her second child, Elia, just four months ago. But this week, the influencer has just introduced another baby of hers to the world: Good Addition, a fashion label of her own, finally.
The 30-year-old @dreachong is no stranger to sharing her sense of style to the world. She first started as a blogshop model, then rose to become one of Singapore's top-tier influencers, as she documented her life and style on Instagram for 300K pairs of eyes to see.
She dipped her toes in fashion design when she began designing capsule collections for the likes of local labels Love, Bonito and The Closet Lover, as well as shoe collections for international brands such as Superga. All this while helming her website The DC Edit and creating content for her Instagram feed. Why, the fashionable multi-tasker has even graced 8 Days print magazine covers.
Now the mother of two can add designer and co-founder to her CV with the launch of Good Addition, a fashion label that she's started with Lloyd's Inn co-founder and property developer Joan Chang. While Joan takes care of the business side of things, Andrea is the creative mastermind of the brand, having started designing the maiden collection as early as March.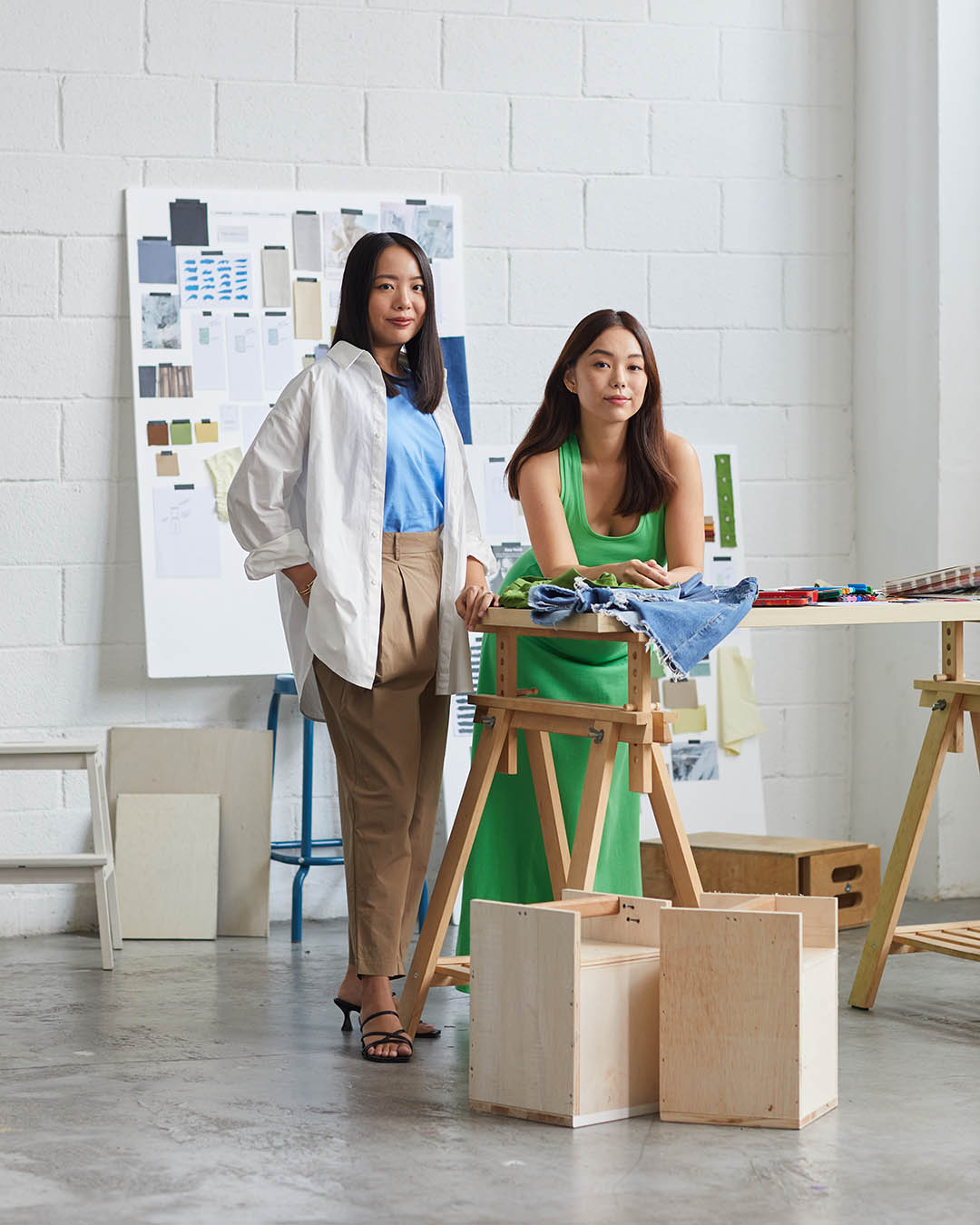 Joan and Andrea
Good Addition's effortlessly understated chic pieces are what she calls "buildable essentials", elevated modern classics that belong in any wardrobe. Think of it as an extension of the Drea Chong aesthetic with a vibrant twist.
And the good additions will keep coming — Drea reveals that the plan is to have fresh drops every two weeks, and she has designed all the way until Chinese New Year (yes, January 2023) so far. 
As she's carving out career milestones, Drea's been expanding her family as well — she has two sons, 20-month-old Ezra and four-month-old Elia, with her 34-year-old lawyer husband, Imran. Juggling motherhood with work is never easy, but Drea seems to have it all worked out. But as any working mum would tell you, it's not without hard work and sacrifice. 8Days.sg finds out more in a tête-à-tête with Drea. 
8 DAYS: How did Good Addition come about?
ANDREA CHONG: This is after years of collaborations with a lot of local brands like The Closet Lover and Love, Bonito and even Superga, an international shoe brand. The thing about collaborations is that I have to marry my personality with the brand's personality, so it's not a true manifestation of who I am. And I felt that after so many collaborations, it's time to set out on my own, and I feel like I'm in a right place — I understand a lot about the business side to it, and how to run the operations side smoothly, so I feel the time is now.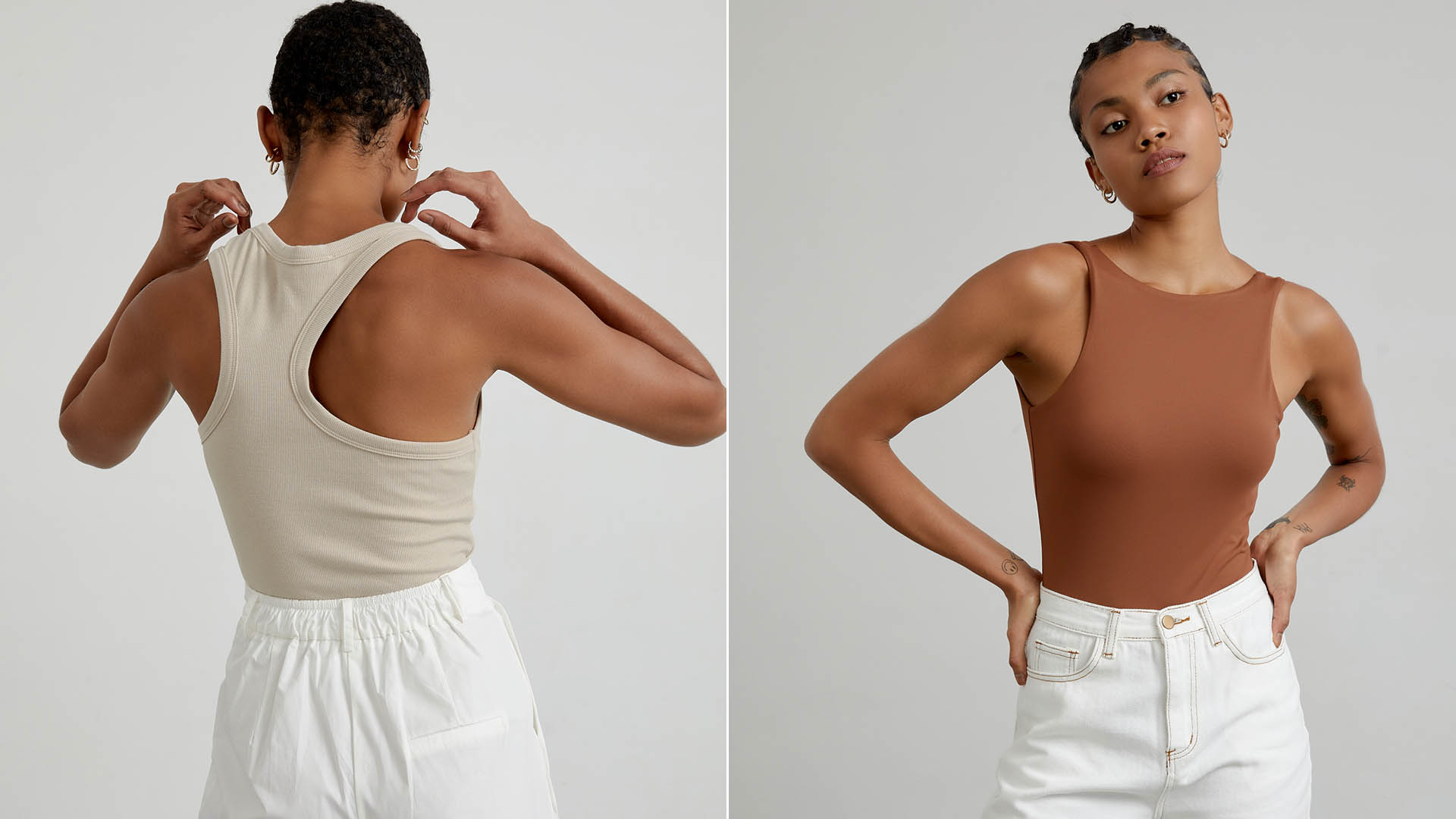 From left: Asymmetrical tank in beige ($45), bodysuit and swimsuit in brown ($70)
Is it easier or harder designing for your own label?
It's a mix of both. The difficulty is you're coming from a business owner standpoint already, so you cannot just design whatever you want — you have to think about the commercial viability of the design. The easy part is that the passion is more, the customer investment in it is more, and I think I can really shape how I want the collection and clothes to be. Whereas if I design for another brand, I'm bound by their design strategies or specific silhouettes or choice of fabrics they use. Even though I have a say, the brand will also come and tell me that I think our customer prefers this.
You designed this during your second pregnancy.
Yes, so the difficult part was that I couldn't try on the pieces, so I got my team to try it on for me. I feel like after years of trying on clothes, not just as a model but as an influencer and now as a brand owner, I know what I need to improve on if it's on me. if it's on someone else, I don't know. That's the tricky part. Even now, I'm not able to try on the clothes 'cos of my post-partum body, which is is very different from what I'm like when I'm not pregnant, so it'll still be a few more months until I can fully try on the pieces.
From left: White jersey dress ($80) and striped fray tote ($70), cotton tailored trousers in white ($85), and navy cut-out romper ($75)
Do you feel any pressure to get back to your pre-pregnancy body?
For sure! I was telling my husband maybe we will stop at two kids. It's honestly very hard for me to bounce back to what I was before. I think I'm literally 10kg heavier than what I was pre-pregnancy. I know that it's not realistic to go back to 10kg lighter, but I think for mums the pressure is there to go back [to their pre-pregnancy body]. But for me, there's even more pressure 'cos I have to promote my brand and look good in [the clothes]. The emotional toil is legit.
And there's pressure to do it quickly 'cos if you delay [post-partum treatments] for too long, your body might be like that forever. [People say] you must do jamu treatments now or you must wear the corset now. And it's true actually. When I speak to people who do post-partum treatments and other treatments, they do it within three months of giving birth.
How long after giving birth did you return to work?
I went back to work and did a shoot 11 days after my C-section. It was a time sensitive shoot, so I had to be there and I was still struggling with my wound, but thankfully, it was an easy shoot. I had to bring my confinement nanny and my baby on set just to make it work.
How has the adjustment period been — from one to two kids?
I tell this to everybody — the good thing is that you're already seasoned as a parent. So you know what to expect and you're more chill and you're not too panicky about what the child does. But the tough thing is you're more tired 'cos not only do you have to deal with your first child, you also have to deal with the second one.
What's a typical day like for you, if there's one?
I try to be strict about family time. We start work a bit later at the office, around 10 plus in the morning. So I can at least get the kids showered and I do that personally. And then I get ready for work — typically I'm in the office from 11am to 5pm. I try to be home around 5pm so I can bring the kids to the playground or for walks, then put them to bed, and then by 8 or 9pm I'm in bed also (laughs). Yes, 'cos I have to wake up every two hours. And I wake up by 6am. I've been a morning person all along, even before I had kids, but motherhood has tested me (laughs).
How do you find time to go out?
Don't have leh…
Do you still have date nights with Imran?
Yes, we do. We just go out and have a meal together, and that's about it (laughs). There are no interesting things in our lives at the moment.
What's your parenting style?
My husband says I'm a tiger mum, in a sense that I'm always on the lookout for what I want my kids to participate in or what I want them to do. I already have their schools planned. But I personally don't think I'm a tiger mum. But I think if u ask any tiger mum, they will say that they are not tiger mums also (laughs).
I think I'm quite chill and I think I have had to let go a lot. I have to be in office and away quite a lot, so during the day when I'm working, my children are with my in-laws or with my helper. I know that letting go of the care of your kids is something a lot of mums struggle with. 'Cos [other people] will not take care [of your child] to your standards. So I have learnt to let go a lot.
So if there are ways that help [my in-laws or the helper] to parent easier, like okay sure. Things like sometimes watching TV or YouTube, a lot of parents won't want that. But I think it's tough [to not allow that]. Or some parents want baby led weaning — that is, when the baby feed themselves — but for the older generation, it's just feeding them porridge with the spoon. That's fine, eventually the baby will learn how to feed themselves.
So you're not that strict about screen time for the kids, even when they're with you?
Yes, I think 'cos my husband and I are always working. It's impossible where we both have like one whole day free. So if we have something to do for an hour, we'll just turn on the TV to entertain my older son lah. But I try to filter what he watches and find educational stuff, not just random stuff.
Now they're very smart — my 20-month-old knows how to skip ads on YouTube. He'll choose whatever he likes to watch. As parents of kids in this new generation, you cannot be like our parents' generation and, say, only allow handphones at Sec 1. We have to adapt to the times and face the fact that our kids will be very tech savvy, and we're just teaching them how to navigate it.
What's your husband's parenting style if he says you're a tiger mum?
I think he'll also say he's very chill. We take turns to be the good cop and bad cop with the kids, but they come to me for comfort lah.
Has becoming a mum changed your managing style at work too?
For sure. I think I'm more understanding when I have any employees who are mums. Like if someone's son has a fever, I'll tell them to go deal with their son first then come to work. And also, I tell them "Do not text me before 10am or after 6pm. I don't want to deal with any of you guys — I'm with my kids!" (Laughs)
And since I leave the office at 5 plus, I'll tell them to leave if they have nothing to do. I guess I'm more chill now for sure — so long as you get your job done, it doesn't matter whether you're at home or in the office. But I think the pandemic, not just motherhood, taught me that. Last time I used to think everybody must be in the office, must meet and have meetings. Now I'm just like, "As long as you get your job done, it's all good."
Photos: Andrea Chong, Good Addition