26-Year-Old Hawker Sells Yummy Pao Fan With Ibérico Pork & Abalone
The biz is backed by three F&B veterans – including the boss of a frog porridge stall who created the recipe.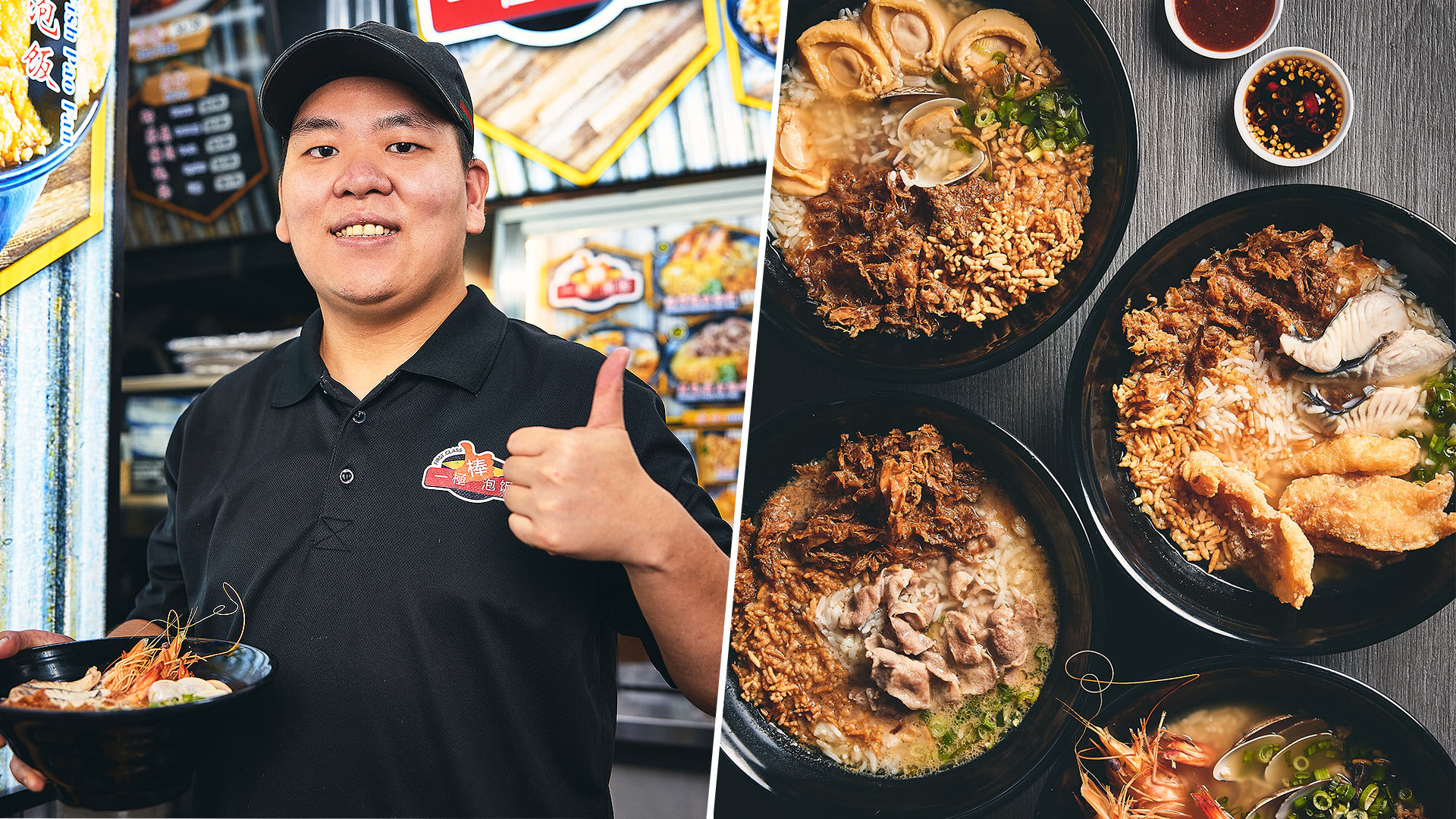 It seems like the pao fan ('submerged rice' in Mandarin) trend is here to stay. Since last year, there's been a steady crop of new stalls that specialise in the comforting dish – with several helmed by experienced hotel and restaurant chefs, such as King of Pao Fan by an ex-Raffles hotel chef and Mun's Seafood Pao Fan by a former Wah Lok restaurant chef.

Helmed by Benjamin Phang, 26, First Class Pao Fan has been drawing queues since its opening in a Sin Ming Road kopitiam in March. The stall offers 13 different types of pao fan, with toppings from the typical batang fish and prawn to more atas picks like Iberico pork and abalone.
All photos cannot be reproduced without permission from 8days.sg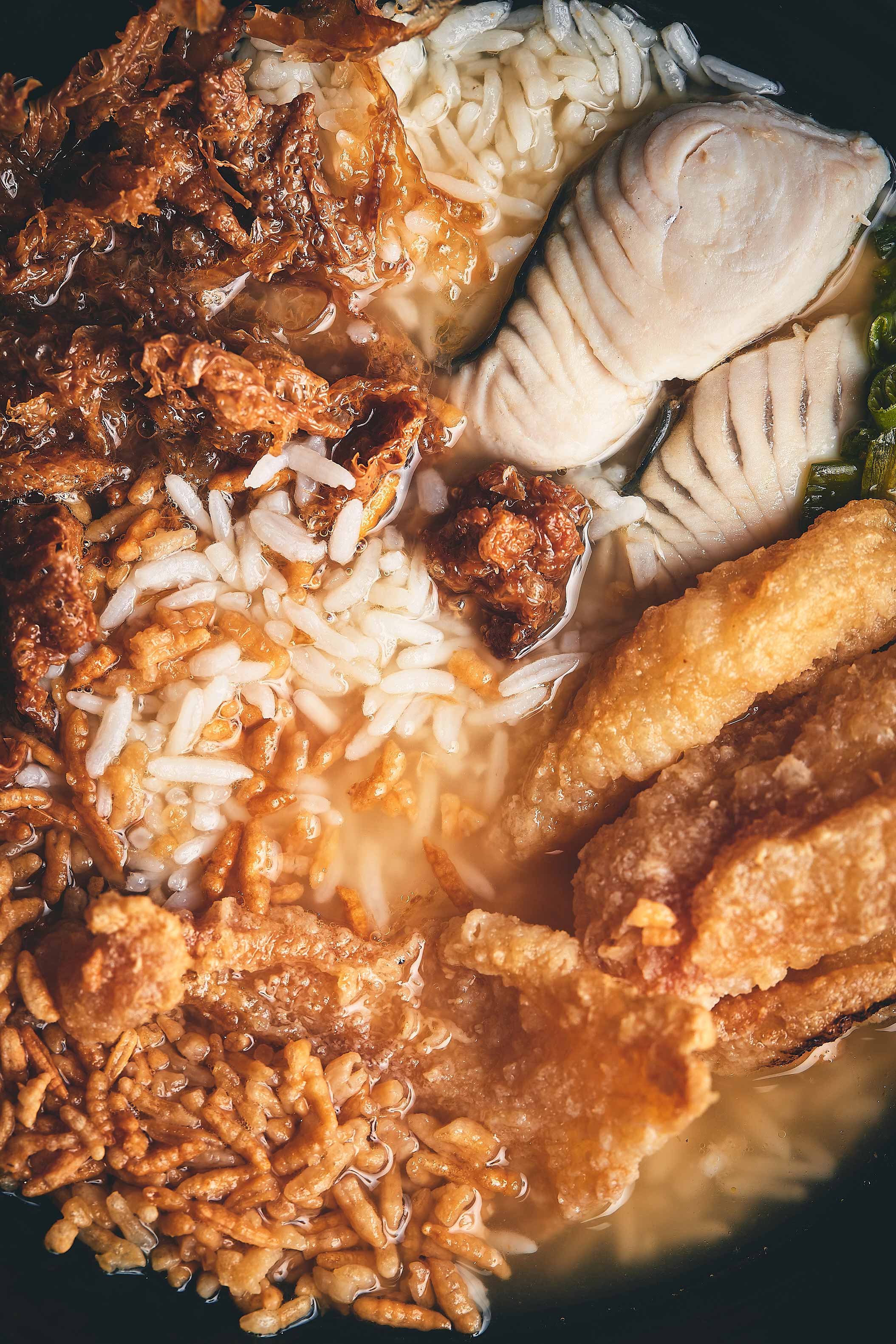 First Class Pao Fan is a joint venture between three founders who have been in the F&B biz for over three decades. Notably, Mr Tan, owner of the popular eatery Bukit Timah Live Bull Frog Claypot Porridge, is the creator of all the recipes at First Class Pao Fan. Benjamin's father, Mr Phang and the third founder (who did not want to be named) both operate their own zi char restaurants as well.

"All three [founders] like to eat fish soup. After noticing the pao fan trend, they wanted to start their own venture," explains Derek Ong, 38, a recent biz partner who oversees logistics.

The founders declined to be interviewed and photographed for this feature, as they prefer the spotlight to be on Benjamin, who runs the stall daily.
Despite his family's experience with F&B – apart from his dad's zi char biz, Benjamin's granduncle is the 72-year-old Penang-style min jiang kueh seller we featured some time ago – the candid millennial tells us it had never occurred to him to join the industry.

"Seeing how hard my dad worked while I was growing up made me want to stay away from F&B," he shares. "I've never helped out at his restaurant so I don't have any experience at all. I was quite playful back then, so I was more interested in doing my own thing."

After graduating from poly with an engineering diploma, Benjamin tried his hand at various jobs ranging from logistics to events. The stints did not last long, as he often got restless or bored. "Office jobs were not for me. I'd fall asleep if I had to sit in front of a computer for too long."

Eager to mentor his only son, Mr Phang approached Benjamin to join First Class Pao Fan and learn the ropes of running a food biz. "He knew I was just doing all these odd jobs so he sat me down and asked me to help him out with his new venture. I knew it was hard for him to employ stall assistants anyway, so I decided to give it a shot."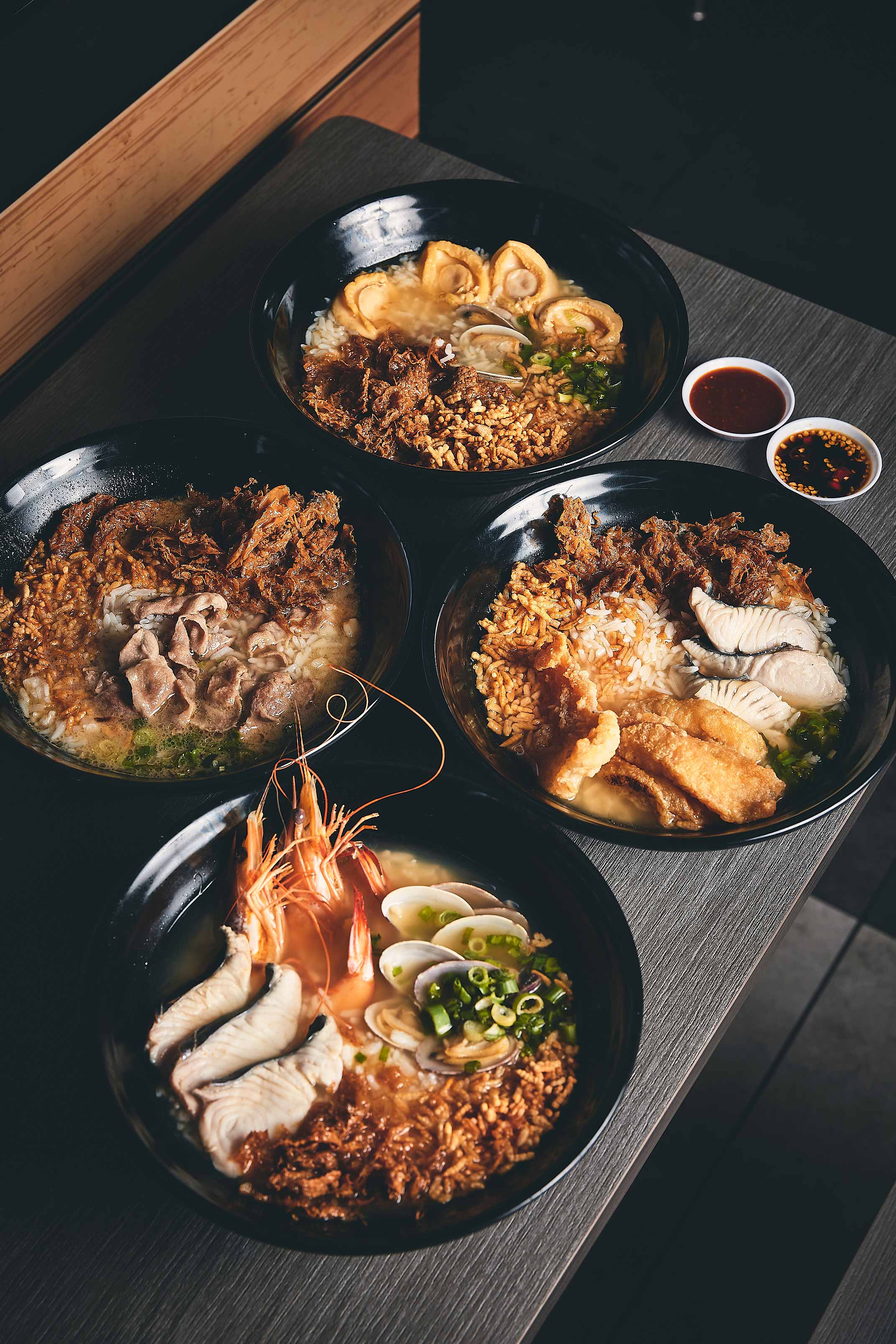 After running the stall for nine months, Benjamin is pleased with his progress so far. "Mr Tan trained me for about two months before I was ready to run the stall. He was strict but I understand he needed to be tough on me. This is his recipe so my cooking has to meet his standards."

Practice definitely makes perfect, as the friendly chap now moves around the kitchen with the ease of an experienced hawker. "At first, I could only cook one order at a time but now I can do three at once. I definitely feel more comfortable now."

"This is the longest time I've held a job. I've gotten used to the long hours and I'm excited for what's next. We're planning to open more outlets and I see myself moving into a management role like handling the manpower in the future."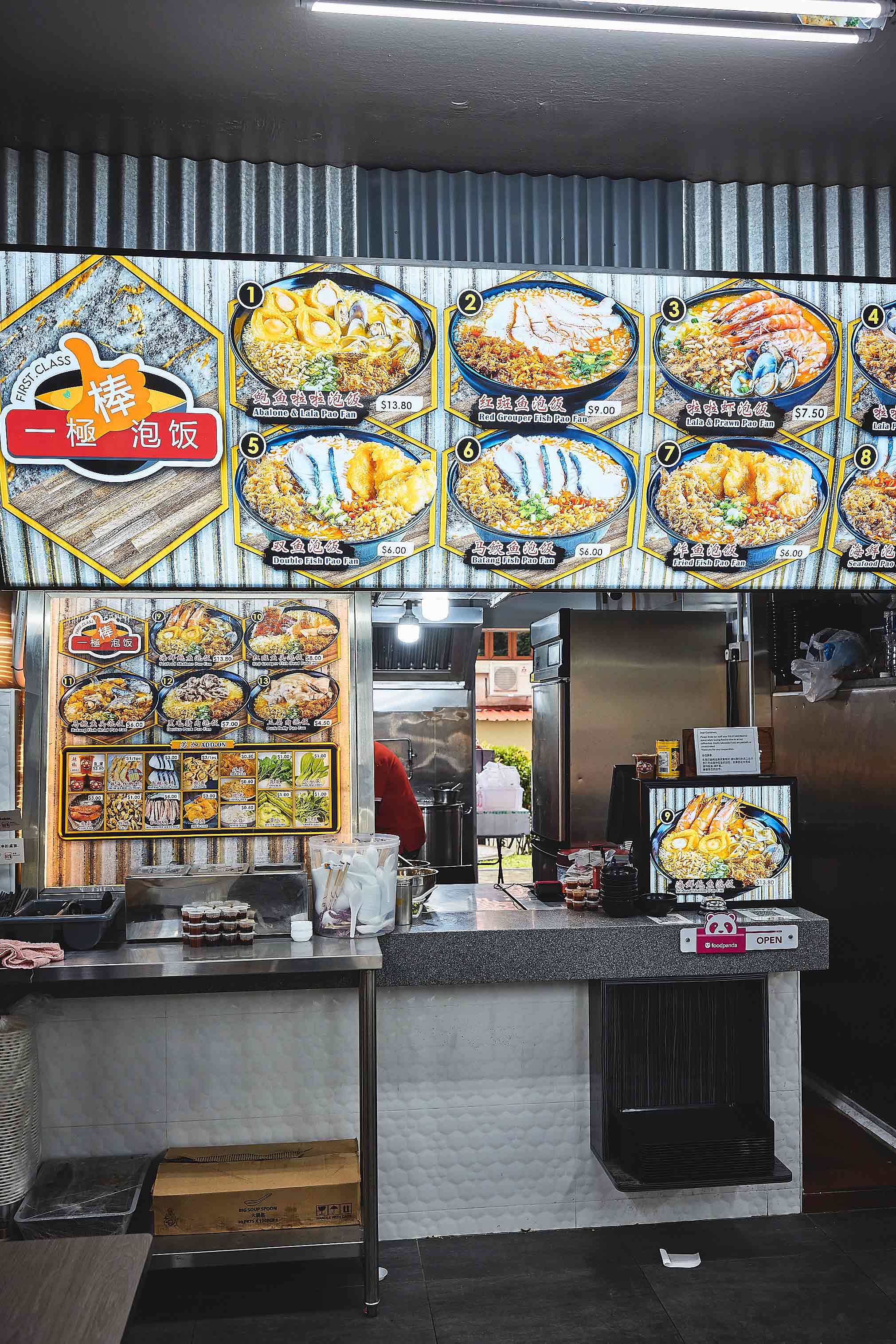 Besides a slight dip in sales during the work from home directive (the stall is located near several offices), biz has been pretty good for First Class Pao Fan. The stall sells about 200 bowls of pao fan each day – a third comes from delivery orders.

Last week, First Class Pao Fan opened its second branch at a Jurong West kopitiam. "We've had customers travelling from Jurong to Sin Ming to order our pao fan, so we thought it'd be a good opportunity to open a branch there as well," says Benjamin. "Our plan is to open outlets in different areas of Singapore. We're currently looking at some locations in the east," adds Derek.

The Jurong West branch is helmed by a seasoned hawker who worked with Benjamin at the Sin Ming joint. Benjamin now runs the latter with the help of a full-time assistant.
Derek believes that the founders' extensive experience and speciality in seafood dishes are what sets First Class Pao Fan apart from competitors. "We only use quality ingredients for our soup, there's no MSG. We also focus on providing value to our customers. For example, we think $13.80 is a good bargain for our abalone and lala clam pao fan."

The pao fan broth is prepared the night before, as it takes at least 10 hours to simmer. Benjamin uses pork bones, chicken bones, prawn heads and other "secret ingredients" to create a comforting soup base that has a good balance of seafood and pork flavours.

With 13 menu items to choose from, there's something for everyone. Prices range from $4.50 for a bowl of lala or pork belly pao fan to $13.80 for the most decadent abalone and lala combo. Every bowl is garnished with a generous sprinkle of fragrant puffed rice, fried egg floss and scallion.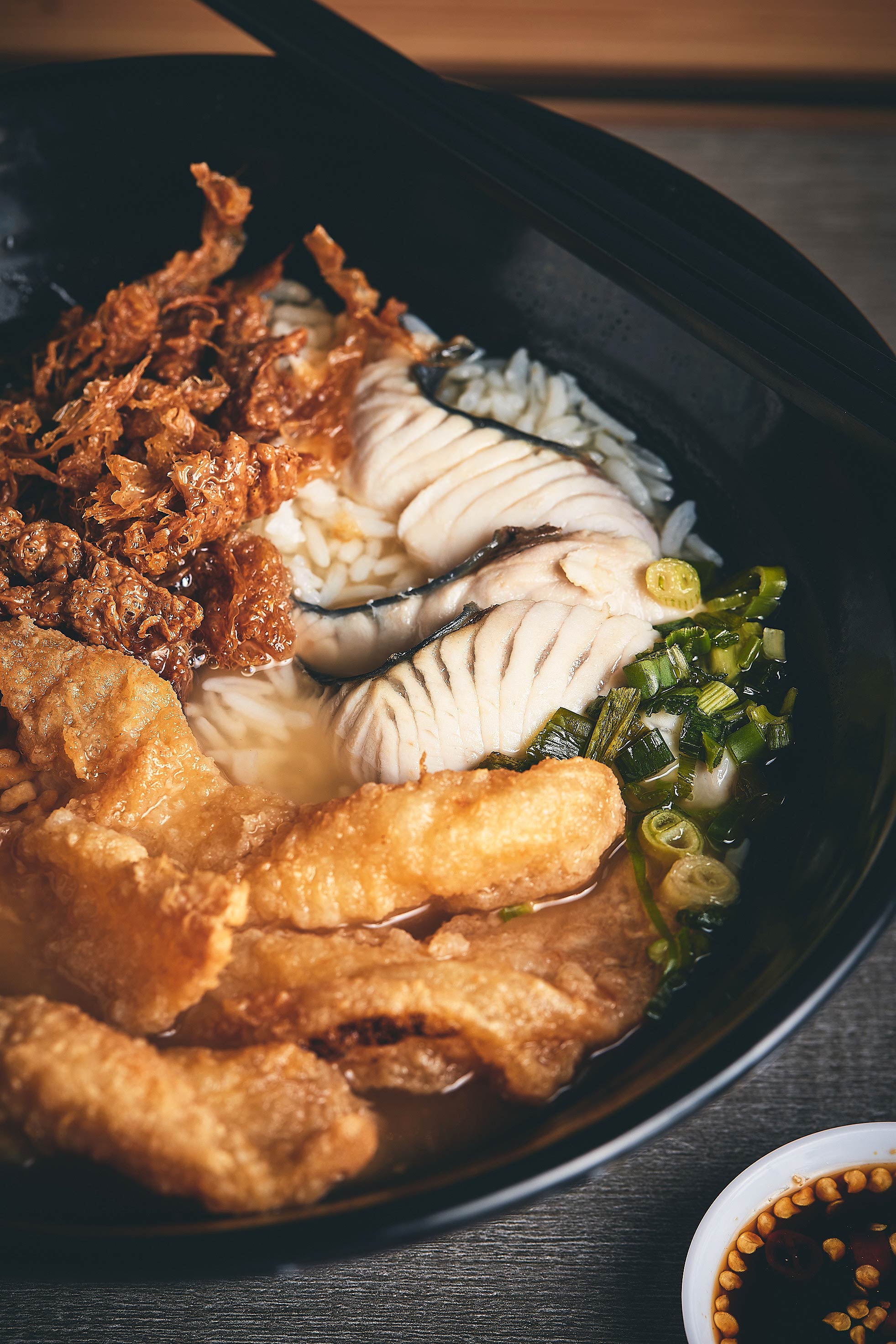 The broth is slightly cloudy, with a lovely tinge of brine from the prawn heads. We like that the medium-bodied soup is not too gao, so you can enjoy the natural flavours of the fresh batang fish slices and hearty nuggets of well-seasoned fried dory – the latter gets a quick refry upon your order to ensure they stay crispy. The tasty deep-fried puffed rice adds a crunchy contrast to the softer boiled grains, making every bite a delightful mix of textures. We also love dipping the fried fish in the house-made chilli sauce, which has a satisfying kick.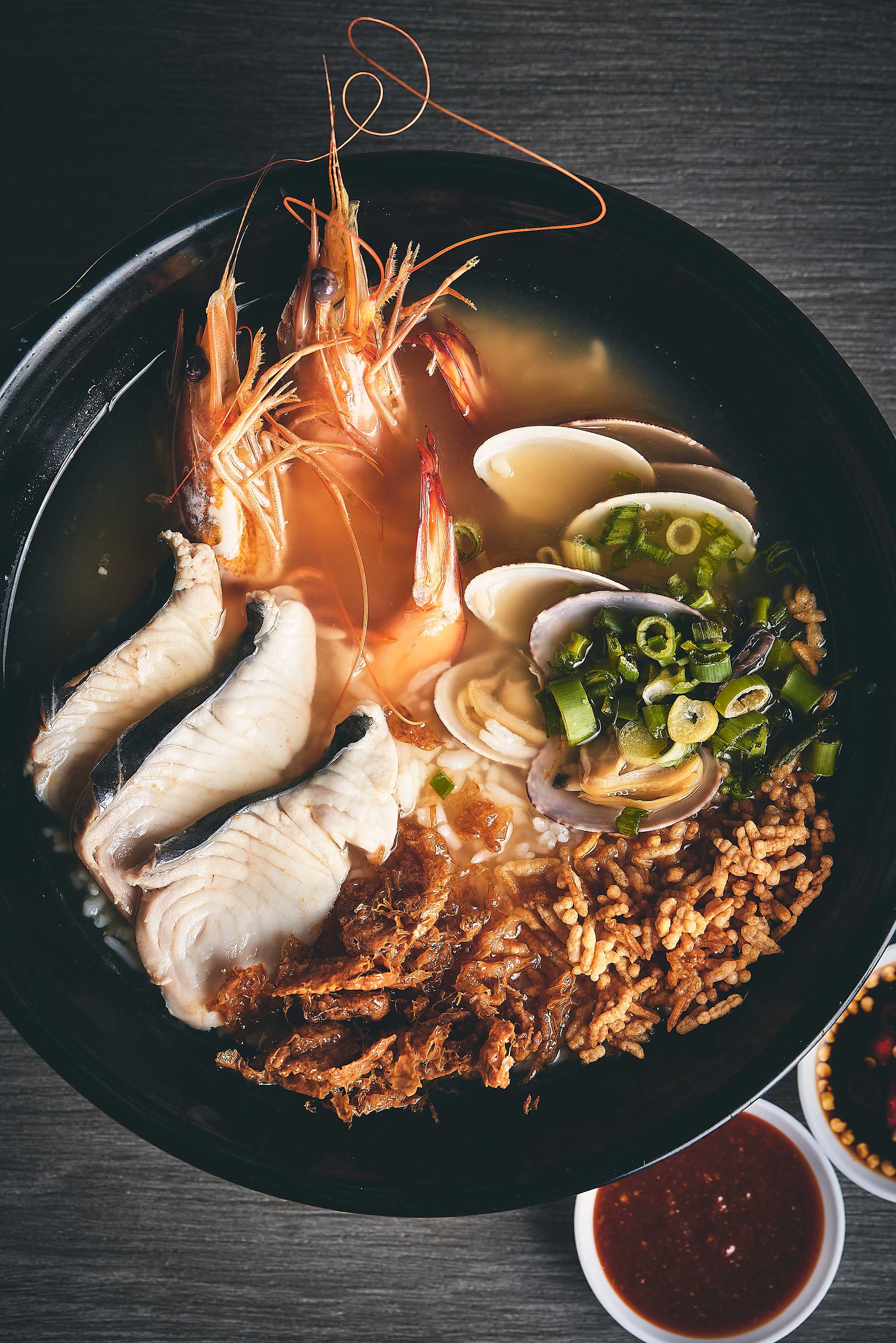 A recommended order for first-time customers. You get two medium-sized 'ang kar hei' (red leg prawn in Hokkien), three slices of batang and five flower clams. All the seafood toppings are exceptionally fresh, with the succulent and sweet prawns stealing the show. Worth the price.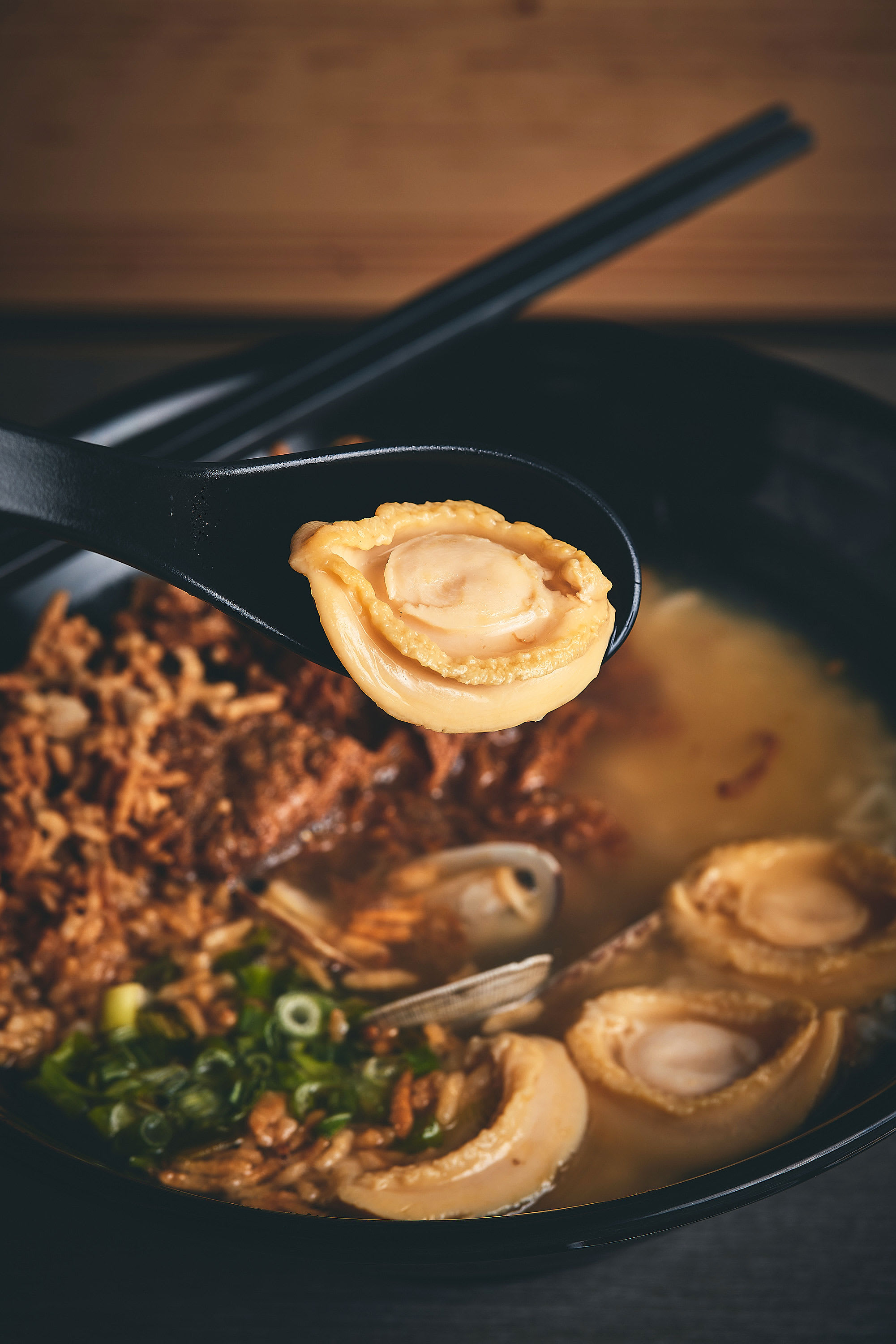 The four soup-spoon-sized canned abalone are tender and juicy, while the flower clams complete the shellfish medley with its slightly sweet, briny flavours. Get this if you really love abalone. Otherwise, the other (more affordable) seafood combos offer better value for money.
Swathes of fat-streaked Iberico pork imported from Spain add a robust meatiness to the broth. Comforting and nourishing, like an elevated bowl of pork porridge with firmer rice grains.
Thanks to its use of super fresh seafood, the pao fan broth here does not have to be exceptionally rich to deliver on flavour. On the contrary, the comforting, medium-bodied soup works well to complement different toppings – from sweet prawn to the more delicate flavours of abalone and clams. With three veteran F&B pros often dropping by to ensure "quality control", we'd return for another visit.
First Class Pao Fan is at Stall 5, 23 Sin Ming Rd, S570023 & Stall 4, 503 Jurong West Ave 1 S640503. Open daily except Mon 11am-8pm.
. Available via GrabFood & Deliveroo.
All photos cannot be reproduced without permission from 8days.sg

Photos: Alvin Teo