Addictive Halal Thai Dry "Laksa" With Fish Gravy By Retrenched Courier & Wife
The recipe used by this new home-based biz is based on a popular southern Thai curry noodle dish, Khanom Jeen Namya.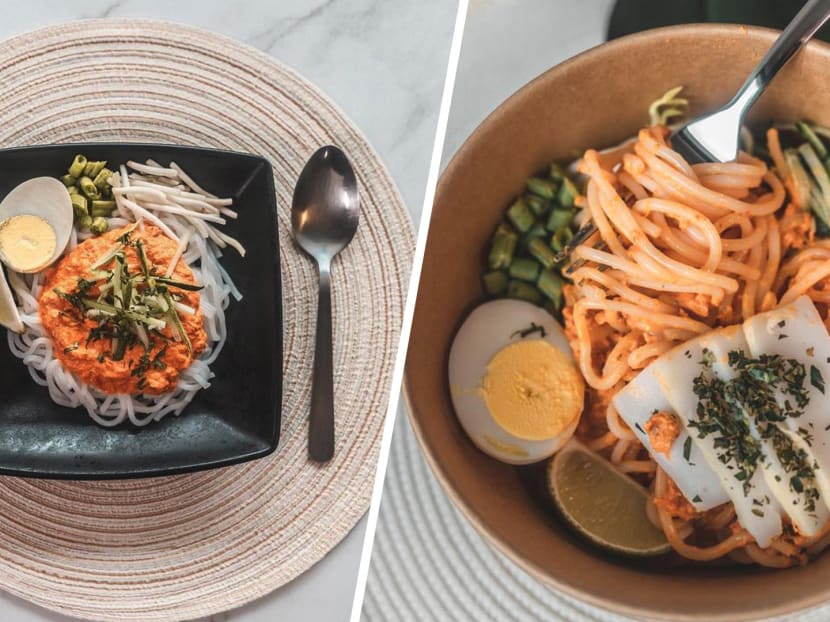 Have you ever eaten something so delish that you couldn't get it out of your mind? That was pretty much how the owners of halal home-based business Strictly Thai felt after tasting Khanom Jeen Namya (noodles with fish curry), a popular street food during their vacation in Phuket in 2016. They created their own rendition of the dish and called it dry "laksa" as it "tastes and looks closer to laksa".
The husband-and-wife bosses, both in their mid-20s and who prefer to remain anonymous, spent five years searching for the curry noodle dish in Singapore and finally chanced upon the recipe on YouTube a couple of months ago.
"When I tried making the dish the first time, I miscalculated the ratio of the ingredients and it turned out completely different from the recipe. But it tasted really good and close to how we remembered the curry noodle dish to be, so we played around with the recipe," the mother-of-two, who only wants to be known as F, tells 8days.sg.
So determined to perfect the recipe, she cooked the dish daily for more than a week until she finally hit the flavour jackpot. "It tasted so good, we decided to start Strictly Thai to share the dish with more people," says F, a homemaker.

The noodle dish consists of thick rice vermicelli, sliced fish cake, hard-boiled egg, and veggies like bean sprouts, drenched in a rich, creamy fish curry. Mackerel is first boiled and shredded before cooking with the curry. Unlike the traditional Thai version, F also blends fish into her curry paste so it's thicker and chunkier 'cos she "didn't want it to taste like lauk lemak cili padi", a coconut curry dish commonly found at nasi padang stalls.

"The fish curry is typically more watery, but I wanted the gravy to have a thicker consistency like pasta sauce, where it is neither soupy or dry, so I added more coconut cream and blended shredded mackerel into the paste to make it more flavourful," she says.
"Though it is known as curry noodles in Thailand, we felt this is closer to laksa, which is why we decided to call it Thai dry laksa."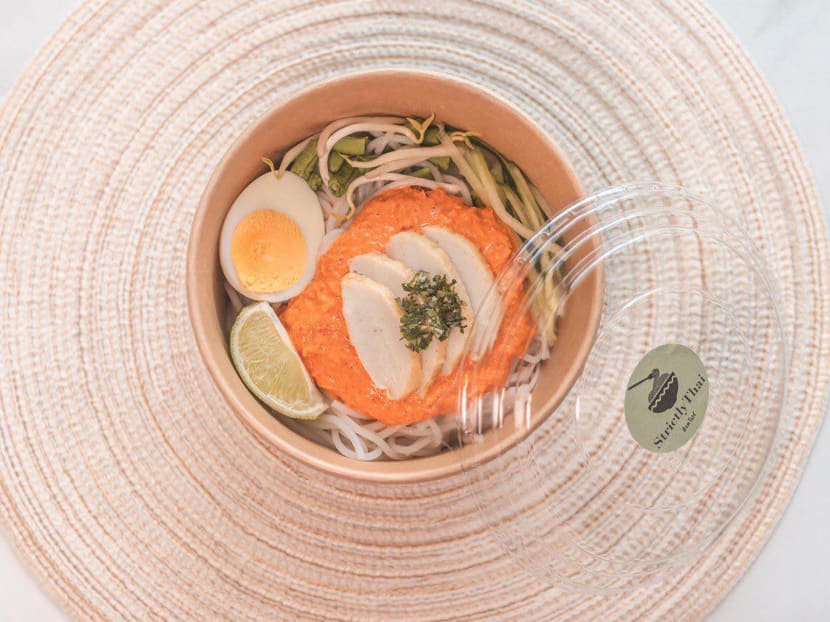 The dish may look deceptively simple, but it takes the couple five hours to cook it from start to finish.
"In order to have it ready by 10am for the lunch delivery, we have to wake up at 5am to prep and cook. Deboning the mackerel is the most tedious process," shares F.
The rempah (spice blend) is made by blending ingredients like lemongrass, dried chilli, red curry paste, and fish, before frying the paste till it's fragrant. "It takes around two to three hours to cook," she says, adding that the process starts all over again in the afternoon for the dinner orders.
Since they started Strictly Thai two weeks ago, their dry laksa, priced at $6.50 a bowl ($8 for upsized version), has been consistently sold out. They sell around 50 bowls of laksa each day, a response which F says is "really shocking".
"I expected the business to be very small scale, like I would just cook a few bowls a day for people. I didn't think that anyone other than my husband would enjoy my food. Customers said that the taste is very unique and some like the laksa so much, they don't mind ordering it every day," gushes F, adding that their Thai friend also gave her stamp of approval.
Now that things are picking up, F's husband, who was retrenched from his job in a courier company a few months ago, intends to help her run the biz full-time.
They currently only have one product, but will be adding Thai milk tea to the menu "really soon". There are also plans to offer more variations of the laksa, such as "the addition of other seafood or a different type of fish in the gravy".

You will soon be able to enjoy Thai milk tea with their laksa.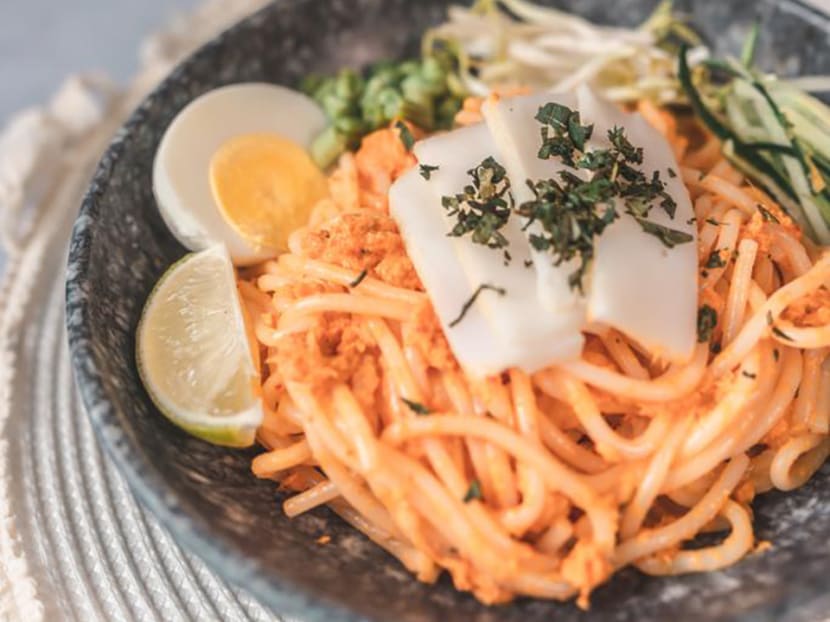 Think of this as a Thai-style spaghetti with laksa ingredients. Instead of pasta, thick bee hoon is served with half a hard-boiled egg, a sprinkle of laksa leaves, blanched veggies like beans sprouts, diced long beans and cucumber strips for textural crunch, and a rich, luscious mackerel studded coconut gravy.
We are pleasantly surprised by how much the mildly spicy gravy tastes like hor mok, or Thai otah. It is fragrant, flavourful and beautifully balanced. A squirt of lime adds a nice zestiness and helps cut through the richness. Despite its name, it tastes nothing like the nyonya laksa we're used to. It's more like noodles mixed with otah paste. Very unique and addictive. The portion may seem rather small, but it's actually pretty filling, thanks to the decadent gravy. Anything more and it may border on jelak.
​​​​​​​To order, DM or Whatsapp 8690 8319. https://www.instagram.com/strictlythai.sg/
Photos: Xavier Ho