Colourful Sweet Potato, Chocolate Sourdough Bread Sold By Couple & 3 Kids From HDB Flat
Mum bakes, dad delivers and the kids help with the packing.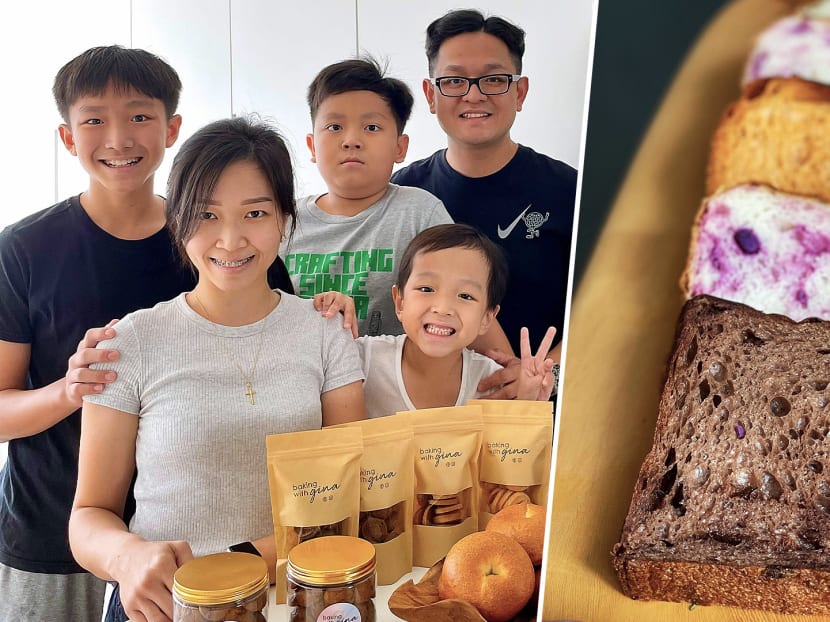 Gina Tan's first encounter with husband Ethan Ng is rom-com worthy: the young couple caught each other's eye while working part-time jobs at different stores in Raffles City Shopping Mall for the 2007 Christmas season. During bathroom breaks, she walked past the stationery store he worked at, while he passed by her chocolate shop every lunchtime.

A year later, the pair were married, with plans to run a business together in the future. Today, the duo – aided by sons Eden, 13, Elnathan, 10, and Ethnan, 6 – run Baking with Gina, a home-based biz selling cakes, cookies, waffles, and square-shaped sourdough loaves in flavours like purple sweet potato, tomato and Valrhona chocolate.

All photos cannot be reproduced without permission from 8days.s g

Gina, 32, formerly worked in sales and marketing roles for a Japanese software firm and then a fashion watch brand. She resigned in 2011 after the birth of her second son. Pregnant with her third kid in 2014, she started baking lactation cookies out of interest, which then expanded into making cookies, cakes and festive treats like pineapple tarts, which she sold to friends and via word of mouth.
In 2019, following requests from her sons, who love bread, the housewife began making homemade sourdough instead of buying it from bakeries. Posts of her photogenic sourdough muffin and pancake recipes on Instagram immediately attracted purchase enquiries. The business took off in 2020 amid the pandemic, and the family plans to open a brick and mortar shop "when the time is right".
Ethan (top left), 34, quit his job as an IT sales rep in August 2020 to help with accounting and deliveries for his wife's growing biz, and to fulfill the couple's early dream. He plans to help out in the business for the long term.
Meanwhile, the boys join their mother in the kitchen of the family's four-room Choa Chu Kang HDB flat after school every day to help bake, fold delivery boxes and stamp on branding.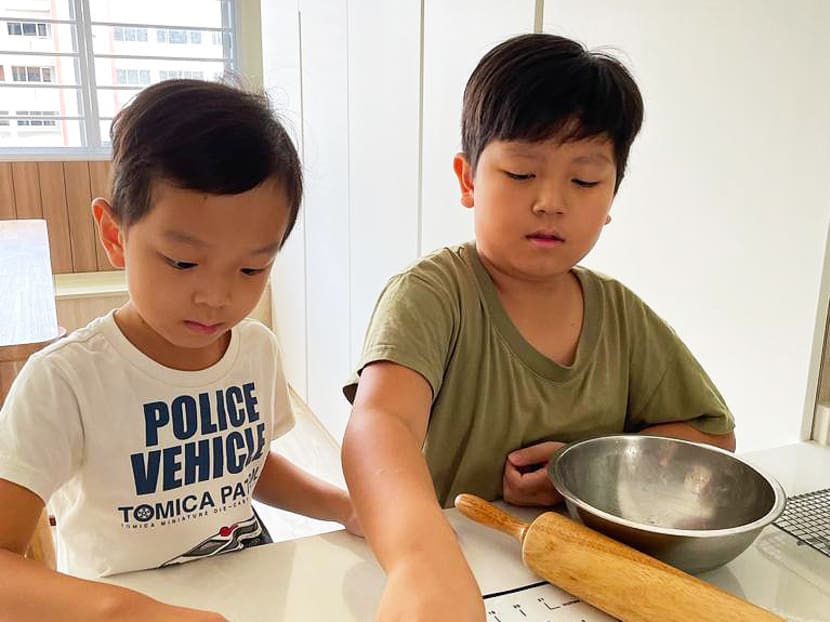 "I want to teach them things like baking skills, the science behind baking, and patience," says Gina. "I'm more of a character-building mother, than focusing on their grades."
They're also the taste testers. "Kids are very real. They tell you the truth about what they think," Gina laughs. It takes between two and 10 tries to get a product right, and most flavour ideas come from her sons. "They'll tell me: try this, try that. They also eat all the failed bakes."
Per week, the biz sells about 30 sourdough loaves, 30 sourdough waffles, and 30 packs of cookies. Is it enough to support a family of five? Gina's coy about the exact figure, but does offer a tip: "be frugal and spend only on what is necessary".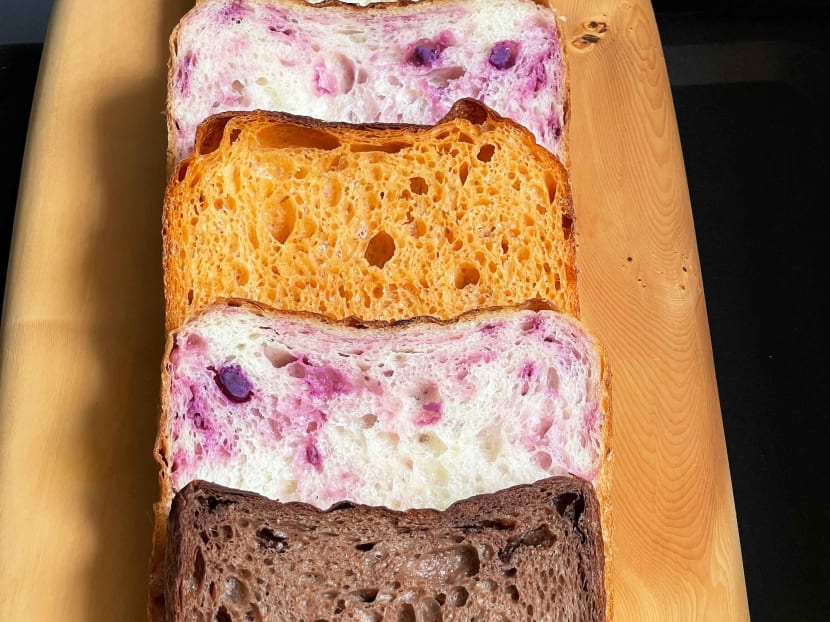 Colourful, square-shaped sourdough is a new and popular addition to the roster, with a consistent week-long waitlist. Unlike the classic sourdough boule, which is round in shape with a crunchier, harder crust and typically baked in a Dutch oven, these square loaves are softer and baked in tins at a lower temperature. To achieve an even square shape, ingredient proportions are carefully controlled to ensure the bread rises the perfect height up the sides of the tin.
The dough is made from a starter of apple yeast water, comprising filtered water, sugar, and organic apples. The natural yeast Gina uses is better for gut health than the commercial baker's variety, she says. Her dough is more hydrated than the norm to create an appealing mochi-like texture. It takes 36 hours for the starter to ferment, so she's only able to make 16 loaves a day.
It might look the simplest but this plain loaf is our fave among the ones we sampled. The texture is the plushest, yet lightly springy and creamy, underscored by a gentle tang. It combines the best of both worlds — the complex flavours and wholesomeness of a sourdough with the softness of tin loaf. A great sandwich bread. ​​​​​​​

The prettiest loaf of the lot — and delicious too. Made with Japanese bread flour, semolina flour, extra virgin coconut oil, these plush, yet chewy loaves are streaked with bright pops of mashed roasted purple sweet potatoes, which lend the bread a faint loral sweetness and richness from the moist spuds. Yummy lightly toasted with just a smear of butter.
Gina says this orange hued number is inspired by the tomato bun from Peck Bakery in Takashimaya. It's a lovely savoury bread with a light tang from blended fresh tomatoes and tomato paste worked into its dough. Thanks to the blend of fine-textured Japanese bread flour blended with the heartier semolina flour, the crumb is soft, yet slightly dense and QQ like mochi. There're also hints of herbs like rosemary mingled with the fruitiness of olive oil. Yummy toasted and enjoyed with soup or a smear of cream cheese.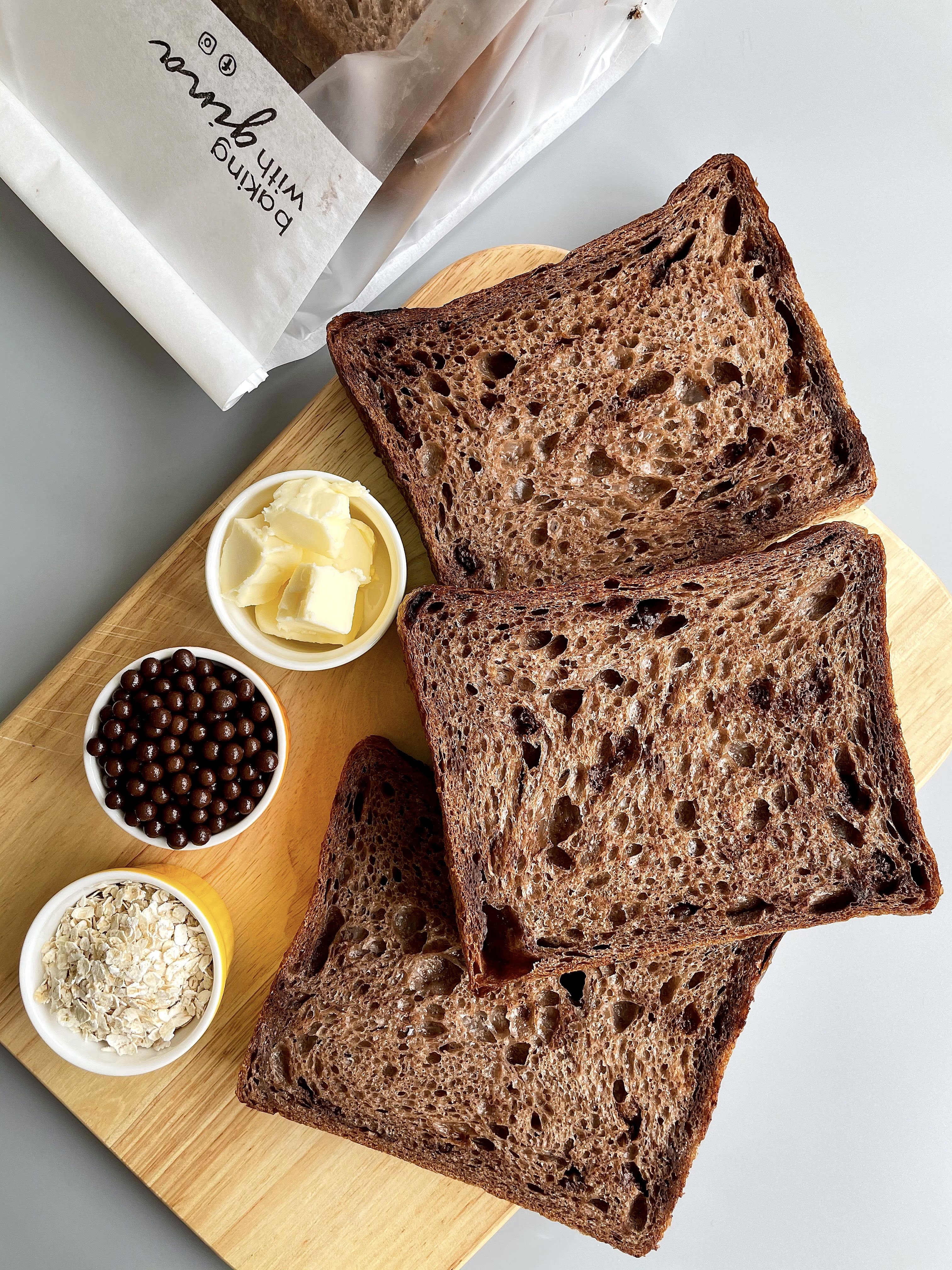 ​​​​​​​This one is for those with a sweeter tooth. We've had other versions of chocolate sourdough before, where the cocoa clashed with the tangy flavours, but this one is quite well-balanced. There are melty pockets of bittersweet Valrhona 'Les Perles' (dark chocolate pearls) worked into the tender yet substantial bread. We rather enjoyed this with a thick layer of peanut butter, but must admit we can't eat this on a daily basis unlike the other breads on this list as it's a little bit rich.