Comforting Japanese Rice Bowls From $5.80 By Ex-Sushi Tei Sous Chef & Captain Turned Hawkers
They started their food biz from home after losing their jobs during the pandemic.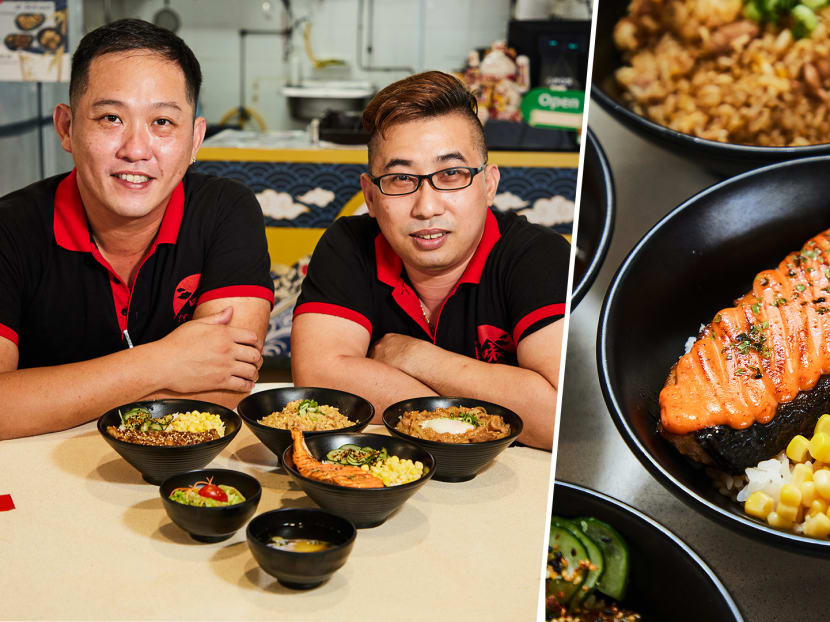 What do two friends who met while working in a restaurant do when they're out of work amid a pandemic? They start a home-based food business, of course. At least that's what Dicky Tan, 41 (left in pic), and Ken Ong, 39, did. What began as a relatively successful word-of-mouth setup selling Japanese rice bowls has since morphed into a hawker stall for them.
The pair, who both worked at multiple outlets of Japanese restaurant Sushi Tei between 2005 and 2010, kept in touch in the years between, and today are bosses of their own joint, Mikuriya, where they churn out affordable Japanese rice bowls for the workers that patronise their coffeeshop in an Ang Mo Kio industrial area.
All photos cannot be reproduced without permission from 8days.sg

As our Grab driver wends through a labyrinth of low-rise car workshops and air-con engineering firms, we can't help but think: this place is ulu. Mikuriya is nestled in the corner of a surprisingly large and airy coffeeshop, but it's a coffeeshop that most people in Ang Mo Kio would never stumble upon by accident. So why set up shop here?
"We want to use this place to test ourselves out," says Dicky, who admits the staff from nearby workshops who patronise the coffeeshop don't care too much about the food quality and "just want to be full". He adds: "If somewhere else suitable opens up, we'll open a second outlet." The pair initially wanted a stall in Sembawang, but couldn't find a unit.
Nevertheless, the remote location has gifted them with a huge unit double the size at a typical hawker centre, with enough counter space to display two fat, gaudy fortune cats. The stall layout is unusually open, so we can look into every corner of the orderly setup, no doubt a trait brought over from Dicky's time as a restaurant chef.
Dicky, who spent 12 years at Sushi Tei between 2004 and 2016, rising from the post of cook to sous chef, also worked brief stints at Japanese grill chain Aburi-EN and at Grand Copthorne Waterfront, preparing the hotel's Japanese buffet selection.
Meanwhile, Ken's job history includes roles as restaurant captain at Sushi Tei from 2005 to 2010 and as sales rep of catering firm Mayor Food Industries from 2019. Both men are married; Dicky has two children aged 12 and five, while Ken has a six-year-old daughter.
The pair, jobless in 2021, worked as Grab drivers while running their (unnamed) home-based Japanese rice bowl business. Dicky cooked, while Ken helped prep ingredients, manage orders and run the Facebook page, roles they've brought over into the hawker biz. "One does kitchen [work], one does operations. It's quite a perfect match," Ken says.
For their home based biz, the pair sold an average of 30 rice bowls a day between April and September, but eventually upgraded to a hawker stall as their household rice cookers "couldn't take it anymore".
They invested $15,000 from their savings to set up Mikuriya, which opened on 15 September to little fanfare. Business fluctuates, says Ken, though they sell about 50 bowls a day on average.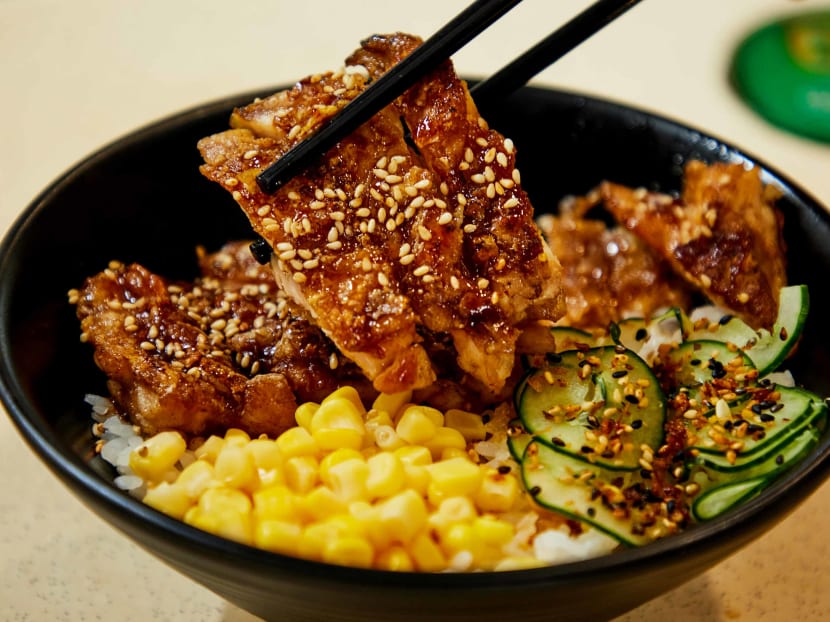 On a heaping of perfectly sticky, fluffy pearl rice – imported from Japan – sits an impressively prepared piece of chicken thigh, coated in a homemade teriyaki sauce, then seared on a teppanyaki grill for a caramelised finish. Thanks to this, the skin is also light and pleasantly crunchy. (Dicky confesses the cooking technique was borrowed from his time at Aburi-EN.) Overall, this is loads better than the limp meat drowning in gloopy sauce sold at some food court Japanese stalls for about the same price. A yummy bowl, though we do wish the meat portion was a bit more.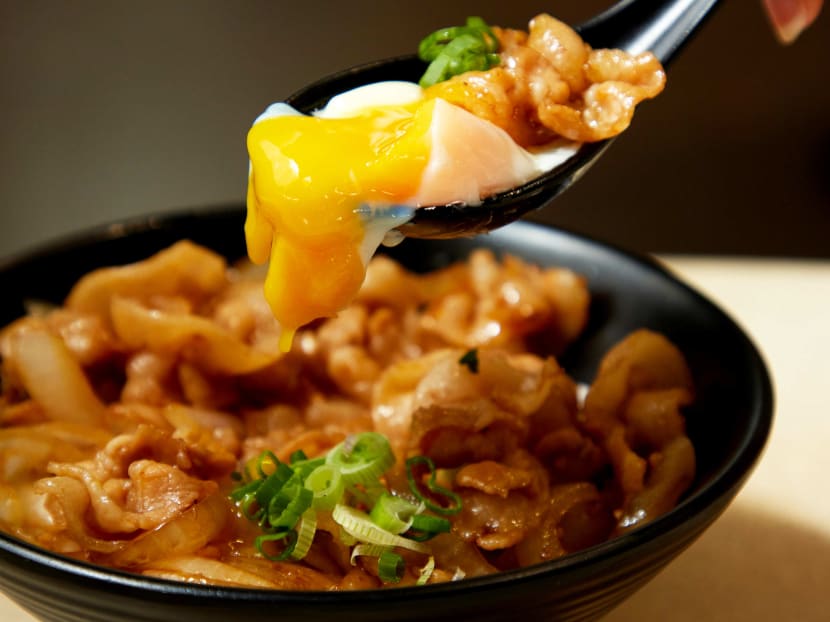 On a bed of the same nicely-steamed, QQ rice is a heaping of thin-sliced pork belly simmered in teriyaki sauce and julienned onions, plus an onsen egg. Dicky's a bit heavy-handed with the sugar in his homemade sauce, so this dish tastes rather sweet. The egg ends up a touch overcooked, so we don't get a runny yolk, but instead a caramel-like one closer to a ramen egg. Still, it's nice.
The most expensive item on the menu comprises a thick slab of salmon fillet seared on a teppanyaki grill, then bathed in spicy mentaiko sauce. Maybe we waited too long to eat this, but the fish was quite dry. We like the chicken better.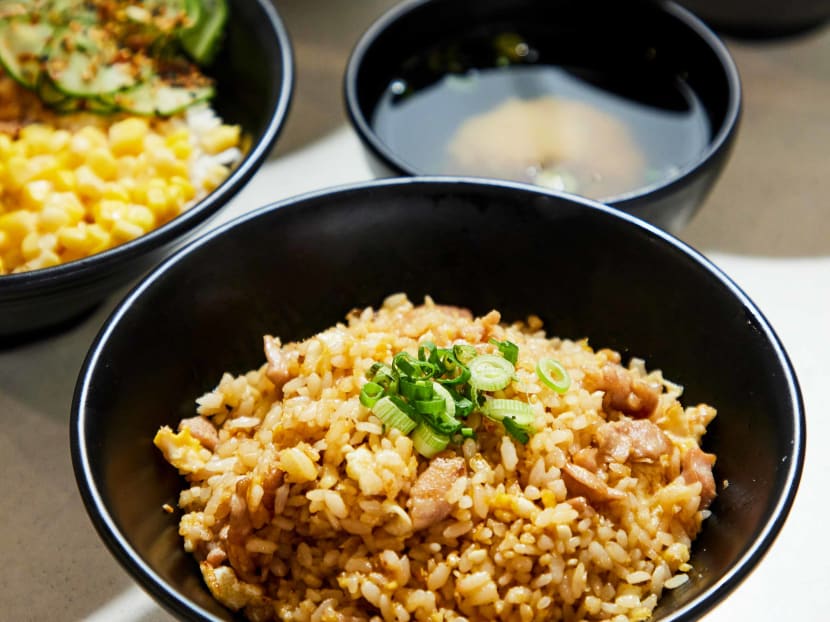 This turns out to be a decent egg fried rice available with either chicken or salmon bits. We pick the chicken. The quantity of meat and egg is generous, but we can't detect any garlic, and the bottom of the bowl is coated in a noticeably thick layer of oil. Dicky says the dish is a rendition of the garlic fried rice he used to whip up at Sushi Tei, and when we tell him our feedback, he looks thoughtful. "It's been a while since I made it, so I'm still trying to fine-tune the recipe," he says. It's promising. We look forward to trying his improved version.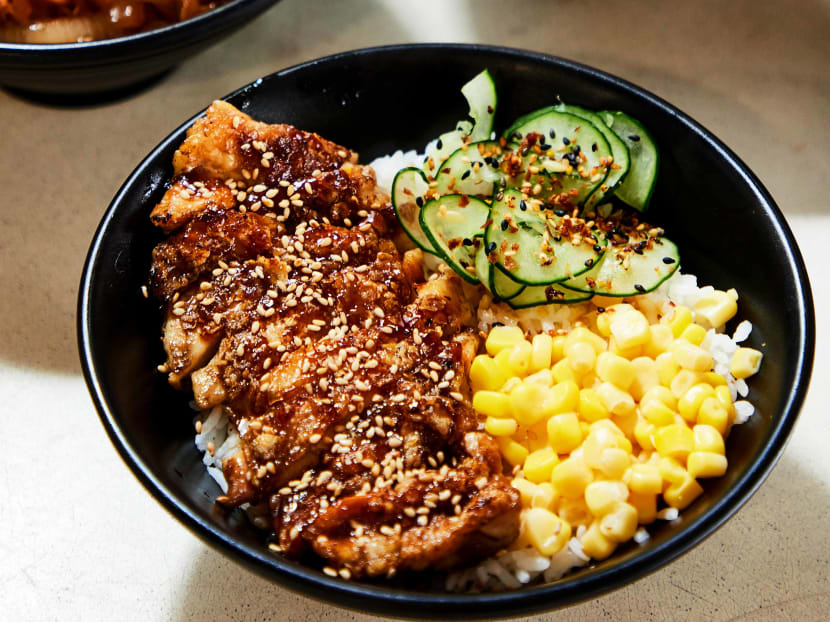 Value-for-money Japanese fare, albeit in a rather inaccessible location. The meat portions are about what you'd get at a typical coffeeshop for the price, which is to say, not a lot, but they're generous with the carbs, so you're bound to be full. Plus, we're impressed by the perfectly steamed Japanese pearl rice, rare in a kopitiam. Thanks to Dicky's years of restaurant training, the dishes overall taste better than your typical Japanese hawker stall's, with more authentic flavours and professionally-prepared ingredients.