Curry Rice Hawker's Daughter Sells XL Bolo & Cheese Buns Stuffed With Curry Chicken
While the local curry is good, we like the Japanese version best.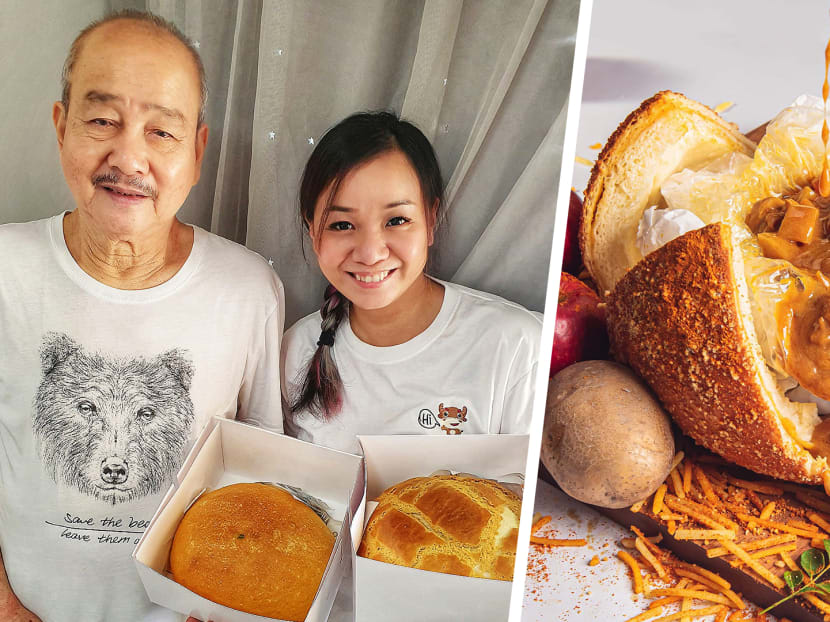 Curry runs in the veins of the Toks. Up till 2009, Mr and Mrs Tok Tai Peng ran coffeeshop stall Keat Hong Curry Rice in Choa Chu Kang; today, the family's curry recipe lives on in their sons' two curry rice stalls, and the enormous homemade buns that youngest daughter Su Wen churns out from the kitchen of her four-room Choa Chu Kang flat for home-based biz Yummy Tummy Bakes.
Su Wen, 38, started the curry bun business last November while she worked a sales job at an F&B company. "I'd always wanted to start my own bakery," she tells 8days.sg.
With the help of YouTube tutorials, the mother of two had previously taught herself to bake bread at the request of her children aged 10 and seven. When Covid hit, she picked up the hobby again.
A friend who had started a home-based bakery encouraged her to sell her breads. Su Wen didn't have to look far for an idea on how to differentiate her product: in three weeks, she had modified her mum's heritage curry recipe – which contains a secret ingredient she won't disclose – to pair well with the loaves.
Mrs Tok's curry recipe helped raise Su Wen and her three siblings. The Toks used to run a coffeeshop at Keat Hong Shopping Centre in Choa Chu Kang housing their curry rice stall, which sold economic rice with various curry dishes. Mrs Tok passed away in 2019.
The four children used to help their parents run the stall. Brothers Jin Xiang, 42 and Jin Shi, 40, have since taken up the hawker mantle. Jin Shi took over his parents' stall Keat Hong Curry Rice, which has moved to 85°C Cafe, a coffeeshop in Choa Chu Kang, while Jin Xiang runs a branch in Jurong West Food Centre. Meanwhile, Su Wen's older sister Shu Fern, 41, works at Credit Suisse.
Yummy Tummy Bakes gained popularity from group buy orders.
Su Wen now sells about 250 buns a week – compared to 60 at the start – and has expanded the menu to desserts like durian puffs, tiramisu, and Teochew mooncakes.
She quit her job in February to run the biz full time, a decision that husband Ted Lee, 40, a sales manager at a transportation company, was supportive of. He helps her bake on weekends.
"It wasn't really about finances, I wanted to spend more time with my kids and with my dad, who's alone now," Su Wen says. Mr Tok lives close to his daughter, and pops by often to help her whip up big batches of curry for her buns, just like how he'd make curry at his hawker stall.
As business starts to strain her home kitchen, Su Wen looks set to follow in her parents' footsteps: she's hoping to move operations to a coffeeshop stall somewhere in the West – though maybe not Keat Hong, she jokes.
Each of the hefty Curry Bombs here is enough to feed three or four people. Pick from six bun flavours: plain, curry, wholemeal, bolo, cheddar cheese, or mozzarella and cheddar cheese. For the centre, there are four types of filling: chicken, mutton, vegetable, and Japanese curry. The total bill depends on which combo you pick.
To eat, tear apart the bread wrapping to access the neatly tied plastic baggie of orange-hued curry in the centre, wrapped in paper for extra precaution against spills.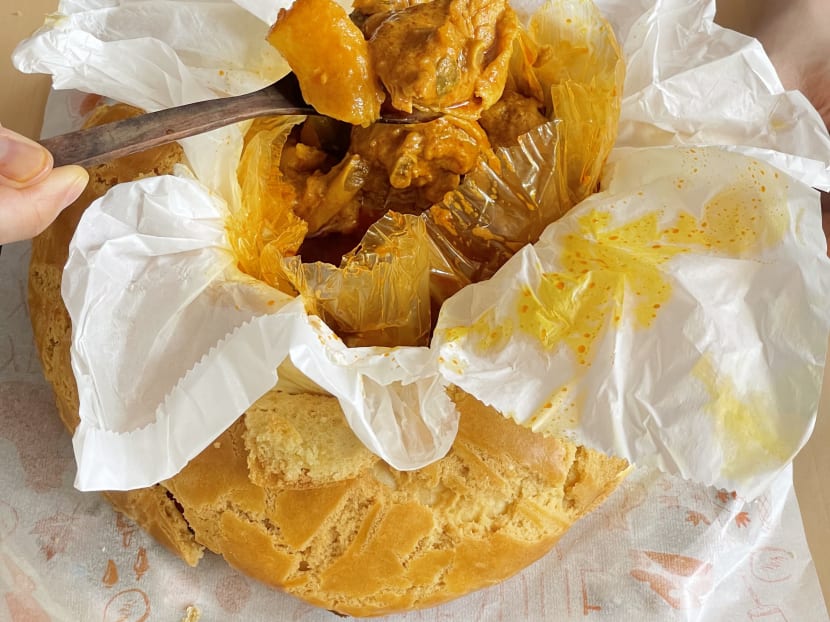 This is the most popular combo, and we can see why: a crowd-pleasing Singapore Chinese-style chicken curry with a super cute polo crust.
Mrs Tok's shiok chicken curry is an aromatic, thick, unapologetically lemak rendition that tastes like it was made for a family potluck by your favourite aunt. Huge chunks of potato and a generous amount of chicken are stewed to perfect tenderness, and the spice level is tame enough for most. A family member comments that this tastes as good, if not better, than curry bun heavyweight Golden Pillow.
We're pleasantly surprised by the bun itself, too. Unlike the typical bakery version, which is airy and light, the bread here is marvellously elastic, moist and doughy, with a good dense chew reminiscent of the homemade buns served at beloved Russian-Hainanese joint Shashlik Restaurant. The recipe, based from white bread, is Su Wen's own. But we could do without the additional polo crust that sits atop the bun – it tastes of white sugar and flour more than anything else. But it looks undeniably Instagrammable.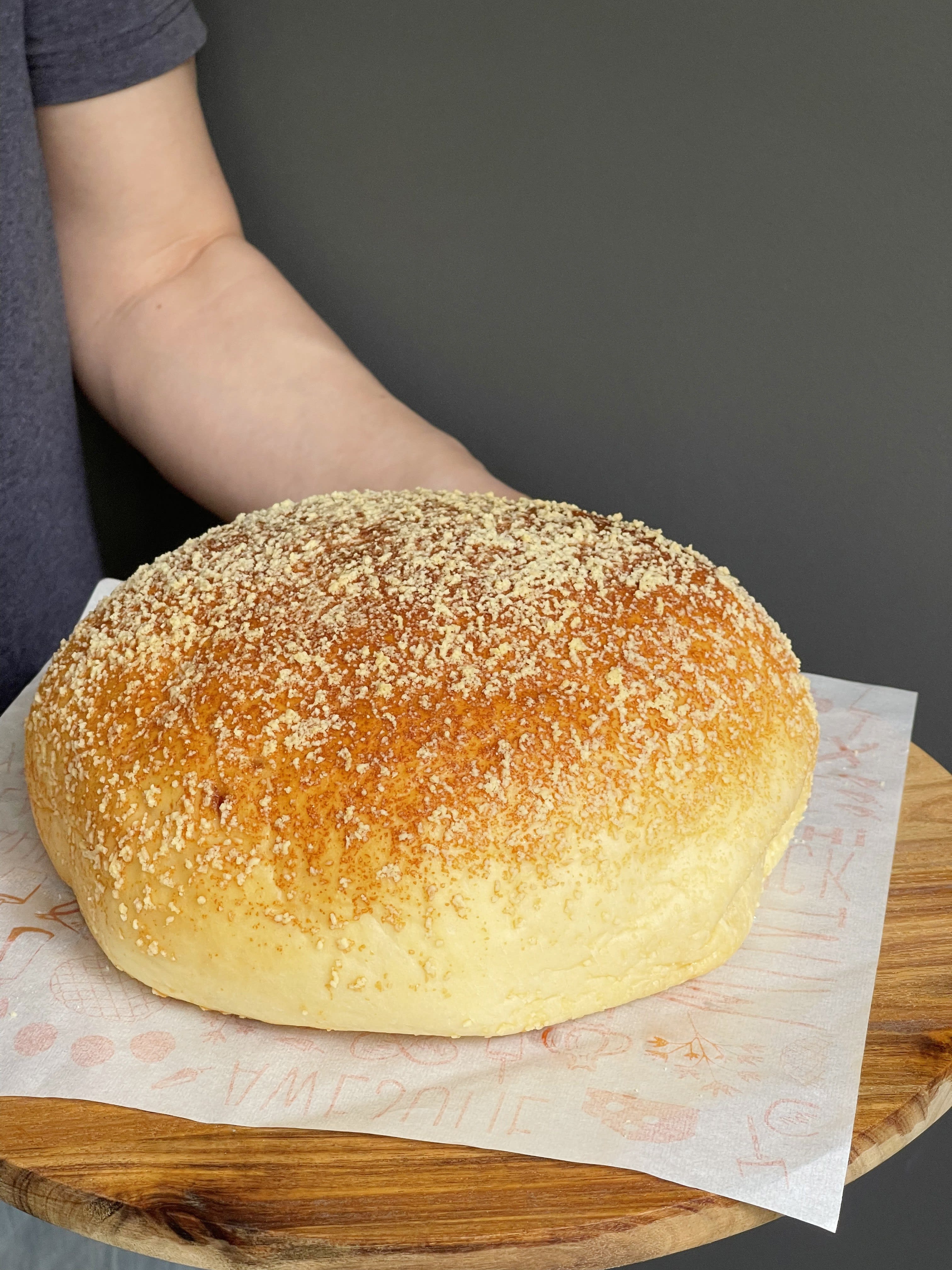 This one's a favourite among kids, though it's more accurate to call it Japanese curry with a local twist. We spy curry leaves and ginger in the mix, the boneless chicken chunks have skin on them, and Su Wen adds local spices (she won't reveal which) for a more robust, savoury kick than the typical sweeter version served in Japanese restaurants. This curry has apples, tomatoes, carrots and potatoes in it, too.
We adore the cheese bread, which is coated with a sandy layer of crisp, umami parmesan and stuffed with a chewy, savoury layer of mozzarella and cheddar that complements the stretchy bread. It's heavenly when paired with the curry, and good enough to eat on its own.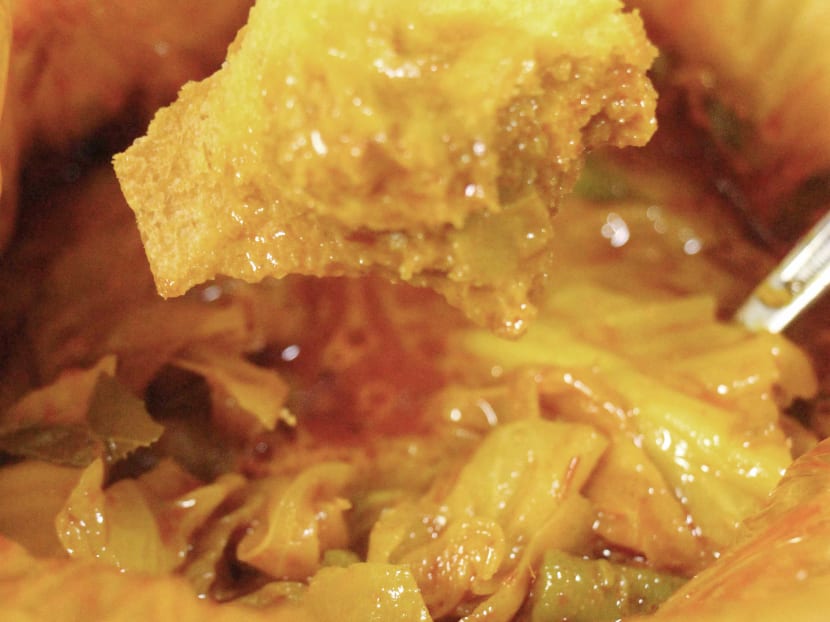 The delish coconutty curry base here is similar to the one for the local chicken curry, and tastes like a more refined, flavourful version of cai png curry veggies (Su Wen uses cabbage, brinjal, and long beans). The pastel orange-hued curry bread has the same fabulous texture as the others, but the curry notes in the dough aren't noticeable.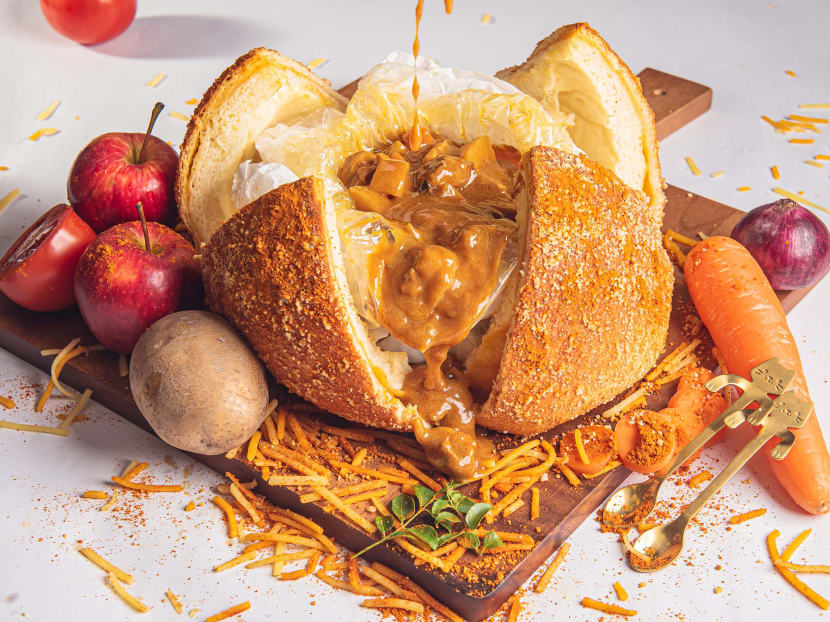 We love the cheesy bun for its soft, chewy texture and the fact that it packs more cheese than your average bakery offering. It goes well with the fusion Japanese curry which tastes like a savoury stew spiked with punchier local spices. The tear-and-share style of these huge buns makes them a great option for cosy, safe distancing-compliant gatherings at home.