Eggslut S'pore Sneak Peek: 5 Menu Items To Order, Ranked
The buzzy LA egg specialist opens its first S'pore outlet next week.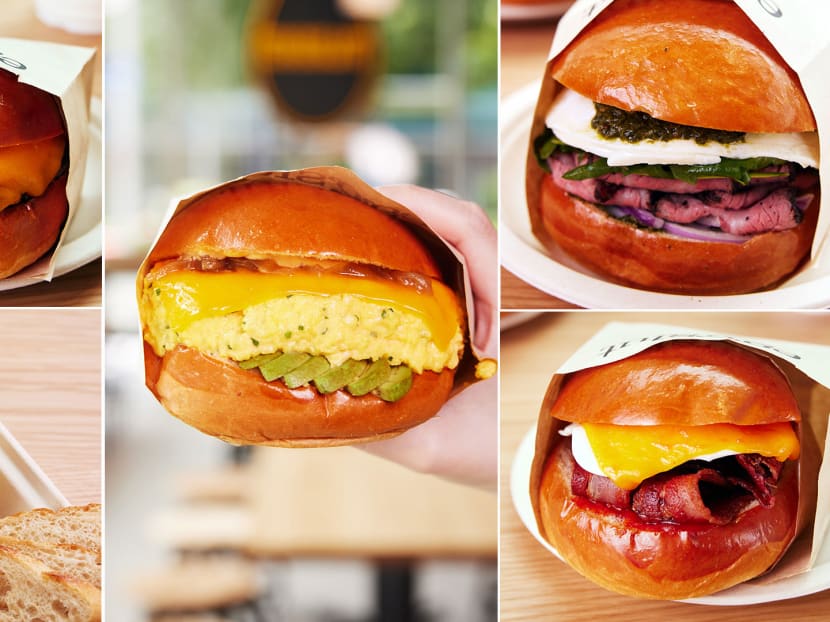 There's probably only one place in Singapore where you can utter "I want the Slut", and the staff smilingly obliges instead of bouncing you out. That's at Eggslut, where 8days.sg is getting a sneak peek at the first Singapore outlet for the famed LA-based chain, whose fluffy brunch-friendly scrambled eggs sandwiches have launched a thousand Instagram posts. It opens next week (Sept 9) at Scotts Square.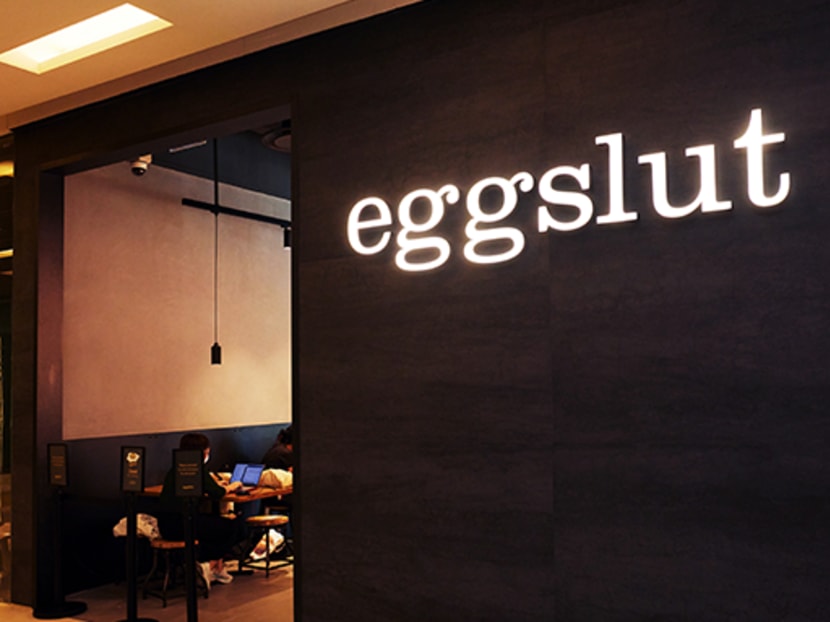 As its saucy name suggests, there's a cage-free egg in almost everything on Eggslut's menu. It comes coddled atop a jar of potato purée and chives in the eatery's signature Slut dish ($11), scrambled soft with butter, or as a sunny side-up tucked between fluffy brioche buns.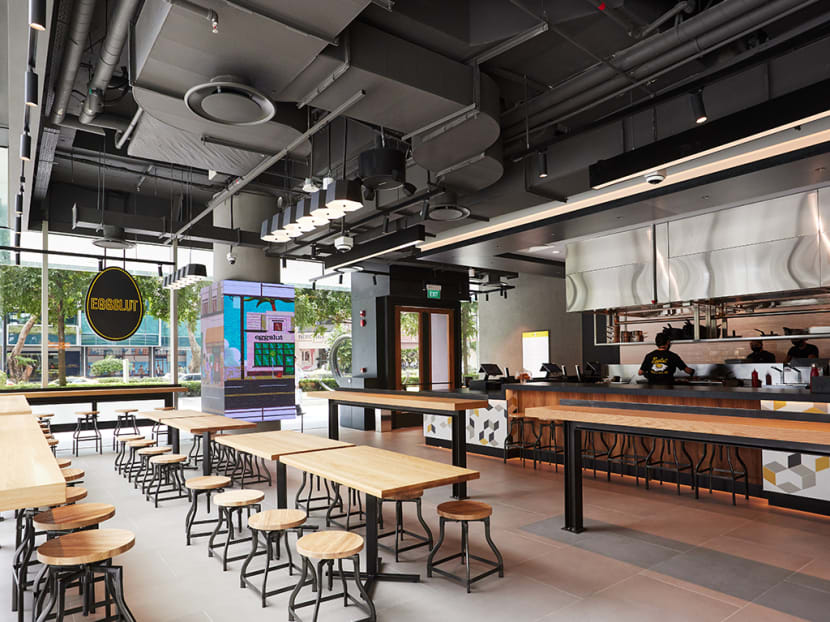 The brand is brought in by Korean F&B company SPC Group, the same folks operating the Shake Shack and Paris Baguette chains here. Which may explain why we find Eggslut Singapore's brightly-lit, self-service layout a little familiar; the open counter (with bar stools here so you can watch the staff make scrambled eggs), the spacious seats and automated machine for washing hands are all a little reminiscent of a Shake Shack outlet.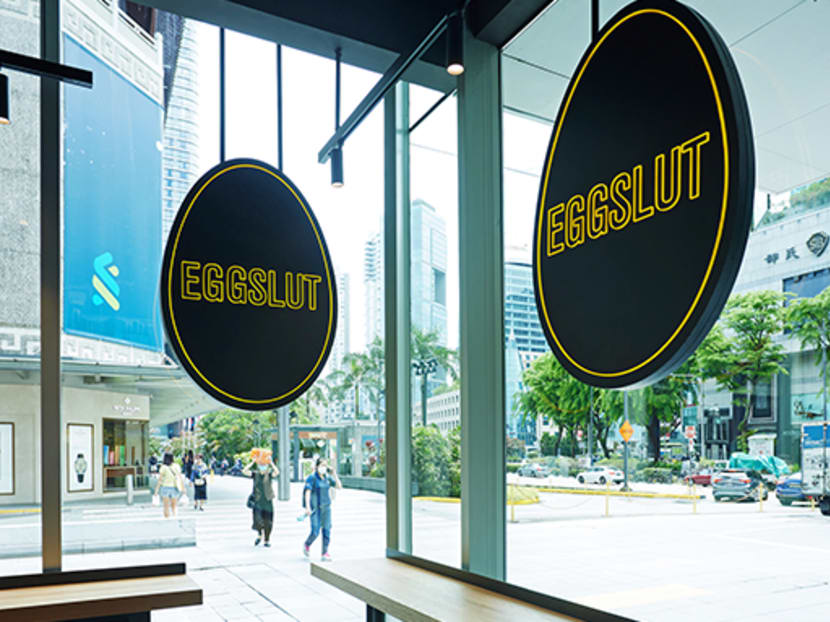 The space can currently seat 50 diners with safe distancing (100 without). But bring a brolly if you plan to queue for a table. The lines will be corralled outside the mall, and only ushered indoors in the event of rain. The first 100 customers who line up on Sept 9 will receive an "exclusive Eggslut gift".

Eggslut has teamed up with local brewery Brewlander (which was co-founded by former radio DJ Daniel Ong and TV host Allan Wu) to launch exclusive canned Craft Sodas ($4.50) in two flavours, Elderflower & Lemon and Grapefruit & Ginger. There's also a range of coffee beverages by local cafe Common Man Coffee Roasters including Specialty Hot Brew ($5) and Specialty Cold Brew White ($7).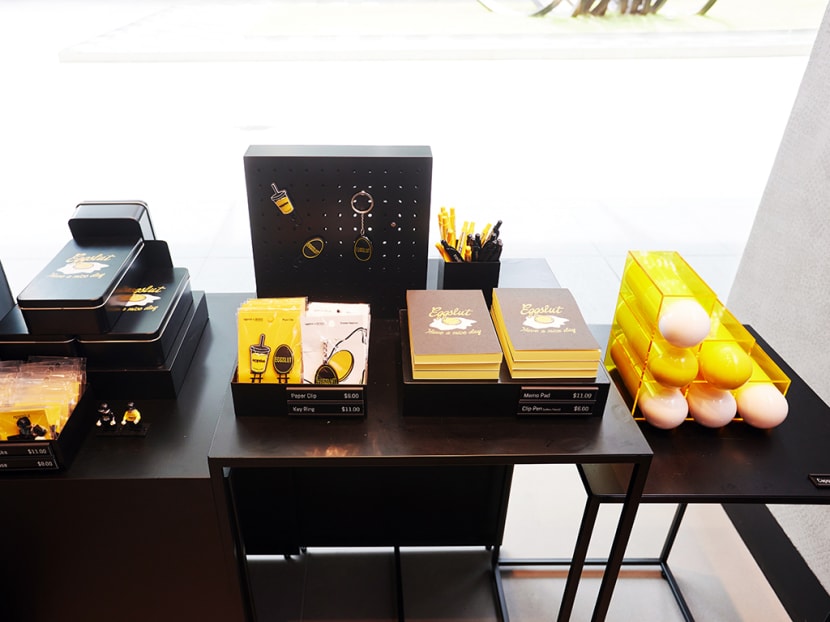 Like Shake Shack's themed merchandise, there's also a small selection of Eggslut merch such as an umbrella, memo pad and Lego figurines.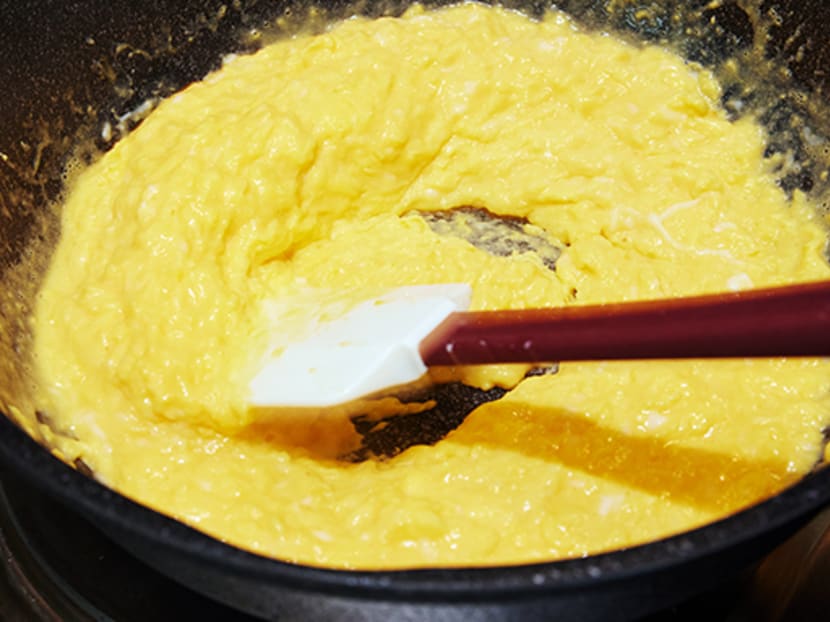 Be prepared to wait a little for your scrambled egg sarnie order here. The eggs are slow-cooked to order in batches, which takes about five minutes each time.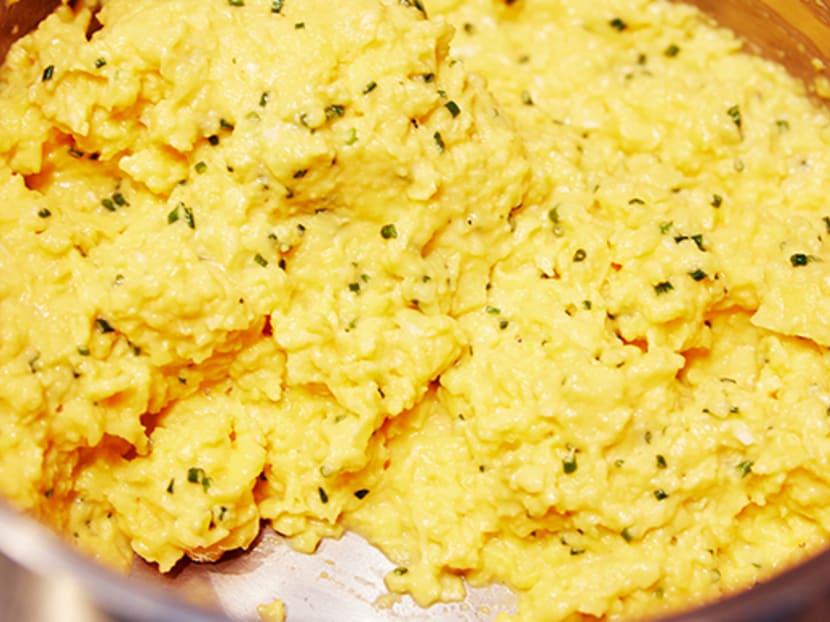 A lot of patience and hard work goes into cooking the soft scrambled eggs, seasoned simply with salt and chopped chives. The raw eggs (no particular provenance preferred, we're told) are poured into a skillet with chunks of butter (no milk used), and cooked over low heat by a staff member who continually stirs the mix and lifts it off the stove intermittently to prevent the eggs from overcooking.

Other than sandwiches, Eggslut also offers a giant Salted Chocolate Chip Cookie ($3.50) and House-made Buttermilk Biscuit ($6) with honey butter if you're craving something sweet.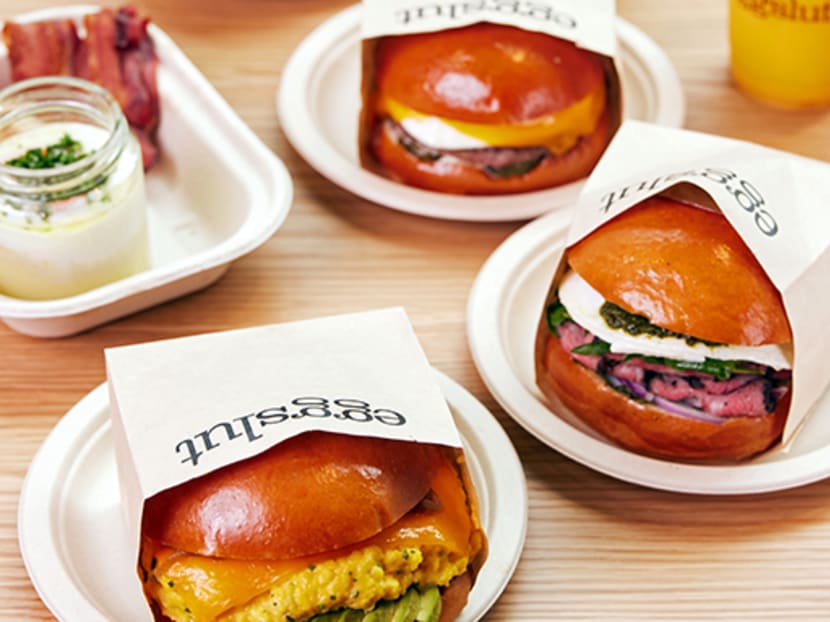 8days.sg
tries five savoury items from Eggslut's menu, and rank 'em according to which one is the most order-worthy. And starting from the
least
worthy is…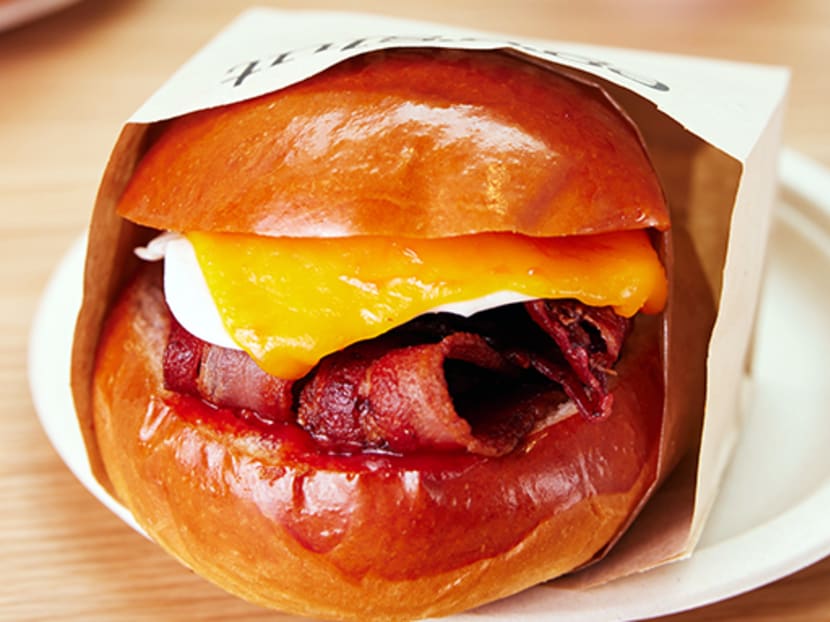 This sandwich comes with "applewood smoked bacon, cage-free over medium egg, cheddar cheese and chipotle ketchup" nestled between brioche buns warmed over a grill. Passably hearty and comforting, since it's hard to go wrong with a combination like this. But it also feels like we're eating a gourmet, pricier McMuffin.

The brioche buns here, though, are something else; like Shake Shack's fabulous potato buns, which are made by SPC (a well-known Korean confectionery giant) and even better than those at the Shack's original New York outlets, Eggslut's brioche boasts a buttery fluffiness that's intensely delicious.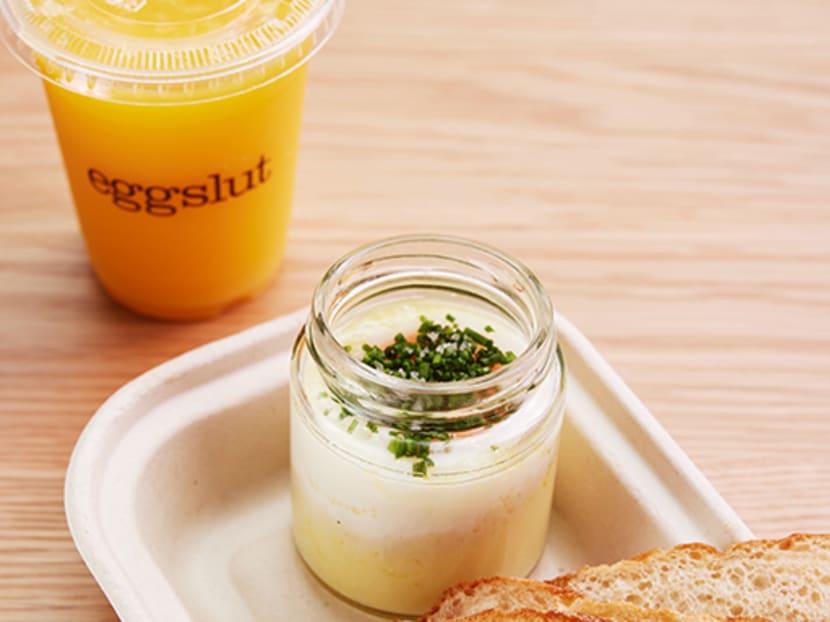 You will just have to be thick-skinned when you order this, and what you get is a glass jar of potato purée topped with a coddled egg, chives and thin, holey slices of baguette. You're encouraged to top up for Bacon ($3), clamp two pieces of baguette over a porky strip and dip it into the yolk-drenched purée.

The salty grilled bacon adds some flavour to the egg-and-potato purée, which we find a tad too bland for our liking. It's also less satisfying than biting into a messy brioche sandwich. You'd probably have to order a side like Truffle Hashbrowns ($4.50) cooked in duck fat to make this a more substantial meal.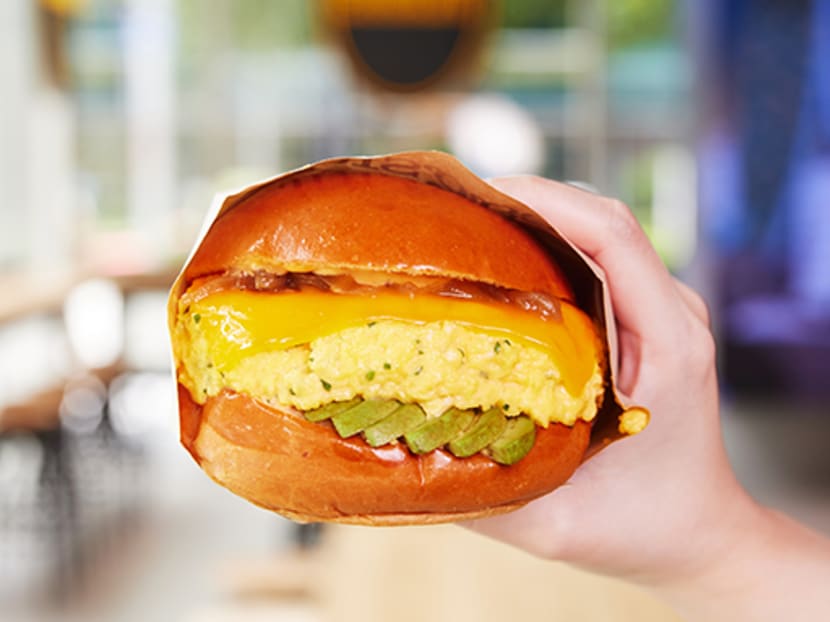 The Fairfax sarnie is the most heavily Instagrammed among Eggslut's menu items. Just looking at it makes us hungry; a generous dollop of the painstakingly-cooked soft scrambled eggs is plopped on top of a warmed brioche bun drizzled with sriracha mayo, gently blanketed with grill-melted cheddar, caramelised onions and another warm bun (add $2.50 for sliced avocado).

Instead of the creamy golden folds of Hong Kong cha chaan teng-style scrambled eggs, the eggs here are cooked in a French style with lots of butter. Over low heat and constant stirring, they slowly form runny, delicate curds, a texture that's too mushy when paired with luxuriously soft brioche buns and avo. The scrambled eggs also lack a certain eggy flavour, which the mildly spicy sriracha mayo tries to make up for. Give us less runny, eggier scrambled eggs and we're set here.



While it's a cheeseburger in name, this also looks like the rest of the sandwiches, albeit with a ground angus beef patty, sunny side-up egg, caramelised onions, bread-and-butter pickles (which are sweeter than regular pickles), cheddar and dijonnaise. It's very shiok; the juicy beef patty soaks up the gooey yolk, while the onions and pickles add some sharpness to the rich flavours. We hoovered the petite burger in no time flat (big eaters, get the double patty version).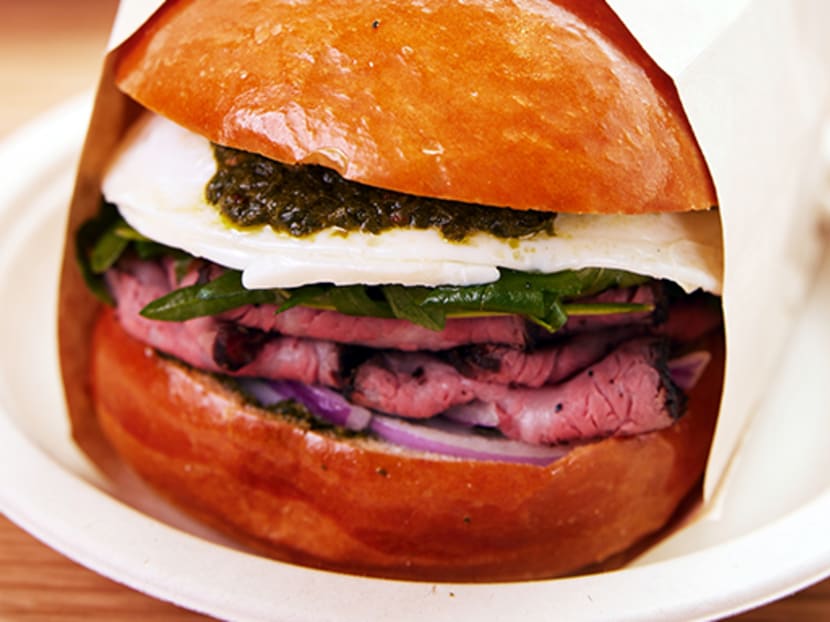 "Seared wagyu tri-tip steak, cage-free over medium egg, chimichurri sauce, red onions and dressed arugula in a warm brioche bun" make up this Gaucho sarnie, which is our top pick at Eggslut. It's ironic that this wagyu beef number outperformed the chain's eponymous egg offerings. But the tender, sous vide-and-pan seared wagyu is a good pairing with chimichurri (a sauce made with herbs like fresh parsley, garlic, olive oil and red pepper flakes), plus some crunch from the red onions and raw, earthy arugula. Delish with a chilled cup of Fresh Orange Juice ($5.50).