Ex-DB Bistro Cook Sells $9.90 Wagyu Don In Jurong; Truffle & Foie Gras Options Available
He marries atas French culinary techniques with Japanese ones at his humble eatery.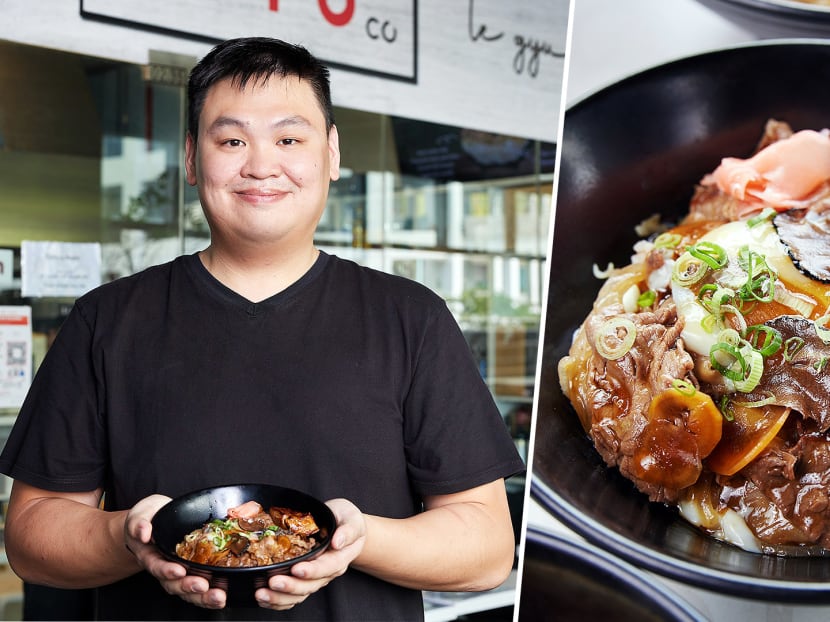 Wilson Ang is tall, towering a head above us in a black T-shirt, black pants and black crocs at the entrance to his small Jurong East eatery, The Gyu Co. In our hour-long chat, two words keep popping up: "French" and "foie gras".
The former is the chef's culinary speciality, honed over a decade at places including acclaimed New York-based French chef Daniel Boulud's namesake DB Bistro and Oyster Bar in Marina Bay Sands. The latter is his favourite ingredient, snuck into creations from lotus leaf rice at his last workplace, casual Asian fusion restaurant and wine bar The Wine & Gourmet Friends, to the wallet-friendly wagyu bowls he now dishes up for office workers and residents in the west.
All photos cannot be reproduced without permission from 8days.sg

Two-month-old The Gyu Co opened on August 1 while dine-in restrictions were in full swing. Jobless after his former employer, The Wine & Gourmet Friends, fell into financial woes, the plucky 33-year-old managed to snag a rental unit at office tower Vision Exchange "for cheap".
It's a 10-minute walk from Jurong East MRT, and as we eat, trains roar by just metres away every few minutes, blocking out bits of conversation.
"I thought I should do something simple, something small," Wilson says. The chef is married with no kids.
The Gyu Co, which sits 16 people after social distancing requirements, is his first solo venture; the decor for the frills-free self-service joint is simple and spartan.
With an education in French techniques from At-Sunrice GlobalChef Academy and a year's experience as commis cook at Boulud's bistro from 2010 to 2011, the chef opened now-defunct French food hawker stall Le Cuisson with a former DB Bistro colleague for two years back in 2011. He then hopped to now-defunct upscale European bistro Fordham & Grand as sous chef for four years, before joining The Wine & Gourmet Friends for the last four years as head chef, departing with hundreds of bottles of wine, some of which now line Gyu Co.
"I like Japanese food, but I've never attempted to do it, so I thought I'd give it a try," Wilson says. His joint cost $100,000 to set up and came with a functioning kitchen and chiller installed by its last tenant, who sold Korean ramyun.
"I didn't have to spend on renovations," he adds. "I just took over, looked at the kitchen layout, and thought: gyudon is something that can be accomplished in this place. The fast and easy concept also fits the office location."
Launched amid P2HA, orders climbed steadily over August and September as eased restrictions saw workers returning to the office. But the latest round of safe distancing curbs has thrown a spanner in Wilson's plans.
To cope, he leaves the cooking to 23-year-old Shatec graduates Marcus Loh and Brandon Sim – who don the same black outfits and crocs as their boss – while he shores up demand, organising group buys from companies and nearby residential estates.
What about delivery orders? "Some days the phone rings, some days it's quiet," Wilson shares.
When the crowds eventually return, he's hoping to offer a dinner menu of yakiniku, and launch an online butchery and wine store.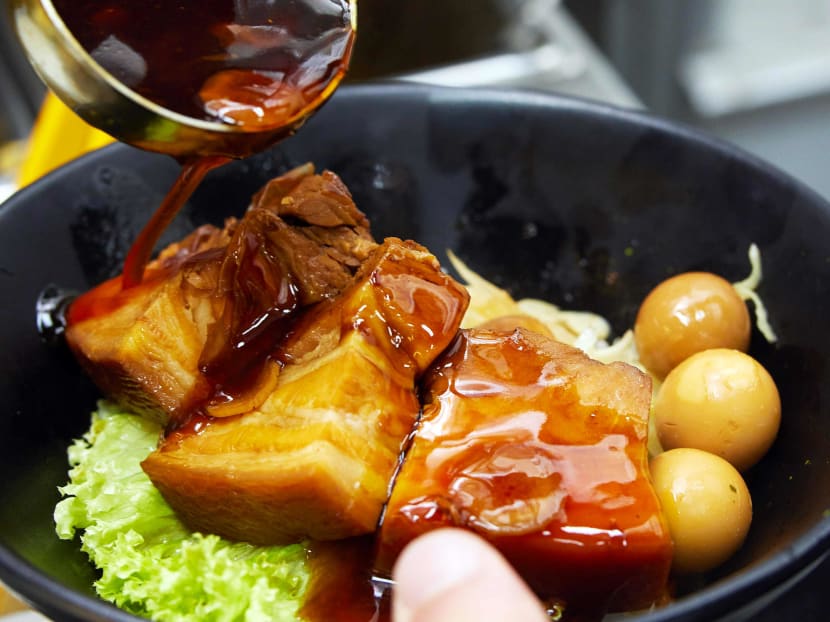 Cheaper secondary cuts of frozen Australian wagyu in the beef bowls keeps prices low. They comprise two types of cuts – which he won't reveal – for different textures and marbling, sliced against the grain for tenderness on a hefty silver $6,000 machine sitting silently behind the counter.
"I like butchery, transforming what are deemed secondary cuts into good beef," Wilson says. Nearly all bowls have an option for double protein portions.
A complex sauce, lathered on everything from beef to katsu to rainbow trout, is made from a French mirepoix-based stock of slow-cooked onions, celery and carrots, thickened into a rich, thick sauce using Fuji apples, Korean pears, bonito, burdock root, soy sauce and rice vinegar infused with kombu (kelp), then aged a week for the flavours to mellow.
"Most gyudon shops in Singapore use pre-made sauce. A supplier even sent me a sauce catalogue the first week we opened," the chef says. "But if you're trained in French cooking, making sauces and stocks is a daily affair. So we make ours in-house to differentiate ourselves."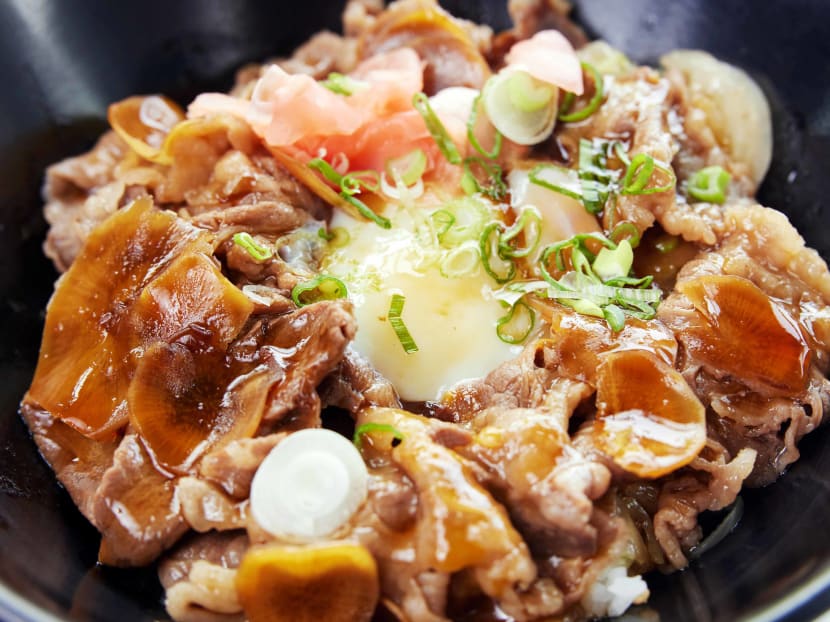 The entry level dish is a pretty bowl, with thin strips of frozen Aussie wagyu ensconcing a 62-degree sous vide onsen egg, like a full moon among meaty clouds. The fatty beef offers a good chew that releases flavour with every bite, but can't quite hide the higher sinew of a cheaper cut. A pity that the Japonica rice, which has seaweed and bonito added, isn't particularly sticky or fluffy.
But we're too distracted by the savoury sauce to notice. The sugar-free concoction tastes like a light sukiyaki broth that's been used to stew vegetables, absorbing the nutrients and natural sweetness. It's much less processed-tasting than the typical stuff found at gyudon giants like Sukiya and Yoshinoya. Also unusual are thin rounds of sauce-infused burdock root and a healthy heap of cabbage and onions that impart extra texture and a dash of good-for-you-ness. (Diners can request a second portion of veg at no charge.)
The sauce-cabbage-onion combo features in all the dishes; when paired with the beef, the result is light yet satisfying comfort food that's also nutritious. While pocket-friendly, the $9.90 bowl, with 100g of beef, doesn't pack enough protein for those with larger appetites. Most male diners opt for the double portion, with 200g of meat.
An atas combo tailored to gourmet-hungry Singaporeans who love luxe for less, the intoxicating, earthy scent of truffle oil and truffle salsa hits us first. Breaking up the locally-farmed poached egg creates silky, golden-yellow rice grains that pair deliciously with salty truffle pate and photogenic frozen Italian black truffle shavings.
The beef is the same as in the classic bowl, while the onions, still retaining some crunch, lend sweetness and bite. A weighty wedge of foie gras, imported from France, is cooked using the poele method, where the liver is basted in its own fat to a crisp brown, with a whisper of smokiness. It's perfectly fatty, though a touch too raw for our liking; the truffle-only option ($13.90 regular; $19.90 for double meat) is good enough.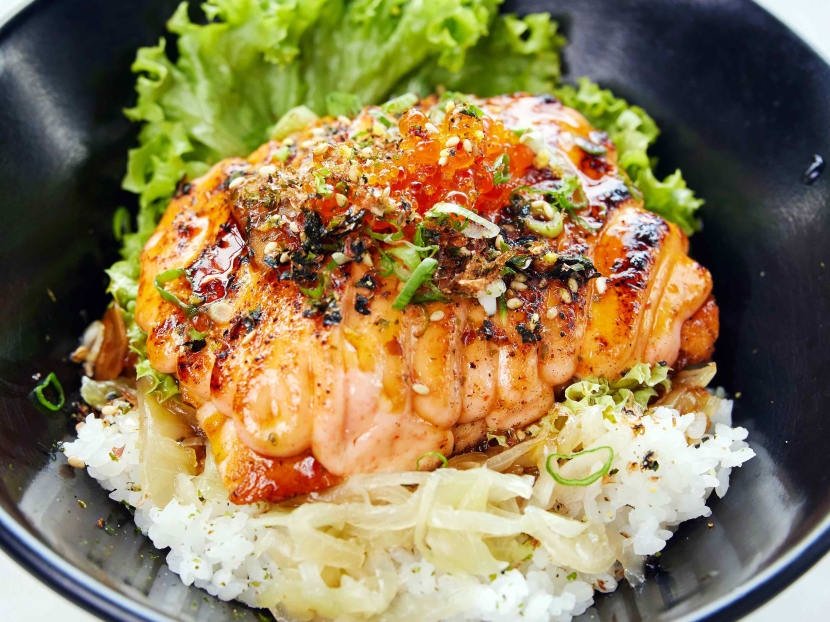 Attractively plated, the grilled fish is slathered liberally in one of Singaporean diners' favourite things: mentaiko mayo, torched for extra good looks and crowned with a surprisingly generous choice of topping for the price tag: vibrant orange ikura and crunchy tobiko that add splashes of umami.
Perhaps we're too used to salmon, because the leaner trout comes across a touch dry, though the taste is carried by the sweet, creamy house-made mayo, which is a darker pink thanks to the addition of more mentaiko than is typical. The overall flavour profile has mass appeal; Wilson says the staff of a nearby nail parlour order this almost daily.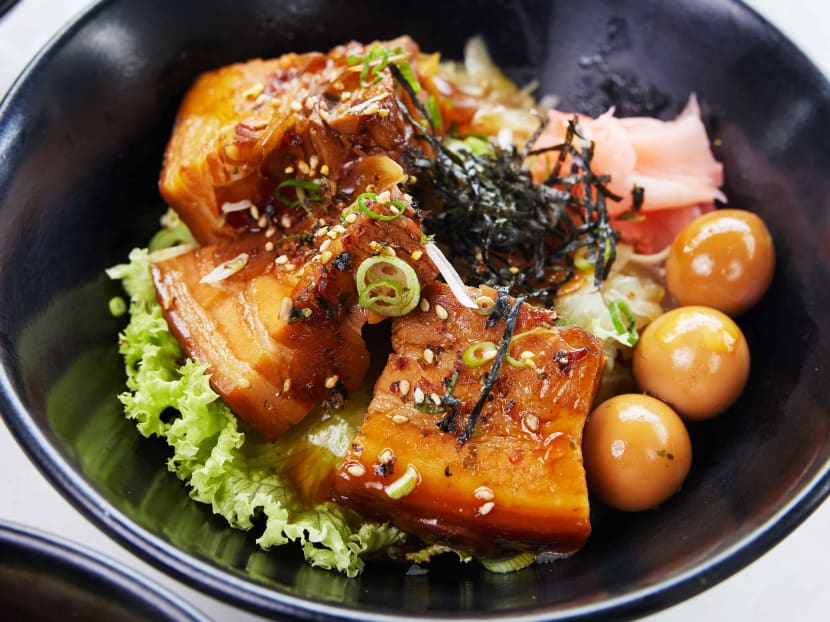 This is the chef's favourite dish, and we can see why: there's an herbal sweetness to the braised meat. It's not the most Japanese-tasting – Wilson confesses he's tinkered with the recipe to create his own Chinese-influenced flavour – but it's undeniably moreish, layers of meat alternating between tender lean flesh and melty fat. After six hours of simmering in a braising liquid of 20 ingredients, including liquorice root, angelica sinensis, star anise and cloves, the pork is reheated in the savoury signature sauce before being served. Instead of an onsen egg, there are three stewed quail eggs with creamy centres and rather salty whites. Homey and yummy, we like this.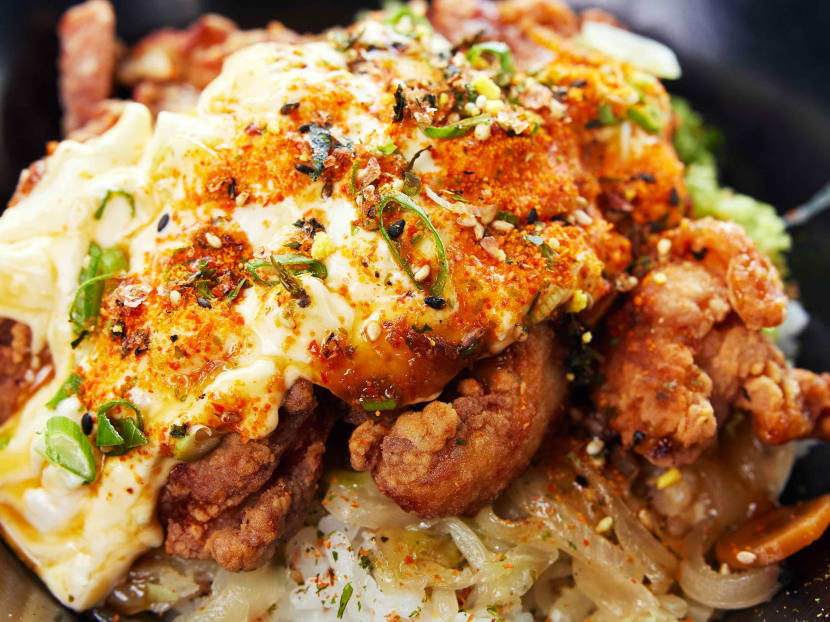 The fried chicken is tasty, but not special. The star of this dish is a rather spicy, tangy, remoulade-inspired tartar sauce made of mayonnaise, lemon, pickles, onions, shichimi togarashi (a Japanese chilli pepper mix) and celery, then folded with diced cubes of boiled egg. On its own, the sauce is a shade too sour, but acts as the perfect foil to the oiliness of the chook. The extra acid and dash of heat give this more dimension than the creamy chicken nanban at some other Japanese restaurants we've visited.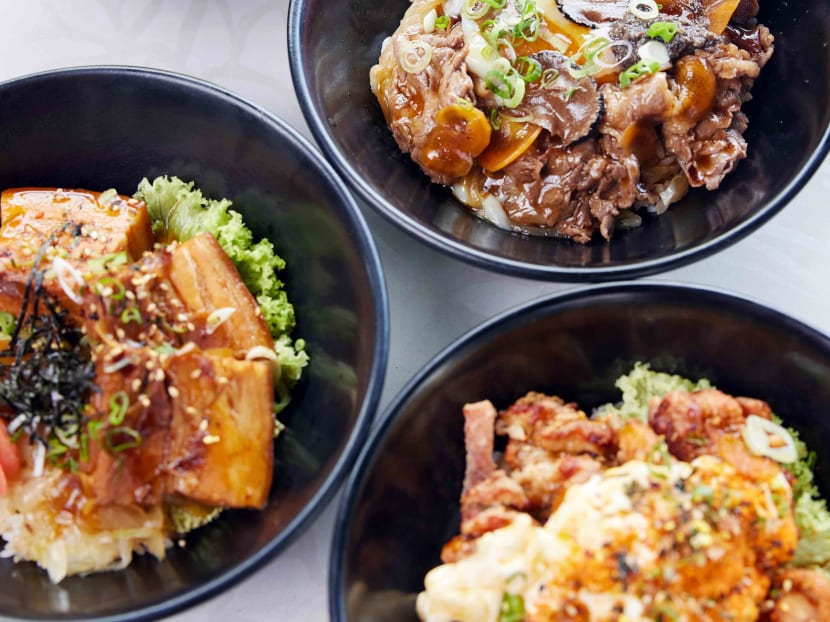 With his command of French cooking techniques from upscale restaurants, Wilson goes to greater lengths to prep his rice bowls versus your typical casual Japanese eatery. The attention to detail results in elevated dons that are lighter and more refined, but don't compromise on flavour. Our main gripe is the texture of the rice, which could use some work. But even without the more upscale add-ons, the basic gyudon is delish enough to hold its own and tastier than those found at chain restaurants. Prices are affordable for the quality — but do top up for the double portion of meat for a more satisfying meal.