Ex-Peony Jade Staff Open Cantonese Eatery With PJ-Style Dishes Like Lobster Noodles
Their delish communal dishes are great for dining in with larger groups.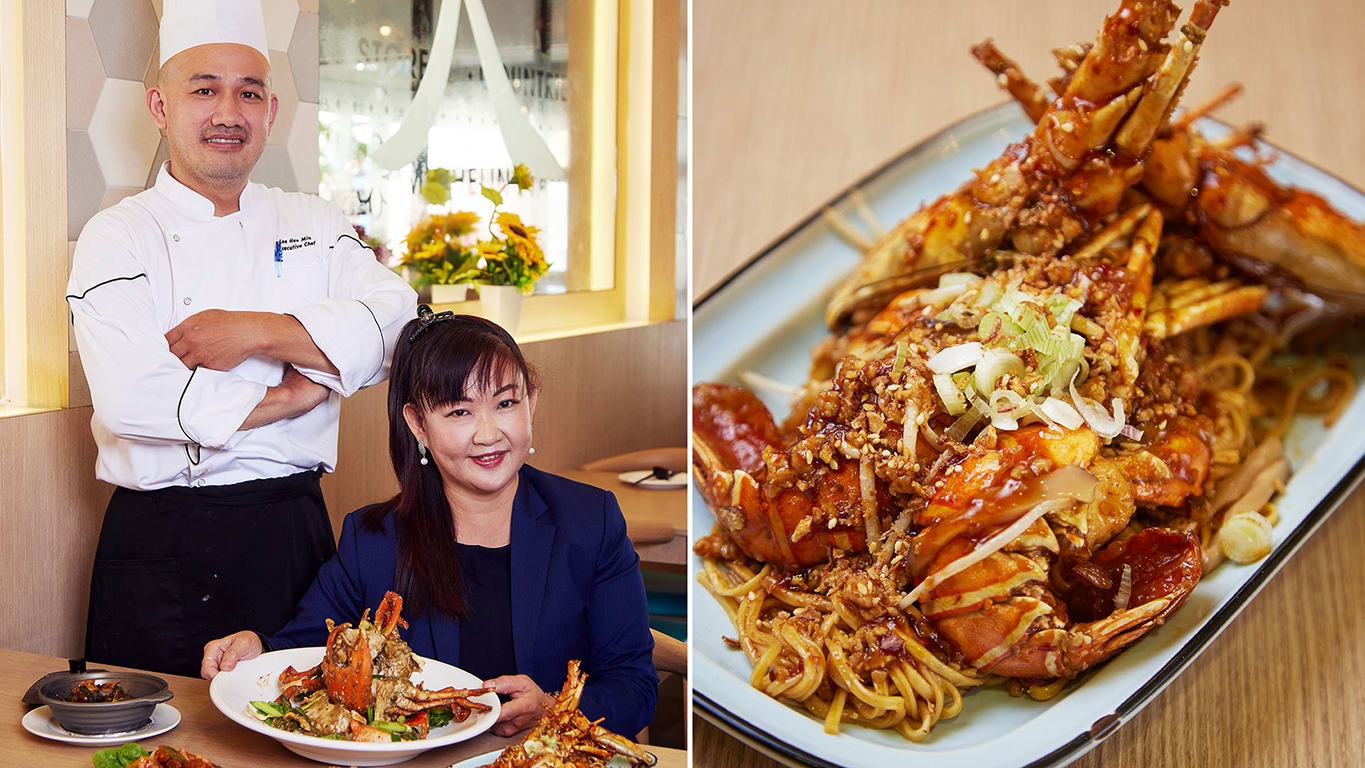 Before the Covid-19 pandemic, Pagoda Street in Chinatown used to be bustling with tourists and souvenir stalls. Two years of border closures have changed that — the area is now mostly deserted, with many stalls moving out due to the lack of human traffic.

But sitting resolutely in the middle of that street is Chinese restaurant Fortune Court, which recently shifted there in August this year. It's opened by a group of former staff from Michelin Bib Gourmand-approved Cantonese restaurant Peony Jade, including ex-PJ executive chef Lee Hee Min, 48, sous chef Joe Liu, 42, and restaurant manager Connie Chee, 54.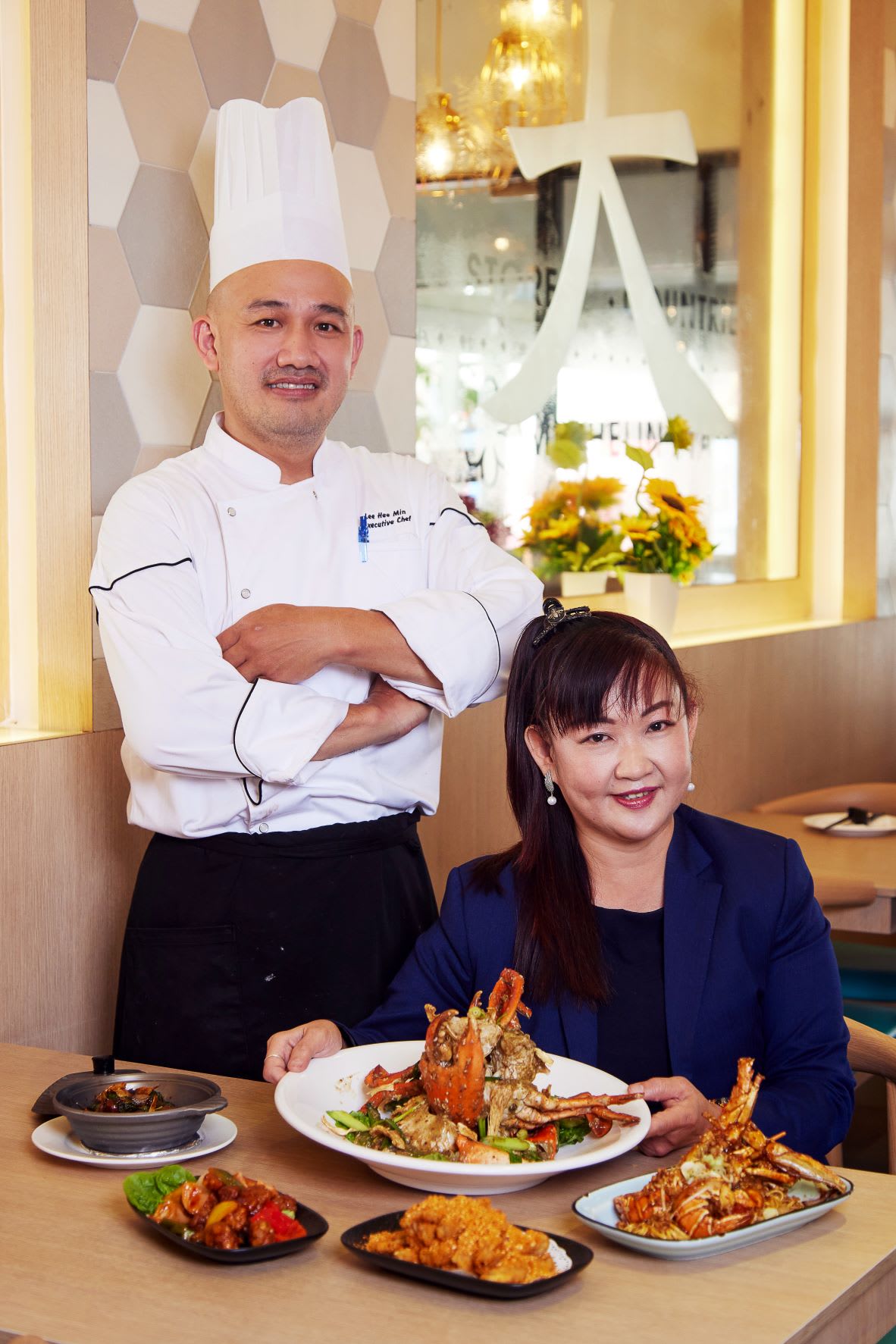 Connie and chef Lee were let go from their previous jobs when the Circuit Breaker hit last April and Peony Jade decided to close its Clarke Quay outlet (it still has an existing branch at Keppel Club).

Having worked together for four years with solid camaraderie, the plucky duo decided to open their own restaurant called Kings' Seafood at Tan Quee Lan Street in Bugis. "But we made a loss every month because we didn't get much attention, even though our Google reviews were all very good," Connie (pictured with chef Lee Hee Min above) tells 8days.sg. Chef Joe, who was based at Keppel Club, resigned from his post this year to join Fortune Court.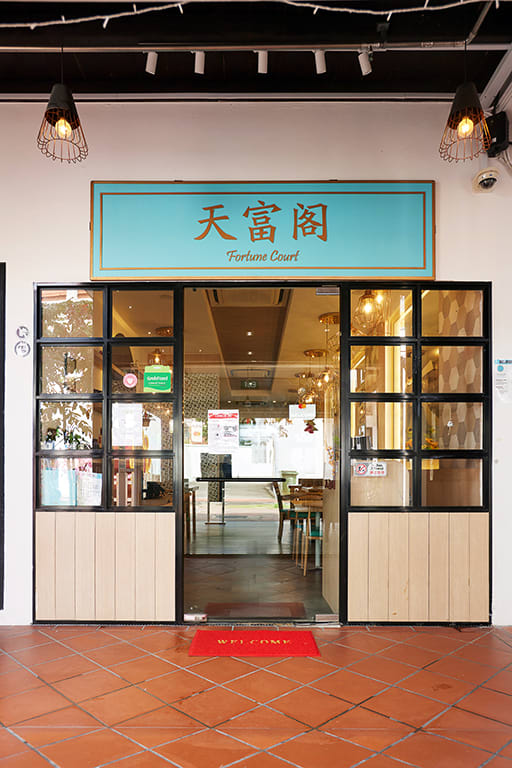 After operating for 11 months and steadily building a following, rental woes unexpectedly forced the team to look for another location. Meanwhile, their silent business partner also pulled out of the venture due to the slow business. "We were thinking of closing," recalls Connie. "But we had a customer who felt it was a pity for us to shut down and invested in our restaurant so we could continue. We should keep working towards our dream."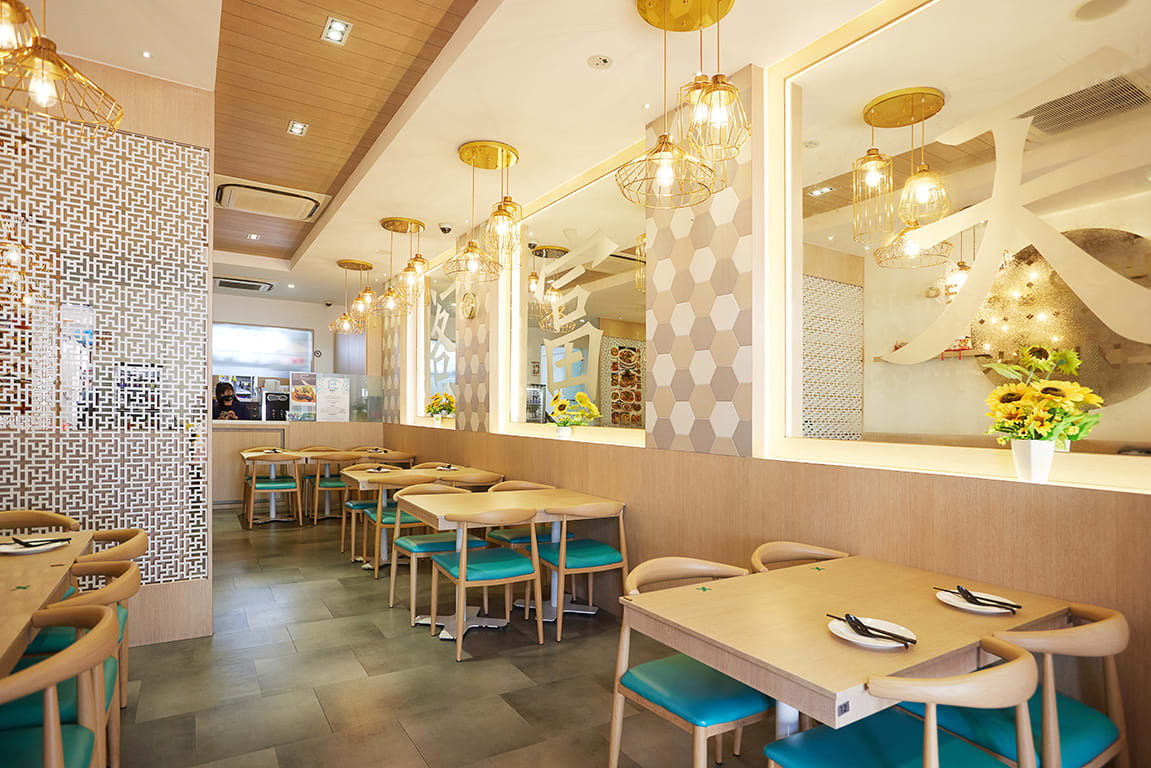 In September this year, they found a new 38-seat spot at Pagoda Street which was vacated by the Crystal Jade Group's Dim Sum Inc concept. "We just moved in," says Connie. Other than a few wall decorations, everything — down to the tables and chairs — were inherited from the defunct dim sum eatery. It was a fortuitous find for Connie and her colleagues, as the elegant decor was the perfect setting to show off their refined Cantonese cuisine, which the Malaysia-born chef Lee has been cooking for almost 30 years including a decade at Mouth Restaurant.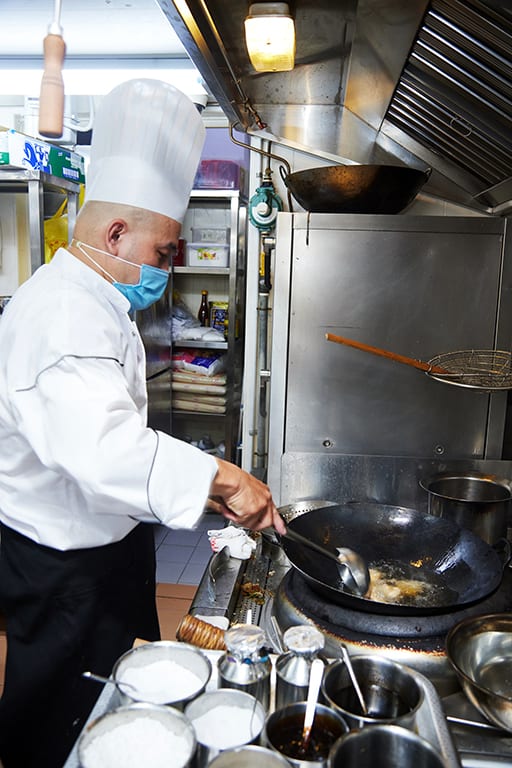 Peony Jade fans would find Fortune Court's menu familiar, though not identical. The portions here are similar to PJ's regular-sized dishes (the smallest size it offers besides Medium and Large), and priced accordingly. There's no GST charge at Fortune Court, and prices start from $6.80 for an Eggplant with Floss appetiser. There's also an XO Lobster Ee Fu Noodles ($40) with a 400g to 500g Boston lobster, with a similar dish going for around $56 for a 600g lobster with noodles at Peony Jade. Other PJ-style dishes we found were favourites like Egg White Conpoy with Crab Meat ($14.80), Chef's Three Cup Beef ($15.80), Chef's Signature Prawn ($14.80) in salted egg yolk sauce, and Fortune's Buddha Jump Over The Wall ($31.90).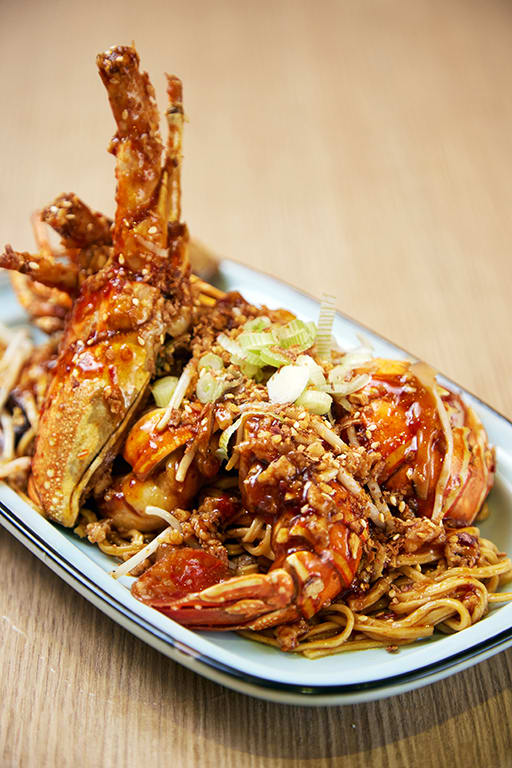 A meaty Boston lobster crowns a mound of garlicky ee fu noodles, served freshly cooked from chef Lee's seasoned cast iron wok. The wok hei flavour is fantastic, as is the sweet, springy crustacean. Pretty good splurge for payday.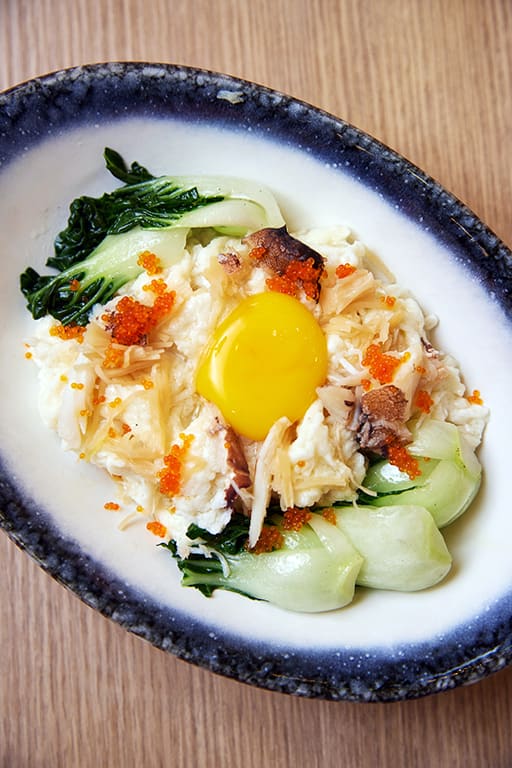 This luxurious dish comes with egg white-coated crab meat chunks, shredded conpoy, tobiko and nai bai topped with a raw egg yolk. Break the yolk, mix the golden goo with the crab meat and slurp everything up with warm fluffy rice. Very tasty.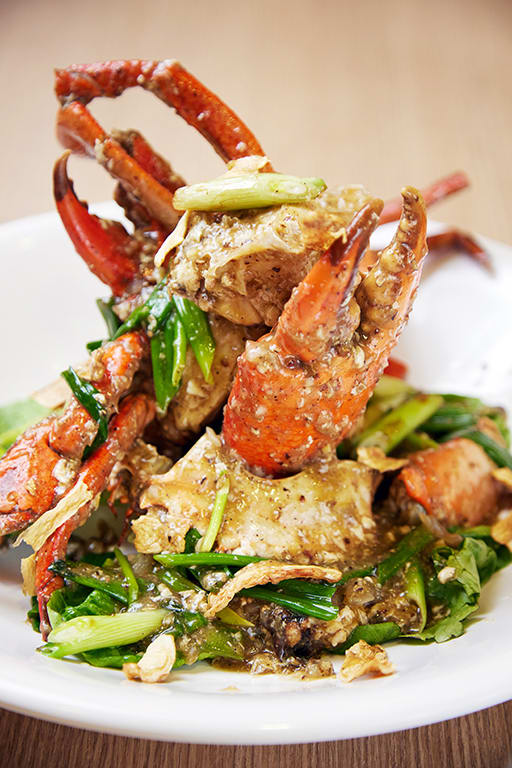 The Sri Lankan crabs here are plump and fresh, cooked seven ways like Steamed with Garlic & Egg White, or tossed with sauces such as Salted Egg, Buttery Sauce and feisty White Pepper.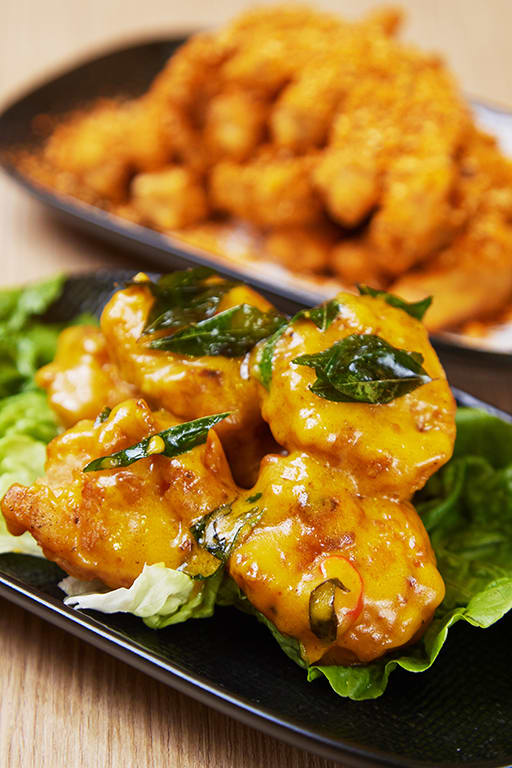 This classic zi char dish comes with large succulent prawns drenched in a rich salted egg yolk sauce. Tasty fare, but we recommend going for the more unique offerings here that you can't get at most zi char stalls.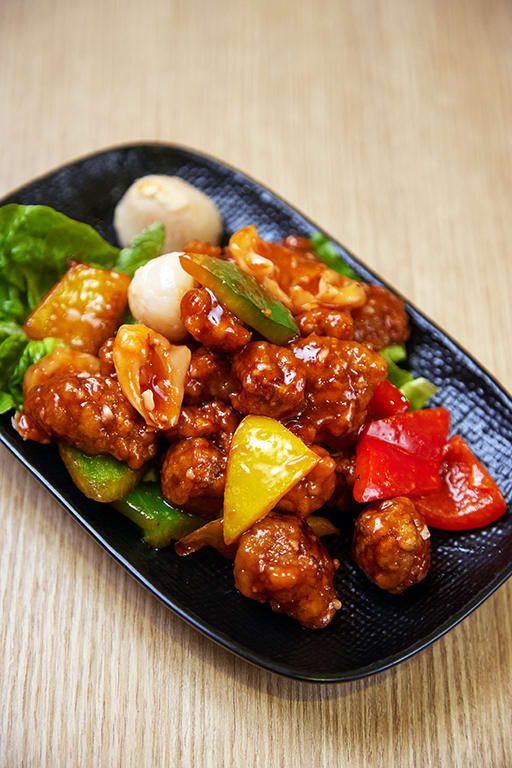 Refreshing sweet canned lychees are added to the Chinese restaurant staple sweet & sour pork. Fortune Court does a decent version, and its tanginess helps cut the richness of the other dishes.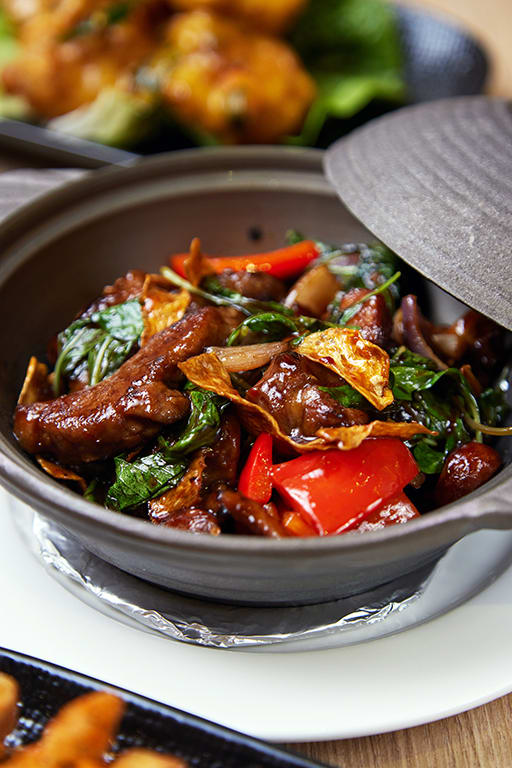 Most folks would have heard of the well-loved Chinese dish Three Cup Chicken, which got its name from the equal measurements used to make its sauce: a cup each of soy sauce, Chinese rice wine and sesame oil. Beef tenderloin is used for this red meat rendition of the dish, stir-fried with dried chillies and capsicums that beg for a bowl of rice to mop up the sauce.

This restaurant serves shark's fin dishes, including this potent double-boiled Chinese soup cooked with pork, chicken, fish maw, shiitake mushrooms and a large abalone. The portion is good for just one, though. If you're still on a budget from your 11.11 shopping haul, consider the wallet-friendly $12.90 Lunch Special menu, which offers four lunch sets daily (11am-2.30pm) with your choice of crab meat fried rice, lychee sweet & sour pork rice, hometown thread noodles or seafood hor fun plus double-boiled soup and a veggie side.

31 Pagoda Street, S059190. Open daily except Tue, 11am-3pm; 5.30pm-10pm.