Foodie Friday: What The Stars Ate This Week (Oct 22-29)
All the photos that made us hungry this week.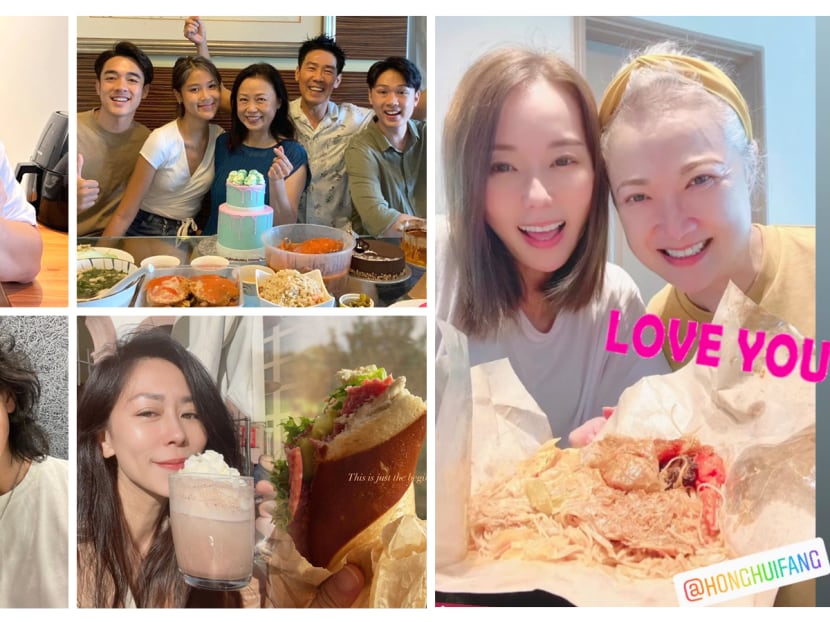 This week, Xiang Yun celebrated her birthday with a crab-tastic feast, Michelle Chia tempted us with yummy eats in Germany, and Hong Huifang surprised Yvonne Lim with some vegetarian bee hoon before she flew back to Taipei. How sweet. Read on for more.
What she ate: Vegetarian bee hoon
Yummy factor: When friends know you best. Just before Yvonne was bound for the airport to catch her flight back to Taipei earlier in the week, Hong Huifang got up bright and early to get her a packet of vegetarian bee hoon — a fuss-free brekkie that Yvonne had been craving. As hard as it must have been to leave Singapore, at least her day started on a sweet note.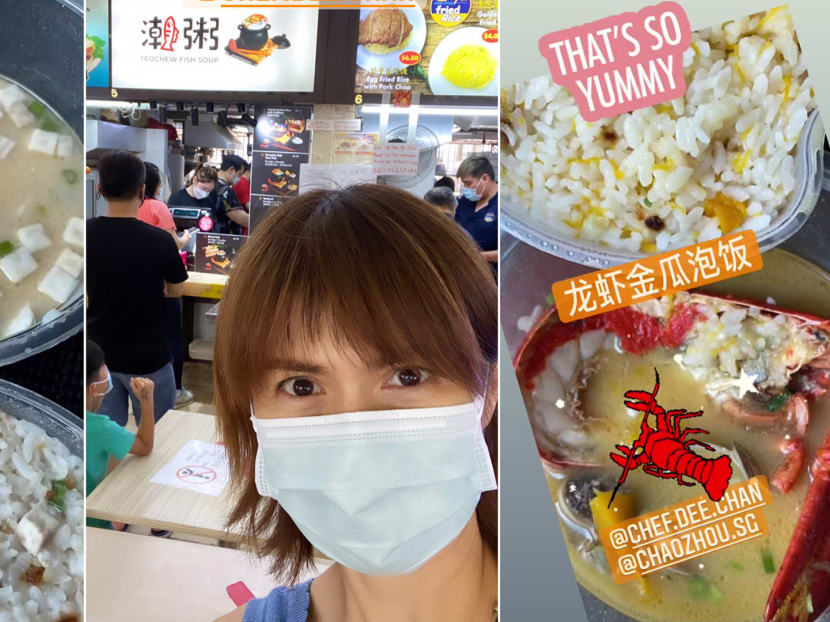 What she ate: Pao fan and fish soup
Yummy factor: With the rainy weather we've been experiencing of late, piping hot soup is a welcomed affair. Lingling got her fix at Chao Zhou Fish Soup at 332 Coffee House in Ang Mo Kio, where she got both the fish soup and lobster pumpkin pao fan in a rich and creamy broth.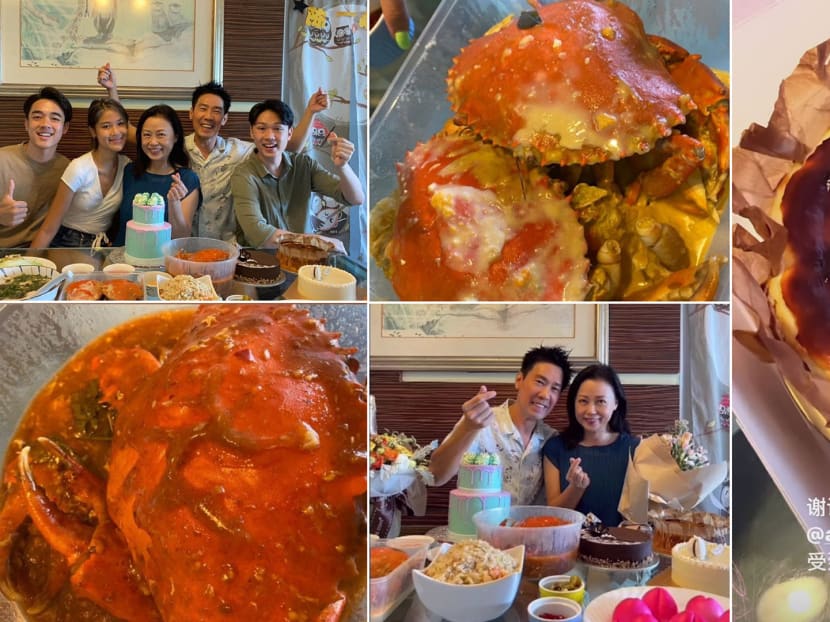 What she ate: Crab-tastic meal
Yummy factor: Xiang Yun celebrated her 58th birthday (Oct 27) at home with her fam bam — including daughter Chen Yixin's beau, Gavin Teo — with a crab-tastic feast from seafood resto Crab At Bay. And aside from the scrumptious chilli and salted egg crabs, fried rice, there were desserts galore too. The Basque burnt cheesecake was gifted by Pierre Png and Andrea De Cruz.
What she ate: Angel hair pasta "cake"
Yummy factor: Because her family doesn't have a sweet tooth, Xiuhuan decided to switch things up for her hubby's birthday and make a savoury "cake" instead with angel hair pasta. Seasoned with truffle oil, ponzu sauce, and nori powder, the yummy carbs were topped with Hokkaido scallops, buttery uni, juicy ikura and a touch of edible gold flakes and flowers.
What she ate: Salami sandwich and hot chocolate
Yummy factor: Michelle, who is in Germany to host livestream sales with her fellow Mdada hosts, including Pornsak and Shane Pow, took the time to relax while sipping on a huge mug of hot chocolate topped with whipped cream. Perfect choice for the chilly weather, especially with a simple salami sandwich with lettuce and pickles.

What he ate: Smoked beef ribs
Yummy factor: Imagine opening a drawer and finding succulent beef ribs inside. Well, Justin did just that, and was duly rewarded with USDA beef ribs from Que Smokehouse, seasoned with just salt and pepper before it's slathered with apple cider vinegar and smoked for more than 10 hours. And according to him, meat lovers will appreciate how tender, juicy and flavourful these are.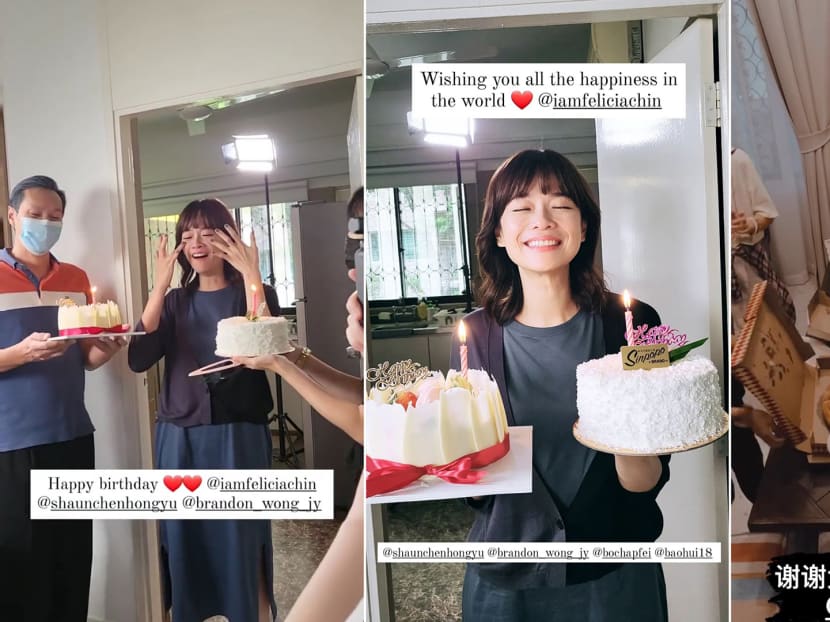 What she ate: Cakes and fried chicken
Yummy factor: The cast of upcoming drama Leave No Soul Behind surprised Felicia with not one but two whole cakes for her birthday (Oct 24), as well as a celebratory feast of fried chicken and pizzas. How sweet.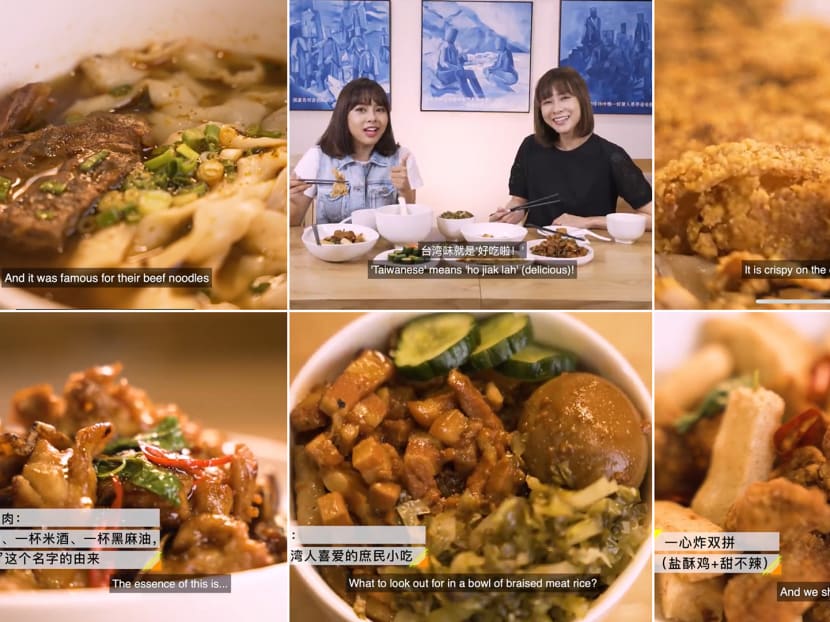 What they ate: Taiwanese noms
Yummy factor: Thanks to #JustSwipeLah, Sin Nee and Juin had their fill of yummy Taiwanese nosh. They indulged in braised meat rice, san bei ji (or Three Cup Chicken), golden fried chicken, and beef noodles from Taiwanese eatery Isshin Machi, as well as lots of bubble tea and even a dessert-in-a-drink like Tiramisu Au Lait at BBT chain Don't Yell At Me. Check out #JustSwipeLah for their review.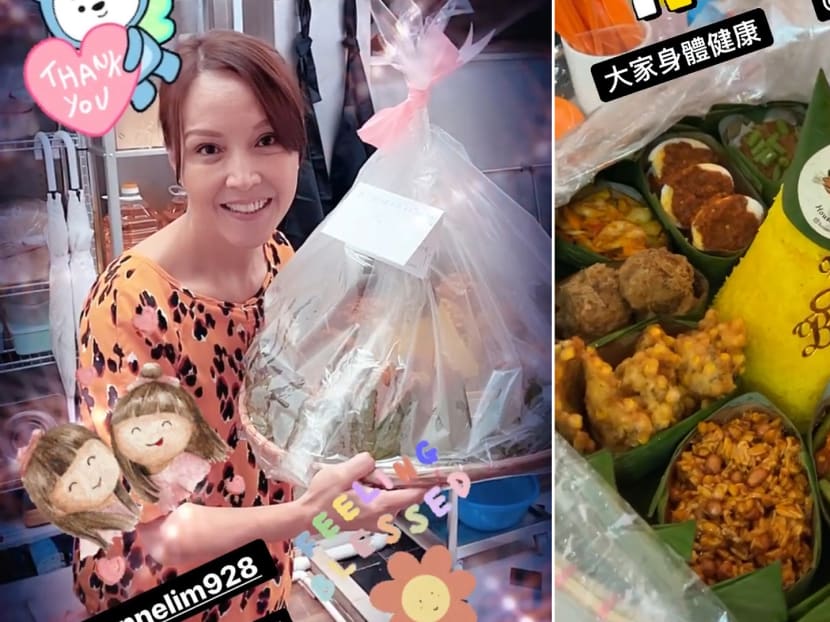 What she ate: Nasi tumpeng
Yummy factor: A most thoughtful Yvonne Lim and Hong Huifang sent October babies Aileen Tan and Chen Shucheng a visually-arresting platter from House of Nasi Tumpeng to celebrate their birthdays (Oct 18 and Oct 21 respectively). And with 10 dishes including satay babi surendeng (skewered pork with spiced grated coconut), fried tempeh and ayam penyet, surrounding a beautiful cone of nasi kuning (yellow turmeric rice), we bet it was a coma-inducing lunch.
What he ate: Comfort nosh
Yummy factor: Lawrence took a breather in Shanghai and indulged in comfort food like banana-flavoured ice cream served in the cutest miniature float, as well as a hearty meal with plenty of seafood, tofu with minced meat and lots of bread to soak up the gravy.
What she ate: Ban mian
Yummy factor: Bonnie looks delighted to be tucking into her simple yet satisfying bowl of ban mian. The ingredients aren't fancy (think flat noods, spinach and fried anchovies), but it sure looked delish and hearty all the same.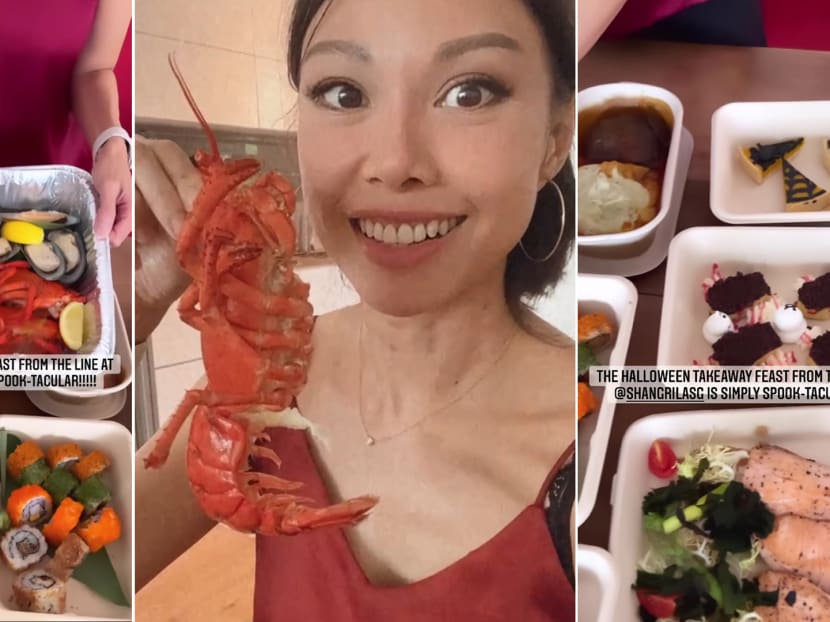 What she ate: Spooktacular feast
Yummy factor: Jamie and her family enjoyed a Halloween takeaway feast courtesy of Shangri-La Singapore, comprising plenty of devilicious eats like Fire Eater Butter Chicken with naan and papadam, and desserts decorated with cobwebs and more. Her favourite, however, seemed to be the seafood platter with prawns, oysters and lobsters galore.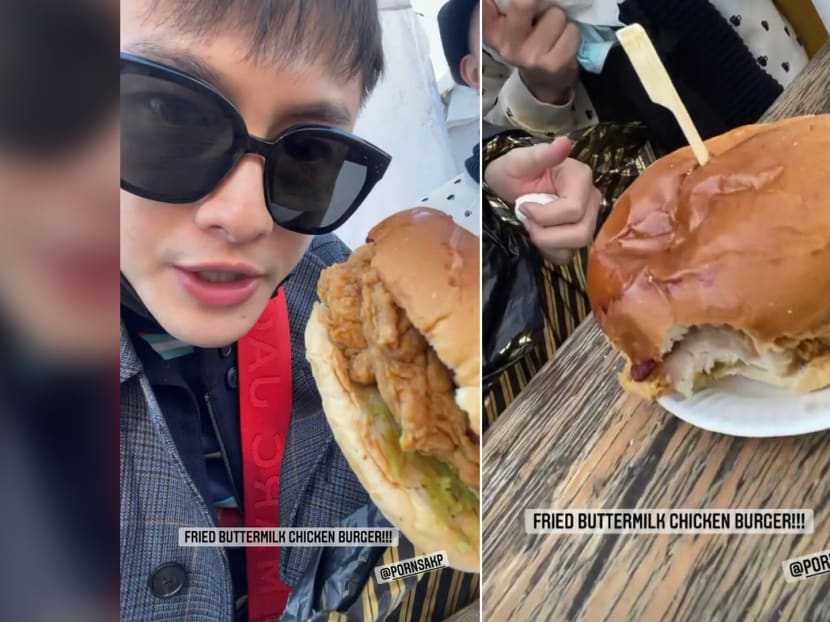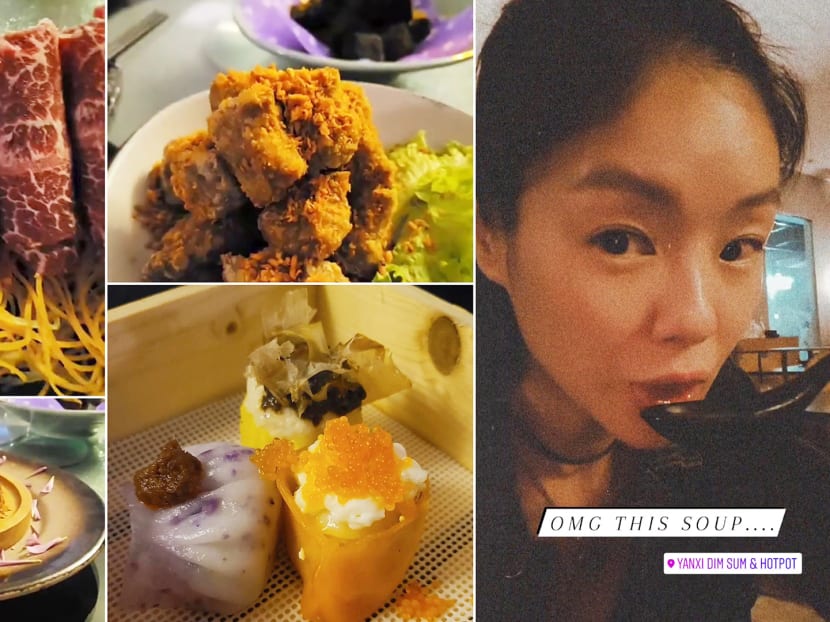 What she ate: Best of both worlds at Yanxi Dim Sum & Hotpot
Yummy factor: Why choose between dim sum and hotpot when you can have them both at the newly-opened restaurant? Sheila got to swish marbled beef slices in delicious soups, savour delectable dim sum, as well as starters like the Smoked General Tso's Chicken, Mapo Tofu in Crispy Beancurd Roll and more.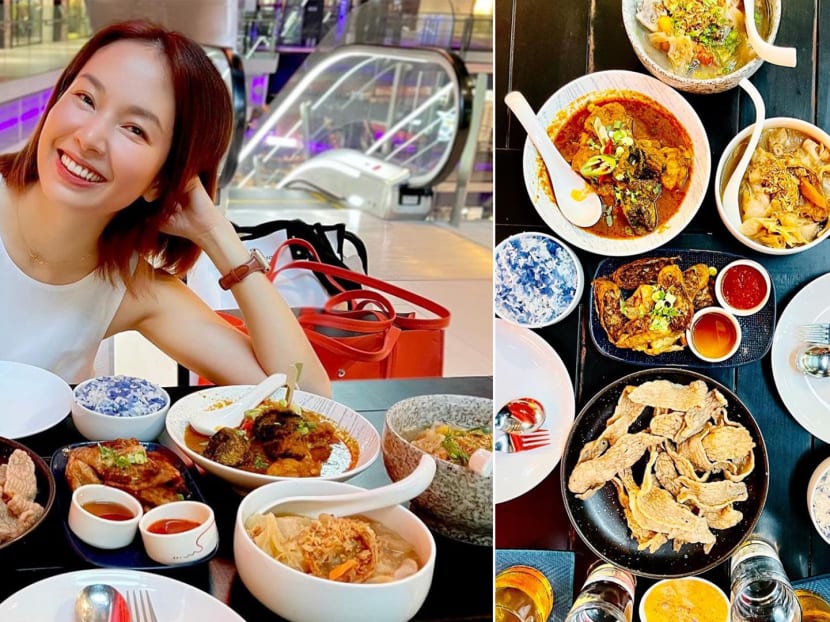 What she ate: Peranakan eats
Yummy factor: You Yi treated herself to lots of yummy Nyonya-style dishes at Peranakan restaurant Godmama, and her table was filled with everything from fried crackers to chap chye, ayam buah keluak and comforting soup.
What he ate: Vietnamese nosh
Yummy factor: From slurping dry spicy vermicelli with lemongrass-infused chicken to munching on refreshing Vietnamese spring rolls, Nick couldn't be happier to let his taste buds do the travelling at Pho Street's latest outlet at ION Orchard.
What she ate: Weekend brunch
Yummy factor: The YES 933 DJ is a huge fan of brunch, and it's no wonder why. Check out the scrumptious lamb chop and aglio olio with 'shrooms and bacon she had over the weekend at Knots Cafe & Living — perfect with her refreshing passionfruit mocktail.

What they ate: All-day brekkie
Yummy factor: The Singapore Idol alums met up at all-day breakfast spot Wild Honey for hearty, mouthwatering eats. Daphne went for the Tunisian, a spicy shakshuka dish with chorizo, eggs and brioche toast, while Joakim had a classic English breakfast with poached eggs, streaky bacon, sausages and more. Yum.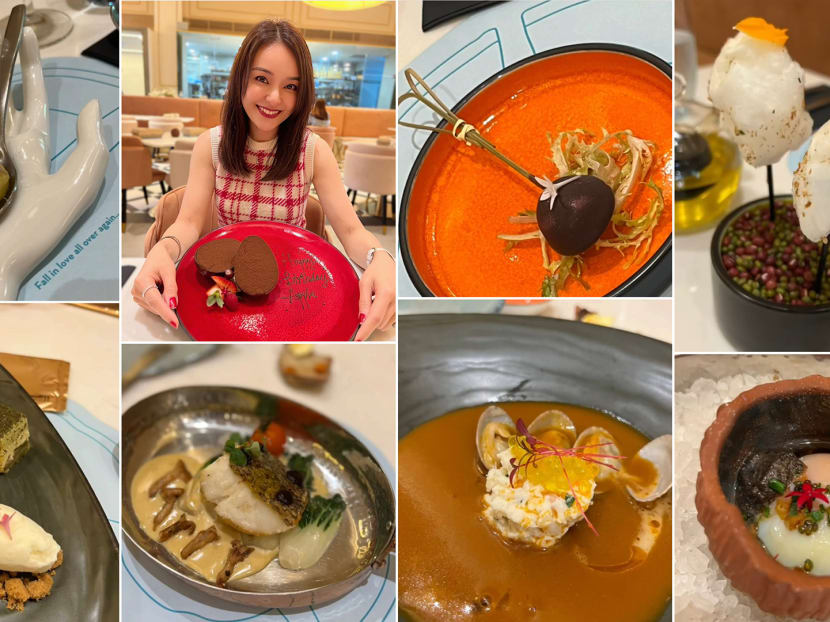 What she ate: Bespoke menu
Yummy factor: Apple celebrated her birthday (Oct 31) with a friend at Modern European restaurant Moonbow, where they lived it up with a bespoke lunch menu — think smoked egg with truffle oil and caviar, crustacean bisque and cod de filet with aromatic champignon sauce, black garlic and a touch of gold flakes. How exquisite!