New Amoy St Restaurant Has Caviar Xiao Long Bao & Free Condoms
It's a rabak dining experience at Corduroy Palace, which also houses a real Picasso artwork in its toilet.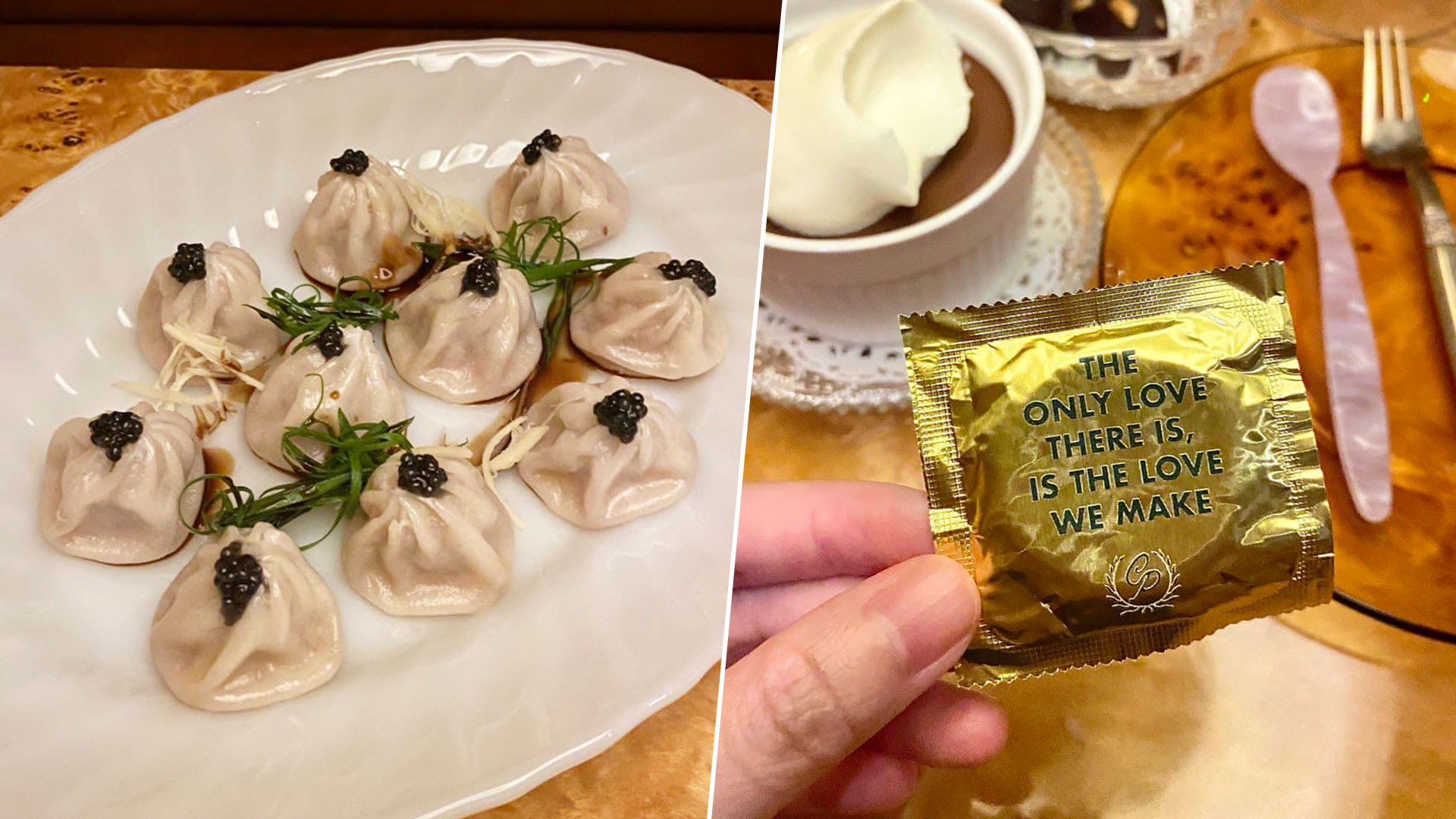 During a dinner at new fine-dining "unorthodox wine hall and dining room" Corduroy Palace, we order a plate of xiao long baos from the menu. At $50 for 10 pieces, these xiao long baos are not made by Chinese chefs who have trained for half a century in a secret Din Tai Fung facility. In fact, they came from a hawker stall, You Peng Noodle Dumpling House at Beauty World Food Centre, which also sells its popular xiao long baos to customers in frozen packs.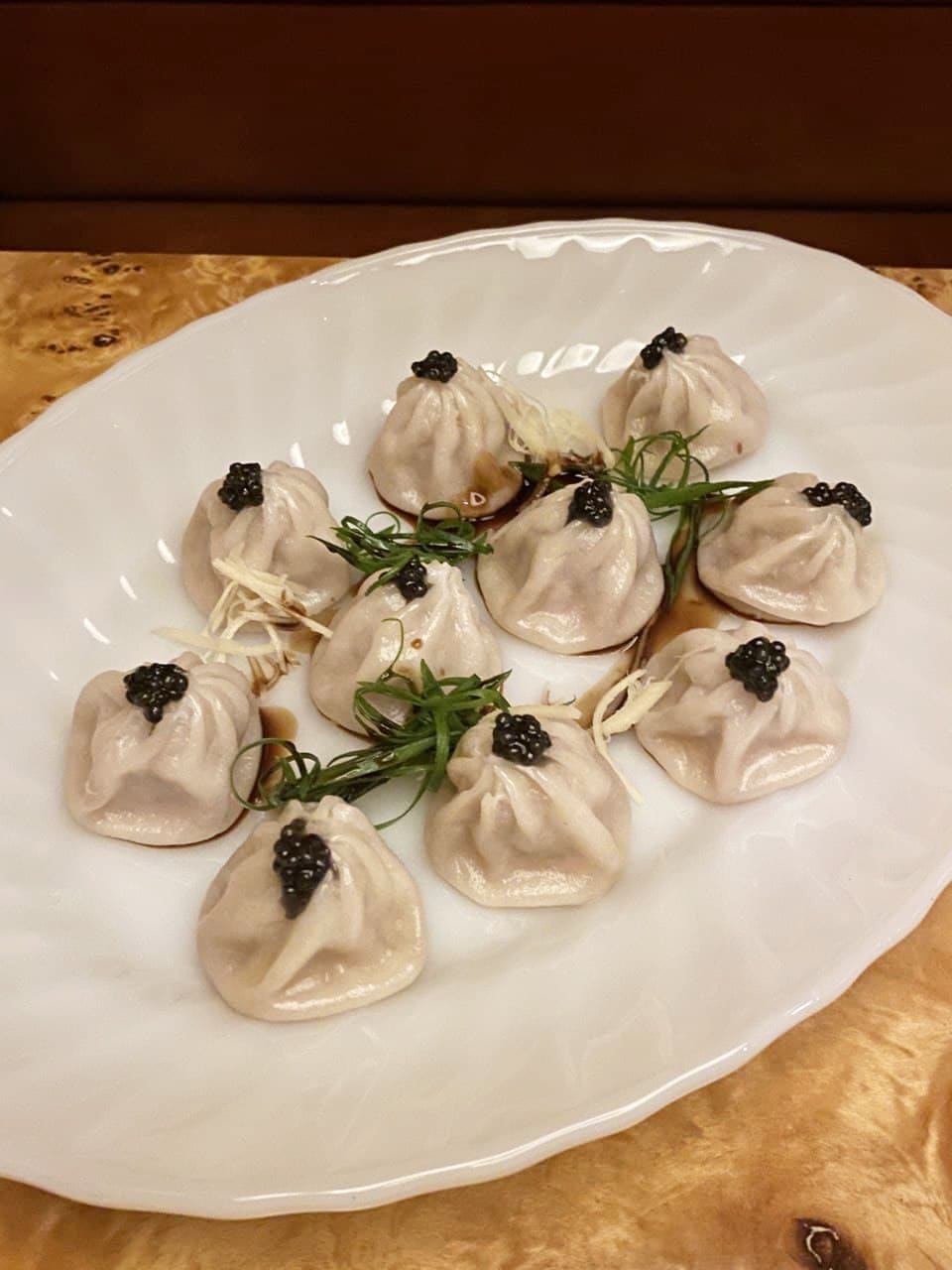 Now, we're guessing that the $50 price tag is due to the mound of caviar that tops each Freudian-looking XLB, served on a plate with shredded ginger and spring onions. We look around for the accompanying vinegar and find it pooling under the soup dumplings (!!), which are resting on a large white plate instead of a traditional bamboo steamer.

We have never scarfed down xiao long baos as quickly in our life, in a bid to stop them from completely drying up on the plate. It's an ironic sort of blessing that the dumplings have very little soup in them (something we noticed even when we eat the XLBs at You Peng), because we can then taste the caviar that bursts with briny flavour in our mouth.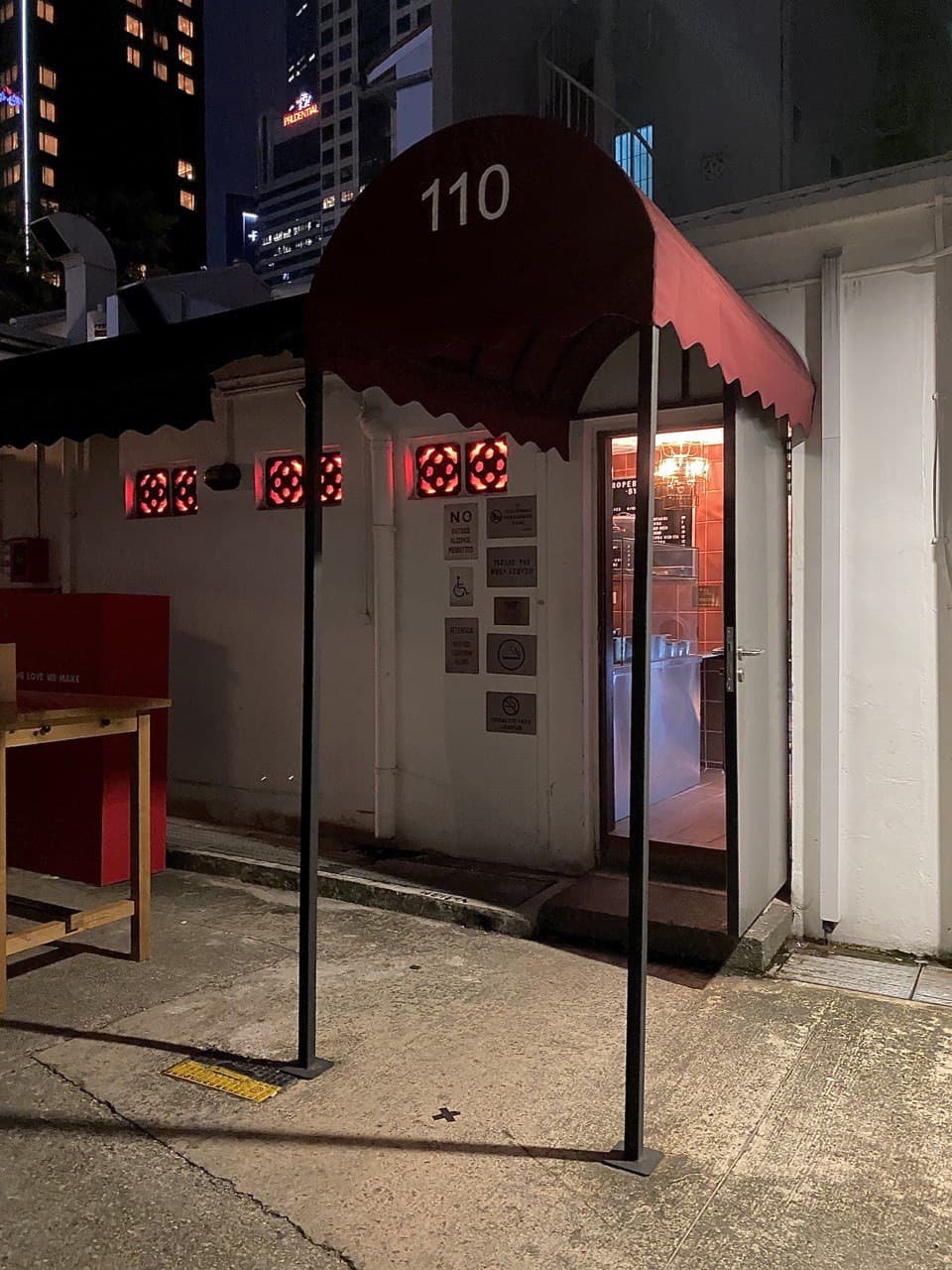 The high-low juxtaposition is a thing at Corduroy Palace — the establishment is opened by restaurateur Gibran Baydoun, who brought in hip New York pizzeria Lucali BYGB and takeaway pizza joint Proper Slice BYGB (the latter shares an entrance, a nondescript maroon awning in a grotty Gemmill Lane back alley, with Corduroy Palace). The restaurant is aptly named after Gibran's favourite children's book Corduroy, which revolves around a defective teddy bear in a luxury department store hoping to be brought home.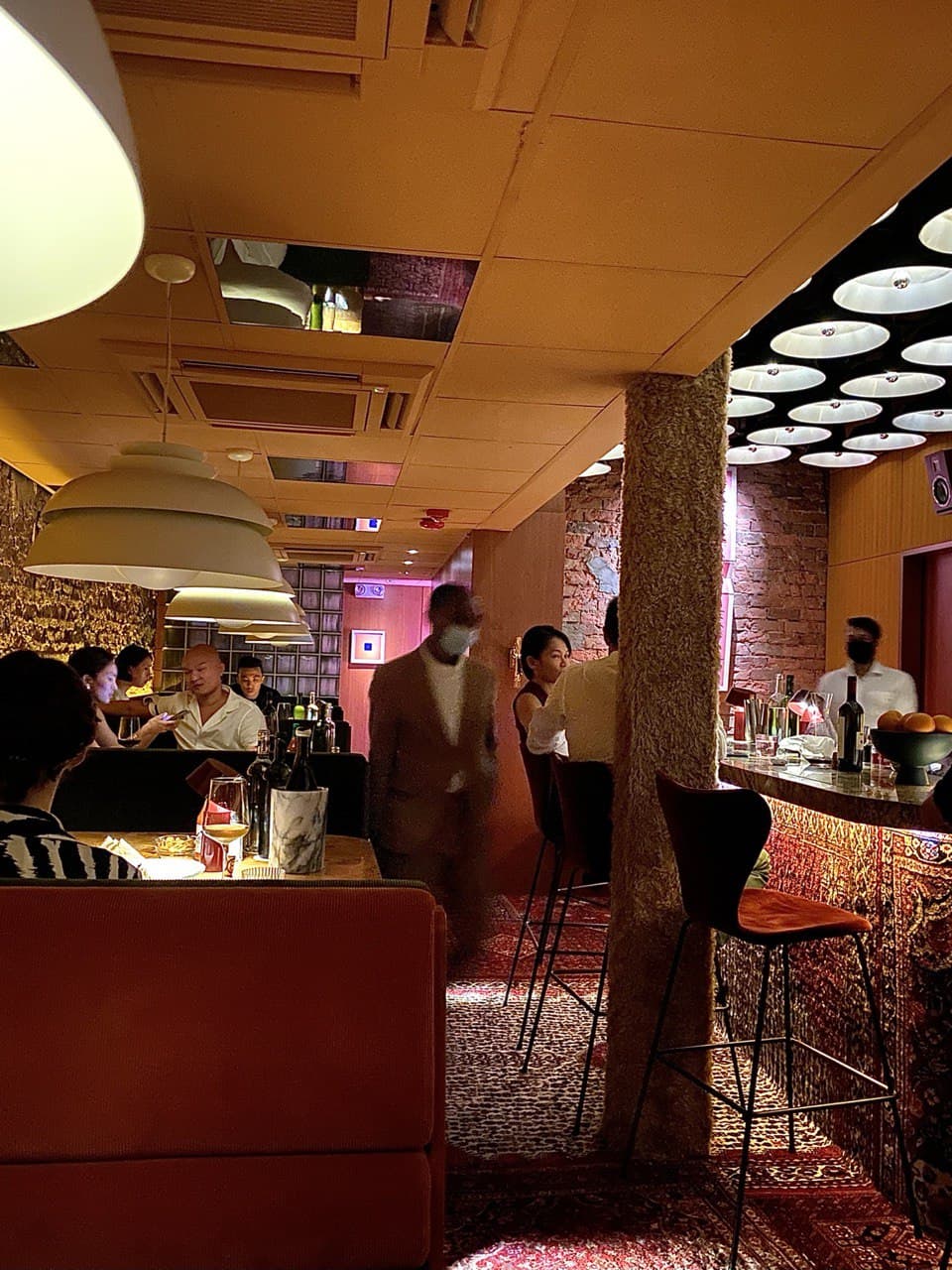 The windowless 49-seater breaks all the rules of starched white tablecloth fine-dining; it's an unabashedly chaotic dining room filled with intimate booths, mismatched plates and friendly waitstaff in turtlenecks with corduroy blazers. Unlike its prim-and-proper counterparts, the restaurant has a convivial, almost rabak vibe. Midway through our meal, a lady pushes a cart to our table and offers us a bump of caviar.​​​​​​​

We murmur "yes", and the lady drops a dollop of caviar on our hand, where we are to chase it down with a shot of tequila (caviar tasting is usually done this way by the experts, as our body temperature warms up the roe slightly to bring out its flavour). We feel like a Russian taitai in a reality show. If you have not washed your hands thoroughly during these pandemic times, excuse yourself immediately to the unisex washroom.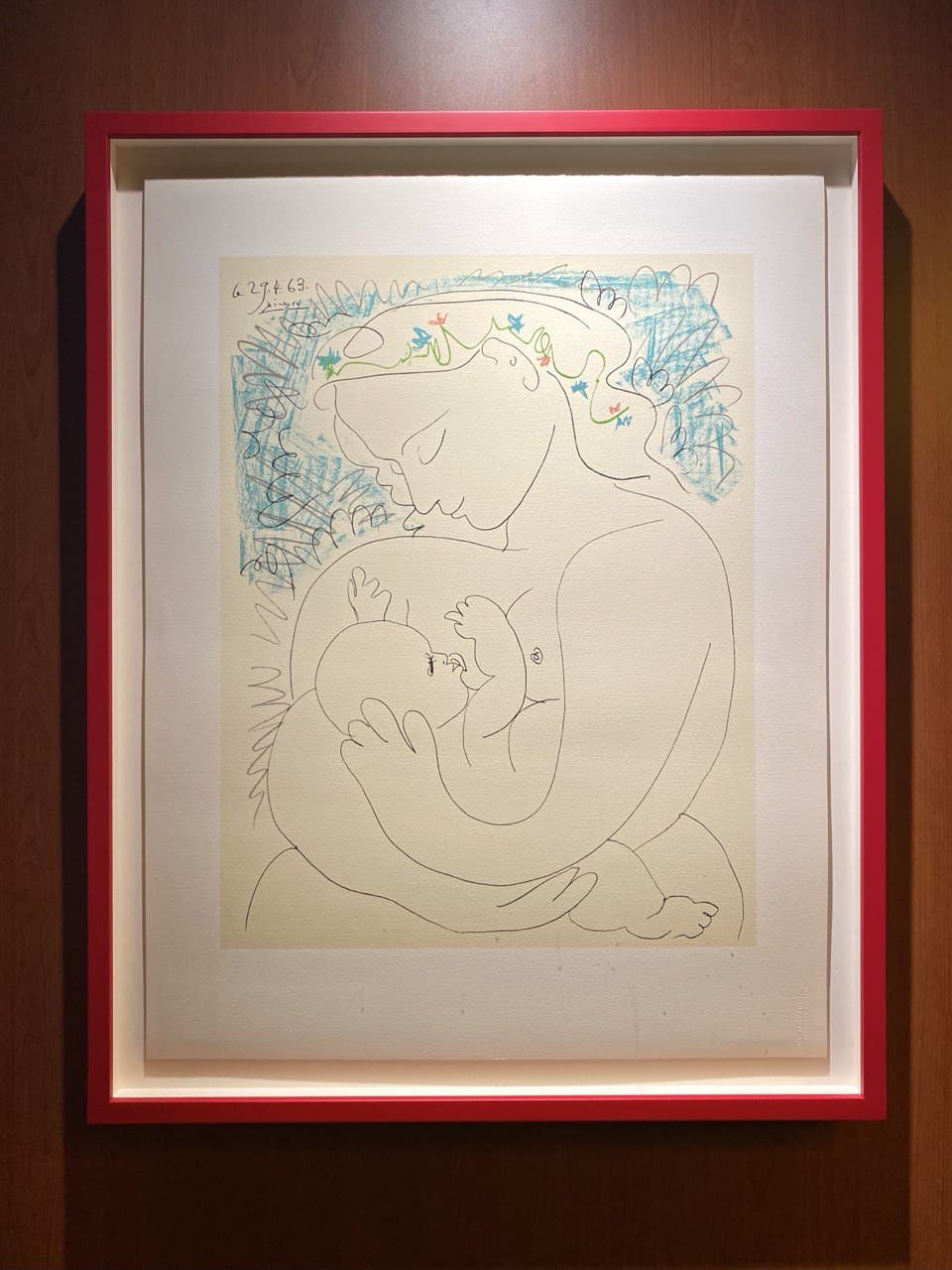 The toilet is worth a detour in itself. Our waiter helpfully tells us about the original lithograph of Pablo Picasso's 'Mother and Child' sketch — which shows a child suckling at their mother's breast — hanging in the washroom.

Other than soap and hand lotion, the washroom is also stocked with complimentary 'souvenirs' in the form of Corduroy Palace-branded condoms and keychains. All raunchy fun, unless you accidentally brought your conservative folks here for their golden anniversary dinner (don't say we didn't warn you lah).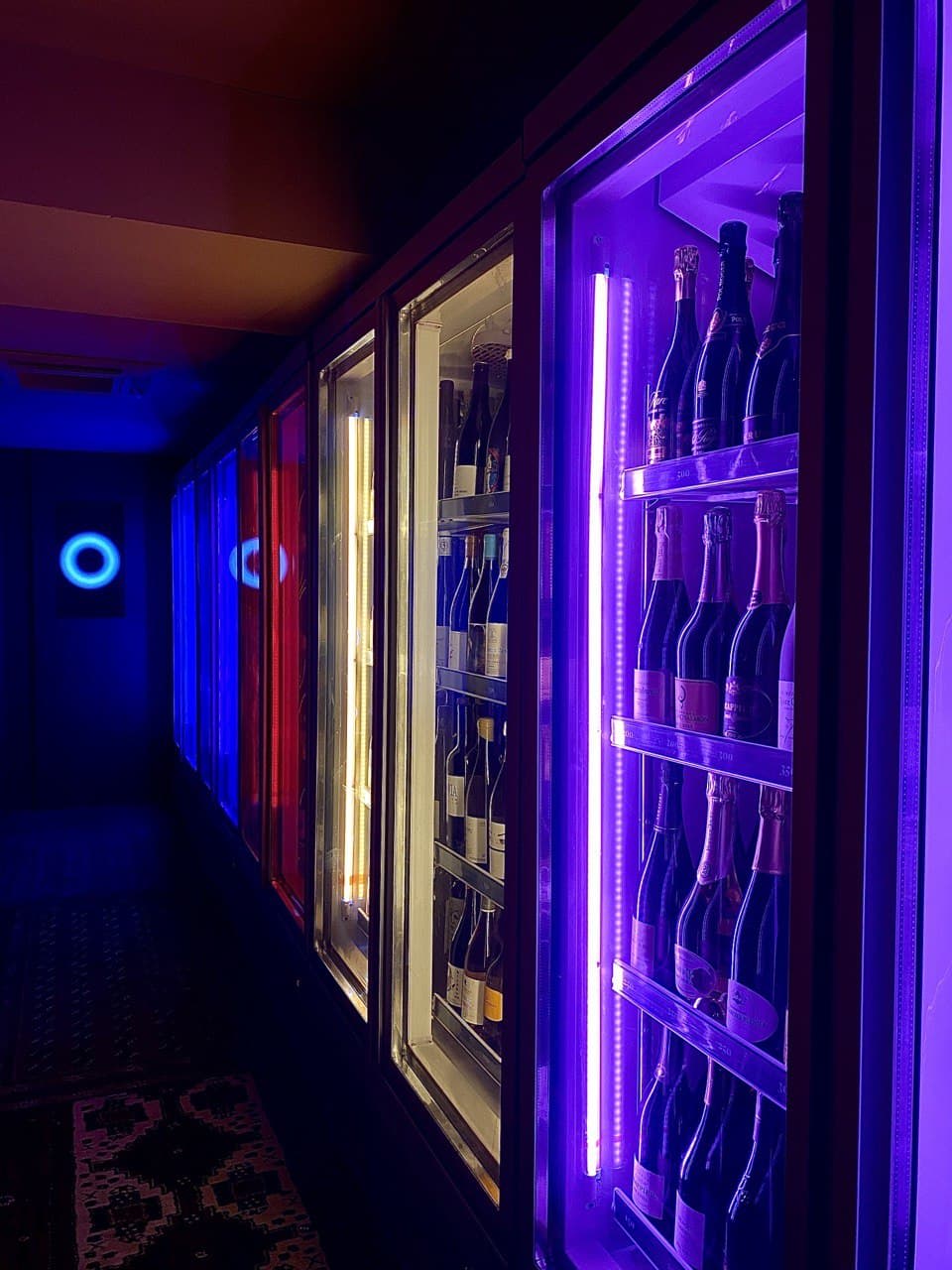 If you need a tipple to utilise your souvenir, the restaurant takes its wines seriously. Head sommelier Marcus Chen is formerly from two Michelin-starred restaurant Jaan by Kirk Westaway. But the bottles are casually displayed in neon-lit chillers, convenience store-style, at the entrance where diners can pick their poison of choice. Categorised by prices, the wines range from a $1,650 bottle of premier cru classé from Bordeaux vineyard Château Mouton Rothschild to relatively more affordable $150 picks sourced from around the world.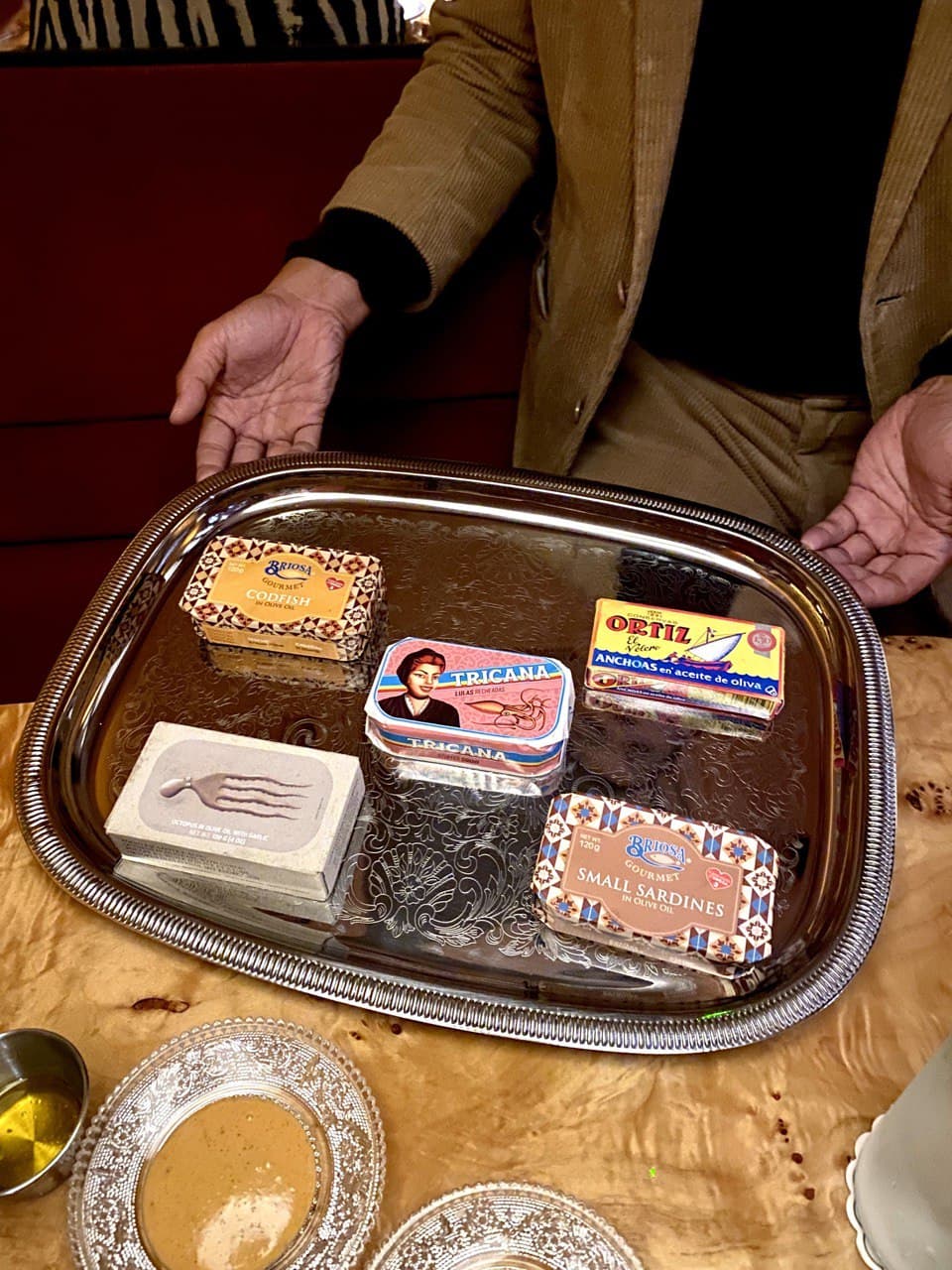 The restaurant also offers imported Canned Fish ($25) from Spain and Portugal. The choices are presented to us tableside on a silver tray, like the Premium Tinned Octopus in Olive Oil and Garlic from Jose Gourmet, served in its tin with (rather dry) toast and jazzed up with chopped chives, lemon and a jalapeño.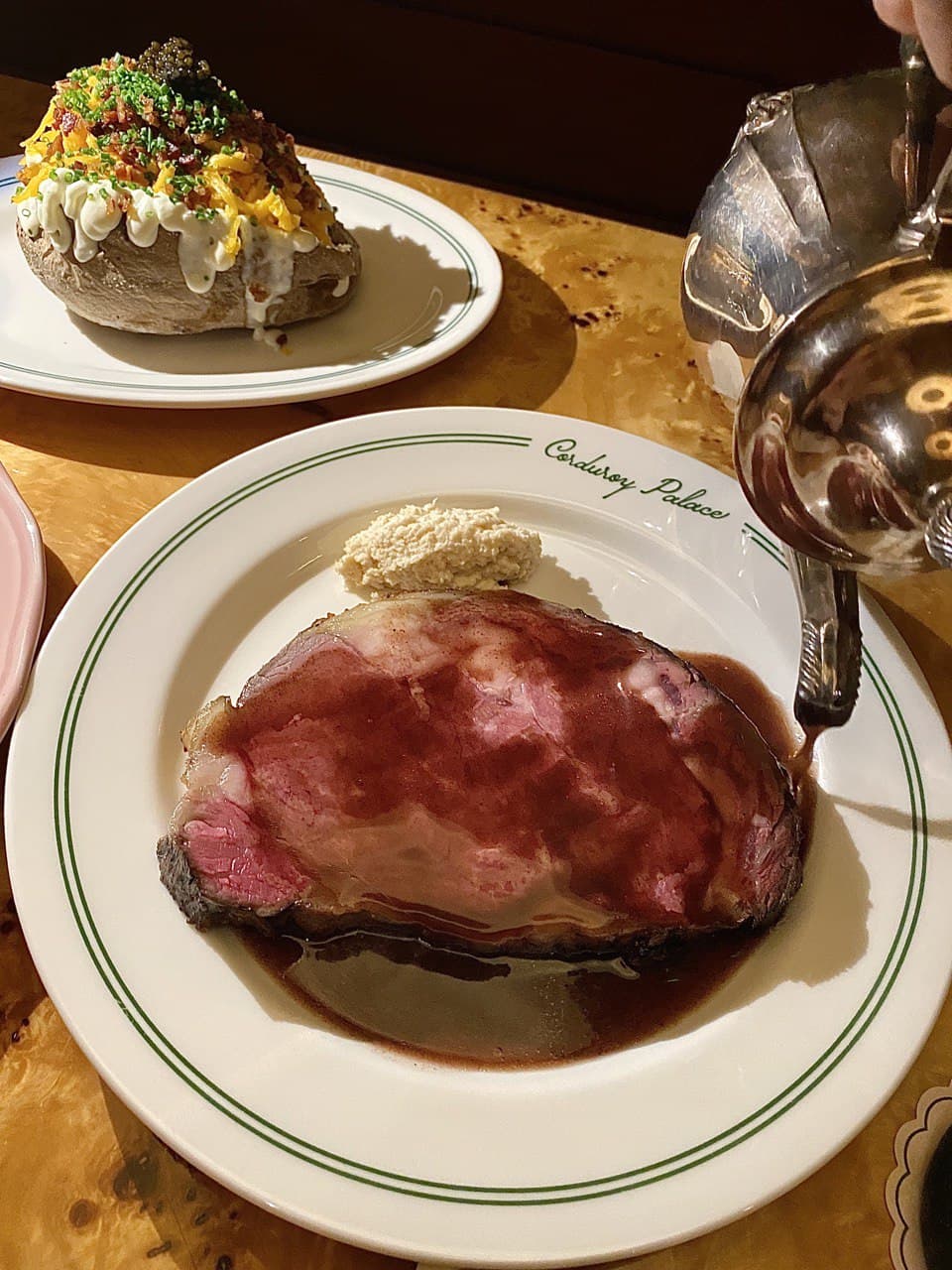 But satisfying enough is the house-roasted prime rib, a succulent medium rare number served simply with au jus (gravy made from roasting meat), horseradish and a gigantic, caviar-topped baked potato with cheddar, sour cream, bacon bits and chopped chives.

It's a pity that the baked potato is not served a la carte. The dollop of caviar would thrill fussier gourmands, but the fluffy loaded potato is a crowd-pleaser that solidly rounds off our meal. Perhaps Mr Baydoun could consider opening a Baked Potato BYGB next time?

Corduroy Palace is at #01-02 Gemmill Ln, 10 Amoy St, S069930. Open daily except Sun, 12pm-10.30pm. www.corduroypalace.com.

Photos: Yip Jieying