4 New Restaurants That Still Have Seats Available This Mother's Day Weekend
Atas Peranakan popiah, affordable sushi, Teochew cold crab & Mexican roast chicken.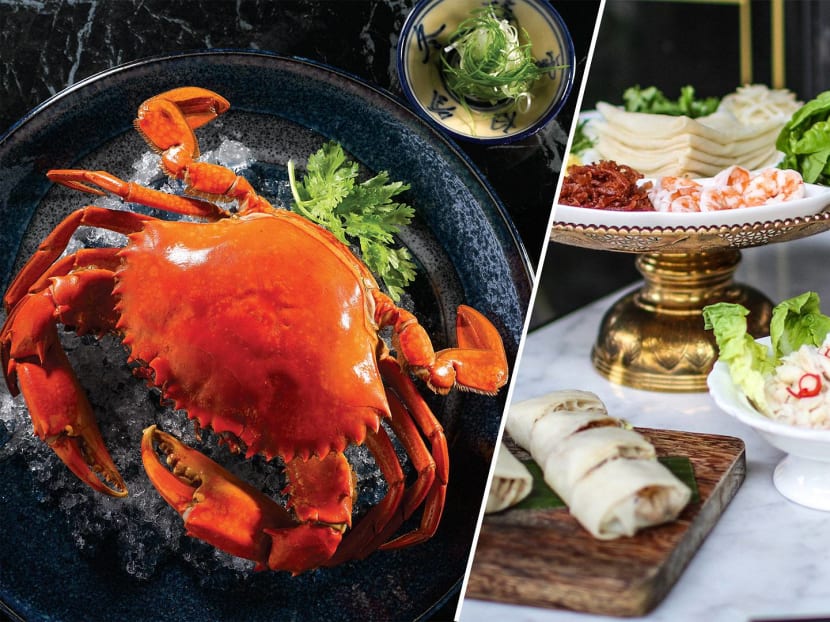 Forgot to make plans for mummy dearest? Don't panic — we've got you covered with these four exciting new restaurants (with seats available this weekend at the time this article was published) that should delight even the fussiest woman.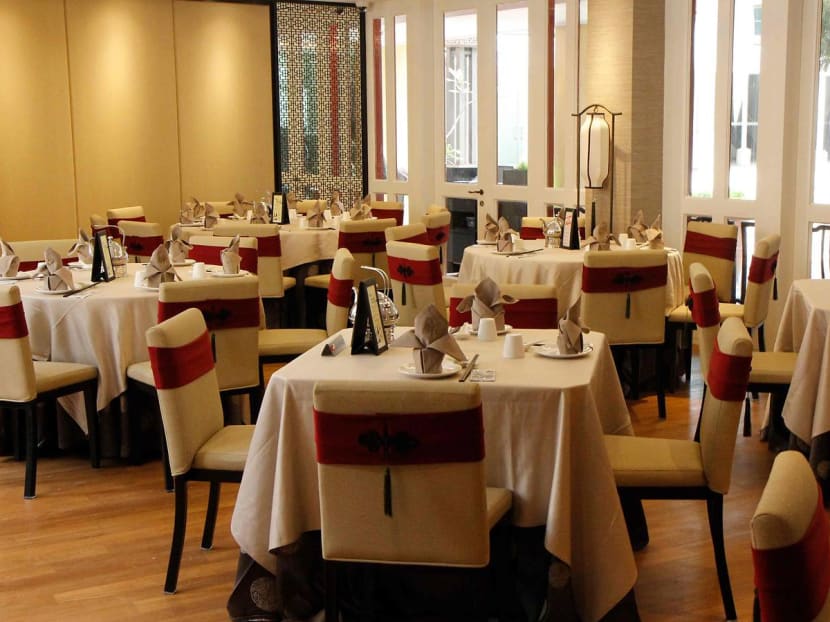 This elegantly-designed Teochew restaurant by Jumbo Group of Restaurants takes up two storeys in a building marked as one of Singapore's historic sites by the National Heritage Board. Bring the 'rents out for some traditional food — book a private dining room with KTV facilities from $688 if you plan to spoil mummy. This eatery is not to be confused with Chui Huay Lim Teochew Cuisine, which is its older sister restaurant located at Chui Huay Lim Club (which will also serve a similar Mother's Day menu).
There are six different Mother's Day set menus and the most affordable one starts from $308 for four. It includes Braised Fish Maw Soup with Conpoy and Crab Meat, Live Boston Lobster Wok Baked with Fermented Bean and Garlic, Braised Duck with Beancurd, whole 10-Head Abalone, Shiitake Mushrooms, Spinach Braised with Superior Abalone Sauce, Wok Fried Mee Sua with Seafood (above), and Yam Paste with Pumpkin and Gingko Nuts.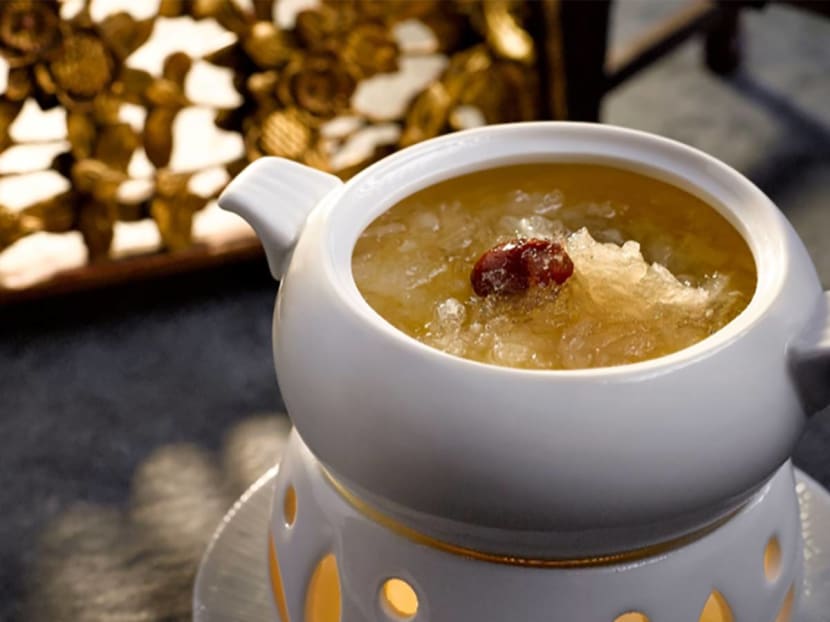 You even get a complimentary portion of Double-Boiled Bird's Nest when you order a set menu from now till 12 May.
If you aren't inclined towards elaborately planned meals, Zui Yu Xuan's signature Teochew dishes are still available a la carte. Such as this steamed and chilled Mud Crab with creamy roe, served with piquant kumquat and plum sauce.
There's simple, comforting and tummy-warming fare like this Teochew style Steamed Pomfret, too.
130/131 Amoy St, S049959 (located within Far East Square). Opens daily 11.30am–3pm, 6pm–11pm. Last orders at 2.15pm & 10.15pm. Tel: 6788-3637. https://zuiyuxuan.zui-teochewcuisine.com/en/home.
Opened: 23 March, 2019
This cosy izakaya in West Coast mall NEWest is for the Westies. It's headed by a chef who previously worked at Mizuki Japanese Fine Dining at Ngee Ann City and Hana Japanese Restaurant at Forum in Orchard. What's on the menu here: casual izakaya fare like squid with fermented beans, as well as sushi, to go with 25 types of sakes, plus umeshu and beer.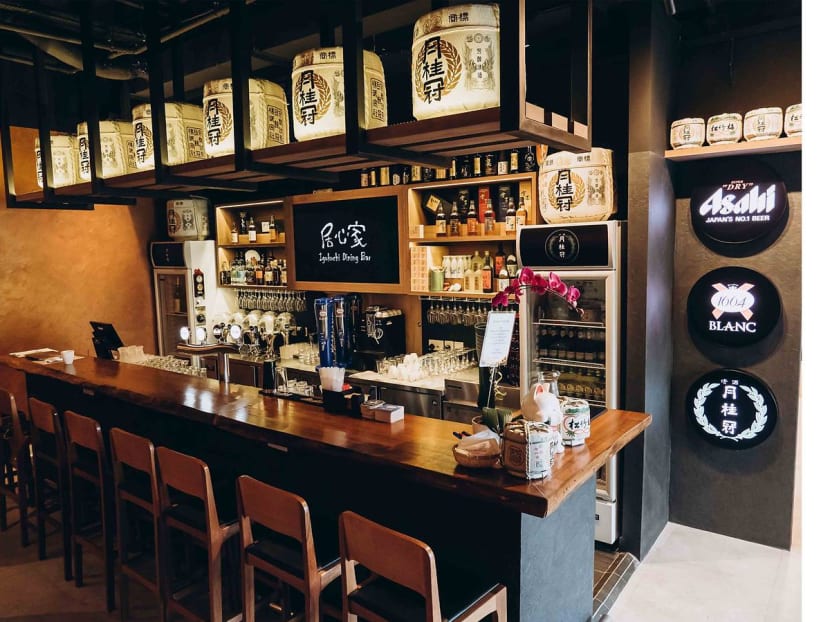 This special set menu is available only on 11 May (the place closes on Sundays — better to celebrate a day early and skip the crowds, we say). Expect six dishes and a choice of umeshu, sparkling sake, coffee or tea. Dishes include a century egg tofu, seared salmon and scallop, braised eggplant with seafood, grilled black cod, Japanese somen noodles and kinako (soy bean powder) mochi.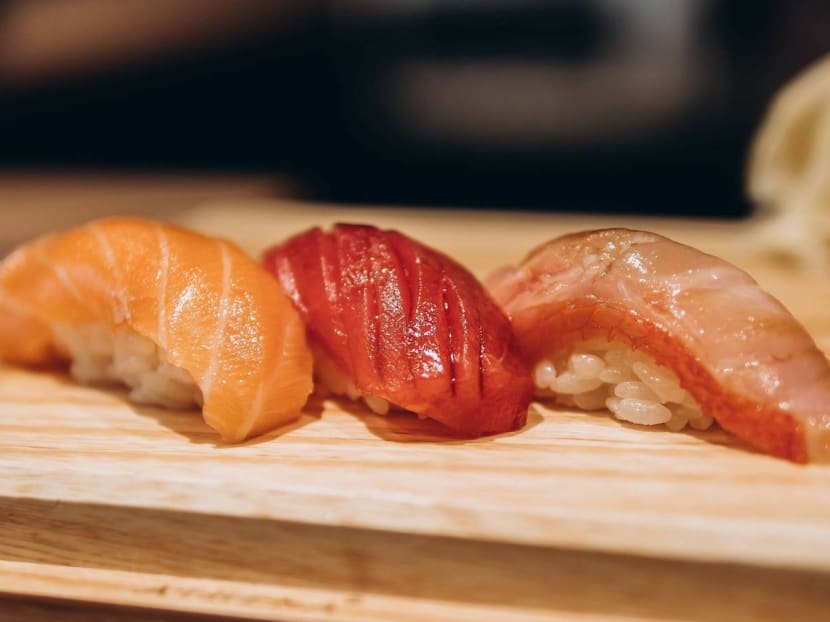 However, if ma prefers a more sushi-centric meal, try the Omakase menu. This particular Igokochi Kumo set includes one appetiser, one type of sashimi like Amberjack or Tai (Sea Bream), 10 pieces of sushi topped with fish such as Salmon and Tuna Belly, a Chef's Special Hand Roll, soup and dessert. On a budget? Go for a simpler izakaya-style meal, where a set of three small plates of items such as smoked duck and dried leatherjacket start from $14.90.

#01-98/99 1 West Coast Dr, NEWest, S128020. Izakaya - Bar opens Mon-Sat, 11am-11pm. Omakase – Lunch/Dinner opens Mon-Sat 11am-2pm; 5pm-10pm. Last orders at 10pm. Tel: 6963-9430. https://www.igokochi.com.sg/.
Newly opened at Jewel Changi Airport is the beautifully decorated Violet Oon Singapore outlet, its biggest location among its four other existing ones. No expense has been spared at this 120-seater — even their menus were hand bound by local craftsmen and designers. Here, the restaurant serves up Singaporean cuisine from the various races and dialect groups in Singapore, from Cantonese-style Hor Fun to Peranakan classics, Indian prata and curries, plus Eurasian fare like Shepherd's Pie.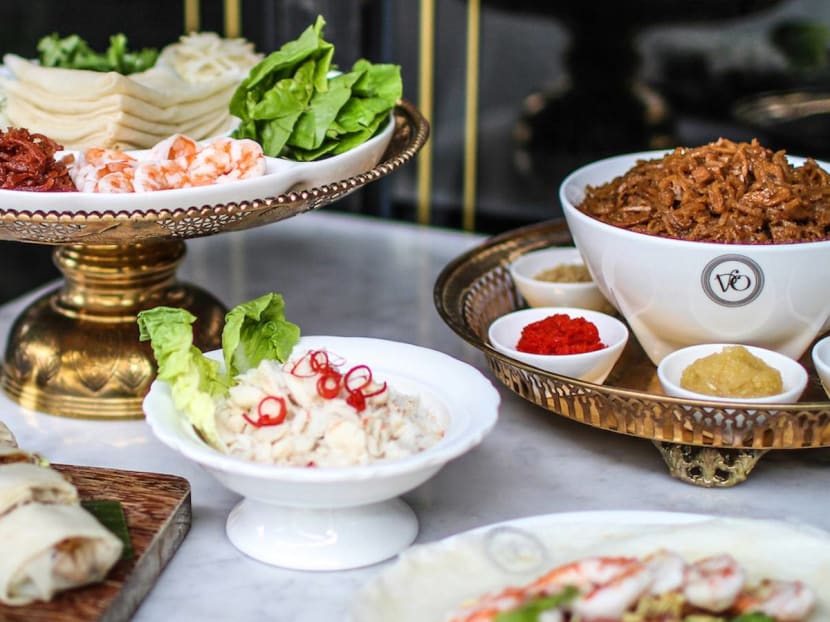 This is new and exclusive to the Jewel outlet. Have a mini Fold-It-Yourself Family Popiah Party with the six soft handmade flour skins and over 12 types of fillings and condiments, all beautifully presented on a regal-looking brass tray. Stuff your wraps with savoury-sweet shredded jicama, bamboo shoot and beancurd braised with tau cheo (Fujian bean paste) and prawn bisque, as well as steamed prawns, dried Chinese sausage, ground dried sole fish and fried garlic. A vegetarian option is available for $56.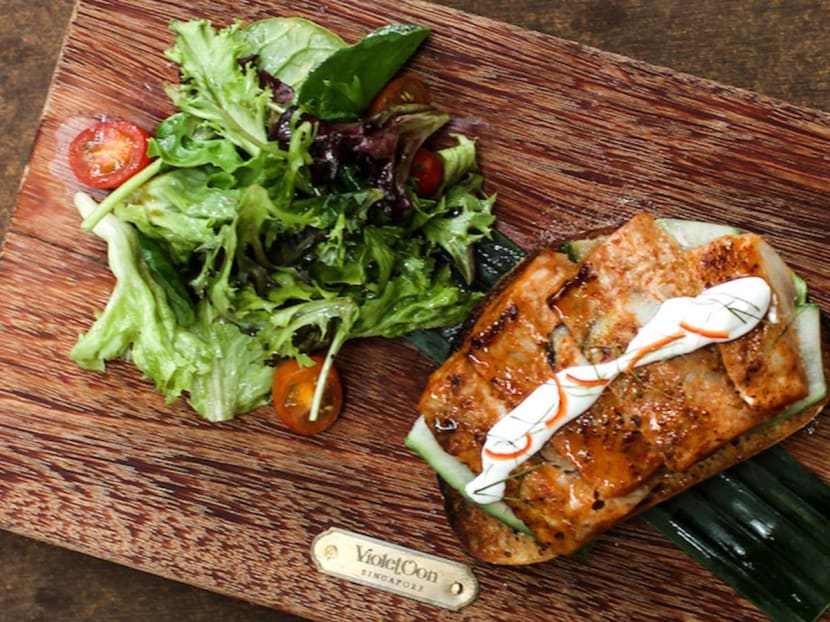 This is one of the yummiest, most gourmet otak sandwiches around. A thick slab of spicy house-made steamed otah studded with generous chunks of fresh mackerel sits on a slice of toasted sourdough, finished off with a drizzle of rich coconut cream. And there's a side salad to balance all that decadence.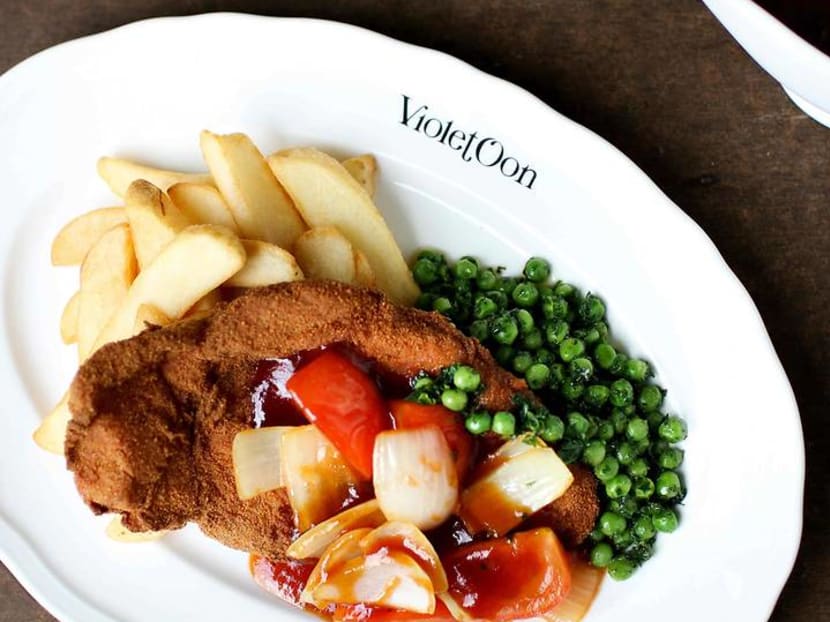 Again, this is one of the most atas Hainanese-style pork chop dishes we've had. A super juicy slab of deep-fried Kurobuta pork loin is crusted with a crunchy cream cracker batter and served with chunky steak-style fries and yummy peas tossed with butter and chopped kale. Served with a tomato reduction (this could be less sweet and more tangy to cut the dish's richness).
Another dish exclusive to the Jewel Changi branch. This plump, smoky, lightly spiced grilled chicken is brushed with a caramelly gula Melaka syrup. The sweet-salty contrast is rather tasty. Comes with a piquant Atchara (Filipino-style pickled green papaya) and chilli sauce.
Violet Oon at #01-205/#01-206 Jewel Changi Airport, 78 Airport Blvd, Level 1, S819666. Opens 9am-11pm (only beverages available from 9-11am, while the food menu is available from 11am-9.30pm). Last orders 9.30pm. Tel: 9834-9935. www.violetoon.com
Opened by the same people behind hip Mexican joints Lucha Loco and Super Loco, Chico Loco is a Mexican-style spit-roasted chicken joint in the CBD. The birds here are rubbed with typically Mexican ingredients like dried oregano and achiote spice blend. You might wanna make your way down with mum on Saturday though; they close on Sundays. There are also gluten-free and vegetarian options available here.
Tell ma this chook is organic-fed, hormone-free and free-range. The chicken is soaked in a brine spiked with a bit of agave nectar for 10 hours, then basted with a house blend of 11 herbs and spices before being roasted in a spit oven.

Spit-roasted dry-rubbed shoulder lamb is available too, if the family craves red meat.
Choose from 5 types of dips to go with your chicken, including smoky chipotle barbecue, green peppercorn & jalapeno gravy, plus habanero & mango. Too bad they're not free-flow, though.
102 Amoy St, S069922. Open daily except Sun. Sat 5pm-midnight. Last orders 10.45pm for main dishes; 11.45pm for snacks & drinks. Walk-ins only. Whatsapp 9738-7828 for enquiries. www.chico-loco.com.