8 Taiwanese Fried Chicken Cutlet Brands, Ranked From Worst To Best
UNDERCOVER TASTE TEST: 8days.sg susses out the best Taiwanese-style chook in Singapore.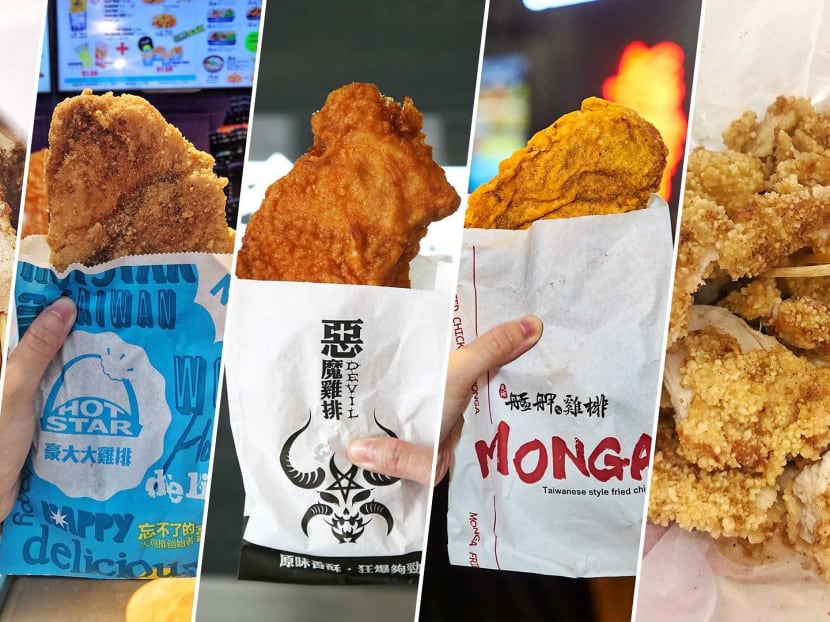 Size does matter, especially when it comes to Taiwanese-style fried chicken cutlets. One of Taiwan's most famous street snacks, the fried chicken cutlet can be found at almost every night market and casual eatery there. And it's a pretty distinctive style of fried chicken; unlike Korean fried chicken, where petite bone-in wings and drumlets are slathered in savoury sauces, or American Southern-style fried chook, where chunky chicken parts are marinated in buttermilk, dredged in flour and fried to a crisp, Taiwanese-style fried chicken cutlets are made with boneless breast meat, coated in batter (sometimes dredged in seasoned flour) and deep-fried till golden. The cutlet is then smothered in an aggressive shower of MSG-laden seasoning comprising salt, pepper and other spices. It's quite irresistible.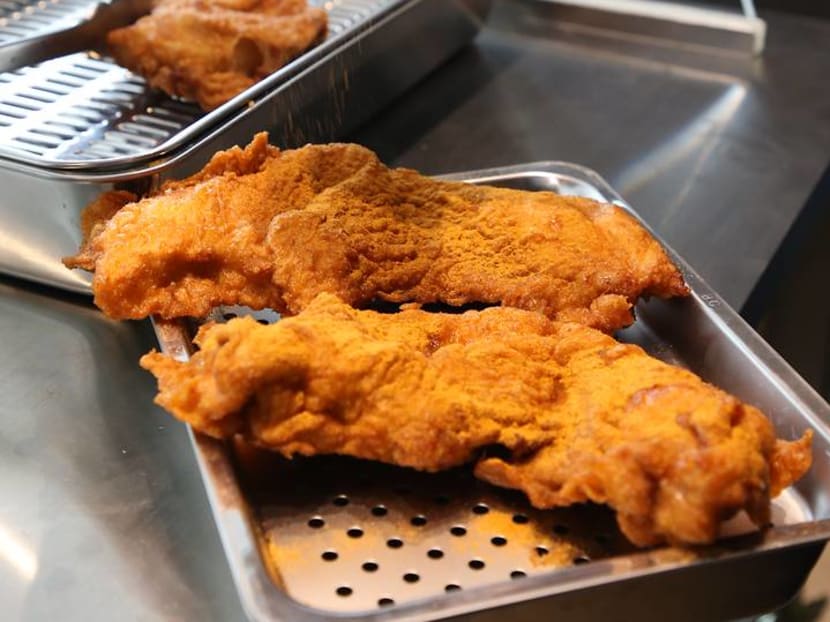 Although it's mostly pure protein, the fact that it's deep-fried makes Taiwanese fried chicken cutlets a pretty calorific snack. When done right, it's pure comfort food; there's nothing like sinking your teeth into a steaming hot, freshly-fried slab oozing chicken juices while the seasoning coats your palate like an umami bomb. Call it a coincidence, but there has been a sudden revival of Taiwanese-style fried chicken cutlets in Singapore since Taiwanese comedian Nono opened the first local outlet for his Monga fried chicken chain at Jem mall. The opening was followed closely by the launch of another Taiwanese fried chicken stalwart, Devil Evolution, which debuted its Singapore franchised kiosk at Century Square mall. Both brands have since attracted massive queues.

Given that Singaporeans love holidaying in Taiwan, it's not that hard to find Taiwanese-style fried chicken cutlets in Singapore (it's an affordable, crowd-pleasing snack after all). So we at 8days.sg decided to sample the salt and pepper-seasoned original flavour cutlet from eight accessible brands here undercover, and rank them (starting from the worst to the best).

And here are the results.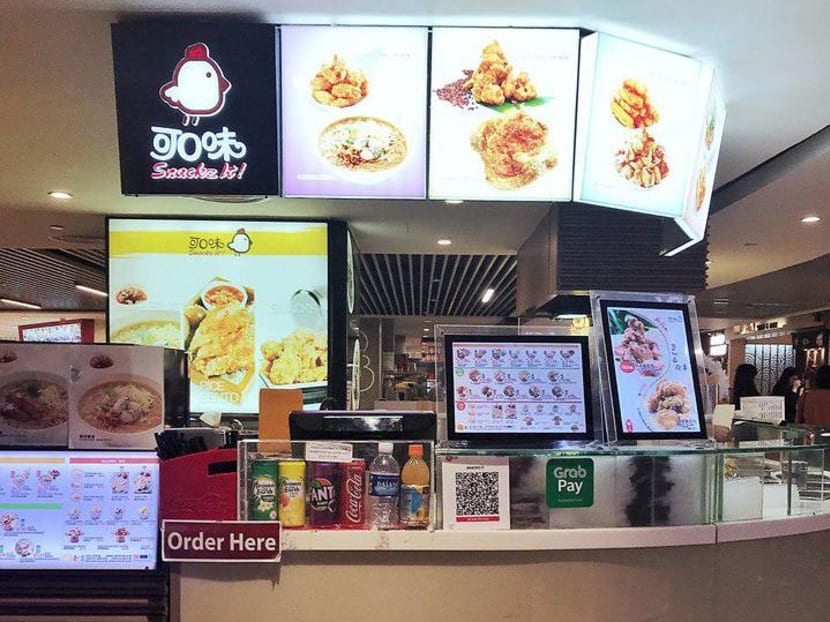 Crispy Chicken, $4.80

Backstory: This local snack chain with the er, hipz, name opened its first shop in Singapore in 2005, and has since expanded to Malaysia and China. It currently has 10 takeaway outlets here offering Asian-style fried grub like Taiwanese fried chicken cutlet, Thai 'popcorn fish' morsels, bento sets and a selection of mee sua such as Oyster Mee Sua and Pork Ribs Mee Sua.

We order a portion of Crispy Chicken from a Snackz It! outlet at the basement of Plaza Singapura, and watch as the cashier-cum-cook drags a piece of fresh chicken breast over seasoned flour before dropping the chook into a vat of hot oil. Our order is served to us cut into bite-sized pieces in a paper bag with skewers.

It didn't look very promising, and our gloomy prediction turn out to be right; the chicken cutlet is dismally dry, with an unappetising pale yellow crust. It's also inconsistently tossed with seasoning, so some parts are super salty while other parts are not seasoned at all (kinda like the crappy Wi-Fi that can't reach every room in our house).

10 outlets including #B2-46 Plaza Singapura, 68 Orchard Rd, S238839. Tel: 6325-4508. Open daily 10am-10pm. www.snackzit.com.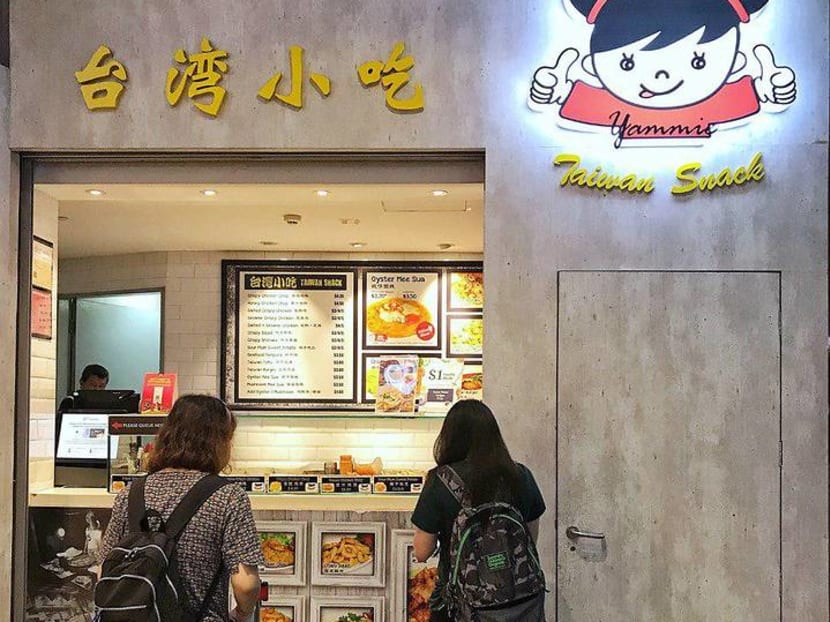 Crispy Chicken Chop, $4.20

Backstory: This random though charming-looking takeaway Taiwanese snack kiosk is part of the NTUC Foodfare food court at Sembawang MRT station (it's located at the food court's entrance). It sells a variety of standard fried Taiwanese street snacks like fried chicken chops in salt-and-pepper and honey-coated flavours, fried squid and fried shiitake mushrooms, all cooked in advance and displayed in metal pans at the front of the kiosk. You can bring your nosh inside the food court to consume on the spot.

After we place our order, the genial uncle manning the stall plucks a pre-fried chicken thigh cutlet from its metal pan display and whisks it away into a partitioned kitchenette to re-fry till hot. When we get our chicken, cut into pieces and dropped into a paper bag, it looks quite tired with dark-hued meat and a crumbly crust. And it tastes just like a piece of food court fried chicken chop; greasy and slightly stale with nary a trace of MSG seasoning flavour on the crust. Sorry, nice uncle, but pass.

Sembawang MRT Station, 11 Canberra Rd, S759775. Open daily 11am-10.30pm.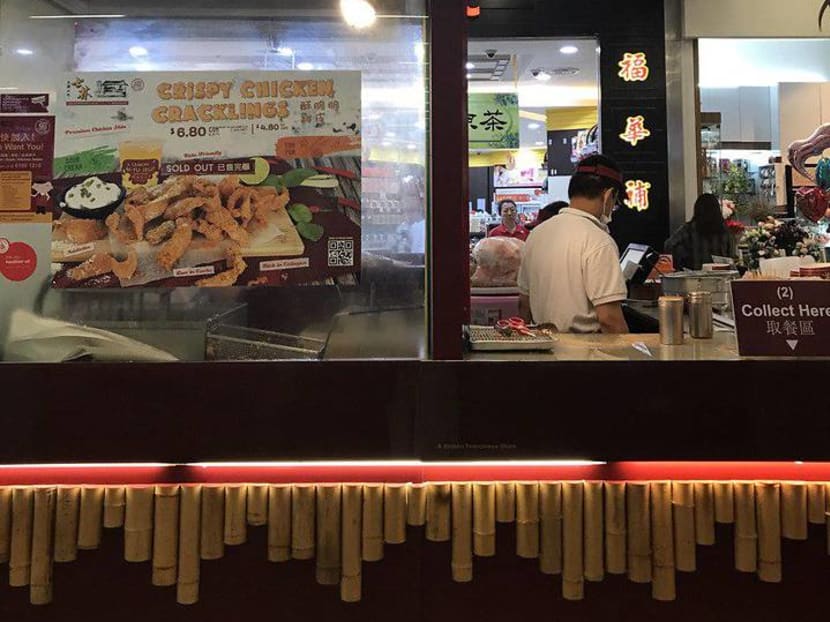 XXL Crispy Chicken, $4.80

Backstory: Shihlin Taiwan Street Snacks is the first shop that comes to mind when we think of Taiwanese fried chicken cutlet, 'cos it's the most ubiquitous chain on our list with an outlet in almost every mall islandwide. Named after Taipei's most famous night market, this takeaway kiosk chain, started in 2003, sells Taiwan's most well-known street snacks like the aforementioned fried chicken cutlet, oyster mee sua and sweet plum potato fries.

Every piece of fried chicken breast is cooked a la minute. Unlike other shops on our list, we get to watch the staff toss our XXL piece of fried boneless chicken breast with powdered seasoning in a metal 'dustpan' and cut it up into bite-sized pieces with scissors. So there's the cheap thrill of getting the 'Shihlin Night Market' experience for our buck. Taste-wise, this shop's fried chix fares only a bit better than Snackz It; the umami salt-and-pepper seasoning is evenly sprinkled on every piece of chicken, though the morsels are fairly dry with a rough crust. We only got through a quarter of our paper bag of fried chicken before we had to wash down the food with some liang teh.

20 outlets including #B3-50A 313@Somerset, 313 Orchard Rd, S238895. Tel: 6100-1218. Open daily 11:30am-9.30pm. www.shihlinsnacks.com.tw.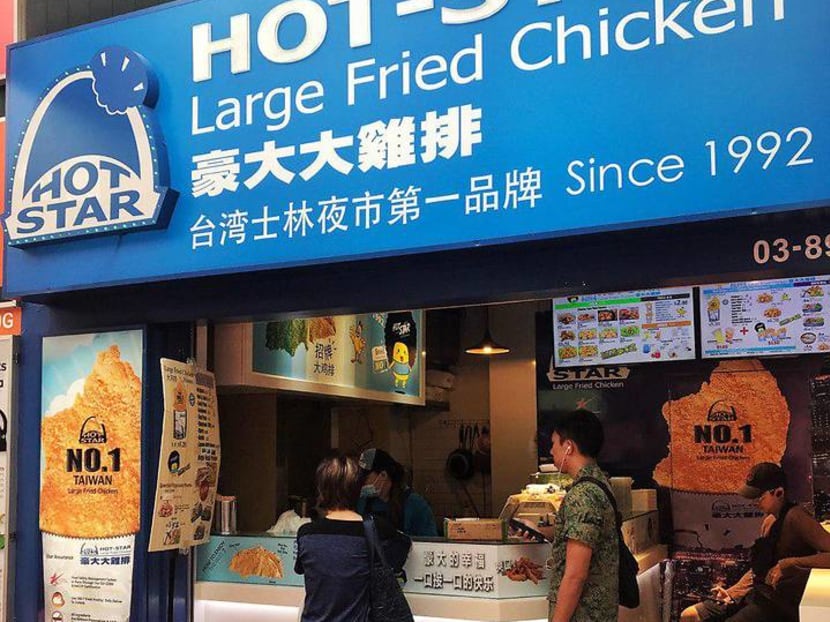 Large Fried Chicken, $5.20

Backstory: This Taiwanese brand claims to be the OG creator of the "bigger than your face" fried chicken cutlet street snack. We've seen long queues at its Shihlin Night Market stall in Taipei over a decade back, and it opened its first franchised Singapore outlet at City Square Mall in 2011 to much fanfare. It rapidly expanded and set up branches in high-traffic malls like Ion Orchard and Nex in Serangoon, but it seems like Singaporeans are not so, er, hot about Hot Star anymore; those outlets gradually shuttered till there's only three left here, in Tampines One, Jurong Point and Northpoint City.

We drop by the Jurong Point outlet, where our fried chicken is battered and fried a la minute per the brand's SOP. It's then seasoned and served whole to us in a paper pouch, where we attempt to take photos as it flops back and forth like a flaccid… ah, never mind. Compared to the whole chicken cutlets at Monga and Devil Chicken (see below), Hot Star's approximately 1cm-thick flat slab is only about half their thickness (hence its difficulty in, er, staying up). In fact, it looks like a fried chicken chop from a food court's Western stall.

We had our misgivings, but the chicken cutlet is really not bad. The breast meat is still pretty succulent and is not over-fried, while the craggy crust is pleasantly crispy and coated with moreish, salty seasoning. We put aside half of our chicken cutlet 'cos it got too jelak, but it's still decent when eaten cold later on. That said, it doesn't have the same satisfying mouthfeel as its (pricier) counterparts from Monga and Devil Chicken 'cos the chicken cutlet is thinner.

Three outlets including #03-89F JP2, 1 Jurong West Central 2. Tel: 6250-8205. Open daily 11am-9.45pm. www.hotstar.com.sg.
Taimei Hot Chick, $4.80

Backstory: This cheekily-named Singapore-based Taiwanese snack chain ('Taimei' is the Taiwanese equivalent of the Singlish 'Ah Lian') has been around since 2009 (we still remember our guy friends eagerly rushing down to its first Bugis outlet hoping to get a glimpse of chio Taiwanese staff. Alas, they reported there were none). It's owned by two Taiwanese sisters along with a Shatec-trained business partner, and has steadily expanded to its current nine outlets in Singapore.

Despite its 'Hot Chick' name, we are able to order a non-spicy version of I Love Taimei's fried chicken cutlet (the spicy chook is coated in chilli powder instead of salt and pepper). It's fried a la minute, and we waited for over 10 minutes for our order at the takeaway Ion Orchard outlet despite it being a quiet weekday afternoon. It's worth the wait, though. Despite being cut up (which dries up the meat since there's more exposed surface that causes its juice to flow out), the chicken pieces are still juicy with an addictive crunch, and generously coated with a briny-peppery seasoning. Pair it with the shop's decent Milk Tea for the quintessential Taiwanese snacking experience.

Nine outlets including #B4-62 ION Orchard, 2 Orchard Turn, S238801. Tel: 6336-1887. Open daily 11am-10pm. www.ilovetaimei.com.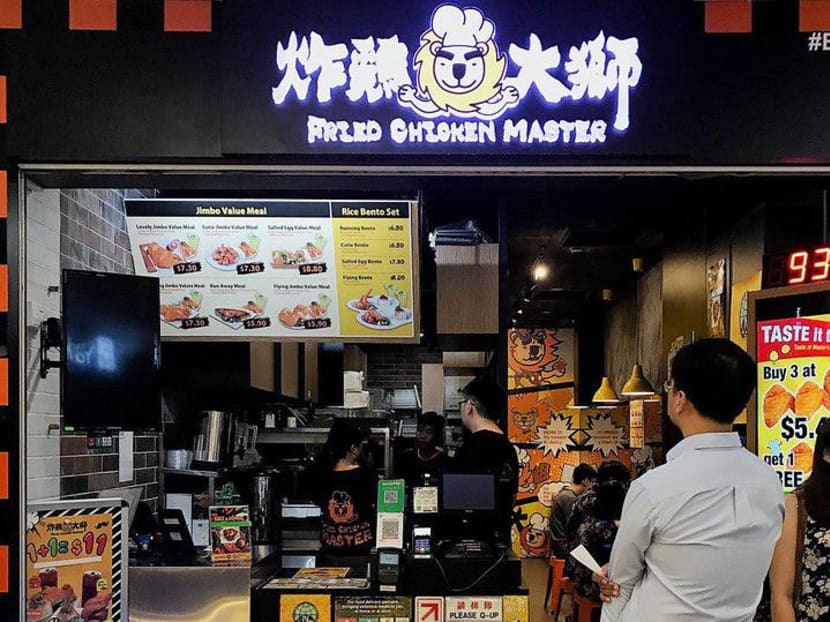 Lovely Jimbo, $5

Backstory: Unlike most of the brands on this list, the cornily-named Fried Chicken Master is not a chain. It's opened by a Taiwan-based company that imports poultry like chicken, duck and geese, and has only one halal-certified store at Nex mall in Serangoon, with about eight dine-in counter seats crammed into its narrow shop space.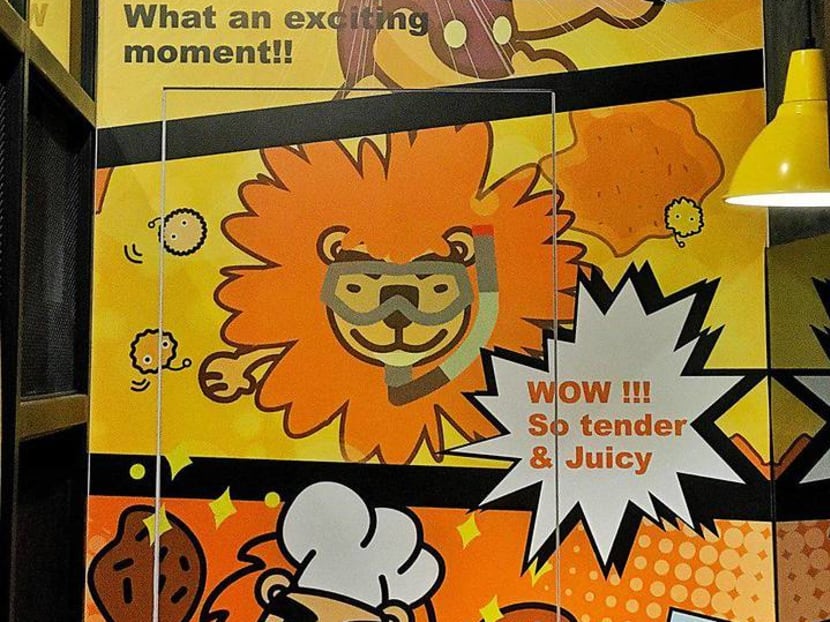 Fried Chicken Master's (its Chinese name 'Zha Ji Da Shi' is a play on the Mandarin term for 'majestic lion') walls are plastered with images of the brand's lion mascot tearing uncontrollably from the sheer pleasure of eating fried chicken. "What an exciting moment!!" gushes a line on the wall. Hilarious.

We have high expectations of the fried chicken here, especially since the menu boasts that it "only serves masterpiece". What's special about this shop is that you can choose either thigh meat (Running Jimbo, $4.80) or breast meat (Lovely Jimbo, $5) for your fried chicken cutlet. We got a freshly fried chicken breast cutlet that's been cooked to a glorious golden brown (fried chicken should be this colour, we think), with a craggy batter. The chicken is also coincidentally and organically shaped like a heart, which makes it even more 'gram-worthy. And its taste doesn't disappoint; it's shatteringly crispy (it's lightly seasoned so it's umami but not overwhelmingly salty), juicy and all-round delish. We quickly hoover up the entire piece. It's not as gigantic as the fried chix sold by its rivals (it's slightly bigger than our stretched palm), and is just the right size for a not-too-decadent snack when we're feeling peckish.

#B2-48A Nex, 23 Serangoon Central, S556083. Tel: 6593-9403. Open daily 11am-9pm. www.facebook.com/friedchickenmastersg.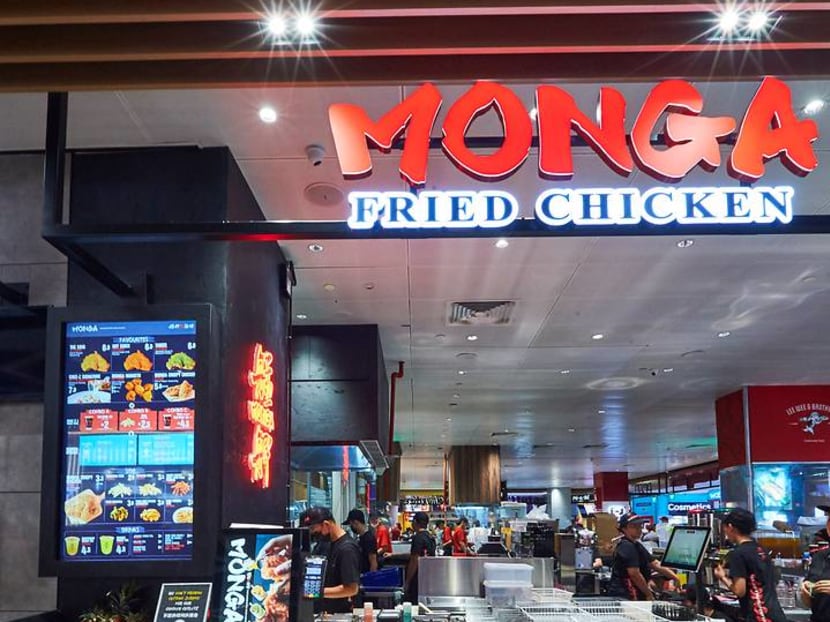 The King, $6.90

Backstory: Taiwanese comedian Nono started this fried chicken cutlet chain in 2014 with his business partner and night market hawker Liu Mingdao (who's known as the 'King of Fried Chicken' in Taiwan). It currently has 45 outlets worldwide, and opened its first franchised Singapore outlet at Jem mall on September 28 this year, where it regularly attracts a very long queue. A second outlet at an Orchard Road mall is in the works. Read all about our side-splitting encounter with Nono at the opening of his Jem outlet here.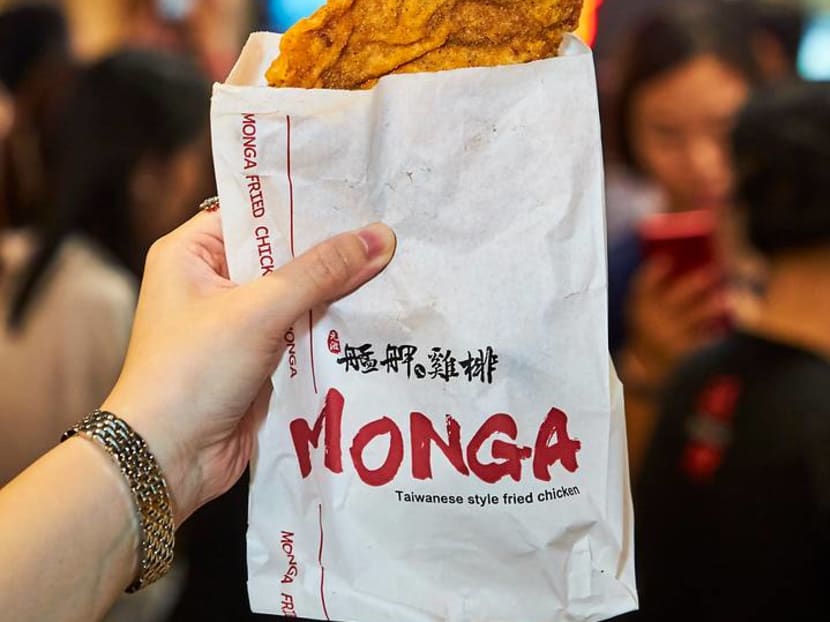 The brand's signature fried chicken cutlets are offered in three flavours here: The King (salt and pepper), Hot Chick (chilli powder) and Taiker (seaweed seasoning). For consistency in this ranking, we tried the original salt and pepper flavour. Each massive 280g breast meat cutlet is at least 2cm thick, and marinated with honey (the honey's enzymes and cutlet's thickness apparently keeps the meat tender even after being fried). The cutlets are also fried only upon order, using Monga's proprietary method that makes the chicken non-greasy (it has barely any grease seeping through its paper pouch, so it's less cloying than the chicken cutlets from other brands like Hot Star). The meat is super tender while the crust is light, crackly and cloaked in an intense layer of salt and pepper that makes every bite addictive. It's also huge enough to qualify as a meal by itself. But is it worthy to be crowned The King like its name suggests? Well, almost, but not quite, for we found an even worthier contender… (see below)

#B1-K10 JEM, 50 Jurong Gateway Rd, S608549. Tel: 6262-0020. Open daily 11am-9.30pm. www.facebook.com/mongasingapore.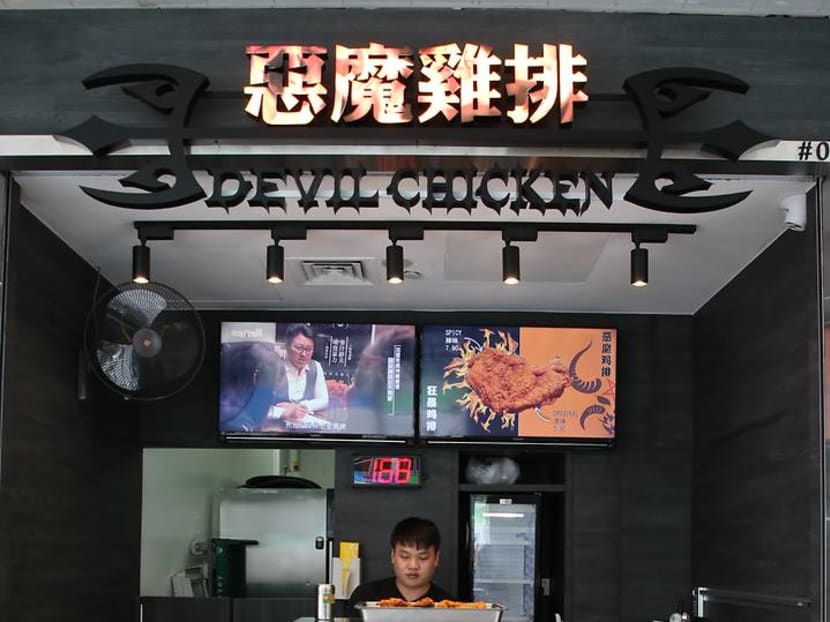 Original Chicken Cutlet, $7.90

Backstory: Known as Devil Evolution in Taiwan, this brand is one of the more well-known fried chicken cutlet chains in its native Taiwan, with eight outlets there. At its pop-up stint here earlier in April this year at Shilin Singapore, (the local version of Taiwan's famed Shilin Night Market), the stall saw a whopping four-hour queue. It opened its first franchised outlet at Century Square mall in Tampines on October 4, and a second outlet at JCube mall in Jurong on October 25. Instead of the OG Taiwanese name, the Singapore franchise is called Devil Chicken, as the local franchise owner reckons "it's easier for people to remember".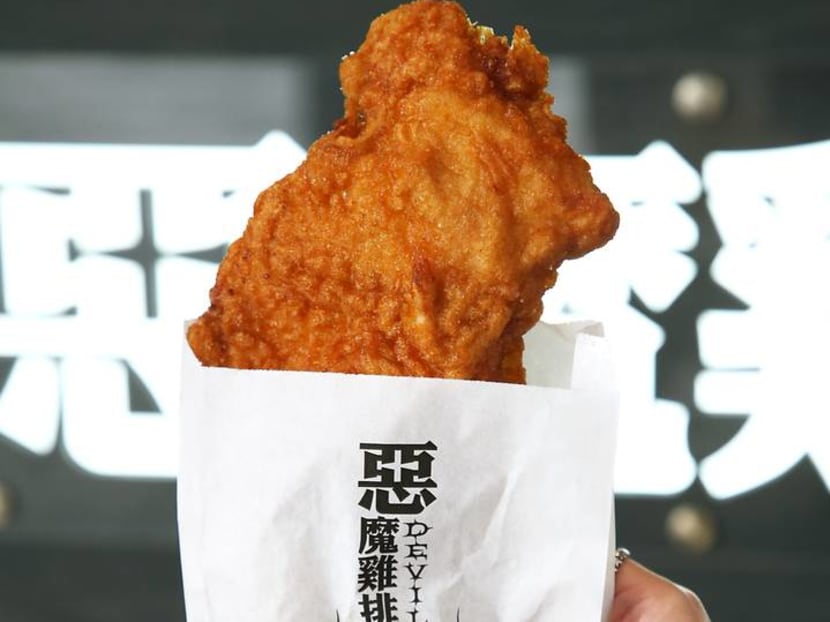 While Monga's fried chicken cutlet sports a golden hue, Devil Chicken's cutlet is light brown and has a craggier crust (it also costs a dollar more than Monga's). Our Devil cutlet makes a loud crackly sound as we bite into it. The plump chicken breast meat is just as succulent as Monga's, and slightly greasier. But it's also yummier than Monga, 'cos Devil's fried chook boasts a more alluring, stronger chicken flavour. It reminds us somewhat of the rustic, atas flavour of French poultry. Interesting, considering that both brands say they use fresh chicken from local suppliers. Devil cutlet's batter coat is also crunchier, and still very tasty though there's only a light sprinkling of salt and pepper. We've not tried the original Devil Evolution in Taichung (our friends who are fans of it swear the chicken is even tastier in Taiwan). But from what we can get in Singapore, Devil Chicken's fried chicken cutlets are far yummier than all the other brands' (except for Monga and Fried Chicken Master, which trail closely at second and third place respectively). Truly worthy of the calories — and steeper price tag.

Two outlets including #01-40 Century Square, 2 Tampines Central 5, S529509. Tel: 9773-4347. Open daily 11am-9.30pm. www.facebook.com/devilchickensg.